Have a language expert improve your writing
Run a free plagiarism check in 10 minutes, generate accurate citations for free.
Knowledge Base
The four main types of essay | Quick guide with examples
The Four Main Types of Essay | Quick Guide with Examples
Published on September 4, 2020 by Jack Caulfield . Revised on July 23, 2023.
An essay is a focused piece of writing designed to inform or persuade. There are many different types of essay, but they are often defined in four categories: argumentative, expository, narrative, and descriptive essays.
Argumentative and expository essays are focused on conveying information and making clear points, while narrative and descriptive essays are about exercising creativity and writing in an interesting way. At university level, argumentative essays are the most common type. 
In high school and college, you will also often have to write textual analysis essays, which test your skills in close reading and interpretation.
Table of contents
Argumentative essays, expository essays, narrative essays, descriptive essays, textual analysis essays, other interesting articles, frequently asked questions about types of essays.
An argumentative essay presents an extended, evidence-based argument. It requires a strong thesis statement —a clearly defined stance on your topic. Your aim is to convince the reader of your thesis using evidence (such as quotations ) and analysis.
Argumentative essays test your ability to research and present your own position on a topic. This is the most common type of essay at college level—most papers you write will involve some kind of argumentation.
The essay is divided into an introduction, body, and conclusion:
The introduction provides your topic and thesis statement
The body presents your evidence and arguments
The conclusion summarizes your argument and emphasizes its importance
The example below is a paragraph from the body of an argumentative essay about the effects of the internet on education. Mouse over it to learn more.
A common frustration for teachers is students' use of Wikipedia as a source in their writing. Its prevalence among students is not exaggerated; a survey found that the vast majority of the students surveyed used Wikipedia (Head & Eisenberg, 2010). An article in The Guardian stresses a common objection to its use: "a reliance on Wikipedia can discourage students from engaging with genuine academic writing" (Coomer, 2013). Teachers are clearly not mistaken in viewing Wikipedia usage as ubiquitous among their students; but the claim that it discourages engagement with academic sources requires further investigation. This point is treated as self-evident by many teachers, but Wikipedia itself explicitly encourages students to look into other sources. Its articles often provide references to academic publications and include warning notes where citations are missing; the site's own guidelines for research make clear that it should be used as a starting point, emphasizing that users should always "read the references and check whether they really do support what the article says" ("Wikipedia:Researching with Wikipedia," 2020). Indeed, for many students, Wikipedia is their first encounter with the concepts of citation and referencing. The use of Wikipedia therefore has a positive side that merits deeper consideration than it often receives.
What can proofreading do for your paper?
Scribbr editors not only correct grammar and spelling mistakes, but also strengthen your writing by making sure your paper is free of vague language, redundant words, and awkward phrasing.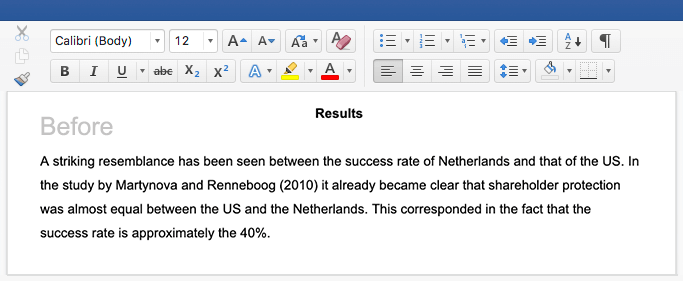 See editing example
An expository essay provides a clear, focused explanation of a topic. It doesn't require an original argument, just a balanced and well-organized view of the topic.
Expository essays test your familiarity with a topic and your ability to organize and convey information. They are commonly assigned at high school or in exam questions at college level.
The introduction of an expository essay states your topic and provides some general background, the body presents the details, and the conclusion summarizes the information presented.
A typical body paragraph from an expository essay about the invention of the printing press is shown below. Mouse over it to learn more.
The invention of the printing press in 1440 changed this situation dramatically. Johannes Gutenberg, who had worked as a goldsmith, used his knowledge of metals in the design of the press. He made his type from an alloy of lead, tin, and antimony, whose durability allowed for the reliable production of high-quality books. This new technology allowed texts to be reproduced and disseminated on a much larger scale than was previously possible. The Gutenberg Bible appeared in the 1450s, and a large number of printing presses sprang up across the continent in the following decades. Gutenberg's invention rapidly transformed cultural production in Europe; among other things, it would lead to the Protestant Reformation.
A narrative essay is one that tells a story. This is usually a story about a personal experience you had, but it may also be an imaginative exploration of something you have not experienced.
Narrative essays test your ability to build up a narrative in an engaging, well-structured way. They are much more personal and creative than other kinds of academic writing . Writing a personal statement for an application requires the same skills as a narrative essay.
A narrative essay isn't strictly divided into introduction, body, and conclusion, but it should still begin by setting up the narrative and finish by expressing the point of the story—what you learned from your experience, or why it made an impression on you.
Mouse over the example below, a short narrative essay responding to the prompt "Write about an experience where you learned something about yourself," to explore its structure.
Since elementary school, I have always favored subjects like science and math over the humanities. My instinct was always to think of these subjects as more solid and serious than classes like English. If there was no right answer, I thought, why bother? But recently I had an experience that taught me my academic interests are more flexible than I had thought: I took my first philosophy class.
Before I entered the classroom, I was skeptical. I waited outside with the other students and wondered what exactly philosophy would involve—I really had no idea. I imagined something pretty abstract: long, stilted conversations pondering the meaning of life. But what I got was something quite different.
A young man in jeans, Mr. Jones—"but you can call me Rob"—was far from the white-haired, buttoned-up old man I had half-expected. And rather than pulling us into pedantic arguments about obscure philosophical points, Rob engaged us on our level. To talk free will, we looked at our own choices. To talk ethics, we looked at dilemmas we had faced ourselves. By the end of class, I'd discovered that questions with no right answer can turn out to be the most interesting ones.
The experience has taught me to look at things a little more "philosophically"—and not just because it was a philosophy class! I learned that if I let go of my preconceptions, I can actually get a lot out of subjects I was previously dismissive of. The class taught me—in more ways than one—to look at things with an open mind.
A descriptive essay provides a detailed sensory description of something. Like narrative essays, they allow you to be more creative than most academic writing, but they are more tightly focused than narrative essays. You might describe a specific place or object, rather than telling a whole story.
Descriptive essays test your ability to use language creatively, making striking word choices to convey a memorable picture of what you're describing.
A descriptive essay can be quite loosely structured, though it should usually begin by introducing the object of your description and end by drawing an overall picture of it. The important thing is to use careful word choices and figurative language to create an original description of your object.
Mouse over the example below, a response to the prompt "Describe a place you love to spend time in," to learn more about descriptive essays.
On Sunday afternoons I like to spend my time in the garden behind my house. The garden is narrow but long, a corridor of green extending from the back of the house, and I sit on a lawn chair at the far end to read and relax. I am in my small peaceful paradise: the shade of the tree, the feel of the grass on my feet, the gentle activity of the fish in the pond beside me.
My cat crosses the garden nimbly and leaps onto the fence to survey it from above. From his perch he can watch over his little kingdom and keep an eye on the neighbours. He does this until the barking of next door's dog scares him from his post and he bolts for the cat flap to govern from the safety of the kitchen.
With that, I am left alone with the fish, whose whole world is the pond by my feet. The fish explore the pond every day as if for the first time, prodding and inspecting every stone. I sometimes feel the same about sitting here in the garden; I know the place better than anyone, but whenever I return I still feel compelled to pay attention to all its details and novelties—a new bird perched in the tree, the growth of the grass, and the movement of the insects it shelters…
Sitting out in the garden, I feel serene. I feel at home. And yet I always feel there is more to discover. The bounds of my garden may be small, but there is a whole world contained within it, and it is one I will never get tired of inhabiting.
Here's why students love Scribbr's proofreading services
Discover proofreading & editing
Though every essay type tests your writing skills, some essays also test your ability to read carefully and critically. In a textual analysis essay, you don't just present information on a topic, but closely analyze a text to explain how it achieves certain effects.
Rhetorical analysis
A rhetorical analysis looks at a persuasive text (e.g. a speech, an essay, a political cartoon) in terms of the rhetorical devices it uses, and evaluates their effectiveness.
The goal is not to state whether you agree with the author's argument but to look at how they have constructed it.
The introduction of a rhetorical analysis presents the text, some background information, and your thesis statement; the body comprises the analysis itself; and the conclusion wraps up your analysis of the text, emphasizing its relevance to broader concerns.
The example below is from a rhetorical analysis of Martin Luther King Jr.'s "I Have a Dream" speech . Mouse over it to learn more.
King's speech is infused with prophetic language throughout. Even before the famous "dream" part of the speech, King's language consistently strikes a prophetic tone. He refers to the Lincoln Memorial as a "hallowed spot" and speaks of rising "from the dark and desolate valley of segregation" to "make justice a reality for all of God's children." The assumption of this prophetic voice constitutes the text's strongest ethical appeal; after linking himself with political figures like Lincoln and the Founding Fathers, King's ethos adopts a distinctly religious tone, recalling Biblical prophets and preachers of change from across history. This adds significant force to his words; standing before an audience of hundreds of thousands, he states not just what the future should be, but what it will be: "The whirlwinds of revolt will continue to shake the foundations of our nation until the bright day of justice emerges." This warning is almost apocalyptic in tone, though it concludes with the positive image of the "bright day of justice." The power of King's rhetoric thus stems not only from the pathos of his vision of a brighter future, but from the ethos of the prophetic voice he adopts in expressing this vision.
Literary analysis
A literary analysis essay presents a close reading of a work of literature—e.g. a poem or novel—to explore the choices made by the author and how they help to convey the text's theme. It is not simply a book report or a review, but an in-depth interpretation of the text.
Literary analysis looks at things like setting, characters, themes, and figurative language. The goal is to closely analyze what the author conveys and how.
The introduction of a literary analysis essay presents the text and background, and provides your thesis statement; the body consists of close readings of the text with quotations and analysis in support of your argument; and the conclusion emphasizes what your approach tells us about the text.
Mouse over the example below, the introduction to a literary analysis essay on Frankenstein , to learn more.
Mary Shelley's Frankenstein is often read as a crude cautionary tale about the dangers of scientific advancement unrestrained by ethical considerations. In this reading, protagonist Victor Frankenstein is a stable representation of the callous ambition of modern science throughout the novel. This essay, however, argues that far from providing a stable image of the character, Shelley uses shifting narrative perspectives to portray Frankenstein in an increasingly negative light as the novel goes on. While he initially appears to be a naive but sympathetic idealist, after the creature's narrative Frankenstein begins to resemble—even in his own telling—the thoughtlessly cruel figure the creature represents him as. This essay begins by exploring the positive portrayal of Frankenstein in the first volume, then moves on to the creature's perception of him, and finally discusses the third volume's narrative shift toward viewing Frankenstein as the creature views him.
If you want to know more about AI tools , college essays , or fallacies make sure to check out some of our other articles with explanations and examples or go directly to our tools!
Ad hominem fallacy
Post hoc fallacy
Appeal to authority fallacy
False cause fallacy
Sunk cost fallacy
College essays
Choosing Essay Topic
Write a College Essay
Write a Diversity Essay
College Essay Format & Structure
Comparing and Contrasting in an Essay
 (AI) Tools
Grammar Checker
Paraphrasing Tool
Text Summarizer
AI Detector
Plagiarism Checker
Citation Generator
At high school and in composition classes at university, you'll often be told to write a specific type of essay , but you might also just be given prompts.
Look for keywords in these prompts that suggest a certain approach: The word "explain" suggests you should write an expository essay , while the word "describe" implies a descriptive essay . An argumentative essay might be prompted with the word "assess" or "argue."
The vast majority of essays written at university are some sort of argumentative essay . Almost all academic writing involves building up an argument, though other types of essay might be assigned in composition classes.
Essays can present arguments about all kinds of different topics. For example:
In a literary analysis essay, you might make an argument for a specific interpretation of a text
In a history essay, you might present an argument for the importance of a particular event
In a politics essay, you might argue for the validity of a certain political theory
An argumentative essay tends to be a longer essay involving independent research, and aims to make an original argument about a topic. Its thesis statement makes a contentious claim that must be supported in an objective, evidence-based way.
An expository essay also aims to be objective, but it doesn't have to make an original argument. Rather, it aims to explain something (e.g., a process or idea) in a clear, concise way. Expository essays are often shorter assignments and rely less on research.
The key difference is that a narrative essay is designed to tell a complete story, while a descriptive essay is meant to convey an intense description of a particular place, object, or concept.
Narrative and descriptive essays both allow you to write more personally and creatively than other kinds of essays , and similar writing skills can apply to both.
Cite this Scribbr article
If you want to cite this source, you can copy and paste the citation or click the "Cite this Scribbr article" button to automatically add the citation to our free Citation Generator.
Caulfield, J. (2023, July 23). The Four Main Types of Essay | Quick Guide with Examples. Scribbr. Retrieved August 30, 2023, from https://www.scribbr.com/academic-essay/essay-types/
Is this article helpful?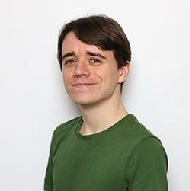 Jack Caulfield
Other students also liked, how to write an argumentative essay | examples & tips, how to write an expository essay, how to write an essay outline | guidelines & examples.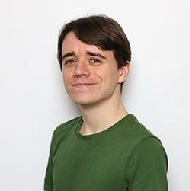 Jack Caulfield (Scribbr Team)
Thanks for reading! Hope you found this article helpful. If anything is still unclear, or if you didn't find what you were looking for here, leave a comment and we'll see if we can help.
Still have questions?
What is your plagiarism score.
Essay Writing Guide
Types Of Essay

Different Types of Essays In Academic Writing
11 min read
Published on: Sep 20, 2017
Last updated on: Mar 17, 2023
On This Page On This Page
As a college or high school student, you will be assigned to compose several different types of essays. Professional essay writing provides an effective way to learn to write such essays for middle school, high school, and college applications.
There are 4 types of essays you are most likely to get assigned in your academic years. Your teacher will not tell you which type of essay you should be writing. So, you need to figure it out from the question you have been asked.
While most of them share the same basics and format, there are a few differences as well. In this article, we have discussed the basic types of essays with examples for your help.
Refer to this article and learn different types of essay writing to score brilliant grades.
Major Types of Essays In Academic Writing
Essay writing is a part of academic activities that students have to deal with. Academic essays can be formal and informal, argumentative, persuasive, critical, and narrative.
There are four types of academic essays and each type is different in nature and is written with a different perspective. Your first step is to identify the type of essay you are assigned with. After that, the methods are involved while composing it.
Since every essay type is different, each of them aims to achieve different goals. That is why you should understand and remember the main objective of writing an essay on any topic.
The different types of essay formats include the following. Here you can find the definition of each essay type in detail along with examples to help you understand better.
Descriptive Essay
A descriptive essay 'describes' the main topic in detail and with the aim of letting the reader relate to your experience. The topic, or the object in the discussion, could be anything from a place or a person.
Writing a descriptive essay is all about in-depth details, information, and discussion regarding the subject in question. It describes the topic, or matter under scrutiny, from different angles and perspectives.
The descriptive essay must evoke the senses and emotions of the reader. In simple terms, the reader should see what you saw and feel what you felt. To make it better, you can use several literary devices like;
All of them help in making the experience and your essay better.
Descriptive Essay Example
Creating a perfect descriptive essay for an assignment is not difficult if you go through some expert descriptive essay examples first.
Here we have provided a well-written descriptive essay for you to get inspired from and start the writing process confidently.
Related: Descriptive Essay Examples and Writing Tips
Narrative Essay
Narrative essays refer to the narration of a study or experienced by the writer. It is usually written in the first person and expounds on the main topic in detail. The purpose of writing a narrative essay is to indulge the reader in the personal experience of the writer.
The central idea is to create an essay that is clear, detailed, and explains the main topic. The topic can be an event, a story, an incident, to the reader.
Your aim is to explain it with such detail that readers feel as if they were with you at that time.
Narrative Essay Example
Wondering how to get your story into an interesting narrative? Learn the best way to write a perfect narrative essay with the help of expert narrative essay examples.
Here are some more narrative essay examples for your help.
Expository Essay
An expository essay is about facts, and facts only. Unlike the other types of essays, where the writer has the freedom of adding his own opinion and analysis. Expository essays involve facts only. This makes it simple, but, at times, it could be challenging as well.
Therefore, it is important that you make a focused outline and stick to it throughout the process.
In higher education, show your ability to research your selected topic and cite expert sources along the way. In the end, provide the final perspective and also point out how other sources can contribute to it.
An expository essay incorporates a wide array of essays such as:
Cause and effect essays
Process essays
Analytical essays
Compare and contrast essays
Expository Essay Example
To start the writing process, here is an expository essay example from one of our expert writers to understand the basics.
Related: Free Expository Essay Examples to Help you Get Started
Argumentative Essay
Similar to a persuasive essay, the argumentative essay aims to convince the reader about a particular point of view.
The goal is to examine the information available regarding a subject and develop an argument based on it. However, it is necessary for the writer to support his claims and stick to one side.
The argumentative essay provides both sides of a particular issue or strongly establishes one approach towards the subject matter.
In this type of essay, the writer develops an argument and defends his side with solid proof and reasoning.
Argumentative Essay Example
Before beginning the writing process, it is better to go through some expert argumentative essay examples . In this way, you can understand the argumentative essay outline and the writing style of an argumentative essay better.
Here is a high-quality argumentative essay example for you to get inspiration for your essay.
Persuasive Essay
A persuasive essay is another type of academic essay. In this essay type, the writer utilizes logic and reasoning to show one's idea is more convincing than another idea.
In writing a persuasive essay , the main aim is to persuade the reader to accept a certain point of view. The presented argument or claim must use solid evidence and sound reasoning by stating facts, examples, and quotes.
Persuasive Essay Example
Since persuasive essays are the most common type of essay, it is essential to get familiar with their writing style. For that, here is an interesting persuasive essay example that you can explore for your better understanding.
Analytical Essay
An analytical essay is a type of academic essay in which the writer analyzes a topic bit by bit. Writing an analytical essay is not about convincing readers of your point of view. But wanting readers to agree with what you have written.
So, there is no need to use strong persuasive language in an analytical essay. Rather you should aim to provide enough analysis to make sure your argument is clear to the readers.
Analytical Essay Example
If you are looking for an analytical essay example, here is one from one of our expert writers. Explore this great analytical essay example and learn how to master your analytical essay writing task.
Reflective Essay
A reflective essay is a type of essay writing where you examine your personal experiences through self-reflection. In the process of writing a reflective essay , you provide insight into what you have gained from those experiences.
What makes reflective essays different from other essay types is the fact that it examines the past experience from the present. Reflective essays take the reader through a journey of self-growth.
Reflective Essay Example
The following reflective essay example will help you get a clear idea of how to structure your analytical essay.
Rhetorical Analysis Essay
It is a form of a textual analysis essay in which the student examines and analyzes a persuasive text. It is like an essay, speech, or visual art and analyzes the rhetorical devices used in it. Writing a rhetorical analysis essay is different from writing other essays because it will be more than adding facts only.
Rhetorical Analysis Essay Example
Here is a rhetorical analysis essay example that will help you learn better. For more samples, refer to the below downloadable PDF.
Literary Analysis Essay
A literary analysis essay is based on close reading and analysis of a work of literature like poetry and novel. It identifies different literary factors like themes, setting, characters, setting, and the kind of language used in it. A literary analysis essay has the same 5 paragraphs as any other essay but the main subject and topic are different.
Literary Analysis Essay Example
Need help with your literary analysis essay? Below is a sample essay to help you understand better.
Get All of Your Essays Done Here!
Now you know what are the different types of essays in academic writing that you are most likely to get assigned. However, if you still find it difficult to compose your essay, leave it to our expert writing services and get a perfect essay according to your requirements.
The following writers are available 24/7 to help you with your essay writing needs:
Descriptive essay writer
Persuasive essay writer
Expository essay writer
Argumentative essay writer
Narrative essay writer
Let our professional essay writers help you write different kinds of essays; be it descriptive, narrative, argumentative, or expository. If you are looking for different types of essays pdf, we can also help.
Contact us and we will help you with writing problems to write A+ grade essays within your specified timeline!
Frequently Asked Questions
What is the most important element in any essay.
A thesis statement is the most important part of any essay. Other than the research itself, the thesis statement is the most important part of an essay or research paper. A thesis statement summarizes the main point and essence of the argument.
What type of essay is most common at university?
Usually, university students get argumentative kinds of essays. No matter what kind of essay you write, you will need to develop an argument.
Here are some kinds of essays and the kind of arguments added to them.
Analysis and interpretation of literary texts are discussed in literary analysis essays.
The importance of a particular event or theory is analyzed in a history argumentative essay.
A political theory is examined in a political argumentative essay.
Besides, there are a number of different kinds of argumentative and analysis essays.
Nova A. (Literature, Marketing)
Nova Allison is a Digital Content Strategist with over eight years of experience. Nova has also worked as a technical and scientific writer. She is majorly involved in developing and reviewing online content plans that engage and resonate with audiences. Nova has a passion for writing that engages and informs her readers.
People also read
An Ultimate Essay Writing Guide for Students
Learn How to Write An Essay in Simple Steps
A Complete 500 Word Essay Writing Guide With Examples
Interesting Essay Topics to Ensure A Better Grade
Essay Format: A Basic Guide With Examples
Learn How to Create a Perfect Essay Outline
Learn How to Start an Essay In Simple Steps
A Complete Essay Introduction Writing Guide With Examples
What is a Hook Example For an Essay? Know Now
Learn How to Write a Thesis Statement With Examples
Good Thesis Statement Examples For Your Help
What is a Topic Sentence? - Definition & Examples
Learn How to Write a Conclusion in Simple Steps
Transition Words For Essays - The Ultimate List 2023
What are the 4 Types of Sentences - Definition & Examples
Rules and Writing Conventions For College Student
Essay Writing Problems - 5 Most Paralyzing Problems
Useful Tips for Students on How to Make an Essay Longer
How to Title an Essay - A Short Guide & Examples
Learn How to Write a 1000 Word Essay Like a Pro
Share this article
Keep reading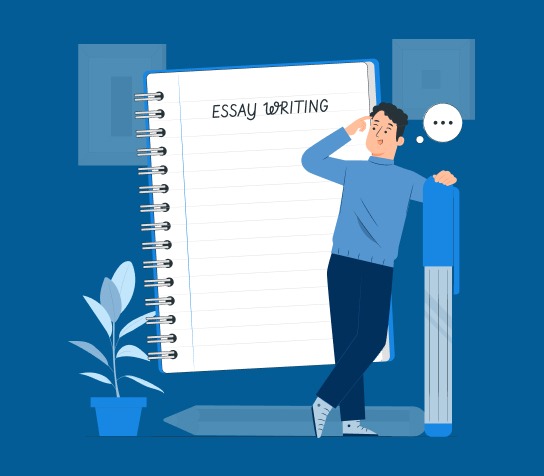 We value your privacy
We use cookies to improve your experience and give you personalized content. Do you agree to our cookie policy?
Website Data Collection
We use data collected by cookies and JavaScript libraries.
Are you sure you want to cancel?
Your preferences have not been saved.
GA4 tracking code
Questions about Expos?
Writing Support for Instructors
Essay Structure
Writing an academic essay means fashioning a coherent set of ideas into an argument. Because essays are essentially linear—they offer one idea at a time—they must present their ideas in the order that makes most sense to a reader. Successfully structuring an essay means attending to a reader's logic.
The focus of such an essay predicts its structure. It dictates the information readers need to know and the order in which they need to receive it. Thus your essay's structure is necessarily unique to the main claim you're making. Although there are guidelines for constructing certain classic essay types (e.g., comparative analysis), there are no set formula.
Answering Questions:  The Parts of an Essay
A typical essay contains many different kinds of information, often located in specialized parts or sections. Even short essays perform several different operations: introducing the argument, analyzing data, raising counterarguments, concluding. Introductions and conclusions have fixed places, but other parts don't. Counterargument, for example, may appear within a paragraph, as a free-standing section, as part of the beginning, or before the ending. Background material (historical context or biographical information, a summary of relevant theory or criticism, the definition of a key term) often appears at the beginning of the essay, between the introduction and the first analytical section, but might also appear near the beginning of the specific section to which it's relevant.
It's helpful to think of the different essay sections as answering a series of questions your reader might ask when encountering your thesis. (Readers should have questions. If they don't, your thesis is most likely simply an observation of fact, not an arguable claim.)
"What?"   The first question to anticipate from a reader is "what": What evidence shows that the phenomenon described by your thesis is true? To answer the question you must examine your evidence, thus demonstrating the truth of your claim. This "what" or "demonstration" section comes early in the essay, often directly after the introduction. Since you're essentially reporting what you've observed, this is the part you might have most to say about when you first start writing. But be forewarned: it shouldn't take up much more than a third (often much less) of your finished essay. If it does, the essay will lack balance and may read as mere summary or description.
"How?"   A reader will also want to know whether the claims of the thesis are true in all cases. The corresponding question is "how": How does the thesis stand up to the challenge of a counterargument? How does the introduction of new material—a new way of looking at the evidence, another set of sources—affect the claims you're making? Typically, an essay will include at least one "how" section. (Call it "complication" since you're responding to a reader's complicating questions.) This section usually comes after the "what," but keep in mind that an essay may complicate its argument several times depending on its length, and that counterargument alone may appear just about anywhere in an essay.
"Why?"   Your reader will also want to know what's at stake in your claim: Why does your interpretation of a phenomenon matter to anyone beside you? This question addresses the larger implications of your thesis. It allows your readers to understand your essay within a larger context. In answering "why", your essay explains its own significance. Although you might gesture at this question in your introduction, the fullest answer to it properly belongs at your essay's end. If you leave it out, your readers will experience your essay as unfinished—or, worse, as pointless or insular.
Mapping an Essay
Structuring your essay according to a reader's logic means examining your thesis and anticipating what a reader needs to know, and in what sequence, in order to grasp and be convinced by your argument as it unfolds. The easiest way to do this is to map the essay's ideas via a written narrative. Such an account will give you a preliminary record of your ideas, and will allow you to remind yourself at every turn of the reader's needs in understanding your idea.
Essay maps ask you to predict where your reader will expect background information, counterargument, close analysis of a primary source, or a turn to secondary source material. Essay maps are not concerned with paragraphs so much as with sections of an essay. They anticipate the major argumentative moves you expect your essay to make. Try making your map like this:
State your thesis in a sentence or two, then write another sentence saying why it's important to make that claim. Indicate, in other words, what a reader might learn by exploring the claim with you. Here you're anticipating your answer to the "why" question that you'll eventually flesh out in your conclusion.
Begin your next sentence like this: "To be convinced by my claim, the first thing a reader needs to know is . . ." Then say why that's the first thing a reader needs to know, and name one or two items of evidence you think will make the case. This will start you off on answering the "what" question. (Alternately, you may find that the first thing your reader needs to know is some background information.)
Begin each of the following sentences like this: "The next thing my reader needs to know is . . ."  Once again, say why, and name some evidence. Continue until you've mapped out your essay. 
Your map should naturally take you through some preliminary answers to the basic questions of what, how, and why. It is not a contract, though—the order in which the ideas appear is not a rigid one. Essay maps are flexible; they evolve with your ideas.
Signs of Trouble  
A common structural flaw in college essays is the "walk-through" (also labeled "summary" or "description"). Walk-through essays follow the structure of their sources rather than establishing their own. Such essays generally have a descriptive thesis rather than an argumentative one. Be wary of paragraph openers that lead off with "time" words ("first," "next," "after," "then") or "listing" words ("also," "another," "in addition"). Although they don't always signal trouble, these paragraph openers often indicate that an essay's thesis and structure need work: they suggest that the essay simply reproduces the chronology of the source text (in the case of time words: first this happens, then that, and afterwards another thing . . . ) or simply lists example after example ("In addition, the use of color indicates another way that the painting differentiates between good and evil").
Copyright 2000, Elizabeth Abrams, for the Writing Center at Harvard University
Tips for Reading an Assignment Prompt
Asking Analytical Questions
Introductions
What Do Introductions Across the Disciplines Have in Common?
Anatomy of a Body Paragraph
Transitions
Tips for Organizing Your Essay
Counterargument
Conclusions
Strategies for Essay Writing: Downloadable PDFs
Brief Guides to Writing in the Disciplines
Quick Links
Schedule an Appointment
English Grammar and Language Tutor
Harvard Guide to Using Sources
Departmental Writing Fellows
Writing Advice: The Harvard Writing Tutor Blog