How to Write a College Essay
College admissions experts offer tips on selecting a topic as well as writing and editing the essay.
Students can go online to review essay requirements for the colleges they want to apply to, such as word limits and essay topics. Many students may start with the Common App, an application platform accepted by more than 1,000 schools. Getty Images
For college applicants, the essay is the place to showcase their writing skills and let their unique voice shine through.
"The essays are important in part because this is a student's chance to really speak directly to the admissions office," says Adam Sapp, assistant vice president and director of admissions at Pomona College in California.
Prospective college students want their essay, sometimes called a personal statement, to make a good impression and boost their chances of being accepted, but they have only several hundred words to make that happen.
This can feel like a lot of pressure.
"I think this is the part of the application process that students are sometimes most challenged by," says Niki Barron, associate dean of admission at Hamilton College in New York, "because they're looking at a blank piece of paper and they don't know where to get started."
That pressure may be amplified as many colleges have gone test optional in recent years, meaning that ACT and SAT scores will be considered if submitted but are not required. Other schools have gone test-blind and don't consider such scores at all. In the absence of test scores, some admissions experts have suggested that more attention will be paid to other parts of an application, such as the essay.
But just as each applicant is unique, so are college admissions policies and priorities.
"Being test optional hasn't changed how we use essays in our selection process, and I wouldn't say that the essay serves as a substitute for standardized test scores," Barron wrote in an email. "A student's academic preparation for our classroom experience is always front and center in our application review process."
On June 29, 2023, the Supreme Court ruled against college admissions policies that consider an applicant's race. The ruling, though, does not prohibit students from writing essays on how their race has affected them, which experts say could significantly affect how students approach this portion of their applications.
Essay-writing tips offered by experts emphasize the importance of being concise, coherent, congenial, unique, honest and accurate. An applicant should also flex some intellectual muscle and include vivid details or anecdotes.
From brainstorming essay topics to editing the final draft, here's what students need to know about crafting a strong college application essay.
Getting Started on the College Essay
How long should a college essay be, how to pick a college essay topic, writing the college essay, how the affirmative action ruling could change college essays, editing and submitting the college essay.
A good time for students to begin working on their essays is the summer before senior year, experts say, when homework and extracurricular activities aren't taking up time and mental energy.
Starting early will also give students plenty of time to work through multiple drafts of an essay before college application deadlines, which can be as early as November for students applying for early decision or early action .
Students can go online to review essay requirements for the colleges they want to apply to, such as word limits and essay topics. Many students may start with the Common App , an application platform accepted by more than 1,000 schools. Students can submit that application to multiple schools.
Another option is the Coalition Application, an application platform accepted by more than 130 schools. Students applying through this application choose from one of six essay prompts to complete and include with their application.
In addition to the main essay, some colleges ask applicants to submit one or more additional writing samples. Students are often asked to explain why they are interested in a particular school or academic field in these supplemental essays , which tend to be shorter than the main essay.
Students should budget more time for the writing process if the schools they're applying to ask for supplemental essays.
"Most selective colleges will ask for more than one piece of writing. Don't spend all your time working on one long essay and then forget to devote energy to other parts of the application," Sapp says.
Though the Common App notes that "there are no strict word limits" for its main essay, it suggests a cap of about 650 words. The Coalition Application website says its essays should be between 500 and 650 words.
"While we won't, as a rule, stop reading after 650 words, we cannot promise that an overly wordy essay will hold our attention for as long as you'd hoped it would," the Common App website states.
The word count is much shorter for institution-specific supplemental essays, which are typically around 250 words.
The first and sometimes most daunting step in the essay writing process is figuring out what to write about.
There are usually several essay prompts to choose from on a college application. They tend to be broad, open-ended questions, giving students the freedom to write about a wide array of topics, Barron says.
The essay isn't a complete autobiography, notes Mimi Doe, co-founder of Top Tier Admissions, a Massachusetts-based advising company. "It's overwhelming to think of putting your whole life in one essay," she says.
Rather, experts say students should narrow their focus and write about a specific experience, hobby or quirk that reveals something personal, like how they think, what they value or what their strengths are. Students can also write about something that illustrates an aspect of their background. These are the types of essays that typically stand out to admissions officers, experts say. Even an essay on a common topic can be compelling if done right.
Students don't have to discuss a major achievement in their essay – a common misconception. Admissions officers who spoke with U.S. News cited memorable essays that focused on more ordinary topics, including fly-fishing, a student's commute to and from school and a family's dining room table.
What's most important, experts say, is that a college essay is thoughtful and tells a story that offers insight into who a student is as a person.
"Think of the college essay as a meaningful glimpse of who you are beyond your other application materials," Pierre Huguet, CEO and founder of admissions consulting firm H&C Education, wrote in an email. "After reading your essay, the reader won't fully know you – at least not entirely. Your objective is to evoke the reader's curiosity and make them eager to get to know you."
If students are having trouble brainstorming potential topics, they can ask friends or family members for help, says Stephanie Klein Wassink, founder of Winning Applications and AdmissionsCheckup, Connecticut-based college admissions advising companies. Klein Wassink says students can ask peers or family members questions such as, "What are the things you think I do well?" Or, "What are my quirks?"
The essay should tell college admissions officers something they don't already know, experts say.
Some experts encourage students to outline their essay before jumping into the actual writing, though of course everyone's writing process differs.
The first draft of an essay doesn't need to be perfect. "Just do a brain dump," Doe says. "Don't edit yourself, just lay it all out on the page."
If students are having a hard time getting started, they should focus on their opening sentence, Doe suggests. She says an essay's opening sentence, or hook, should grab the reader's attention.
Doe offered an example of a strong hook from the essay of a student she worked with:
"I first got into politics the day the cafeteria outlawed creamed corn."
"I want to know about this kid," she says. "I'm interested."
The key to a good college essay is striking a balance between being creative and not overdoing it, Huguet says. He advises students to keep it simple.
"The college essay is not a fiction writing contest," Huguet says. "Admissions committees are not evaluating you on your potential as the next writer of the Great American Novel."
He adds that students should write in the voice they use to discuss meaningful topics with someone they trust. It's also wise to avoid hyperbole, as that can lose the readers' trust, as well as extraneous adverbs and adjectives, Huguet says.
"Thinking small, when done right, means paying close attention to the little things in your life that give it meaning in unique ways," he says. "It means, on the one hand, that you don't have to come up with a plan for world peace, but it also means thinking small enough to identify details in your life that belong only to you."
The Supreme Court's ruling on affirmative action has left some students feeling in limbo with how to approach their essays. Some are unsure whether to include racial identifiers while others feel pressure to exclude it, says Christopher Rim, CEO and founder of Command Education, an admissions consulting company.
"For instance, some of our Asian students have been concerned that referencing their culture or race in their essay could negatively impact them (even moreso than before)," Rim wrote in an email. He noted that many students he works with had already begun crafting their essays before the ruling came. "Some of our other students have felt pressure to disclose their race or share a story of discrimination or struggle because they expect those stories to be received better by admissions officers."
Some of the uneasiness stems from what feels like a contradictory message from the court, Rim says. In his majority opinion, Chief Justice John Roberts Jr., said the ruling shouldn't be construed "as prohibiting universities from considering an applicant's discussion of how race affected his or her life, be it through discrimination, inspiration, or otherwise." But he added that colleges may consider race only if it's tied to an applicant's individual experiences or qualities, such as demonstrating courage against discrimination.
Personal essays shouldn't serve as a way for universities to ask students about their race as a means to admit them on such basis, Roberts added.
Rim says he expects there to be a lot of confusion from parents and students as they navigate that line when writing their essay. He says his guidance will vary with each student depending on their specific situation.
"For a student from an immigrant family, sharing their racial and cultural background may be integral to understanding their identity and values and therefore should be included in the essay," he says. "On the other hand, a student who has never meaningfully considered ways in which their race has shaped their life experience and worldview should not push themselves to do so in their essay simply because they believe it will better their chances."
While admissions officers try to learn about students via the essay, they are also gauging writing skills, so students want to make sure they submit top-notch work.
"The best writing is rewriting," Sapp says. "You should never be giving me your first draft."
When reviewing a first essay draft, students should make sure their writing is showing, not telling, Huguet says. This means students should show their readers examples that prove they embody certain traits or beliefs, as opposed to just stating that they do. Doing so is like explaining a joke to someone who's already laughed at it, he says.
"Let's say, for example, that the whole point of a certain applicant's essay is to let admissions officers know that she thinks outside the box. If she feels the need to end her essay with a sentence like, 'And so, this anecdote shows that I think outside the box,' she's either underestimating the power of her story (or the ability of her reader to understand it), or she hasn't done a good enough job in telling it yet," Huguet says. "Let your readers come to their own conclusions. If your story is effective, they'll come to the conclusions you want them to."
After editing their essay, students should seek outside editing help, experts recommend. While there are individuals and companies that offer paid essay help – from editing services to essay-writing boot camps – students and families may not be able to afford the associated fees. Some providers may offer scholarships or other financial aid for their services.
The availability and level of feedback from free essay advising services vary. Some college prep companies offer brief consultations at no charge. Free essay workshops may also be available through local high schools, public libraries or community organizations. Khan Academy, a free online education platform, also offers a series of videos and other content to guide students through the essay writing process.
Colleges themselves may also have resources, Barron notes, pointing to pages on Hamilton's website that offer writing tips as well as examples of successful admissions essays. Likewise, Hamilton also holds virtual panel discussions on writing admissions essays.
Students have other options when it comes to essay help. They can ask peers, teachers, school counselors and family members for help polishing an essay. Huguet says it's typically wise to prioritize quality over quantity when it comes to seeking feedback on essays. Too many perspectives can become counterproductive, he says.
"While it can be valuable to have different perspectives, it's best to seek out individuals who are experts in the writing process," he says. "Instructors or professors can be helpful, particularly if they possess subject expertise and can provide guidance on refining arguments, structure and overall coherence."
Proofreaders should not change the tone of the essay. "Don't let anyone edit out your voice," Doe cautions.
And while proofreading is fair game, having someone else write your essay is not.
When an essay is ready to go, students will generally submit it online along with the rest of their application. On the Common App, for example, students copy and paste their essay into a text box.
Sapp says even though students often stress about the essay in particular, it's not the only thing college admissions officers look at. "The essay is the window, but the application is the house," he says. "So let's not forget that an application is built of many pieces."
Searching for a college? Get our complete rankings of Best Colleges.
What to Do After Selecting a College
College Admissions
How to Complete a College Application
Use the Common App to Apply to College
College Application Essay Grammar Tips
See College Essay Examples
Tags: education , colleges , college admissions , college applications , students
2024 Best Colleges
Search for your perfect fit with the U.S. News rankings of colleges and universities.
College Admissions: Get a Step Ahead!
Sign up to receive the latest updates from U.S. News & World Report and our trusted partners and sponsors. By clicking submit, you are agreeing to our Terms and Conditions & Privacy Policy .
Ask an Alum: Making the Most Out of College
You May Also Like
Pick the right advanced nursing degree.
Andrew Bauld Dec. 7, 2023
3 Reasons Not to Apply to College Early
Andrew Warner Dec. 7, 2023
The Entrepreneurial Value of Higher Ed
Ahmad Al Asady and Chris Groening Dec. 7, 2023
Colleges With the Most NFL Players
Jackson Nimesheim Dec. 6, 2023
11 Colleges With the Lowest Admit Rates
Ilana Kowarski and Cole Claybourn Dec. 1, 2023
What to Wear to a College Interview
LaMont Jones, Jr. Nov. 29, 2023
College Rankings of the Big Ten Schools
Cole Claybourn Nov. 29, 2023
Are Private Student Loans Worth It?
Erika Giovanetti Nov. 29, 2023
Huge Rise in International Students
Anayat Durrani Nov. 28, 2023
Surveys for 2024 Best Graduate Schools
U.S. News Staff Nov. 27, 2023
Don't have an Account?
Register Now!
International Student
Essay Writing Center
Sample Essays
Sample College Admission Essays
Applying to college can be very exciting, but also require a lot of dedication, research, and hard work. One key piece of your application that should be given plenty of time and attention is the college admission essay. Before you write your first draft read our sample essays to get a few tips on writing your perfect admission essay.
This section contains five examples of good college essays.
College Essay Sample One
College essay sample two, college essay sample three, college essay sample four, college essay sample five.
State University and I possess a common vision. I, like State University, constantly work to explore the limits of nature by exceeding expectations. Long an amateur scientist, it was this drive that brought me to the University of Texas for its Student Science Training Program in 2013. Up to that point science had been my private past time, one I had yet to explore on anyone else's terms. My time at UT, however, changed that. Participating for the first time in a full-length research experiment at that level, I felt more alive, more engaged, than I ever had before. Learning the complex dynamics between electromagnetic induction and optics in an attempt to solve one of the holy grails of physics, gravitational-waves, I could not have been more pleased. Thus vindicated, my desire to further formalize my love of science brings me to State University. Thanks to this experience, I know now better than ever that State University is my future, because through it I seek another, permanent, opportunity to follow my passion for science and engineering.
In addition to just science, I am drawn to State University for other reasons. I strive to work with the diverse group of people that State University wholeheartedly accommodates – and who also share my mindset. They, like me, are there because State University respects the value of diversity. I know from personal experience that in order to achieve the trust, honesty, and success that State University values, new people are needed to create a respectful environment for these values. I feel that my background as an American Sikh will provide an innovative perspective in the university's search for knowledge while helping it to develop a basis for future success. And that, truly, is the greatest success I can imagine.
This emphasis on diversity can also be found in the variety of specialized departments found at State University. On top of its growing cultural and ethnic diversity, State University is becoming a master at creating a niche for every student. However, this does not isolate students by forcing them to work with only those individuals who follow their specific discipline. Instead, it is the seamless interaction between facilities that allows each department, from engineering to programming, to create a real learning environment that profoundly mimics the real world. Thus, State University is not just the perfect place for me, it is the only place for me. Indeed, having the intellectual keenness to absorb every ounce of knowledge presented through my time in the IB program, I know that I can contribute to State University as it continues to cultivate a scholarly climate that encourages intellectual curiosity.
At the Department of Electrical and Computer Engineering at State University, I will be able to do just that. In a department where education and research are intermixed, I can continue to follow the path that towards scientific excellence. Long-mesmerized by hobbies like my work with the FIRST Robotics team, I believe State University would be the best choice to continue to nurture my love for electrical and computer engineering. I have only scratched the surface in this ever evolving field but know that the technological potential is limitless. Likewise, I feel that my time at State University would make my potential similarly limitless.
This is a picture-perfect response to a university-specific essay prompt. What makes it particularly effective is not just its cohesive structure and elegant style but also the level of details the author uses in the response. By directly identifying the specific aspects of the university that are attractive to the writer, the writer is able to clearly and effectively show not only his commitment to his studies but – perhaps more importantly – the level of thought he put into his decision to apply. Review committees know what generic responses look like so specificity sells.
For as long as I can remember, I have dreamed of science. Where others see the engineering, experimentation, and presentation of science as a chore, I only see excitement. Even as a child I constantly sought it out, first on television with Bill Nye and The Mythbusters, then later in person in every museum exhibit I could find. Science in all its forms fascinated me, but science projects in particular were a category all to themselves. To me, science projects were a special joy that only grew with time. In fact, it was this continued fascination for hands-on science that brought me years later to the sauna that is the University of Alabama in mid-June. Participating in the Student Science Training Program and working in their lab made me feel like a kid in a candy store. Just the thought of participating in a project at this level of scientific rigor made me forget that this was supposed to be my summer break and I spent the first day eagerly examining every piece of equipment.
Even at first, when the whole research group sat there doing rote calculations and others felt like they were staring down the barrel of defeated purpose, I remained enthusiastic. Time and time again I reminded myself of that famous phrase "great effort leads to great rewards," and sure enough, soon my aspirations began to be met. This shift in attitude also coincided with a shift in location: from the computer desk to the laser lab. It was finally time to get my hands dirty.
Now things began to get really interesting. During the experimentation phase of the project, I spent the majority of my waking hours in the lab – and I enjoyed every minute of it. From debriefing with my coordinator in the morning to checking and rechecking results well into the afternoon, I was on cloud nine all day, every day. I even loved the electric feeling of anxiety as I waited for the results. Most of all, though, I loved the pursuit of science itself. Before I knew it, I was well into the seventh week and had completed my first long-term research experiment.
In the end, although the days were long and hard, my work that summer filled me with pride. That pride has confirmed and reinvigorated my love for science. I felt more alive, more engaged, in that lab than I have anywhere else, and I am committed to returning. I have always dreamed of science but since that summer, since my experiment, I have dreamed only of the future. To me, medical science is the future and through it I seek another, permanent, opportunity to follow my passion. After all, to follow your passion is, literally, a dream come true.
In addition to its use of clear, demonstrative language, there is one thing that makes this an effective essay: focus. Indeed, notice that, although the question is broad, the answer is narrow. This is crucial. It can be easy to wax poetic on a topic and, in the process, take on too much. Instead, by highlighting one specific aspect of his personality, the author is able to give the reader a taste of his who he is without overwhelming him or simply reproducing his résumé. This emphasis gives the reader the opportunity to learn who the writer is on his terms and makes it a truly compelling application essay.
The winter of my seventh grade year, my alcoholic mother entered a psychiatric unit for an attempted suicide. Mom survived, but I would never forget visiting her at the ward or the complete confusion I felt about her attempt to end her life. Today I realize that this experience greatly influenced my professional ambition as well as my personal identity. While early on my professional ambitions were aimed towards the mental health field, later experiences have redirected me towards a career in academia.
I come from a small, economically depressed town in Northern Wisconson. Many people in this former mining town do not graduate high school and for them college is an idealistic concept, not a reality. Neither of my parents attended college. Feelings of being trapped in a stagnant environment permeated my mind, and yet I knew I had to graduate high school; I had to get out. Although most of my friends and family did not understand my ambitions, I knew I wanted to make a difference and used their doubt as motivation to press through. Four days after I graduated high school, I joined the U.S. Army.
The 4 years I spent in the Army cultivated a deep-seated passion for serving society. While in the Army, I had the great honor to serve with several men and women who, like me, fought to make a difference in the world. During my tour of duty, I witnessed several shipmates suffer from various mental aliments. Driven by a commitment to serve and a desire to understand the foundations of psychological illness, I decided to return to school to study psychology.
In order to pay for school and continue being active in the community, I enlisted in the Texas Army National Guard as a Medic. Due to the increased deployment schedule and demands placed on all branches of the military after September 11, my attendance in school has necessarily come second to my commitment to the military. There are various semesters where, due to this demand, I attended school less than full time. Despite taking a long time and the difficulty in carving separate time for school with such occupational requirements, I remained persistent aiming towards attending school as my schedule would allow. My military commitment ends this July and will no longer complicate my academic pursuits.
In college, as I became more politically engaged, my interest began to gravitate more towards political science. The interest in serving and understanding people has never changed, yet I realized I could make a greater difference doing something for which I have a deeper passion, political science. Pursuing dual degrees in both Psychology and Political Science, I was provided an opportunity to complete a thesis in Psychology with Dr. Sheryl Carol a Professor in Social Psychology at the University of Texas (UT) This fall I will complete an additional thesis as a McNair Scholar with Dr. Ken Chambers, Associate Professor in Latin American studies in the UT Political Science Department.
As an undergraduate, I was privileged to gain extensive research experience working in a research lab with Dr. Carol. During the three years I worked in her lab, I aided in designing a study, writing an Institutional Review Board (IRB) application, running participants through both pilot and regular studies, coding data, and analyzing said data, with these experiences culminating in my honors thesis. This thesis, entitled Self-Esteem and Need-to-Belong as predictors of implicit stereotypic explanatory bias, focuses on the relationship between levels (high and low) of self-esteem and an individual's need to belong in a group, and how they predict whether an individual will tend to explain stereotype-inconsistent behavior. Participating in such a large study from start to finish has validated my interest in academic research as a profession.
This fall I will embark on writing an additional honors thesis in political science. While the precise topic of my thesis is undecided, I am particularly interested in Mexico and its development towards a more democratic government. Minoring in Spanish, I have read various pieces of literature from Mexico and have come to respect Mexico and Latin American culture and society. I look forward to conducting this research as it will have a more qualitative tilt than my thesis in psychology, therefore granting an additional understanding of research methodology.
My present decision to switch from social psychology to political science is further related to a study abroad course sponsored by the European Union with Dr. Samuel Mitchell, an Associate Professor in the Political Science Department at UT. Professor Mitchell obtained a grant to take a class of students to Belgium in order to study the EU. This course revealed a direct correlation between what I had studied in the classroom with the real world. After spending several weeks studying the EU, its history and present movement towards integration, the class flew to Brussels where we met with officials and proceeded to learn firsthand how the EU functioned.
My interest in attending the University of Rochester in particular, relates to my first semester at OU and the opportunity to take an introductory course in statistics with the now retired Dr. Larry Miller. Through the combination of a genuine appreciation and knack for statistics and with his encouragement, I proceeded to take his advanced statistics class as well as the first graduate level statistics course at OU. I continued my statistical training by completing the second graduate statistics course on model comparisons with Dr. Roger Johnson, a Professor in the Psychology Department. The model comparison course was not only the most challenging course I have taken as an undergraduate, but the most important. As the sole undergraduate in the course and only college algebra under my belt, I felt quite intimidated. Yet, the rigors of the class compelled me to expand my thinking and learn to overcome any insecurities and deficits in my education. The effort paid off as I earned not only an 'A' in the course, but also won the T.O.P.S. (Top Outstanding Psychology Student) award in statistics. This award is given to the top undergraduate student with a demonstrated history of success in statistics.
My statistical training in psychology orientates me toward a more quantitative graduate experience. Due to the University of Rochester's reputation for an extensive use of statistics in political science research, I would make a good addition to your fall class. While attending the University of Rochester, I would like to study international relations or comparative politics while in graduate school. I find the research of Dr.'s Hein Goemans and Gretchen Helmke intriguing and would like the opportunity to learn more about it through the Graduate Visitation program.
Participation in the University of Rochester's Graduate School Visitation Program would allow me to learn more about the Department of Political Science to further see if my interests align with those in the department. Additionally, my attendance would allow the Political Science department to make a more accurate determination on how well I would fit in to the program than from solely my graduate school application. Attending the University of Rochester with its focus on quantitative training, would not only allow me to utilize the skills and knowledge I gained as an undergraduate, but also would expand this foundation to better prepare me to conduct research in a manner I find fascinating.
From attending S.E.R.E. (Survival/POW training) in the military and making it through a model comparisons course as an undergraduate, I have rarely shied away from a challenge. I thrive on difficult tasks as I enjoy systematically developing solutions to problems. Attending the University of Rochester would more than likely prove a challenge, but there is no doubt in my mind that I would not only succeed but enable me to offer a unique set of experiences to fellow members of the incoming graduate class.
My handwriting didn't become jittery until the third round. The number of competitors in the Midwest Spelling Bee had dropped from 100 to the thirty-some who remained after two waves of preliminaries, a group I was awed to be in. The third round would likely be the last one carried out with pencil and paper. A sole word stood between me and the oral competition to follow. My nerves soared at the thought that a mere handful of syllables from the pronouncer's mouth would offer me a chance to compete in the apex of orthography: the regional bee finals. Yet, when I heard the word "Wagner," the degree of my confusion was only rivaled by that of my disappointment upon elimination.
My approach to academic success in middle school consisted of rote memorization and stodgy study habits. Fortunately for my sanity and social life, I have since discovered that learning derived from experience can introduce an invaluable layer of reality to otherwise useless knowledge. My hinge moment came near the end of eighth grade when I was stumped by "Wagner" and its ensuing definition: "a German composer, theatre director, polemicist, and conductor who is primarily known for his operas." To my credit, the phonetic vocalization of Wagner is something like "BAHG-nur," with the ever ambiguous bee/vee sound. But, an error is an error, and my misspelling of the word earned me a disheartening dismissal from the Midwest Spelling Bee. I immediately resolved to learn about the man whose name was responsible for cheapening my years of poring over vocabulary lists and etymology guides. Upon learning that Richard Wagner was one of the most prolific opera composers in history, I had to investigate. Along my inquisitive quest, I encountered two newfound passions: opera music and the pursuit of stimulating information.
I am an unabashed classical music aficionado. My enthusiasm came gradually over years of imposed piano lessons that eventually became voluntary as my interest in the activity piqued. I came to sense the profound communion with notes on a page arising from tinkering out the same rhythms and melodies that were manuscripts by musical geniuses centuries ago. However, because I could not perform it, I never thought to explore opera. Without my keen interest in Wagner, I may have never encountered the awe-inspiring blend of visual and musical mastery that constitutes his interpretation of the genre. Opera swiftly captured my eye and ear for insightful art. For instance, in his landmark opera, Tristan und Isolde, Wagner unleashed a then-revolutionary tonal system which paved the way for twentieth century classical music. As I unearthed the beauty of opera, my awareness of all the remarkable, groundbreaking themes of Wagner's productions became embodied by the word "Wagner." In this striking moment, I could not help but feel the value of connecting my learning to purposeful interaction.
Fueled by my frustration with the outcome of the bee, I searched for the source of my failure. In uncovering the works of Wagner, I gleaned a sense of the vast droves of information that can lie behind a seemingly simple word. I suddenly became aware of my incapacity to seek out the surprising insights that the world might have been waiting to reveal. Thanks to a reevaluation triggered by a failure, I garnered a new appreciation for experiential learning. Since my underwhelming performance nearly four years ago, I have become well versed in the mysterious, gritty art of inquiry. Rather than perceiving my environment to be a sterile list of terms with a neat pronunciation guide to boot, I am now eager to take in the uncommon wisdoms of everything from the innovative operatic tropes of Wagner to the fickle nature of bees—both the pollinating insects and their manmade homonyms.
The exclusiveness portrayed in Mean Girls led me to expect that high school would consist of like-minded cliques. Rather, in high school I found that a single commonality can unite a seemingly random sampling of people. Through marching band, this idea was embodied in a desire to perform music. UChicago's community is similarly bonded by a serious passion for learning which satisfies my desire to become a thoughtful citizen of tomorrow.
The hierarchy of authority in marching band is one I have come to love, and not only because I achieved the top student position in it as a drum major. In that role, I watched younger members hone their skills in an effort to contribute to the collective performance. The value of a uniform training followed by opportunities to lead is exemplified by the ambitious and talented student leaders produced. At UChicago, The Core serves a comparable purpose in preparing students for exhaustive academic exploration. I am enticed by the intensive inquiry and groundbreaking research that students partake in. Yet, I appreciate the benefit of undergoing the rigorous Core first. UChicago emphasizes experiential learning, even in the College, which appeals to my desire to collaborate with other brilliant learners. When I visited campus, two specific encounters struck me. Initially, the Institute of Politics attracted me with its hands-on approach to policy issues through programs like Student Civic Engagement projects. Even more alluring was the Politics & Policy class I sat in on. Following a lecture on bureaucracy that may have droned over the heads of less inspired students, I was surrounded by a hubbub of engaged thinkers convening through discussion. UChicago's intellectual atmosphere is animated by the common thirst for knowledge that characterizes every student.
Through marching band, I discovered a passion for influencing others. My dream is that by drawing from UChicago's empowering community, my drive will transfer to pertinent global issues like human rights in the Middle East. UChicago is my ideal learning environment, for as Wayne Booth stated while he was Dean of the College, UChicago empowers tomorrow's intellectual leaders to "see through the guff." During high school, I have grown from an uncertain ninth grader into the capable leader I am today, leaving me optimistic for how I may develop in the next four years.
A travel through my room reveals almost everything about me. The walls are splashed with two tones of eye-burning pink, fairies dance across the vibrant wallpaper sprinkled with sparkles, a white-washed dresser covered in knick-knacks, and an overflowing toy box fit perfectly in this Technicolor dream room.
In one corner of my room, a paint-by-numbers portrait that my grandfather created in a World War II hospital silently tells its story. My grandfather, an Italian barber, raised six children in Bayonne, NJ with my grandmother. My grandparents worked hard to deliver the most American of promises – that your kids will have a better standard of living than you. In that regard, my mother, who put herself through college to become an engineer, made good, affording to give me my own room, a luxury she never knew.
The next corner of my room contains a nondescript desk and laptop, the same as anyone's room. Who would guess that this desk is also the launching pad of myYearbook.com, a 1.6 million member social networking site that I created? Layers of spec sheets, Post-Its, and emails form a sea of productivity that I find comforting. Scribbled telephone numbers and names remind me of deals I did and didn't do, reporters who did and didn't write on me, and technology worries I never stop trying to resolve. Half-drunk coke cans tell the tale of a dozen all-nighters, and someone who is at her most creative at night.
The desk is not all business though. My calculus and economics texts bookend my laptop, and a bouquet of dead flowers from my boyfriend rest in peace on my shelf, revealing a morbid sentimentality. Although the flowers have long died and the water completely evaporated, the card and its words "Jeg synes a du er fantastik og du er det beste ting i mit verden," are the only reason the flowers never made it to the garbage. In Danish, the sentence translates to, "I think you are fantastic, and you are the best thing in my world." Ever since I started dating him, I have been learning more and more about his Danish culture, and I plan to go to Denmark twice this year.
The third corner holds my well-worn, folded-up gymnastics floor beam and barely used grips. Unlike many gymnasts though, I prefer not to wear the grips on bars because they make it harder to feel the bar. I started gymnastics when I was five, and since then my hands have earned their calluses, and I am proud of them. You won't find me moisturizing my hands except to keep them from splitting on the bars.
In the last corner hangs a painting I bought while organizing an online Tsunami Aid Art Project. It was my first significant project online and helped give me a sense of the power of the Internet to connect people. As part of the artist community WetCanvas.com, myself and two other members organized a tsunami-related art project with all proceeds donated to charity. We raised $10,000 in funds, and had about 100 pieces of work donated from artists in nine countries.
Sadly, I know this will not always be my room. The pink fairies will give way to adult- sized possessions and responsibilities. The knick-knacks will break, and the sanctuary of my childhood will soon seem so childish. But, for now, I will embrace the pink, the fairies, and the simplicity of life in my mom's house. I will look forward to the possibilities of creating another space, as uniquely my own as this one, and as uniquely a part of my past as this room will always be.
Related Content:
Get the international student newsletter.
Your Trusted Advisors for Admissions Success
Admissions and test prep resources to help you get into your dream schools
14 College Essay Examples From Top-25 Universities (2023–2024)
College essay examples from students accepted to harvard, stanford, and other elite schools.
REVIEWING SUCCESSFUL COLLEGE ESSAY EXAMPLES CAN HELP YOU UNDERSTAND HOW TO MAXIMIZE YOUR ODDS OF ACCEPTANCE
Responding effectively to college essay prompts is quite different from other essay writing. The combined challenge of addressing a question in an interesting way while staying focused and making yourself stand out, all within a limited number of words, is something that students struggle with every year. With a wide variety of prompts used by each school, alongside the Common App essays , it can be overwhelming to write strong, memorable essays.
However, there are some standard practices that will help elevate your essay:
Directly address any questions the prompt asks. Many essay prompts will ask you to write about extracurricular experiences in your life or to list interests such as your favorite movies or music. Be sure to include the answer to any questions and don't get distracted while providing context or other extra information.
Use specific information. Make sure to mention the specific volunteer program you worked at or the name of your favorite instructor from your summer STEM camp. While it's important not to overburden your essay with small details, peppering in a few specifics will highlight what's important to you both academically and personally.
Create a narrative. Just like with any story or news article, you want to start your essays with a good hook. Setting the stage for your experiences, including anecdotes to drive home a point, or carrying a thematic element throughout your essay will help keep the reader interested and will show off your creativity.
Reuse material. There's no reason to write completely new essays for every school you're applying to. Many schools ask the same questions with slightly different wording, like the commonly used "diversity essay" which essentially asks how you contribute and benefit from diversity. With some editing, a single essay could answer multiple prompts — and cut down on your stress!
Put yourself in your reader's shoes. College admissions officers read hundreds of essays from hopeful applicants with each one thinking their personal experiences and reasons for applying to a particular school are unique.
This contributes to the difficulty in standing out in your essays since almost anything you write about will likely have been encountered by your reader before.
Putting yourself in your reader's shoes can help strengthen your writing. Remember, it's not necessarily about what you say, but how you say it. If you read your essay back to yourself and some of the descriptions sound trite or typical, these are spots that are ripe for improvement.
For example, if you describe a trip abroad to help build homes in a developing country with words like "life-changing" and "eye-opening," you may run the risk of boring your reader. That experience could have been truly life-changing for you, but the simple act of thinking of more creative ways to express an idea not only makes your writing more interesting to read, it signals to your reader the amount of effort you've put into your essay.
Describing an experience as transformative can sound less cliché and exaggerated. Moreover, allowing your experiences to speak for themselves (showing instead of telling) will display your imagination and grant you space to emphasize what you learned–something always popular with adcoms.
Go through multiple drafts–and do so early. We can't stress enough the importance of revision. While your initial ideas may be good, the first couple of drafts will never express them as well as they would after a few edits.
Writing takes place in the mind. It's a thought process that involves reflecting on your experiences and then translating that reflection into words and—most importantly—time. Make sure you start writing your essays as early as possible to grant yourself as much space as possible to revise.
Be vulnerable / show emotion. Remember that college adcoms are people, not robots reading an essay to make sure you've ticked all the boxes for a particular university. Showing some vulnerability or emotion in your writing can make your story come alive for the reader.
Keep in mind there is a fine line between "showing emotion" and a sob story. It's okay to display your vulnerability in an essay, but making the reader feel sorry for you won't win you any points. Furthermore, showing emotion encompasses feelings of triumph to feelings of struggle. Letting these shine through in your essay demonstrates your passion, which engages your reader.
Here are some example essays from some of the thousands of students we've helped get accepted to their dream school.
Note: Some personally identifying details have been changed.
College essay example #1
This is a college essay that worked for Harvard University .
(Suggested reading: How to Get Into Harvard Undergrad )
This past summer, I had the privilege of participating in the University of Notre Dame's Research Experience for Undergraduates (REU) program . Under the mentorship of Professor Wendy Bozeman and Professor Georgia Lebedev from the department of Biological Sciences, my goal this summer was to research the effects of cobalt iron oxide cored (CoFe2O3) titanium dioxide (TiO2) nanoparticles as a scaffold for drug delivery, specifically in the delivery of a compound known as curcumin, a flavonoid known for its anti-inflammatory effects. As a high school student trying to find a research opportunity, it was very difficult to find a place that was willing to take me in, but after many months of trying, I sought the help of my high school biology teacher, who used his resources to help me obtain a position in the program.
Using equipment that a high school student could only dream of using, I was able to map apoptosis (programmed cell death) versus necrosis (cell death due to damage) in HeLa cells, a cervical cancer line, after treating them with curcumin-bound nanoparticles. Using flow cytometry to excite each individually suspended cell with a laser, the scattered light from the cells helped to determine which cells were living, had died from apoptosis or had died from necrosis. Using this collected data, it was possible to determine if the curcumin and/or the nanoparticles had played any significant role on the cervical cancer cells. Later, I was able to image cells in 4D through con-focal microscopy. From growing HeLa cells to trying to kill them with different compounds, I was able to gain the hands-on experience necessary for me to realize once again why I love science.
Living on the Notre Dame campus with other REU students, UND athletes, and other summer school students was a whole other experience that prepared me for the world beyond high school. For 9 weeks, I worked, played and bonded with the other students, and had the opportunity to live the life of an independent college student.
Along with the individually tailored research projects and the housing opportunity, there were seminars on public speaking, trips to the Fermi National Accelerator Laboratory, and one-on-one writing seminars for the end of the summer research papers we were each required to write. By the end of the summer, I wasn't ready to leave the research that I was doing. While my research didn't yield definitive results for the effects of curcumin on cervical cancer cells, my research on curcumin-functionalized CoFe2O4/TiO2 core-shell nanoconjugates indicated that there were many unknown factors affecting the HeLa cells, and spurred the lab to expand their research into determining whether or not the timing of the drug delivery mattered and whether or not the position of the binding site of the drugs would alter the results. Through this summer experience, I realized my ambition to pursue a career in research. I always knew that I would want to pursue a future in science, but the exciting world of research where the discoveries are limitless has captured my heart. This school year, the REU program has offered me a year-long job, and despite my obligations as a high school senior preparing for college, I couldn't give up this offer, and so during this school year, I will be able to further both my research and interest in nanotechnology.
College essay example #2
This student was admitted to Harvard University.
I believe that humans will always have the ability to rise above any situation, because life is what you make of it. We don't know what life is or why we are in this world; all we know, all we feel, is that we must protect it anyway we can. Buddha said it clearly: "Life is suffering." Life is meant to be challenging, and really living requires consistent work and review. By default, life is difficult because we must strive to earn happiness and success.
Yet I've realized that life is fickler than I had imagined; it can disappear or change at any time. Several of my family members left this world in one last beating symphony; heart attacks seem to be a trend in my family. They left like birds; laughing one minute and in a better place the next.
Steve Jobs inspired me, when in his commencement address to Stanford University in 2005, he said "Your time is limited, so don't waste it living someone else's life. Don't be trapped by dogma--which is living with the results of other people's thinking." I want to make mistakes, because that is how I learn; I want to follow the beat of my own drum even if it is "out of tune." The important thing is to live without regrets, so when my heart ceases to beat, it will make one last happy note and move on.
I want to live my life daily. Every day I want to live. Every morning when I wake up, I want to be excited by the gift of a new day. I know I am being idealistic and young, and that my philosophy on life is comparable to a calculus limit; I will never reach it. But I won't give up on it because, I can still get infinitely close and that is amazing.
Every day is an apology to my humanity; because I am not perfect, I get to try again and again to "get it right." I breathe the peace of eternity, knowing that this stage is temporary; real existence is continuous. The hourglass of life incessantly trickles on and we are powerless to stop it.
So, I will forgive and forget, love and inspire, experience and satire, laugh and cry, accomplish and fail, live and die. This is how I want to live my life, with this optimistic attitude that every day is a second chance. All the time, we have the opportunity to renew our perspective on life, to correct our mistakes, and to simply move on. Like the phoenix I will continue to rise from the ashes, experienced and renewed. I will not waste time for my life is already in flux.
In all its splendor The Phoenix rises In a burst of orange and yellow It soars in the baby blue sky Heading to that Great Light Baptized in the dance of time Fearless, eternal, beautiful It releases a breathtaking aurora And I gasp at the enormity
Struggling to write your college essays?
Get our free 110-page guide to help you with every single one: How to Get Into America's Elite Colleges: The Ultimate Guide
100% privacy. No spam. Ever.
Thank you! Your guide is on its way. In the meantime, please let us know how we can help you crack the the college admissions code . You can also learn more about our 1-on-1 college admissions support here .
College essay example #3
This is a college essay that worked for Duke University .
(Suggested reading: How to Get Into Duke )
As soon as the patient room door opened, the worst stench I have ever encountered hit me square in the face. Though I had never smelled it before, I knew instinctively what it was: rotting flesh. A small, elderly woman sat in a wheelchair, dressed in a hospital gown and draped in blankets from the neck down with only her gauze-wrapped right leg peering out from under the green material. Dr. Q began unwrapping the leg, and there was no way to be prepared for what I saw next: gangrene-rotted tissue and blackened, dead toes.
Never before had I seen anything this gruesome–as even open surgery paled in comparison. These past two years of shadowing doctors in the operating room have been important for me in solidifying my commitment to pursue medicine, but this situation proved that time in the operating room alone did not quite provide a complete, accurate perspective of a surgeon's occupation. Doctors in the operating room are calm, cool, and collected, making textbook incisions with machine-like, detached precision. It is a profession founded solely on skill and technique–or so I thought. This grisly experience exposed an entirely different side of this profession I hope to pursue.
Feeling the tug of nausea in my stomach, I forced my gaze from the terrifying wound onto the hopeful face of the ailing woman, seeking to objectively analyze the situation as Dr. Q was struggling to do himself. Slowly and with obvious difficulty, Dr. Q explained that an infection this severe calls for an AKA: Above the Knee Amputation. In the slow, grave silence that ensued, I reflected on how this desperate patient's very life rests in the hands of a man who has dedicated his entire life to making such difficult decisions as these. I marveled at the compassion in Dr. Q's promise that this aggressive approach would save the woman's life. The patient wiped her watery eyes and smiled a long, sad smile. "I trust you, Doc. I trust you." She shook Dr. Q's hand, and the doctor and I left the room.
Back in his office, Dr. Q addressed my obvious state of contemplation: "This is the hardest part about what we do as surgeons," he said, sincerely. "We hurt to heal, and often times people cannot understand that. However, knowing that I'm saving lives every time I operate makes the stress completely worth it."
Suddenly, everything fell into place for me. This completely different perspective broadened my understanding of the surgical field and changed my initial perception of who and what a surgeon was. I not only want to help those who are ill and injured, but also to be entrusted with difficult decisions the occupation entails. Discovering that surgery is also a moral vocation beyond the generic application of a trained skill set encouraged me. I now understand surgeons to be much more complex practitioners of medicine, and I am certain that this is the field for me.
College essay example #4
This is a supplemental essay that worked for Stanford University .
(Suggested reading: How to Get Into Stanford Undergrad and How to Ace the Stanford Roommate Essay )
In most conventional classrooms, we are taught to memorize material. We study information to regurgitate it on a test and forget it the following day. I thought this was learning. But this past summer, I realized I was wrong.
I attended the SPK Program, a five-week enrichment program with New Jersey's best and brightest students. I lived on a college campus with 200 students and studied a topic. I selected Physical Science. On the first day of class, our teacher set a box on the table and poured water into the top, and nothing came out. Then, he poured more water in, and everything slowly came out. We were told to figure out what had happened with no phones or textbooks, just our brains. We worked together to discover in the box was a siphon, similar to what is used to pump gas. We spent the next weeks building solar ovens, studying the dynamic of paper planes, diving into the content of the speed of light and space vacuums, among other things. We did this with no textbooks, flashcards, or information to memorize.
During those five weeks, we were not taught impressive terminology or how to ace the AP Physics exam. We were taught how to think. More importantly, we were taught how to think together. Learning is not memorization or a competition. Learning is working together to solve the problems around us and better our community. To me, learning is the means to a better future, and that's exciting.
College essay example #5
This is a college essay that worked for University of Pennsylvania (UPenn).
(Suggested reading: How to Get Into UPenn )
When I was thirteen and visiting Liberia, I contracted what turned out to be yellow fever. I met with the local doctor, but he couldn't make a diagnosis simply because he didn't have access to blood tests and because symptoms such as "My skin feels like it's on fire" matched many tropical diseases. Luckily, my family managed to drive me several hours away to an urban hospital, where I was treated. Yellow fever shouldn't be fatal, but in Africa it often is. I couldn't believe that such a solvable issue could be so severe at the time—so I began to explore.
The exploration led me to the African Disease Prevention Project (ADPP), a non-profit organization associated with several universities. I decided to create the first high school branch of the organization; I liked its unique way of approaching health and social issues. Rather than just raising money and channeling it through third parties, each branch "adopts" one village and travels there to provide for its basic needs. As branch president, I organize events from small stands at public gatherings to 60-person dinner fundraisers in order to raise both money and awareness. I've learned how to encourage my peers to meet deadlines, to work around 30 different schedules at once, and to give presentations convincing people why my organization is worth their donation. But overall, ADPP has taught me that small changes can have immense impacts. My branch has helped raise almost $3,000 to build water sanitation plants, construct medical clinics, and develop health education programs in the small village of Zwedru. And the effect doesn't stop there—by improving one area, our efforts permeate into neighboring villages as they mimic the lifestyle changes that they observe nearby—simple things, like making soap available—can have a big effect. The difference between ADPP and most other organizations is its emphasis on the basics and making changes that last. Working towards those changes to solve real life problems is what excites me.
I found that the same idea of change through simple solutions also rang true during my recent summer internship at Dr. Martin Warner's lab at UCLA. Dr. Martin's vision involves using already available digital technologies to improve the individualization of healthcare. By using a person's genome to tailor a treatment for them or using someone's personal smartphone as a mobile-monitor to remotely diagnose symptoms, everyday technology is harnessed to make significant strides forward. At the lab, I focused on parsing through medical databases and writing programs that analyze cancerous genomes to find relationships between certain cancers and drugs. My analysis resulted in a database of information that physicians can use to prescribe treatments for their patients' unique cancerous mutations. Now, a pancreatic cancer patient does not need to be the "guinea-pig" for a prototype drug to have a shot at survival: a doctor can choose the best treatment by examining the patient individually instead of relying on population-wide trends. For the first time in my science career, my passion was going to have an immediate effect on other people, and to me, that was enthralling. Dr. Martin's lab and his book, Digital Healthcare: A New Age of Medicine, have shown me that changing something as simple as how we treat a disease can have a huge impact. I have found that the search for the holy grail of a "cure for cancer" is problematic as nobody knows exactly what it is or where to look—but we can still move forward without it.
Working with Project ADPP and participating in medical research have taught me to approach problems in a new way. Whether it's a complex genetic disease or a tropical fever, I've found that taking small steps often is the best approach. Finding those steps and achieving them is what gets me excited and hungry to explore new solutions in the future.
College essay example #6
This student was admitted to UC Berkeley .
(Suggested reading: How to Get Into UC Berkeley and How to Write Great UC Essays )
The phenomenon of interdependency, man depending on man for survival, has shaped centuries of human civilization. However, I feel, the youth of today are slowly disconnecting from their community. For the past few years, human connection has intrigued me and witnessing the apathy of my peers has prompted me to engage in various leadership positions in order to motivate them to complete community service and become active members of society.
Less than a year before ninth grade began, my cousin and close friend passed away from cancer, and in the hodge-podge of feelings, I did not emotionally deal with either death. However, a simple tale helped me deal with these deaths and take action.
I was never fully aware of how closely humans rely upon each other until I read The Fall of Freddy the Leaf by Leo Buscaglia in freshman year. The allegory is about a leaf that changes with the seasons, finally dying in the winter, realizing that his purpose was to help the tree thrive. After reading it, I was enlightened on the cycle of life and realized the tremendous impact my actions had on others.
Last year, I joined the American Cancer Society's Relay for Life, a twenty-four-hour relay walk-a-thon designed to raise funds for cancer research and create awareness about its early detection. I started a team at school, gathered thirty students and chaperones, and raised $800 for the cause. I watched as each student created friendships with other students on our team and members of the Phoenix community. This year, I led a team in the relay for life again with the schoolwide team of 95 members, and we raised $2,900 for the cure for cancer. At first the group leader ship consisted of only my advisor in me; however, I gained the support of the administrators. I spent well over an hour a day preparing for the event, and it was all worth it!
The Sonora Eagles were students of different grade levels, ethnicities, socioeconomic backgrounds, and educational ability. We joked and played football while volunteering. The most important moment occurred during the night's luminaria ceremony, during which cancer patients of the past and present were commemorated. Our whole team gathered around, and I asked people to share how they have been affected by cancer. As I went through the crowd, their faces illuminated by candlelight, their cheeks were wet with cleansing tears, I realize the impact I had on them, the purpose I was fulfilling; but most importantly, I realized the impact they had had on me. The Sonora Eagles were my means for dealing with the death of my loved ones to cancer.
The theme for relay for life is a hope for a cure. Through this experience as a leader, I have come to realize, as a community, we hope together, we dream together, we work together, and we succeed together. This is the phenomenon of interdependency, the interconnectedness of life, the pivotal reason for human existence. I have continued this momentum by starting a Sonora High School chapter of American Cancer Society Youth, a club dedicated to youth involvement and several aspects of the American Cancer Society, including the recent Arizona Proposition 45.
Each one of us leaves behind a legacy as we fulfill our purpose in life. I believe my purpose as a student is to encourage others to become active community members and motivate them to reach new heights. As a student of the University of California, I will contribute my understanding of the human condition and student motivation to help strengthen student relationships within the campus and throughout the community.
College essay example #7
This is a college essay that worked for Cornell University .
(Suggested reading: How to Get Into Cornell )
My fingers know instinctively, without a thought. They turn the dial, just as they have hundreds of times before, until a soft, metallic click echoes into my eardrum and triggers their unconscious stop. I exultantly thrust open my locker door, exposing its deepest bowels candidly to the wide halls of the high school. The bright lights shine back, brashly revealing every crevice, nook, and cranny, gleaming across its scintillating, bare surfaces. On this first day of senior year, I set out upon my task. I procure an ordinary plastic grocery bag from my backpack. The contents inside collectively represent everything about me in high school – they tell a story, one all about me.
I reach in and let my fingers trail around the surfaces of each object. I select my first prey arbitrarily, and as I raise my hand up to eye level, I closely examine this chosen one. A miniature Flamenco dancer stares back at me from the confines of the 3-D rectangular magnet, half popping out as if willing herself to come to life. Instantly, my mind transports me back a few summers before, when I tapped my own heels to traditional music in Spain. I am reminded of my thirst to travel, to explore new cultures utterly different from my familiar home in Modesto, California. I have experienced study abroad in Spain, visited my father's hometown in China five times, and traveled to many other places such as Paris. As a result, I have developed a restlessness inside me, a need to move on from four years in the same high school, to take advantage of diverse opportunities whenever possible, and to meet interesting people.
I take out the next magnet from my plastic bag. This one shows a panoramic view of the city of Santa Barbara, California. Here, I recall spending six weeks in my glory, not only studying and learning, but actually pursuing new knowledge to add to the repertoire of mankind. I could have easily chosen to spend my summer lazing about; in fact, my parents tried to persuade me into taking a break. Instead, I chose to do advanced molecular biology research at Stanford University. I wanted to immerse myself in my passion for biology and dip into the infinitely rich possibilities of my mind. This challenge was so rewarding to me, while at the same time I had the most fun of my life, because I was able to live with people who shared the same kind of drive and passion as I did.
After sticking up my magnets on the locker door, I ran my fingers across the bottom of the bag, and I realized that one remained. It was a bold, black square, with white block letters proclaiming my motto, "Live the Life You Imagine." In my four years at Cornell University, I will certainly continue to live life as I imagine, adding my own flavor to the Cornell community, while taking away invaluable experiences of my own.
College essay example #8
This student was admitted to Northwestern University .
As I sip a mug of hot chocolate on a dreary winter's day, I am already planning in my mind what I will do the next summer. I briefly ponder the traditional routes, such as taking a job or spending most of the summer at the beach. However, I know that I want to do something unique. I am determined to even surpass my last summer, in which I spent one month with a host family in Egypt and twelve days at a leadership conference in New York City. The college courses I have taken at Oregon State University since the summer after 7th grade will no longer provide the kind of challenge I seek.
Six months later, I step off the airplane to find myself surrounded by palm trees, with a view of the open-air airport. I chuckle to myself about the added bonus of good weather, but I know I have come to Palo Alto, California, with a much higher purpose in mind. I will spend six weeks here in my glory, not only studying and learning, but actually pursuing new knowledge to add to the repertoire of mankind. Through the Stanford Institutes of Medicine Summer Research Program, I will earn college credit by conducting original molecular biology research, writing my own research paper, and presenting my findings in a research symposium.
I decided to spend my summer doing research because I knew that I liked scientific thought, and that I would passionately throw myself into any new challenge. I always want to know more – to probe deeper into the laws of the universe, to explore the power and beauty of nature, to solve the most complicated problems. I have an insatiable curiosity and a desire to delve deeper down in the recesses of my intellect. At the Summer Research Program, I found out how much I enjoy thinking critically, solving problems, and applying my knowledge to the real world.
While pursuing research in California, I was also able to meet many similarly motivated, interesting people from across the United States and abroad. As I learned about their unique lifestyles, I also shared with them the diverse perspectives I have gained from my travel abroad and my Chinese cultural heritage. I will never forget the invaluable opportunity I had to explore California along with these bright people.
I could have easily chosen to spend that summer the traditional way; in fact, my parents even tried to persuade me into taking a break. Instead, I chose to do molecular biology research at Stanford University. I wanted to immerse myself in my passion for biology and dip into the infinitely rich possibilities of my mind. This challenge was so rewarding to me, while at the same time I had the most fun of my life, because I was able to live with people who share the same kind of drive and passion as I do.
College essay example #9
When I turned twelve, my stepdad turned violent. He became a different person overnight, frequently getting into fights with my mom. I didn't deal with it well, often crying to my mom's disappointment, afraid that my life would undo itself in a matter of seconds. You might say that my upbringing was characterized by my parents morphing everyday objects into weapons and me trying to morph into the perfect white walls that stood unmoving while my family fell apart.
This period in my life is not a sob story, but rather, the origin story of my love of writing. During a fight once, my stepdad left the house to retrieve a baseball bat from his truck. He didn't use it, but I'll never forget the fear that he would, how close he'd gotten. And in that moment, I did not cry as I was prone to do, but I pulled out a book, and experienced a profound disappearance, one that would always make me associate reading with escapism and healing.
Soon I came to write, filling up loose ruled paper with words, writing in the dark when we didn't have money to pay for electricity. And as I got older, I began to think that there must be others who were going through this, too. I tried to find them. I created an anonymous blog that centered what it meant for a teenager to find joy even as her life was in shambles. In this blog I kept readers updated with what I was learning, nightly yoga to release tension from the day and affirmations in the morning to counter the shame that was mounting as a result of witnessing weekly my inability to make things better at home.
At that time, I felt uncertain about who I was because I was different online than I was at home or even at school where I was editor of my high school literary journal. It took me a while to understand that I was not the girl who hid in the corner making herself small; I was the one who sought to connect with others who were dealing with the same challenges at home, thinking that maybe in our isolation we could come together. I was able to make enough from my blog to pay some bills in the house and give my mom the courage to kick my stepfather out. When he exited our home, I felt a wind go through it, the house exhaling a giant sigh of relief.
I know this is not the typical background of most students. Sharing my story with like-minded teens helped me understand what I have to offer: my perspective, my unrelenting optimism. Because even as I've seen the dark side of what people are capable of, I have also been a star witness to joy and love. I do not experience despair for long because I know that this is just one chapter in a long novel, one that will change the hearts of those who come across it. And I can't wait to see how it will end.
College essay example #10
This student was accepted at Yale University .
(Suggested reading: How to Get Into Yale )
I was a straight A student until I got to high school, where my calm evenings cooking dinner for my siblings turned into hours watching videos, followed by the frantic attempt to finish homework around 4 am. When I got an F on a chemistry pop quiz my mom sat me down to ask me what was happening. I told her I couldn't focus or keep track of all my materials for classes. I thought she would call me lazy, accuse me of wasting the gift of being an American that she and my father gave me. Instead, she looked around at the walls covered in sticky notes, the index cards scattered on the computer desk, the couch, the table, and she said, "How are your friends managing it?"
It turned out while my peers were struggling to juggle the demands of high school it didn't seem like they were working as hard to complete simple tasks. They only had to put things in a planner, not make sure the deadlines were placed in multiple locations, physical and digital. At my next doctor's appointment my mom mentioned that I had a learning problem, but the doctor shook his head and said that I didn't seem to have ADHD. I was just procrastinating, it's natural.
My mom took off from her grocery store job to take me to two more appointments to ask about ADHD, the term the doctor had used, but other doctors were not willing to listen. I had As in every class except for World Literature. But I knew something was wrong. After our third doctor visit, I worked with the librarian after school to sift through research on ADHD and other learning disabilities until we came across the term executive functioning. Armed with knowledge, we went to a new doctor, and before my mom could insist that we get testing or get referred to a specialist, the doctor handed us a signed referral. She asked me about the folder in my hand. I told her it was full of my research. My mom mentioned that some doctors had refused to refer us to a specialist because my grades were too high. "It's because we're Asian," she added.
I was shocked at this revelation. The last three doctors had mumbled something about grades but had never said a thing about race. Before I could deny it fervently, the doctor, who was from Taiwan, nodded sympathetically. She said it's common to miss learning disabilities among different races due to biases. And some adolescents learn to mask symptoms by building systems. "You don't have to prove anything to me. I believe you should get tested." My mom thanked her fervently and the doctor said to her, "She's going to be a great lawyer."
The semester following the confirmation of my learning disability diagnosis was challenging to say the least. My school switched me out of all of my IB courses to "accommodate my special needs," and I went back to the library, working with the librarian with numerous index cards and stacks of books to make a case for discrimination. The librarian, who had become my close confidante, introduced me to an academic tutor who specialized in learning disabilities and taught me skills like using redundancy and time management to make it easier for me to grapple with moving parts. He noted that with ADHD, the problem wasn't always the inability to focus but rather the difficulty focusing without adequate perceived reward. It wasn't that I was not capable but that I had to make myself sufficiently interested or reiterate why something mattered. This reframe changed my life, and when I came back to the library with my new schedule in hand, the most advanced courses my school had to offer, the librarian said, "You're going to make a great lawyer."
I smiled and said, "I've heard that before."

College essay example #11
This student was accepted at the University of Pennsylvania.
My brother and I are exactly one year and one day apart. We look like twins — people confuse us — but we couldn't be any more different. As children we wore the same clothes, received the same haircut. By the time we got to middle school it was clear that my older brother preferred quiet, indoor activities, while I was a born performer who preferred the theatrical, even when off stage. I took his relative silence to be disinterest and found it offensive. To the chagrin of my parents, we simply didn't get along.
I didn't mind having a tense relationship with my brother because I was involved at school. In particular I delved into the world of musical theater in addition to regularly singing solos at our high school choir concerts. I spent hours after school preparing for shows. And when I came home, I practiced as well, falling into a rigorous routine I thought I needed to remain at my best and be competitive for parts.
My bedroom was far enough from my parents so as not to disturb them, but space to practice became an issue with my brother because, well, we shared a room. Imagine him meditating on a window seat while I am belting, trying to sustain a high note. Needless to say, this created tension between us. From my point of view he could have meditated in the living room or while I was at practice, but he wasn't willing to budge. From his point of view, high school was hard enough without the constant sound of Glee arrangements.
At the start of the semester, I practiced "Circle of Life" for a concert audition. While I could sing it fine in its original key, I had a hard time singing it along with the music because the arrangement of the song we were working on had a key change that was out of my range. I couldn't change key without my voice cracking as I switched to a head voice. This was the first time I struggled to learn a song, and I was a week from the audition. I was irritable in that period and stopped practicing, declaring I had reached the height of my singing career. My brother experiencing quiet when I got home for the first time in years.
After a couple days of this, when I got home, he asked me to join him in meditation. And feeling my anger at my inability to navigate this song gracefully, I did. It was difficult at first. I was trying to clear my head. Later my brother told me that wasn't the point. When your mind drifts away, you simply come back, no judgment. I liked the sound of that, and it became my new philosophy. I kept trying at the song, no longer getting angry at myself, and just in time for the audition I was able to maintain power in my voice despite the key change. It was important for me to learn you don't have to always get everything right the first time and that good things come with continual effort. As for my brother, we no longer argue. I now understand why he prefers the quiet.
College essay example #12
This student was admitted to Brown University .
(Suggested reading: How to Get Into Brown )
My parents are aerospace engineers, humble even as their work helps our society explore new frontiers. They believe that you make a stand through the work that you do, not what you say. This is what they taught me. This is what I believed until my sophomore year when I was confronted with a moment where I could not stay quiet.
I live outside of a major city in a small, rural town that's majority white but for a small South Asian population. My high school wasn't diverse by any standards. Some students were openly the children of skinheads. After a racist exchange with a student who insulted her and refused to sit at the same lunch table, my best friend, who was Muslim, did not stand for the pledge of allegiance in homeroom the next day.
I hadn't heard about the encounter that sparked this move on her part and was surprised when she didn't stand up beside me, hand against her heart, mouth chanting an oath. She hadn't mentioned any mounting discomfort to me, nor had I noticed anything. Unlike my "patriotic" peers, I was less upset by her refusal to stand up for the pledge of allegiance and more upset that she didn't share with me that she was hurting and what she was going to do to protest how she was treated because of her beliefs and the color of her skin.
She was suspended for insubordination and when I called her, she said that surely in this situation I might find a way to think of more than my own feelings. I felt ashamed. It didn't even occur to me to seek to understand what was behind her decision in the first place. I apologized, asking how to best support her. She said it was just important that I listen and understand that she could not thrive in an environment that promoted sameness. She spoke to me with a vulnerability I had never heard before. At the end of our conversation, I apologized profusely. She said she did not need my words and what she needed from me was to take a stand.
This was the opposite of the belief my parents drilled in me. I felt conflicted at first, as if by speaking about the situation I was doing something wrong. However, my friend had to deal with a reality that I did not. And perhaps taking a stand would allow my institution and everyone in it to learn to be a more inclusive space for everyone. Maybe there was a way to take a stand and to do the necessary work to change things.
I started a petition with my friend's permission to end her suspension and to take disciplinary action instead on the student who had taken racist actions in the first place. Of the 1000 students at my high school, over 200 signed, a number that far exceeded my expectation. When I shared the results with my friend, she said to me, "Because of who you are, you will always have supporters. Use your power to do good."
Since then, I have tried to be more aware that not everyone experiences comfort in the same environments that I do. Rather than assume everyone feels safe and supported, it's best to create space to listen and to ask how you can be supportive. My friend and I created a club to foster cross-cultural dialogue. In the past year two other clubs of its kind began at other local schools. More than anything I am proud that I have learned to be a better friend and a more thoughtful community member in a way that honors who I am and what I value.
College essay example #13
This is a college essay that worked for Washington University in St. Louis (WashU).
I held my breath as my steady hands gently nestled the crumbly roots of the lettuce plant into the soil trench that I shoveled moments before. Rainwater and sweat dripped from my brow as I meticulously patted and pressed the surrounding earth, stamping the leafy green creature into its new home. After rubbing the gritty soil off of my hands, I looked at Brian, a co-volunteer and nonverbal 20-year-old with autism, who extended his arm for a high-five. In the year that I've been working with him, I've watched him revel in planting, nurturing, and eventually harvesting his veggies, especially the grape tomatoes, which we enjoy eating fresh off the vine! Upon walking to the next row of hollowed cavities, we were not contemplating the lengthy work that lay ahead, but rather, we sought to liberate the helpless lettuces, imprisoned in produce cartons that were too small for them to grow in. Finally, after taking a step back to admire the day's last plant, my chest swelled as a wave of contentment flushed through my body.
My love for gardening began when I moved to Georgia during my sophomore year. In the time I've spent learning how to garden, I've developed an affinity for watching my vegetables grow to maturity, eager to be harvested and sold at the Saturday market. Though many see gardening as tedious busywork, I find it meditative, as I lose track of time while combining peat moss and soil in the garden's compost mixer. Saturday morning garden work has become a weekend ritual, ridding me of all extraneous responsibilities. My body goes into autopilot as I let my mind wander. I don't actively focus on focusing, but rather I observe myself internally digest the week's events. I'm a bystander to fireworks of thought that explode in my mind as my perception of important matters becomes trivial. Sometimes, it's the physics midterm that suddenly seems less daunting or the deadlines I need to meet for my Spanish project that push back farther. Other times, I contemplate alternative endings to conversations or make perfect sense of the calculus answer that was at the tip of my tongue in class.
I met Brian, a close friend of mine who also basks in the tranquility of nature, through my gardening endeavors. While we aren't able to communicate verbally, we speak the language of earth, water, peat, and seedlings. He doesn't speak with words, but his face tells stories of newly found purpose and acceptance, a pleasant contrast to the typical condescension and babying he feels by those who don't think he's capable of independent thought.
Throughout my time in the garden with Brian, I began to understand that he, like everyone, has a particular method of communicating. There are the obvious spoken languages, body languages, facial expressions, and interactions we share on a day-to-day basis that reflect who we are and communicate what we represent. Brian expresses himself through various manifestations of unspoken language that he uses to signal how he feels or what he wants. But the nuanced combinations of different methods of communicating are oftentimes overlooked, raising a barrier to mutual understanding that prevents one from being capable of truly connecting with others. I began to understand that in order to reach people, I have to speak in their language, be it verbally or otherwise. Working with Brian over the past year has made me more aware that people can have difficulty expressing themselves. I found that I can positively lead people if I can communicate with them, whether on the track or in my Jewish youth group discussions. As I move into the next phases of my life, I hope to bring these skills with me because, in order to effectuate positive change in my community, I learned that I must speak in the language of those around me. Those are the words Brian taught me.
College essay example #14
This student was accepted at Brown University.
It felt like I threw myself out of a plane without a parachute. My eyes firmly shut, I feared for my life as I plummeted towards the ground. In hindsight, perhaps half coming out at a public restaurant wasn't the brightest idea. Then again, living as the half-closeted queer kid meant that I was all too familiar with intimidating situations.
I asked my mom: "What would you do if I had a girlfriend?" She instantly replied that she couldn't understand. Immediately, my heart dropped and the emotional free fall began. She explained that Americans choose to be gay for personal enjoyment, which in my Korean culture is an attitude that is severely frowned upon. I sat there like a statue, motionless and afraid to speak, blindly hurtling towards a hard reality I hadn't expected. Rejection cut me deeply and I started to feel the itch of tears welling in my eyes, yet I had to contain myself. I couldn't let the pain seep through my facade or else she would question why I cared. All I could do was keep looking down and shoveling food into my mouth, silently wishing I could just disappear. That night, I realized it would be a long time before I could fully come out to my mom. My eyes tightened as I continued to fall.
In the following weeks, I started noticing how discomfort played a natural part in my life. I recognized the anxious reactions of my classmates as I argued with my Christian friends when they said my queerness is a sin. I observed the judgmental glances my mentors gave me as I passionately disagreed with my conservative lab mates over my sister's abortion. Eventually, my friends decided to censor certain topics of discussion, trying to avoid these situations altogether. I felt like vulnerability was the new taboo. People's expressions and actions seemed to confine me, telling me to stop caring so much, to keep my eyes closed as I fall, so they didn't have to watch.
Had others felt uncomfortable with me in the same way I had felt uncomfortable with my mom? Do they feel that our passions might uncover a chasm into which we all fall, unsure of the outcome?
Perhaps it was too raw , too emotional .
There was something about pure, uncensored passion during conflict that became too real. It made me, and the people around me, vulnerable, which was frightening. It made us think about things we didn't want to consider, things branded too political, too dangerous. Shielding ourselves in discomfort was simply an easier way of living.
However, I've come to realize that it wasn't my comfort, but rather, my discomfort that defined my life. My memories aren't filled with times where life was simple, but moments where I was conflicted. It is filled with unexpected dinners and unusual conversations where I was uncertain. It is filled with the uncensored versions of my beliefs and the beliefs of others. It is filled with a purity that I shouldn't have detained.
Now, I look forward to tough conversations with a newfound willingness to learn and listen, with an appreciation for uncertainty. I urge others to explore our discomfort together and embrace the messy emotions that accompany it. I try to make our collective discomfort more navigable. Since that dinner, my relationship with my mother is still in free fall. It's dangerous and frightening. Thankfully, the potentially perilous conversations I've had with my friends has given me a newfound appreciation for my own fear. I'll admit, part of me still seeks to close my eyes, to hide in the safety I'll find in silence. Yet, a larger part of me yearns to embrace the dangers around me as I fall through the sky. I may still be falling, but this time, I will open my eyes, and hopefully steer towards a better landing for both my mom and me.

THERE'S NO REASON TO STRUGGLE THROUGH THE COLLEGE ADMISSIONS PROCESS ALONE, ESPECIALLY WITH SO MUCH ON THE LINE. SCHEDULE YOUR COMPLIMENTARY CONSULTATION TO ENSURE YOU LEAVE NOTHING TO CHANCE.
Celebrating 150 years of Harvard Summer School. Learn about our history.
12 Strategies to Writing the Perfect College Essay
College admission committees sift through thousands of college essays each year. Here's how to make yours stand out.
Pamela Reynolds
When it comes to deciding who they will admit into their programs, colleges consider many criteria, including high school grades, extracurricular activities, and ACT and SAT scores. But in recent years, more colleges are no longer considering test scores.
Instead, many (including Harvard through 2026) are opting for "test-blind" admission policies that give more weight to other elements in a college application. This policy change is seen as fairer to students who don't have the means or access to testing, or who suffer from test anxiety.
So, what does this mean for you?
Simply that your college essay, traditionally a requirement of any college application, is more important than ever.
A college essay is your unique opportunity to introduce yourself to admissions committees who must comb through thousands of applications each year. It is your chance to stand out as someone worthy of a seat in that classroom.
A well-written and thoughtful essay—reflecting who you are and what you believe—can go a long way to separating your application from the slew of forgettable ones that admissions officers read. Indeed, officers may rely on them even more now that many colleges are not considering test scores.
Below we'll discuss a few strategies you can use to help your essay stand out from the pack. We'll touch on how to start your essay, what you should write for your college essay, and elements that make for a great college essay.
Be Authentic
More than any other consideration, you should choose a topic or point of view that is consistent with who you truly are.
Readers can sense when writers are inauthentic.
Inauthenticity could mean the use of overly flowery language that no one would ever use in conversation, or it could mean choosing an inconsequential topic that reveals very little about who you are.
Use your own voice, sense of humor, and a natural way of speaking.
Whatever subject you choose, make sure it's something that's genuinely important to you and not a subject you've chosen just to impress. You can write about a specific experience, hobby, or personality quirk that illustrates your strengths, but also feel free to write about your weaknesses.
Honesty about traits, situations, or a childhood background that you are working to improve may resonate with the reader more strongly than a glib victory speech.
Grab the Reader From the Start
You'll be competing with so many other applicants for an admission officer's attention.
Therefore, start your essay with an opening sentence or paragraph that immediately seizes the imagination. This might be a bold statement, a thoughtful quote, a question you pose, or a descriptive scene.
Starting your essay in a powerful way with a clear thesis statement can often help you along in the writing process. If your task is to tell a good story, a bold beginning can be a natural prelude to getting there, serving as a roadmap, engaging the reader from the start, and presenting the purpose of your writing.
Focus on Deeper Themes
Some essay writers think they will impress committees by loading an essay with facts, figures, and descriptions of activities, like wins in sports or descriptions of volunteer work. But that's not the point.
College admissions officers are interested in learning more about who you are as a person and what makes you tick.
They want to know what has brought you to this stage in life. They want to read about realizations you may have come to through adversity as well as your successes, not just about how many games you won while on the soccer team or how many people you served at a soup kitchen.
Let the reader know how winning the soccer game helped you develop as a person, friend, family member, or leader. Make a connection with your soup kitchen volunteerism and how it may have inspired your educational journey and future aspirations. What did you discover about yourself?
Show Don't Tell
As you expand on whatever theme you've decided to explore in your essay, remember to show, don't tell.
The most engaging writing "shows" by setting scenes and providing anecdotes, rather than just providing a list of accomplishments and activities.
Reciting a list of activities is also boring. An admissions officer will want to know about the arc of your emotional journey too.
Try Doing Something Different
If you want your essay to stand out, think about approaching your subject from an entirely new perspective. While many students might choose to write about their wins, for instance, what if you wrote an essay about what you learned from all your losses?
If you are an especially talented writer, you might play with the element of surprise by crafting an essay that leaves the response to a question to the very last sentence.
You may want to stay away from well-worn themes entirely, like a sports-related obstacle or success, volunteer stories, immigration stories, moving, a summary of personal achievements or overcoming obstacles.
However, such themes are popular for a reason. They represent the totality of most people's lives coming out of high school. Therefore, it may be less important to stay away from these topics than to take a fresh approach.
Explore Harvard Summer School's College Programs for High School Students
Write With the Reader in Mind
Writing for the reader means building a clear and logical argument in which one thought flows naturally from another.
Use transitions between paragraphs.
Think about any information you may have left out that the reader may need to know. Are there ideas you have included that do not help illustrate your theme?
Be sure you can answer questions such as: Does what you have written make sense? Is the essay organized? Does the opening grab the reader? Is there a strong ending? Have you given enough background information? Is it wordy?
Write Several Drafts
Set your essay aside for a few days and come back to it after you've had some time to forget what you've written. Often, you'll discover you have a whole new perspective that enhances your ability to make revisions.
Start writing months before your essay is due to give yourself enough time to write multiple drafts. A good time to start could be as early as the summer before your senior year when homework and extracurricular activities take up less time.
Read It Aloud
Writer's tip : Reading your essay aloud can instantly uncover passages that sound clumsy, long-winded, or false.
Don't Repeat
If you've mentioned an activity, story, or anecdote in some other part of your application, don't repeat it again in your essay.
Your essay should tell college admissions officers something new. Whatever you write in your essay should be in philosophical alignment with the rest of your application.
Also, be sure you've answered whatever question or prompt may have been posed to you at the outset.
Ask Others to Read Your Essay
Be sure the people you ask to read your essay represent different demographic groups—a teacher, a parent, even a younger sister or brother.
Ask each reader what they took from the essay and listen closely to what they have to say. If anyone expresses confusion, revise until the confusion is cleared up.
Pay Attention to Form
Although there are often no strict word limits for college essays, most essays are shorter rather than longer. Common App, which students can use to submit to multiple colleges, suggests that essays stay at about 650 words.
"While we won't as a rule stop reading after 650 words, we cannot promise that an overly wordy essay will hold our attention for as long as you'd hoped it would," the Common App website states.
In reviewing other technical aspects of your essay, be sure that the font is readable, that the margins are properly spaced, that any dialogue is set off properly, and that there is enough spacing at the top. Your essay should look clean and inviting to readers.
End Your Essay With a "Kicker"
In journalism, a kicker is the last punchy line, paragraph, or section that brings everything together.
It provides a lasting impression that leaves the reader satisfied and impressed by the points you have artfully woven throughout your piece.
So, here's our kicker: Be concise and coherent, engage in honest self-reflection, and include vivid details and anecdotes that deftly illustrate your point.
While writing a fantastic essay may not guarantee you get selected, it can tip the balance in your favor if admissions officers are considering a candidate with a similar GPA and background.
Write, revise, revise again, and good luck!
Experience life on a college campus. Spend your summer at Harvard.
Explore Harvard Summer School's College Programs for High School Students.
About the Author
Pamela Reynolds is a Boston-area feature writer and editor whose work appears in numerous publications. She is the author of "Revamp: A Memoir of Travel and Obsessive Renovation."
How Involved Should Parents and Guardians Be in High School Student College Applications and Admissions?
There are several ways parents can lend support to their children during the college application process. Here's how to get the ball rolling.
Harvard Division of Continuing Education
The Division of Continuing Education (DCE) at Harvard University is dedicated to bringing rigorous academics and innovative teaching capabilities to those seeking to improve their lives through education. We make Harvard education accessible to lifelong learners from high school to retirement.

US South Carolina
Recently viewed courses
Recently viewed.
Find Your Dream School
COVID-19 Update: To help students through this crisis, The Princeton Review will continue our "Enroll with Confidence" refund policies. For full details, please click here.
Enter your email to unlock an extra $25 off an SAT or ACT program!
By submitting my email address. i certify that i am 13 years of age or older, agree to recieve marketing email messages from the princeton review, and agree to terms of use., crafting an unforgettable college essay.
Most selective colleges require you to submit an essay or personal statement as part of your application.
It may sound like a chore, and it will certainly take a substantial amount of work. But it's also a unique opportunity that can make a difference at decision time. Admissions committees put the most weight on your high school grades and your test scores . However, selective colleges receive applications from many worthy students with similar scores and grades—too many to admit. So they use your essay, along with your letters of recommendation and extracurricular activities , to find out what sets you apart from the other talented candidates.
Telling Your Story to Colleges
So what does set you apart?
You have a unique background, interests and personality. This is your chance to tell your story (or at least part of it). The best way to tell your story is to write a personal, thoughtful essay about something that has meaning for you. Be honest and genuine, and your unique qualities will shine through.
Admissions officers have to read an unbelievable number of college essays, most of which are forgettable. Many students try to sound smart rather than sounding like themselves. Others write about a subject that they don't care about, but that they think will impress admissions officers.
You don't need to have started your own business or have spent the summer hiking the Appalachian Trail. Colleges are simply looking for thoughtful, motivated students who will add something to the first-year class.
Tips for a Stellar College Application Essay
1. write about something that's important to you..
It could be an experience, a person, a book—anything that has had an impact on your life.
2. Don't just recount—reflect!
Anyone can write about how they won the big game or the summer they spent in Rome. When recalling these events, you need to give more than the play-by-play or itinerary. Describe what you learned from the experience and how it changed you.
Free SAT Practice Tests & Events
Evaluate and improve your SAT score.
3. Being funny is tough.
A student who can make an admissions officer laugh never gets lost in the shuffle. But beware. What you think is funny and what an adult working in a college thinks is funny are probably different. We caution against one-liners, limericks and anything off–color.
4. Start early and write several drafts.
Set it aside for a few days and read it again. Put yourself in the shoes of an admissions officer: Is the essay interesting? Do the ideas flow logically? Does it reveal something about the applicant? Is it written in the applicant's own voice?
5. No repeats.
What you write in your application essay or personal statement should not contradict any other part of your application–nor should it repeat it. This isn't the place to list your awards or discuss your grades or test scores.
6. Answer the question being asked.
Don't reuse an answer to a similar question from another application.
7. Have at least one other person edit your essay.
A teacher or college counselor is your best resource. And before you send it off, check, check again, and then triple check to make sure your essay is free of spelling or grammar errors.
Read More: 2018-2019 Common Application Essay Prompts (and How to Answer Them)
Test Your College Knowledge
How well do you understand the college admissions process? Find out with our quiz.
Take the Quiz
Explore Colleges For You
Connect with our featured colleges to find schools that both match your interests and are looking for students like you.
Career Quiz
Take our short quiz to learn which is the right career for you.
Get Started on Athletic Scholarships & Recruiting!
Join athletes who were discovered, recruited & often received scholarships after connecting with NCSA's 42,000 strong network of coaches.
Best 389 Colleges
165,000 students rate everything from their professors to their campus social scene.
SAT Prep Courses
1400+ course, act prep courses, free sat practice test & events, 1-800-2review, free sat prep try our self-paced plus program - for free, get a 14 day trial, what would you score on the mcat today.
Thank you! Look for the MCAT Review Guide in your inbox.
I already know my score.
Enrollment Advisor
1-800-2REVIEW (800-273-8439) ext. 1
1-877-LEARN-30
Student Support
1-800-2REVIEW (800-273-8439) ext. 2
Partnerships
College Readiness
International
Advertising
Affiliate/Other
Enrollment Terms & Conditions
Accessibility
Cigna Medical Transparency in Coverage
Register Book
Mon-Fri 9AM-10PM ET
Sat-Sun 9AM-8PM ET
Local Offices: Mon-Fri 9AM-6PM
Mon-Fri 9AM-9PM ET
Sat-Sun 8:30AM-5PM ET
Academic Subjects
Find the Right College
College Rankings
College Advice
Applying to College
Financial Aid
School & District Partnerships
Professional Development
Advice Articles
Private Tutoring
Mobile Apps
Local Offices
International Offices
Work for Us
Affiliate Program
Partner with Us
Advertise with Us
International Partnerships
Our Guarantees
Accessibility – Canada
Privacy Policy | CA Privacy Notice | Do Not Sell or Share My Personal Information | Your Opt-Out Rights | Terms of Use | Site Map
©2023 TPR Education IP Holdings, LLC. All Rights Reserved. The Princeton Review is not affiliated with Princeton University
TPR Education, LLC (doing business as "The Princeton Review") is controlled by Primavera Holdings Limited, a firm owned by Chinese nationals with a principal place of business in Hong Kong, China.
SUGGESTED TOPICS
The Magazine
Newsletters
Managing Yourself
Managing Teams
Work-life Balance
The Big Idea
Data & Visuals
Reading Lists
Case Selections
HBR Learning
Topic Feeds
Account Settings
Email Preferences
How to Write a Personal Essay for Your College Application
What does it take to land in the "accept" (instead of "reject") pile?
How can you write an essay that helps advance you in the eyes of the admissions officers and makes a real impression? Here are some tips to get you started.
Start early.  Do not leave it until the last minute. Give yourself time when you don't have other homework or extracurriculars hanging over your head to work on the essay.
Keep the focus narrow.  Your essay does not have to cover a massive, earth-shattering event. Some people in their teens haven't experienced a major life event. Some people have. Either way, it's okay.
Be yourself.  Whether writing about a painful experience or a more simple experience, use the narrative to be vulnerable and honest about who you are. Use words you would normally use. Trust your voice and the fact that your story is interesting enough in that no one else has lived it.
Be creative.  "Show, don't tell," and that applies here — to an extent. The best essays typically do both. You can help your reader see and feel what you are describing by using some figurative language throughout your piece.
Make a point. As you finish your final body paragraphs ask yourself "So what?" This will help you hone in on how to end your essay in a way that elevates it into a story about an insight or discovery you made about yourself, rather than just being about an experience you had.
Where your work meets your life. See more from Ascend here .
We've all heard about the dreaded "college essay," the bane of every high school senior's existence. This daunting element of the college application is something that can create angst for even the most accomplished students.
AA Amy Allen is a writer, educator, and lifelong learner. Her freelance writing business,  All of the Write Words , focuses on providing high school students with one-on-one feedback to guide them through the college application process and with crafting a thoughtful personal essay. A dedicated poet, Amy's work has also been published in several journals including  Pine Row Press ,  Months to Years,  and  Atlanta Review .
Partner Center
How to Write a College Essay: The Ultimate Step-by-Step Guide
TABLE OF CONTENTS
Brainstorming your college essay topic, how to structure & outline a college essay, the difference between a boring and a stand-out personal statement, a quick word on "common" or "cliché" topics.
The "home" essay: a quick case study
Five (more) ways to find a thematic thread for your personal statement
Montage structure FAQ's
Narrative structure FAQ's
First, what is the college essay (i.e., the personal statement)?
This is your main essay. Your application centerpiece. The part of your application you're likely to spend the most time on. But, of course, I'd say that—I'm the College Essay Guy.
The personal statement is likely to be 500-650 words long (so about a page) and many of the colleges you're applying to will require it.
What's its purpose? Jennifer Blask, Executive Director for International Admissions at the University of Rochester, puts it beautifully: "So much of the college application is a recounting of things past—past grades, old classes, activities the student has participated in over several years. The essay is a chance for the student to share who they are now and what they will bring to our campus communities."
Basically, college admission officers are looking for three takeaways in your college essay:
Who is this person?
Will this person contribute something of value to our campus?
Can this person write?
Let's do this.
Below are the five exercises I have every student complete before I meet with them:
Essence Objects Exercise : 12 min.
Values Exercise : 4 min.
21 Details Exercise : 20 min.
Everything I Want Colleges to Know About Me Exercise : 20 min.
The Feelings and Needs Exercise : 15-20 min.
I recommend recording all the content from your exercises in one document to keep things neat. If you've been working as you go, you've already completed these, so make sure to do this step now. You can use our downloadable Google doc with these exercises if you'd like.
At the start of the essay process, I ask students two questions:
Have you faced significant challenges in your life?
Do you want to write about them?
Because here's an important qualifier:
Even if you've faced challenges, you do not have to write about them in your personal statement.
I mention this now because, in my experience, many students are under the impression that they have to write about challenges—that it's either expected, or that it's somehow better to do so.
Neither is true.
I've seen many, many incredible essays—ones that got students into every school you're hoping to get into—that had no central challenge.
If your answer is "Maybe … ?" because you're not sure what qualifies as a challenge, it's useful to think of challenges as being on a spectrum. On the weak end of the spectrum would be things like getting a bad grade or not making X sports team. On the strong end of the spectrum would be things like escaping war. Being extremely shy but being responsible for translating for your family might be around a 3 or 4 out of 10.
It's possible to use Narrative Structure to write about a challenge anywhere on the spectrum, but it's much, much harder to write an outstanding essay about a weaker challenge.
Sometimes students pick the hardest challenge they've been through and try to make it sound worse than it actually was. Beware of pushing yourself to write about a challenge merely because you think these types of essays are inherently "better." Focusing myopically on one experience can sideline other brilliant and beautiful elements of your character.
If you're still uncertain, don't worry. I'll help you decide what to focus on. But, for the sake of this blog post, answer those first two questions with a gut-level response.
In the sections that follow, I'll introduce you to two structures: Narrative Structure, which works well for describing challenges, and Montage Structure, which works well for essays that aren't about challenges.
Heads-up: Some students who have faced challenges find after reading that they prefer Montage Structure to Narrative Structure. Or vice versa. If you're uncertain which approach is best for you, I generally recommend experimenting with montage first; you can always go back and play with narrative.
Montage Structure
A montage is, simply put, a series of moments or story events connected by a common thematic thread.
Well-known examples from movies include "training" montages, like those from Mulan , Rocky , or Footloose , or the "falling in love" montage from most romantic comedies. Or remember the opening to the Pixar movie Up ? In just a few minutes, we learn the entire history of Carl and Ellie's relationship. One purpose is to communicate a lot of information fast. Another is to allow you to share a lot of different kinds of information, as the example essay below shows.
Narrative Structure vs. Montage Structure explained in two sentences:
In Narrative Structure, story events connect chronologically.
In Montage Structure, story events connect thematically.
Here's a metaphor:
Imagine that each different part of you is a bead and that a select few will show up in your essay. They're not the kind of beads you'd find on a store-bought bracelet; they're more like the hand-painted beads on a bracelet your little brother made for you.
The theme of your essay is the thread that connects your beads.
You can find a thread in many, many different ways. One way we've seen students find great montage threads is by using the 5 Things Exercise . I'll get detailed on this a little bit later, but essentially, are there 5 thematically connected things that thread together different experiences/moments/events in your life? For example, are there 5 T-shirts you collected, or 5 homes or identities, or 5 entries in your Happiness Spreadsheet .
And to clarify, your essay may end up using only 4 of the 5 things. Or maybe 8. But 5 is a nice number to aim for initially.
Note the huge range of possible essay threads. To illustrate, here are some different "thread" examples that have worked well:
Sports have had a powerful influence on me, from my understanding of history, to numbers, to my relationships, extracurricular activities, and even my career choice.
I lived with 5 different families as an exchange student, and each one taught me something valuable that I'll carry with me to college.
Crassulaceae plants, which can reproduce via stem or leaf fragments, are a great analogy for not only how I make art, but how I choose to live each day.
Binary star systems are a metaphor for my relationship with my parents.
I am "trans" in so many ways … let me describe a few.
To understand who I am, you must understand how I cook.
Pranks have shaped my life in a variety of ways.
The number 12 has influenced so much in my life, from my relationship to sports, to how I write, to my self-esteem.
All of these threads stemmed from the brainstorming exercises in this post.
We'll look at an example essay in a minute, but before we do, a word (well, a bunch of words) on how to build a stronger montage (and the basic concept here also applies to building stronger narratives).
Would you Rather watch instead?
To frame how to think about possible topics ...
Imagine you're interviewing for a position as a fashion designer, and your interviewer asks you what qualities make you right for this position. Oh, and heads-up: That imaginary interviewer has already interviewed a hundred people today, so you'd best not roll up with, "because I've always loved clothes" or "because fashion helps me express my creativity." Why shouldn't you say those things? Because that's what everyone says.
Many students are the same in their personal statements—they name cliché qualities/skills/values and don't push their reflections much further.
Why is this a bad idea?
Let me frame it this way:
A boring personal statement chooses a common topic, makes common connections, and uses common language.
A stand-out personal statement chooses an un common topic, makes un common connections, and uses un common language.
Boring personal statement: I want to be a doctor (common topic) because I'm empathetic and I love helping people (common connections) and I really want to make the world a better place (common language).
Better personal statement: I want to run a tech-startup (more uncommon topic) because I value humor, "leading from the battlefield," and stuff that makes me cry (uncommon connections for an essay on this topic), and because my journey to this place took me from being a scrawny 12-year-old kid to a scrawny 12-year-old man (uncommon language).
Important: I'm not saying you should pick a weird topic/thread just so it'll help you stand out more on your essay. Be honest. But consider this: The more common your topic is ... the more un common your connections need to be if you want to stand out.
What do I mean?
For example, tons of students write doctor/lawyer/engineer essays; if you want to stand out, you need to say a few things that others don't tend to say.
How do you figure out what to say? By making uncommon connections.
They're the key to a stand-out essay.
The following two-part exercise will help you do this.
2-minute exercise: Start with the cliché version of your essay.
What would the cliché version of your essay focus on?
If you're writing a "Why I want to be an engineer" essay, for example, what 3-5 common "engineering" values might other students have mentioned in connection with engineering? Use the Values Exercise for ideas.
Collaboration? Efficiency? Hands-on work? Probably yes to all three.
Once you've spent 2 minutes thinking up some common/cliché values, move onto the next step.
8-Minute Exercise: Brainstorm uncommon connections.
For example, if your thread is "food" (which can lead to great essays, but is also a really common topic), push yourself beyond the common value of "health" and strive for unexpected values. How has cooking taught you about "accountability," for example, or "social change"? Why do this? We've already read the essay on how cooking helped the author become more aware of their health. An essay on how cooking allowed the author to become more accountable or socially aware would be less common.
In a minute, we'll look at the "Laptop Stickers" essay. One thing that author discusses is activism. A typical "activist" essay might discuss public speaking or how the author learned to find their voice. A stand-out essay would go further, demonstrating, say, how a sense of humor supports activism. Perhaps it would describe a childhood community that prioritized culture-creation over culture-consumption, reflecting on how these experiences shaped the author's political views.
And before you beg me for an "uncommon values" resource, I implore you to use your brilliant brain to dream up these connections. Plus, you aren't looking for uncommon values in general ; you're looking for values uncommonly associated with your topic/thread .
Don't get me wrong ... I'm not saying you shouldn't list any common values, since some common values may be an important part of your story! In fact, the great essay examples throughout this book sometimes make use of common connections. I'm simply encouraging you to go beyond the obvious.
Also note that a somewhat-common lesson (e.g., "I found my voice") can still appear in a stand-out essay. But if you choose this path, you'll likely need to use either an uncommon structure or next-level craft to create a stand-out essay.
Where can you find ideas for uncommon qualities/skills/values?
Here are four places:
1. The Values Exercise
This is basically a huge list of qualities/skills/values that could serve you in a future career.
2. O*Net Online
Go to www.onetonline.org and use the "occupation quick search" feature to search for your career. Once you do, a huge list will appear containing knowledge, skills, and abilities needed for your career. This is one of my favorite resources for this exercise.
3. School websites
Go to a college's website and click on a major or group of majors that interest you. Sometimes they'll briefly summarize a major in terms of what skills it'll impart or what jobs it might lead to. Students are often surprised to discover how broadly major-related skills can apply.
4. Real humans
Ask 3 people in this profession what unexpected qualities, values, or skills prepared them for their careers. Please don't simply use their answers as your own; allow their replies to inspire your brainstorming process.
Once you've got a list of, say, 7-10 qualities, move on to the next step.
Common personal statement topics include extracurricular activities (sports or musical instruments), service trips to foreign countries (aka the "mission trip" essay where the author realizes their privilege), sports injuries, family illnesses, deaths, divorce, the "meta" essay (e.g., "As I sit down to write my college essays, I think about..."), or someone who inspired you (common mistake: This usually ends up being more about them than you).
While I won't say you should never write about these topics, if you do decide to write about one of these topics, the degree of difficulty goes way up. What do I mean? Essentially, you have to be one of the best "soccer" essays or "mission trip" essays among the hundreds the admission officer has likely read (and depending on the school, maybe the hundreds they've read this year ). So it makes it much more difficult to stand out.
How do you stand out? A cliché is all in how you tell the story. So, if you do choose a common topic, work to make uncommon connections (i.e., offer unexpected narrative turns or connections to values), provide uncommon insights (i.e., say stuff we don't expect you to say) or uncommon language (i.e., phrase things in a way we haven't heard before).
Or explore a different topic. You are infinitely complex and imaginative.
Sample montage essay:
MY LAPTOP STICKERS
My laptop is like a passport. It is plastered with stickers all over the outside, inside, and bottom. Each sticker is a stamp, representing a place I've been, a passion I've pursued, or community I've belonged to. These stickers make for an untraditional first impression at a meeting or presentation, but it's one I'm proud of. Let me take you on a quick tour: " We <3 Design ," bottom left corner. Art has been a constant for me for as long as I can remember. Today my primary engagement with art is through design. I've spent entire weekends designing websites and social media graphics for my companies. Design means more to me than just branding and marketing; it gives me the opportunity to experiment with texture, perspective, and contrast, helping me refine my professional style. " Common Threads ," bottom right corner. A rectangular black and red sticker displaying the theme of the 2017 TEDxYouth@Austin event. For years I've been interested in the street artists and musicians in downtown Austin who are so unapologetically themselves. As a result, I've become more open-minded and appreciative of unconventional lifestyles. TED gives me the opportunity to help other youth understand new perspectives, by exposing them to the diversity of Austin where culture is created, not just consumed. Poop emoji , middle right. My 13-year-old brother often sends his messages with the poop emoji 'echo effect,' so whenever I open a new message from him, hundreds of poops elegantly cascade across my screen. He brings out my goofy side, but also helps me think rationally when I am overwhelmed. We don't have the typical "I hate you, don't talk to me" siblinghood (although occasionally it would be nice to get away from him); we're each other's best friends. Or at least he's mine. " Lol ur not Harry Styles ," upper left corner. Bought in seventh grade and transferred from my old laptop, this sticker is torn but persevering with layers of tape. Despite conveying my fangirl-y infatuation with Harry Styles' boyband, One Direction, for me Styles embodies an artist-activist who uses his privilege for the betterment of society. As a $42K donor to the Time's Up Legal Defense Fund, a hair donor to the Little Princess Trust, and promoter of LGBTQ+ equality, he has motivated me to be a more public activist instead of internalizing my beliefs. " Catapult ," middle right. This is the logo of a startup incubator where I launched my first company, Threading Twine. I learned that business can provide others access to fundamental human needs, such as economic empowerment of minorities and education. In my career, I hope to be a corporate advocate for the empowerment of women, creating large-scale impact and deconstructing institutional boundaries that obstruct women from working in high-level positions. Working as a women's rights activist will allow me to engage in creating lasting movements for equality, rather than contributing to a cycle that elevates the stances of wealthy individuals. " Thank God it's Monday ," sneakily nestled in the upper right corner. Although I attempt to love all my stickers equally (haha), this is one of my favorites. I always want my association with work to be positive. And there are many others, including the horizontal, yellow stripes of the Human Rights Campaign ; " The Team ," a sticker from the Model G20 Economics Summit where I collaborated with youth from around the globe; and stickers from " Kode with Klossy ," a community of girls working to promote women's involvement in underrepresented fields. When my computer dies (hopefully not for another few years), it will be like my passport expiring. It'll be difficult leaving these moments and memories behind, but I probably won't want these stickers in my 20s anyways (except Harry Styles, that's never leaving). My next set of stickers will reveal my next set of aspirations. They hold the key to future paths I will navigate, knowledge I will gain, and connections I will make.
Cool, huh? And see what I mean about how you can write a strong personal statement without focusing on challenges you've faced?
Going back to that "thread and beads" metaphor with the "My Laptop Sticker" essay:
The "beads" are the different experiences that link to the values of creativity, open-mindedness, humor, courage, and entrepreneurialism.
The "thread" (i.e., the theme that ties everything together) is her laptop stickers. Each one represents a quality of the author's personality. Actually, there's a second thematic thread: Those qualities will also serve her in her women's rights activism. Bonus!
The outline that got her there
Here's the outline for the "My Laptop Stickers" essay. Notice how each bullet point discusses a value or values, connected to different experiences via her thread, and sets up the insights she could explore. (Insight, though, is the toughest part of the writing process, and will probably take the most revision, so it's fine if you don't have great insights in an outline or first draft. But you'll want to get to them by your final draft.)
She found this thread essentially by using The Five Things Exercise in conjunction with the other brainstorming exercises.
Thread = Laptop Stickers
We <3 Design → art, design, experimentation
Details: spent weekend designing websites, graphics for my companies
Possible insight: Developed my own style
Common Threads → authenticity, open-mindedness
Details: Street artists, musicians in Austin
Possible insight: Creating not just consuming culture
Poop emoji → family, goofy side
Details: Brother, interactions, thinking rationally
Possible insight: Connection/vulnerability
Lol ur not Harry Styles → equality, activism, confidence
Details: Various activism as motivation/reminder to act vs just internalize
Possible insight: My growth with acting/speaking up
Catapult → entrepreneurship, social justice, awareness, meaningful work
Details: Threaded Twine, women's rights, breaking cycles
Possible insight: Discovered my career
Thank God it's Monday → enjoyable work
Possible insight: Importance of experience/framing
Possible insight: Want work to always be this way
The Team → collaboration
Details: Model G20 Econ Summit, group collaboration
Kode with Klossy → community, social justice
Details: Promoting women in underrepresented fields
Okay, so if you're on board so far, here's what you need:
Some stuff to write about (ideally 4-10 things) that will make up the "beads" of your essay, and
Something to connect all the different "beads" (like a connective theme or thread)
First, let's talk about ...
How to generate lots of 'stuff' to write about (aka the beads for your bracelet)
Complete all the brainstorming exercises.
Already did that? Great! Move on!
Didn't do that? Go back , complete the exercises, and then ...
Case study: How to find a theme for your personal statement (aka the thread that connects the beads of your bracelet)
Let's look at an example of how I helped one student find her essay thread, then I'll offer you some exercises to help you find your own.
The "Home" essay: A quick case study
First, take a look at this student's Essence Objects and 21 Details:
My Essence Objects
Bojangle's Tailgate Special/Iced Tea
Light blue fuzzy blanket
A box containing my baby tooth
Car keys
Gold bracelet from my grandfather
Orange, worn Nike Free Run Sneakers
Duke basketball game ticket
Palestine flag rubber wristband/ISEF Lanyard
Friendship bracelet
A pair of headphones
Yin-yang symbol
Worn, green Governor's School East lanyard
My 21 Details
I've been known to have terrible spatial awareness despite being a dancer. Just last week, my shoelace got caught in an escalator and I tripped about 20 people.
Zumba and kickboxing are my favorite forms of exercise and I'm hopefully going to become certified to teach Zumba soon.
I have misophonia--sometimes I even have to eat dinner in a different room from my family.
My go-to drinks are Hi-C and Sweet Tea.
I became a pescatarian this year to avoid fried chicken, and I can honestly get a life's worth of meat out of cod, salmon, tilapia, shrimp, you name it.
I collect funky socks--at this point, I have socks with tacos, snowmen, Santa, and even animals wearing glasses.
I've gotten different Myers-Briggs personality types every time I took the test. The most recent ones are ENFJ and ENFP.
I have no immediate relatives in America besides my mom, dad, and sister.
I am a diehard Duke basketball fan, and I can identify all of the Duke basketball fans at my high school on one hand.
I love discussing psychology, but sometimes I psychoanalyze.
Singing while driving is honestly one of my favorite pastimes.
My alarm for school every morning is at 5:42 am.
I hope to complete a half and full marathon within the next four years, despite not having run a 5k yet.
I realized the tooth fairy wasn't real after I lost my second tooth, but I pretended that I still believed in it until I was in 5th grade for the tooth fairy's "gifts".
I could eat fruits for every single meal.
I don't do well with confrontation.
Airports are hands-down my favorite place to be, but I hate airplanes.
If I'm not busy or working, you can usually find me in my hammock in the backyard.
I find that I form the deepest connections with people after 12am.
Sometimes, I like TV spoilers.
How this author found her thematic thread
When I met with this student for the first time, I began asking questions about her objects and details: "What's up with the Bojangle's Iced Tea? What's meaningful to you about the Governor's School East lanyard? Tell me about your relationship to dance ..."
We were thread-finding ... searching for an invisible connective [something] that would allow her to talk about different parts of her life.
Heads-up: Some people are really good at this—counselors are often great at this—while some folks have a more difficult time. Good news: When you practice the skill of thread-finding, you can become better at it rather quickly.
You should also know that sometimes it takes minutes to find a thread and sometimes it can take weeks. With this student, it took less than an hour.
I noticed in our conversation that she kept coming back to things that made her feel comfortable. She also repeated the word "home" several times. When I pointed this out, she asked me, "Do you think I could use 'home' as a thread for my essay?"
"I think you could," I said.
Read her essay below, then I'll share more about how you can find your own thematic thread.
As I enter the double doors, the smell of freshly rolled biscuits hits me almost instantly. I trace the fan blades as they swing above me, emitting a low, repetitive hum resembling a faint melody. After bringing our usual order, the "Tailgate Special," to the table, my father begins discussing the recent performance of Apple stock with my mother, myself, and my older eleven year old sister. Bojangle's, a Southern establishment well known for its fried chicken and reliable fast food, is my family's Friday night restaurant, often accompanied by trips to Eva Perry, the nearby library. With one hand on my breaded chicken and the other on Nancy Drew: Mystery of Crocodile Island, I can barely sit still as the thriller unfolds. They're imprisoned! Reptiles! Not the enemy's boat! As I delve into the narrative with a sip of sweet tea, I feel at home. "Five, six, seven, eight!" As I shout the counts, nineteen dancers grab and begin to spin the tassels attached to their swords while walking heel-to-toe to the next formation of the classical Chinese sword dance. A glance at my notebook reveals a collection of worn pages covered with meticulously planned formations, counts, and movements. Through sharing videos of my performances with my relatives or discovering and choreographing the nuances of certain regional dances and their reflection on the region's distinct culture, I deepen my relationship with my parents, heritage, and community. When I step on stage, the hours I've spent choreographing, creating poses, teaching, and polishing are all worthwhile, and the stage becomes my home. Set temperature. Calibrate. Integrate. Analyze. Set temperature. Calibrate. Integrate. Analyze. This pulse mimics the beating of my heart, a subtle rhythm that persists each day I come into the lab. Whether I am working under the fume hood with platinum nanoparticles, manipulating raw integration data, or spraying a thin platinum film over pieces of copper, it is in Lab 304 in Hudson Hall that I first feel the distinct sensation, and I'm home. After spending several weeks attempting to synthesize platinum nanoparticles with a diameter between 10 and 16 nm, I finally achieve nanoparticles with a diameter of 14.6 nm after carefully monitoring the sulfuric acid bath. That unmistakable tingling sensation dances up my arm as I scribble into my notebook: I am overcome with a feeling of unbridled joy. Styled in a t-shirt, shorts, and a worn, dark green lanyard, I sprint across the quad from the elective 'Speaking Arabic through the Rassias Method' to 'Knitting Nirvana'. This afternoon is just one of many at Governor's School East, where I have been transformed from a high school student into a philosopher, a thinker, and an avid learner. While I attend GS at Meredith College for Natural Science, the lessons learned and experiences gained extend far beyond physics concepts, serial dilutions, and toxicity. I learn to trust myself to have difficult yet necessary conversations about the political and economic climate. Governor's School breeds a culture of inclusivity and multidimensionality, and I am transformed from "girl who is hardworking" or "science girl" to someone who indulges in the sciences, debates about psychology and the economy, and loves to swing and salsa dance. As I form a slip knot and cast on, I'm at home. My home is a dynamic and eclectic entity. Although I've lived in the same house in Cary, North Carolina for 10 years, I have found and carved homes and communities that are filled with and enriched by tradition, artists, researchers, and intellectuals. While I may not always live within a 5 mile radius of a Bojangle's or in close proximity to Lab 304, learning to become a more perceptive daughter and sister, to share the beauty of my heritage, and to take risks and redefine scientific and personal expectations will continue to impact my sense of home.
Rad essay, huh?
But here's the question I get most often about this technique: How do I find my thematic thread?
1. The "Bead-Making" Exercise (5-8 min.)
In the example above, we started with the beads, and then we searched for a thread. This exercise asks you to start with the thread of something you know well and then create the beads. Here's how it works:
Step 1: On a blank sheet of paper, make a list of five or six things you know a lot about.
For example, I know a lot about …
Words/language
Productivity
Voices/accents
Self-help books
If you can only think of 3 or 4, that's okay.
Step 2: Pick one of the things you wrote down, flip your paper over, and write it at the top of your paper, like this: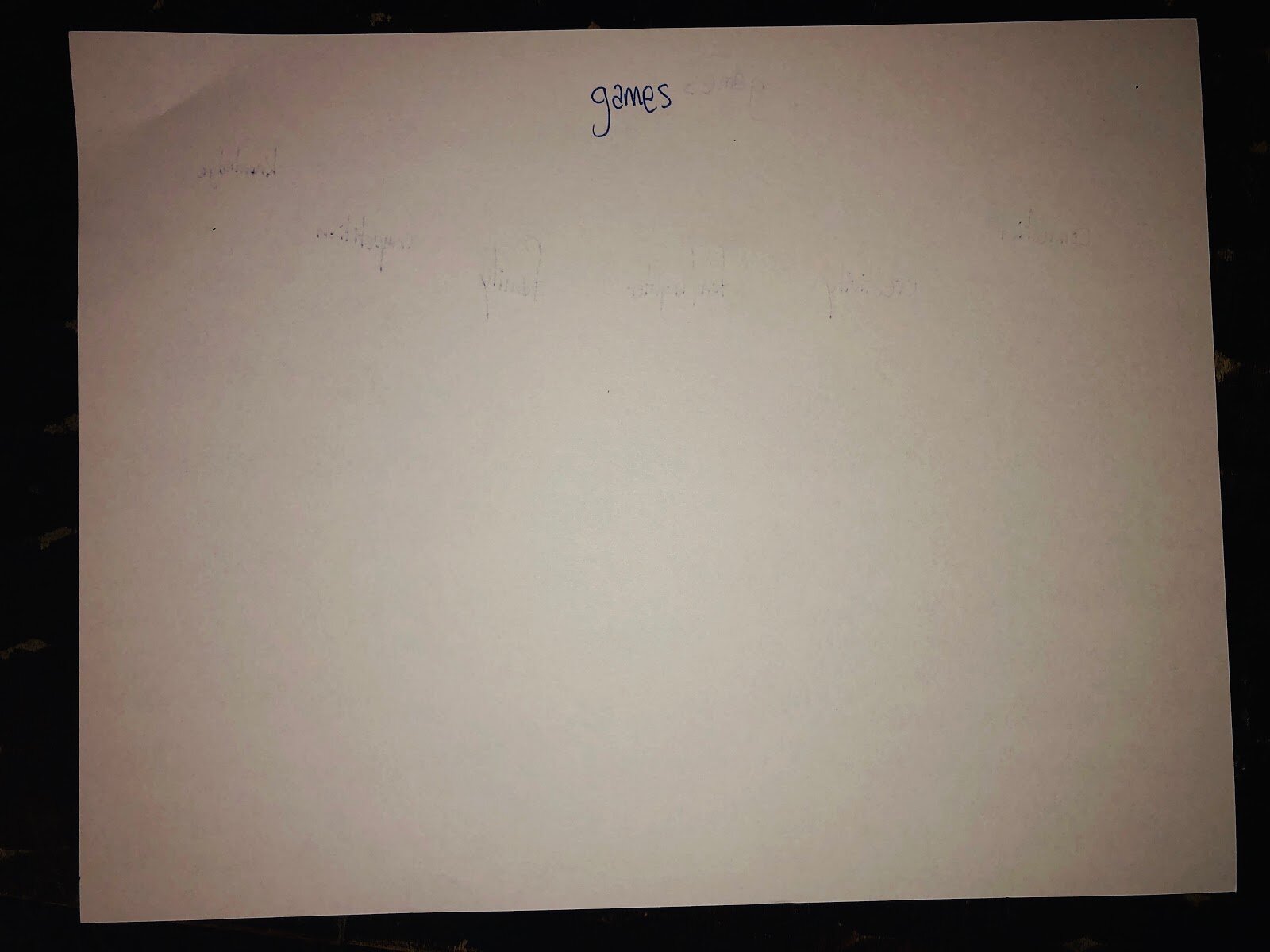 This is your thread, or a potential thread.
Step 3: Underneath what you wrote down, name 5-6 values you could connect to this. These will serve as the beads of your essay. You can even draw a thread connecting your beads, if you want, like this: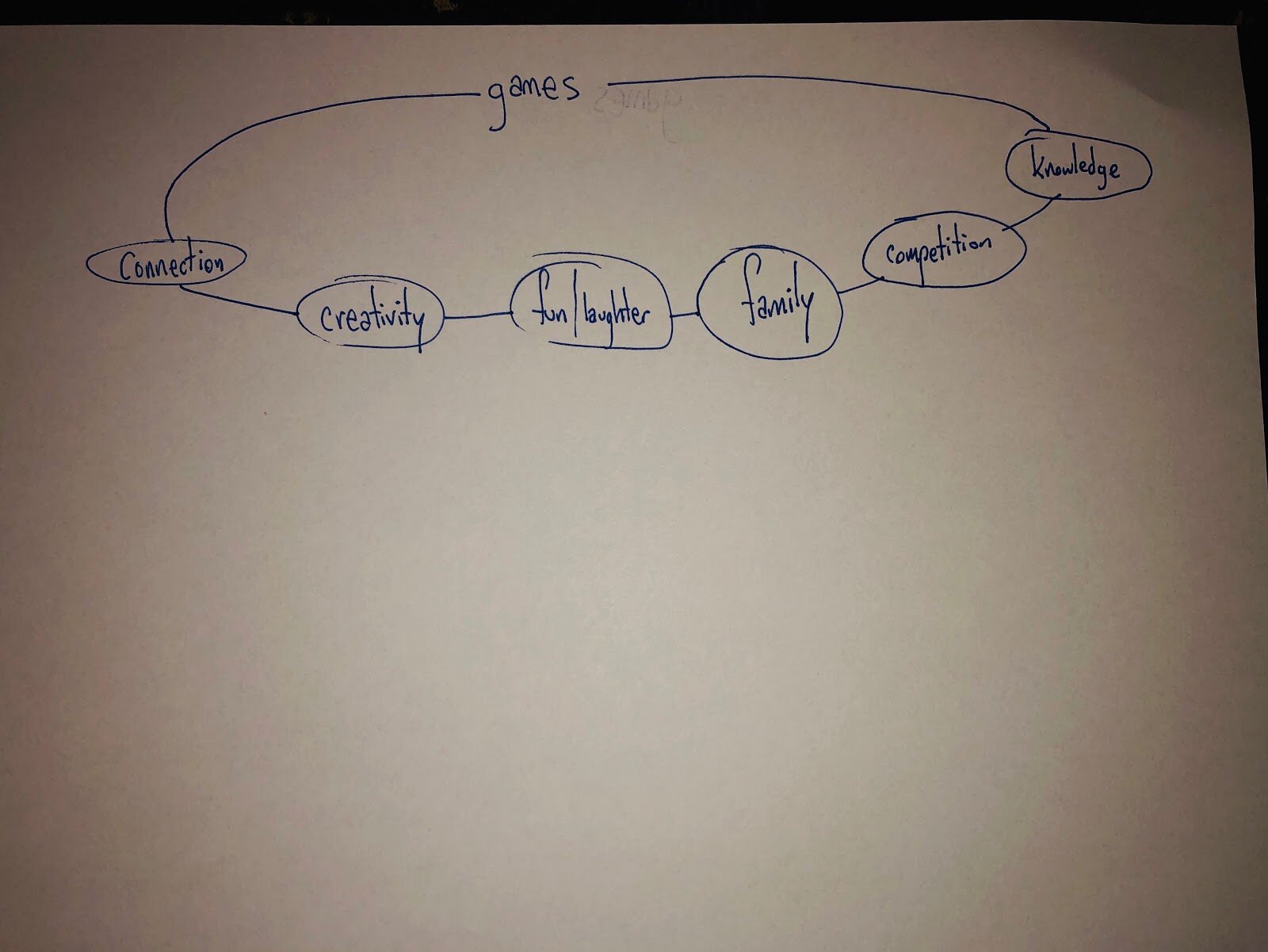 Step 4: For each value, write down a specific example, memory, image, or essence object that connects to that value. Example:
My thread: Games
My beads: Connection, creativity, fun/laughter, family, competition, knowledge
Here are my examples/memories/images/essence objects:
Connection: One memory I have is playing "I love" in a circle at camp with 20 friends and strangers. I still marvel at how quickly it helped us bond.
Creativity: After I understand how a game works, I like to try to improve it by tweaking the rules. Two examples: 1) I remember when I was young trying to find the right amount of money for the Free Parking space in Monopoly, and 2) recently, I learned the game Guesstimation is so much better if you add wagers. I see my 4-year-old daughter tweaks games too, which drives my wife crazy, as she likes to play by the rules of the game.
Fun/laughter: As I've aged, so much of my life has become planned/programmed, but I can still enjoy losing track of time with board games. Two weeks ago, for example, I laughed so hard I cried while playing Drawful with Lisa, Andy, and Sage.
Family: We played games like Charades and Jeopardy when I was young. (My dad was the Game Master who would come up with the categories. As I grew older, I took over the role of Game Master.)
Competition: People don't know this about me because I seem so chill, but I am incredibly competitive. Things I rarely lose at: ping pong, Tetris, foosball, and corn hole. I've gotten much better over the years at hiding my competitive side, but it's still there.
Knowledge: Can't really think of much on this one—maybe something related to Jeopardy?
This is an actual brainstorm I did using this exercise.
And, as I write these things down, I notice a theme of youth/old age emerging. Games have changed for me as I've gotten older. Note that I couldn't come up with something for the last one, "knowledge," which is fine.
The point is this: If you know a thing well, odds are good you'll be able to make a lot of connections to your values. And if you can find specific examples for each value, that can make for interesting paragraphs in your personal statement.
If you're willing to spend a few more minutes, ask "so what?" of each example to see if a specific insight emerges.
And, in case you want a formula for what I'm describing, here you go:
Once you've written down the values and at least one example (e.g., a memory, image, essence object) for each bead, see if you have enough content for an essay.
Still haven't found your theme? Here are ...
More ways to find a thematic thread for your personal statement
2. The "Five Things" Exercise
(Special thanks to my colleague, Dori Middlebrook, for this one.)
I mentioned this when we first started talking about Montage Structure. Similar to the "bead-making" exercise above, you identify the thread first and then develop the beads.
Step 1: Write down 5 similar things that are meaningful to you in different ways.
Examples: Five Pairs of Shoes I've Worn, Five Houses I've Lived In, Five Photographs in My Room, Five Ways Cooking Has Influenced Me, etc.
Step 2: Begin by simply naming the 5 different items.
Example: High-top tennis shoes, flip-flops, heels, cleats, bunny slippers
Step 3: Add physical details so we can visualize each one.
Step 4: Add more details. Maybe tell a story for each.
Pro tip: Try connecting each of the 5 to a different value.
Step 5: Expand on each description further and start to connect the ideas to develop them into an essay draft.
3. Thread-finding with a partner
Grab someone who knows you well (e.g., a counselor, friend, family member). Share all your brainstorming content with them and ask them to mirror back to you what they're seeing. It can be helpful if they use reflective language and ask lots of questions. An example of a reflective observation is: "I'm hearing that 'building' has been pretty important in your life … is that right?" You're hunting together for a thematic thread—something that might connect different parts of your life and self.
4. Thread-finding with photographs
Pick 10 of your favorite photos or social media posts and write a short paragraph on each one. Why'd you pick these photos? What do they say about you? Then ask yourself, "What are some things these photos have in common?" Bonus points: Can you find one thing that connects all of them?
5. Reading lots of montage example essays that work
You'll find some here , here , and here . While you may be tempted to steal those thematic threads, don't. Try finding your own. Have the courage to be original. You can do it.
Montage Structure FAQs
Q: How do I work in extracurricular activities in a tasteful way (so it doesn't seem like I'm bragging)?
A: Some counselors caution, with good reason, against naming extracurricular activities/experiences in your personal statement. (It can feel redundant with your Activities List.) You actually can mention them , just make sure you do so in context of your essay's theme. Take another look at the eighth paragraph of the "My Laptop Stickers" essay above, for example:
And there are many [other stickers], including the horizontal, yellow stripes of the Human Rights Campaign; "The Team," a sticker from the Model G20 Economics Summit where I collaborated with youth from around the globe; and stickers from "Kode with Klossy," a community of girls working to promote women's involvement in underrepresented fields.
A description of these extracurricular activities may have sounded like a laundry list of the author's accomplishments. But because she's naming other stickers (which connects them to the essay's thematic thread), she basically gets to name-drop those activities while showing other parts of her life. Nice.
One more way to emphasize a value is to combine or disguise it with humor. Example: "Nothing teaches patience (and how to tie shoes really fast) like trying to wrangle 30 first-graders by yourself for 10 hours per week," or "I've worked three jobs, but I've never had to take more crap from my bosses than I did this past summer while working at my local veterinarian's office."
In each of these examples, the little bit of humor covers the brag. Each is basically pointing out that the author had to work a lot and it wasn't always fun. No need to push this humor thing, though. Essays don't need to be funny to be relatable, and if the joke doesn't come naturally, it might come across as trying too hard.
Q: How do I transition between examples so my essay "flows" well?
A: The transitions are the toughest part of this essay type. Fine-tuning them will take some time, so be patient. One exercise I love is called Revising Your Essay in 5 Steps , and it basically works like this:
Highlight the first sentence of each of your paragraphs in bold, then read each one aloud in order. Do they connect, creating a short version of your essay? If not:
Rewrite the bold sentences so that they do connect (i.e., flow) together. Once you've done that …
Rewrite each paragraph so it flows from those bolded sentences.
Read them aloud again. Wash, rinse, repeat until the ideas flow together.
This is a great way to figure out the "bones" (i.e., structure) of your essay.
Q: What am I looking for again?
A: You're looking for two things:
Parts of yourself that are essential to who you are (e.g., values or "islands of your personality"), and
A theme that connects them all.
Your theme could be something mundane (like your desk) or something everyone can relate to ( like the concept of home ), but make sure that it is elastic (i.e. can connect to many different parts of you) and visual, as storytelling made richer with images.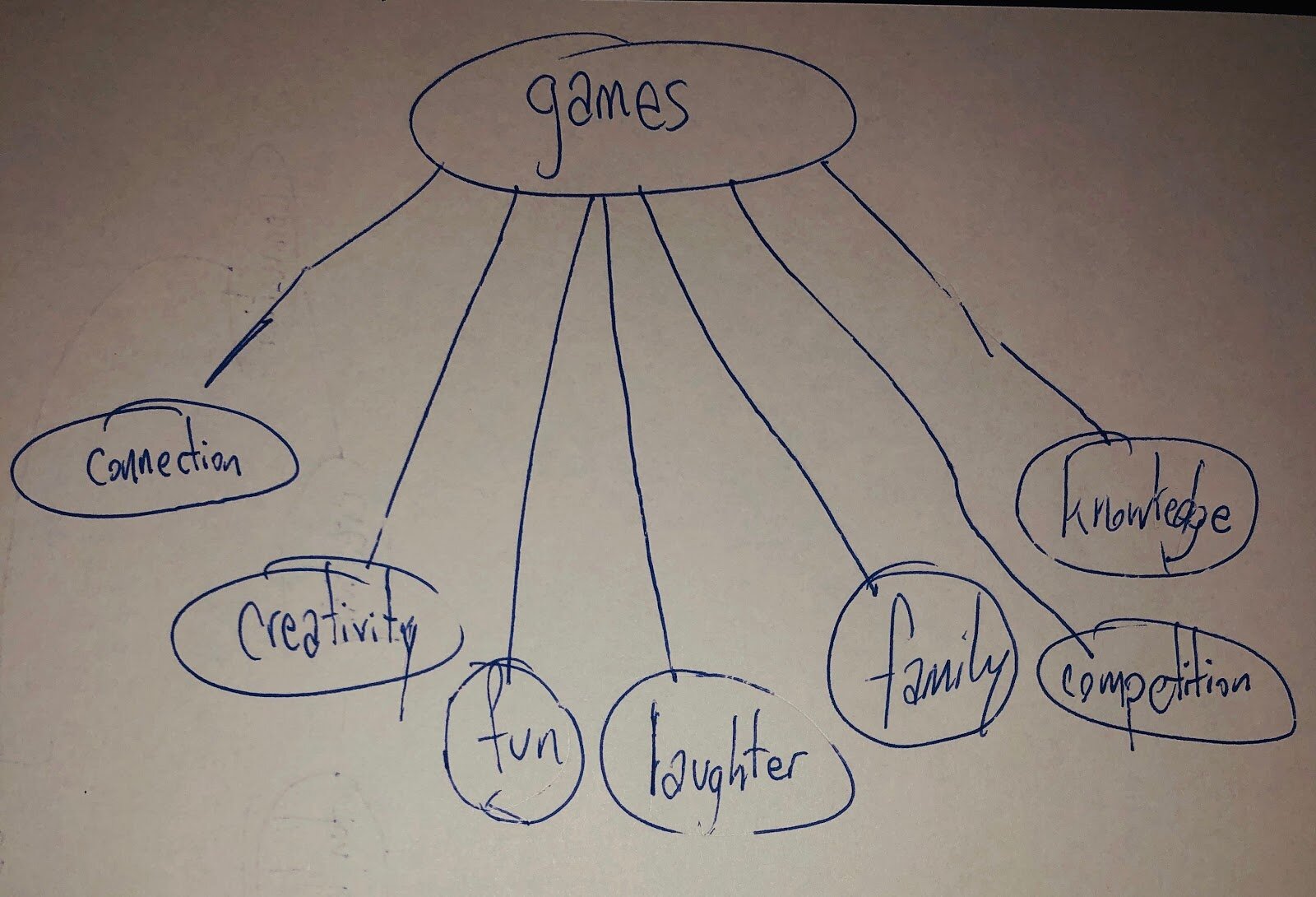 Each of the values creates an island of your personality and a paragraph for your essay.
Montage step-by-step recap:
Review your brainstorming exercises and look for threads that connect 4-7 different values through 4-7 different experiences.
Choose an order for your examples. Consider describing one example per paragraph.
Create an outline.
Write a first draft. Once you do ...
Consider using the Revising Your Essay in 5 Steps Exercise to clarify your transitions.
Q: This is hard! I'm not finding it yet and I want to give up. What should I do?
A: Don't give up! Remember: be patient. This takes time. If you need inspiration, or assurance that you're on the right track, check out Elizabeth Gilbert's TED Talk , "Your Elusive Creative Genius."
All right, moving on.
Narrative Structure
If you answered "yes" to both questions at the beginning of this guide, I recommend exploring Narrative Structure. I'll explain this in more detail below.
My favorite content-generating exercise for Narrative Structure is the Feelings and Needs Exercise. It takes about 20 minutes (but do feel free to take longer—more time brainstorming and outlining leads to better, faster writing). Here's how it works:
The Feelings and Needs Exercise
Time : 15-20 minutes
Instructions : You'll find them here.
If you haven't completed the exercise, please do it now.
(And this is a dramatic pause before I tell you the coolest thing about what you just did.)
You may notice that your completed Feelings and Needs chart maps out a potential structure for your personal statement. If you're not seeing it, try turning your paper so that the challenges are at the top of your page and the effects are below them.
Voila. A rough outline for a narrative essay.
To clarify, this isn't a perfect way to outline an essay. You may not want to spend an entire paragraph describing your feelings, for example, or you may choose to describe your needs in just one sentence. And now that you see how it frames the story, you may want to expand on certain columns. However, the sideways Feelings and Needs chart can help you think about how the chronology of your experiences might translate into a personal statement.
Here's an essay that one student wrote after completing this exercise:
The Birth of Sher Khan The narrow alleys of Mardan, Khyber Pakhtunkhwa, Pakistan where I spent the first 7 years of my life were infiltrated with the stench of blood and helplessness. I grew up with Geo news channel, with graphic images of amputated limbs and the lifeless corpses of uncles, neighbors, and friends. I grew up with hurried visits to the bazaar, my grandmother in her veil and five-year-old me, outrunning spontaneous bomb blasts. On the open rooftop of our home, where the hustle and bustle of the city were loudest, I grew up listening to calls to prayer, funeral announcements, gunshots. I grew up in the aftermath of 9/11, confused. Like the faint scent of mustard oil in my hair, the war followed me to the United States. Here, I was the villain, responsible for causing pain. In the streets, in school, and in Baba's taxi cab, my family and I were equated with the same Taliban who had pillaged our neighborhood and preyed on our loved ones. War followed me to freshman year of high school when I wanted more than anything to start new and check off to-dos in my bullet journal. Every time news of a terror attack spread, I could hear the whispers, visualize the stares. Instead of mourning victims of horrible crimes, I felt personally responsible, only capable of focusing on my guilt. The war had manifested itself in my racing thoughts and bitten nails when I decided that I couldn't, and wouldn't, let it win. A mission to uncover parts of me that I'd buried in the war gave birth to a persona: Sher Khan, the tiger king, my radio name. As media head at my high school, I spend most mornings mastering the art of speaking and writing lighthearted puns into serious announcements. Laughter, I've learned, is one of the oldest forms of healing, a survival tactic necessary in war, and peace too. During sophomore year, I found myself in International Human Rights, a summer course at Cornell University that I attended through a local scholarship. I went into class eager to learn about laws that protect freedom and came out knowledgeable about ratified conventions, The International Court of Justice, and the repercussions of the Srebrenica massacre. To apply our newfound insight, three of my classmates and I founded our own organization dedicated to youth activism and spreading awareness about human rights violations: Fight for Human Rights. Today, we have seven state chapters led by students across the U.S and a chapter in Turkey too. Although I take pride in being Editor of the Golden State's chapter, I enjoy having written articles about topics that aren't limited to violations within California. Addressing and acknowledging social issues everywhere is the first step to preventing war. Earlier this year, through KQED, a Bay Area broadcasting network, I was involved in a youth takeover program, and I co-hosted a Friday news segment about the Deferred Action for Childhood Arrivals policy, the travel ban, and the vaping epidemic. Within a few weeks, my panel and interview were accessible worldwide, watched by my peers in school, and family thousands of miles away in Pakistan. Although the idea of being so vulnerable initially made me nervous, I soon realized that this vulnerability was essential to my growth. I never fully escaped war; it's evident in the chills that run down my spine whenever an untimely call reaches us from family members in Pakistan and in the funerals still playing on Geo News. But I'm working towards a war-free life, internally and externally, for me and the individuals who can share in my experiences, for my family, and for the forgotten Pashtun tribes from which I hail. For now, I have everything to be grateful for. War has taught me to recognize the power of representation, to find courage in vulnerability, and best of all, to celebrate humor.
Fun fact: This essay was written by a student in one of my online courses who, as she shared this version with me, called it a "super rough draft."
I wish my super rough drafts were this good.
I share this essay with you not only because it's a super awesome essay that was inspired by the Feelings and Needs Exercise, but also because it offers a beautiful example of what I call the ...
You can think of a narrative essay as having three basic sections: Challenges + Effects ; What I Did About It ; What I Learned . Your word count will be pretty evenly split between the three, so for a 650-word personal statement, 200ish each.
To get a little more nuanced, within those three basic sections, a narrative often has a few specific story beats. There are plenty of narratives that employ different elements (for example, collectivist societies often tell stories in which there isn't one central main character/hero, but it seems hard to write a college personal statement that way, since you're the focus here). You've seen these beats before—most Hollywood films use elements of this structure, for example.
Status Quo : The starting point of the story. This briefly describes the life or world of the main character (in your essay, that's you).
The Inciting Incident : The event that disrupts the Status Quo. Often it's the worst thing that could happen to the main character. It gets us to wonder: Uh-oh … what will they do next? or How will they solve this problem?
Raising the Stakes/Rising Action : Builds suspense. The situation becomes more and more tense, decisions become more important, and our main character has more and more to lose.
Moment of Truth : The climax. Often this is when our main character must make a choice.
New Status Quo : The denouement or falling action. This often tells us why the story matters or what our main character has learned. Think of these insights or lessons as the answer to the big "so what?" question.
For example, take a look at "The Birth of Sher Khan" essay above.
Notice that roughly the first third focuses on the challenges she faced and the effects of those challenges.
Roughly the next third focuses on actions she took regarding those challenges. (Though she also sprinkles in lessons and insight here.)
The final third contains lessons and insights she learned through those actions, reflecting on how her experiences have shaped her. (Again, with the caveat that What She Did and What She Learned are somewhat interwoven, and yours likely will be as well. But the middle third is more heavily focused on actions, and the final third more heavily focused on insight.)
And within those three sections, notice the beats of her story: Status Quo, The Inciting Incident, Raising the Stakes/Rising Action, Moment of Truth, New Status Quo.
How does the Feelings and Needs Exercise map onto those sections?
Pretty directly.
At the risk of stating the blatantly obvious, The Challenges and Effects columns of the Feelings and Needs Exercise … are the Challenges + Effects portion of your essay. Same with What I Did and What I Learned.
The details in your Feelings and Needs columns can be spread throughout the essay. And it's important to note that it's useful to discuss some of your feelings and needs directly, but some will be implied.
For example, here's the Feelings and Needs Exercise map of the "Sher Khan" essay. And I know I just mentioned this, but I want you to notice something that's so important, I'm writing it in bold: The author doesn't explicitly name every single effect, feeling, or need in her essay . Why not? First, she's working within a 650-word limit. Second, she makes room for her reader's inferences, which can often make a story more powerful. Take a look:
Challenge 1 : She grows up surrounded by war, which is explicitly stated.
Challenge 2 : She comes to the U.S. to find safety (a need), which is implied, but instead, she is villainized, which is explicitly stated.
Effects : She is ostracized after arriving in the U.S. "Every time news of a terror attack spread," she writes, "I could hear the whispers, visualize the stares." Other effects are implied, and we are left to imagine—and feel for ourselves—the kind of impact this might have had on her, and on us. Vulnerability creates connection.
Feelings : Growing up in the aftermath of 9/11 leaves her feeling confused, and after she is shunned, she describes being unable to mourn the victims of horrible crimes, instead feeling "personally responsible, only capable of focusing on [her] own guilt." She explicitly names confusion and guilt, but she doesn't name all the things she felt, of course, as there's no need. Here, naming 1-2 key emotions helps us understand her inner world. If you choose to do the same in your essay, it'll help readers understand yours.
Needs : As I read this essay, I can imagine the author needed safety, order, love, respect, reassurance, connection, and many more. But these are implied by the story events and need not be explicitly stated. In fact, spelling these things out might have made the essay sound weird. Imagine if she'd said, "I needed safety and order" at the end of the first paragraph and "I needed respect, reassurance, and connection" at the end of the second paragraph. That might sound awkward or too obvious, right? While identifying your needs is a great tool for understanding your story (and self) on a deeper level, there's no need to explicitly state them at each juncture.
What She Did About It : The author developed a radio persona called Sher Khan , attended a summer course on human rights, founded an organization dedicated to youth activism, wrote articles on restrictive blasphemy laws and the forced repatriation of refugees, and probably other things that weren't even mentioned.
What She's Learned/Gained : She found a sense of purpose and discovered "everything [she has] to be grateful for." She writes: "War has taught me to never take an education or a story for granted, to find beauty in vulnerability, to remain critical of authority figures, to question what's socially accepted, and best of all, to celebrate humor."
Cool. Here's another narrative example:
What Had to Be Done At six years old, I stood locked away in the restroom. I held tightly to a tube of toothpaste because I'd been sent to brush my teeth to distract me from the commotion. Regardless, I knew what was happening: my dad was being put under arrest for domestic abuse. He'd hurt my mom physically and mentally, and my brother Jose and I had shared the mental strain. It's what had to be done. Living without a father meant money was tight, mom worked two jobs, and my brother and I took care of each other when she worked. For a brief period of time the quality of our lives slowly started to improve as our soon-to-be step-dad became an integral part of our family. He paid attention to the needs of my mom, my brother, and me. But our prosperity was short-lived as my step dad's chronic alcoholism became more and more recurrent. When I was eight, my younger brother Fernando's birth complicated things even further. As my step-dad slipped away, my mom continued working, and Fernando's care was left to Jose and me. I cooked, Jose cleaned, I dressed Fernando, Jose put him to bed. We did what we had to do. As undocumented immigrants and with little to no family around us, we had to rely on each other. Fearing that any disclosure of our status would risk deportation, we kept to ourselves when dealing with any financial and medical issues. I avoided going on certain school trips, and at times I was discouraged to even meet new people. I felt isolated and at times disillusioned; my grades started to slip. Over time, however, I grew determined to improve the quality of life for my family and myself. Without a father figure to teach me the things a father could, I became my own teacher. I learned how to fix a bike, how to swim, and even how to talk to girls. I became resourceful, fixing shoes with strips of duct tape, and I even found a job to help pay bills. I became as independent as I could to lessen the time and money mom had to spend raising me. I also worked to apply myself constructively in other ways. I worked hard and took my grades from Bs and Cs to consecutive straight A's. I shattered my school's 1ooM breaststroke record, and learned how to play the clarinet, saxophone, and the oboe. Plus, I not only became the first student in my school to pass the AP Physics 1 exam, I'm currently pioneering my school's first AP Physics 2 course ever. These changes inspired me to help others. I became president of the California Scholarship Federation, providing students with information to prepare them for college, while creating opportunities for my peers to play a bigger part in our community. I began tutoring kids, teens, and adults on a variety of subjects ranging from basic English to home improvement and even Calculus. As the captain of the water polo and swim team I've led practices crafted to individually push my comrades to their limits, and I've counseled friends through circumstances similar to mine. I've done tons, and I can finally say I'm proud of that. But I'm excited to say that there's so much I have yet to do. I haven't danced the tango, solved a Rubix Cube, explored how perpetual motion might fuel space exploration, or seen the World Trade Center. And I have yet to see the person that Fernando will become. I'll do as much as I can from now on. Not because I have to. Because I choose to.
There's so much to love about this essay.
Here's a behind-the-scenes look at how the author wrote this essay so you can figure out how to write yours:
First, the author brainstormed the content of his essay using the Feelings and Needs Exercise.
Did you spot the elements of that exercise? If not, here they are:
Challenges: Domestic abuse, alcoholic step-dad, little brother Fernando's birth, family's undocumented status
Effects: Author and his brother shared the mental strain, father was arrested, funds were tight, mom worked two jobs, brothers took care of one another, they kept to themselves when dealing with financial and medical issues, avoided going on certain school trips, at times author was discouraged from meeting new people, grades started to slip
Feelings: Confused yet understanding, anxious, worried, relieved, alone, lost, vulnerable, lonely, disconnected, alone, heartbroken, ashamed, disillusioned
Needs: Order, autonomy, reassurance, growth, safety, understanding, empathy, hope, support, self-acceptance
What He Did About It: Took care of his youngest brother; became his own teacher; learned how to fix a bike, swim, socialize; found a job to help pay bills; improved his grades; broke a school swimming record; learned to play instruments; became the first student in his school to pass the AP Physics 1 exam; took a leadership role in clubs; and tutored and counseled friends and peers
What He Learned: He's proud of what he's done, but wants to do more: dance the tango, solve a Rubix Cube, explore perpetual motion, see the World Trade Center, see his little brother grow up … and do you notice the value here? Hunger . That was his number one value, by the way. And he ends by saying he'll do these things not because he has to, but because he chooses to. This sounds like autonomy . Another one of his top values.
That's why I love beginning with this exercise. With just 15-20 minutes of focused work, you can map out your whole story.
Next, the author used Narrative Structure to give shape to his essay.
Did you spot the Narrative Structure elements? If not, here they are:
Inciting Incident: While the author is brushing his teeth, his father is arrested for domestic abuse.
Status Quo: His father had hurt his mom physically and mentally, and the author and his brother had shared the mental strain. "It's what had to be done," he writes.
Raising the Stakes: The entire second and third paragraphs, which describe how living without a father meant money was tight. Things improved for a while after his mother remarried, but his stepdad's chronic alcoholism (raise the stakes) plus a new little brother (raise the stakes again) made things even tougher. As if that weren't enough, the author raises the stakes even further by revealing that his family was undocumented at the time.
Moment of Truth: At his lowest point, he decides to do something about it. "I grew determined to improve the quality of life for my family and myself," he writes, then goes on to tell us all the amazing things he taught himself, the skills he learned, and interests he pursued. It's inspiring.
New Status Quo: Remember that the initial Status Quo was the author doing "what had to be done." Not so, by the end of the essay. In the final lines, he writes, "I'll do as much as I can from now on. Not because I have to. Because I choose to."
And again, notice that those fit within the framework of:
⅓: Challenges he faced and their impacts on him
⅓: What he did to work through them
⅓: What he learned through the process
Narrative structure FAQs
Q: Are there any situations where I may not want to write about my life struggles?
A: Yes. Sometimes it can be too difficult to discuss them. Or you may be actively dealing with a challenge. If this is the case, reach out to your counselor, a trusted mentor, or, if possible, a therapist.
If money is an issue (i.e., you feel you can't afford a therapist) and you don't feel comfortable sharing your struggles with your counselor, ask them if they can refer you to a therapist or counselor who works on a sliding scale. Many mental health professionals work with clients at low rates or for free.
You may also choose to write about the struggles you've faced without getting into all the details. Saying, for example, that you experienced verbal abuse from your father, for example, may be enough; you don't necessarily need to share the specifics.
Q: Should I write about mental health challenges?
A: Mental health can be very difficult to write about for a few reasons:
If a student is still very much struggling through the challenges they describe, the admission reader may wonder if the student is ready for college.
In some cases, the admission officer may feel that a student is ready for college, but their institution may not be adequately equipped to help them thrive (not all colleges have the same kinds of resources, unfortunately).
Unfortunately, mental health challenges have become so common these days that many students write personal statements about them, and so it can be difficult to stand out. If you're feeling compelled to write about a mental health challenge, consider brainstorming some uncommon connections .
Questions to ask yourself if you're considering writing about mental health challenges:
Do I have any other topics I could write on? Are there other interesting parts of myself I'd like to share that could reveal important skills, qualities, and values? Or must I write about this? (Beware the trap discussed earlier of feeling like you must write about a challenge to write a great personal statement—it's not true! The authors of the " My Laptop Stickers" essay the "Home" essay were students who faced challenges but chose not to write about them.)
Have I truly worked through this? Am I able to devote the middle third of my essay to actions I've taken to work through the challenge and the final third to what I've learned? (You may not know the answers to these questions until you've done some writing. Maybe run your challenge through the Feelings and Needs Exercise to see what surfaces. Even if this doesn't end up being your personal statement topic, you might learn something important about yourself.)
If I were an admission officer reading this essay, would I feel like this student has their situation handled and they are truly ready for college? (If you're unsure, it's a great idea to have 2-3 folks read it who have a good understanding of what colleges are looking for.)
Could the mental health challenge be a brief explanation in the Additional Info section? To see if this might work for you, see how briefly you can describe your mental health challenge using factual bullet points. Devote one bullet point to the challenge, another bullet point to what you've done about it, and a final bullet point describing briefly what you've learned.
Important: If you have a counselor, I strongly recommend consulting with them as you decide whether to discuss a mental health challenge in your personal statement. If your counselor is writing a letter on your behalf, some of the information you'd like to share may already be accounted for. Talk to them and find out.
Q: Are there any situations where I may not want to write about my career in my personal statement … even if I know what it is?
A: For sure. Say you're interested in becoming a doctor, but you're applying to a medical program with a supplemental prompt asking why you want to become a doctor. If you want to avoid repetition, you might not explicitly mention becoming a doctor at the end of your personal statement (you don't have to discuss your career at all in a personal statement; many students are unsure.). Instead, you might describe how you've developed qualities that will equip you for a career as a doctor (e.g., creativity, for example, or the ability to lead a team).
Narrative Structure step-by-step recap :
Complete the brainstorming exercises, as these will help no matter which structure you choose. Take special care to complete the Feelings and Needs Exercise, as it will help you outline your essay.
Create an outline using the Narrative Structure described above.
Write a first draft.
Check out my blog for more Narrative Structure examples.
How To Write a College Essay, With Examples

Whether you're prepared or not, there comes a time when every student is faced with writing their first college essay. Even if you're a natural writer, writing a college essay is still a daunting task. Here's a method for tackling the process and a few examples to inspire you.
Here's a tip: Want to make sure your  writing  shines? Grammarly can  check your spelling  and save you from  grammar  and  punctuation  mistakes. It even  proofreads  your text, so your work is extra polished wherever you write.
Give your writing extra polish Grammarly helps you communicate confidently Write with Grammarly
Preparing to write your college essay
The old saying goes, "Those who fail to prepare prepare to fail." Why spend time and energy cleaning up a mess when you can avoid making one in the first place?
Make sure you understand the assignment. There's no shame in asking your professor to clarify. Your success depends on understanding what she wants Here are some ways to  ask for clarification .
Research and create a basic outline as you go. Roll research and the initial outlining process into one simple step. As you research, create an info dump—a bullet-pointed list of the topics you want to cover. Add links to articles and citations as you go so you can refer to them easily.
Figure out what you want to say. What's the main argument or idea you'll express? You need to know before you begin. In order to make a point, you have to have one.
Create a classic, canonical outline. Once you have a clearer vision for your central idea or argument, it's time to organize your info-dump. Prune out anything irrelevant and  organize your outline into the classic structure .
Drafting your essay
By the end of the research and planning process, you'll feel energized and ready to write about all this interesting stuff your research (or your brainstorming process , if your essay requirement is more personal) has uncovered. Use that energy to write a draft.
Here's a tip: Don't spend a lot of time drafting your intro up front. Often, the article itself informs the introduction, and you won't know what your intro should say until your essay is finished.
The parts of a college essay
Introduction.
Your intro tells your reader what to expect from your essay. Think of it as a brief roadmap that begins with an intriguing opening line, includes a quick summary of the topic and ideas you'll present, and concludes with a thesis statement.
Opening hook
It's important to draw your reader in from the very first sentence. Take a look at some of these opening lines from  college entrance essays submitted to Stanford University .
While traveling through the daily path of life, have you ever stumbled upon a hidden pocket of the universe?
Some fathers might disapprove of their children handling noxious chemicals in the garage.
I change my name each time I place an order at Starbucks.
Summary of your topic, ideas, or argument
Your opening paragraph should introduce the subject matter and the points you intend to make. They should give some background to support the thesis statement you'll make at the end of the introduction.
The debate over athletes' use of performance-enhancing substances is getting more complicated as biotechnologies such as gene therapy become a reality. The availability of these new methods of boosting performance will force us to decide what we value most in sports—displays of physical excellence developed through hard work or victory at all costs. For centuries, spectators and athletes have cherished the tradition of fairness in sports.
— Argumentative Essay Examples, Skyline College
Thesis statement
Your thesis statement comes at the end of your introduction. Here's the  thesis statement from the Skyline College example above. It states the main point of the essay, which the author intends to make a case for.
While sports competition is, of course, largely about winning, it is also about the means by which a player or team wins. Athletes who use any type of biotechnology give themselves an unfair advantage and disrupt the sense of fair play, and they should be banned from competition.
The introduction states what's at stake, and the body presents the evidence. In the case of an argumentative essay, the evidence might be research. In a more personal essay, it might be made up of the author's own experiences.
Write the body in a logical order. Some essays work well chronologically, where the events are presented in the same sequence that they happened in time. Argumentative essays are often emphatic, where the least important points are presented first and build up to the most important.
If your essay includes research, don't be shy about including substantial statements, just make sure they're properly cited.  Use  Grammarly's plagiarism checker to help you find any citations you may have missed and properly attribute them. (Trust us—your professor will check for plagiarism and find it if you don't!)
In your conclusion , you wrap everything up in a neat package. Restate your thesis in a clear way without repeating it word for word. Leave your reader with a takeaway or something to think about. Here's the conclusion of the Skyline College essay sample.
Unless we are willing to organize separate sporting events and leagues—an Olympics, say, for athletes who have opted for a boost from the test tube and another for athletes who have chosen to keep their bodies natural—we should ask from our athletes that they dazzle us less with extraordinary performance and more with the fruits of their hard work.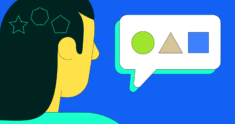 Online Degree Explore Bachelor's & Master's degrees
MasterTrack™ Earn credit towards a Master's degree
University Certificates Advance your career with graduate-level learning
Top Courses
Join for Free
College Essay Format: Writing & Editing Tips
A good college essay format, with the right topic, goes beyond your academic accomplishments and extracurriculars.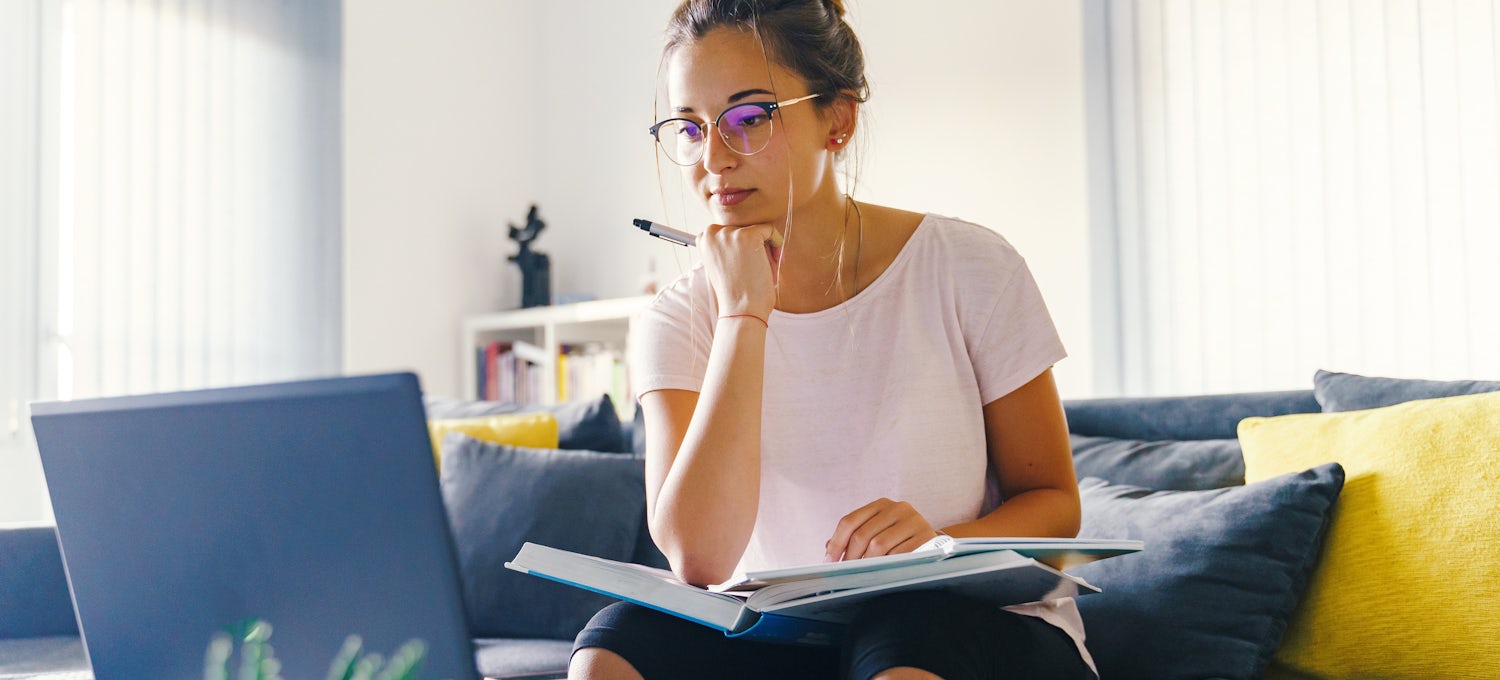 You want to stand out in a crowd, particularly when you're applying to the college of your choice. As part of the application process, many schools ask for an essay to accompany the standard academic and personal information they require. So it's important to make it a good one.
Your college application essay is essentially a story you tell that offers a glimpse into who you are, beyond your admissions application, grades, activities, and test scores.
A college essay, often called a personal statement, is your opportunity to reveal your personality. It's a way for the admissions department to get to know you as a person and get an idea of the kind of student you'll be.
So how should a college essay be formatted? This article covers formatting best practices, how to choose a compelling topic for your essay, and writing and editing tips to help you craft an essay that captures the attention of the reader, gets your point across, and is free of errors.
Decide on a topic.
You'll often have a choice of topics for your essay provided by the college or university. Choose a topic that allows you to best highlight what you want the college to know about you. 
A good start is to list three positive adjectives that describe you. Then, see if you can write two or three real-life examples of each trait that demonstrates that you possess that characteristic.
Also, think about the stories other people tell about you or the words they use to describe you. Ask people who know you well:
What do you think sets me apart from others? 
What are my strengths? 
How would you describe my personality? 
What are my quirks?
These ideas can become the inspiration to develop material for a good college essay. 
From the list of essay prompts you receive from the college, choose the topic that will give you the best chance to showcase who you are within the limited word count. You don't have to write about a major life-changing event. It can be a mundane or ordinary situation—like a dinner table conversation, day at school, or conversation with a friend. Often, slightly unusual topics are better than typical ones because they hold a reader's attention.
Regardless of the topic you choose, remember that the true topic of your college essay is you, and the purpose of it is to show how you are unique. It highlights an important piece of who you are and where you want to head in life.
Common college essay prompts
Over 900 colleges use Common App essay prompts, which means you may be able to write one essay for several college applications. Some past Common App college essay prompts—which are announced publicly each year—include the following topics:
Share a story about your background, interest, identity, or talent that makes you complete as a person.
Describe a time when you faced a setback, failure, or challenge and what you learned from it.
Tell about a topic, concept, or idea that is so captivating to you that you lose all track of time.
Write about something that someone has done for you that you are grateful for, and how gratitude has motivated or affected you.
Whether or not the school you're applying to uses Common App questions, it will publish required essay topics in its admissions materials. Or, you may be asked to write on a topic of your choice. Here are some additional common college essay prompts you might encounter:
Describe a person you admire and how that person has influenced your behavior and thinking.
Why do you want to attend this school?
Describe your creative side.
Name an extracurricular activity that is meaningful to you and how it has impacted your life.
Tell about what you have done to make your community or school a better place.
Consider length.
Consult your college application instructions to see how long your essay should be. Be sure to stay within the required word count or essay length, not going over the maximum or under the minimum.
Chances are, you'll be given a word limit. If none is specified, experts on the admissions process recommend you keep your word count between 500 and 650 words. Use the required essay length to help you determine what you will share. You won't be able to tell your life story within these few paragraphs, so choose the most impactful examples as your content. 
Create an outline.
An outline helps you plan your essay so you know how it will begin and end and identify key points you want to include in the middle. Use your outline to stay on topic and get the most use out of your word count.
Decide on a logical order.
The most effective outlines are usually the most simple ones. For instance, a good story has a beginning, middle, and end. Likewise, your essay will have an introduction, body, and conclusion.
Unless the college requests a specific admission essay format, use the format you've been using to write essays in high school that you're likely to be the most comfortable with. If you're stuck on how to open your essay, write the middle of your story first. Then, go back and write a compelling introduction and a concise conclusion.
Sample format for a college essay
While the format of your college essay is largely up to you, it can be helpful to have an example as a springboard to give you ideas. Consider the following college essay format as you organize your writing.
1. Think about using a title.
A title for your college essay is not necessary. However, including one can add interest. But if you're low on word count, you can skip it. You can also wait until after you write your essay to decide. It's often easier to come up with a fitting, compelling title after you've told your story.
2. Open with a hook.
Your opening sentence is one of the most important parts of your essay. It's what you'll use to capture the attention of the reader and give them a reason to read on. The start of your essay is your opportunity to make an impactful first impression, so make your opening a good one. Here are two examples of how you can open with an interesting hook:
Start in the middle of your story: Call out the most interesting point of your story, and then backtrack from there. For example, "And there I found myself, surrounded by baby sea turtles on the hazy shores of Virginia Beach."
Make a specific generalization: This is a sentence that makes a general statement on what your essay will be about, but gives a specific description. An example: "Each year on our family vacation out of the city, I contemplate the meaning of life as we cross the Golden Gate Bridge."
3. Continue with your introduction.
While your hook will spark the reader's curiosity, the rest of your introduction should give them an idea of where you're going with your essay. Set your story up in four to five sentences.
4. Tell your story in the body of your essay.
If your introduction and conclusion are roughly 100 words each, your body will end up being about 450 words. Think of that as three to five paragraphs, with each paragraph having its own main idea or point. 
Write in a narrative style—more as though you're having a conversation as opposed to writing an instruction manual. While you should pay strict attention to using proper grammar and sentence structure, you have the freedom to make your essay a reflection of your personality.
If you are a humorous person, use humor. If you're an eternal optimist or love getting into the minute details of life, let that shine through. Tell your story in a way that's logical, clear, and makes sense.
5. Wrap up with a conclusion. 
Finish your story with a conclusion paragraph, and make sure you've made your main point. What is the main thing you want the college to know about you through this story? Is it what you've learned, a value that's important to you, or what you want to contribute to society? Finally, conclude your essay with the personal statement you want to make about yourself.
Writing tips on how to format a college essay
As you're writing your college essay, keep these tips in mind:  
Be authentic. One of the most essential parts of how to format a college application essay is to be authentic. The college wants to know who you are, and they will be reading dozens of essays a day. The best way to make yours stand out is to just be yourself instead of focusing on what you think they want to hear. 
Show you can write . While the most important part of your personal statement is showcasing who you are, you'll also be judged on your writing ability. That's because knowing the fundamental principles of writing is important to college success. Show that you understand the structure of an essay and proper use of the English language.
Give the answer right away. If you're using a specific question as your writing prompt, answer the question directly in the opening paragraph. Then, use the rest of the essay to elaborate on your answer.
Stay on topic. Make good use of your word count limit by being concise and coherent. Stay on topic and refrain from adding any information that doesn't add to the main idea of your essay. 
Write in your voice. Imagine you're speaking to an actual person as you write. Be honest and accurate, using words you normally use. Your essay is a personal statement, so it should sound natural to the reader—and to you too.
Use real examples. Add real-life events and vivid details from your life. This adds color and validity to your personal statement. Personal examples will show you embody the characteristics or values you claim to, rather than merely saying you do.
Keep the formatting simple. Opt-out of fancy fonts that can be hard to read. Stick to fonts like Times New Roman or Arial. Avoid using bolding (except for headings), italics, all caps, or exclamation points. Let your words speak for themselves instead.
Save your essay. Instead of writing your essay directly in the online application, draft and save your essay in a document like Google Docs or Word—or start out on paper and pen if that's what you're most comfortable with. That way you can make edits and use helpful online spelling and grammar checkers. And you won't risk losing your essay if the application times out or you navigate away from it by mistake. When you copy and paste your essay into the application, make sure your formatting, such as line spacing and bolding for headings, remains intact.
Follow directions. Read and understand the specific instructions set by the college. Review them again before you submit your essay to make sure you've met all of the requirements.
Editing tips on how to format a college essay
Finally, edit your essay until you're satisfied it conveys the message you want it to and it's free of errors. Let your first draft be as messy or pristine as it comes out. Then, go back later—several times if needed—to clean it up. Ask yourself these questions as you edit your essay:
Is my essay free of grammar, spelling, capitalization, and punctuation errors?
Is it the proper word length assigned by the college?
Have I answered the question in the prompt?
Does the introduction make me want to read more?
Are there any vague statements I can replace with more specific details?
Do any parts drone on or feel boring?
Does it feel too formal?
Are any parts or words repetitive?
Have I misused any words (such as there, their, and they're)?
Are my sentences varied in length?
Have I shared with the college what I most want them to know about me? 
It can also be helpful to ask someone you trust to read your essay and give you constructive feedback. This might be a trusted teacher, parent, school counselor, or college student. It's best to choose someone who is familiar with the purpose of a college essay.
Ask them to give feedback about your essay using the same questions as above. But they should never try to rewrite your essay. And never let others edit out your voice. Ask them to focus on grammar and mechanics and to give suggestions on items to add in or leave out. 
Above all, ask your guest editor what point they think you were trying to make with your essay. If they get it right, you know you've crafted a college essay that reflects you and your intended message. 
Enhance your writing skills
Bring out your best in your college essay with a course in Writing a Personal Essay from Wesleyan University. Learn how to find your voice, structure your essay, choose relevant details, and write in a way that pulls in your readers.
Related articles
Bachelor's Degree Guide: Resources for Your Undergraduate Education
College Essay Topics and Writing Tips
How Long Should a College Essay Be?
How to Write a Personal Statement
Keep reading
Coursera staff.
Editorial Team
Coursera's editorial team is comprised of highly experienced professional editors, writers, and fact...
This content has been made available for informational purposes only. Learners are advised to conduct additional research to ensure that courses and other credentials pursued meet their personal, professional, and financial goals.
Take $100 off your annual subscription
For a limited time, you can get a new Coursera Plus annual subscription for $100 off for your first year!
Get unlimited access to 7,000+ learning programs from world-class universities and companies like Google, Microsoft, and Yale.
Build the skills you need to succeed, anytime you need them—whether you're starting your first job, switching to a new career, or advancing in your current role.
Essay Topics – List of 500+ Essay Writing Topics and Ideas
List of 500+ Essay Writing Topics and Ideas
Essay topics in English can be difficult to come up with. While writing essays , many college and high school students face writer's block and have a hard time to think about topics and ideas for an essay. In this article, we will list out many good essay topics from different categories like argumentative essays, essays on technology, environment essays for students from 5th, 6th, 7th, 8th grades. Following list of essay topics are for all – from kids to college students. We have the largest collection of essays. An essay is nothing but a piece of content which is written from the perception of writer or author. Essays are similar to a story, pamphlet, thesis, etc. The best thing about Essay is you can use any type of language – formal or informal. It can biography, the autobiography of anyone. Following is a great list of 100 essay topics. We will be adding 400 more soon!
But Before that you may wanna read some awesome Essay Writing Tips here .
Get the Huge list of 100+ Speech Topics here
Argumentative Essay Topics
Should plastic be banned?
Pollution due to Urbanization
Education should be free
Should Students get limited access to the Internet?
Selling Tobacco should be banned
Smoking in public places should be banned
Facebook should be banned
Students should not be allowed to play PUBG
Essay Topics on Technology
Wonder Of Science
Mobile Phone
Essay Topics on Festivals on Events
Independence Day (15 August)
Teachers Day
Summer Vacation
Children's Day
Swachh Bharat Abhiyan
Janmashtami
Republic Day
Essay Topics on Education
Education Essay
Importance of Education
Contribution of Technology in Education
Essay Topics on Famous Leaders
Mahatma Gandhi
APJ Abdul Kalam
Jawaharlal Nehru
Swami Vivekananda
Mother Teresa
Rabindranath Tagore
Sardar Vallabhbhai Patel
Subhash Chandra Bose
Abraham Lincoln
Martin Luther King
Lal Bahadur Shashtri
Essay Topics on Animals and Birds
Essays Topics About Yourself
My Best Friend
My Favourite Teacher
My Aim In Life
My Favourite Game – Badminton
My Favourite Game – Essay
My Favourite Book
My Ambition
How I Spent My Summer Vacation
India of My Dreams
My School Life
I Love My Family
My Favourite Subject
My Favourite Game Badminton
My Father My Hero
My School Library
My Favourite Author
My plans for summer vacation
Essay Topics Based on Environment and Nature
Global Warming
Environment
Air Pollution
Environmental Pollution
Water Pollution
Rainy Season
Climate Change
Importance Of Trees
Winter Season
Deforestation
Natural Disasters
Save Environment
Summer Season
Trees Our Best Friend Essay In English
Essay Topics Based on Proverbs
Health Is Wealth
A Stitch in Time Saves Nine
An Apple a Day Keeps Doctor Away
Where there is a will, there is way
Time and Tide wait for none
Toppr provides free study materials like NCERT Solutions for Students, Previous 10 Years of Question Papers, 1000+ hours of video lectures for free. Download Toppr app for Android and iOS or signup for free.
Essay Topics for Students from 6th, 7th, 8th Grade
Noise Pollution
Environment Pollution
Women Empowerment
Time and Tide Wait for none
Science and Technology
Importance of Sports
Sports and Games
Time Management
Cleanliness is next to Godliness
Cleanliness
Rome was not Built in a Day
Unemployment
Clean India
Cow Essay In English
Describe Yourself
Festivals Of India
Ganesh Chaturthi
Healthy Food
Importance Of Water
Plastic Pollution
Value of Time
Honesty is the Best Policy
Gandhi Jayanti
Human Rights
Knowledge Is Power
Same Sex Marriage
Childhood Memories
Cyber Crime
Kalpana Chawla
Punctuality
Rani Lakshmi Bai
Spring Season
Unity In Diversity
Artificial Intelligence
Online Shopping
Indian Culture
Healthy Lifestyle
Indian Education System
Disaster Management
Environmental Issues
Freedom Fighters
Grandparents
Save Fuel For Better Environment
Importance Of Newspaper
Lal Bahadur Shastri
Raksha Bandhan
World Environment Day
Narendra Modi
What Is Religion
Charity Begins at Home
A Journey by Train
Ideal student
Save Water Save Earth
Indian Farmer
Safety of Women in India
Sarvepalli Radhakrishnan
Capital Punishment
College Life
Natural Resources
Peer Pressure
Nature Vs Nurture
Romeo And Juliet
Generation Gap
Makar Sankranti
Constitution of India
Girl Education
Importance of Family
Importance of Independence Day
Brain Drain
A Friend In Need Is A Friend Indeed
Action Speaks Louder Than Words
All That Glitters Is Not Gold
Bhagat Singh
Demonetization
Agriculture
Importance of Discipline
Population Explosion
Poverty in India
Uses Of Mobile Phones
Water Scarcity
Train Journey
Land Pollution
Environment Protection
Indian Army
Uses of Internet
All that Glitters is not Gold
Balanced Diet
Blood Donation
Digital India
Dussehra Essay
Energy Conservation
National Integration
Railway Station
Sachin Tendulkar
Health And Hygiene
Importance Of Forest
Indira Gandhi
Laughter Is The Best Medicine
Career Goals
Mental Health
Save Water Save Life
International Yoga Day
Winter Vacation
Soil Pollution
Every Cloud Has A Silver Lining
Indian Culture And Tradition
Unity Is Strength
Unity is Diversity
Wildlife Conservation
Cruelty To Animals
Nelson Mandela
Of Mice And Men
Organ Donation
Life in a Big City
Democracy in India
Waste Management
Biodiversity
Afforestation
Female Foeticide
Harmful Effects Of Junk Food
Rain Water Harvesting
Save Electricity
Social Media
Social Networking Sites
Sound Pollution
Procrastination
Life in an Indian Village
Life in Big City
Population Growth
World Population Day
Greenhouse Effect
Statue of Unity
Traffic Jam
Beti Bachao Beti Padhao
Importance of Good Manners
Good Manners
Cyber Security
Green Revolution
Health And Fitness
Incredible India
Make In India
Surgical Strike
Triple Talaq
A Good Friend
Importance of Friends in our Life
Should Plastic be Banned
Nationalism
Traffic Rules
Effects of Global Warming
Fundamental Rights
Solar System
National Constitution Day
Good Mother
Importance of Trees in our Life
City Life Vs Village Life
Importance of Communication
Conservation of Nature
Man vs. Machine
Indian Economy
Mothers Love
Importance of National Integration
Black Money
Greenhouse effect
Untouchability
Self Discipline
Global Terrorism
Conservation of Biodiversity
Newspaper and Its Uses
World Health Day
Conservation of Natural Resources
A Picnic with Family
Indian Heritage
Status of Women in India
Child is Father of the Man
Reading is Good Habit
Plastic Bag
Terrorism in India
Library and Its Uses
Life on Mars
Urbanization
Pollution Due to Diwali
National Flag of India
Vocational Education
Importance of Tree Plantation
Summer Camp
Vehicle Pollution
Women Education in India
Seasons in India
Freedom of the Press
Caste System
Environment and Human Health
Mountain Climbing
Depletion of Natural Resources
Ishwar Chandra Vidyasagar
Health Education
Effects of Deforestation
Life after School
Starvation in India
Jan Dhan Yojana
Impact of Privatization
Election Commission of India
Election and Democracy
Prevention of Global Warming
Impact of Cinema in Life
Subhas Chandra Bose
Dowry System
Ganesh Chaturthi Festival
Role of Science in Making India
Impact of Global Warming on Oceans
Pollution due to Festivals
Ambedkar Jayanti
Ek Bharat Shreshtha Bharat
Family Planning in India
Democracy vs Dictatorship
National Festivals of India
Sri Aurobindo
Casteism in India
Organ trafficking
Consequences of Global Warming
Role of Human Activities in Global Warming
Issues and Problems faced by Women in India
Role of Judiciary in the Country Today
Sugamya Bharat Abhiyan
PUBG Mobile Game Addiction
Role of Youths in Nation Building
Value of Oxygen and Water in Life/Earth
Farmer Suicides in India
Start-up India
Pollution Due to Firecrackers
Life of Soldiers
Child Labour
Save Girl Child
Morning Walk
My School Fete
Essay on Financial Literacy
Essay On Sustainable Development
Essay On Punjab
Essay On Travel
My Home Essay
Child Marriage Essay
Importance Of English Language Essay
Essay On Mass Media
Essay On Horse
Essay On Police
Essay On Eid
Essay On Solar Energy
Animal Essay
Essay On Mango
Gender Discrimination Essay
Essay On Advertisement
My First Day At School Essay
My Neighborhood Essay
True Friendship Essay
Work Is Worship Essay
Essay On Self Confidence
Essay On Superstition
Essay On Bangalore
Sex Vs Gender Essay
Essay On Social Issues
Time Is Money Essay
Essay About Grandmothers
Essay On Hard Work
First Day Of School Essay
Flowers Essay
My Favorite Food Essay
Essay on Birds
Essay on Humanity
Essay on Sun
Essay on Kargil War
Every Cloud Has a Silver Lining Essay
Francis Bacon Essays
Importance of Cleanliness Essay
My Sister Essay
Self Introduction Essay
Solar Energy Essay
Sports Day Essa
Value Of Education Essay
Essay On Isro
Essay On Balance Is Beneficial
Essay On Reservation In India
Essay On Water Management
Essay On Smoking
Essay On Stress Management
Essay On William Shakespeare
Essay on Apple
Essay On Albert Einstein
Essay On Feminism
Essay On Kindness
Essay On Domestic Violence
Essay on English as a Global Language
Essay On Co-Education
Importance Of Exercise Essay
Overpopulation Essay
Smartphone Essay
Essay on River
Essay on Cyclone
Essay On Facebook
Essay On Science In Everyday Life
Essay On Women Rights
Essay On Right To Education
Essay on Quotes
Essay On Peace
Essay On Drawing
Essay On Bicycle
Essay On Sexual Harassment
Essay On Hospital
Essay On Srinivasa Ramanujan
Essay On Golden Temple
Essay On Art
Essay On Ruskin Bond
Essay On Moon
Birthday Essay
Dont Judge A Book By Its Cover Essay
Draught Essay
Gratitude Essay
Indian Politics Essay
Who am I Essay
Essay on Positive Thinking
Essay on Dance
Essay on Navratri
Essay on Onam
Essay on New Education Policy 2020
Esasy on Thank you Coronavirus Helpers
Essay on Coronavirus and Coronavirus Symptoms
Essay on Baseball
Essay on coronavirus vaccine
Fitness beats pandemic essay
Essay on coronavirus tips
Essay on coronavirus prevention
Essay on coronavirus treatment
Essay on essay on trees
Essay on television
Gender inequality essay
Water conservation essay
Essay on Gurpurab
Essay on Types of sports
Essay on road safety
Essay on my favourite season
My pet essay
Student life essay
Essay on Railway station
Essay on earth
Essay on knowledge is power
Essay on favourite personality
Essay on memorable day of my life
My parents essay
Our country essay
Picnic essay
Travelling essay
Letter Writing
It So Happened Summary
Honey Dew Chapter Summaries
The Alien Hand
Malu Bhalu Summary
Sing a Song of People Summary
The Little Bully Summary
Nobody's Friend Summary
Class Discussion Summary
Crying Summary in English
Which class are you in?
Download the App