IAS Preparation
UPSC Preparation Strategy
7 Easy Steps Essay Writing UPSC Mains Exam
7 Easy Steps on Essay Writing for UPSC Mains Exam

The UPSC Mains Exam has a total of 9 papers which includes an essay paper as well. The Essay Paper in the IAS Mains Exam consists of two sections A and B with four topics each of 125 marks and a total of 250 (125×2) marks. Candidates have to select a topic from each section and write about it in 1,000 to 2,000 words within the given time of three hours. The Essay paper is considered as crucial in determining the final result of selection and ranking of a candidate. The Essay Paper is considered as crucial as it is a compulsory paper and its marks are incorporated in computing the total and moreover what makes it crucial is that there is no in-depth study in an essay unlike optional subjects where any aspirant can claim expertise. Let us take a look at the conventional way of writing an essay that includes introduction, body and conclusion. Though this is fundamental but the concept of an essay when it comes in terms of UPSC Paper it is quite tricky. An essay should be of topical text that is easy to understand or follow and comprehensive, succinct, composite and definite, as well as informative and logical. So, here are a few tips on how to structure an Essay Paper in the UPSC Mains Exam. For the effective composition of an essay one should generally follow the below points that are ideally suggested by the senior UPSC Aspirants and toppers:   What to write in the Essay?
Read the topic carefully
Think and recollect the points to be included in the topic for 30 minutes
What not to write in the Essay?
Provoking Essay
Do not get personal
Deviating from the subject
Tips to enhance your Essay writing
Recommended Reading
Reading Books as Hobby

Before choosing the topic, read all the topics more than once and choose the topic wisely from the given choices so that you will find enough points to write about the topic. Once you choose a topic and start to write you may find difficult and tend to change the topic in between which would be foolishness and it will be too late to change the topic as you would have already utilized much time. Read the topic twice and think about the topic for 30 minutes.

Once you have chosen the topic to write don't start to write immediately instead 'think about the topic for 30 minutes'. Because when one starts writing without thinking about the topic they may miss out on many important points and in between or at the end they may remember more significant points which would be too late as there would be no enough pace left in the answer sheet or time to write more.   Hence, it is recommended to utilize the first 30 minutes to think about the topic before starting to write as you have three hours to write the essay.
Think about the topic for 30 minutes
Write down the random points that come to your mind at the end of the sheet
Arrange the points that you have jotted down in sequence
Some important tips to make your Essay worthy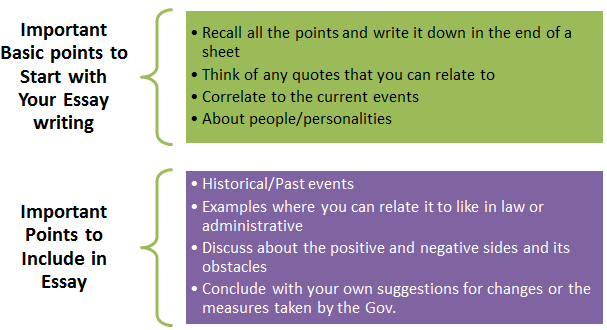 Once you have recalled, collected and noted the points then the next step is to structure it as given below:
Introduction
Background/past example
Main concept/theory
Correlate with current event
Advantages and disadvantages
Suggested Changes

It is advised while writing an essay on a topic that may be provocative not to get personal and criticize a person or government in your writing. Some topics would be provocative where you may tend to lose control of your writing and write something in an offensive way, which is not appreciable and recommended as well.   If you are writing about the disadvantages it is suggested to come up with a few reforms that may change the disadvantages into advantages.

Always memorize the quotes correctly and the name of the person who has quoted them. If you are not sure about the quote then it is advised to leave it instead of writing it incorrectly.

For effective essay writing one should clearly be sure of the purpose of writing the essay and should remember the "Five Wives and One Husband" concept i.e., – Who?, Why?, What?, When?, Where?, and How?,  that is taught in the school on the first day of Essay Writing. Following this concept will make you stick around the topic and not paddle away from the topic.

Essay writing also needs continuous reading; hence it is suggested to candidates read diverse topics and books some of the recommended are:
Editorial section of The Hindu Newspaper
Magazines like Frontline, Kurukshetra, Yojana
Watch discussions and debates on television
Work on previous question papers essay topic
Finally, when it comes to Essay as one of the papers in the UPSC Exam , it is all about understanding and assessing the personality of a candidate through which his/her views, ideas, suggestions, values, attitude, aptitude, coordination, and communication (written) abilities and other attributes are analyzed that especially UPSC looks for in an aspirant. If you want to analyze or enhance your essay writing skills then participate now in our UPSC Essay Contest and win a cash prize as well as free registration for UPSC Civil Services Mains Test Series.
Leave a Comment Cancel reply
Your Mobile number and Email id will not be published. Required fields are marked *
Request OTP on Voice Call
Post My Comment

IAS 2024 - Your dream can come true!
Download the ultimate guide to upsc cse preparation.
Register with BYJU'S & Download Free PDFs
Register with byju's & watch live videos.
How to Write a Good Essay in UPSC Mains, Explained
Note: My book, Fundamentals of Essay and Answer Writing is out now! It's a comprehensive guide that helps you write better Essays and Answers in the UPSC Mains Exam. You can get the book here.
Novelist Stephen King put it beautifully when he said, "I write to find out what I think."
Writing is a window to your thought process. What you write on paper will tell the reader how you think, how you argue and the way you substantiate your viewpoint. This is why for most competitive examinations and academic entrance tests, essay is mandatory.
In the Civil Services Exam too, we have a paper worth 250 marks, equivalent to a General Studies paper. Despite its importance, essay paper often does not get the attention it deserves from aspirants. First timers think they will write an excellent essay in the final exam itself, whereas experienced aspirants believe that since they had already studied a ton for GS, it will alone be enough to write a good essay. This is a fatal miscalculation.
I was one of those who made these errors in the past, and it is not a coincidence that I scored only 100 in CSE 2015. But in 2017, I devoted adequate time to this paper. I collected useful quotes, prepared notes and even made rough essay drafts for frequently asked topics. All this effort in essay paper helped me score 155.
What follows is an elaborate post on how you should tackle the Essay paper. I've organised the content as follows:
What UPSC says about the essay paper
How and from where to prepare?
Improving language and expression
On subheadings and rough drafts
What you must avoid
How to write a powerful introduction?
Developing the content of an Essay
Substantiating your arguments
How to conclude an Essay
My notes, quote collection and sample essays
"Candidates may be required to write essays on multiple topics. They will be expected to keep closely to the subject of the essay, to arrange their ideas in an orderly fashion, and to write concisely . Credit will be given for effective and exact expression ."
Essay distinguishes itself from GS in the sense that in GS, marks will be awarded purely for content. But in essay, examiners will pay special attention to not just the content, but also the language, coherence and the way you organise your write-up. So you must take adequate care to arrange your ideas properly and not commit any fundamental spelling or grammatical errors.
How and from where to prepare? Most of the content you write in Essay will come from your GS preparation. Apart from this, the following sources will help:
Reading non-fiction helps you develop a matured thought process. Apart from imparting knowledge, they will also let you come across good figures of speech, art of argumentation, powerful rhetoric and unique content etc. For example, in an essay on Artificial Intelligence, I took arguments from Yuval Harari's Homo Deus to argue that AI is an imminent threat to humanity. Or if you read Why Nations Fail, a book replete with examples, you will understand the importance of innovation, political and economic freedoms in propelling a nation forward. So my suggestion is, apart from UPSC related material, develop the hobby of reading non-fiction books. I do not mean to suggest that you should start reading one non-fiction book per topic to get good scores in Essay, but reading them occasionally in your free time will benefit you in the long run.
Referring to specific magazines: For certain topics, you can refer to specific issues of Yojana/EPW/Economic Survey etc. Example: for an essay on tribal issues or public health, you can go through specific issues of these magazines for getting the latest statistics (IMR, MMR, malnutrition levels etc) and also about the positives and criticisms of govt schemes in that sector.
Collecting good stories/anecdotes and quotes: Anecdotes, quotes and real life stories you see in newspapers and books which can be used in essay should be noted down. In most of my essays, I used to start with a relevant story or an anecdote that has the essay topic as its underlying theme. Apart from these, I also used a couple of quotes of eminent persons.
List of quotes, anecdotes I collected are available in the link at the end of this article.
Language in essay must be simple and clear with as little jargon as possible. If you want to use complex definitional terms such as, say, 'Constitutionalism' or 'Sanskritisation' please define it in sentence just before you use it. Examiner will also understand clearly what you want to convey. Clear writing is clear thinking. And that is what any reader looks for.
Keep your sentences short and powerful. Long, winding sentences makes it difficult to read and understand. If you tack on one clause after another through conjunctions, what you get is a bad sentence sprawl.
Example of a bad sentence sprawl :
At the end of World War 2, on the one hand, while capitalism was successfully championed by the nations in North America and Europe, on the other hand, it was USSR that put Communism at the forefront due to which there was an ideological clash between the the two superpowers which had led to proxy wars in various parts of the globe, a nuclear arms race and a rapid deterioration of the security of the world.
By the time readers finish reading it, they will lose their breath and the point of the sentence. So I had a simple rule: If you run out of your breath while reading a sentence, then probably you will have to break it into two.
Rewriting the aforementioned example after breaking it into two (which makes it much easier to read and comprehend):
After World War 2, while the North American and European nations championed capitalism, USSR put communism at the forefront. This ideological clash between the superpowers led to several proxy wars, a nuclear arms race and a rapid deterioration of world security.
There is no need to memorise complex words for writing a good essay. But an occasional use of a powerful word, or a good phrase definitely gives your write-up an edge.
Also, I believe that learning numerous words by rote will not make them stick in your brain for long. The best way to build your vocabulary is by reading non-fiction and English newspapers. While reading these, if you come across a good turn of phrase, or a word that you don't recognise, please note it down in a book, find its meaning and understand the context in which the word was used. This helps in long term memory. Having a dictionary app on your phone also helps.
Building vocabulary is a slow process, but with consistency, anyone can become better at using an expansive set of words.
Subheadings & Rough Drafts
We can be a little innovative in our subheadings. Instead of bland subheadings such as ' Benefits of Nuclear Energy' we can use " Nuclear Energy: Promise or Peril?' Similarly, for the essay on Social Media, instead of writing ' Advantages and Disadvantages of Social Media ', I wrote "Social Media: A Double Edged Sword"
You can find my collection of a few such subheadings in the link to my notes, given at the end of the article.
I also prepared a rough draft for a few essay topics (link given at the end). You may need to modify the structure as per the demand of the question.
What you must avoid in Essay
Do not focus excessively only on one point, or one dimension (such as the historical or political aspect) Your essay needs to be expansive and multi-dimensional.
During preparation, we read a lot and it's understandable that we feel strongly about certain topics. And since essay offers freedom to write, it's very easy to get carried away with such a topic. But make sure that you write what is asked, not what you know or feel like. No mann ki baat . Always stick to the subject of the topic. It helps to read the question in the midst of your essay to ensure that you are not steering away from the topic.
If you are not comfortable writing about abstract philosophical topics (I am terrible at writing them), avoid such questions. Your choice of topic has no bearing on the marks and that is why, selecting an unpopular topic just for the sake of it is unwise. Also, if there's a technical term in the question, be doubly sure that you understand it correctly. For instance, in 2014, there was a question on 'standard tests', which is a technical term. I misunderstood it and wrote a generic essay. I got 112.
When you take a final stand on an issue, it's best to avoid extreme or highly unpopular opinions. We are free to have any opinion in the privacy of our minds, but in UPSC essay why take that risk? For instance, in an essay on Capital Punishment, in the main body content, you should present a case for both abolition and retention. But when you take a stance, it's best to be an abolitionist.
No ranting. You might be a great fan of Karl Marx, but if there's a question on Capitalism, do not rant or rail against it 🙂 You must present both the positives and negatives of Capitalism and end the essay on a balanced note.
Do not dedicate disproportionate amount of time for the first essay and scamper through the second. Both carry equal marks, so please invest equal time.
How to transition smoothly from one para to the next
This can be done in three ways.
Through a link sentence at the end of a para :
Here, at the end of a para, you write a sentence that signals to the examiner what's coming next. For example, let's say you have just written a para about the threat posed by Artificial Intelligence (AI) to jobs. At the end of that para you can write a link sentence— "Further, we must be mindful of the fact that Artificial Intelligence poses a major challenge not just economically, but also ethically." And in the next para, you can write about the ethical issues concerning AI.
Through a question:
Instead of a link sentence, you can also add a question at the end of a para so that examiner's attention is helplessly carried to the next. To take the similar example as above, the question can be something like— "Thus we have examined the threat posed by AI to our economy, but what about the challenges brought by AI to our ethics and morals?" And in the next para, you can write about the ethical issues concerning AI.
Signalling the shift at the start of next paragraph:
Here you can simply add a word or two at the beginning of a para that signals a shift in your subtopic. For example in an essay on Globalisation , let's say you have just written a para about its historical evolution and impact. You can start the next para with something like— "Politically too, globalisation has had a tremendous impact……" This way examiner immediately knows what to expect.
These steps will ensure that the transition between paragraphs is not abrupt.
How to write a good Introduction to your Essay?
Essay introduction can be:
a fictitious incident or story (where you introduce a character); a real life anecdote; a quote; or a simple definition of the words in the question (not recommended in Essay)
In GS, definitional approach is a great way to introduce your answers. But in essay, they are rather stale, lacking in any human element. I always believe that a good way to start your essay is to have that touch of humanity and warmth in your introduction.
In my Mains exam, this was my introduction to the essay 'Destiny of a nation is shaped in its classroom'
"The year was 1945. Towards the end of a gruesome world war, the world powers decided to carve up the Korean peninsula along the 38th parallel.
"Before partition, North and South Korea might have been homogeneous in every respect, but after the division, they steered onto different paths. While schools in the North chose to 'educate' their children in the worship of a cult leader, ideological indoctrination and servility, its southern counterpart focused on liberal education, innovation and economic growth.
"Today, almost seven decades later, the difference in the fates of these people and the trajectories of both these nations cannot be more stark. One is known for gross violation of human rights, while the other a champion of liberal democracy. One is known for gut-wrenching poverty, while the other unbridled prosperity.
"This only proves the age old adage that the destiny of a nation is indeed shaped in its classrooms."
Similarly, for the Social Media essay, my introduction sought to bring to the fore the paradox of Social Media. I wrote on how social media was leveraged to crowdsource help and rescue during Chennai floods in 2015. At the same time, I mentioned how it was used nefariously in 2012 to cause mass exodus of northeast people from Bangalore. And taking cue from this introduction, in the main body, I discussed about the inherent selfishness and altruism associated with social media.
These real life stories, anecdotes and incidents are everywhere in our books and newspapers. So when you come across them, note down and ponder as to how you can use them in your essay.
Developing the Main Content from the Topic
This is like spinning the web from a thread. Depending on the topic, you can choose among the following options that fits best.
Temporal : Past, present and future
Sectoral: Media, Science & Tech, Business, Sports, Religion, Politics, Administration etc
Walks of Life : Individual, Family, Professional workplace, Society, Community, National, Global
Problem & Solution: Concept (historical evolution+status), benefits, problems, solutions
Standard : Social, Political, Economical, Administrative, International, Environmental, Historical, Scientific, Security/Defence, Legal
Example: for a topic like "Has Globalisation delivered on its promise?" I find the problem & solution method an apt way to develop your narrative. So choose as per the question.
In the main body of the essay, each para must have an argument or an idea and a reasoning to back that argument. You can substantiate it through a real-life example, a statistic, an authentic committee or organisational report etc.
For example, if you are arguing that Capital punishment is an expensive form of justice, you should be able to given an example or a statistic or Law Commission's opinion as to how the subjects of death penalty are overwhelmingly from poor communities.
Statistics, examples, expert opinions and constitutional provisions are crucial and they make your arguments authoritative.
Concluding an Essay
Conclusion needs to be on a futuristic, optimistic note. You need to summarise the complete essay in 3-4 sentences, after which you can write your vision for future.
You can source some useful terms from the speeches of PM Modi. Phrases like Sabka saath sabka vikas , Reform-Perform-Transform, Building A New India etc can come handy. Rhetoric, lofty expressions, constitutional ideals, Sanskrit slokas and quotes are a good way to conclude your essay.
But suppose in your introduction, if you had written about a fictitious character, then it's always advisable to end your write-up with a reference to that character. It gives a sense of completeness to the essay.
Readers should keep in mind that these notes are written rather haphazardly (I mean who makes notes thinking that in future, they might have to make them public :D) They are fragmented in certain parts and illegible at others, so you may not be able to comprehend them completely. But nevertheless, I hope you take home something useful.
Link to handwritten notes: https://drive.google.com/open?id=1jmVMGOzAk2d9B5Y0HQ9XpVF5Mh2IXGku
Quote collection: https://drive.google.com/open?id=1jk71jLao60hHwJoTuGYaIDgJWccxa5Xn
List of Topics one needs to prepare:
https://drive.google.com/open?id=1q0W0PeH-80EKt6ucJTFOVPUlmXvCIzd-
Sample Essay: https://drive.google.com/open?id=1jqfUi1FXdG0icBdJpdQvwH1wlAizCMvo
Share this:
Related Posts
265 thoughts on " How to Write a Good Essay in UPSC Mains, Explained "
Sir can I start essay with poem and some kind of doha and little quawalis and all and afterward explaining the topic whether it is philosophical and static. Please suggest me sir . And thank you so much for your great effort for us.
Sir, if someone has a good knowledge of more than one given topic, how should he decide on the subject to write about?
Sr plz suggest book list for non fictional for essay and read in free time.
The way you wrote the introduction for "The destiny of nations is shaped in the classrooms", perhaps is at par with some of the greatest writers whom I have read. I never follow toppers Sir, but after reading this blog of yours, I have become a true fan of yours 🙃. Hope to meet you after getting into the service sir.
Your essay guide is exemplary, not for just IAS aspirants but for all , those who wish to excel in academic journey. Thank you
Leave a comment Cancel reply
Skip to primary navigation
Skip to main content
Skip to primary sidebar
UPSC: Latest News, IAS, IPS, UPSC Preparation
Enroll in ClearIAS UPSC Coaching Join Now Log In
Call us: +91-9605741000
How To Write A Good Essay In Civil Service Mains Exam?
Last updated on September 15, 2023 by Alex Andrews George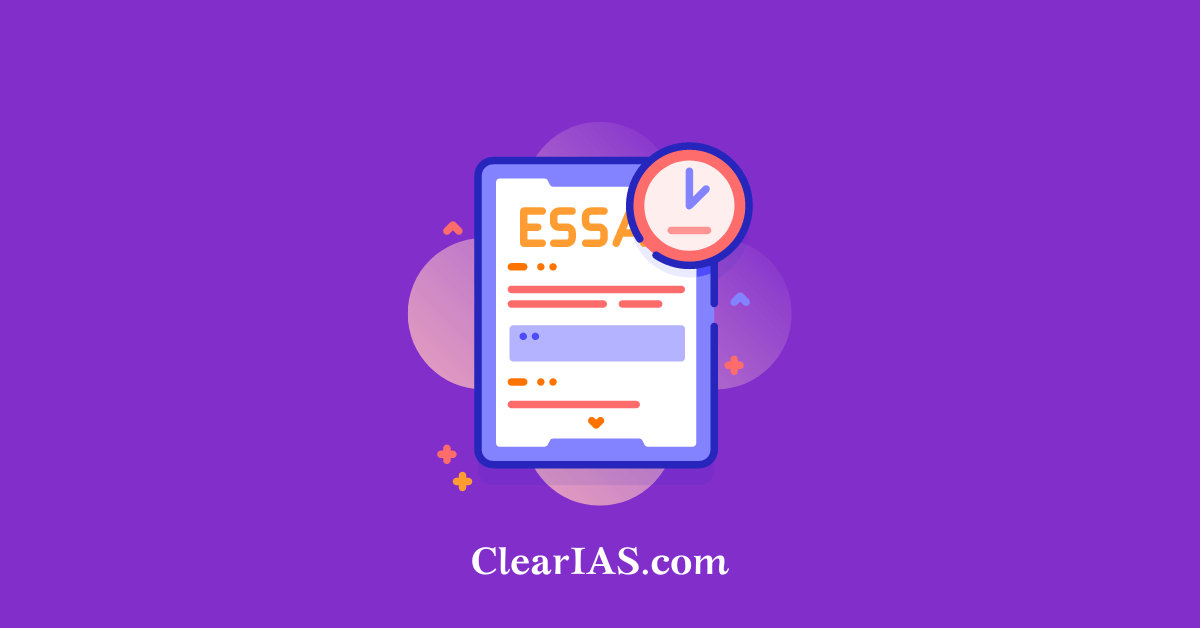 It has been observed that many candidates, unfortunately, take the essay paper too lightly resulting in a score not comparable with their potential.
It is vital to attempt essay paper with the same seriousness as all other papers in GS Mains and learn the art of writing a good essay.
Table of Contents
Practice is the key!
Practice, not talent, is the key to success.
Make reading good essays a habit. And more importantly, start writing essays from today.
Participate in the ClearIAS Answer Writing Program (AWP) for mains. It's completely free!
Also read: ClearIAS launches Essay Writing Course for UPSC
IAS, IPS, or IFS: How to succeed faster?
No. It's not by reading books!
Understanding Essay Paper in IAS Exam
250 marks out of 2025 (12.3 %) are the weight-age of essay paper on total Civil Services Mains Marks as per the latest UPSC syllabus. Since 2015, candidates are asked to write two essays out of 8 choices. Each essay is for 125 marks (1000-1200 words). Check the UPSC CSE Essay Syllabus here .
Time allotted is 3 hours.
Note: Before 2013, UPSC CSE essay paper was only for 200 marks with a single essay to write upon!
UPSC's expectation from Essay Paper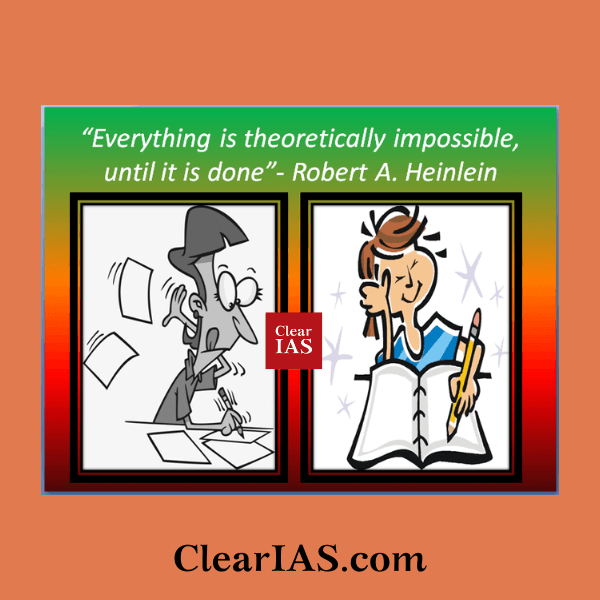 Examiners will pay special attention to the candidate's grasp of his/her material, its relevance to the subject chosen and to his/her ability to think constructively and to present his/her ideas concisely, logically and effectively.
Make a framework (blueprint) of the essay you are going to write first.
Our advice would be to use simple language. As Anton Chekov once said 'Brevity is the sister of talent'.
The idea of using ornamental language to showcase your English vocabulary may backfire at times. But, don't make your essay sound like a General Studies answer.
If the introduction can generate curiosity in the reader, that would be great.
There should be a logical continuation from beginning to end.
The essay should be organized in well-structured paragraphs coherent with the flow of the essay.
Don't be too aggressive or pessimistic in your tone.
Come up with good points and express new viewpoints.
Go through well-written essays by experts in newspapers and magazines, and understand how they frame the 'Introduction' and 'Conclusion' paragraphs.
In most cases, there will not be any need for separate coaching or preparation for essays, and candidates' reading and preparation for General Studies Mains should suffice. But make sure your writing and analytical skills are up to the UPSC expectations; if not, polish it.
Write mock essays and get it evaluated by experts in the field.
Let's analyze a few previous year UPSC essay papers.
Essay Questions Asked in the UPSC (Mains) Examination
Write an essay on any one of the following topics:
In the context of Gandhiji's views on the matter, explore, on an evolutionary scale, the terms 'Swadhinata', 'Swaraj', and 'Dharmarajya'. Critically comment on their contemporary relevance to Indian democracy.
Is the criticism that the 'Public-Private-Partnership' (PPP) model for development is more of a bane than a boon in the Indian context, justified?
Science and Mysticism: Are they compatible?
Managing work and home – Are the Indian working women getting a fair deal?
Creation of smaller states and the consequent administrative, economic, and developmental implications.
Does Indian cinema shape our popular culture or merely reflect it?
Credit-based higher education system –status, opportunities, and challenges.
In the Indian context, both human intelligence and technical intelligence are crucial and combating terrorism.
How much is a good score on the UPSC CSE essay paper?
As the essay paper is out of 250, marks which are above 50% can be considered good, ie. 125.
Marks between 110-125 is considered as average.
Marks in the range of 150-160 are possible for exceptional essays.
Best-Selling Courses Loved by IAS aspirants
Video Classes. Study Materials. Mock Exams.
Note: UPSC may award poorly written essay marks as low as '0' or '20'. So beware and pay sufficient attention to proper practice.
Also read: 10 Common Essay Writing Mistakes and How to Avoid Them
Important Essay Topics for UPSC CSE
Topics like Women empowerment, Rural Development, Social Justice, Terrorism, Internal Security, etc. are hot topics for essays, and be prepared with various dimensions of the same in the UPSC Exam.
Books that help in Essay Writing for the UPSC Civil Services Exam
Essays for Civil Services and Other Competitive Examinations by Pulkit Khare .
Selected Contemporary Essays by Saumitra Mohan (MHE)
Essay Paper for Civil Services Main Examination by Pavneet Singh and Sonali Bansal

Register Now
Register now for:, free upsc mentorship:, score high in the ias exam, talk to clearias experts, # trending now on clearias.
Best Selling Courses of ClearIAS (This Week)
Get FREE UPSC Mentorship
Get FREE UPSC Study Materials
What's New: Important Updates
UPSC Online Coaching
UPSC Prelims Test Series
UPSC Mains Test Series
UPSC Guidance
UPSC Ebooks (PDFs)
Make Everyone Proud of You!
Join 1 million+ ias/ips/ifs aspirants who learn from clearias every month.
FREE and Premium Programs!
Start Learning Now
About Alex Andrews George
Alex Andrews George is a mentor, author, and social entrepreneur. Alex is the founder of ClearIAS and one of the expert Civil Service Exam Trainers in India.
He is the author of many best-seller books like 'Important Judgments that transformed India' and 'Important Acts that transformed India'.
A trusted mentor and pioneer in online training , Alex's guidance, strategies, study-materials, and mock-exams have helped many aspirants to become IAS, IPS, and IFS officers.
Reader Interactions
January 17, 2016 at 2:06 am
I am b.tech student and confuse in choosing optional subject between political science or history or any other suggestion
March 22, 2016 at 5:14 am
Chose anyone..if confused between any 2..start studying a basic book of both the subjects..1 hr each day each subject..and after 1 week..You will be ready with your final subject! Surprisingly!
June 30, 2016 at 8:34 am
You should go with public administration.
September 12, 2017 at 2:14 pm
May be mathematics is suitable
July 5, 2016 at 7:05 pm
Please tell which book should be best for electrical subject
July 24, 2016 at 11:01 pm
Really this app is soo usefull the clear ias app is one kind of the teacher really great full to you
August 17, 2016 at 7:43 pm
I am in 10 class.so please tell me in which academy I have to join in my inter standard………
December 2, 2016 at 12:24 pm
Hello sir, i am a b.sc student. Please tell me how to prepare my self for upsc civil service exam and tell me a best academy for coaching..
April 22, 2017 at 12:01 pm
hello sir I am BE student how ro prepare upsc without coaching
June 12, 2017 at 8:27 pm
Can I write the mains in my own language…?
September 12, 2017 at 2:21 pm
Why not.?.. definitely…
July 17, 2017 at 12:40 pm
very helpfull Post
September 9, 2017 at 9:21 am
Tamil is my mother tongue I don't know english , I studied in Tamil medium can I write all exams of IAS in Tamil, please clear this doubt.
November 29, 2017 at 11:57 am
Looking at the language of your query, it looks like you are well versed in English. You are trying to sensitize "The Issue".
November 15, 2017 at 12:28 pm
Hello sir I'm very confusing how to prepare for paper 1 please give some Important tips and some books sir
July 23, 2019 at 2:59 pm
Sir l am a plus one student l want to crack civil service and to improve my English what should I do???????
January 8, 2020 at 12:41 pm
Dear sir, I will complete 29 year on 15-01-2020, And if i will enroll BBA program now it will be completed in fy 22-23, that time my age will be 32, i belong to OBC category, is i am eligible for upse exam?
Please suggest me
June 15, 2020 at 9:19 pm
You are eligible till your age is 35 . Still you will so much time for the preparation which is more than enough for you , so go for it and remember eventually your dedication towards your studies will decide your future , even I m also thinking about upsc . I hope we will end up with something gud
June 28, 2021 at 8:58 am
i think you can but i would suggest you to see youtube once as i saw for general it was 21-32 years and obc i think its till 34-35 not clear with the last year
March 3, 2020 at 3:31 pm
Really this is very much helpful app. Thanks a lot to clear ias.
July 5, 2020 at 2:00 pm
Sir, which subject takes BSC students as optional subject for civils service
March 22, 2021 at 11:41 am
i am revanasidda g vangi ,i am studieng in bachelor of arts in kcp college in vijayapur state karnataka , i want to civil servise examination details. how to do face exam ?please tell me sir \madam please contact me 9380093040 thank you….. .
October 17, 2021 at 8:58 pm
I am pharmacy student and confuse in choosing optional subject between political science or history or any other suggestion Their Latest Reference Books
Leave a Reply Cancel reply
Your email address will not be published. Required fields are marked *
Don't lose out without playing the right game!
Follow the ClearIAS Prelims cum Mains (PCM) Integrated Approach.
Join ClearIAS PCM Course Now
UPSC Online Preparation
Union Public Service Commission (UPSC)
Indian Administrative Service (IAS)
Indian Police Service (IPS)
IAS Exam Eligibility
UPSC Free Study Materials
UPSC Exam Guidance
UPSC Syllabus
UPSC Online
UPSC Prelims
UPSC Interview
UPSC Toppers
UPSC Previous Year Qns
UPSC Age Calculator
UPSC Calendar 2024
About ClearIAS
ClearIAS Programs
ClearIAS Fee Structure
IAS Coaching
UPSC Coaching
ClearIAS Blog
Important Updates
Announcements
Book Review
ClearIAS App
Work with us
Advertise with us
Privacy Policy
Terms and Conditions
Talk to Your Mentor
Featured on

and many more...
IAS/IPS/IFS: How to be a topper? Know now.
Thank You 🙌
UPSC Essay Topics - Important Essay Topics for UPSC Mains 2023
By vajiram & ravi.
Understanding UPSC Essay Topics holds significant importance as it evaluates the candidate's ability to analyse, present arguments, and communicate effectively. In this article, we will explore the diverse range of UPSC essay topics, their significance, and essential tips to excel in this section. Get ready to enhance your writing and analytical skills and make a strong impression on the evaluators with well-crafted essays.
UPSC Essay Paper
The Essay paper in the UPSC Mains examination requires candidates to write multiple essays , each on a different topic, chosen from a given list of options. The essay topics for UPSC cover a wide range of issues, including social, economic, political, cultural, and philosophical aspects, both national and international.
The essay paper holds significant weightage in the UPSC Mains examination, contributing 250 marks out of the total 1750 marks . Scoring well in this section can have a considerable impact on the overall ranking and selection for the coveted civil services.
Weekly UPSC Essay Topics By Vajiram & Ravi
The UPSC Essay Paper is an opportunity for candidates to demonstrate their proficiency in expressing ideas and analysing complex issues. Vajiram & Ravi Pensive-Weekly Essay Writing Programme provides you with two Essay Topics every Saturday based on the previous year's question papers and the changing trends analysis. You can submit your Essay for peer evaluation on vajiramandravi.com. This will help you nourish your writing skills, give you clarity of thought, and build the capacity to express opinions in a logical and coherent manner.
Important Essay Topics for UPSC 2023
The purpose of the essay paper is to assess the candidate's ability to critically analyse a topic, present well-structured arguments, and communicate their ideas effectively. It also evaluates their knowledge of various issues, their clarity of thought, and their capacity to express opinions in a logical and coherent manner.
Some of the Important Essay Topics to prepare for the UPSC Mains Examination 2023 are:
Gender Equality
Environment/Urbanization
Economic Growth
Federalism/Decentralization
Agriculture
Economics
UPSC Essay Topics on Philosophy
Every year, UPSC typically provides you with two or more essay topics centred around philosophical thoughts, Indian philosophical schools, or quotes from notable personalities. To effectively address these philosophical topics, you should refer to Philosophy Books to gain a foundational understanding. Here is a list of UPSC Essay Topics on Philosophy :
Everything comes to him, who hustles while he waits.
We are always blind as we want to be.
You cannot step twice in the same river.
A disciplined mind brings happiness.
The price of Greatness is Responsibility.
People would rather Believe than Know.
Mind - A beautiful Servant? Or a dangerous Master?
UPSC Essay Topics on Art and Culture
The UPSC Essay Topics related to Indian society, art, and culture cover a wide range of subjects, offering great diversity. To gain knowledge about the static content on these topics, you should rely on fundamental books on society, as recommended for the exam. Here is a list of UPSC Essay Topics on Indian Art and Culture :
Culture changes with economic development.
Culture is what we are, Civilization is what we have.
Social reform is a myth if places of worship are open only to all castes and not to all genders.
Impact of Globalization on Indian Art and Culture.
Caste System - India's Enduring Curse.
Godmen - A Threat to Indian Art and Culture?
UPSC Essay Topics on Science and Technology
UPSC essay topics on Science and Technology can largely be addressed through current affairs. You may also benefit from consulting a Science and Technology Book for UPSC to compose a comprehensive and well-rounded essay. Here are some UPSC Essay Topics on Science and Technology:
Deglobalisation is good for the world.
Science is organised Knowledge. Wisdom is Organised life.
Technology is a Weapon against Poverty.
Prioritising Education Technology for Global Growth.
Technology is the silent factor in International Relations.
Scientific and Technological Progress cannot be equated with Human Progress.
UPSC Essay Topics on Education
Education stands as one of the preferred UPSC Essay Topics, with an essay related to this subject often appearing in the paper each year. To tackle this topic effectively, you should stay abreast of Current Affairs , incorporating significant changes and advancements in the field. Let's explore some of the Essay topics for UPSC centred around education:
Self Education is a lifelong curiosity.
Education Breeds Peace.
Education is a progressive discovery of our own ignorance.
Education must also train one for quick, resolute and effective thinking.
Schooling is not Education.
UPSC Essay Topics on Polity and Governance
To comprehensively address Polity and Governance topics, you should acquire fundamental knowledge from Polity Books for UPSC and Current Affairs. These resources offer static information about relevant issues and their historical context, which proves valuable while writing UPSC Essay Topics on Polity. Here are some Essay Topics on Polity and Governance:
The Role of Politics in Development.
Should Youth in India Consider Politics as a Career?
Art, Freedom and Creativity will change society faster than politics.
The politics of Identity is the Politics of the Weak.
People should not be afraid of their Government. The Government should be afraid of its people.
Government Surveillance - Good or Bad?
UPSC Essay Topics on Economy
Essays concerning economic growth are frequently included in the Essay Paper. To tackle these topics effectively, you should refer to Economy Notes for UPSC to gain a comprehensive understanding. Once the fundamentals are grasped, you can enhance their essays by incorporating examples, data, and statistics to create a multidimensional perspective. Here is a list of UPSC Essay Topics on Economy:
We don't have to sacrifice a Strong Economy for a Healthy Environment.
India, a $5 trillion Economy - Dream or Reality?
Digital Economy: A leveller or a source of Economic Inequality?
Innovation is the key determinant of social welfare and economic growth.
Labour Reforms in India and its Role in Economic Growth.
UPSC Essay Topics on Social Issues
Social issues are a significant aspect of the UPSC essay paper, reflecting the candidates' understanding of societal challenges and their ability to propose viable solutions. These essays provide a platform for candidates to analyse, critique, and suggest measures for pressing social concerns. Topics related to social issues in the UPSC Essay paper may include:
Inclusivity and Plurality are the hallmarks of a Peaceful Society.
A Gender-sensitive Indian Society is a prerequisite for Women and Child Empowerment.
The weaker sections of Indian Society - are their Rights and Access to Justice getting Better?
Previous Year UPSC Essay Topics
Practising previous year's essay topics will help you become familiar with the UPSC exam pattern , word limit, and the types of essay questions frequently asked in the Mains Examination. Analysing past essay topics will also allow you to identify recurring themes and trends, enabling you to prioritise their preparation accordingly. Regular practice with past essay topics will instil confidence in you, helping you feel more comfortable and prepared for the actual exam.
Forests are the best case studies for economic excellence.
Poets are the unacknowledged legislators of the world.
History is a series of victories won by the scientific man over the romantic man.
A ship in the harbour is safe, but that is not what a ship is for.
The time to repair the roof is when the sun is shining.
A smile is the chosen vehicle for all ambiguities.
Just because you have a choice, it does not mean that any of them has to be right.
Tips to Excel in UPSC Essay Paper
Understand the Topics: Thoroughly comprehend the essay topics, including the keywords and instructions. Choose a topic that aligns with your strengths and interests.
Plan and Structure: Devote some time to plan your essay. Create an outline and organise your thoughts in a structured manner, with a clear introduction, body, and conclusion.
Be Objective: Present balanced arguments and avoid a biased or one-sided approach. Consider multiple perspectives and present a holistic view.
Provide Examples and Evidence: Support your arguments with relevant examples, data, quotes and evidence to strengthen your essay.
Maintain Clarity: Write in a clear and concise manner. Use simple language and avoid jargon or overly complex vocabulary.
Practice Regularly: Regular practice is essential to improve Essay writing skills. Write essays on diverse topics to enhance your versatility.
Time Management: Allocate appropriate time for planning, writing, and revising each essay to manage time effectively during the examination.
Revise and Edit: Review your essays for coherence, grammar, and structure. Make necessary edits to refine your work.
FAQs on UPSC Essay Topics
What are the important UPSC Essay Topics?
Here is a list of UPSC Essay Topics asked in Mains Examination previously:
Culture is what we are, civilization is what we have.
Simplicity is the ultimate sophistication.
What is research but a blind date with knowledge?
Best for an individual is not necessarily best for society.
Wisdom finds truth.
Ships don't sink because of water around them, ships sink because of water that gets into them.
Patriarchy is the least noticed yet the most significant structure of social inequality.
Technology as the silent factor in international relations.
How do I Prepare for the UPSC Essay?
To prepare for the UPSC essay, focus on understanding the essay syllabus and past topics to identify recurring themes. Regularly practise writing essays on various topics to improve your writing skills and time management. Structure your essays with a clear introduction, main body, and conclusion.
Which is the best source to practise UPSC Essay Topics?
The best sources to prepare Essay for UPSC include official UPSC materials, newspapers, and magazines like The Hindu, Yojana , and Kurukshetra for current affairs, standard books on diverse subjects, government reports and publications, online platforms like PIB and PRS India, UPSC previous year papers for understanding the exam pattern, and regular practice of essay writing on various topics.
To request a counselling call, please fill out this form:
Vajiram & Ravi
Terms and Conditions
Privacy Policy
Vajiram FAQs 2021
Information
UPSC Classroom Courses
UPSC Postal Courses
UPSC Prelims Test Series
UPSC Mains Test Series
Interview Guidance
Install Vajiram IAS App

UPSC CSE Mains: 10 tips to ace the Essay Writing Paper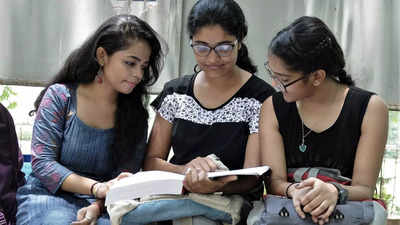 Visual Stories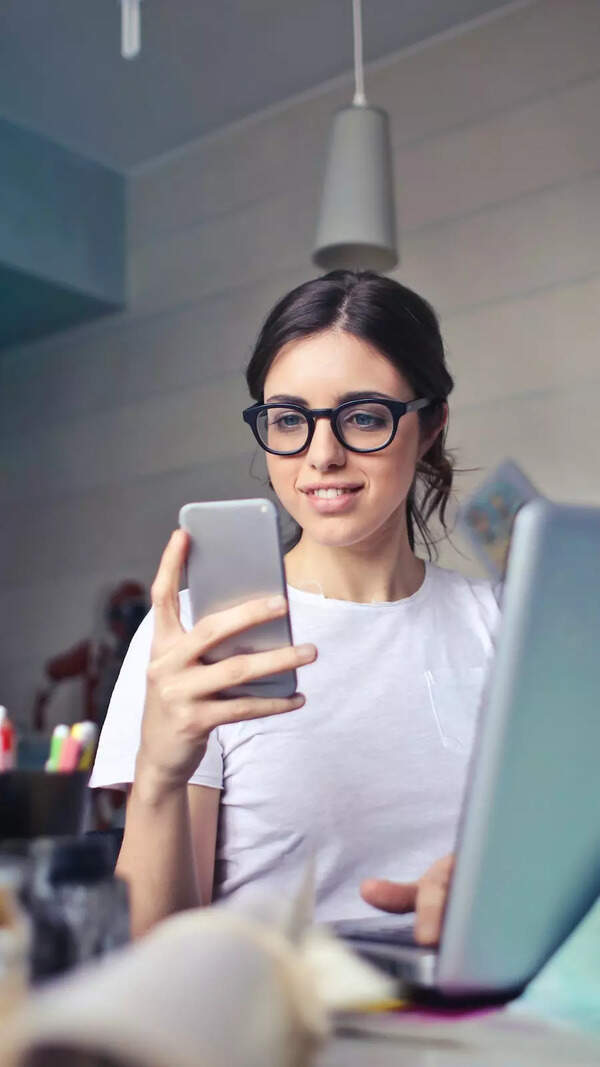 Mastering Effective Essay Writing for UPSC 
Posted by minakshi
Categories APSC and UPSC Subjects
Date July 19, 2023
Comments 0 comment
Essay writing holds a crucial position in the UPSC examinations. Also, UPSC aspirants often find it challenging to express their ideas effectively within the given time frame. So, this blog aims to provide UPSC aspirants with a comprehensive guide to mastering the art of effective essay writing. By understanding the UPSC essay paper pattern, honing essential skills, and adopting strategic techniques, candidates can excel in this crucial aspect of the selection process.
Understanding the UPSC Essay Paper
 effective essay writing#1 exam pattern and weightage.
The UPSC mains examination includes two essay papers carrying 250 marks each. So, candidates must write two essays, each with a word limit of approximately 1000-1200 words. Also, the essay paper contributes significantly to the overall scores. Thus, making it imperative for aspirants to perform well in this section.
 Effective essay writing#2 Grading Criteria and Evaluation
UPSC examiners assess essays based on specific criteria, which include coherence, relevance, depth of analysis, and originality of thought. A well-structured and well-articulated essay that showcases critical thinking and analytical skills is likely to receive higher marks.
Preparing for Essay Writing
 effective essay writing#3 topic analysis and interpretation.
The first step to effective essay writing is understanding the essay prompt thoroughly. Aspirants should analyze the topic, identify the keywords, and discern the central theme. This enables candidates to structure their essays coherently and address the core elements of the topic.
 Effective essay writing#4 Developing a Structured Approach
To present their ideas logically, aspirants must create a comprehensive outline before commencing the essay. The outline should include the introduction, main arguments, supporting evidence, and conclusion. A well-organized essay structure allows candidates to present their ideas systematically, making it easier for examiners to follow their thought processes.
Crafting Engaging Introductions
 effective essay writing#5 captivating the examiner's attention.
The introduction of an essay serves as a hook that captures the examiner's attention and sets the tone for the entire piece. Aspirants can begin with an intriguing anecdote, a thought-provoking quote, or a startling statistic. This technique piques the examiner's curiosity, compelling them to read further.
 Effective essay writing#6 Formulating the Thesis Statement
A well-defined thesis statement concisely articulates the main argument of the essay. It provides a roadmap for the entire essay and clarifies the central idea to be discussed. A strong thesis statement sets the foundation for a focused and coherent essay.
Building Compelling Essay Body
 effective essay writing#7 supporting arguments with evidence.
In the essay body, candidates must present their arguments backed by relevant evidence, facts, and examples. Well-researched and credible evidence strengthens the validity of the arguments and enhances the essay's overall impact.
 Effective essay writing#8 Structuring Paragraphs Effectively
Each paragraph in the essay body should address a specific point or argument. Candidates should maintain a logical flow between paragraphs by using transitional phrases. A well-structured essay body facilitates easy comprehension and improves the overall readability of the essay.
Mastering the Art of Effective Conclusions
 effective essay writing#9 summarising key points.
In the conclusion, aspirants should summarise the key points discussed in the essay. However, they should avoid merely restating their arguments. Instead, they should provide a concise recapitulation of the main ideas presented and their implications.
 Effective essay writing#10 Ending on a Memorable Note
Ending the essay on a memorable note leaves a lasting impression on the examiner. So, aspirants can conclude with a thought-provoking question, a call to action, or a reflection on the broader implications of the topic. Also, a  powerful conclusion reinforces the essay's significance. Thus, reinforces the candidate's command over the subject matter.
Enhancing Language and Expression
 effective essay writing#11 writing with clarity and precision.
Clear and concise language is essential in essay writing. Aspirants should avoid ambiguous phrases and jargon that might hinder comprehension. Simple and straightforward language ensures that the essay effectively communicates the candidate's ideas.
 Effective essay writing#12 Enriching Vocabulary and Style
An extensive vocabulary enhances the expressiveness of an essay. So, civil services aspirants should incorporate appropriate vocabulary to articulate their thoughts effectively. However, they should strike a balance and avoid using overly complex words that may distract from the essay's core content.
Time Management Strategies
 effective essay writing#13 practising mock essays.
Practising mock essays under timed conditions helps candidates develop speed and efficiency in their writing. Therefore, regular practice enables aspirants to refine their writing style , maintain a consistent word count, and effectively manage time during the actual examination.
 Effective essay writing#13 Revision and Feedback
After completing an essay, aspirants should allocate time for revision and editing. Reviewing the essay allows candidates to correct errors, enhance clarity, and refine the flow of ideas. Seeking feedback from mentors or peers provides valuable insights to identify areas for improvement and refine essay-writing skills further.
Essay writing is a critical component of UPSC examinations, evaluating candidates' analytical and communication skills. So, by understanding the exam pattern, honing essential skills, and adopting strategic techniques, UPSC aspirants can excel in essay writing. Also, a well-structured and well-articulated essay that reflects critical thinking and inclusiveness enhances the overall performance. Thu, increasing the chances of success in the competitive UPSC selection process . Also, consistent practice, continuous improvement, and a commitment to excellence can empower aspirants to master the art of effective essay writing. Consequently, they can achieve their aspirations in the civil services domain.
Tag: APSC , APSC aspirants , APSC Exam , civil service aspirants , Civil service preparation , Civil services , government aspirants , UPSC , UPSC aspirants , UPSC Exam
Previous post
Mastering Indian Polity for APSC ( Best Tips)
Mock interviews for civil services: 4 gains, you may also like.
Ultimate Online Guidance for APSC and UPSC
Mastering History and Culture for UPSC
Geography Optional in UPSC: 15 Super Merits
Leave a reply cancel reply.
Your email address will not be published. Required fields are marked *