Link to facebook
Link to linkedin
Link to twitter
Link to youtube
Writing Tips
5 Tips for Writing a Professional Bio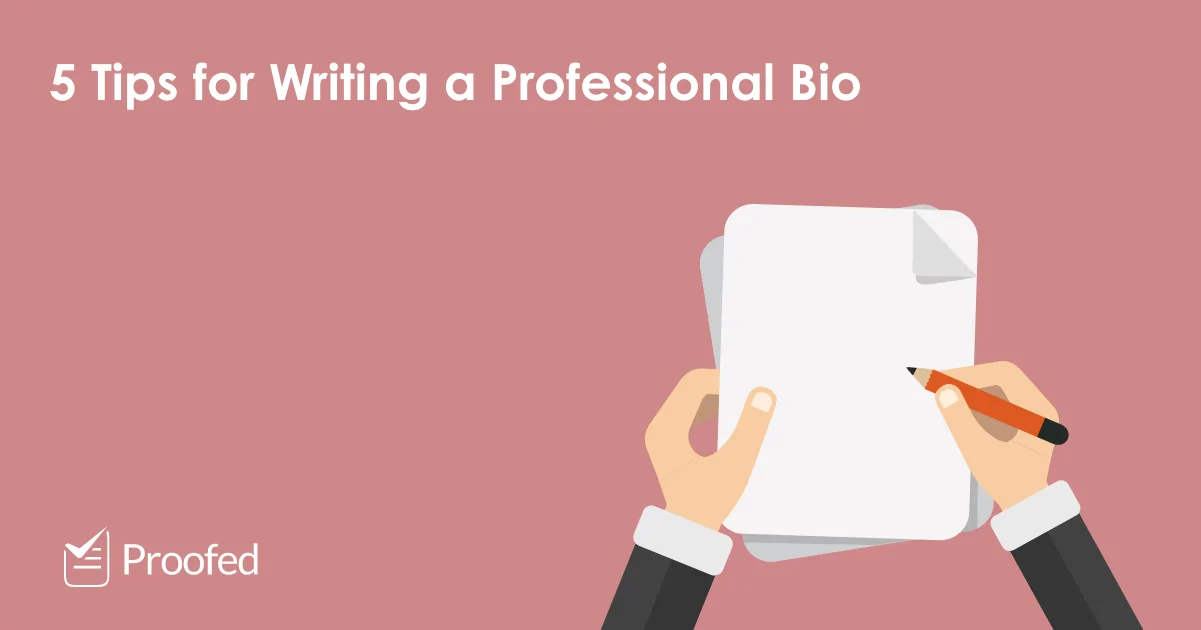 5-minute read
A professional bio explains who you are and what you do. But the style and content of your bio will depend on various factors. If you need to create a professional bio of your own, though, following, these five tips will help:
Think about the type and length of bio you need.
Tailor your bio to your industry, your audience, and your goals.
Decide whether to write in the first or third person.
Write concisely and only include necessary information.
Get your professional bio proofread to make sure it is error free.
For more on all the above, read on below.
1. Decide What Type of Bio You Need
First, decide what kind of bio you need to write. This will depend on what you're writing it for, but it will also affect what you will include:
A short bio summarises who you are in just a line or two, making it ideal for a social media profile. Typically, this will be limited to key details such as your name, job title/role, and possibly contact information.
A mid-length bio could be anywhere from a few lines to a couple of paragraphs long. This length is perfect for LinkedIn, a staff profile for a website, or a blurb in a book or events programme. As well as the basic information above, this might include details of your achievements, qualifications, skills, or even your personal interests.
A long bio , which you might use for the 'About' section of a personal website, could be up to several paragraphs long. This gives you scope to include more information or to go into more detail about a few things.
Think about what kind of bio you need before you start writing.
2. Tailor Your Bio to the Situation
If you're writing a professional bio for your employer's website, you can usually use existing bios to gauge the tone and content required. Alternatively, your company might have a style guide to follow.
But if you don't have an example to follow, such as when writing a bio for your own website, there are three key things you should consider:
Your industry – The industry you work in may affect the tone of your bio. A corporate bio, for instance, may be formal and professional, with a focus on achievements and values. But a bio in the creative industries may be less formal and more personal. When writing your bio, then, think about the kind of voice that would best fit your role.
Your audience – Who you are writing for may affect how you write your bio, especially in terms of vocabulary. If writing for the public, you would need to describe your role in everyday terms. But if your bio is aimed at fellow professionals, you have more scope for using technical language.
Your goals – What you include in your bio may depend on your goals. Are you looking to impress employers? Inform potential clients of your skills and qualifications? Add a personal touch to a website? Think about why you're writing a bio and plan the content accordingly.
If in doubt, look at bios from other people in your industry online to get a sense of how they're written, then adapt this to fit your situation.
3. First or Third Person?
Generally, professional bios are written in the third person . So, even if you write your own bio, you would write as if someone else were describing you:
Joe Bloggs is a qualified proofreader and editor who has helped prepare dozens of bestsellers for the world's leading publishers.
However, you can use the first person for a more personal tone:
Find this useful?
Subscribe to our newsletter and get writing tips from our editors straight to your inbox.
In my career as a qualified proofreader and editor, I have helped prepare dozens of bestsellers for the world's leading publishers.
This is a bit less formal, but it works well for a personal blog or website.
4. Be Concise
Keep your bio succinct so that it's easy to read and impactful. Even for a longer bio, you will want each paragraph to be concise and to the point.
The vital thing here, especially in shorter bios, is to limit yourself to essential information. Think about what you want your reader to know, then build your bio around these details, giving the most important information first (e.g. you should cover your achievements before your hobbies).
In terms of general concision, key tips include:
Plan what to include so you can avoid repetition or waffle.
Use the active voice rather than the passive voice where possible.
Cut down on unnecessary adverbs, adjectives, and other modifiers.
This will help to ensure your bio reads smoothly and professionally.
5. Get Your Professional Bio Proofread
Your bio might be the first thing someone learns about you, so you'll want it to be perfect to make a good first impression. Thus, once you've written a first draft of your professional bio, have someone else check it. A fresh pair of eyes will make it easier to spot errors or issues with clarity.
You could ask a friend or colleague to do this. But a better option is to ask a professional proofreader, especially for longer bios.
Our proofreaders, for example, will be able to offer feedback on style, content, and structure as well as correcting typos. Why not submit a trial document today and find out what our services involve for free?
Share this article:
Post A New Comment
Get help from a language expert. Try our proofreading services for free.
3-minute read
How to Add a Video to Google Slides
In today's digital age, engaging and interactive presentations are a great way to capture your...
How to Convert a PDF to PowerPoint
Creating engaging and visually appealing presentations is something that most professionals, as well as students,...
4-minute read
How to Get a Medical Writing Job
Medical writing is a niche branch of writing that focuses on creating content related to...
How to Cite a PowerPoint in APA
If you want to use information from a PowerPoint presentation in your essay, you'll need...
What Is a Press Release?
In the fast-paced world of modern marketing, effective communication is essential for businesses looking to...
How to Add Music to Google Slides
In the world of presentations, adding a touch of music can transform a dull slideshow...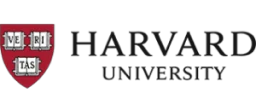 Make sure your writing is the best it can be with our expert English proofreading and editing.
LIMITED WINTER SPECIAL: 20% off writing packages (until at capacity)

Standout Professional Bio Examples (And Why You Need One)
Compelling examples of bios in multiple contexts
The difference between a CV and a professional bio
Who needs a professional bio.
A professional bio is one of the most important pieces of writing you have in your toolkit.
What career and business opportunities will yours open up?
Effective examples of bios in multiple contexts
When crafting a professional bio, be intentional about the content you include and tailor it according to your objectives.
You want to adjust it accordingly based on where it appears and what type of organisation and industry you work for.
The purpose of a professional bio is generally to:
State who you are and what you do
Provide examples of your work experience that bolster your credibility
Tell your story
How you go about accomplishing these three goals, however, will vary.
We compiled a variety of professional biographies and explain why they are effective to give you an idea of how to structure yours.
Company Website
If you are a senior executive, you may have a professional bio on your company's website: this is the most common request we receive.
John Hartman | Equifax
John Hartman put together a classic example of an executive bio for the Equifax website.
His writing is clear, concise, and follows the standard structure for an effective bio by providing:
Name and current role at Equifax
Previous experience at Equifax
Early career history
Education summary
If you're looking for a conventional executive bio, you'll want to follow this format.
It's perfectly acceptable to use the bio you have on your company's website for LinkedIn.
However, don't forget that LinkedIn is still a social media platform, so it's okay to infuse a bit more personality into it !
Jay Shetty | Personal Brand
Jay Shetty's profile headline and introduction quickly grab the reader's attention: "Meet the former monk who is making wisdom go viral."
He immediately elaborates on this statement and further builds his credibility by explaining that he has 200 million views on social media, over one million followers, and was selected for Forbes 30 Under 30.
His bio also includes information about his education and career history while infusing elements of his story (we'll forgive him for grammar errors and focus on content – because it is quite strong).
At the end, he also provides a preferred method of contact.
You should consider including your email address or a link to your LinkedIn profile as well – especially if your bio doubles as a marketing tool.
Need a compelling executive bio?  Learn more about our professional bio writing service!
Personal Website
We're increasingly seeing freelancers and even professionals in the corporate sector building personal websites that serve as an online CV, so to speak.
If you are a freelancer or run your own business, think carefully about your copy and what kind of message you are sending to your readers.
What kind of impression will they have of you and your business after reading your bio?
Does your bio leave them inspired and wanting to talk to you further?
What is the image you are trying to convey? Do you want to come off as polished and professional, engaging, fun, or simply vanilla?
Melanie Everett | melanieeverettco.com
Melanie Everett runs an independent real estate firm in Chicago.
Coming from a journalism background, she has leveraged her writing skills to drive her real estate business. She currently ranks in the top 1% of real estate agents in Chicago.
Conference or Event Pamphlet
If you are speaking on a panel or delivering a keynote speech, you may have the opportunity to provide a bio to be featured in the event's print materials.
For these types of communications, you'll want your bio to be shorter than what you might include on a company page or LinkedIn summary.
These executive bios build credibility for you and your company while positioning you as an expert on the topic you will be speaking about.
Vera Manoukian | Hilton
Hilton's Vera Manoukian provided this bio when she spoke on a panel titled "The Rebirth of Full-Service Hotels," effectively demonstrating her leadership experience in the hospitality sector.
Nonprofit Bio
Executive bios for nonprofit organisations often employ a storytelling approach to introduce readers to the organisation's mission and impact.
Ben Justus | EGBOK Mission
In his bio, Ben explains why he started EGBOK, the work his organisation does, and how it has grown.
When you contribute to an industry blog, you may have the opportunity to include additional information that showcases why you are an authority on the topic.
In this context, your bio can also serve as publicity for your company.
Arianna Huffington | THRIVE Global
Brian X. Chen | The New York Times
Other times, you may have very limited space to work with, making it especially important to consider how each word is adding value.
A CV and professional bio are both personal marketing documents, but they are used in different contexts.
CVs are generally used to apply for a job. They are written in third person, follow a conventional structure and are predominantly based on facts and achievements .
Professional bios , on the other hand, provide a more informal narrative that serves as a compelling elevator pitch.
Professionals of all experience levels can benefit from a bio.
As an executive, you should have a long and short version of a professional bio to use on:
Corporate or personal websites
Company marketing brochures
Conference materials
If you are a student , you can use yours as a LinkedIn summary or on the webpage of a campus organisation you are a part of. You never know who might come across it!
We hope these examples have given you inspiration and an understanding of what to include in your bio.
When writing yours, remember to keep the following in mind:
The best bios are written thoughtfully and intentionally, so it's not something you want to leave to the last minute!
Need a compelling executive bio? 
You can order  our professional bio writing service here , about cv pilots.
CV Pilots is an award-winning executive CV writing firm and a proud member of the Professional Association of Resume Writers and Career Coaches. Our previous clients include CEOs and senior executives at the world's leading companies.
As a professional services firm, we take your reputation seriously. We are committed to delivering writing excellence and superior service while operating with integrity and discretion. Recruitment firms we partner with also trust us to consistently deliver quality documents for their clients.
Our writers have studied at top-tier universities and have strong writing backgrounds coupled with industry experience.
Here's how we can help you:
CV, Cover Letter and LinkedIn Writing Services : If you are looking for end-to-end support, hire one of our professional CV writers to rewrite your documents from the ground up. 
Executive CV Template Downloads : If you plan to prepare your own CV, consider using one of our classic, ATS-friendly CV templates for Microsoft Word.
To learn more about our services, book an introductory call with our founder here or email [email protected] .
About the Author Matt Glodz
Matt Glodz is the Founder and Managing Partner of CV Pilots and a Certified Professional Resume Writer. After studying business communication at Cornell University, Matt worked for global companies, where he noted that qualified candidates were frequently denied interview opportunities due to poorly written documents. At CV Pilots, Matt combines his solid business and writing background to craft CVs that give his clients the best chance of landing interviews. He has lived in the UK, US and Italy. Based in London, he currently works with applicants ranging from CEOs to recent graduates and has been writing CVs for over 10 years. He has been quoted on numerous business and career-related topics in outlets including Business Insider, CNBC, Fortune, Glassdoor, The Ladders, The Times and Thrive Global.
Related Articles
Are cv writing services worth it, executive cv templates 2023: downloads, cv, cover letter & linkedin writing resources.
Conference bios
Learn how to write a short biography for a conference programme.
Do the preparation task first. Then read the text and tips and do the exercises.
Preparation
Matching_MjMwNjA=
Julie Wong is a leading researcher in the field of Robotics and AI. She has been published extensively as author and co-author of over 50 papers in highly regarded, peer-reviewed journals. She frequently speaks at international conferences and was awarded the prestigious Royal Academy Simone Fielding fellowship in 2012. Julie lives with her family in a smart home she designed herself.
Terrie Sharp
Best-selling author Terrie Sharp knows how to tell a good story or two, having twice won the Olive Crime Writer Award. Born on the housing estate with the highest crime rate in Glasgow, she learned to keep quiet, stay out of trouble and how to open car doors with a knife. Luckily, she only used her knowledge to write her novels and she's not so quiet these days, appearing on popular daytime shows like Police Today and at writing conferences throughout the UK.
Ahmed Modine
Ahmed Modine started his first business at age 14 and retired at 32. Along the way he went bankrupt twice and lost his house and car once. What he learned about starting again from scratch became the number one most popular online course on U-Learn.com: From up to down to up again – How to succeed when everything sucks . What he doesn't know about turning an idea into a profitable business isn't worth knowing.
Bios are often written in the third person, especially for conferences, events and books. Social media bios can be less formal and in the first person.
Use your full name in the first sentence and refer to an accomplishment to help people remember who you are. ( Julie Wong is a leading researcher … / Best-selling author Terrie Sharp … / Ahmed Modine started his first business at age 14 … )
Keep it short and interesting so people get all the key information before they stop reading.
If the bio is for an event like a conference, only include the details that are relevant to this particular audience. For a general bio, for example on your website, you can provide links for readers to find out more.
One or two personal details (e.g.  Julie lives with her family in a smart home she designed herself ... / She learned how to open car doors with a knife. / ... he lost his house and car once ) help create interest and a connection with the reader.
MultipleChoice_MjMwNjE=.xml
TrueOrFalse_MjMwNjI=.xml
GapFillDragAndDrop_MjMwNjM=.xml
When was the last time you had to write a short bio?
Language level
A R is an eminent economist served as a governor of the central bank. He has spoken extensively at international conference and written at least four books and over100 peer reviewed articles in prestigious journals in world. His book Peasant and Class is an is the best selling one.
Log in or register to post comments
Telling the truth, I've never done it. I can't remember if I read about someone's bio before. Maybe, because I graduated from technical faculty and we not much wrote there in our days. But if I have to write someone's bio it definitely would be some writer's or Formula-1 driver's biography because these are my passions. Of course, not only these ones but being a racing driver is so dangerous and exciting (maybe because it's dangerous) and there were so many great personalities in this sport. And I love reading and I am always keen to know something about authors. Especially about those authors who wrote only one or two books which became to were masterpieces. It's always interesting to me how they did it, not work as writers whole their lives, just wrote a great book and that was all.
Online courses
Group and one-to-one classes with expert teachers.
Learn English in your own time, at your own pace.
One-to-one sessions focused on a personal plan.
Get the score you need with private and group classes.  
My Best Articles
Write a Guest Post
Alex Birkett
How to write a personal bio (+ 15 personal bio examples).
Last Updated on August 14, 2023 by Alex Birkett
Your personal bio could be the deciding factor in whether someone hires you, follows you, or buys from you.
However, writing one isn't the easiest task in the world. It's especially true if you're one of those people who gets stage fright just thinking about having to talk about yourself.
So, how do you muster the courage to write a personal bio that stands out from the crowd? How do you make it witty, engaging, and memorable?
In this article, I'll share some tips for crafting a personal bio (with some personal bio examples) that capture the attention of even the most distracted reader.
Before we start, here's a quick overview of key elements you should include in your personal bio:
Editor's note: I'm going to use some affiliate links when possible to try to earn some revenue from my content. These don't change the opinions espoused in the content nor the style in which they are written.
What to include in a personal bio?
Here are some key elements that you should consider including in your professional bio:
Brief background information: Start your bio by introducing yourself and your current job title. This helps to establish your professional credentials right away. For example: "Hi, I'm Jane, a freelance writer and editor with over ten years of experience in the industry."
Career highlights and achievements: Highlight some of your most notable achievements and accomplishments. This can help to establish your expertise and credibility in your field. Example: "I've worked with various high-profile clients, including XYZ Corporation and ABC Publications."
Your unique skills and qualities: What sets you apart from others in your industry? Mention those unique skills and qualities in your bio.
Personal interests and hobbies: A few details about your life can help humanize your bio and make you more relatable to readers. Example: "In my free time, I enjoy hiking and exploring new places with my dog, Max."
A call-to-action or contact information: For example: "To see more of Jane's work, visit her website at www.janesmithdesign.com or follow her on Instagram @janesmithdesign."
Now that we've covered the key elements to include in a personal bio, let's focus on some tips for crafting an effective and engaging bio.
Before that, it's important to clear one pervasive doubt.
Should you write your personal bio in the first person or third person?
When a company first requested my personal bio, I remember scurrying here and there on the internet, frantically searching for examples of how other writers crafted their bios.
Was it customary to write in the first person or in the lofty, third-person perch of professional grandeur?
And I came to a conclusion.
Writing in the first person can be useful when writing a bio for a personal website or social media profile, or when trying to build a personal connection with the reader.
The tone is also often more personal and informal, as if you are speaking directly to the reader.
Hemingway's autobiographical work , "A Moveable Feast," is also written in the first person.
On writing in Paris…
This approach in his personal biography allowed Hemingway to share his personal experiences and insights into the literary world of Paris in the 1920s. The book is a classic of literary non-fiction.
On the other hand, writing in the third person is suitable when writing for a professional website , resume , or when trying to establish authority or expertise. The tone is more formal and objective, as if someone else is describing your accomplishments and background.
For instance, Albert Einstein's professional bio on the official Nobel Prize website is entirely in the third person.
This approach emphasizes Einstein's achievements and contributions to the field of physics while maintaining a sense of objectivity and professionalism.
So, it's simple. For personal bios, it's first person. And for professional bios, it's the third person POV!
Tips for writing a compelling personal bio
To create a bio that leaves a lasting impression, think of it like a mini-story highlighting your achievements, quirks, and passions.
Here are some tips to help you get started:
1. Know your purpose
Before you start writing your bio, you need to know why you're writing it and what tone you want to convey.
Are you trying to showcase your expertise? Introduce yourself to potential clients or customers? Connect with fellow professionals in your field?
Whatever your purpose, you need to tailor your bio accordingly. Duh!
It should also show you have the skills and experience to do the job well. This is especially true if you seek work in a particular field.
For example, if you want to work as an accountant, architect, or teacher, you need to show that you are qualified for this type of work.
2. Address your audience
The best personal bios are written with a specific audience in mind. If you don't know who that audience is, how can you write for them?
That's why before writing anything at all, ask yourself who will be reading it.
Who do you want to reach out to with this information?
Are they looking for someone like you?
What do they need from someone like you?
Once you have an answer or two (or three), start writing.
Let's say you're writing a bio for a professional website or portfolio that targets potential employers or clients in the creative industry.
In that case, you might want to include background information such as:
Your education and qualifications in a relevant field
Your work experience and current position in a creative role
Your professional goals and interests related to creativity
Your hobbies and passions that showcase your creativity
Your awards and recognition for your creative work
Allie Decker's professional bio is a shining example of how to address your audience from the get-go.
By stating, "I love to write and help organizations produce content that builds and converts communities and drives revenue," she immediately captures the attention of businesses needing content marketing expertise.
She's also using specific language relevant to her audience – "builds and converts communities" and "drives revenue." By using these terms, she's showing that she understands her audience's needs and priorities and can deliver results that matter to them.
What makes this short professional bio even better is how Allie strikes a balance between giving a glimpse into her professional and personal life.
Melinda Gates ' bio is another excellent example of how to tailor your personal bio for your target audience.
Her bio focuses on her work as a philanthropist and co-chair of the Bill and Melinda Gates Foundation, highlighting her passion for improving global health and empowering women and girls.
By focusing on these topics, she appeals to a broad audience of people who share her values and interests.
3. Keep it concise and focused
When it comes to your bio, Alexandre Bocquet , Founder and CEO of Betterly , has some great advice:
"In today's digital world, people tend to skim rather than read, so it's crucial to keep your descriptions short and to the point. If your "Personal bio" page looks more like a book, it will deter people from reading it."
Alexandre adds, "keep your word count to roughly a thousand words, bullet point key attributes and accomplishments, and keep paragraphs to four sentences or fewer."
And there are studies to support this.
A study found that recruiters typically spend an average of 6 seconds on a profile before deciding whether to pursue a candidate further – highlighting the importance of making a strong first impression with a concise and impactful personal bio.
Writing a lengthy, meandering introduction has its appeal. But if you're looking to catch the eye of a recruiter or potential clients, or even snag a coveted byline, a snappy and concise personal bio will be more suitable.
Alex Birkett's personal bio is a prime example of how to make a reader care with only a few sentences.
He succinctly mentions his professional expertise and accomplishments as a product growth and experimentation expert and co-founder of a content marketing agency. Additionally, he shares his personal interests and hobbies, such as skiing, giving the reader a glimpse into his personality.
The mention of his dog Biscuit provides a human touch that can make the reader smile. Overall, his bio is concise, engaging, and balances professional and personal information.
4. Highlight your unique qualities and accomplishments
When you're writing your personal bio, you want to make sure that you highlight your unique qualities and achievements.
Think about what you have achieved in your professional or personal life. These could include awards, recognitions, publications, promotions, or other significant milestones.
To highlight your unique qualities, think about what sets you apart. What are your strengths, skills, and experiences that make you unique? Is it your uncanny ability to solve complex problems or your talent for playing the ukulele?
It's a shame I didn't pay more attention to my Bharatnatyam (a classical Indian dance form) classes when I was younger.
But if you've got a unique accomplishment, own it!
5. Show your personality and character
When writing a personal bio, using the same template as everyone else is tempting. But that's a mistake: Your brand is unique, so your bio should be too.
You have a few precious seconds to make a good impression. You have to be memorable and stand out from the crowd.
One way to do this is by injecting your personality into your personal bio.
Just take it from Natalia Brzezinska , Marketing and Outreach Manager at UK Passport Photo , who cites the bio of Polish journalist Maciej Okraszewski as the best-crafted she's ever seen.
Okraszewski briefly highlighted his educational background and shared some of his best articles before ending with a hilarious quip about his love for Italian movies, old hip hop, and potatoes with kefir.
According to Brzezinska , "this bio demonstrated Okraszewski's easygoing nature and sense of humor, proving that showcasing your human face can be more impactful than simply listing achievements."
Tom Hanks' Twitter bio is a great example of a personal bio that showcases personality and humor. It's short, concise, and gives readers a glimpse into his life and personality.
Hanks' bio gives readers a sense of who he is as a person while also making them laugh and feel more connected to him. Such personal bios are especially perfect for social profiles, where you want to connect with your audience.
Your turn now to infuse your personal bio with your unique personality and character. Here are a few tips for doing that:
Use action verbs: Instead of saying, "I am an entrepreneur," say, "I build businesses from scratch." Instead of saying, "I am a writer," say, "I write stories that make people laugh, cry and think."
Be specific about what you do – and why you do it: Say you're a marketing director at an online retailer because you love helping consumers find products they love, not because it pays well or gives you flexibility in your schedule.
Inject humor: Humor is a great way to get people's attention and make them like you more. You can do this by using jokes or puns in your bio or even being funny.
Be yourself: This one should go without saying, but if you're too formal, then it's going to sound fake. If you want people to see another side of you, be natural and casual about it. People will appreciate an honest approach more than anything else.
6. Use keywords and industry-specific language
If the aim is to attract more clients or connect with other people in your industry, don't forget to include keywords and industry-specific language in your bio.
For example, if you're a software developer, you might include keywords like "Java," "Python," or "web development" in your bio. If you're a freelance writer, you might mention specific industries or topics you specialize in, such as "B2B SaaS writer," "healthcare writing," or "content marketing for small businesses."
The more specific you can be with your keywords, the better your chance of being found by your intended audience.
However, add these terms organically – don't just cram a bunch of buzzwords into your bio unless they actually reflect your skills or experience. Instead, think about the key skills or areas of expertise you want to highlight and find ways to incorporate those naturally.
For instance, if you look for keywords like "SaaS freelance writer" or "content strategist," you'll come across Marijana Kay's personal bio .
By using terms like "SaaS," "marketing," and "content strategist," she's making it clear what industries she specializes in and what types of clients she works with.
At the same time, her bio is also personal and engaging. By sharing her background and how she became interested in marketing, she's giving readers a glimpse into who she is as a person and what motivates her in her work.
Another great aspect of her bio is that it includes a call to action, encouraging readers to learn more about her and her work. This can be a great way to get potential clients to take the next step and contact you for more information or to start a conversation.
7. Keep it up-to-date
If you think you can stick with your old, dusty bio from half a decade ago and still manage to wow potential clients, think again.
Your target audience will probably think you peaked once and still piggybacking on that one accomplishment.
Instead, your bio should give a current picture of who you are and what you've been up to.
When should you change your bio? There are key moments in your life and career when it becomes imperative to refresh it.
Don't forget to change your bio when you:
Change jobs or roles
Complete a new project or course
Receive an award or recognition
Learn a new skill or tool
Achieve a personal or professional goal
Make sure to double-check all the details in your bio, including your current job title, any recent projects or clients you've worked with, and any new skills or certifications.
Additionally, updating your bio can be a fun way to flex your creative muscles and inject a little personality into your online presence.
Finally, an up-to-date bio can make a big difference in how people perceive you and how likely they want to work with you.
Pro Tip: To keep your bio up-to-date, set a reminder for yourself to review it regularly. This might be once a month, once a quarter, or whenever you have a major change or accomplishment to add.
8. Name-drop previous clients or famous employers
A personal bio is a great place to name-drop previous clients or famous employers. The idea is to show you have experience working with other big names in your industry.
If you don't have any big-name clients/employers, that's OK! You can still use this technique to list small businesses and organizations relevant to your target market.
9. Include your personal story
Your bio is a great place to tell your story – especially if you're writing for your personal website. It's an opportunity to share your experiences and how you got where you are.
To get started, choose a central theme for your personal story that ties it all together. This could be a particular struggle you overcame, a key life lesson, or a defining experience that has shaped your worldview.
And while narrating your story, use vivid details and sensory language to bring it to life. This will help readers visualize the events and emotions you're describing and make your story more engaging.
For example, instead of "I was nervous," you could describe your sweaty palms and racing heartbeat.
That said, you don't need to include every single detail of your life story. Focus only on the most impactful moments, and try to weave them together in a way that makes sense.
Marie Forleo , an author and entrepreneur, has nailed the art of spicing up her bio with her personal story.
Marie Forleo's personal bio stands out from being just another generic bio as she takes a refreshingly honest approach by not only sharing her successes but also her struggles.
In her bio, she shares:
Her curiosity and passion for human potential and various fields of interest
Her journey from corporate jobs to odd jobs to building her own coaching business
How coined the term "Multipassionate Entrepreneur" to describe her unconventional approach
Her achievements and recognition as an author, speaker, TV host, and digital education company founder
Her philosophy and mission – to help people thrive in today's world and change their lives
A bio like this is perfect for sharing your struggles with your audience and building a personal rapport with them.
That said, if you're anything like me, you might be hesitant to share too much personal information in your bio.
But fear not, my fellow introverted friend, because I have a solution!
Check out this nifty template for a personal bio that cleverly weaves in your personal story:
For instance:
Lily Jones is a travel writer and blogger who loves exploring new places and cultures. She has visited over 50 countries and written for publications such as Lonely Planet, National Geographic, and Travel + Leisure. Lily's passion for travel started when she was a teenager and went on a school trip to France.
She was amazed by the beauty and history of the country and decided to pursue a career in journalism that would allow her to see more of the world. Lily believes that travel is not only fun but also educational and transformative. She hopes to inspire others to follow their dreams and discover new horizons through her stories. When she's not on the road, Lily enjoys reading, yoga, and cooking. You can follow her adventures on her blog: www.lilytravels.com
10. Use AI tools for assistance
Despite all these tips and tricks, writing a bio is not easy.
You may still need some help getting started.
And that's where AI writing tools come into the picture.
And rather than taking the approach of "AI bad," once you start thinking of these AI writing tools as your assistants, you'll realize just how much they can help you achieve.
They especially come in handy when you're facing writer's block or having a hard time coming up with something creative to write. Something creative like writing a personal bio.
So, which AI writing tool should you use to pen your bio?
Should you use Jasper or ChatGPT ? Or Copy.ai ?
Since I am more familiar with Jasper.ai and often use it to get inspiration for my blog post intros, let's see how it works for personal bios.
For the uninitiated, AI writing tools like Jasper use natural language processing (NLP) and machine learning algorithms to generate human-like text.
It's going to be similar to creating your " About page copy " using Jasper (which we already discussed in the linked article).
Jasper has a pre-built " Personal Bio " tool that, in their own words, helps you "write a personal bio that captures attention."
You just need to provide some basic information about yourself, such as your name, occupation, skills, achievements, and hobbies. Jasper will then generate a personal bio for you based on your input.
You can also pick your tone of voice, such as friendly, formal, professional, and the like.
Here's how it works in action:
Once you hit the "Generate" button, you'll get 4-5 personal bio results. The generated bios are all unique and customized to your input.
Now once you have the first draft, you can tweak it a bit to add more information or keywords. You might also change the wording of certain phrases or sentences if it appears too robotic – or even rewrite certain sections entirely to reflect your unique style and voice better.
You can also use the Personal Bio tool in tandem with other tools like sentence rewriter to improve the writing style. I talk about this in more detail here .
While these AI-generated bios are a great starting point, don't forget to play around a bit and infuse your personality and voice into the final product.
Write a personal bio that makes you shine!
Crafting a personal bio that accurately reflects your unique personality and professional accomplishments can be challenging. That said, it's also an essential part of building your personal brand and standing out from the competition.
By following the tips and taking inspiration from the professional bio examples in this article, you'll be well on your way to writing your own professional bio that captures your audience's attention.
Don't forget to proofread and edit the bio, especially if you plan to use AI for better productivity . You can ask someone else to read it over for feedback or use an online tool like Grammarly.
Deepti Jain
Related posts.
Comments are closed.