Youth Pastor Cover Letter Examples
Use these Youth Pastor cover letter examples to help you write a powerful cover letter that will separate you from the competition.

Youth pastors are responsible for developing and leading programs that meet the spiritual needs of young people. They work with church leaders and parents to create a safe and welcoming environment for youth.
When you're applying for a youth pastor position, your cover letter is a great opportunity to highlight your skills and experience. Use these examples to write a cover letter that will make hiring managers want to meet you in person.
Formal/Professional Writing Style Example
With a strong background in youth ministry and a deep passion for fostering spiritual growth within young people, I am confident in my ability to make a meaningful contribution to your church community as a Youth Pastor.
Throughout my education and practical experiences, I have gained extensive knowledge in developing creative and engaging programs, leading groups of volunteers, and providing pastoral care tailored to the needs of youth. My ability to establish trust and build rapport with young people, coupled with my strong communication and leadership skills, make me an excellent fit for this position.
As a youth pastor at my previous church, I successfully organized and implemented numerous faith-based events and activities designed to promote spiritual growth and fellowship amongst youth members. These events not only attracted new members but also increased youth participation levels by 30% over a two-year period. Additionally, I directly mentored several young people who went on to become leaders within their own church communities, which speaks to my dedication and effectiveness as a mentor and spiritual guide.
I possess a genuine love for working with young people and have dedicated my career to inspiring them to deepen their faith and embrace their spiritual journey. I am excited about the possibility of joining your team and contributing my skills, knowledge, and passion to support the spiritual development of the young members at your church.
Please find my attached resume, which provides further information on my qualifications and experiences. I would appreciate the opportunity to discuss my candidacy further with you at your earliest convenience. Thank you for considering my application for the position of Youth Pastor, and I look forward to the opportunity to serve your church community.
[Your Name]
Entry-Level Writing Style Example
As a recent graduate from the Theological College with a Bachelor of Arts in Youth Ministry, I am excited about the opportunity to be part of your team and contribute to the spiritual growth and development of young people at your church.
During my time at the Theological College, I have gained a strong foundation in biblical studies, theology, and leadership, as well as hands-on experience in mentorship and community outreach. I have worked closely with youth at my home church for the past three years, leading weekly Bible studies and organizing various events aimed at instilling a deep understanding of faith and Christian values in young people.
I am passionate about creating a safe and welcoming environment where the youth can be open about their daily struggles, share their experiences, and explore their faith. With a strong commitment to teaching and engaging with biblical content, I strive to connect and relate to the youth on a personal level, understanding their unique needs and fostering their growth in Christ.
I am eager to meet with you and discuss my ability to contribute to the spiritual growth and teachings of the youth at your church. Thank you for considering my application, and I look forward to the opportunity to speak with you further.
Networking/Referral Writing Style Example
I was referred to this opportunity by Pastor John Smith, with whom I've had the privilege of working closely during my time as a youth leader at Faith Community Church. John and I worked together extensively in planning and executing impactful youth programs, and he has seen firsthand my passion and dedication for serving young people in our spiritual community.
As a Youth Pastor, I am committed to fostering a welcoming environment where young people feel heard and encouraged in their faith journeys. My previous experience as a Youth Leader at Faith Community Church allowed me to develop strong skills in organizing events, leading Bible studies, and engaging with diverse groups of young people. I believe these skills would make me a valuable addition to your team.
Pastor John also mentioned the great emphasis your church places on community outreach and service, which resonates with my own passion for social justice and helping those in need. I have led several community engagement initiatives such as organizing safe spaces for dialogue, mentoring programs, and volunteering at food banks. I am eager to contribute my experience and enthusiasm to help strengthen your church's impact on the community.
I would be delighted to have the opportunity to meet with you and discuss how my background and commitment to youth ministry might best serve your congregation. Thank you for considering my application, and I look forward to the possibility of working together.
Enthusiastic/Passionate Writing Style Example
Ever since I stepped foot in my first youth group, I knew that ministry and working with young people was my true calling. I could not be more thrilled to see an opening at such an incredible church that exemplifies strong faith and commitment to fostering a nurturing environment for young individuals. It is evident that your church's dedication to creating a space where young people can grow in their faith and develop meaningful relationships is unparalleled, and I wholeheartedly feel that I am a strong match for this essential role.
Throughout my seven years of experience in youth ministry, I have had the privilege of fostering strong connections with teenagers and assisting them in finding their own unique path in their spiritual journey. I have a deep understanding of how crucial it is to establish trust and genuine connection with youth in order to effectively guide them on this path.
I bring a fun and energetic approach to my ministry without losing sight of the importance of delivering powerful spiritual messages. My passion for reaching young people through innovative techniques and meaningful worship is unwavering. Along with my extensive experience in planning retreats, mission trips, and weekly gatherings, I am excited to develop fresh and creative strategies tailored to the needs of your church and its youth.
Your church's commitment to nurturing young individuals and helping them forge strong relationships within their faith community is truly inspiring. Just as the prospect of joining your team excites me, I am confident that my enthusiasm and skills as a Youth Pastor will add immense value to your organization.
Thank you for considering my application. I look forward to the opportunity to discuss my qualifications further and demonstrate my genuine passion for this incredible position.
Problem-Solving Writing Style Example
I have recently come to learn about some of the challenges your church is currently facing – specifically, the declining engagement of the younger generation in church activities and a lack of consistent spiritual guidance tailored to their unique needs. I believe that my passion for youth ministry, combined with my education and experience in this field, make me an excellent candidate for this role and well-suited to address these issues.
Over the past five years, I have dedicated myself to fostering a strong faith-based community for young people as a Youth Leader at [Previous Church]. Through my work, I successfully implemented diverse youth programs, retreats, and service initiatives that led to a notable increase in youth engagement and spiritual growth. I also gained valuable experience in collaborating with parents and church leadership to ensure that our youth ministry aligned with the overall vision and mission of the church.
I hold a Bachelor's Degree in Ministry and a Certificate in Youth Ministry Leadership from [University/Institute], which have equipped me with a strong theological foundation, leadership skills, and deep understanding of the unique spiritual needs of today's youth. I strongly believe that my passion for leading the younger generation closer to Christ, combined with my professional experience, will be invaluable in revitalizing your youth ministry and resolving the challenges your church is facing.
I am genuinely excited about the prospect of bringing my enthusiasm and commitment for youth ministry to your church, and to work closely with your team to create meaningful and engaging opportunities for our youth. Thank you for considering my application. I look forward to the opportunity to discuss further how I can contribute positively to the spiritual growth and well-being of the young people at your church.
Storytelling/Narrative Writing Style Example
As I walked through the doors of the community center on a chilly Saturday morning, I could feel the energy and excitement in the air. Young people from all walks of life had gathered to participate in our annual youth retreat, and I was honored to be leading the event. As I stood in front of the group, I reflected on my own journey and realized how much my experiences as a youth leader had shaped me into the person I am today.
I have always been passionate about working with young individuals, guiding them through their spiritual and personal growth. I believe that my background in youth ministry, combined with my strong interpersonal skills, make me an exceptional candidate for the role of Youth Pastor at your esteemed organization.
During my four years as a volunteer Youth Pastor at my local church, I have had the opportunity to develop and implement engaging programs that have not only fostered spiritual growth but also encouraged community involvement and service. I have also had the pleasure of mentoring several young people, watching them develop into strong leaders and role models within our congregation.
One of my most memorable experiences as a Youth Pastor was when I organized a mission trip to a remote village in Central America. Our group of 15 teenagers worked alongside the local community to build a school, sharing in their daily struggles and joys. This experience not only deepened our faith but also strengthened the bond between our group members, creating lasting friendships and an unwavering commitment to serve others.
I am excited about the opportunity to bring my passion and skills as a Youth Pastor to your organization, and I am confident that my unique experiences will make a significant impact on your congregation. Thank you for considering my application. I look forward to the opportunity to discuss my qualifications further.
AT&T Retail Sales Consultant Cover Letter Examples
Pizza maker cover letter examples, you may also be interested in..., medical surgical nurse cover letter examples & writing tips.
School Nurse Cover Letter Examples & Writing Tips
Apprentice plumber cover letter examples & writing tips, kyc analyst cover letter examples.
Youth Pastor Cover Letter Example
A Youth Pastor is employed by churches where they guide kids and youngsters and teach them about Gospel and Christendom, and perhaps inspire them to participate in liturgy, outreach programs, and volunteerism. Students can receive services from Youth Pastors, including courses in Bible study. The Youth Pastor will work to help all kids comprehend the journey of the soul, support children who are motivated to learn about God, and encourage students to grow in their love for Christ and others.
Your cover letter is the primary element of supporting documentation you should provide in support of your qualifications for the Youth Pastor position. Utilize our Youth Pastor Cover Letter Samples and writing guidelines to create a cover letter that stands out from the crowd.
What to Include in a Youth Pastor Cover Letter?
Roles and responsibilities.
Engaging in and joining staff meetings .
Managing, expanding, and organizing the church's youth program.
Creating, directing, and reviewing the curriculum for all events, classes, and activities.
Guiding pupils in primary and secondary school to promote their spiritual development.
Conversing with students while attending church on Sunday mornings.
Fostering effective communication with both kids and their parents.
Distributing program schedules on social media.
Exemplifying a Christ-like attitude and way of life, and consistently praying for younger generations in the congregation and the neighborhood.
Involving young people in a range of Christian ministries for His benefit.
Fostering a culture among kids that values learning about the Lord and His Word.
Education & Skills
Youth pastor skills:.
A thorough awareness of the demands and issues faced by young people.
Outstanding computer skills and familiarity with social media.
Excellent writing and ability to communicate verbally.
Outstanding organizing abilities.
A preference for youthful people.
Aptitude for setting a good example.
Willing to work overtime, the nights, on the weekends, during holidays, and with limited intimation.
Youth Pastor Education Requirements:
A Bachelor's degree or an Associate's in Youth Ministry, Biblical Studies, or Theology.
It is advantageous to have prior youth ministry experience.
A clear connection with Jesus Christ.
Youth Pastor Cover Letter Example (Text Version)
Dear Mr./Ms.,
I am ecstatic to submit an application for the role of Youth Pastor at Methodist Episcopal church as soon as I'm notified of the opening. I'm passionate about assisting young people in developing their faith and possess a commitment to working with them. I am sure that I'm equipped with the knowledge and expertise required to provide the younger generation with the direction and encouragement they require.
For the last nine years, I have worked with youngsters as an educator, counselor, and guide. I am well aware of the difficulties young people encounter and the value of serving as positive role models in their life. I pledge to create a welcoming environment where young people can explore their beliefs and pose questions without worrying about being judged.
Providing a coherent response to youth ministry is another area in which I have worked with families and perhaps other church officials. I am devoted to developing a program that caters to the needs of all churchgoers and I'm always optimistic about my capacity to build a rapport both with youngsters and their families.
Here are some of my professional highlights:
I've been a Youth Pastor at four divergent churches, and I've discovered that the thing that gives me the most joy is watching the young people I work with progress in their spirituality and become genuine followers of Christ.
I enjoy working with children of all ages and educating them about God and how they can serve Christ.
I enjoy interacting with adults, and I've discovered that it's simpler to instruct children when there are grownups around to explain the concepts they're learning.
I have conducted prayer sessions for youngsters and taught Sunday school courses to kids as young as four.
Additionally, I have organized several missionary trips and led youth groups on both domestic and international service initiatives.
I'm looking forward to our meeting to talk about the opening for the youth pastor at Methodist Episcopal church. I'm sure I have the knowledge and expertise required to provide your youngsters with the direction and encouragement they need. I've attached my résumé for your review.
I appreciate your thoughts and time. God Bless.
Regards, [Your Name]
Your cover letter is a fantastic attempt to showcase your qualifications for the job of a Youth Pastor. Make prospective employers desire to interact with you in person by using these samples and writing advice while creating your cover letter.
Demonstrate your commitment to the position and your knowledge of its requirements.
Show off your adept interpersonal abilities by describing your past successes at building relationships with children and teenagers and your ability to create a sense of belonging among the group.
Emphasize your organizational and planning skills; mention any difficulties you had while organizing the event or activity, and how you overcame them.
Before sending your cover letter, review it.
For additional assistance with your resumes, check Youth Pastor Resume Samples .
Customize Youth Pastor Cover Letter
Get hired faster with our free cover letter template designed to land you the perfect position.
Related Others Cover Letters
Youth Minister Cover Letter Example
Want to use this letter?
City, State, Zip Code
Home : 000-000-0000 Cell: 000-000-0000
Dear Deacon Stephenson,
As a youth advocate I was excited to hear our church was looking for a Youth Minister. Working counseling and encouraging young people has always been an important part of my life and I believe this is a great opportunity to continue my work. In that regard I am submitting my resume. It highlights my extensive work with young people and why I am the perfect candidate for Youth Minister.
Currently I am a counselor at New Parkland Christian Junior High. For three years I have been heavily involved in developing strong relationships with parents teachers and students using effective and innovative techniques to ensure our children are always on a path that is both spiritually and educationally sound. Whether through counseling one-on-one or group situations parent conferencing or meetings with educators and administrative staff I strive to develop programs and initiatives to make every community member aware of how important we are to the development of our children.
As my resume shows I have amassed a range of youth minister experiences. Coupled with my desire to be a positive influence I know I can do wonderful things as your Youth Minister. Please call me to set up an interview to discuss the possibilities in greater detail.
Miguel Rodriquez
There are plenty of opportunities to land a position, but it won't just be handed to you. Crafting a cover letter that catches the attention of hiring managers is paramount to getting the job, and LiveCareer is here to help you stand out from the competition.
View All Cover Letter Examples
Ready to build a strong cover letter?
Create My Cover Letter
*As seen in :

Call Me Now!
drop me a line
Cover Letter – Youth Pastor
In order to have a successful job interview, writing a cover letter is indispensable. Our customized sample cover letter for the post of Youth Pastor makes things easier than ever before. Using our cover letter template, you can pen down an informative cover letter within minutes.
A Youth pastor works in a church, directs his entire effort towards mentoring and guiding young churchgoers for the growth of Christianity, and undertake community service. A youth pastor encourages youngsters and teenagers to worship with full devotion and serve the community with full faith and dedication. He represents the church as an ambassador and undertakes necessary welfare activities for the development of young worshippers and elders alike.
This role requires the candidate to perform the following duties and responsibilities
To carry forward the church's bold initiatives in developing a bright future for young worshippers. To educate youngsters and teenagers about Christianity and encourage them to worship. To undertake various welfare activities initiated by the church. To spread the message of Christianity and follow Christ's teachings to people of all age groups. To do voluntary service for various Christian NGOs and help the community in achieving its goals. To represent the church at all forums dealing with child development and women empowerment.
Successful cover letters for youth pastor often mention the following skills and qualifications.
I have few years of experience as an assistant youth pastor and I have a recognized bachelor's degree from a reputed college
I have also completed an internship with an NGO run by Christian missionaries
Few years of experience in a similar position
Good Coordination and Communication skills
Good organizing skills
Ability to achieve goals within a given period
Should have a good rapport with all the stakeholders
Dear Sir/Madam,
With reference to your job vacancy for the post of Youth Pastor, I express my desire to apply for the above post in your revered church. I reckon that your job requirements are relevant to my skills and qualification and I think I am suitable to apply for this position.  My skills and my duty-bound nature give me immense confidence to perform beyond my capacity and embolden me to contribute towards the church's growth without any second thoughts.
Your Church has carved a niche for itself by recruiting Youth Pastors who contribute towards the overall growth of young and teenage worshippers by educating them about Christianity and do community service. It is a known fact that your Church has adopted a multi-pronged strategy and proactive methods to fine-tune youngsters and teenagers and guide them towards community service.  Your Church's extraordinary initiatives have inspired me to take up this role.
My current role as Assistant Youth Pastor has given me significant skills and experience with my existing employer and I envisage that my skills and experience would be useful in your Church as well. I have spent months in educating teenage worshippers and encouraged them to take up community service as a full-time work. Since I have a Bachelors's degree in Religious Studies and an internship from a reputed Christian NGO, I think it would reinforce my stature as a pastor and would enable me to lead from the front.
Duties in my current role involve the following:
Encourage teenagers and first-time worshippers to visit the church regularly
Motivate them to take up community service
Educate them about Christianity and its importance
Teach and spread the message of Jesus Christ
Appoint teenagers as future pastors
My current role is full of practical approach and it will enable me to apply the same techniques in your church as well. I have the wherewithal to convince youngsters and teenagers to contribute towards the Church's activities and my current role has prepared me to do my best. I believe that a new role in your church will further upgrade my self-confidence and help me to prove my mettle.
To discuss the above role I would prefer to meet you in person and deliberate further on this role.
I express my heartfelt gratitude and a strong desire to apply for the above role
Ramkumar Iyer
No 29, Sunrise Park Tenements, Opp Drive in Cinema, Vastrapur Road, Bodakdev, Ahmedabad – 380054
+917016443416
+919428124136
www.mywritingservices.in
Site Design & Developed by : Web Designer
Youth Pastor Cover Letter Examples
A great youth pastor cover letter can help you stand out from the competition when applying for a job. Be sure to tailor your letter to the specific requirements listed in the job description, and highlight your most relevant or exceptional qualifications. The following youth pastor cover letter example can give you some ideas on how to write your own letter.
Cover Letter Example (Text)
Francisco Herigon
(788) 470-3013
August 6, 2022
Dear Hiring Manager,
I am writing to apply for the position of Youth Pastor at Teen Challenge. I am a highly motivated and experienced youth minister with a passion for working with teenagers. I have a proven track record of success in developing and leading successful youth ministries. I am confident that I can provide the leadership and direction needed to continue the great work that Teen Challenge is doing in the lives of teenagers.
I have been working as a Youth Pastor at Young Life for the past two years. I have helped many young people find their faith and grow in their relationship with God. I am very passionate about my work and enjoy seeing the positive impact that it has on the lives of those who come to me for guidance.
I have been working as a Youth Pastor for over __ years and I absolutely love it. The best part of my job is being able to see the kids grow up in their faith and watching them become strong young adults. I feel so blessed to be able to work with such amazing teenagers on a daily basis.
Thank you for considering me for the position of Youth Pastor at Teen Challenge. I am excited about the opportunity to work with teenagers and help them find hope and healing in Christ. I believe that my experience working with youth, as well as my passion for ministry, make me a great fit for this position. I am eager to get started and begin making a difference in the lives of teens at Teen Challenge. Thank you again for your consideration; I look forward to hearing from you soon.
Related Cover Letter Examples

Youth Minister Cover Letter Examples & Guide
Create a standout youth minister cover letter with our online platform. browse professional templates for all levels and specialties. land your dream role today.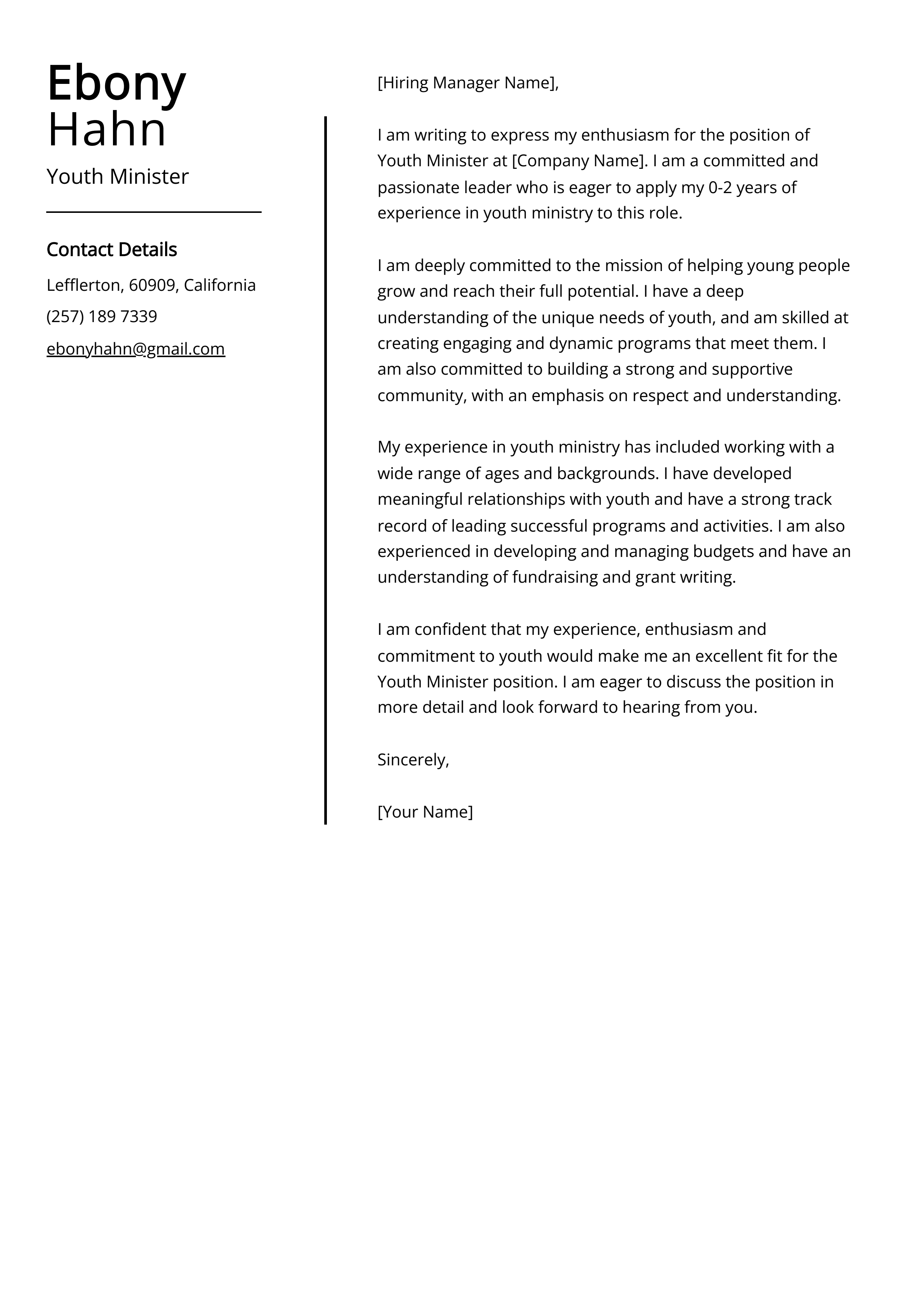 Are you looking for a job as a youth minister? Writing a cover letter is an important step in your job search. Our Youth Minister Cover Letter Guide will provide you with the tips and tricks you need to make sure your cover letter stands out and helps you land the job.
We will cover:
How to write a cover letter, no matter your industry or job title.
What to put on a cover letter to stand out.
The top skills employers from every industry want to see.
How to build a cover letter fast with our professional Cover Letter Builder .
What a cover letter template is, and why you should use it.
Related Cover Letter Examples
Curriculum Director Cover Letter Sample
Biology Teacher Cover Letter Sample
Experienced Substitute Teacher Cover Letter Sample
Science Instructor Cover Letter Sample
Fitness Trainer Cover Letter Sample
Clinical Educator Cover Letter Sample
Assistant Coach Cover Letter Sample
Computer Science Teacher Cover Letter Sample
Basketball Coach Cover Letter Sample
Experienced Massage Therapist Cover Letter Sample
Athletic Director Cover Letter Sample
Lecturer Cover Letter Sample
Instructor Cover Letter Sample
Director Of Education Cover Letter Sample
Academic Advisor Cover Letter Sample
Computer Teacher Cover Letter Sample
Corporate Trainer Cover Letter Sample
Counselor Cover Letter Sample
Secondary Teacher Cover Letter Sample
Education Consultant Cover Letter Sample
Youth Minister Cover Letter Sample
Dear Pastor O'Connor,
I am writing to apply for the position of Youth Minister at your church. I am a passionate believer in the power of faith and I believe I have the energy and dedication necessary to lead the youth of your church to a greater understanding of God's word.
I am a recent graduate of Bible College and have three years of experience as a youth pastor. I have a strong sense of responsibility when it comes to guiding the younger generations in their spiritual growth, and I strive to create an environment where youth can feel comfortable in their faith. I am passionate about working with children and youth of all ages, and I am confident that I can create innovative and engaging activities that will draw young people to the church.
I understand that as a youth minister, I am not only responsible for leading the youth in their faith, but also for providing guidance for their moral and ethical development. I have a strong understanding of the issues facing today's youth, and I am prepared to help them navigate the challenges they face. I am a strong believer in open communication and I am confident that I can provide an environment where young people feel comfortable expressing their thoughts and opinions.
In addition, I am an experienced teacher and am prepared to lead Bible studies and other learning activities. I am highly organized and have experience in organizing large-scale events and activities. I am also familiar with developing marketing materials and utilizing social media to reach out to potential members.
I believe that I have the skills and qualifications necessary to be an effective youth minister, and I am confident that I can help your church to reach its goals. I look forward to hearing from you and discussing my qualifications in more detail.
Sincerely, [Your Name]
Why Do you Need a Youth Minister Cover Letter?
A Youth Minister cover letter is an important tool for introducing yourself to potential employers and making your qualifications stand out from other applicants.
It gives you an opportunity to explain why you are a good fit for the position and how your unique skills and experience make you a valuable asset.
It also allows you to demonstrate your enthusiasm for the job and your commitment to helping the church and its mission.
Having a Youth Minister cover letter also gives you a chance to showcase your communication and interpersonal skills, which can be vital to success in the role.
It is a great way to demonstrate to potential employers that you are a well-rounded individual who is passionate about the work of the church and its mission.
A Few Important Rules To Keep In Mind
Address your letter to the specific person or organization you are applying to.
Include the date you are submitting your cover letter.
Use a professional greeting and salutation.
In the opening paragraph, explain why you are writing and why you are a good fit for the job.
In the middle paragraphs, explain more about your qualifications and experience.
In the closing paragraph, thank the reader for their time and provide contact information.
End with a professional closing salutation.
Proofread your cover letter for grammar, spelling, and clarity.
What's The Best Structure For Youth Minister Cover Letters?
After creating an impressive Youth Minister resume , the next step is crafting a compelling cover letter to accompany your job applications. It's essential to remember that your cover letter should maintain a formal tone and follow a recommended structure. But what exactly does this structure entail, and what key elements should be included in a Youth Minister cover letter? Let's explore the guidelines and components that will make your cover letter stand out.
Key Components For Youth Minister Cover Letters:
Your contact information, including the date of writing
The recipient's details, such as the company's name and the name of the addressee
A professional greeting or salutation, like "Dear Mr. Levi,"
An attention-grabbing opening statement to captivate the reader's interest
A concise paragraph explaining why you are an excellent fit for the role
Another paragraph highlighting why the position aligns with your career goals and aspirations
A closing statement that reinforces your enthusiasm and suitability for the role
A complimentary closing, such as "Regards" or "Sincerely," followed by your name
An optional postscript (P.S.) to add a brief, impactful note or mention any additional relevant information.
Cover Letter Header
A header in a cover letter should typically include the following information:
Your Full Name: Begin with your first and last name, written in a clear and legible format.
Contact Information: Include your phone number, email address, and optionally, your mailing address. Providing multiple methods of contact ensures that the hiring manager can reach you easily.
Date: Add the date on which you are writing the cover letter. This helps establish the timeline of your application.
It's important to place the header at the top of the cover letter, aligning it to the left or center of the page. This ensures that the reader can quickly identify your contact details and know when the cover letter was written.
Cover Letter Greeting / Salutation
A greeting in a cover letter should contain the following elements:
Personalized Salutation: Address the hiring manager or the specific recipient of the cover letter by their name. If the name is not mentioned in the job posting or you are unsure about the recipient's name, it's acceptable to use a general salutation such as "Dear Hiring Manager" or "Dear [Company Name] Recruiting Team."
Professional Tone: Maintain a formal and respectful tone throughout the greeting. Avoid using overly casual language or informal expressions.
Correct Spelling and Title: Double-check the spelling of the recipient's name and ensure that you use the appropriate title (e.g., Mr., Ms., Dr., or Professor) if applicable. This shows attention to detail and professionalism.
For example, a suitable greeting could be "Dear Ms. Johnson," or "Dear Hiring Manager," depending on the information available. It's important to tailor the greeting to the specific recipient to create a personalized and professional tone for your cover letter.
Cover Letter Introduction
An introduction for a cover letter should capture the reader's attention and provide a brief overview of your background and interest in the position. Here's how an effective introduction should look:
Opening Statement: Start with a strong opening sentence that immediately grabs the reader's attention. Consider mentioning your enthusiasm for the job opportunity or any specific aspect of the company or organization that sparked your interest.
Brief Introduction: Provide a concise introduction of yourself and mention the specific position you are applying for. Include any relevant background information, such as your current role, educational background, or notable achievements that are directly related to the position.
Connection to the Company: Demonstrate your knowledge of the company or organization and establish a connection between your skills and experiences with their mission, values, or industry. Showcasing your understanding and alignment with their goals helps to emphasize your fit for the role.
Engaging Hook: Consider including a compelling sentence or two that highlights your unique selling points or key qualifications that make you stand out from other candidates. This can be a specific accomplishment, a relevant skill, or an experience that demonstrates your value as a potential employee.
Transition to the Body: Conclude the introduction by smoothly transitioning to the main body of the cover letter, where you will provide more detailed information about your qualifications, experiences, and how they align with the requirements of the position.
By following these guidelines, your cover letter introduction will make a strong first impression and set the stage for the rest of your application.
Cover Letter Body
As an experienced Youth Minister, I am confident I can make a positive impact in your congregation. I have a deep passion for working with young people and helping them grow and find their faith. I believe that with the right guidance and support, youth can reach their full potential and become successful members of the church and community.
My experience in youth ministry includes leading weekly Bible studies and youth group sessions, overseeing summer camps and retreats, organizing service projects, teaching classes, and coordinating special events. I also have experience in mentoring, counseling, and providing guidance to young people. I strive to foster an environment of acceptance and understanding while demonstrating a strong commitment to my faith.
I am a compassionate listener and know how to effectively communicate with youth and their families. I am able to build strong relationships and create a safe space for youth to explore their faith and express themselves freely. I am confident I can create meaningful programs for your youth and help them become more engaged in the church.
In addition to my experience, I have a Bachelor's Degree in Theology and Religious Education. I am also proficient in the use of computer programs and technology to support youth ministry.
I am eager to share my knowledge and experience with your congregation. I am confident I can make a positive impact in the lives of your youth and help them grow in their faith. Please feel free to contact me with any questions or to schedule an interview. Thank you for your time and consideration.
Complimentary Close
The conclusion and signature of a cover letter provide a final opportunity to leave a positive impression and invite further action. Here's how the conclusion and signature of a cover letter should look:
Summary of Interest: In the conclusion paragraph, summarize your interest in the position and reiterate your enthusiasm for the opportunity to contribute to the organization or school. Emphasize the value you can bring to the role and briefly mention your key qualifications or unique selling points.
Appreciation and Gratitude: Express appreciation for the reader's time and consideration in reviewing your application. Thank them for the opportunity to be considered for the position and acknowledge any additional materials or documents you have included, such as references or a portfolio.
Call to Action: Conclude the cover letter with a clear call to action. Indicate your availability for an interview or express your interest in discussing the opportunity further. Encourage the reader to contact you to schedule a meeting or provide any additional information they may require.
Complimentary Closing: Choose a professional and appropriate complimentary closing to end your cover letter, such as "Sincerely," "Best Regards," or "Thank you." Ensure the closing reflects the overall tone and formality of the letter.
Signature: Below the complimentary closing, leave space for your handwritten signature. Sign your name in ink using a legible and professional style. If you are submitting a digital or typed cover letter, you can simply type your full name.
Typed Name: Beneath your signature, type your full name in a clear and readable font. This allows for easy identification and ensures clarity in case the handwritten signature is not clear.
Common Mistakes to Avoid When Writing a Youth Minister Cover Letter
When crafting a cover letter, it's essential to present yourself in the best possible light to potential employers. However, there are common mistakes that can hinder your chances of making a strong impression. By being aware of these pitfalls and avoiding them, you can ensure that your cover letter effectively highlights your qualifications and stands out from the competition. In this article, we will explore some of the most common mistakes to avoid when writing a cover letter, providing you with valuable insights and practical tips to help you create a compelling and impactful introduction that captures the attention of hiring managers. Whether you're a seasoned professional or just starting your career journey, understanding these mistakes will greatly enhance your chances of success in the job application process. So, let's dive in and discover how to steer clear of these common missteps and create a standout cover letter that gets you noticed by potential employers.
Not customizing the cover letter for each job application.
Not mentioning any specific accomplishments or experiences that relate to the job.
Not addressing the cover letter to the proper person or department.
Not highlighting any unique skills or knowledge you possess.
Writing a cover letter that is too long or overly-detailed.
Not proofreading and correcting mistakes in the cover letter.
Not including contact information in the cover letter.
Not including a call to action.
Not using keywords that are relevant to the job.
Not expressing enthusiasm for the job.
Key Takeaways For a Youth Minister Cover Letter
Highlight your experience and skills related to youth ministry.
Emphasize your enthusiasm for working with young people.
Showcase your ability to build relationships with youth.
Express your commitment to helping young people grow in their faith.
Mention any relevant educational qualifications or certifications.
Describe how you have used technology and social media to reach young people.
Showcase your understanding of the unique challenges facing youth.
Demonstrate your ability to work with parents and other stakeholders.
Detail how you have created a safe and welcoming environment for youth.
Resume Samples
Resume Examples
Resume Templates
Cover Letters
Writing Objectives
Interview Tips
Career Options
Contact Us : Privacy Policy
Youth Pastor Cover Letter Example: 4 Templates
Youth minister cover letter is a popular method of proving yourself as a competitive candidate and so securing the position you have applied for. A cover letter not only introduces you, but also makes a good impression on the reader about your profile.
Template : 1
Table of Contents
Youth Pastor Cover Letter
James Brown
238 broadway
United States
The HR Manager
XYZ Company
354 F 63 rd Street
Subject- youth pastor cover letter
I am overwhelmed by the opportunity to apply for the job of youth minister at your church. Your job posting on (Mention the email id)made me aware of this employment opening.
Please see my resume attached to this page.I have a specific spiritual interest in serving, guiding, and managing the church's adolescents and teenagers.
I earned my bachelor's degree in (Mention the subject ) from (Mention the university name)in order to follow my dream of becoming a youth minister. I have volunteered as a young volunteer in several city churches.
I have prior experience leading worship, preaching, and counseling sessions for youth. Furthermore, I have helped youth pastors shape the religious growth of the youth by providing suitable advice and spiritually oriented solutions to their difficulties.
As my resume demonstrates, I have a diverse range of youth minister experiences. With my desire to be a positive influence, I am confident that I can do great things as your youth minister.
Please contact me to set up an interview to discuss the possibilities further.I feel that my qualifications and talents meet all of the requirements for this position.
I am excited to meet you at the interview so we can discuss my candidature further. Thank you for taking the time to read and consider my message.Thank you very much,
[Handwriting signature]
[Mention the contact details]
[Mention here, if there is any post note to be given]
Download Template : ( pdf, docs, ODT, RTF, txt, HTML, Epub, Etc )
Template : 2
I am overjoyed at the opportunity to apply for your (job position)post at (name the church). I value opportunities to offer compelling teachings, foster small group growth, and cultivate relationships among members as a dynamic leader with a deep desire to see others grow spiritually.
I am excited about the opportunity to use my ministry abilities to further (Mention the Church name)'s mission and vision.Our average weekly attendance at Innovation Church has increased from(numbers)to (numbers)during my current term.
By adopting needs-based community outreach activities, delivering fresh weekend messages, and developing a series of introductory seminars for potential new members, I was able to lead this (percentage)% rise.
Within the first year of the membership courses, (percentage)% of participants chose to join Innovation Church. Furthermore, (percentage)% of them chose to publicly express their beliefs for the first time through baptism.
I respect servant leadership and believe that effective team leadership begins with meeting the needs of others. I oversaw five full-time staff members as well as various volunteer organizations at (Mention the church name).
As an organized and efficient administrator, I keep track of schedules and rotations to ensure that everyone on the team has plenty of opportunity for both service and rest.
Over the last (numbers)years, my careful approach to time management has resulted in a (percentage)% rise in volunteer satisfaction and an (Mention the percentage)% increase in staff retention.
I am looking forward to learning more about your organization and exploring how we might work together to serve God's kingdom.
Similar Posts:
Church Pastor Appointment Letter: 4 Templates
Minister Meeting Appointment Letter: 4 Templates
Pastor Cover Letter Examples: 6 Templates
Appeal Letter for Church Financial Support: 4 Templates
Church Resignation Letter Example: 4 Templates
Youth Minister Cover Letter Example: 4 Templates
Associate Pastor Cover Letter Examples: 4 Templates
Pastor Recommendation letter: 4 Fee templates
How To Write a Cover Letter With No Experience: 82 Templates
How to Write Sponsorship Letter: 47 Templates
"Business, marketing, and blogging – these three words describe me the best. I am the founder of Burban Branding and Media, and a self-taught marketer with 10 years of experience. My passion lies in helping startups enhance their business through marketing, HR, leadership, and finance. I am on a mission to assist businesses in achieving their goals."
Leave a Comment