Master the Five-Paragraph Essay
The five-paragraph essay is one of the most common composition assignments out there, whether for high school or college students. It is a classic assignment because it presents an arena in which writers can demonstrate their command of language and punctuation, as well as their logic and rhetorical skills. These skills are useful not only for classroom assignments and college application essays, but even in the business world, as employees have to write memorandums and reports, which draw on the same skills.
Mastering the five-paragraph essay is doable, and here are some tips.
Components of a Good Essay
The five-paragraph essay lives up to its name, because is has five paragraphs, as follows: an introductory paragraph that includes a thesis, three body paragraphs, each which includes support and development, and one concluding paragraph.
Its structure sometimes generates other names for the same essay, including three-tier essay, one-three-one, or a hamburger essay. Whether you are writing a cause-and-effect essay, a persuasive essay, an argumentative essay or a compare-and-contrast essay, you should use this same structure and the following specifics.
Keys to Introductory Paragraphs
Any introductory paragraph contains from three to five sentences and sets up the tone and structure for the whole essay. The first sentence should be a so-called hook sentence and grabs the reader. Examples of hook sentences include a quote, a joke, a rhetorical question or a shocking fact. This is the sentence that will keep your readers reading. Draw them in.
What Makes a Thesis Statement
The last sentence should be your thesis statement, which is the argument you are going to make in the essay. It is the sentence that contains the main point of the essay, or what you are trying to prove. It should be your strongest claim in the whole essay, telling the reader what the paper is about. You should be able to look back at it to keep your argument focused. The other sentences in this paragraph should be general information that links the first sentence and the thesis.
Content of Supporting Paragraphs
Each of the next three paragraphs follows the same general structure of the introductory paragraph. That is, they have one introduction sentence, evidence and arguments in three to five sentences, and a conclusion. Each one of them should define and defend your thesis sentence in the introduction.
The first body paragraph should be dedicated to proving your most powerful point. The second body paragraph can contain your weakest point, because the third body paragraph can, and should, support another strong argument.
Concluding Paragraph Tips
Your concluding paragraph is important, and can be difficult. Ideally, you can begin by restating your thesis. Then you can recall or restate all three to five of your supporting arguments. You should summarize each main point. If you have made similar arguments multiple times, join those together in one sentence.
Essentially, in the concluding or fifth paragraph, you should restate what your preceding paragraphs were about and draw a conclusion. It should answer the question: So what? Even if the answer seems obvious to you, write it down so that your reader can continue to easily follow your thinking process, and hopefully, agree with you.
A Note on Compare and Contrast
Let's look a little more closely at the compare-and-contrast essay, which is a very common assignment. It can be a confusing one due to the terms used. Comparing two items is to show how they are alike. Contrasting two items is to show how they are different. One way to approach this essay is to make a grid for yourself that compares or contrasts two items before you start writing. Then, write about those characteristics. Do not try to write about both. The name of the essay is actually misleading.
Keep these pointers in mind when you need to write a five-paragraph essay, and your end result will be clear in its argument, leading your reader to the right conclusion. Often, that conclusion is to agree with you, and who doesn't like to be right?
Privacy Policy
Terms of Service
© 2023 Ask Media Group, LLC
10 Great Essay Writing Tips
Knowing how to write a college essay is a useful skill for anyone who plans to go to college. Most colleges and universities ask you to submit a writing sample with your application. As a student, you'll also write essays in your courses. Impress your professors with your knowledge and skill by using these great essay writing tips.
Most college essays ask you to answer a question or synthesize information you learned in class. Review notes you have from lectures, read the recommended texts and make sure you understand the topic. You should refer to these sources in your essay.
Plan Your Essay
Many students see planning as a waste of time, but it actually saves you time. Take a few minutes to think about the topic and what you want to say about it. You can write an outline, draw a chart or use a graphic organizer to arrange your ideas. This gives you a chance to spot problems in your ideas before you spend time writing out the paragraphs.
Choose a Writing Method That Feels Comfortable
You might have to type your essay before turning it in, but that doesn't mean you have to write it that way. Some people find it easy to write out their ideas by hand. Others prefer typing in a word processor where they can erase and rewrite as needed. Find the one that works best for you and stick with it.
View It as a Conversation
Writing is a form of communication, so think of your essay as a conversation between you and the reader. Think about your response to the source material and the topic. Decide what you want to tell the reader about the topic. Then, stay focused on your response as you write.
Provide the Context in the Introduction
If you look at an example of an essay introduction, you'll see that the best essays give the reader a context. Think of how you introduce two people to each other. You share the details you think they will find most interesting. Do this in your essay by stating what it's about and then telling readers what the issue is.
Explain What Needs to be Explained
Sometimes you have to explain concepts or define words to help the reader understand your viewpoint. You also have to explain the reasoning behind your ideas. For example, it's not enough to write that your greatest achievement is running an ultra marathon. You might need to define ultra marathon and explain why finishing the race is such an accomplishment.
Answer All the Questions
After you finish writing the first draft of your essay, make sure you've answered all the questions you were supposed to answer. For example, essays in compare and contrast format should show the similarities and differences between ideas, objects or events. If you're writing about a significant achievement, describe what you did and how it affected you.
Stay Focused as You Write
Writing requires concentration. Find a place where you have few distractions and give yourself time to write without interruptions. Don't wait until the night before the essay is due to start working on it.
Read the Essay Aloud to Proofread
When you finish writing your essay, read it aloud. You can do this by yourself or ask someone to listen to you read it. You'll notice places where the ideas don't make sense, and your listener can give you feedback about your ideas.
Avoid Filling the Page with Words
A great essay does more than follow an essay layout. It has something to say. Sometimes students panic and write everything they know about a topic or summarize everything in the source material. Your job as a writer is to show why this information is important.
Privacy Policy
Terms of Service
© 2023 Ask Media Group, LLC
How to Outline a College Essay
When writing a college essay , some students take whatever is in their head at the moment, pour it all out on the page, and turn it in.
I'm sure you can sympathize with this method. You might even think that skipping the outline step and going straight into the essay will save time and help you finish this assignment ASAP so you can move on with your life.
Unfortunately, there's a problem with this logic. If you skip straight to the essay and forego the planning, it's likely you'll need more time to write, edit, and make sure that your essay includes everything you need.
The best college essays require an outline to help organize your thoughts before you begin to write.
Your outline will help you develop a more organized essay that makes sense and is logical to your reader. It can also help you better develop your ideas and actually save you time in the long run.
What are the steps for creating an outline?
Good news: it's not very difficult to put together an outline for an essay . Here are the basic steps you should follow:
1. Brainstorm and Select a Topic
Start by listing all of the topics you're considering. Don't judge the topics you're writing; just get as many of your thoughts on paper as possible. Set a timer for five minutes and list every topic that pops into your head.
Once you've created a list, look for topics that seem like the best fit for you and the assignment you've been given. Maybe a few topics could even be combined to create one larger, more developed topic.
2. Brainstorm some Supporting Details
Once you've chosen your topic, it's time to see if you have enough details to support this topic. A good, old-fashioned web of ideas can help you see how your thoughts are connected to your main idea.
Write your topic in the middle of a page and circle it. Draw lines and circles out to ideas that support this main topic. Again, don't judge your thoughts; just let them flow. You can narrow them down later. For now, you want to see if this subject is meaty enough to stick with and if you can relate several ideas to the main topic.
3. Label your Ideas. Where would they go in an outline template?
A basic outline format includes an introduction, a body of supporting ideas, and a conclusion. You will eventually take your brainstorm of thoughts and organize this chaos into a neat, orderly outline. This will help you place your ideas in a logical order and help eliminate some ideas that aren't as strong or that don't quite belong in your essay.
Take a look at your thoughts on your web of ideas paper and label them "I" if you think they help introduce your idea, "S" if they are great supporting facts for your main idea, and "C" if you think they help conclude your thoughts. If an idea doesn't seem to fit anywhere, you can put an "X" on it and consider saving it for a later essay.
4. Use an Outline Example to Plot your Essay
If the above steps intimidate you, you can always take a few minutes to look at outline examples to give you a better idea of what you're aiming for.
You can even try plugging your thoughts into an outline template . Here's a basic one to get you started:
Introduction (usually one paragraph) a) Hook—get your reader's attention b) Preview the main idea c) State your thesis
Body of supporting ideas (Usually three paragraphs —one for each main supporting idea) a) Supporting detail #1 (with examples, stories, other details) b) Supporting detail #2 (with examples, stories, other details) c) Supporting detail #3 (with examples, stories, other details)
Conclusion (usually one paragraph) a) Restate and reflect on your main idea/thesis b) Tie your ideas together c) Wrap it up in a coherent fashion
5. Start Writing!
Once you've plotted out your thoughts, beginning the writing process will be much smoother and easier for you. Your order is ready, your thoughts are organized, and your details are developed. Most of your essay is already written for you now.
The art of writing a college essay can be overwhelming at first. However, using an outline can help organize your essay in a way that makes it much easier to write and much nicer to read. Taking the time to brainstorm, plot out your thoughts, and place them logically into an outline will pay off in the future as it will save you time and help you create a well-crafted essay.
How to Write Essay Titles and Headers
Don't overlook the title and section headers when putting together your next writing assignment. Follow these pointers for keeping your writing organized and effective.
101 Standout Argumentative Essay Topic Ideas
Need a topic for your upcoming argumentative essay? We've got 100 helpful prompts to help you get kickstarted on your next writing assignment.
Writing a Standout College Admissions Essay
Your personal statement is arguably the most important part of your college application. Follow these guidelines for an exceptional admissions essay.
Have a language expert improve your writing
Check your paper for plagiarism in 10 minutes, generate your apa citations for free.
Knowledge Base
College essay
College Essay Format & Structure | Example Outlines
College Essay Format & Structure | Example Outlines
Published on September 24, 2021 by Meredith Testa . Revised on May 31, 2023.
There are no set rules for how to structure a college application essay, but you should carefully plan and outline to make sure your essay flows smoothly and logically.
Typical structural choices include
a series of vignettes with a common theme
a single story that demonstrates your positive qualities
Table of contents
Formatting your essay, outlining the essay, structures that work: two example outlines, other interesting articles, frequently asked questions about college application essays.
You should keep the formatting as simple as possible. Admissions officers need to work very quickly, so fancy formatting, unnecessary flourishes, and unique fonts will come off as more distracting than individual. Keep in mind that, if you're pasting your essay into a text box, formatting like italics may not transfer.
Your essay will be easier for admissions officers to read if it is 1.5- or double-spaced. If you choose to attach a file, ensure that it is a PDF.
You don't need a title for your essay, but you can include one, especially if you think it will add something important.
Most importantly, ensure that you stick to the word count. Most successful essays are 500–600 words. Because you're limited in length, make sure that you write concisely . Say everything that you need to express to get your point across, but don't use more words than necessary, and don't repeat yourself.
Prevent plagiarism. Run a free check.
Once you've finished brainstorming topics but before you start writing, think about your writing's trajectory: how you'll start the essay , develop it, and end it .
Do you want to organize it chronologically? Would you prefer to make a "sandwich" structure by introducing a topic or idea, moving away from it, and then coming back to it at the end? There's a variety of options (and a pair of strong examples below), but make sure you consider how you'd like to structure the essay before you start writing.
Although you should organize your thoughts in an outline, you don't have to stick to it strictly. Once you begin writing, you may find that the structure you'd originally chosen doesn't quite work. In that case, it's fine to try something else. Multiple drafts of the same essay are key to a good final product.
Whatever structure you choose, it should be clear and easy to follow, and it should be feasible to keep it within the  word count . Never write in a way that could confuse the reader. Remember, your audience will not be reading your essay closely!
Vignettes with a common theme
The vignette structure discusses several experiences that may seem unrelated, but the author weaves them together and unites them with a common theme.
For example, a student could write an essay exploring various instances of their ability to make the best of bad situations. A rough outline for that essay might look like this:
In a rehearsal for a school play when a lighting fixture malfunctioned and the set caught fire, I helped extinguish it.
To help the situation, I improvised fixes for the set and talked with the director about adding lines referencing the "disaster."
I didn't get into my first-choice high school, but I became class president at the school where I ended up.
When I had ACL surgery, I used the downtime to work on my upper body strength and challenged my friends to pull-up contests.
How these qualities will serve me in college and in my career
Single story that demonstrates traits
The narrative structure focuses on a single overarching story that shows many aspects of a student's character.
Some such essays focus on a relatively short event that the author details moment by moment, while others discuss the story of a longer journey, one that may cover months or years.
For example, a student might discuss trying out for a sports team as a middle schooler, high school freshman, and high school senior, using each of those instances to describe an aspect of their personality. A rough outline for that essay might look like this:
Confident, there to have fun
Very passionate and in love with the sport
Little sister was born that day, so I had to go alone with a friend's parents
Learned to be independent and less self-centered
Realized that as much as I love gymnastics, there are more important things
Gave up first homecoming of high school, had to quit other activities, lost countless hours with friends
I had to repeat level 9 and didn't progress quickly
I had a terrible beam routine at one competition the previous year and still had a mental block
I got stuck on some skills, and it took over a year to learn them
Passion from age 7, perspective from age 11, diligence from age 15
If you want to know more about academic writing , effective communication , or parts of speech , make sure to check out some of our other articles with explanations and examples.
Academic writing
Writing process
Transition words
Passive voice
Paraphrasing
 Communication
How to end an email
Ms, mrs, miss
How to start an email
I hope this email finds you well
Hope you are doing well
 Parts of speech
Personal pronouns
Conjunctions
There are no set rules for how to structure a college application essay , but these are two common structures that work:
A montage structure, a series of vignettes with a common theme.
A narrative structure, a single story that shows your personal growth or how you overcame a challenge.
Avoid the five-paragraph essay structure that you learned in high school.
Your college essay's format should be as simple as possible:
Use a standard, readable font
Use 1.5 or double spacing
If attaching a file, save it as a PDF
Stick to the word count
Avoid unusual formatting and unnecessary decorative touches
You don't need a title for your college admissions essay , but you can include one if you think it adds something important.
Cite this Scribbr article
If you want to cite this source, you can copy and paste the citation or click the "Cite this Scribbr article" button to automatically add the citation to our free Citation Generator.
Testa, M. (2023, May 31). College Essay Format & Structure | Example Outlines. Scribbr. Retrieved November 21, 2023, from https://www.scribbr.com/college-essay/format-outline-structure/
Is this article helpful?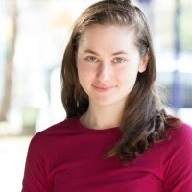 Meredith Testa
Other students also liked, how to revise your college admissions essay | examples, what do colleges look for in an essay | examples & tips, how to research and write a "why this college" essay.
You are using an outdated browser. Please upgrade your browser to improve your experience.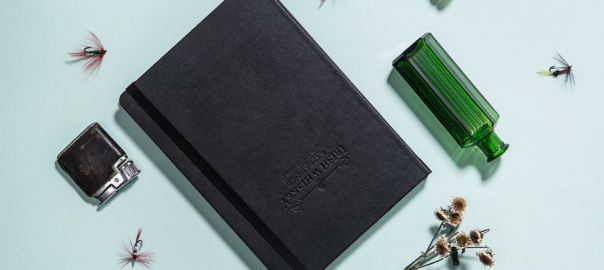 How to Write a Perfect Essay Outline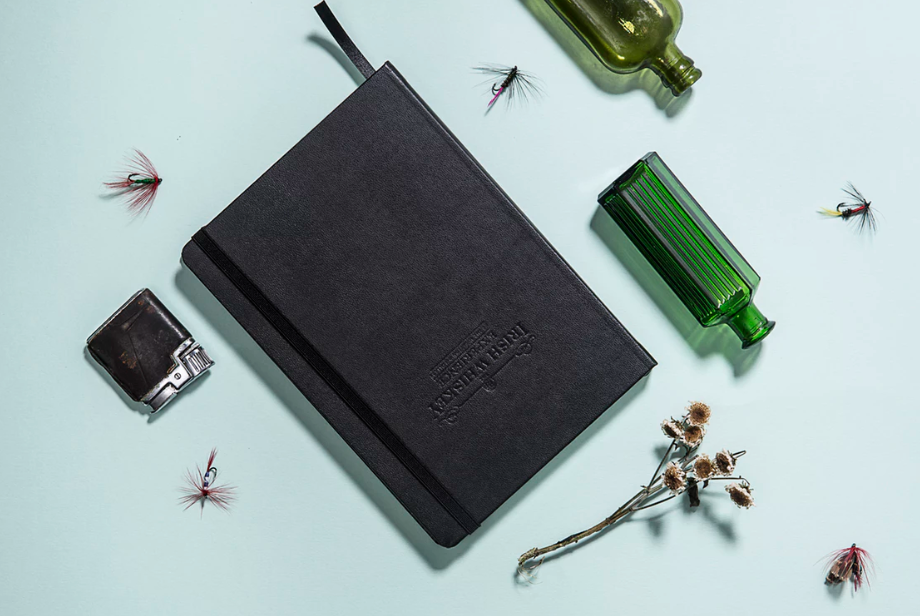 You can't write an essay without outlining. Fine, you can do that if a low grade is okay for you to get. But those willing to craft a paper that's worth A+ will need to create an essay outline and organize their research in one place before writing. So in this article we will look at outline examples and top tips to improve your essay.
This guide is here to help you:
understand what is a paper outline,
learn how to write an essay outline,
get outline examples and templates to use when crafting yours.
So, let's a research essay outline journey begin!
Table of Contents:
What is an essay outline?
Key parts of an essay
Outline format
Persuasive essay outline example
Narrative essay outline example
Expository essay outline example
Research essay outline example
What to do before outlining
Choose an essay outline structure
Organize your outline
It's a wrap!
What is an Essay Outline?
As you've already guessed it, an essay outline is a short plan of your research paper. Here you write down the main idea of your essay and structurize all arguments into paragraphs to make sure you won't miss anything while writing.
Sure enough, you can write an essay without outlining it. But it will be challenging to do. Outlining is an essential part of the writing process, and all authors do it for their works to impress readers.
Here's why you need an essay outline :
It will help you organize thoughts: when you research the data for your essay, you get tons of information that's hard to remember.
You'll understand the information flow and will be able to structurize it accordingly.
It will help you not to miss anything while writing your essay because you'll have a ready manuscript of your paper.
That said, an outline will help you write academic works better and faster. And while our writers are always here to help to write my essay , it can't hurt to learn how to write an outline for an essay by your own, right?
How to Write an Essay Outline
While college essay types are many, the common structure for most of them is five-paragraph. Each essay needs Introduction , Body (paragraphs with arguments), and Conclusion; so, a general format of your essay outline will include all these components.
Outlining your essay, keep write my term paper in mind so you wouldn't miss any arguments, evidence, and examples while writing.
So, let's do this!
Key Parts of an Essay
Put them all into your writing outline:
Introduction. Here you'll mention the topic of your essay and its thesis. As you know, essays can't live without a thesis; so, a thesis statement in your outline will help you support it in each paragraph of your essay body.
Body paragraphs. There will be a minimum three paragraphs in your essay's body, so make sure to include each one in the outline. For each paragraph, write down a topic sentence with an argument relating to your thesis and mention all the support: data, facts, examples, and other evidence you'll use to prove the topic sentence of this paragraph.
Conclusion. Wrap up your essay here. Restate your thesis and summarize the goal of your paper.
In general, your essay template will look like this:
Essay Outline: General
I. Introduction
a) Introduce a topic b) State a thesis
II. Body. Paragraph-1
a) Write a topic sentence (the argument for your thesis) b) Support this argument: data, facts, examples c) Explain how they relate to your thesis
III. Body. Paragraph-2
a) Write a topic sentence (another argument for your thesis) b) Support this argument: data, facts, examples c) Explain how they relate to your thesis
IV. Body. Paragraph-3
a) Write a topic sentence (another argument for your thesis, or a counterargument) b) Support this argument, or explain why the counterargument doesn't work: data, facts, examples c) Explain how they relate to your thesis
V. Conclusion
a) Summarize all main points b) Restate your thesis c) Add a call to action: what you want readers to do after reading your essay

Outline Format
As a rule, students use the linear style when formatting their writing outline. It means they rank arguments in order of their importance – from major to minor ones.
Remember: your research essay outline doesn't have to include the complete sentences. It's only an outline, so feel free to format arguments and evidence the way it seems most comfortable and understandable for you. Just make sure it's visually clear and allows you to see if some sections are repetitive or redundant. It will help to avoid duplications in your essay maker .
Another point to consider:
While you are familiar with a given essay topic, it doesn't mean your readers are. So format your outline accordingly: assume that some people know nothing about it when preparing arguments and arranging them in a logical order.
Essay Outline Template
Templates can help you get a better idea of essay outlining. It's a great way to organize thoughts and determine the order in which you'll represent them to readers. So, make a list of the sections in your paper and fill in the corresponding example, depending on your essay type.
Persuasive Essay Outline Example
To create an outline for such an essay, consider the following example: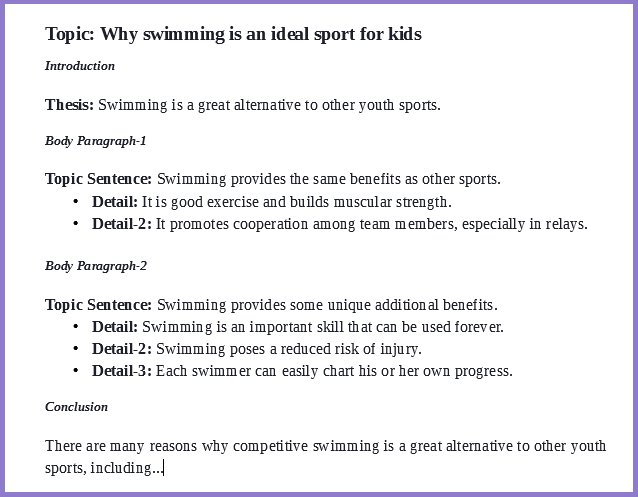 Taken from: TeacherVision.com
Narrative Essay Outline Example
For narrative essays, outlines like this one will work well: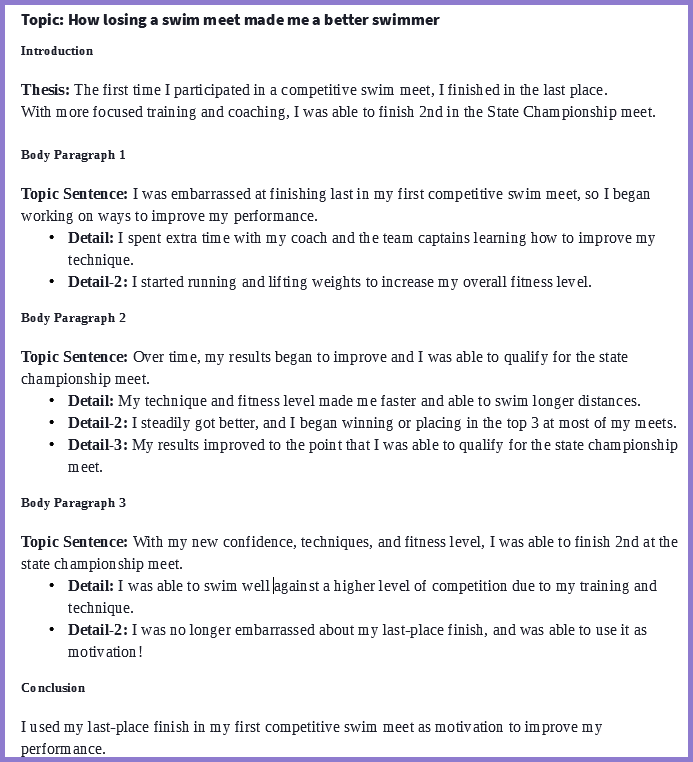 Expository Essay Outline Example
What about this example for your essay outline?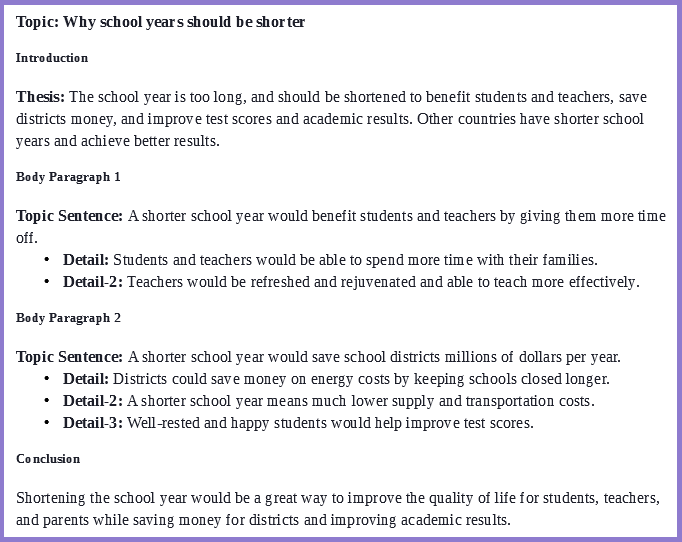 Research Essay Outline Example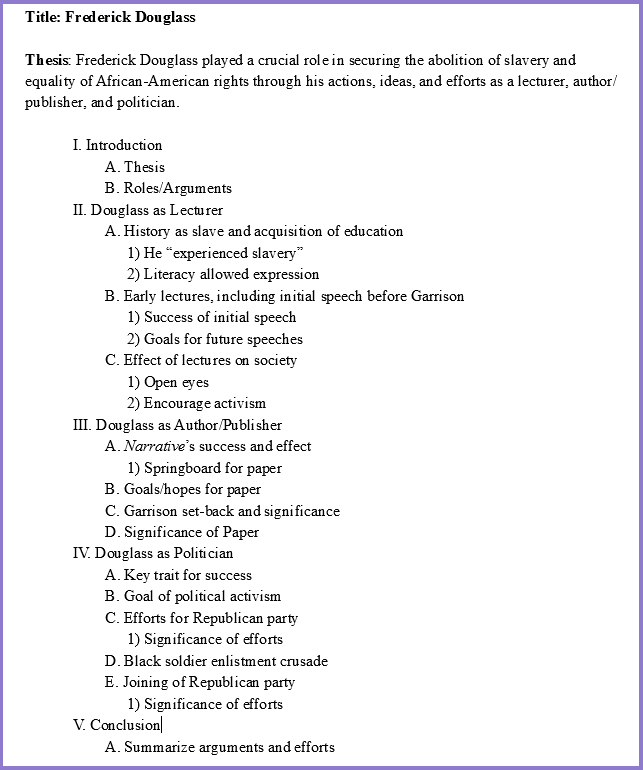 Taken from: Austincc.edu
How to Make an Outline: the Process
As a rule, the only detail bothering those asking how to make an outline for an essay is the process itself. Students understand that an essay outline needs to specify all the main points and arguments of their future paper, but they still find it challenging to create.
More than that, professors may ask you to submit an essay outline for their review. That's why the skills of planning your papers will come in handy anyway. To learn the secrets of effective outline writing, you'll need to know what to do before outlining, what essay outline structure to choose for your work, and how to organize your outline so it would be as informative as possible.
Here's how to outline an essay:
What to Do Before Outlining
First and foremost, read your writing assignment carefully. Make sure you understand what essay type you need to write, how many arguments to use (except as noted), and how long your essay needs to be.
Answer the question , "What's the purpose of your essay?" Do you want to inform readers, persuade, or just entertain them? Depending on the goal, you'll know what thesis to consider, what writing techniques to use, and how to visualize research in your paper.
Identify the audience. Yes, it's a teacher who reads and evaluates your work; but whom do you want to read your essay ? Do you write for classmates? Strangers? What do they know about your topic? Would they agree with your thesis? How might they react to your information?
Depending on that, you'll understand what arguments might work for your essay. It will also help you decide on resources to use for research and evidence to choose for your arguments. Consider credible sources such as Google Scholar or Oxford Academic to find references for your essay; take notes of them to use in your outline.
State your thesis so you could see what topic sentences to outline for your essay. A thesis needs to be arguable and provide enough details to hook readers so they would get them emotionally involved in your writing.
Once a thesis is ready, start structuring your essay outline.
Choose an Essay Outline Structure
From the above templates and examples, you've got a general idea of the basic structure for your essay outline. We used a standard alphanumeric structure there, but you can also use a decimal one for your outline to show how your ideas are related. Just compare:
Alphanumeric format: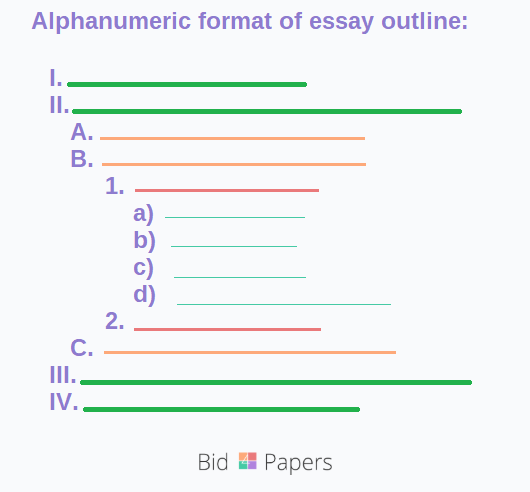 Decimal format: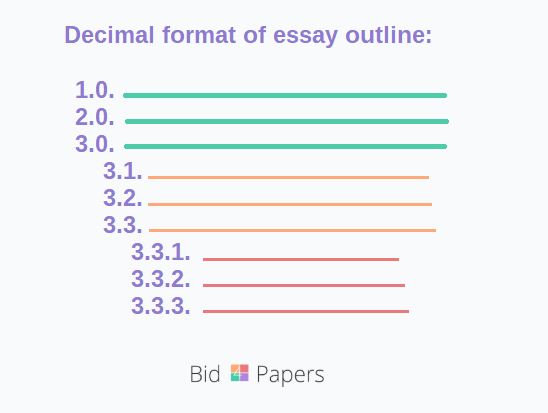 An alphanumeric outline is the most common one, but you are welcome to use a decimal outline structure if it seems clearer and more comfortable for you. Also, feel free to use complete sentences or just brief phrases for each section of your essay outline.
However, if you need to submit it to a professor for a review, use sentences. It will help him understand the arguments and evidence you are going to use in your essay.
Organize Your Outline
Now it's time to fill in each section of your essay outline. For those lazy to read, here goes a short video:
For all others, start with outlining your introduction . Write a sentence about your topic and introduce your thesis. You can also mention an essay hook here – a sentence you'll use to make the audience interested in reading your work.
Outline your essay body : write down a topic sentence for each paragraph, provide supporting evidence you'll use when writing, and mention how they'll relate to the topic and your thesis. The more details you outline, the easier it will be to organize all the thoughts while writing.
Also, you can write a transition sentence for each paragraph so it would be faster to structure and band all arguments.
Finally, outline your essay conclusion . Restate your thesis and write a concluding statement, aka a sentence addressing the importance of your thesis and proposing solutions to the problem you addressed in the essay.
It's a Wrap!
Essays are many, and you need to write all of them in school and college. Persuasive, expository, narrative – their basic structure is the same but with tiny differences identifying their specifications and your knowledge of academic writing. Understanding those differences and outlining your writings accordingly is your chance to craft perfect works that get high grades.
An essay outline is what you need to organize the information and not miss anything while writing. When you know how to write an essay outline, you create papers better and faster. You keep in mind all essay components. You develop critical thinking. And you become a better writer.
Our Writing Guides
21 thoughts on " how to write a perfect essay outline ".
No doubt, the essay outline is one of the most important things. Thanks for sharing!
Thank you very much
Please help me answer this question. What is the thesis statement in this sentence."the characters I do not appreciate about my teachers"
What if you do research on a lot of things but you have all the same facts about them? Like I am doing an essay on 23 constellations. Do I write down the name of every constellation in the outline and add the facts underneath each of the 23? Or do I just write "Constellation" and add each fact that I will have written for each individual constellation? Example: I. Introduction A. Thesis Statement B. Next explanatory paragraph C. Extra paragraph II. Constellation A. Name 1. Translation 2. Pronunciation 3. Background story B. Description C. Rank in size D. The astronomer who introduced it E. Location F. Significant stars or star clusters
Do I need to do the second part for all 23 constellations (only adding the name of each constellation beforehand.) I feel like that would be a waste of time since I would mostly just be copying and pasting but I am getting graded on the outline so if anybody could help me that would be rad. I know my question is pretty hard to understand but I did my best. Thank you!
Thanks for your question, AJ!
As far as you write an essay outline for yourself (to make the process of essay writing easier), feel free to organize it accordingly. If you are going to describe all 23 constellations in detail (like you introduced in your comment), feel free to add each to your essay outline. If you are going to write about all 23 in general, with no details to each, there will be no need to add all those A, B, C, D, F… for every constellation to your essay outline.
I hope you've got the point 🙂
Sincerely, Lesley
Thank you i think this will help me a lot
Helped me get through my essay correctly and lot faster!
I read your blog and got interesting facts about this topic, thank you!
This contained everything one needs to know when making an outline.
I find this really helpful Thanks 😊
Which of these outlines whould be the best for and SAT essay?
As far as the SAT essay is argumentative now and it asks you to analyze another essay (feel free to check our guide on SAT essays for more information), I think that the outline of a research essay could be the best option.
Cheers, Lesley
Thank you so much.I found this helpful.
Thank you for your helpful thought about how we can outline our essays.
thanks for sharing, with outlne everything will be easy to organize writing idea.
Thanks for sharing , I found this helpful. With the outline I learned how to organize writing idea.
I think these examples of essays outlines are good for students start to pay attention to because it will make essays easier. Your articles contain prompts and tips in writing essays and other kinds of papers, thanks!
That was a great outline that students should follow :))
how can I provide an outline to an argumentative essay (academic )for Tefl master (teaching English as a foreign language)?
Very enjoyable
First of all I would like to say that it's a terrific blog! I had a quick question which I'd like to ask if you do not mind.
I was curious to know how you center yourself and clear your mind before writing. I have had a tough time clearing my mind in getting my thoughts out there.
I truly do enjoy writing but it just seems like the first 10 to 15 minutes are generally lost simply just trying to figure out how to begin. Any recommendations or tips? Thanks!
Leave a Reply Cancel reply
Your email address will not be published. Required fields are marked *
Online Degree Explore Bachelor's & Master's degrees
MasterTrack™ Earn credit towards a Master's degree
University Certificates Advance your career with graduate-level learning
Top Courses
Join for Free
College Essay Format: Writing & Editing Tips
A good college essay format, with the right topic, goes beyond your academic accomplishments and extracurriculars.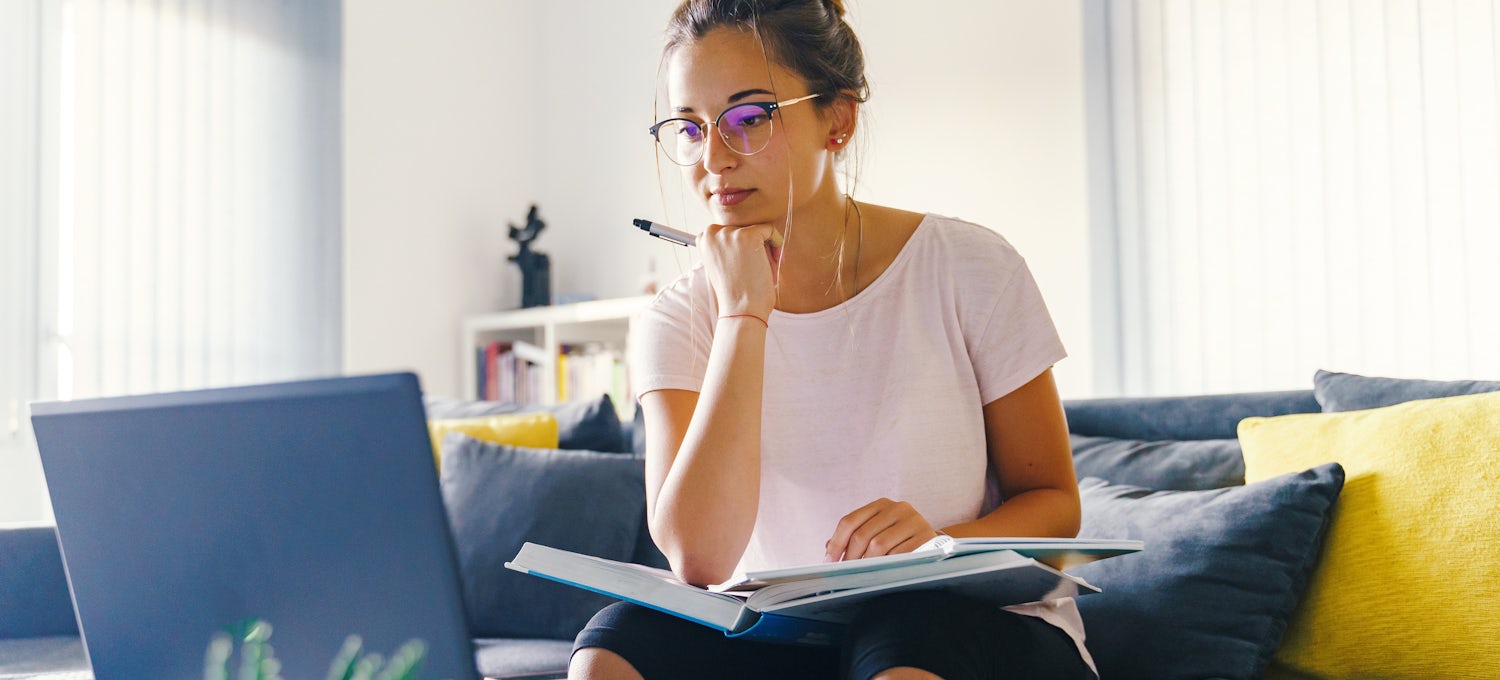 You want to stand out in a crowd, particularly when you're applying to the college of your choice. As part of the application process, many schools ask for an essay to accompany the standard academic and personal information they require. So it's important to make it a good one.
Your college application essay is essentially a story you tell that offers a glimpse into who you are, beyond your admissions application, grades, activities, and test scores.
A college essay, often called a personal statement, is your opportunity to reveal your personality. It's a way for the admissions department to get to know you as a person and get an idea of the kind of student you'll be.
So how should a college essay be formatted? This article covers formatting best practices, how to choose a compelling topic for your essay, and writing and editing tips to help you craft an essay that captures the attention of the reader, gets your point across, and is free of errors.
Decide on a topic.
You'll often have a choice of topics for your essay provided by the college or university. Choose a topic that allows you to best highlight what you want the college to know about you. 
A good start is to list three positive adjectives that describe you. Then, see if you can write two or three real-life examples of each trait that demonstrates that you possess that characteristic.
Also, think about the stories other people tell about you or the words they use to describe you. Ask people who know you well:
What do you think sets me apart from others? 
What are my strengths? 
How would you describe my personality? 
What are my quirks?
These ideas can become the inspiration to develop material for a good college essay. 
From the list of essay prompts you receive from the college, choose the topic that will give you the best chance to showcase who you are within the limited word count. You don't have to write about a major life-changing event. It can be a mundane or ordinary situation—like a dinner table conversation, day at school, or conversation with a friend. Often, slightly unusual topics are better than typical ones because they hold a reader's attention.
Regardless of the topic you choose, remember that the true topic of your college essay is you, and the purpose of it is to show how you are unique. It highlights an important piece of who you are and where you want to head in life.
Common college essay prompts
Over 900 colleges use Common App essay prompts, which means you may be able to write one essay for several college applications. Some past Common App college essay prompts—which are announced publicly each year—include the following topics:
Share a story about your background, interest, identity, or talent that makes you complete as a person.
Describe a time when you faced a setback, failure, or challenge and what you learned from it.
Tell about a topic, concept, or idea that is so captivating to you that you lose all track of time.
Write about something that someone has done for you that you are grateful for, and how gratitude has motivated or affected you.
Whether or not the school you're applying to uses Common App questions, it will publish required essay topics in its admissions materials. Or, you may be asked to write on a topic of your choice. Here are some additional common college essay prompts you might encounter:
Describe a person you admire and how that person has influenced your behavior and thinking.
Why do you want to attend this school?
Describe your creative side.
Name an extracurricular activity that is meaningful to you and how it has impacted your life.
Tell about what you have done to make your community or school a better place.
Consider length.
Consult your college application instructions to see how long your essay should be. Be sure to stay within the required word count or essay length, not going over the maximum or under the minimum.
Chances are, you'll be given a word limit. If none is specified, experts on the admissions process recommend you keep your word count between 500 and 650 words. Use the required essay length to help you determine what you will share. You won't be able to tell your life story within these few paragraphs, so choose the most impactful examples as your content. 
Create an outline.
An outline helps you plan your essay so you know how it will begin and end and identify key points you want to include in the middle. Use your outline to stay on topic and get the most use out of your word count.
Decide on a logical order.
The most effective outlines are usually the most simple ones. For instance, a good story has a beginning, middle, and end. Likewise, your essay will have an introduction, body, and conclusion.
Unless the college requests a specific admission essay format, use the format you've been using to write essays in high school that you're likely to be the most comfortable with. If you're stuck on how to open your essay, write the middle of your story first. Then, go back and write a compelling introduction and a concise conclusion.
Sample format for a college essay
While the format of your college essay is largely up to you, it can be helpful to have an example as a springboard to give you ideas. Consider the following college essay format as you organize your writing.
1. Think about using a title.
A title for your college essay is not necessary. However, including one can add interest. But if you're low on word count, you can skip it. You can also wait until after you write your essay to decide. It's often easier to come up with a fitting, compelling title after you've told your story.
2. Open with a hook.
Your opening sentence is one of the most important parts of your essay. It's what you'll use to capture the attention of the reader and give them a reason to read on. The start of your essay is your opportunity to make an impactful first impression, so make your opening a good one. Here are two examples of how you can open with an interesting hook:
Start in the middle of your story: Call out the most interesting point of your story, and then backtrack from there. For example, "And there I found myself, surrounded by baby sea turtles on the hazy shores of Virginia Beach."
Make a specific generalization: This is a sentence that makes a general statement on what your essay will be about, but gives a specific description. An example: "Each year on our family vacation out of the city, I contemplate the meaning of life as we cross the Golden Gate Bridge."
3. Continue with your introduction.
While your hook will spark the reader's curiosity, the rest of your introduction should give them an idea of where you're going with your essay. Set your story up in four to five sentences.
4. Tell your story in the body of your essay.
If your introduction and conclusion are roughly 100 words each, your body will end up being about 450 words. Think of that as three to five paragraphs, with each paragraph having its own main idea or point. 
Write in a narrative style—more as though you're having a conversation as opposed to writing an instruction manual. While you should pay strict attention to using proper grammar and sentence structure, you have the freedom to make your essay a reflection of your personality.
If you are a humorous person, use humor. If you're an eternal optimist or love getting into the minute details of life, let that shine through. Tell your story in a way that's logical, clear, and makes sense.
5. Wrap up with a conclusion. 
Finish your story with a conclusion paragraph, and make sure you've made your main point. What is the main thing you want the college to know about you through this story? Is it what you've learned, a value that's important to you, or what you want to contribute to society? Finally, conclude your essay with the personal statement you want to make about yourself.
Writing tips on how to format a college essay
As you're writing your college essay, keep these tips in mind:  
Be authentic. One of the most essential parts of how to format a college application essay is to be authentic. The college wants to know who you are, and they will be reading dozens of essays a day. The best way to make yours stand out is to just be yourself instead of focusing on what you think they want to hear. 
Show you can write . While the most important part of your personal statement is showcasing who you are, you'll also be judged on your writing ability. That's because knowing the fundamental principles of writing is important to college success. Show that you understand the structure of an essay and proper use of the English language.
Give the answer right away. If you're using a specific question as your writing prompt, answer the question directly in the opening paragraph. Then, use the rest of the essay to elaborate on your answer.
Stay on topic. Make good use of your word count limit by being concise and coherent. Stay on topic and refrain from adding any information that doesn't add to the main idea of your essay. 
Write in your voice. Imagine you're speaking to an actual person as you write. Be honest and accurate, using words you normally use. Your essay is a personal statement, so it should sound natural to the reader—and to you too.
Use real examples. Add real-life events and vivid details from your life. This adds color and validity to your personal statement. Personal examples will show you embody the characteristics or values you claim to, rather than merely saying you do.
Keep the formatting simple. Opt-out of fancy fonts that can be hard to read. Stick to fonts like Times New Roman or Arial. Avoid using bolding (except for headings), italics, all caps, or exclamation points. Let your words speak for themselves instead.
Save your essay. Instead of writing your essay directly in the online application, draft and save your essay in a document like Google Docs or Word—or start out on paper and pen if that's what you're most comfortable with. That way you can make edits and use helpful online spelling and grammar checkers. And you won't risk losing your essay if the application times out or you navigate away from it by mistake. When you copy and paste your essay into the application, make sure your formatting, such as line spacing and bolding for headings, remains intact.
Follow directions. Read and understand the specific instructions set by the college. Review them again before you submit your essay to make sure you've met all of the requirements.
Editing tips on how to format a college essay
Finally, edit your essay until you're satisfied it conveys the message you want it to and it's free of errors. Let your first draft be as messy or pristine as it comes out. Then, go back later—several times if needed—to clean it up. Ask yourself these questions as you edit your essay:
Is my essay free of grammar, spelling, capitalization, and punctuation errors?
Is it the proper word length assigned by the college?
Have I answered the question in the prompt?
Does the introduction make me want to read more?
Are there any vague statements I can replace with more specific details?
Do any parts drone on or feel boring?
Does it feel too formal?
Are any parts or words repetitive?
Have I misused any words (such as there, their, and they're)?
Are my sentences varied in length?
Have I shared with the college what I most want them to know about me? 
It can also be helpful to ask someone you trust to read your essay and give you constructive feedback. This might be a trusted teacher, parent, school counselor, or college student. It's best to choose someone who is familiar with the purpose of a college essay.
Ask them to give feedback about your essay using the same questions as above. But they should never try to rewrite your essay. And never let others edit out your voice. Ask them to focus on grammar and mechanics and to give suggestions on items to add in or leave out. 
Above all, ask your guest editor what point they think you were trying to make with your essay. If they get it right, you know you've crafted a college essay that reflects you and your intended message. 
Enhance your writing skills
Bring out your best in your college essay with a course in Writing a Personal Essay from Wesleyan University. Learn how to find your voice, structure your essay, choose relevant details, and write in a way that pulls in your readers.
Related articles
Bachelor's Degree Guide: Resources for Your Undergraduate Education
College Essay Topics and Writing Tips
How Long Should a College Essay Be?
How to Write a Personal Statement
This content has been made available for informational purposes only. Learners are advised to conduct additional research to ensure that courses and other credentials pursued meet their personal, professional, and financial goals.
$1 unlocks unlimited opportunities
For a limited time, get your first month of Coursera Plus for $1 .
Get unlimited access to 7,000+ learning programs from world-class universities and companies like Google, Microsoft, and Yale.
Build the skills you need to succeed, anytime you need them—whether you're starting your first job, switching to a new career, or advancing in your current role.

UNITED STATES
台灣 (TAIWAN)
TÜRKIYE (TURKEY)
Academic Editing Services
- Research Paper
- Journal Manuscript
- Dissertation
- College & University Assignments
Admissions Editing Services
- Application Essay
- Personal Statement
- Recommendation Letter
- Cover Letter
- CV/Resume
Business Editing Services
- Business Documents
- Report & Brochure
- Website & Blog
Writer Editing Services
- Script & Screenplay
Our Editors
Client Reviews
Editing & Proofreading Prices
Wordvice Points
Partner Discount
Plagiarism Checker
APA Citation Generator
MLA Citation Generator
Chicago Citation Generator
Vancouver Citation Generator
- APA Style
- MLA Style
- Chicago Style
- Vancouver Style
Writing & Editing Guide
Academic Resources
Admissions Resources
College Application Essay Format Rules
The college application essay has become the most important part of applying to college. In this article, we will go over the best college essay format for getting into top schools, including how to structure the elements of a college admissions essay: margins, font, paragraphs, spacing, headers, and organization.
We will focus on commonly asked questions about the best college essay structure. Finally, we will go over essay formatting tips and examples.
Table of Contents
General college essay formatting rules
How to format a college admissions essay
Sections of a college admissions essay
College application essay format examples
General College Essay Format Rules
Before talking about how to format your college admission essays, we need to talk about general college essay formatting rules.
Pay attention to word count
It has been well-established that the most important rule of college application essays is to not go over the specific Application Essay word limit . The word limit for the Common Application essay is typically 500-650 words.
Not only may it be impossible to go over the word count (in the case of the Common Application essay , which uses text fields), but admissions officers often use software that will throw out any essay that breaks this rule. Following directions is a key indicator of being a successful student.
Refocusing on the essay prompt and eliminating unnecessary adverbs, filler words, and prepositional phrases will help improve your essay.
On the other hand, it is advisable to use almost every available word. The college essay application field is very competitive, so leaving extra words on the table puts you at a disadvantage. Include an example or anecdote near the end of your essay to meet the total word count.
Do not write a wall of text: use paragraphs
Here is a brutal truth: College admissions counselors only read the application essays that help them make a decision . Otherwise, they will not read the essay at all. The problem is that you do not know whether the rest of your application (transcripts, academic record, awards, etc.) will be competitive enough to get you accepted.
A very simple writing rule for your application essay (and for essay editing of any type) is to make your writing readable by adding line breaks and separate paragraphs.
Line breaks do not count toward word count, so they are a very easy way to organize your essay structure, ideas, and topics. Remember, college counselors, if you're lucky, will spend 30 sec to 1 minute reading your essay. Give them every opportunity to understand your writing.
Do not include an essay title
Unless specifically required, do not use a title for your personal statement or essay. This is a waste of your word limit and is redundant since the essay prompt itself serves as the title.
Never use overly casual, colloquial, or text message-based formatting like this:
THIS IS A REALLY IMPORTANT POINT!. #collegeapplication #collegeessay.
Under no circumstances should you use emojis, all caps, symbols, hashtags, or slang in a college essay. Although technology, texting, and social media are continuing to transform how we use modern language (what a great topic for a college application essay!), admissions officers will view the use of these casual formatting elements as immature and inappropriate for such an important document.
How To Format A College Application Essay
There are many tips for writing college admissions essays . How you upload your college application essay depends on whether you will be cutting and pasting your essay into a text box in an online application form or attaching a formatted document.
Save and upload your college essay in the proper format
Check the application instructions if you're not sure what you need to do. Currently, the Common Application requires you to copy and paste your essay into a text box.
There are three main formats when it comes to submitting your college essay or personal statement:
If submitting your application essay in a text box
For the Common Application, there is no need to attach a document since there is a dedicated input field. You still want to write your essay in a word processor or Google doc. Just make sure once you copy-paste your essay into the text box that your line breaks (paragraphs), indents, and formatting is retained.
Formatting like bold , underline, and italics are often lost when copy-pasting into a text box.
Double-check that you are under the word limit. Word counts may be different within the text box .
Make sure that paragraphs and spacing are maintained; text input fields often undo indents and double-spacing .
If possible, make sure the font is standardized. Text input boxes usually allow just one font .
If submitting your application essay as a document
When attaching a document, you must do more than just double-check the format of your admissions essay. You need to be proactive and make sure the structure is logical and will be attractive to readers.
Microsoft Word (.DOC) format
If you are submitting your application essay as a file upload, then you will likely submit a .doc or .docx file. The downside is that MS Word files are editable, and there are sometimes conflicts between different MS Word versions (2010 vs 2016 vs Office365). The upside is that Word can be opened by almost any text program.
This is a safe choice if maintaining the visual elements of your essay is important. Saving your essay as a PDF prevents any formatting issues that come with Microsoft Word, since older versions are sometimes incompatible with the newer formatting.
Although PDF viewing programs are commonly available, many older readers and Internet users (who will be your admissions officers) may not be ready to view PDFs.
Use 1-inch margins . This is the default setting for Microsoft Word. However, students from Asia using programs like Hangul Word Processor will need to double-check.
Use a standard serif font. These include Times New Roman, Courier, and Garamond. A serif font adds professionalism to your essay.
Use standard 12-font size.
Use 1.5- or double-spacing. Your application essay should be readable. Double spaces are not an issue as the essay should already fit on one page.
Add a Header with your First Name, Last Name, university, and other required information.
Clearly separate your paragraphs. By default, just press 'ENTER' twice.
Sections Of A College Admissions Essay
University admissions protocols usually allow you to choose the format and style of your writing. Despite this, the general format of "Introduction-Body-Conclusion" is the most common structure. This is a common format you can use and adjust to your specific writing style.
College Application Essay Introduction
Typically, your first paragraph should introduce you or the topic that you will discuss. You must have a killer opener if you want the admissions committees to pay attention.
Essays that use rhetorical tools, factual statements, dialog, etc. are encouraged. There is room to be creative since many application essays specifically focus on past learning experiences.
College Application Essay Body
Clearly answering the essay prompt is the most important part of the essay body. Keep reading over the prompt and making sure everything in the body supports it.
Since personal statement essays are designed to show you are as a person and student, the essay body is also where you talk about your experiences and identity.
Make sure you include the following life experiences and how they relate to the essay prompt. Be sure to double-check that they relate back to the essay prompt. A college admissions essay is NOT an autobiography:
Personal challenges
How did you overcome them?
How or how much do past challenges define your current outlook or worldview?
What did you learn about yourself when you failed?
Personal achievements and successes
What people helped you along the way?
What did you learn about the nature of success
Lessons learned
In general, did your experiences inform your choice of university or major?
Personal beliefs
Politics, philosophy, and religion may be included here, but be careful when discussing sensitive personal or political topics.
Academic goals
Personal goals
Professional goals
How will attending the university help you achieve these goals?
College Application Essay Conclusion
The conclusion section is a call to action directly aimed at the admissions officers. You must demonstrate why you are a great fit for the university, which means you should refer to specific programs, majors, or professors that guided or inspired you.
In this "why this school" part of the essay, you can also explain why the university is a great fit for your goals. Be straightforward and truthful, but express your interest in the school boldly.
College Application Essay Format Examples
Here are several formatting examples of successful college admission essays, along with comments from the essay editor.
Note: Actual sample essays edited by Wordvice professional editors . Personal info has been redacted for privacy. This is not a college essay template.
College Admission Essay Example 1
This essay asks the student to write about how normal life experiences can have huge effects on personal growth:
Common App Essay Prompt: Thoughtful Rides
The Florida turnpike is a very redundant and plain expressway; we do not have the scenic luxury of mountains, forests, or even deserts stretching endlessly into the distance. Instead, we are blessed with repetitive fields of grazing cows and countless billboards advertising local businesses. I have been subjected to these monotonous views three times a week, driving two hours every other day to Sunrise and back to my house in Miami, Florida—all to practice for my competitive soccer team in hopes of receiving a scholarship to play soccer at the next level.
The Introduction sets up a clear, visceral memory and communicates a key extracurricular activity.
When I first began these mini road trips, I would jam out to my country playlist and sing along with my favorite artists, and the trek would seem relatively short. However, after listening to "Beautiful Crazy" by Luke Combs for the 48th time in a week, the song became as repetitive as the landscape I was driving through. Changing genres did not help much either; everything I played seemed to morph into the same brain-numbing sound. Eventually, I decided to do what many peers in my generation fail to do: turn off the distractions, enjoy the silence, and immerse myself in my own thoughts. In the end, this seemingly simple decision led to a lot of personal growth and tranquility in my life.
The first part of the Body connects the student's past experience with the essay prompt: personal growth and challenging assumptions.
Although I did not fully realize it at the time, these rides were the perfect opportunity to reflect on myself and the people around me. I quickly began noticing the different personalities surrounding me in the flow of traffic, and this simple act of noticing reminded me that I was not the only human on this planet that mattered. I was just as unimportant as the woman sitting in the car next to mine. Conversely, I also came to appreciate how a gesture as simple as letting another driver merge into your lane can impact a stranger's day. Maybe the other driver is late for a work interview or rushing to the hospital because their newborn is running a high fever and by allowing them to advance in the row of cars, you made their day just a little less stressful. I realized that if I could improve someone else's day from my car, I could definitely be a kinder person and take other people's situations into consideration—because you never know if someone is having one of the worst days of their lives and their interaction with you could provide the motivation they need to keep going on .
This part uses two examples to support the writer's answer to the essay prompt. It ends the paragraph with a clear statement.
Realizing I was not the only being in the universe that mattered was not the only insight I attained during these drives. Over and over, I asked myself why I had chosen to change soccer clubs, leaving Pinecrest, the team I had played on for 8 years with my best friends and that was only a 10-minute drive from my house, to play for a completely unfamiliar team that required significantly more travel. Eventually, I came to understand that I truly enjoy challenging myself and pushing past complacency . One of my main goals in life is to play and experience college soccer—that, and to eventually pursue a career as a doctor. Ultimately, leaving my comfort zone in Pinecrest, where mediocrity was celebrated, to join a team in Sunrise, where championships were expected and college offers were abundant, was a very positive decision in my life.
This part clearly tells how the experience shaped the writer as a person. The student's personality can be directly attributed to this memory. It also importantly states personal and academic goals.
Even if I do not end up playing college soccer, I know now that I will never back down from any challenge in my life; I am committed to pushing myself past my comfort zone. These car rides have given me insight into how strong I truly am and how much impact I can have on other people's lives.
The Conclusion restates the overall lesson learned.
College Admission Essay Example 2
The next essay asks the reader to use leadership roles or extracurricular activities and describe the experience, contribution, and what the student learned about themselves.
As I release the air from the blood-pressure monitor's valve, I carefully track the gauge, listening for the faint "lub-dub" of Winnie's heart. Checking off the "hypertensive" box on his medical chart when reading 150/95, I then escort Winnie to the blood sugar station. This was the typical procedure of a volunteer at the UConn Migrant Farm Worker Clinic. Our traveling medical clinic operated at night, visiting various Connecticut farms to provide healthcare for migrant workers. Filling out charts, taking blood pressure, and recording BMI were all standard procedures, but the relationships I built with farmers such as Winnie impacted me the most.
This Introduction is very impactful. It highlights the student's professional expertise as a healthcare worker and her impact on marginalized communities. It also is written in the present tense to add impact.
While the clinic was canceled this year due to COVID-19, I still wanted to do something for them. During a PPE-drive meeting this July, Winnie recounted his family history. I noticed his eyebrows furrow with anxiety as he spoke about his family's safety in Tierra Blanca, Mexico. I realized that Winnie lacked substantial information about his hometown, and fear-mongering headlines did nothing to assuage his fears. After days of searching, I discovered that his hometown, Guanajuato, reported fewer cases of COVID-19 in comparison with surrounding towns. I then created a color-coded map of his town, showing rates across the different districts. Winnie's eyes softened, marveling at the map I made for him this August. I didn't need to explain what he saw: Guanajuato, his home state, was pale yellow, the color I chose to mark the lowest level of cases. By making this map, I didn't intend to give him new hope; I wanted to show him where hope was.
The student continues to tell the powerful story of one of her patients. This humbles and empowers the student, motivating her in the next paragraph.
This interaction fueled my commitment to search for hope in my journey of becoming a public health official. Working in public health policy, I hope to tackle complex world problems, such as economic and social barriers to healthcare and find creative methods of improving outcomes in queer and Latinx communities. I want to study the present and potential future intervention strategies in minority communities for addressing language barriers to information including language on posters and gendered language, and for instituting social and support services for community youth. These stepping stones will hopefully prepare me for conducting professional research for the Medical Organization for Latino Advancement. I aspire to be an active proponent of healthcare access and equity for marginalized groups, including queer communities. I first learned about the importance of recognizing minority identities in healthcare through my bisexual sister, Sophie, and her nonbinary friend, Gilligan. During discussions with her friends, I realized the importance of validating diverse gender expressions in all facets of my life.
Here, the past experience is directly connected to future academic and professional goals, which themselves are motivated by a desire to increase access among communities as well as personal family experiences. This is a strong case for why personal identity is so important.
My experiences with Winnie and my sister have empowered me to be creative, thoughtful, and brave while challenging the assumptions currently embedded in the "visual vocabulary" of both the art and science fields. I envision myself deconstructing hegemonic ideas of masculinity and femininity and surmounting the limitations of traditional perceptions of male and female bodies as it relates to existing healthcare practices. Through these subtle changes, I aim to make a large impact.
The Conclusion positions the student as an impactful leader and visionary. This is a powerful case for the admissions board to consider.
If you want to read more college admissions essay examples, check out our articles about successful college personal statements and the 2021-2022 Common App prompts and example essays .
Wordvice offers a full suite of proofreading and editing services . If you are a student applying to college and are having trouble with the best college admissions essay format, check out our application essay editing services  (including personal statement editing ) and find out  how much online proofreading costs . 
Finally, don't forget to receive common app essay editing and professional admissions editing for any other admissions documents for college, university, and post-doctoral programs.
26158766f7f76c0d163cbc4d15ae3f59
Questions about Expos?
Writing Support for Instructors
Tips for Organizing Your Essay
If you are used to writing essays that are similar to the five-paragraph essay (one claim and then three points that support that claim), it can be daunting to think about how to structure your ideas in a longer essay. Once you've established your thesis, you need to think about how you will move your reader through your argument. In some courses, you will be expected to provide a roadmap in your introduction that explicitly tells readers how your argument is organized. But even when you don't provide a roadmap, your reader should be able to see the connections between your ideas. As you think about how your ideas fit together, try these three strategies:  
Strategy #1: Decompose your thesis into paragraphs  
A clear, arguable thesis will tell your readers where you are going to end up, but it can also help you figure out how to get them there. Put your thesis at the top of a blank page and then make a list of the points you will need to make to argue that thesis effectively.
For example, consider this example from the thesis handout : While Sandel argues persuasively that our instinct to "remake"(54) ourselves into something ever more perfect is a problem, his belief that we can always draw a line between what is medically necessary and what makes us simply "better than well"(51) is less convincing.
To argue this thesis, the author needs to do the following:
Show what is persuasive about Sandel's claims about the problems with striving for perfection.
Show what is not convincing about Sandel's claim that we can clearly distinguish between medically necessary enhancements and other enhancements.
Once you have broken down your thesis into main claims, you can then think about what sub-claims you will need to make in order to support each of those main claims. That step might look like this:
Evidence that Sandel provides to support this claim
Discussion of why this evidence is convincing even in light of potential counterarguments
Discussion of cases when medically necessary enhancement and non-medical enhancement cannot be easily distinguished
Analysis of what those cases mean for Sandel's argument
Consideration of counterarguments (what Sandel might say in response to this section of your argument)
Each argument you will make in an essay will be different, but this strategy will often be a useful first step in figuring out the path of your argument.  
Strategy #2: Use subheadings, even if you remove then later  
Scientific papers generally include standard subheadings to delineate different sections of the paper, including "introduction," "methods," and "discussion." Even when you are not required to use subheadings, it can be helpful to put them into an early draft to help you see what you're written and to begin to think about how your ideas fit together. You can do this by typing subheadings above the sections of your draft.
If you're having trouble figuring out how your ideas fit together, try beginning with informal subheading like these:
Introduction  
Explain the author's main point  
Show why this main point doesn't hold up when we consider this other example  
Explain the implications of what I've shown for our understanding of the author  
Show how that changes our understanding of the topic
For longer papers, you may decide to include subheadings to guide your reader through your argument. In those cases, you would need to revise your informal subheadings to be more useful for your readers. For example, if you have initially written in something like "explain the author's main point," your final subheading might be something like "Sandel's main argument" or "Sandel's opposition to genetic enhancement." In other cases, once you have the key pieces of your argument in place, you will be able to remove the subheadings.  
Strategy #3: Create a reverse outline from your draft  
While you may have learned to outline a paper before writing a draft, this step is often difficult because our ideas develop as we write. In some cases, it can be more helpful to write a draft in which you get all of your ideas out and then do a "reverse outline" of what you've already written. This doesn't have to be formal; you can just make a list of the point in each paragraph of your draft and then ask these questions:
Are those points in an order that makes sense to you?  
Are there gaps in your argument?  
Do the topic sentences of the paragraphs clearly state these main points?  
Do you have more than one paragraph that focuses on the same point? If so, do you need both paragraphs?  
Do you have some paragraphs that include too many points? If so, would it make more sense to split them up?  
Do you make points near the end of the draft that would be more effective earlier in your paper?  
Are there points missing from this draft?  
Tips for Reading an Assignment Prompt
Asking Analytical Questions
Introductions
What Do Introductions Across the Disciplines Have in Common?
Anatomy of a Body Paragraph
Transitions
Counterargument
Conclusions
Strategies for Essay Writing: Downloadable PDFs
Brief Guides to Writing in the Disciplines
Quick Links
Schedule an Appointment
English Grammar and Language Tutor
Drop-in hours
Harvard Guide to Using Sources
Departmental Writing Fellows
Writing Advice: The Harvard Writing Tutor Blog