5 Elements of Persuasive Writing that Make Your Posts Takeoff
As content writers, we're trying to persuade others to see our point of view – to agree with us. Regardless of whether it's to click on a link or to purchase a product, we want our writing to influence others in a positive manner.
To write in an engaging and persuasive way is an art form – it's elegant, refined and exercises discernment. And it's worlds apart from the distasteful, strong-arm tactics employed by spam marketers.
Crafting content that influences isn't necessarily hard, but it does take a bit of practice. So, without further ado, let's have a look at five key elements that contribute to successful and persuasive content writing.
1: Be an Expert
Few things are more influential than the opinion of an expert. Why? Because true experts know what they're talking about. It's clear in their authenticity and transparency. Experts don't use fluffy filler material in their persuasive writing, and they don't try to distract the reader with gimmicks.
If you want to establish yourself as an influencer in your niche, you need to be the premier expert in your field. You don't need a degree or years of related experience, but you need to demonstrate that you're a specialist. You want to be so knowledgeable in your particular market that your content is oozing with confidence and certainty.
Note the word specialist .
Experts don't try to cover all the bases, and they don't pretend to know everything remotely related to their topic.
They specialize in one particular aspect or angle, and by sharing their knowledge they become an authority. And authority bestows persuasion.
La Carmina, a very successful travel blogger self-describing her approach as "spooky-cute", embodies this idea to perfection because her success is not the result of trying to be all things to all travelers. Her advice? "Be niche. Don't be afraid to focus on a specific topic or audience…" Read more of her suggestions for being a specialist on the Huffington Post.

La Carmina Travel Blog specializes in "spooky-cute" travel.
2: List the Most Important Information First
Writing persuasive copy for web pages is similar to that of writing news articles. That is, the most important information comes first – which is quite different from writing an essay or a short story. Journalists refer to this method as writing in an inverted pyramid , and it starts with the most relevant points which are then followed by related details and background information.
In this manner, you have the opportunity right at the start of your post to motivate your readers to continue on to your benefits, features and call to action.
By highlighting the outcomes that you or your products can provide at the beginning, you'll give them a clear understanding of the big picture. Don't wait for the conclusion of your piece to deliver the vision they want, because they'll be long gone.
Gregory Ciotti at Unbounce gives a great example of this idea in his post on how research can affect the way we write copy. He captures the essence of his entire topic in the second sentence, leaving no doubt in the readers' mind about whether reading the post will be beneficial or not.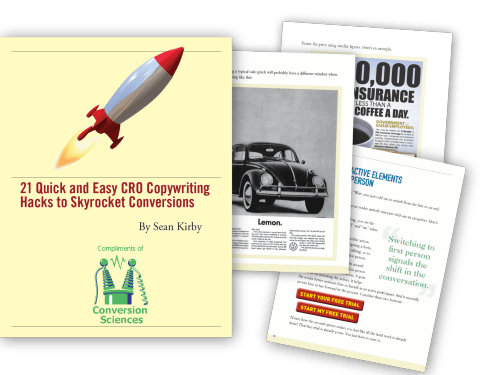 21 Quick and Easy CRO Copywriting Hacks
Keep these proven copywriting hacks in mind to make your copy convert.
43 Pages with Examples
Assumptive Phrasing
"We" vs. "You"
Pattern Interrupts
The Power of Three
" * " indicates required fields
3: Give Your Readers Reasons Why
Written or spoken, few words are more persuasive than the word because.
In her book Mindfulness , social psychologist Ellen Langer clearly demonstrated that people are more likely to comply to a request if they're given a reason via the word because . Even if the reason is redundant or doesn't make sense!
Another persuasive word to work into your copy is imagine – asking your readers to imagine their desired outcome is a safe alternative to asking them to take action. It's make-believe, so their inner gatekeeper (the voice in our head suspicious of others' motives) won't be inclined to object. And getting your prospects to imagine themselves in happy situations is a powerful influencer.
At Enchanting Marketing, Henneke shows us how to master this element with the words 'because' and 'picture' right in the introduction of her post (picture being a synonym of imagine). She first suggests we may be making a mistake in our web writing, then gets us to picture a client clicking where we want them to and finally shows us 'why' we're making the mistake – with the word because.
You can't help but continue reading, and for web content, that's a big deal because, as Henneke says, you are writing for people who probably aren't going to read what you write.  People don't read articles all the way through online like they do in print.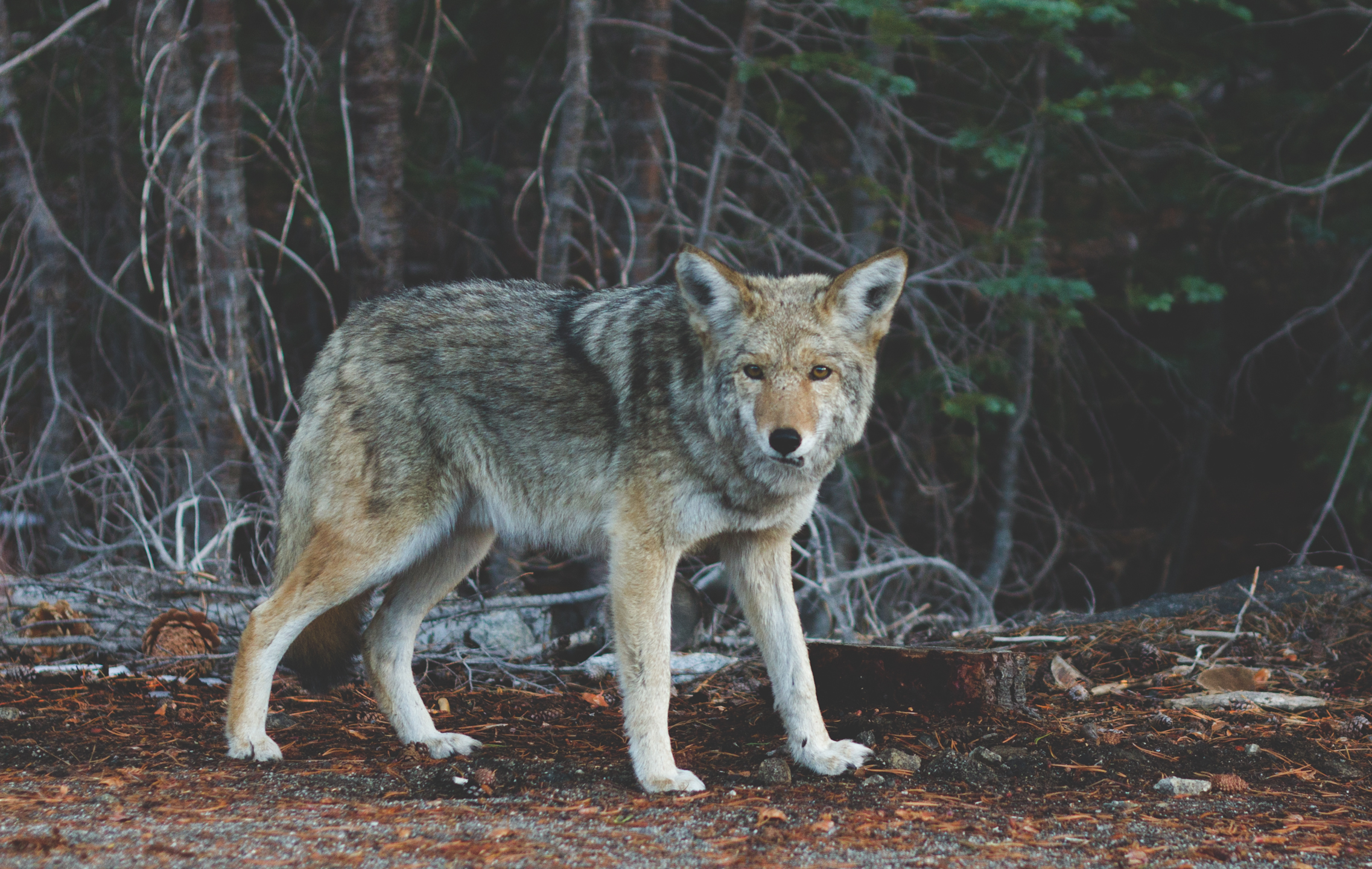 Picture your customers as wild animals when you write copy suggests Henneke Enchanged Marketing
4: Benefits First, Then Features
This point may seem a bit counterintuitive, but only because you know your products or services so well – still, you need to remember that your prospects don't. Keep in mind that they're looking for specific outcomes.
It might help to think of the benefits as the outcome they desire, while the features are part of the solution to their problem. For example, "You can look like a supermodel in two weeks with our Magic Pills – no need for diets or exercise!" The benefit is looking like a supermodel in two weeks. The features are no dieting or exercising.
By succinctly outlining the benefits first, then the features , you'll generate greater interest in your clients' minds.
Brian Clark shows us how to successfully highlight benefits , and to differentiate between benefits and features, with the 'forehead slap test' in this great post on Copyblogger.
5: Write for Scanners
It's important to remember that most online consumers are scanners first and readers second. To persuade your prospects actually to read your content, use some of these eye candy elements to draw them into your article:
Headings and subheads, relevant and on topic
Bullet lists to highlight benefits and features
Font variations, bold, italics, and colored links
Short sentences and short paragraphs, each with one idea only
Images and infographics
Memorable captions
Alex Turnbull at Bufferapp expertly includes all five of these elements in his post on research-backed content .  You'll notice that:
He establishes himself as an expert on writing persuasive content with solid research, and results, to establish his status.
The most important information is listed first. The graph shows us that a headline that includes research received a +40% increase in click throughs.
He gives us the reason 'why' in a big way – right there in the first sub-header: "why you should write research-backed content".
The benefit is shown in a graph demonstrating the increase in click through rates.
The post is easily scanable . Lots of relevant subheads, graphs, images, bold and colored fonts. And the sentences and paragraphs are short and concise, with a memorable caption: "ROI is about the MECHANIC using the tool."
With a bit of practice in applying these key elements, you'll be successful at writing persuasive content that your readers will understand and appreciate – and that's a winning situation for everyone.
Recent Posts
5 Elements of Persuasive Writing that Make Your Posts Takeoff - March 31, 2015
You might also like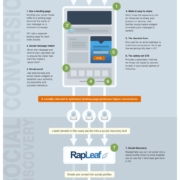 A good writer can be many things. It depends on the intended audience. If you are writing mystery, keep the conclusion till the end, if writing a scientific paper, list the hypothesis first. Cari has a firm grasp on the science of writing for marketing. Give the credibility (Expert), then the metrics (proof), why it works(reason), benefits, and format. first you hook them, and wait till the end to tell them the benefit. It will work every time, and it will keep eyeballs
Leave a Reply
Leave a reply cancel reply.
Your email address will not be published. Required fields are marked *
I agree to the terms and conditions laid out in the Privacy Policy

Optimization Services
Guaranteed Redesign
Fully-managed CRO
AI Optimization
CRO Training & Coaching
Conversion Solutions
eCommerce Optimization
Lead Generation Solutions
CRO for Website Redesign
CRO for Mobile Lead Gen
CRO for Advertising
About Conversion Sciences
Success Stories
CRO Resources
Your Customer Creation Equation Book
Free CRO Course
CRO Calculator
Press & Speaking Dates
This site uses cookies. By continuing to browse the site, you agree to our use of cookies. Or find out how to manage cookies .
Cookie and Privacy Settings
We may request cookies to be set on your device. We use cookies to let us know when you visit our websites, how you interact with us, to enrich your user experience, and to customize your relationship with our website.
Click on the different category headings to find out more. You can also change some of your preferences. Note that blocking some types of cookies may impact your experience on our websites and the services we are able to offer.
These cookies are strictly necessary to provide you with services available through our website and to use some of its features.
Because these cookies are strictly necessary to deliver the website, refusing them will have impact how our site functions. You always can block or delete cookies by changing your browser settings and force blocking all cookies on this website. But this will always prompt you to accept/refuse cookies when revisiting our site.
We fully respect if you want to refuse cookies but to avoid asking you again and again kindly allow us to store a cookie for that. You are free to opt out any time or opt in for other cookies to get a better experience. If you refuse cookies we will remove all set cookies in our domain.
We provide you with a list of stored cookies on your computer in our domain so you can check what we stored. Due to security reasons we are not able to show or modify cookies from other domains. You can check these in your browser security settings.
We also use different external services like Google Webfonts, Google Maps, and external Video providers. Since these providers may collect personal data like your IP address we allow you to block them here. Please be aware that this might heavily reduce the functionality and appearance of our site. Changes will take effect once you reload the page.
Google Webfont Settings:
Google Map Settings:
Google reCaptcha Settings:
Vimeo and Youtube video embeds:
You can read about our cookies and privacy settings in detail on our Privacy Policy Page.
How to Write a Persuasive Essay (This Convinced My Professor!)
Table of contents.
Meredith Sell
You can make your essay more persuasive by getting straight to the point.
In fact, that's exactly what we did here, and that's just the first tip of this guide. Throughout this guide, we share the steps needed to prove an argument and create a persuasive essay.
This AI tool helps you improve your essay > This AI tool helps you improve your essay >
Key takeaways: - Proven process to make any argument persuasive - 5-step process to structure arguments - How to use AI to formulate and optimize your essay
Why is being persuasive so difficult?
"Write an essay that persuades the reader of your opinion on a topic of your choice."
You might be staring at an assignment description just like this 👆from your professor. Your computer is open to a blank document, the cursor blinking impatiently. Do I even have opinions?
The persuasive essay can be one of the most intimidating academic papers to write: not only do you need to identify a narrow topic and research it, but you also have to come up with a position on that topic that you can back up with research while simultaneously addressing different viewpoints.
That's a big ask. And let's be real: most opinion pieces in major news publications don't fulfill these requirements.
The upside? By researching and writing your own opinion, you can learn how to better formulate not only an argument but the actual positions you decide to hold. 
Here, we break down exactly how to write a persuasive essay. We'll start by taking a step that's key for every piece of writing—defining the terms.
What Is a Persuasive Essay?
A persuasive essay is exactly what it sounds like: an essay that persuades . Over the course of several paragraphs or pages, you'll use researched facts and logic to convince the reader of your opinion on a particular topic and discredit opposing opinions.
While you'll spend some time explaining the topic or issue in question, most of your essay will flesh out your viewpoint and the evidence that supports it.
The 5 Must-Have Steps of a Persuasive Essay
If you're intimidated by the idea of writing an argument, use this list to break your process into manageable chunks. Tackle researching and writing one element at a time, and then revise your essay so that it flows smoothly and coherently with every component in the optimal place.
1. A topic or issue to argue
This is probably the hardest step. You need to identify a topic or issue that is narrow enough to cover in the length of your piece—and is also arguable from more than one position. Your topic must call for an opinion , and not be a simple fact .
It might be helpful to walk through this process:
Identify a random topic
Ask a question about the topic that involves a value claim or analysis to answer
Answer the question
That answer is your opinion.
Let's consider some examples, from silly to serious:
Topic: Dolphins and mermaids
Question: In a mythical match, who would win: a dolphin or a mermaid?
Answer/Opinion: The mermaid would win in a match against a dolphin.
Topic: Autumn
Question: Which has a better fall: New England or Colorado?
Answer/Opinion: Fall is better in New England than Colorado.
Topic: Electric transportation options
Question: Would it be better for an urban dweller to buy an electric bike or an electric car?
Answer/Opinion: An electric bike is a better investment than an electric car.
Your turn: Walk through the three-step process described above to identify your topic and your tentative opinion. You may want to start by brainstorming a list of topics you find interesting and then going use the three-step process to find the opinion that would make the best essay topic.
2. An unequivocal thesis statement
If you walked through our three-step process above, you already have some semblance of a thesis—but don't get attached too soon! 
A solid essay thesis is best developed through the research process. You shouldn't land on an opinion before you know the facts. So press pause. Take a step back. And dive into your research.
You'll want to learn:
The basic facts of your topic. How long does fall last in New England vs. Colorado? What trees do they have? What colors do those trees turn?
The facts specifically relevant to your question. Is there any science on how the varying colors of fall influence human brains and moods?
What experts or other noteworthy and valid sources say about the question you're considering. Has a well-known arborist waxed eloquent on the beauty of New England falls?
As you learn the different viewpoints people have on your topic, pay attention to the strengths and weaknesses of existing arguments. Is anyone arguing the perspective you're leaning toward? Do you find their arguments convincing? What do you find unsatisfying about the various arguments? 
Allow the research process to change your mind and/or refine your thinking on the topic. Your opinion may change entirely or become more specific based on what you learn.
Once you've done enough research to feel confident in your understanding of the topic and your opinion on it, craft your thesis. 
Your thesis statement should be clear and concise. It should directly state your viewpoint on the topic, as well as the basic case for your thesis.
Thesis 1: In a mythical match, the mermaid would overcome the dolphin due to one distinct advantage: her ability to breathe underwater.
Thesis 2: The full spectrum of color displayed on New England hillsides is just one reason why fall in the northeast is better than in Colorado.
Thesis 3: In addition to not adding to vehicle traffic, electric bikes are a better investment than electric cars because they're cheaper and require less energy to accomplish the same function of getting the rider from point A to point B.
Your turn: Dive into the research process with a radar up for the arguments your sources are making about your topic. What are the most convincing cases? Should you stick with your initial opinion or change it up? Write your fleshed-out thesis statement.
3. Evidence to back up your thesis
This is a typical place for everyone from undergrads to politicians to get stuck, but the good news is, if you developed your thesis from research, you already have a good bit of evidence to make your case.
Go back through your research notes and compile a list of every …
… or other piece of information that supports your thesis. 
This info can come from research studies you found in scholarly journals, government publications, news sources, encyclopedias, or other credible sources (as long as they fit your professor's standards).
As you put this list together, watch for any gaps or weak points. Are you missing information on how electric cars versus electric bicycles charge or how long their batteries last? Did you verify that dolphins are, in fact, mammals and can't breathe underwater like totally-real-and-not-at-all-fake 😉mermaids can? Track down that information.
Next, organize your list. Group the entries so that similar or closely related information is together, and as you do that, start thinking through how to articulate the individual arguments to support your case. 
Depending on the length of your essay, each argument may get only a paragraph or two of space. As you think through those specific arguments, consider what order to put them in. You'll probably want to start with the simplest argument and work up to more complicated ones so that the arguments can build on each other. 
Your turn: Organize your evidence and write a rough draft of your arguments. Play around with the order to find the most compelling way to argue your case.
4. Rebuttals to disprove opposing theses
You can't just present the evidence to support your case and totally ignore other viewpoints. To persuade your readers, you'll need to address any opposing ideas they may hold about your topic. 
You probably found some holes in the opposing views during your research process. Now's your chance to expose those holes. 
Take some time (and space) to: describe the opposing views and show why those views don't hold up. You can accomplish this using both logic and facts.
Is a perspective based on a faulty assumption or misconception of the truth? Shoot it down by providing the facts that disprove the opinion.
Is another opinion drawn from bad or unsound reasoning? Show how that argument falls apart.
Some cases may truly be only a matter of opinion, but you still need to articulate why you don't find the opposing perspective convincing.
Yes, a dolphin might be stronger than a mermaid, but as a mammal, the dolphin must continually return to the surface for air. A mermaid can breathe both underwater and above water, which gives her a distinct advantage in this mythical battle.
While the Rocky Mountain views are stunning, their limited colors—yellow from aspen trees and green from various evergreens—leaves the autumn-lover less than thrilled. The rich reds and oranges and yellows of the New England fall are more satisfying and awe-inspiring.
But what about longer trips that go beyond the city center into the suburbs and beyond? An electric bike wouldn't be great for those excursions. Wouldn't an electric car be the better choice then? 
Certainly, an electric car would be better in these cases than a gas-powered car, but if most of a person's trips are in their hyper-local area, the electric bicycle is a more environmentally friendly option for those day-to-day outings. That person could then participate in a carshare or use public transit, a ride-sharing app, or even a gas-powered car for longer trips—and still use less energy overall than if they drove an electric car for hyper-local and longer area trips.
Your turn: Organize your rebuttal research and write a draft of each one.
5. A convincing conclusion
You have your arguments and rebuttals. You've proven your thesis is rock-solid. Now all you have to do is sum up your overall case and give your final word on the subject. 
Don't repeat everything you've already said. Instead, your conclusion should logically draw from the arguments you've made to show how they coherently prove your thesis. You're pulling everything together and zooming back out with a better understanding of the what and why of your thesis. 
A dolphin may never encounter a mermaid in the wild, but if it were to happen, we know how we'd place our bets. Long hair and fish tail, for the win.
For those of us who relish 50-degree days, sharp air, and the vibrant colors of fall, New England offers a season that's cozier, longer-lasting, and more aesthetically pleasing than "colorful" Colorado. A leaf-peeper's paradise.
When most of your trips from day to day are within five miles, the more energy-efficient—and yes, cost-efficient—choice is undoubtedly the electric bike. So strap on your helmet, fire up your pedals, and two-wheel away to your next destination with full confidence that you made the right decision for your wallet and the environment.
3 Quick Tips for Writing a Strong Argument
Once you have a draft to work with, use these tips to refine your argument and make sure you're not losing readers for avoidable reasons.
1. Choose your words thoughtfully.
If you want to win people over to your side, don't write in a way that shuts your opponents down. Avoid making abrasive or offensive statements. Instead, use a measured, reasonable tone. Appeal to shared values, and let your facts and logic do the hard work of changing people's minds.
Choose words with AI
You can use AI to turn your general point into a readable argument. Then, you can paraphrase each sentence and choose between competing arguments generated by the AI, until your argument is well-articulated and concise.
2. Prioritize accuracy (and avoid fallacies).
Make sure the facts you use are actually factual. You don't want to build your argument on false or disproven information. Use the most recent, respected research. Make sure you don't misconstrue study findings. And when you're building your case, avoid logical fallacies that undercut your argument.
A few common fallacies to watch out for:
Strawman: Misrepresenting or oversimplifying an opposing argument to make it easier to refute.
Appeal to ignorance: Arguing that a certain claim must be true because it hasn't been proven false.
Bandwagon: Assumes that if a group of people, experts, etc., agree with a claim, it must be true.
Hasty generalization: Using a few examples, rather than substantial evidence, to make a sweeping claim.
Appeal to authority: Overly relying on opinions of people who have authority of some kind.
The strongest arguments rely on trustworthy information and sound logic.
Research and add citations with AI
We recently wrote a three part piece on researching using AI, so be sure to check it out . Going through an organized process of researching and noting your sources correctly will make sure your written text is more accurate.
3. Persuasive essay structure
If you're building a house, you start with the foundation and go from there. It's the same with an argument. You want to build from the ground up: provide necessary background information, then your thesis. Then, start with the simplest part of your argument and build up in terms of complexity and the aspect of your thesis that the argument is tackling.
A consistent, internal logic will make it easier for the reader to follow your argument. Plus, you'll avoid confusing your reader and you won't be unnecessarily redundant.
The essay structure usually includes the following parts:
Intro - Hook, Background information, Thesis statement
Topic sentence #1 , with supporting facts or stats
Concluding sentence
Topic sentence #2 , with supporting facts or stats
Concluding sentence Topic sentence #3 , with supporting facts or stats
Conclusion - Thesis and main points restated, call to action, thought provoking ending
Are You Ready to Write?
Persuasive essays are a great way to hone your research, writing, and critical thinking skills. Approach this assignment well, and you'll learn how to form opinions based on information (not just ideas) and make arguments that—if they don't change minds—at least win readers' respect. ‍
Share This Article:
Looking for fresh contact, thank you your submission has been received, related articles.
Social Media 2023 Round Up
SEO Copywriting Success: 10 Tips For High-Ranking Content
12 Examples of Powerful Influencer Marketing Campaigns (and How to Create Them Yourself)
#NOTABOUTME
Privacy Policy
For Entrepreneurs
For Sales Professionals
For Sales Teams
Event Speaking
For Executives
The Unbound Library
Upcoming Events
On-Demand Events

Unbound Growth Blog
The 5 elements of persuasive copywriting.
Copywriting for the web is different than offline copywriting. Why? Because unlike an offline reader that is passive and silent, your online audience is active, vocal and connected. It is not a one-way street anymore; it is an open and two- way communication.
For some marketers and business owners, this loss of control is scary. What if someone says something bad about us? I say, great, that gives you the opportunity to fix it and improve.
Copy (ie: content) is THE most important element of Internet marketing. Your words must speak to the person reading it in simple and compelling voice- as if you were sitting on a couch together in the local coffee shop on a rainy and raw afternoon in late fall.
5 Elements of Writing Compelling Copy that Persuades Visitors to Take Action with You
1- Persuasion requires a structure. Have a plan for how you will persuade with your copy by creating a path for your readers.
Example of a structure:
Open with a strong statement in the headline
Develop drama and explain why this is important
Focus on the benefit to the visitor to act
Justify the act by identify the lasting value
Address concerns or objections
Ask for something
2- Find your perspective voice and stick with it. What you say is not as important as how you say it. Get comfortable with the fact that who you are is less important than who your audience imagines you to be. Defining your perspective will keep the tone of your copy consistent. There is no right or wrong answer, only what works for you.
Examples of perspectives:
Intellect vs. Emotion. Will you introduce a new perspective to the reader or confirm what they already know and try to persuade them to feel differently about it?
Then vs. Now. Are you talking about what has already happened, what will happen, or what is happening? Decide which approach will give your copy the most impact.
Me, Them, or You. Will you speak from the 1 st person (yourself), 2 nd person (them), or 3 rd person (outside narrative)? We like to read about ourselves, so generally 2 nd person work best.
Pain vs Gain. Will you speak to fear of loss or the hope of gain?
3-Write to one person instead of the masses- this is personal. How quickly do you get bored with the person at the party that talks all about themselves and what they are doing? Talk less about what you are doing; talk more about what your solution will help them to do. (Again, we like to read about ourselves.) Creating personas will help you to write to one person.
Example: For the cost of a cup of coffee a day you can give a child fresh water to drink everyday.
4-Don't be shy about emotion. We like to think of ourselves as logical and rational beings that make our decisions based on facts. But in truth, we use that to rationalize the reality that we make our decisions out of emotion. Create an emotional image and story that your reader can envision and inspires them to act on.
5-If you can say it in 5 words, why use 15? Remember the KISS rule. Keep it simple. Do you think that John F Kennedy's speech about going to the moon would have had the same impact if he has said, "We are driving innovative tactics that will propel our combined citizenship to be global competitors and the market leader in technology, science and research.' versus "We are going to be the first to go to the moon!"
6 - SEO bonus. Unless your business is the 'click here' or 'learn more' company, don't hyperlink those words in your copy.
Example: We save more trees and preserve more forests than any other organization worldwide. (great- then you are all set and don't need me!) Click here to learn more.
You can save more trees and preserve more forests for your children with your $10 donation.
By hyper-linking your keywords as the anchor text, you are telling search engines that this is important enough to link additional information. Use that link to send readers to information about how their donation goes further because you are able to buy more trees in bulk as part of your persuasive structure. You are giving them a clear way to take action by hyper-linking the '$10 donation' to your donation page. (And don't break the momentum, have the $10 donation on the informational page as well!)
Persuasive copy- it's good for SEO AND conversion.
Topics: copywriting , online copywriting
Subscribe To This Blog
Subscribe to our newsletter.
Subscribe to our monthly newsletter to get a summary of our recent blog posts, upcoming events & more!
Recent Posts
Posts by topic.
sales coaching (85)
What Sales Can Learn From Series (77)
sales training (70)
sales mindsets (44)
salespeople (43)
smarketing (43)
sales leadership (40)
sales strategy (40)
sales tips (38)
entrepreneur (35)
#livesaleslab (32)
sales development (31)
sales management (31)
sales coach (29)
marketing strategy (27)
inbound marketing (26)
sales process (26)
Buyer First (22)
sales and marketing alignment (22)
sales performance (20)
sales techniques (19)
sales best practices (17)
sales tactics (17)
inbound (16)
sales conversations (15)
inbound sales (14)
marketing (14)
copywriting (13)
customer personas (13)
internet marketing (13)
social media (13)
book review (12)
guest blog post (12)
business development (11)
goal setting (11)
internet marketing plans (11)
content marketing (10)
customer profiles (10)
email marketing (10)
sales and marketing strategy (10)
sales questions (9)
sales science (9)
Not About Me (8)
advanced analytics (8)
buyer personas (8)
internet marketing strategy (8)
prospecting (8)
sales assessment test (8)
sales hiring (8)
business growth (7)
customer segmentation (7)
customer service (7)
leadership (7)
#livesalesmanagement (6)
email marketing best practices (6)
inbound sales development (6)
lead generation (6)
market research (6)
online copywriting (6)
sales and marketing integration (6)
social selling (6)
branding (5)
buyer persona (5)
inbound networkers (5)
internet marketing strategic planning (5)
overwhelm (5)
productivity (5)
sales analysis (5)
sales assessment (5)
sales books (5)
small business (5)
small business email marketing (5)
website conversion optimization (5)
Ingagements (4)
Pay per click (4)
buying process (4)
conversion optimization (4)
customer experience marketing (4)
inbound internet marketing (4)
key word analysis (4)
personal development (4)
sales assessments (4)
sales email (4)
sales funnel (4)
sales proposals (4)
scientific marketing (4)
search engine optimization (4)
small business internet marketing (4)
social media management (4)
target customers (4)
B2B sale (3)
LinkedIn (3)
Turning Traffic into Customers (3)
company culture (3)
customer retention (3)
email marketing basics (3)
internet marketing coaching (3)
internet marketing optimization (3)
internet user trends (3)
lead nurturing (3)
marketing plan (3)
marketing strategies (3)
sales and marketing revolution (3)
sales follow up (3)
sales methodology (3)
social media tools (3)
strategic planning (3)
Competitive Differentiation (2)
Startups (2)
business owners (2)
collaboration (2)
customer acquistion (2)
hybrid marketing agency (2)
inbound marketing for small business (2)
inbound networking (2)
increase web site visitors (2)
internet marketing promotion (2)
key phrase analysis (2)
marketing best practices (2)
marketing consultant (2)
marketing for seniors (2)
mentoring (2)
mobile marketing (2)
new age marketing (2)
new product (2)
online goals (2)
permission-based email marketing (2)
personal branding (2)
personas (2)
pipeline management (2)
prospecting tools (2)
recession marketing (2)
recruiting (2)
referrals (2)
sales 2.0 (2)
sales onboarding (2)
sales technology (2)
smarketing process (2)
social media marketing (2)
thought leader (2)
time management (2)
unbound (2)
web analytics (2)
website architects (2)
website design (2)
Revenue (1)
Smarketing Video Blogs (1)
Twitter (1)
account based (1)
allbound (1)
blogging (1)
convergence marketing (1)
customer engagement (1)
customer relationships (1)
employee retention (1)
employee wellbeing (1)
executive coaching (1)
experiential marketing (1)
inbound consultant (1)
inbound strategy (1)
internet marketing software (1)
marketing coach (1)
marketing coaching (1)
marketing ideas for small businesses (1)
marketing management (1)
marketing process (1)
marketing tips for small businesses (1)
mental health (1)
outbound sales (1)
permission marketing (1)
post merger integration (1)
role play (1)
sales 2.0 tools (1)
sales enablement (1)
sales lab program (1)
search engine optimization (seo) (1)
seo copywriting (1)
small business marketing resource (1)
social media policy (1)
social networking for business (1)
taglines (1)
video marketing (1)
virtual (1)
web video (1)
© 2020 Unbound Growth

How to Write Perfect Persuasive Essays in 5 Simple Steps
WHAT IS A PERSUASIVE ESSAY?
A persuasive text presents a point of view around a topic or theme that is backed by evidence to support it.
The purpose of a persuasive text can be varied. Maybe you intend to influence someone's opinion on a specific topic, or you might aim to sell a product or service through an advertisement.
The challenge in writing a good persuasive text is to use a mix of emotive language and, in some cases, images that are supported by hard evidence or other people's opinions.
In a persuasive essay or argument essay, the student strives to convince the reader of the merits of their opinion or stance on a particular issue. The student must utilise several persuasive techniques to form a coherent and logical argument to convince the reader of a point of view or to take a specific action.
PERSUADING PEOPLE REQUIRES A CONSISTENT APPROACH…
Persuasive texts are simple in structure. You must clearly state your opinion around a specific topic and then repeatedly reinforce your opinions with external facts or evidence. A robust concluding summary should leave little doubt in the reader's mind. ( Please view our planning tool below for a detailed explanation. )
TYPES OF PERSUASIVE TEXT
We cover the broad topic of writing a general persuasive essay in this guide, there are several sub-genres of persuasive texts students will encounter as they progress through school. We have complete guides on these text types, so be sure to click the links and read these in detail if required.
Argumentative Essays – These are your structured "Dogs are better pets than Cats" opinion-type essays where your role is to upsell the positive elements of your opinions to your audience whilst also highlighting the negative aspects of any opposing views using a range of persuasive language and techniques.
Advertising – Uses persuasive techniques to sell a good or service to potential customers with a call to action.
Debating Speeches – A debate is a structured discussion between two teams on a specific topic that a moderator judges and scores. Your role is to state your case, sell your opinions to the audience, and counteract your opposition's opinions.
Opinion Articles, Newspaper Editorials. – Editorials often use more subtle persuasive techniques that blur the lines of factual news reporting and opinions that tell a story with bias. Sometimes they may even have a call to action at the end.
Reviews – Reviews exist to inform others about almost any service or product, such as a film, restaurant, or product. Depending on your experiences, you may have firm opinions or not even care that much about recommending it to others. Either way, you will employ various persuasive techniques to communicate your recommendations to your audience.
Please note a DISCUSSION essay is not a traditional persuasive text, as even though you are comparing and contrasting elements, the role of the author is to present an unbiased account of both sides so that the reader can make a decision that works best for them. Discussions are often confused as a form of persuasive writing.
A COMPLETE TEACHING UNIT ON PERSUASIVE WRITING SKILLS
Teach your students to produce writing that PERSUADES and INFLUENCES thinking with this HUGE writing guide bundle covering: ⭐ Persuasive Texts / Essays ⭐ Expository Essays⭐ Argumentative Essays⭐ Discussions.
A complete 140 PAGE unit of work on persuasive texts for teachers and students. No preparation is required.
THE STRUCTURE OF A PERSUASIVE ESSAY
1. Introduction
In the introduction, the student will naturally introduce the topic. Controversial issues make for great topics in this writing genre. It's a cliche in polite society to discourage discussions involving politics, sex, or religion because they can often be very divisive. While these subjects may not be the best topics of conversation for the dinner table at Thanksgiving, they can be perfect when deciding on a topic for persuasive writing. Obviously, the student's age and abilities should be considered, as well as cultural taboos, when selecting a topic for the essay. But the point holds, the more controversial, the better.
Let's take a look at some of the critical elements of the introduction when writing a persuasive essay:
Title: Tell your audience what they are reading.
This will often be posed as a question; for example, if the essay is on the merits of a vegetarian lifestyle, it may be called something like: To Eat Meat or Not?
Hook : Provide your audience with a reason to continue reading.
As with any genre of writing, capturing the reader's interest from the outset is crucial. There are several methods of doing this, known as hooks. Students may open their essays with anecdotes, jokes, quotations, or relevant statistics related to the topic under discussion.
Background: Provide some context to your audience.
In this introductory section, students will provide the reader with some background on the topic. This will place the issue in context and briefly weigh some opinions on the subject.
Thesis statement: Let the audience know your stance.
After surveying the topic in the first part of the introduction, it is now time for the student writer to express their opinion and briefly preview the points they will make later in the essay.
2. Body Paragraphs
The number of paragraphs forming this essay section will depend on the number of points the writer chooses to make to support their opinion. Usually three main points will be sufficient for beginning writers to coordinate. More advanced students can increase the number of paragraphs based on the complexity of their arguments, but the overall structure will largely remain intact.
Be sure to check out our complete guide to writing perfect paragraphs here .
The TEEL acronym is valuable for students to remember how to structure their paragraphs. Read below for a deeper understanding.
Topic Sentence:
The topic sentence states the central point of the paragraph. This will be one of the reasons supporting the thesis statement made in the introduction.
These sentences will build on the topic sentence by illustrating the point further, often by making it more specific.
These sentences' purpose is to support the paragraph's central point by providing supporting evidence and examples. This evidence may be statistics, quotations, or anecdotal evidence.
The final part of the paragraph links back to the initial statement of the topic sentence while also forming a bridge to the next point to be made. This part of the paragraph provides some personal analysis and interpretation of how the student arrived at their conclusions and connects the essay as a cohesive whole.
3. Conclusion
The conclusion weaves together the main points of the persuasive essay. It does not usually introduce new arguments or evidence but instead reviews the arguments made already and restates them by summing them up uniquely. It is important at this stage to tie everything back to the initial thesis statement. This is the writer's last opportunity to drive home their point, to achieve the essay's goal, to begin with – persuade the reader of their point of view.
Ending an essay well can be challenging, but it is essential to end strongly, especially for persuasive essays. As with the hooks of the essay's opening, there are many tried and tested methods of leaving the reader with a strong impression. Encourage students to experiment with different endings, for example, concluding the essay with a quotation that amplifies the thesis statement.
Another method is to have the student rework their ending in simple monosyllabic words, as simple language often has the effect of being more decisive in impact. The effect they are striving for in the final sentence is the closing of the circle.
Several persuasive writing techniques can be used in the conclusion and throughout the essay to amp up the persuasive power of the writing. Let's take a look at a few.
ETHOS, PATHOS & LOGOS TUTORIAL VIDEO (2:20)
TIPS FOR WRITING A GREAT PERSUASIVE ESSAY
PERSUASIVE TECHNIQUES
In this article, we have outlined a basic structure that will be helpful to students in approaching the organization of their persuasive writing. It will also be helpful for the students to be introduced to a few literary techniques that will help your students to present their ideas convincingly. Here are a few of the more common ones:
Repetition: There is a reason why advertisements and commercials are so repetitive – repetition works! Students can use this knowledge to their advantage in their persuasive writing. It is challenging to get the reader to fully agree with the writer's opinion if they don't fully understand it. Saying the same thing in various ways ensures the reader gets many bites at the 'understanding' cherry.
Repetition Example: "The use of plastic bags is not only bad for the environment, but it is also bad for our economy. Plastic bags are not biodegradable, meaning they will not decompose and will continue to take up space in landfills. Plastic bags are also not recyclable, meaning they will not be reused and will instead end up in landfills. Plastic bags are not only bad for the environment, but they are also bad for our economy as they are costly to dispose of and take up valuable space in landfills."
In this example, the phrase "not only bad for the environment but also bad for our economy" is repeated multiple times to reinforce the idea that plastic bags are not just a problem for the environment but also the economy. The repetition of the phrase emphasizes the point and makes it more persuasive.
It is also important to note that repetition could be used differently, such as repeating a word or phrase to create rhythm or emphasis.
Storytelling: Humans tend to understand things better through stories. Think of how we teach kids important values through time-tested fables like Peter and the Wolf . Whether through personal anecdotes or references to third-person experiences, stories help climb down the ladder of abstraction and reach the reader on a human level.
Storytelling Example: "Imagine you are walking down the street, and you come across a stray dog clearly in need of food and water. The dog looks up at you with big, sad eyes, and you cannot help but feel a twinge of compassion. Now, imagine that same scenario, but instead of a stray dog, it's a homeless person sitting on the sidewalk. The person is clearly in need of food and shelter, and their eyes also look up at her with a sense of hopelessness.
The point of this story is to show that just as we feel compelled to help a stray animal in need, we should also feel compelled to help a homeless person. We should not turn a blind eye to the suffering of our fellow human beings, and we should take action to address homelessness in our community. It is important to remember that everyone deserves a roof over their head and a warm meal to eat. The story is designed to elicit an emotional response in the reader and make the argument more relatable and impactful.
By using storytelling, this passage creates an image in the reader's mind and creates an emotional connection that can be more persuasive than just stating facts and figures.
Dissent: We live in a cynical age, so leaving out the opposing opinion will smack of avoidance to the reader. Encourage your students to turn to that opposing viewpoint and deal with those arguments in their essays .
Dissent Example: "Many people argue that students should not have to wear uniforms in school. They argue that uniforms stifle creativity and individuality and that students should be able to express themselves through their clothing choices. While these are valid concerns, I strongly disagree.
In fact, uniforms can actually promote individuality by levelling the playing field and removing the pressure to dress in a certain way. Furthermore, uniforms can promote a sense of community and belonging within a school. They can also provide a sense of discipline and structure, which can help to create a more focused and productive learning environment. Additionally, uniforms can save families money and eliminate the stress of deciding what to wear daily .
While some may argue that uniforms stifle creativity and individuality, the benefits of uniforms far outweigh the potential drawbacks. It is important to consider the impact of uniforms on the school as a whole, rather than focusing solely on individual expression."
In this example, the writer presents the opposing viewpoint (uniforms stifle creativity and individuality) and then provides counterarguments to refute it. By doing so, the writer can strengthen their own argument and present a more convincing case for why uniforms should be worn in school.
A Call to Action: A staple of advertising, a call to action can also be used in persuasive writing. When employed, it usually forms part of the conclusion section of the essay and asks the reader to do something, such as recycle, donate to charity, sign a petition etc.
A quick look around reveals to us the power of persuasion, whether in product advertisements, newspaper editorials, or political electioneering; persuasion is an ever-present element in our daily lives. Logic and reason are essential in persuasion, but they are not the only techniques. The dark arts of persuasion can prey on emotion, greed, and bias. Learning to write persuasively can help our students recognize well-made arguments and help to inoculate them against the more sinister manifestations of persuasion.
Call to Action Example: "Climate change is a pressing issue that affects us all, and it's important that we take action now to reduce our carbon footprint and protect the planet for future generations. As a society, we have the power to make a difference and it starts with small changes that we can make in our own lives.
I urge you to take the following steps to reduce your carbon footprint:
Reduce your use of single-use plastics
Use public transportation, carpool, bike or walk instead of driving alone.
Support clean energy sources such as solar and wind power
Plant trees and support conservation efforts
It's easy to feel like one person can't make a difference, but the truth is that every little bit helps. Together, we can create a more sustainable future for ourselves and for the planet.
So, let's take action today and make a difference for a better future, it starts with minor changes, but it all adds up and can make a significant impact. We need to take responsibility for our actions and do our part to protect the planet."
In this example, the writer gives a clear and specific call to action and encourages the reader to take action to reduce their carbon footprint and protect the planet. By doing this, the writer empowers the reader to take action and enables them to change.
Now, go persuade your students of the importance of perfecting the art of persuasive writing!
A COMPLETE UNIT ON TEACHING FACT AND OPINION
This HUGE 120 PAGE resource combines four different fact and opinion activities you can undertake as a WHOLE GROUP or as INDEPENDENT READING GROUP TASKS in either DIGITAL or PRINTABLE TASKS.
20 POPULAR PERSUASIVE ESSAY TOPICS FOR STUDENTS
Writing an effective persuasive essay demonstrates a range of skills that will be of great use in nearly all aspects of life after school.
In essence, if you can influence a person to change their ideas or thoughts on a given topic through how you structure your words and thoughts, you possess a very powerful skill.
Be careful not to rant wildly. Use facts and other people's ideas who think similarly to you in your essay to strengthen your concepts.
Your biggest challenge in getting started may be choosing a suitable persuasive essay topic. These 20 topics for a persuasive essay should make this process a little easier.
WHY ARE WE FASCINATED WITH CELEBRITIES AND WEALTHY PEOPLE ON TELEVISION AND SOCIAL MEDIA?
IS IT RIGHT FOR SCHOOLS TO RAISE MONEY BY SELLING CANDY AND UNHEALTHY FOODS TO STUDENTS?
SHOULD GIRLS BE ALLOWED TO PLAY ON BOYS SPORTING TEAMS?
IS TEACHING HANDWRITING A WASTE OF TIME IN THIS DAY AND AGE?
SHOULD THERE BE FAR GREATER RESTRICTIONS AROUND WHAT CAN BE POSTED ON THE INTERNET?
SHOULD PROFESSIONAL ATHLETES HAVE TO TAKE DRUG TESTS?
ARE TEENAGE PREGNANCY SHOWS A NEGATIVE OR POSITIVE INFLUENCE ON VIEWERS?
SHOULD GAMBLING BE PROMOTED IN ANY WAY IN SPORTS EVEN THOUGH IT BRINGS IN LARGE AMOUNTS OF REVENUE?
SHOULD SPORTING TEAMS THAT LOSE BE REWARDED BY RECEIVING INCENTIVES SUCH AS HIGH DRAFT PICKS AND / OR FINANCIAL BENEFITS?
SHOULD SHARKS THAT ATTACK PEOPLE BE DESTROYED? SHOULD WE GET INVOLVED IN FOREIGN CONFLICTS AND ISSUES THAT DON'T DIRECTLY AFFECT OUR COUNTRY?
SHOULD WE GET INVOLVED IN FOREIGN CONFLICTS AND ISSUES THAT DON'T DIRECTLY AFFECT OUR COUNTRY?
COULD VIDEO GAMES BE CONSIDERED AS A PROFESSIONAL SPORT?
IF YOU WERE THE LEADER OF YOUR COUNTRY AND HAD A LARGE SURPLUS TO SPEND, WHAT WOULD YOU DO WITH IT?
WHEN SHOULD A PERSON BE CONSIDERED AND TREATED AS AN ADULT?
SHOULD SMOKING BECOME AN ILLEGAL ACTIVITY?
SHOULD THE VOTING AGE BE LOWERED?
DOES PROTECTIVE PADDING IN SPORTS MAKE IT MORE DANGEROUS?
SHOULD CELL PHONES BE ALLOWED IN THE CLASSROOM?
IS TEACHING A FOREIGN LANGUAGE A WASTE OF TIME?
SHOULD WE TEACH ETIQUETTE IN SCHOOLS?
PERSUASIVE PROMPTS FOR RELUCTANT WRITERS
If your students need a little more direction and guidance, here are some journal prompts that include aspects to consider.
Convince us that students would be better off having a three-day weekend . There are many angles you could take with this, such as letting children maximize their childhood or trying to convince your audience that a four-day school week might actually be more productive.
Which is the best season? And why? You will really need to draw on the benefits of your preferred season and sell them to your audience. Where possible, highlight the negatives of the competing seasons. Use lots of figurative language and sensory and emotional connections for this topic.
Aliens do / or don't exist? We can see millions of stars surrounding us just by gazing into the night sky, suggesting alien life should exist, right? Many would argue that if there were aliens we would have seen tangible evidence of them by now. The only fact is that we just don't know the answer to this question. It is your task to try and convince your audience through some research and logic what your point of view is and why.
Should school uniforms be mandatory? Do your research on this popular and divisive topic and make your position clear on where you stand and why. Use plenty of real-world examples to support your thoughts and points of view.
Should Smartphones be banned in schools? Whilst this would be a complete nightmare for most students' social lives, maybe it might make schools more productive places for students to focus and learn. Pick a position, have at least three solid arguments to support your point of view, and sell them to your audience.
VISUAL JOURNAL PROMPTS FOR PERSUASIVE WRITING
Try these engaging, persuasive prompts with your students to ignite the writing process . Scroll through them.
Persuasive Essay Examples (Student Writing Samples)
Below are a collection of persuasive essay samples. Click on the image to enlarge and explore them in greater detail. Please take a moment to read the persuasive texts in detail and the teacher and student guides highlight some of the critical elements of writing a persuasion.
Please understand these student writing samples are not intended to be perfect examples for each age or grade level but a piece of writing for students and teachers to explore together to critically analyze to improve student writing skills and deepen their understanding of persuasive text writing.
We recommend reading the example either a year above or below, as well as the grade you are currently working with, to gain a broader appreciation of this text type.
VIDEO TUTORIALS FOR PERSUASIVE WRITING
OTHER GREAT ARTICLES RELATED TO PERSUASIVE ESSAY WRITING
Teaching Resources
Use our resources and tools to improve your student's writing skills through proven teaching strategies.
WHERE CAN I FIND A COMPLETE UNIT OF WORK ON HOW TO WRITE PERSUASIVE ESSAYS?
We pride ourselves on being the web's best resource for teaching students and teachers how to write a persuasive text. We value the fact you have taken the time to read our comprehensive guides to understand the fundamentals of writing skills.
We also understand some of you just don't have the luxury of time or the resources to create engaging resources exactly when you need them.
If you are time-poor and looking for an in-depth solution that encompasses all of the concepts outlined in this article, I strongly recommend looking at the " Writing to Persuade and Influence Unit. "
Working in partnership with Innovative Teaching Ideas , we confidently recommend this resource as an all-in-one solution to teach how to write persuasively.
This unit will find over 140 pages of engaging and innovative teaching ideas.
PERSUASIVE ESSAY WRITING CHECKLIST AND RUBRIC BUNDLE
The Ultimate Guide to Opinion Writing for Students and Teachers
Top 5 Persuasive Writing Techniques for Students
5 Top Persuasive Writing Lesson Plans for Students and Teachers
23 Persuasive writing Topics for High School students
How to Write an Advertisement: A Complete Guide for Students and Teachers
How to Start an Essay with Strong Hooks and Leads
The content for this page has been written by Shane Mac Donnchaidh.  A former principal of an international school and English university lecturer with 15 years of teaching and administration experience. Shane's latest Book, The Complete Guide to Nonfiction Writing , can be found here.  Editing and support for this article have been provided by the literacyideas team.
Explore our Premium Teaching Unit on PERSUASIVE TEXTS
You are using an outdated browser. Please upgrade your browser to improve your experience.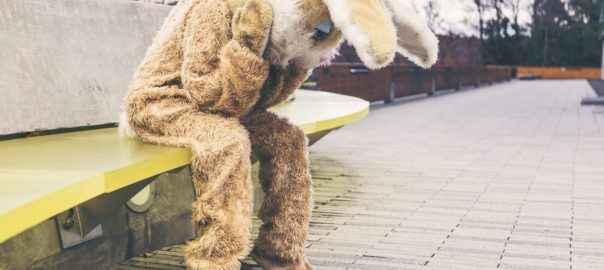 Persuasive Essay: The Ultimate Guide on Writing It
Oh, no. Essays… Again!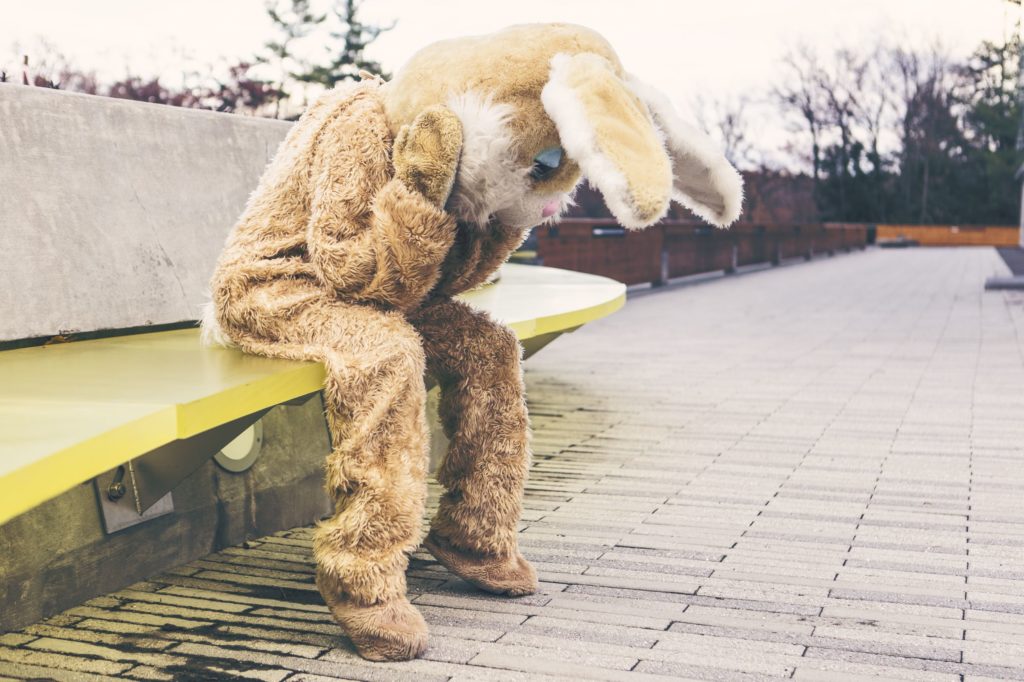 image by Gratisography
Persuasion essay example are many, and students have to know them all, as well as understand the difference between them. What to do if a professor assigns a persuasive essay to you?
Here you'll find the ultimate guide on writing persuasive essays, including the tips on choosing a topic, outlining your essay, structuring it step by step, representing strong arguments to convince readers of your position, and examples/additional resources to check for better essay writing .
So, here we go!
Table of Contents:
Persuasive essay topics
Persuasive essay structure
Five elements of persuasion in your essay
Choose your position
Do research
Identify the strongest evidence
Write a persuasive essay outline
Write a draft of your persuasive essay
Proofread and edit
Persuasive essay samples
What is a Persuasive Essay?
Persuasive essays are also known as argumentative. However, there's a difference between these two essay types:
In argumentative essays , you show both sides of the coin to readers. You describe all arguments and counterarguments, even if you don't agree with some of them, and it's up to readers to decide which works best.
In persuasive essays , you choose a side and represent arguments only about this aspect to convince readers of the truth of your words.
Persuasive Essay Topics
For your writing persuasive essays  to succeed , its topic needs to be po lem ical rather than exp ository . It means you can 't argue about common knowledge such as " People need air to breathe ." But something like " People need marijuana for better health " might work . For those looking for an essay maker to help craft an argument ative , po lem ical essay , you can take advantage of online tools and resources .
Sometimes professors assign a particular topic for you to write. But more often than not, they ask to choose a topic of your interest and craft a persuasive essay in a given time.
The best polemical issues to use for a persuasive essay include spheres like culture, politics, climate changes, gender issues, animal rights, and religion. But sure enough, you can choose anything that worries you if you enough arguments to persuade readers of your position.
Here goes the list of persuasive essay topics for you to consider (first appeared at ThoughtCo ):
Persuasive Essay Topics for Beginners

Intermediate
Persuasive Essay Topics for Intermediates
Persuasive Essay Topics for Advanced
Make sure to choose a persuasive essay topic that inspires but also gives you materials to research. If you can't find any strong arguments to support your statement, your persuasive essay will hardly get an A.
Also, feel free to consider these topics when thinking of what to write in your essay. They are up-to-date, with tons of debates in literature and online, so you'll cover any of them by all means.
Topics to Choose for Your Next Persuasive Essay
Every topic from the above is quite debatable and has both advocates and opponents. The Quad shares the links to them all , so if you decide to write a persuasive essay on any controversial topic from the list, you can learn arguments and find evidence from both sides of the fence.
Persuasive Essay Structure
The structure of your short persuasive essay is not that difficult to remember and follow.
Given that you need to convince a reader of your arguments, you'll first need to state a thesis in your essay introduction, and then write a couple of paragraphs to share the evidence that support your thesis. Don't forget to include counterarguments from your opponents but explain why you disagree with them.
And finally, write a conclusion restating your thesis and providing a reader with food for thought.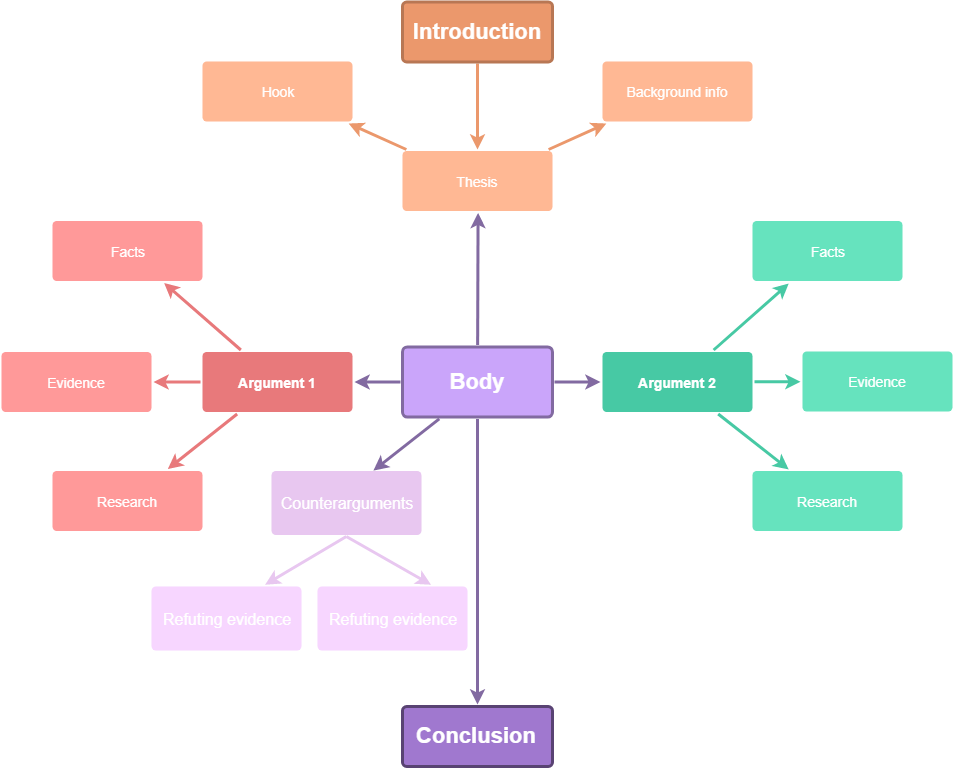 Introduction: hook, background, thesis.
Body: 1-2 paragraphs, each with an argument and supporting evidence.
Body: 1 paragraph, with your opponent's arguments and your counterarguments on why you still disagree.
Conclusion: sum up your points, restate your thesis, and leave readers with food for thought.
In the introduction, describe the problem and state the point you're trying to make. Also, think of a strong hook for readers to understand why they should care.
In body paragraphs, support your thesis with evidence from credible resources. Leave one paragraph for counterargument: what your opponents have to say on the issue and why you still disagree. Use logical arguments and research to convince readers .
In the conclusion, wrap up your persuasive essay by restating your thesis. You may end it with a question for readers to think about.
How to Use Arguments in Persuasive Essays
First and foremost, you need to understand the basic principles of persuasive writing and know the five elements of persuasion.
Given that you need to get others to accept your point of view, your arguments in the essay should be reasonable, verifiable, and credible enough. More than that, you need to appeal to human logic and emotions. The right combination of emotional and rational elements is what makes your essay persuasive.
How to reach that?
Remember the basic principles of persuasive writing, described by Aristotle many moons ago. He called them elements of rhetoric, and they were three:
■ Ethos (appealing to a writer's character and credibility): use authoritative resources to prove your arguments.
Example: "I'm a Doctor of Dental Surgery, and I recommend this toothpaste to keep your teeth white."
■ Pathos (appealing to emotions): focus on a reader's morals, values, and beliefs.
Example: "You just can't be cool in high school without a white smile! How to communicate with peers if you worry about your teeth and freshness? That's where a good toothpaste will help."
■ Logos (appealing to reason): use logic and evidence to persuade others to agree with you.
Example: "Recent studies conclude that this toothpaste removes 40% more plague and makes our teeth 20% whiter than all other types of toothpaste."
The above and more examples: Your Dictionary
Ethos, Pathos and Logos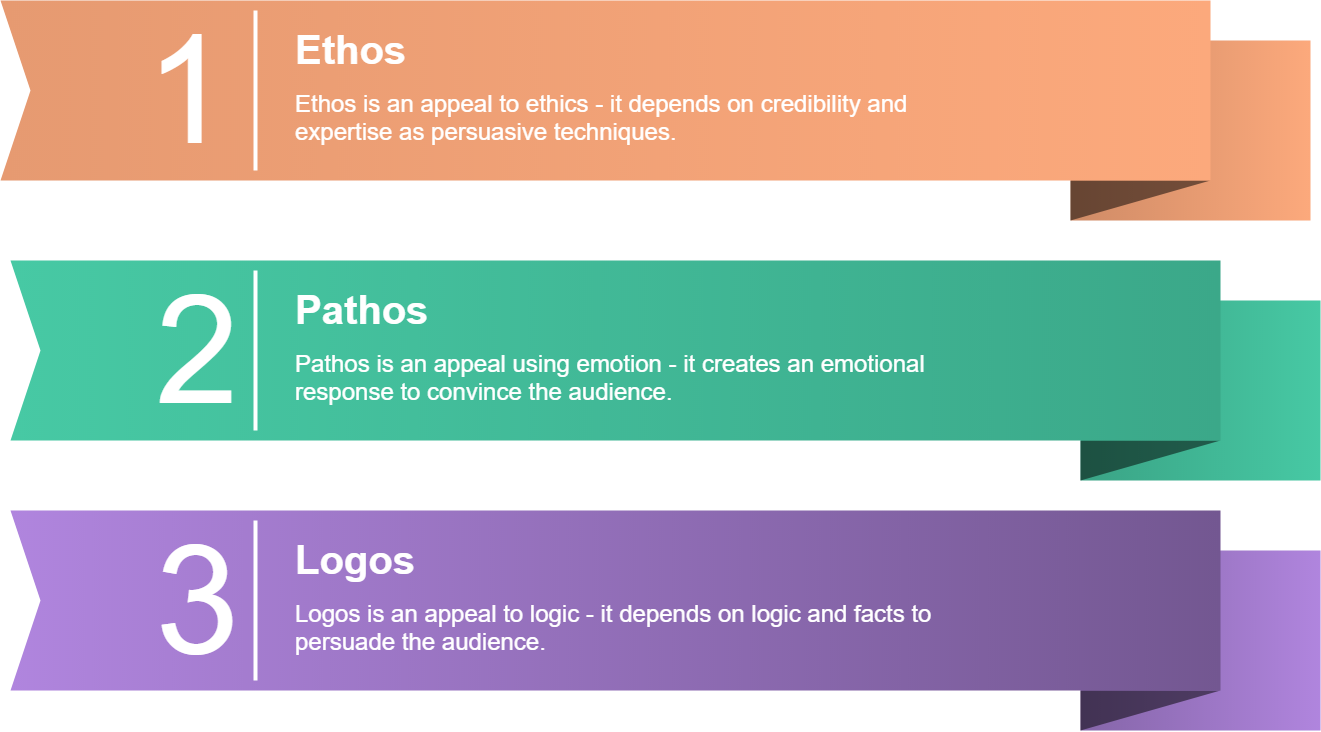 Unlike logos and pathos, ethos is not about writing itself but your reputation as a writer. For example, readers of your essay will trust you and agree with you because they know you as a good student who spends tons of time exploring this topic. Or, millions trust Kim Kardashian because she's a world-famous media persona, not a random girl off the street. Her popularity is her ethos. In the context of essays, you can reference to credible personas and organizations in your work. Their ethos is what can help your arguments sound persuasive.
Five Elements of Persuasion in Your Essay
Persuasive essays have no paragraph limits. You can write one body paragraph to explain your position, and another paragraph – to describe counterarguments of your opponents and why you disagree. Or, you are welcome to write 2-3-4 paragraphs with arguments and counterarguments to persuade readers.
But here's what matters:
For your persuasive essay to sound credible and argumentative, make sure it has the following five elements inside:
Your clear position. Make your thesis narrow in focus. It can be a claim, a fact, a definition, a solution, or a call of judgment. Feel free to use our thesis statement generator to introduce the idea of your essay. It should present your position on the topic.
Effective communication. Hook the audience's attention with some background information on the topic. You can start with a question, inviting them to keep on reading to find out your opinion. Use straightforward language, don't manipulate with readers' emotions.
It's all about pathos: your writing voice and style is more likely to persuade readers than boring and vague language with tons of grammar mistakes .
Your solid (+ credible) argument. Make it logical, consistent, and fact-based. It should address the interests of those you want to persuade and be endorsed by authoritative third parties.
Consider your audience. What do they already know about the topic? What do they think of it? Do they agree or disagree, and what are the chances to change their opinion? Are there any sensitive issues about the topic?
Remember the formula: one paragraph = one argument + one reason why you think like that. And make each reason logically connected to your thesis statement.
What evidence can you use to support arguments?
proven facts
definitions
quotes from experts
examples to illustrate your point of view, including your personal experience
relevant emotional appeals
This guy from Smrt English will help you get a better idea of what it's all about. Perfect for those who choose watching over reading. 😉
Clear structure. Organize your persuasive essay so every argument would relate to the thesis. Start with the weaker argument and build your essay up to the stronger point for readers to remember the most convincing information.And pay attention to transitions and connections between paragraphs to show the relationships between arguments in the essay and make it easy to follow.
Strong conclusion. Restate your thesis in the light of the evidence you've provided in the essay. Make your conclusion logically draw from your arguments.
How to Write a Persuasive Essay: Step by Step
The most common questions students ask are how to start a persuasive essay and how to end a persuasive essay.
But they forget one tiny detail here:
They need to take at least four steps before the actual essay writing. Here it goes, the process of persuasive essay writing, step by step:
Source: Giphy
Step 1 – Choose Your Position
A persuasive essay is called so because the issue you describe there is polemical. It means you can argue both for and against it. But it's crucial to decide which side you are going to support before writing your essay. In other words, you need to know the purpose of your persuasive essay.
Make sure you can find enough evidence to support it. For a persuasive essay, it should be based on solid research and credible arguments. Do you have them to back your cynicism about the climate change problem?
Step 2 – Do Research
To convince readers of your position, you need to know the topic inside out and understand it from multiple angles. And given that your persuasive essay should provide convincing evidence for your claims, you'll have to do research to find them.
It's not only about your personal experience and knowledge but also academic studies, historical examples, relevant media news, and expert opinions. To gather them, you might need to visit libraries or interview opinion leaders. Or, you might want to send them emails and ask for their expert thoughts to use as references in the essay.
When choosing evidence and resources to cite in your essay, consider the CRAAP test to evaluate them:
How to Evaluate Sources and Understand if You Can Use Them as References in Essays The CRAAP method: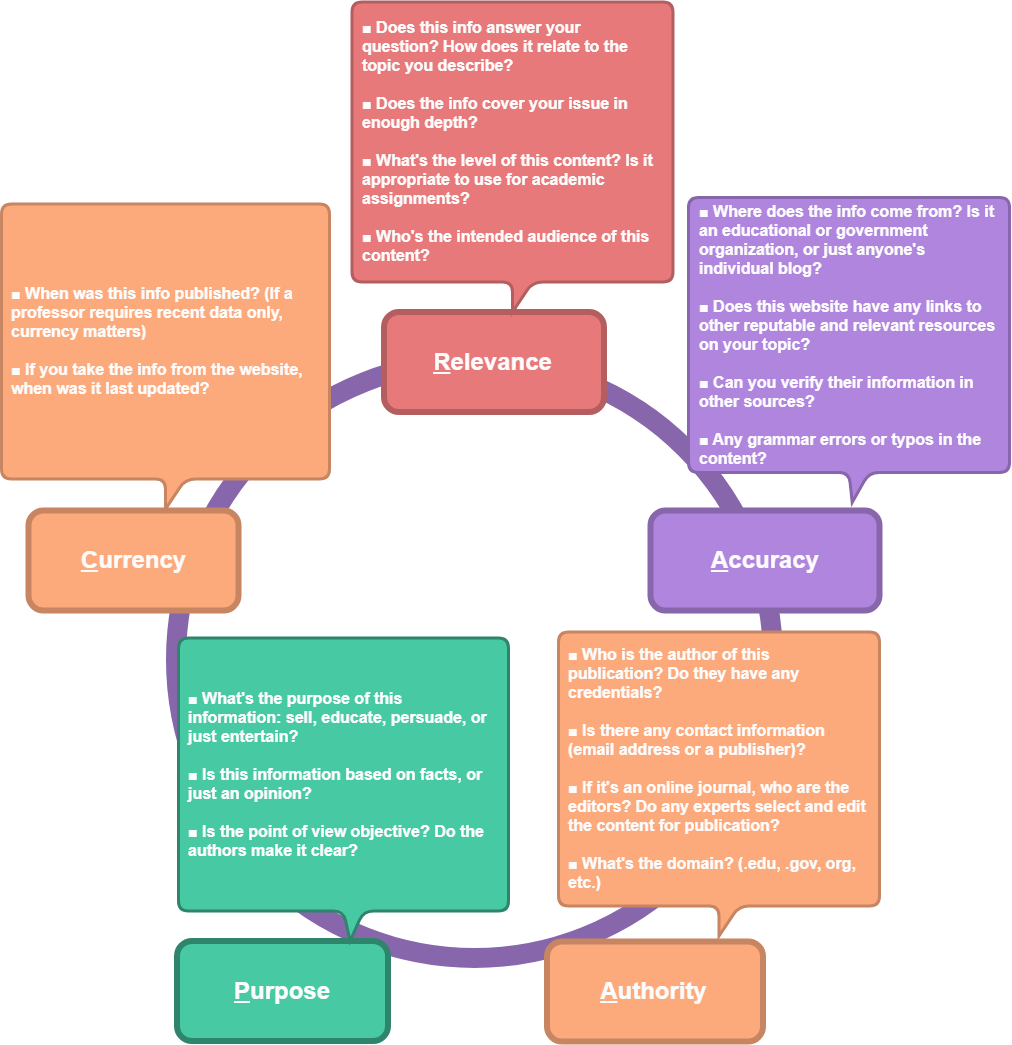 Yes, it takes time. So make sure to save it for research and don't cut it close the deadline. Vague assumptions and unverified information won't work here.
Step 3 – Identify the Strongest Evidence
Once the research is ready, you may have many different aspects to cover the topic. But you can't write about all of them. Choose the one with the strongest evidence that will help to support your position, and concentrate on it for stating the thesis of your persuasive essay.
Don't hurry up to choose the most commonly argued aspect. If you've gathered enough evidence for a rarely discussed problem around your topic and essay purpose – focus on it.
Step 4 – Write a Persuasive Essay Outline
And now, for the most interesting part:
Outline writing.
Before you sit and start a persuasive essay, write its plan. It's a kinda map for you to understand how your essay will look, and it helps you make sure you don't miss anything from its structure.
Here is the template for you to use:
Persuasive Essay Outline
I. Introduction
a) Lead/Hook (quote, question, anecdote) b) Lead/Hook explanation c) Thesis Statement
II. Body. Paragraph-1
a) Topic Sentence (the first main point in the thesis) b) Quote (to support the point) c) Explanation of the quote d) Explanation of how this quote relates to the thesis
III. Body. Paragraph-2
a) Topic Sentence (the second main point in the thesis) b) Quote (to support the point) c) Explanation of the quote d) Explanation of how this quote relates to the thesis
IV. Body. Paragraph-3
a) Topic Sentence (the third main point in the thesis, or a counterargument to the thesis) b) Quote (to support the point) c) Explanation of the quote d) Explanation of how this quote relates to the thesis
V. Conclusion
a) Summary of all main points b) Thesis restatement c) Call to action or what you want readers to do after reading your essay
The outline allows you to specify all core components of your persuasive essay so you wouldn't get lost in the writing process.
Step 5 – Write a Draft of Your Persuasive Essay
Once the outline is ready, just sit and write your essay . Don't concentrate on spelling or grammar mistakes, and don't get distracted from the process of writing itself. Just let your thoughts flow, don't hurry up to edit.
After you've finished the draft, put it aside, and wait for a couple of hours or a day. You need some time between the writing process and proofreading/editing your essay: it helps to judge your work with a fresh eye and see if there are any weak points to revise.
Step 6 – Proofread and Edit
It's not about spell check only. When editing a persuasive essay, you need to re-check arguments once again, make sure your language is appropriate (avoid pompous or jargon phrases), and the overall essay structure isn't too complex.
Questions to answer when editing:
Editing Your Essay: Questions to Answer
Also, you can use free editing apps and tools to check your persuasive essay for errors. For example, the Hemingway App will help to make your writing concise; Grammarly will spot spelling, punctuation, and style mistakes; and ProWritingAid will count the words in your essay and also fix your grammar mistakes.
But if it still sounds difficult to you, feel free to ask academic writers and editors for the professional help. They'll comment on your mistakes so you'll improve writing skills and craft your future essay better.
Persuasive Essay Samples
All this is good, but is there an example of a persuasive essay?
Here go samples for your consideration.
(Note! Samples are aimed for assistance purposes only: don't plagiarize them and don't copy their parts to use in own papers. Instead, ask our writers for help – and you'll get an A-worthy essay right away.)
Additional Persuasive Essay Resources:
Persuasive Essay Format
The Basic Principles of Persuasive Writing
Persuasive Essay Elements
How to Do Research for an Excellent Essay
How to Start a Persuasive Essay and How to End a Persuasive Essay
Lessons on Persuasive Essay Writing
Our Writing Guides
9 thoughts on " persuasive essay: the ultimate guide on writing it ".
Everything presents here is very helpful to me, and I'm grateful for that and wanna rate you by give you 5⭐⭐⭐⭐⭐
Thanks for writing such an informative blog which will surely be a great help for the students writing their persuasive essay
Thanks for writing this post! Our English teacher used this link as resource for our Persuasive Essay assignment, and this has been very useful. I'm actually referencing it right now, as I write my essay!
Cheers, from a student who benefited greatly from this resource.
My teacher shared this article with our class when assigned persuasive essay last month. Very helpful. Thanks for examples and such a detailed explanation of this essay structure!
Hello guys, thanks for this cool guide! Waiting for your new informative posts 🙂
Could your writers help with a 4000 word essay in one day?
I am not sure where you get your information, but good topic! I need to spend some time learning more. Thanks for your work!
Could you please help me with how to start an argumentative essay example? Thanks!
Thanks for the comment and question! We have many guides here on the blog that will help you. Here go some:
– how to start an essay – how to write argumentative essays
Great Article!
Leave a Reply Cancel reply
Your email address will not be published. Required fields are marked *