Summer Deal! Top-rated Essay Writers Online! Get 50% OFF On Your First Essay Order!
Your 50% Off + Real Help Await!
Skip the Bots, Talk to Us
Have us text you Estimated wait time: about 2 minutes
Have us call you Estimated wait time: about 5 minutes
Chat with support Estimated wait time: about 3 minutes
Email us The current response time is 6 hours
Have us text you
Estimated wait time: about 2 minutes
By clicking "Text me" you agree to our terms and privacy policy .
We will contact you shortly!
Have us call you
Estimated wait time: about 5 minutes
By clicking "Call me" you agree to our terms and privacy policy .
The current response time is 6 hours
Please reach out to us at:
Argumentative Essay Writing
Argumentative Essay About Technology
Strategies for Writing a Winning Argumentative Essay about Technology
12 min read
Published on: Mar 3, 2023
Last updated on: Jul 21, 2023
People also read
Argumentative Essay - A Complete Writing Guide
Learn How to Write an Argumentative Essay Outline
Best Argumentative Essay Examples for Your Help
Basic Types of Argument and How to Use Them?
Take Your Pick – 200+ Argumentative Essay Topics
Essential Tips and Examples for Writing an Engaging Argumentative Essay about Abortion
Crafting a Winning Argumentative Essay on Social Media
Craft a Winning Argumentative Essay about Mental Health
Crafting an Unbeatable Argumentative Essay About Gun Control
Win the Debate - Writing An Effective Argumentative Essay About Sports
Make Your Case: A Guide to Writing an Argumentative Essay on Climate Change
Ready, Set, Argue: Craft a Convincing Argumentative Essay About Wearing Mask
Crafting a Powerful Argumentative Essay about Global Warming: A Step-by-Step Guide
Share this article
Are you struggling to craft a compelling argumentative essay on a technology-related topic?
Looking for tips and techniques that will help you make the grade? If so, this blog post is for you!
In it, we'll cover the basics of constructing an effective argumentative essay about any type of technology.
You'll discover strategies to build a strong thesis statement, support your ideas with facts, defend them against counterarguments, and write the paper.
So whether it's artificial intelligence or robotics that interests you – let's get started crafting your powerful argumentative essay!
On This Page On This Page -->
All About an Argumentative Essay
An argumentative essay is a type of writing that employs logic and evidence to prove an assertion about a topic.
It involves formulating your opinion on a topic and then defending your position through the use of facts, and other persuasive techniques. 
In other words, you are trying to convince the reader of your point of view
Argumentative essays are often assigned in school and college courses, so it's important to understand how to write them effectively.
Purpose of Writing an Argumentative Essay About Technology
When writing an argumentative essay about technology, it's important to consider the purpose of your essay.
What are you trying to prove or disprove? Are you discussing the impact of a particular type of technology on society, or attempting to explain how a certain piece of tech works? 
Understanding the goal of your paper will help you stay focused and make sure your argument is persuasive.
Paper Due? Why Suffer? That's our Job!
How to Write an Argumentative Essay About Technology 
Writing an argumentative essay about technology can be one of the most interesting assignments you will ever have in school. 
In this blog, we will provide you with step-by-step instructions on how to write an argumentative essay about technology. 
Do Your Research
The first step in writing an argumentative essay is to conduct research.
Research provides insight into both sides of the issue and helps you form your own opinion on the topic. 
Look for credible sources such as books, journals, newspapers, websites, and interviews with experts in the field to get information about technology. 
Make sure you are thorough in your research so that all sides of the issue are addressed. 
Pick a Suitable Title
After conducting your research, it's time to pick a title for your essay.
Your title should be catchy yet straightforward– it should capture the reader's attention while also accurately depicting what the essay is about. 
Brainstorm ideas for titles by looking at other topics related to technology.
 You can do so by considering potential arguments you could make in favor or against certain technologies.  
 Form an Outline
Once you have picked a title for your essay, it's time to start outlining your thoughts and ideas into an organized structure. 
Begin by listing out your main points; these should be centered around whatever argument you are making about technology. 
From there, create sub-points under each main point that support or supplement it further. 
This will help keep things organized as you write your essay so that it flows logically from beginning to end.  
Check out this amazing blog on argumentative essay outline to craft perfect outlines.
Write an Introduction For Your Essay
After creating an outline for your essay, it's time to begin writing with an introduction paragraph. 
The introduction should set up the main points of your argument and increase the reader's interest in learning more about them. 
Start off with some background information on technology before transitioning into why this specific topic is important and relevant today. 
This part should grab readers' attention right away so they want to continue reading through the rest of the paper! 
Write Body Paragraphs
Now comes arguably the most important part of any good argumentative essay – body paragraphs! 
Each body paragraph should contain one main point followed by supporting evidence that backs up this point.
Write an Engaging Conclusion
The conclusion is the last part of your essay and should be used to wrap up all of your main points. 
Start off summarizing the argument you have made throughout the body paragraphs by restating your thesis statement and its importance. 
You could also bring in potential implications for this topic or areas for further exploration/research.
Finally, end the paragraph with a strong statement that leaves an impression on readers and wraps your essay up nicely.  
By following these simple steps, you can easily craft an effective argumentative technology essay!  
Expert Examples Of Argumentative Essays About Technology 
In today's world, technology has become an integral part of our lives. It is hard to imagine a day without the use of electronic devices and gadgets.
But, although technology can be incredibly helpful and beneficial in many ways, it can also have some serious drawbacks. 
That is why argumentative essays about technology offer us a great opportunity to explore the implications of technology in our lives.
CollegeEssay.org has some examples of argumentative essays about technology that you can use as a guide while writing your own essay. 
Argumentative Essay About Technology And Social Media
Argumentative Essay About Technology In Education
Argumentative Essay About Technology A Friend Or A Foe
Argumentative Essay About Technology Make Us Alone
Is Technology Good Or Bad Argumentative Essay
Check our extensive blog on argumentative essay examples to ace your next essay!
All About Writing a Research-Based Argumentative Essay About Technology
When writing a research-based argumentative essay about technology, it is important to consider the various ways in which technology has impacted our world. 
When writing a research-based argumentative essay about technology, it is important to take a balanced approach. 
You should consider both the positive and negative effects of technology before forming your opinion on the issue.
It is also important to back up your claims with data, research, and facts . 
Here are a few steps that you need to follow in order to write a research-based argumentative essay on technology.
Writing a Research-Based Argumentative Essay About Technology Pre-Writing Phase 
The pre-writing phase is the most important part of any essay-writing process. 
You need to take some time to brainstorm, research and gather information about your topic before you begin writing. 
Think about what arguments or points you want to make and write them down, as well as potential sources for evidence and support.
Brainstorm Ideas and Options
When you are ready to start writing your research-based argumentative essay about technology, begin by brainstorming ideas and opinions. 
Think about any advantages or disadvantages of technology that you want to explore in your essay.
Consider both the positive and negative aspects of technology and try to come up with persuasive arguments for each side.
Research Arguments
Once you have a clear idea of the arguments and points you want to make, it is time to delve into your research. 
Look for reliable sources that support your claims and provide evidence for them. 
Be sure to cite any sources used in the essay so that your readers can verify their accuracy.  
Pick a Catchy Title
Pick a title that captures the main points of your essay and gives the reader an indication of what it is about. 
The title should be short and to the point, but still creative enough to grab the reader's attention. 
Form an Outline
Organize your ideas and arguments into an outline. This will make the process of writing much smoother and ensure that you stay on track with your points. 
Your essay should have an introduction, body paragraphs, and a conclusion.
Writing A Research-Based Argumentative Essay About Technology Drafting
The drafting phase is when you begin to put your ideas and arguments into words. 
Be sure to include evidence, facts, and quotes from reliable sources in order to support your claims. 
As you write, remember to keep a consistent tone throughout the essay so that it flows well. 
When finished with the draft, go back and edit for accuracy, clarity, and grammar. 
Write an Introduction 
The introduction of your essay should provide an overview of the topic and set the tone for what you are going to discuss. 
Also, introduce any key terms or concepts that will be used throughout the essay and briefly explain them. 
The body of your essay should contain the main arguments and points that you want to make. Each point should have its own paragraph and be backed up with evidence, facts, and quotes from reliable sources. 
Be sure to clearly explain each argument in an organized manner so that the reader can easily understand it.  
Write a Conclusion
The conclusion of your essay should summarize the main points that you made in the body paragraphs and leave the reader with a strong impression. 
You can also include any final thoughts or recommendations on the issue at hand.
Proofreading & Editing
The last step in writing your research-based argumentative essay about technology is to proofread and edit it. 
This is essential as it ensures that all mistakes are corrected and the essay reads smoothly and clearly. 
Read through the essay thoroughly, paying close attention to grammar, syntax, punctuation, and spelling errors.  
You may also want to have someone else read your essay and provide feedback. This is a great way to catch any mistakes that you may have missed. 
Once you have finished proofreading and editing your essay, it is ready for submission. 
Example of a Research-Based Argumentative Essay About Technology
Here is an example of a research-based argumentative essay about technology
Good Argumentative Essay About Technology Topics
Here is a list of good argumentative essay topics about technology
Are Social Media Platforms Doing Enough to Protect Users' Privacy? 
Should Smartphones Be Banned in Schools? 
Should Companies Be Allowed to Monitor Employees' Online Activity? 
Does Technology Make Us More Productive? 
Do Video Games Have a Positive  Impact on Society? 
Is Technological Progress Making Us Lonelier? 
Are Smart Homes a Good Idea? 
Should We Regulate the Use of Artificial Intelligence? 
Do We Rely Too Much on Technology? 
Does Technology Make Life Easier or More Complicated? 
Should We Use Technology to Monitor the Safety of Our Children?
Check our comprehensive blog on argumentative essay topics to get more topic ideas!
You've now learned the basics of how to write an argumentative essay about technology.
By utilizing these tips, examples, and methodologies, you should be well on your way to writing a winning essay. 
Of course, if you find that you need a little extra help, our AI essay generator can assist you. 
With years of experience crafting standout essays for students just like you, our argumentative essay writing service will help you get the grade you deserve.
Contact our argumentative essay writer today to learn more about how our essay writing service can help you write an outstanding essay!
Cathy A. (Medical school essay, Life Sciences)
For more than five years now, Cathy has been one of our most hardworking authors on the platform. With a Masters degree in mass communication, she knows the ins and outs of professional writing. Clients often leave her glowing reviews for being an amazing writer who takes her work very seriously.
Paper Due? Why Suffer? That's our Job!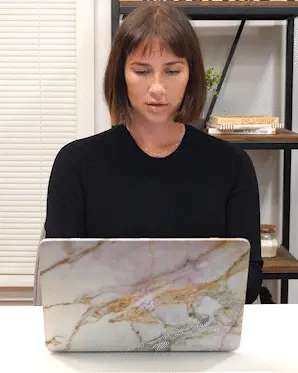 Keep reading
Join our mailing list for discount & offers
Privacy Policy
Cookies Policy
Terms of Use
Refunds & Cancellations
Our Guarantees
Affiliate Program
Referral Program
AI Essay Writer
Disclaimer: Our website content is sometimes created using AI but is reviewed and verified by our experienced team of editors. All client orders are completed by our team of highly qualified human writers. The essays and papers provided by us are not to be used for submission but rather as learning models only.
Subscribed successfully!

Email Address Already Exists!
Please Enter Valid Email!
Argumentative Essay
Argumentative Essay About Technology
Last updated on: Jun 19, 2023
Make Your Argumentative Essay About Technology Unbeatable: Examples and Tips
By: Barbara P.
15 min read
Reviewed By: Melisa C.
Published on: Mar 9, 2023
Are you feeling overwhelmed by the task of writing an argumentative essay about technology? Don't worry – you're not alone.
Technology is a vast and rapidly evolving field, making it a challenging topic to tackle. But fear not! With the right structure, examples, and tips, you'll be equipped to create a persuasive and captivating essay that will impress your readers.
In this blog, we're here to guide you through the process, providing you with engaging examples and essential guidelines. With our help, you'll be able to create an argument that is both persuasive and well-supported by evidence.
So read on and make sure your argumentative essay about technology is unbeatable!
On this Page
How to Write an Argumentative Essay About Technology?
Now you know what argumentative essays about technology are and why they're important?
Let's look at how to write a compelling argument.
Pick a Title
The title of your essay should capture the attention of your reader and summarize the main points of your argument.
Think carefully about how you want to frame your argument in order to create an effective title. It should be short and catchy, but also accurately reflect the main arguments or ideas in your essay.
Form an Outline
After deciding on a title for your essay, it's important to form an outline of the key points and arguments you will make in each paragraph. This will help keep you organized during the writing process and ensure that all of your ideas are connected.
Make sure there is good flow between each section so that readers can follow along easily.
Here is an outline template for argumentative essay about technology:
Write an Introduction
Your introduction is where you set up the context for your essay and explain what it is that you will be arguing throughout the rest of the text.
Include relevant background information, as well as any interesting facts or anecdotes that could help engage readers from the beginning.
Be sure to end with a thesis statement that clearly lays out which side you are taking in this debate and what evidence will be used to support it.
Write Body Paragraphs
Your body paragraphs are where most of your research comes into play!
Ensure these paragraphs contain detailed evidence from reliable sources that supports each point being made in each paragraph.
Additionally, be sure to use transition words throughout these sections so that readers can follow along easily from one point to another.
Write a Conclusion
Your conclusion should briefly outline the key points and evidence used throughout your paper. While reiterating why this particular topic is so important and relevant today.
Your conclusion should leave readers with something thought-provoking!
Perhaps something they hadn't considered before rather than just summarizing everything they have already read in previous paragraphs.
Looking for guidance on crafting powerful arguments? Look no further than our argumentative essay guide!
Check out this informative video to learn how to construct a persuasive argumentative essay!
Examples of Argumentative Essay About Technology
Now that you know how to write an argumentative essay about technology, let's look at some examples.
These examples will help you get a better understanding of the argumentative essay structure and what types of arguments you can make.
Argumentative Essay About Advantages and Disadvantages of Technology
Let's take a look:
Paper Due? Why Suffer? That's our Job!
Argumentative Essay On Technology And Society
Here is a short argumentative essay on technology and society:
Example of a Research-Based Argumentative Essay About Technology
Argumentative essay examples are a great way to gain a better understanding of how technology is affecting our lives - both positively and negatively.
To help illustrate this argument, this essay will look at the evidence for an argumentative essay about technology.
Here are some additional examples for you to get inspired!
Argumentative Essay About Technology And Social Media
Argumentative Essay About Technology In Education
Argumentative Essay About Technology A Friend Or A Foe
Argumentative Essay About Technology Make Us Alone
Is Technology Good Or Bad Argumentative Essay
5 Paragraph Argumentative Essay About Technology
If you're searching for the determination to create a persuasive essay, our blog of argumentative essay examples is just what you need!
Good Argumentative Essay About Technology Topics
When writing argumentative essays about technology, it's important to identify a topic that is relevant and argumentative.
The following are some good argumentative essay topics related to technology:
Will AI bring more benefits or risks to society?
Is social media a positive or negative influence on society?
How can individuals and organizations better protect themselves from cyber threats?
Should individuals have more control over their personal data online?
Will automation lead to mass unemployment or create new job opportunities?
Is VR technology more beneficial for entertainment or educational purposes?
Should governments have the authority to regulate and censor online content?
What are the advantages and disadvantages of widespread 5G implementation?
Is the use of biometric data for identification and security purposes ethical?
How can technology be effectively integrated into classrooms to enhance learning outcomes?
Want to write an essay that will grab your readers' attention? Explore our blog for more thrilling argumentative essay topics !
Summarizing it all, argumentative essay examples about technology can help to illustrate the argument for or against its use in our lives. By exploring various argumentative essay topics related to technology, you can gain a better understanding of the benefits and drawbacks of its use.
So, take a look at the argumentative essay topics provided above and create your argumentative essay today!
And if you are still seeking help with your argumentative essay, contact our essay writer today!
Our argumentative essay writer has the knowledge and experience to write the best argumentative essay for you.
So request " write my paper " today and we guarantee that your essay will be well-structured, argumentative, and insightful.
So don't hesitate - to contact our argumentative essay writing service today!
Literature, Marketing
Dr. Barbara is a highly experienced writer and author who holds a Ph.D. degree in public health from an Ivy League school. She has worked in the medical field for many years, conducting extensive research on various health topics. Her writing has been featured in several top-tier publications.
Was This Blog Helpful?
Keep reading.
Argumentative Essay Guide - Steps by Step Guide
380+ Compelling Argumentative Essay Topics to Fuel Your Debate
How to Write an Argumentative Essay About Sports: Tips Included
A Comprehensive Guide to Crafting a Winning Argumentative Essay about Abortion
How to Write An Argumentative Essay About Global Warming - Examples and Topics!
7 Examples of Arguments for Climate Change To Inspire Your Essay
Writing an Argumentative Essay About Mental Health: Get Examples and Topics
Tips and Examples for Writing an Engaging Argumentative Essay About Social Media
Crafting an Argumentative Essay About Wearing a Mask: Examples and Tips
How to Write a Perfect Argumentative Essay Outline
Crafting an Argumentative Essay About Gun Control: Examples and Tips
10 Argumentative Essay Examples to Inspire Your Next Essay
Different Types of Arguments - Explore The Power of Persuasion
People Also Read
transition words for essays
character analysis
autobiography vs biography
research paper topics
500 word essay new
Burdened With Assignments?
Advertisement
© 2023 - All rights reserved

Writing a Research Based Argumentative Essay About Technology
To write an argumentative essay is a common requirement for almost every student from high school to university level. Therefore, you should not let yourself fail when it comes to writing a research based argumentative essay about technology .
Below, we have compiled a checklist of quick tips to help you write a spectacular piece of paper about technology.
What is an Argumentative Essay?
An argumentative essay is the type of essay, in which the subject matter is investigated. Making arguments on the topic requires the collection of evidence, its evaluation, and the establishment of the position within the essay in a precise manner.
Yet, if you have been assigned an urgent essay writing task in an online class and you are unable to submit it on time, you can always ask Scholarly Help to write an argumentative essay and get higher grades in an argumentative task or any other type.
Technology is a wide subject that is interpreted and seen in a variety of ways. Because of its breadth, it's easier to say than to write an argumentative technical essay. It is simple to come up with a topic and convincingly debate it out with our assistance. Recognizing how to compose will enable you to finish your assignments quickly, allowing you to focus on other activities.
Follow Considerable Steps to Write an Argumentative Essay on Technology
For most students, technology is a difficult topic. Papers about technology, unlike other art or science essays, do not require a compelling tone. In this situation, the writer's goal is to persuade the readers by utilizing forceful claims to support facts and ideas.
The readers can then choose whether or not to embrace the written material. Approval or denial will be determined by the facts stated. Keep in mind to include both the advantages and disadvantages of the topic being discussed.
So, to write a well-written argumentative essay on technology, check out the tips mentioned below.
Avoid Opinion-Based Statements
It is critical to understand that the writer's opinion is meaningless while producing this sort of essay. When writing, the writers should refrain from expressing their emotions. Phrases such as 'I believe' should not be used in the content at all. For instance, I believe that technology has a bad influence on the youth. Instead, state that technology has a detrimental impact on the younger generation.
The use of perceptual or opinion-based statements gives the impression to the reader that the writer is unsure about their findings. It is uninteresting to read since it lacks a commanding tone. As authors, be sure to utilize strong phrases that will aid in improving the paper's quality.
GET ACADEMIC WRITING HELP
Your assignment won't be delivered on time: you'll get it beforehand. Review your work immediately and ask for free revisions right away. Get extensive help in:
Write Down Supportive Arguments in the Essay
Because the body of an essay is the core section, it is necessary to provide all the information at this stage. To obtain the correct information, one needs to conduct extensive study. To learn more about the topic, look it up online or through books. It is critical to conduct extensive study because personal views are irrelevant in this field.
All of the ideas presented in the body section must be supported by adequate proof. Make sure that you don't release a remark until you're certain about it. It might result in a lot of queries from the instructor, lowering the quality and hence ruining your results.
Incorporate a Solid Conclusion
Argumentative essays on contemporary technology should also include an introduction, core body sections, and a compelling conclusion, just like other sorts of essays. Each paper's conclusion is crucial. It expresses the writer's underlying position on the subject under discussion.
The goal of such an essay is to let the readers agree or disagree with the information presented in the essay. Bear in mind that it is not the writer's job to convince readers to agree or disagree with the arguments. In conclusion, the writer, after summarizing the points, must hold a stance on the ideas expressed in the body section. The writer must also repeat the problem statement and summarize all of the work.
Review and Proofread
All post-writing steps must be completed by both experts and critics. The writing is finished doesn't mean that you are done. It is necessary to review and modify your work. This practice is not limited to different types of essays. When writing an argumentative essay about technology, it is also crucial.
Spelling and grammar mistakes are common blunders made by writers. There are various internet tools that may be used to quickly discover such errors. This step aids in increasing the quality of the work and the grades consequently.
Cite your Essay
It is critical to cite the references because you are utilizing information from multiple sources to generate the essay. The use of someone else's views as your own is a criminal violation. As a result, citing the source of information at the conclusion of the content is important.
Some reference styles allow you to include in-text citations right after the sentence, based on which one you pick. This activity allows readers to easily see that the writer conducted some study before submitting the work. You can pick from a variety of referencing techniques, according to your knowledge of using them.
The guidelines above may not be enough to assist you in writing a research based argumentative essay about technology . We understand that a student has limited time that makes it difficult for them to finish projects regardless of how much guidance they receive. When you need a tech-based essay produced quickly and at a high standard, a do my essay service may be found just at your doorstep. We have experts with the necessary skills and knowledge of technology prepared to assist you at cheapest rates. You will never be regretful of picking Scholarly Help as your academic partner.
Related Posts
Can You Go to Jail for Plagiarism?
ChatGPT Writer Extension: Boosting Your Writing Efficiency
ChatGPT Plagiarism Detection: Ensuring Originality in AI-Generated Content
Let us help you with your assignment, homework, exams, and online classes. Place your order now and enjoy the quality services at affordable rates!
Research-Based Argument Assignment
Main navigation.
Overview:   The research-based argument (RBA) assignment asks students to produce a well-supported, focused argument drawing on library and web-based research.  The completed essay should demonstrate a clear understanding of the problem it addresses; engage successfully with realistically portrayed disparate views or multiple perspectives; incorporate appropriate material from well-chosen sources purposefully, gracefully, and ethically; and, exhibit reasonable and appropriate rhetorical choices based on the writer's purpose.
In addition to a mandatory drafting and revision stage, the RBA assignment may include some of the following components: a research proposal, annotated bibliography, peer review, outline, reflective memo, brief non-graded oral presentation (substantial work on oral/multimedia presentations is reserved for PWR 2).
Length:  3600-4500 words; 12-15 pages. 
Sources:  A minimum of 10 sources should substantively inform the essay, recognizing that a rigorous research-based argument may engage with many more sources in the research process but should actively draw on at least 10 in constructing its argument.
Student Learning Objectives :
Students will develop strategies for arriving at a productive research topic/question, narrowing it to an appropriate scope, and using research to arrive at an understanding about that topic/question
Students will practice strategies for finding and engaging with sources that represent the best quality of information available to them on their topic
Students will demonstrate an ability to construct a well-reasoned argument, informed by the scholarly conversation and research on a topic, and supported by evidence
Students will practice ethical use of source material through decisions about how and when to integrate source material (summarize, paraphrase, quote) and consistent use of citation practices
Students will explore pre-writing, drafting, rethinking based on feedback, and revising as part of the writing process
SEE EXAMPLES OF RBA ASSIGNMENT SHEETS
SEE EXAMPLES OF ACTIVITIES TO SCAFFOLD THE RBA ASSIGNMENT
SEE SAMPLE STUDENT RBA ESSAYS
SEE BOOTHE-AWARDING WINNING RBA ESSAYS
Writing an Argumentative Research Paper
Library Resources
Books & EBooks
What is an Argumentative Research Essay?
Choosing a Topic
How to Write a Thesis Statement Libguide
Structure & Outline
Types of Sources
OER Resources
Copyright, Plagiarism, and Fair Use
Examples of argumentative essays
Skyline College libguides: MLA Sample Argumentative Papers
Ebooks in Galileo
Video Tutorial
Structure & Outline
Usually written in the five-paragraph structure, the argumentative essay format consists of an introduction, 2-3 body paragraphs, and a conclusion.
A works cited page or reference page (depending on format) will be included at the end of the essay along with in-text citations within the essay.
When writing an argumentative research essay, create an outline to structure the research you find as well as help with the writing process. The outline of an argumentative essay should include an introduction with thesis statement, 3 main body paragraphs with supporting evidence and opposing viewpoints with evidence to disprove, along with an conclusion.
The example below is just a basic outline and structure
I. Introduction: tells what you are going to write about. Basic information about the issue along with your thesis statement.
A. Basic information
B. Thesis Statement
II. Body 1 : Reason 1 write about the first reason that proves your claim on the issue and give supporting evidence
A. supporting evidence
B. Supporting evidence
II. Body 2 .: Reason 2 write about the third reason that proves your claim on the issue and give supporting evidence
A. supporting evidence
III. Body 3 : Reason 3 write about the fourth reason that proves your claim on the issue and give supporting evidence
IV. Counter arguments and responses. Write about opposing viewpoints and use evidence to refute their argument and persuade audience in your direction or viewpoint
A. Arguments from other side of the issue
B. Refute the arguments
V. Conclusion
<< Previous: How to Write a Thesis Statement Libguide
Next: Conducting Research >>
Last Updated: Mar 20, 2023 6:07 PM
URL: https://wiregrass.libguides.com/c.php?g=1188383
PRO Courses Guides New Tech Help Pro Expert Videos About wikiHow Pro Upgrade Sign In
EDIT Edit this Article
EXPLORE Tech Help Pro About Us Random Article Quizzes Request a New Article Community Dashboard This Or That Game Popular Categories Arts and Entertainment Artwork Books Movies Computers and Electronics Computers Phone Skills Technology Hacks Health Men's Health Mental Health Women's Health Relationships Dating Love Relationship Issues Hobbies and Crafts Crafts Drawing Games Education & Communication Communication Skills Personal Development Studying Personal Care and Style Fashion Hair Care Personal Hygiene Youth Personal Care School Stuff Dating All Categories Arts and Entertainment Finance and Business Home and Garden Relationship Quizzes Cars & Other Vehicles Food and Entertaining Personal Care and Style Sports and Fitness Computers and Electronics Health Pets and Animals Travel Education & Communication Hobbies and Crafts Philosophy and Religion Work World Family Life Holidays and Traditions Relationships Youth
Browse Articles
Learn Something New
Quizzes Hot
This Or That Game New
Train Your Brain
Explore More
Support wikiHow
About wikiHow
Log in / Sign up
Education and Communications
College University and Postgraduate
Academic Writing
Research Papers
How to Write an Argumentative Research Paper
Last Updated: December 9, 2022 Fact Checked
This article was co-authored by Christopher Taylor, PhD . Christopher Taylor is an Adjunct Assistant Professor of English at Austin Community College in Texas. He received his PhD in English Literature and Medieval Studies from the University of Texas at Austin in 2014. There are 14 references cited in this article, which can be found at the bottom of the page. This article has been fact-checked, ensuring the accuracy of any cited facts and confirming the authority of its sources. This article has been viewed 364,110 times.
An argumentative essay requires you to make an argument about something and support your point of view using evidence in the form of primary and secondary sources. The argumentative essay is a common assignment, but teachers may present it in a variety of different ways. You can learn how to write an argumentative essay by following some standard steps for writing an essay as well as by doing some things that are required for argumentative essays, such as citing your sources.
Sample Outlines
Getting Started
a thesis statement that makes a clear argument (provided in the first paragraph)
claims that help prove your overall argument
logical transitions that connect paragraphs and sentences
support for your claims from your sources
a conclusion that considers the evidence you have presented
in-text citations throughout your essay to indicate where you have used sources (ask your teacher about what citation style to use)
a works cited page with an entry for each of your sources (ask your teacher about what citation style to use)
Make sure that you understand how to cite your sources for the paper and how to use the documentation style your teacher prefers. If you're not sure, just ask.
Don't feel bad if you have questions. It is better to ask and make sure that you understand than to do the assignment wrong and get a bad grade.
Listing List all of the ideas that you have for your essay (good or bad) and then look over the list you have made and group similar ideas together. Expand those lists by adding more ideas or by using another prewriting activity. [3] X Research source
Freewriting Write nonstop for about 10 minutes. Write whatever comes to mind and don't edit yourself. When you are done, review what you have written and highlight or underline the most useful information. Repeat the freewriting exercise using the passages you underlined as a starting point. You can repeat this exercise multiple times to continue to refine and develop your ideas. [4] X Research source
Clustering Write a brief explanation (phrase or short sentence) of the subject of your argumentative essay on the center of a piece of paper and circle it. Then draw three or more lines extending from the circle. Write a corresponding idea at the end of each of these lines. Continue developing your cluster until you have explored as many connections as you can. [5] X Research source
Questioning On a piece of paper, write out "Who? What? When? Where? Why? How?" Space the questions about two or three lines apart on the paper so that you can write your answers on these lines. Respond to each question in as much detail as you can. [6] X Research source
Ethos refers to a writer's credibility or trustworthiness. To convince your readers that your argument is valid, you need to convince them that you are trustworthy. You can accomplish this goal by presenting yourself as confident, fair, and approachable. You can achieve these objectives by avoiding wishy-washy statements, presenting information in an unbiased manner, and identifying common ground between yourself and your readers(including the ones that may disagree with you). You can also show your authority, another aspect of ethos, by demonstrating that you've done thorough research on the topic.
Pathos refers to your use of emotional appeals. Emotional appeals have a place in argumentative writing, but overuse of them may lead a reader to reject your argument. Make sure that your use of emotional appeals is minimal and appropriate. Some ways that you can incorporate pathos into your paper without turning off your readers includes using descriptive language that evokes the desired reaction (positive or negative) to your subject, especially when you use other people's language—such as quotes—to do so (which avoids damaging your ethos with overly emotional language). You can also invoke pathos by providing relevant examples that evoke an emotional response in your readers and using figurative language (such as metaphors) to help your readers understand and sympathize with your point of view.
Logos refers to your use of logic, reasoning, and sequencing. This means setting up your argument in a way that uses logic to achieve your desired endpoint or reaction, often through inductive and deductive reasoning. For example, you can appeal to your readers' desire for logic by organizing your examples in a way that shows your argument in the best light and is easy to follow, such as chronologically, by cause and effect, or by problem and solution.
Place your thesis statement at the end of your first paragraph unless your instructor tells you to place it elsewhere. The end of the first paragraph is the traditional place to provide your thesis in an academic essay.
For example, an arguable thesis statement might be something like, "The drinking age should be reduced to 18 in the United States." This statement is arguable because it presents a position that others might debate by saying "The drinking age should not be reduced to 18 in the US." Or, others might argue that the drinking age should be abolished altogether or even raised. There are many possibilities for a counter argument, which makes this topic arguable.
For example, a detailed thesis statement might be something like, "Because youth are more drawn to drinking as a way to rebel, lowering the drinking age to 18 in the United States would help to reduce binge drinking among teenagers and college students." This thesis still provides a position that could be debated, but it also explains the reasoning behind the position. Providing this detail gives readers a good sense of what the rest of the paper will discuss.
Your thesis should tell your reader why your argument matters, and for whom.
Organize your outline by essay part and then break those parts into subsections. For example, part 1 might be your introduction, which could then be broken into three sub-parts: a)Opening sentence, b)context/background information c)thesis statement.
Research Your Topic
For example, some relevant key terms and phrases for a paper on lowering the drinking age to 18 might be: "drinking", "underage", "minors", "binge", "rebellion", "drinking age", "binge drinking culture", "countries with low drinking age", "drinking and rebellion", etc.
Use your library's databases rather than a general internet search. University libraries subscribe to many databases, such as EBSCO and JSTOR. These databases provide you with free access to articles and other resources that you cannot usually gain access to by using a search engine. Schedule an appointment with a librarian at your school's library if you are not sure about how to use the library databases.
If your university doesn't subscribe to any databases, use Google Scholar.
Author's credentials Choose sources that include an author's name and that provide credentials for that author. The credentials should indicate something about why this person is qualified to speak as an authority on the subject. For example, an article about a medical condition will be more trustworthy if the author is a medical doctor. If you find a source where no author is listed or the author does not have any credentials, then this source may not be trustworthy.
Citations Think about whether or not this author has adequately researched the topic. Check the author's bibliography or works cited page. If the author has provided few or no sources, then this source may not be trustworthy.
Bias Think about whether or not this author has presented an objective, well-reasoned account of the topic. How often does the tone indicate a strong preference for one side of the argument? How often does the argument dismiss or disregard the opposition's concerns or valid arguments? If these are regular occurrences in the source, then it may not be a good choice.
Publication date Think about whether or not this source presents the most up to date information on the subject. Noting the publication date is especially important for scientific subjects, since new technologies and techniques have made some earlier findings irrelevant.
Information provided in the source If you are still questioning the trustworthiness of this source, cross check some of the information provided against a trustworthy source. If the information that this author presents contradicts one of your trustworthy sources, then it might not be a good source to use in your paper.
To be certain that you understand your sources and that you are capable of responding to each of them, try writing a paragraph summary and response after you finish each one. Some people find keeping notecards on their sources to be a helpful way of organizing their ideas about each one. [15] X Research source
Misunderstanding and misrepresenting your sources can damage your credibility as an author and also have a negative effect on your grade. Give yourself plenty of time to read your sources and understand what they are saying.
Be careful to properly cite your sources when taking notes. Even accidental plagiarism may result in a failing grade on a paper.
Drafting Your Essay
For example, an argumentative essay about lowering the drinking age might begin with something like, "Binge drinking culture is killing teens in the United States, but it hasn't always been this way." This sentence offers a compelling statement and it also acts as a launch pad for you to provide some background on your topic.
For example, if you are arguing that lowering the drinking age would help to counter binge drinking among teens and young adults, your introduction should talk about the damage that is being done by binge drinking. Tell your readers about this problem in more detail so that they will begin to see why something needs to change.
Keep in mind that your background information in the first paragraph should lead up to your thesis statement. Explain everything the reader needs to know to understand what your topic is about, then narrow it down until you reach the topic itself.
For example, a thesis statement for a paper on lowering the drinking age might look something like, "Because the current drinking age of 21 in the United States does more harm than good by proliferating binge drinking culture among teens, the drinking age should be lowered to 18." This thesis provides a straightforward position and reason for that position that readers can easily identify as the author's main argument.
In your thesis, you should also address how you'll support your argument and why your argument matters.
For example, one of your body paragraphs might begin with something like, "Teens are more likely to engage in binge drinking in the United States than in countries where the drinking age is lower or non-existent."
You might then follow up this claim with evidence from your sources. For example, you could provide statistics on teen drinking in other countries where the drinking age is lower, or you could summarize an interview with an authority of the subject, or cite an article that explains the psychological basis of this phenomenon. Whatever source(s) you choose, make sure that they are relevant that they offer convincing support for your claim.
Rephrase your thesis. It is often helpful to remind your readers of the initial argument, but don't simply restate your thesis if you do this. Rephrase it so that it sounds different but has the same meaning. Summarize some of the most important evidence you have offered in your essay and say remind readers of how that evidence has contributed to supporting your thesis.
Synthesize what you have discussed. Put everything together for your readers and explain what other lessons might be gained from your argument. How might this discussion change the way others view your subject?
Explain why your topic matters. Help your readers to see why this topic deserve their attention. How does this topic affect your readers? What are the broader implications of this topic? Why does your topic matter?
Return to your opening discussion. If you offered an anecdote or a quote early in your paper, it might be helpful to revisit that opening discussion and explore how the information you have gathered implicates that discussion.
Ask your teacher what documentation style he or she prefers that you use if it is not mentioned in the assignment guidelines.
Visit your school's writing center for additional help with your works cited page and in-text citations.
Revising Your Essay
What is your main point? How might you clarify your main point?
Who is your audience? Have you considered their needs and expectations?
What is your purpose? Have you accomplished your purpose with this paper?
How effective is your evidence? How might your strengthen your evidence?
Does every part of your paper relate back to your thesis? How might you improve these connections?
Is anything confusing about your language or organization? How might your clarify your language or organization?
Have you made any errors with grammar, punctuation, or spelling? How can you correct these errors?
What might someone who disagrees with you say about your paper? How can you address these opposing arguments in your paper? [25] X Research source
Community Q&A
Video . By using this service, some information may be shared with YouTube.
If you're still stumped, ask your teacher for help. He or she will most likely be more than happy to help you AND you'll get on his or her good side for "taking the initiative." Thanks Helpful 0 Not Helpful 0
Plagiarism is a serious offense in the academic world. If you plagiarize your paper you may fail the assignment and even the course altogether. Make sure that you fully understand what is and is not considered plagiarism before you write your paper. Ask your teacher if you have any concerns or questions about your school's plagiarism policy. Thanks Helpful 5 Not Helpful 0
You Might Also Like
↑ https://owl.purdue.edu/owl/general_writing/academic_writing/essay_writing/argumentative_essays.html
↑ http://writing.ku.edu/prewriting-strategies
↑ https://stlcc.edu/student-support/academic-success-and-tutoring/writing-center/writing-resources/pathos-logos-and-ethos.aspx
↑ https://owl.english.purdue.edu/owl/resource/673/1/
↑ http://writingcenter.unc.edu/handouts/thesis-statements/
↑ https://academicguides.waldenu.edu/writingcenter/writingprocess/outlining
↑ https://apus.libanswers.com/faq/2316
↑ https://libguides.schoolcraft.edu/c.php?g=430555&p=3011200
↑ http://guides.jwcc.edu/content.php?pid=65900&sid=538553
↑ http://www.writing.utoronto.ca/advice/reading-and-researching/notes-from-research
↑ https://www.grammarly.com/blog/argumentative-essay/
↑ https://writing.wisc.edu/handbook/process/revisingargument/
↑ https://owl.english.purdue.edu/owl/resource/561/05/
↑ https://writingcenter.unc.edu/tips-and-tools/editing-and-proofreading/
About This Article
To write an argumentative research paper, choose a topic that can be argued from one or more perspectives, then pick a side. Start your paper with a thesis statement summing up your position, then support your statement with facts and arguments gathered from reputable sources. Use background information or context to help guide your readers through your essay, telling them what they need to know to understand the rest of your argument. For different approaches you can use while revising your paper, read on! Did this summary help you? Yes No
Reader Success Stories
Nathaniel Chavez
Dec 3, 2017
Did this article help you?
Kaouther Oueslati
Mar 16, 2017
May 10, 2017
Sarah Mungai
Apr 3, 2017
Sep 3, 2017
Featured Articles
Trending Articles
Watch Articles
Terms of Use
Privacy Policy
Do Not Sell or Share My Info
Not Selling Info
wikiHow Tech Help Pro:
Develop the tech skills you need for work and life
Have a language expert improve your writing
Run a free plagiarism check in 10 minutes, generate accurate citations for free.
Knowledge Base
Research paper
How to Write a Research Paper | A Beginner's Guide
A research paper is a piece of academic writing that provides analysis, interpretation, and argument based on in-depth independent research.
Research papers are similar to academic essays , but they are usually longer and more detailed assignments, designed to assess not only your writing skills but also your skills in scholarly research. Writing a research paper requires you to demonstrate a strong knowledge of your topic, engage with a variety of sources, and make an original contribution to the debate.
This step-by-step guide takes you through the entire writing process, from understanding your assignment to proofreading your final draft.
Table of contents
Understand the assignment, choose a research paper topic, conduct preliminary research, develop a thesis statement, create a research paper outline, write a first draft of the research paper, write the introduction, write a compelling body of text, write the conclusion, the second draft, the revision process, research paper checklist, free lecture slides.
Completing a research paper successfully means accomplishing the specific tasks set out for you. Before you start, make sure you thoroughly understanding the assignment task sheet:
Read it carefully, looking for anything confusing you might need to clarify with your professor.
Identify the assignment goal, deadline, length specifications, formatting, and submission method.
Make a bulleted list of the key points, then go back and cross completed items off as you're writing.
Carefully consider your timeframe and word limit: be realistic, and plan enough time to research, write, and edit.
Receive feedback on language, structure, and formatting
Professional editors proofread and edit your paper by focusing on:
Academic style
Vague sentences
Style consistency
See an example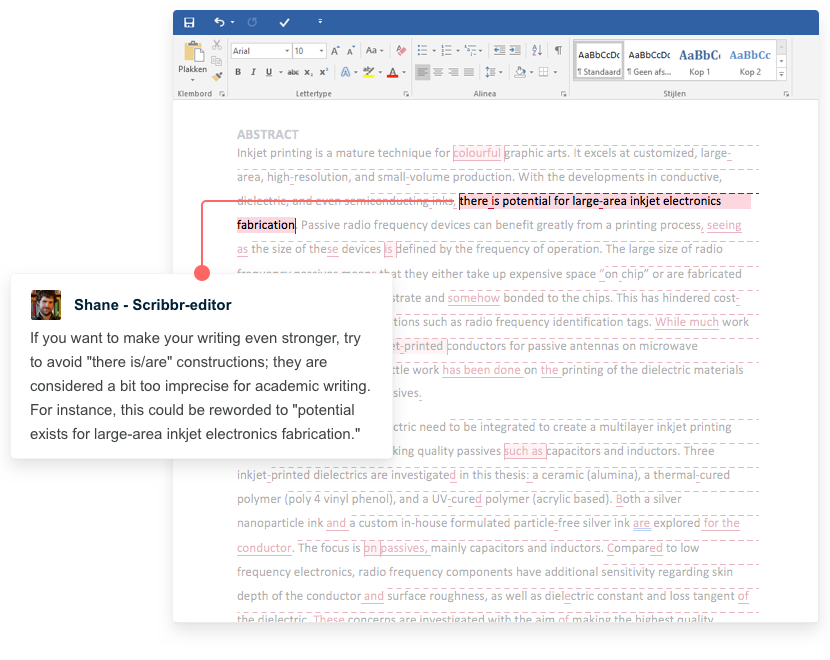 There are many ways to generate an idea for a research paper, from brainstorming with pen and paper to talking it through with a fellow student or professor.
You can try free writing, which involves taking a broad topic and writing continuously for two or three minutes to identify absolutely anything relevant that could be interesting.
You can also gain inspiration from other research. The discussion or recommendations sections of research papers often include ideas for other specific topics that require further examination.
Once you have a broad subject area, narrow it down to choose a topic that interests you, m eets the criteria of your assignment, and i s possible to research. Aim for ideas that are both original and specific:
A paper following the chronology of World War II would not be original or specific enough.
A paper on the experience of Danish citizens living close to the German border during World War II would be specific and could be original enough.
Note any discussions that seem important to the topic, and try to find an issue that you can focus your paper around. Use a variety of sources , including journals, books, and reliable websites, to ensure you do not miss anything glaring.
Do not only verify the ideas you have in mind, but look for sources that contradict your point of view.
Is there anything people seem to overlook in the sources you research?
Are there any heated debates you can address?
Do you have a unique take on your topic?
Have there been some recent developments that build on the extant research?
In this stage, you might find it helpful to formulate some research questions to help guide you. To write research questions, try to finish the following sentence: "I want to know how/what/why…"
A thesis statement is a statement of your central argument — it establishes the purpose and position of your paper. If you started with a research question, the thesis statement should answer it. It should also show what evidence and reasoning you'll use to support that answer.
The thesis statement should be concise, contentious, and coherent. That means it should briefly summarize your argument in a sentence or two, make a claim that requires further evidence or analysis, and make a coherent point that relates to every part of the paper.
You will probably revise and refine the thesis statement as you do more research, but it can serve as a guide throughout the writing process. Every paragraph should aim to support and develop this central claim.
Here's why students love Scribbr's proofreading services
Discover proofreading & editing
A research paper outline is essentially a list of the key topics, arguments, and evidence you want to include, divided into sections with headings so that you know roughly what the paper will look like before you start writing.
A structure outline can help make the writing process much more efficient, so it's worth dedicating some time to create one.
Your first draft won't be perfect — you can polish later on. Your priorities at this stage are as follows:
Maintaining forward momentum — write now, perfect later.
Paying attention to clear organization and logical ordering of paragraphs and sentences, which will help when you come to the second draft.
Expressing your ideas as clearly as possible, so you know what you were trying to say when you come back to the text.
You do not need to start by writing the introduction. Begin where it feels most natural for you — some prefer to finish the most difficult sections first, while others choose to start with the easiest part. If you created an outline, use it as a map while you work.
Do not delete large sections of text. If you begin to dislike something you have written or find it doesn't quite fit, move it to a different document, but don't lose it completely — you never know if it might come in useful later.
Paragraph structure
Paragraphs are the basic building blocks of research papers. Each one should focus on a single claim or idea that helps to establish the overall argument or purpose of the paper.
Example paragraph
George Orwell's 1946 essay "Politics and the English Language" has had an enduring impact on thought about the relationship between politics and language. This impact is particularly obvious in light of the various critical review articles that have recently referenced the essay. For example, consider Mark Falcoff's 2009 article in The National Review Online, "The Perversion of Language; or, Orwell Revisited," in which he analyzes several common words ("activist," "civil-rights leader," "diversity," and more). Falcoff's close analysis of the ambiguity built into political language intentionally mirrors Orwell's own point-by-point analysis of the political language of his day. Even 63 years after its publication, Orwell's essay is emulated by contemporary thinkers.
Citing sources
It's also important to keep track of citations at this stage to avoid accidental plagiarism . Each time you use a source, make sure to take note of where the information came from.
You can use our free citation generators to automatically create citations and save your reference list as you go.
APA Citation Generator MLA Citation Generator
The research paper introduction should address three questions: What, why, and how? After finishing the introduction, the reader should know what the paper is about, why it is worth reading, and how you'll build your arguments.
What? Be specific about the topic of the paper, introduce the background, and define key terms or concepts.
Why? This is the most important, but also the most difficult, part of the introduction. Try to provide brief answers to the following questions: What new material or insight are you offering? What important issues does your essay help define or answer?
How? To let the reader know what to expect from the rest of the paper, the introduction should include a "map" of what will be discussed, briefly presenting the key elements of the paper in chronological order.
The major struggle faced by most writers is how to organize the information presented in the paper, which is one reason an outline is so useful. However, remember that the outline is only a guide and, when writing, you can be flexible with the order in which the information and arguments are presented.
One way to stay on track is to use your thesis statement and topic sentences . Check:
topic sentences against the thesis statement;
topic sentences against each other, for similarities and logical ordering;
and each sentence against the topic sentence of that paragraph.
Be aware of paragraphs that seem to cover the same things. If two paragraphs discuss something similar, they must approach that topic in different ways. Aim to create smooth transitions between sentences, paragraphs, and sections.
The research paper conclusion is designed to help your reader out of the paper's argument, giving them a sense of finality.
Trace the course of the paper, emphasizing how it all comes together to prove your thesis statement. Give the paper a sense of finality by making sure the reader understands how you've settled the issues raised in the introduction.
You might also discuss the more general consequences of the argument, outline what the paper offers to future students of the topic, and suggest any questions the paper's argument raises but cannot or does not try to answer.
You should not :
Offer new arguments or essential information
Take up any more space than necessary
Begin with stock phrases that signal you are ending the paper (e.g. "In conclusion")
There are four main considerations when it comes to the second draft.
Check how your vision of the paper lines up with the first draft and, more importantly, that your paper still answers the assignment.
Identify any assumptions that might require (more substantial) justification, keeping your reader's perspective foremost in mind. Remove these points if you cannot substantiate them further.
Be open to rearranging your ideas. Check whether any sections feel out of place and whether your ideas could be better organized.
If you find that old ideas do not fit as well as you anticipated, you should cut them out or condense them. You might also find that new and well-suited ideas occurred to you during the writing of the first draft — now is the time to make them part of the paper.
The goal during the revision and proofreading process is to ensure you have completed all the necessary tasks and that the paper is as well-articulated as possible.
Global concerns
Confirm that your paper completes every task specified in your assignment sheet.
Check for logical organization and flow of paragraphs.
Check paragraphs against the introduction and thesis statement.
Fine-grained details
Check the content of each paragraph, making sure that:
each sentence helps support the topic sentence.
no unnecessary or irrelevant information is present.
all technical terms your audience might not know are identified.
Next, think about sentence structure , grammatical errors, and formatting . Check that you have correctly used transition words and phrases to show the connections between your ideas. Look for typos, cut unnecessary words, and check for consistency in aspects such as heading formatting and spellings .
Finally, you need to make sure your paper is correctly formatted according to the rules of the citation style you are using. For example, you might need to include an MLA heading  or create an APA title page .
Scribbr's professional editors can help with the revision process with our award-winning proofreading services.
Discover our paper editing service
Checklist: Research paper
I have followed all instructions in the assignment sheet.
My introduction presents my topic in an engaging way and provides necessary background information.
My introduction presents a clear, focused research problem and/or thesis statement .
My paper is logically organized using paragraphs and (if relevant) section headings .
Each paragraph is clearly focused on one central idea, expressed in a clear topic sentence .
Each paragraph is relevant to my research problem or thesis statement.
I have used appropriate transitions  to clarify the connections between sections, paragraphs, and sentences.
My conclusion provides a concise answer to the research question or emphasizes how the thesis has been supported.
My conclusion shows how my research has contributed to knowledge or understanding of my topic.
My conclusion does not present any new points or information essential to my argument.
I have provided an in-text citation every time I refer to ideas or information from a source.
I have included a reference list at the end of my paper, consistently formatted according to a specific citation style .
I have thoroughly revised my paper and addressed any feedback from my professor or supervisor.
I have followed all formatting guidelines (page numbers, headers, spacing, etc.).
You've written a great paper. Make sure it's perfect with the help of a Scribbr editor!
Open Google Slides Download PowerPoint
Is this article helpful?
Other students also liked.
Writing a Research Paper Introduction | Step-by-Step Guide
Writing a Research Paper Conclusion | Step-by-Step Guide
Research Paper Format | APA, MLA, & Chicago Templates
More interesting articles
Academic Paragraph Structure | Step-by-Step Guide & Examples
Checklist: Writing a Great Research Paper
How to Create a Structured Research Paper Outline | Example
How to Write a Discussion Section | Tips & Examples
How to Write Recommendations in Research | Examples & Tips
How to Write Topic Sentences | 4 Steps, Examples & Purpose
Research Paper Appendix | Example & Templates
Research Paper Damage Control | Managing a Broken Argument
What Is a Theoretical Framework? | Guide to Organizing
What is your plagiarism score?
Drafting an argument essay
An argument paper is one in which the author takes a specific stance on a topic and attempts to sway the reader. Argument papers are not always assigned as such and may include certain types of research assignments or topic specific prompts.
Introduction
The introduction should do several things for the reader:
Set context – this is where the author can begin to give general background information and set up a "map" of what the paper will discuss
State importance – the introduction should also explain why the topic is important, it should compel the audience to read further and create interest in the topic
State the thesis – the thesis is the author's argument or stance and, in general, it doesn't matter where in the introduction the thesis is placed as long as it is clear
What it is not:
The thesis is not the title; the thesis should have much more depth.
The thesis is not a declaration of subject, i.e. "I'm going to talk about…"
The thesis is not a factual statement; it must be debatable.
The thesis is not always one sentence; it is often difficult to put more complex arguments into such a simple format and multiple sentence theses are fine.
What it is:
The thesis should be unified and concise. Even if the thesis is expressed in multiple sentences, it should be clear and focused.
The thesis should be as specific as possible. It is very difficult to argue a broad topic, a specific thesis provides a more stable base for the paper.
There is no given format for an argument paper and it is acceptable to organize the paper in the way that it makes the most sense to you. If you are having difficulty organizing your paper in a unified format, however, here is a common outline for an argument called the Toulmin Method:
Claim, or thesis
Data, or supporting evidence
Warrant or bridge, connecting and explaining the data and claim
Backing or foundation, more information and reasoning to support warrants
Counterclaim, the opposition to the claim
Rebuttal, disputes or negates the counterclaim
In cases where there are multiple data and warrants:
Counterclaim
The conclusion is very similar to the introduction in that it gives a general overview of what has been discussed. This section also ties up any loose ends not confronted in the body of the paper. Many times, the thesis is restated in the conclusion for reinforcement.

Want to create or adapt books like this? Learn more about how Pressbooks supports open publishing practices.
8.3 Drafting
Learning objectives.
Identify drafting strategies that improve writing.
Use drafting strategies to prepare the first draft of an essay.
Drafting is the stage of the writing process in which you develop a complete first version of a piece of writing.
Even professional writers admit that an empty page scares them because they feel they need to come up with something fresh and original every time they open a blank document on their computers. Because you have completed the first two steps in the writing process, you have already recovered from empty page syndrome. You have hours of prewriting and planning already done. You know what will go on that blank page: what you wrote in your outline.
Getting Started: Strategies For Drafting
Your objective for this portion of Chapter 8 "The Writing Process: How Do I Begin?" is to draft the body paragraphs of a standard five-paragraph essay. A five-paragraph essay contains an introduction, three body paragraphs, and a conclusion. If you are more comfortable starting on paper than on the computer, you can start on paper and then type it before you revise. You can also use a voice recorder to get yourself started, dictating a paragraph or two to get you thinking. In this lesson, Mariah does all her work on the computer, but you may use pen and paper or the computer to write a rough draft.
Making the Writing Process Work for You
What makes the writing process so beneficial to writers is that it encourages alternatives to standard practices while motivating you to develop your best ideas. For instance, the following approaches, done alone or in combination with others, may improve your writing and help you move forward in the writing process:
Begin writing with the part you know the most about. You can start with the third paragraph in your outline if ideas come easily to mind. You can start with the second paragraph or the first paragraph, too. Although paragraphs may vary in length, keep in mind that short paragraphs may contain insufficient support. Readers may also think the writing is abrupt. Long paragraphs may be wordy and may lose your reader's interest. As a guideline, try to write paragraphs longer than one sentence but shorter than the length of an entire double-spaced page.
Write one paragraph at a time and then stop. As long as you complete the assignment on time, you may choose how many paragraphs you complete in one sitting. Pace yourself. On the other hand, try not to procrastinate. Writers should always meet their deadlines.
Take short breaks to refresh your mind. This tip might be most useful if you are writing a multipage report or essay. Still, if you are antsy or cannot concentrate, take a break to let your mind rest. But do not let breaks extend too long. If you spend too much time away from your essay, you may have trouble starting again. You may forget key points or lose momentum. Try setting an alarm to limit your break, and when the time is up, return to your desk to write.
Be reasonable with your goals. If you decide to take ten-minute breaks, try to stick to that goal. If you told yourself that you need more facts, then commit to finding them. Holding yourself to your own goals will create successful writing assignments.
Keep your audience and purpose in mind as you write. These aspects of writing are just as important when you are writing a single paragraph for your essay as when you are considering the direction of the entire essay.
Of all of these considerations, keeping your purpose and your audience at the front of your mind is the most important key to writing success. If your purpose is to persuade, for example, you will present your facts and details in the most logical and convincing way you can.
Your purpose will guide your mind as you compose your sentences. Your audience will guide word choice. Are you writing for experts, for a general audience, for other college students, or for people who know very little about your topic? Keep asking yourself what your readers, with their background and experience, need to be told in order to understand your ideas. How can you best express your ideas so they are totally clear and your communication is effective?
You may want to identify your purpose and audience on an index card that you clip to your paper (or keep next to your computer). On that card, you may want to write notes to yourself—perhaps about what that audience might not know or what it needs to know—so that you will be sure to address those issues when you write. It may be a good idea to also state exactly what you want to explain to that audience, or to inform them of, or to persuade them about.
Writing at Work
Many of the documents you produce at work target a particular audience for a particular purpose. You may find that it is highly advantageous to know as much as you can about your target audience and to prepare your message to reach that audience, even if the audience is a coworker or your boss. Menu language is a common example. Descriptions like "organic romaine" and "free-range chicken" are intended to appeal to a certain type of customer though perhaps not to the same customer who craves a thick steak. Similarly, mail-order companies research the demographics of the people who buy their merchandise. Successful vendors customize product descriptions in catalogs to appeal to their buyers' tastes. For example, the product descriptions in a skateboarder catalog will differ from the descriptions in a clothing catalog for mature adults.
Using the topic for the essay that you outlined in Section 8.2 "Outlining" , describe your purpose and your audience as specifically as you can. Use your own sheet of paper to record your responses. Then keep these responses near you during future stages of the writing process.
My purpose: ____________________________________________
____________________________________________
My audience: ____________________________________________
Setting Goals for Your First Draft
A draft is a complete version of a piece of writing, but it is not the final version. The step in the writing process after drafting, as you may remember, is revising. During revising, you will have the opportunity to make changes to your first draft before you put the finishing touches on it during the editing and proofreading stage. A first draft gives you a working version that you can later improve.
Workplace writing in certain environments is done by teams of writers who collaborate on the planning, writing, and revising of documents, such as long reports, technical manuals, and the results of scientific research. Collaborators do not need to be in the same room, the same building, or even the same city. Many collaborations are conducted over the Internet.
In a perfect collaboration, each contributor has the right to add, edit, and delete text. Strong communication skills, in addition to strong writing skills, are important in this kind of writing situation because disagreements over style, content, process, emphasis, and other issues may arise.
The collaborative software, or document management systems, that groups use to work on common projects is sometimes called groupware or workgroup support systems.
The reviewing tool on some word-processing programs also gives you access to a collaborative tool that many smaller workgroups use when they exchange documents. You can also use it to leave comments to yourself.
If you invest some time now to investigate how the reviewing tool in your word processor works, you will be able to use it with confidence during the revision stage of the writing process. Then, when you start to revise, set your reviewing tool to track any changes you make, so you will be able to tinker with text and commit only those final changes you want to keep.
Discovering the Basic Elements of a First Draft
If you have been using the information in this chapter step by step to help you develop an assignment, you already have both a formal topic outline and a formal sentence outline to direct your writing. Knowing what a first draft looks like will help you make the creative leap from the outline to the first draft. A first draft should include the following elements:
An introduction that piques the audience's interest, tells what the essay is about, and motivates readers to keep reading.
A thesis statement that presents the main point, or controlling idea, of the entire piece of writing.
A topic sentence in each paragraph that states the main idea of the paragraph and implies how that main idea connects to the thesis statement.
Supporting sentences in each paragraph that develop or explain the topic sentence. These can be specific facts, examples, anecdotes, or other details that elaborate on the topic sentence.
A conclusion that reinforces the thesis statement and leaves the audience with a feeling of completion.
These elements follow the standard five-paragraph essay format, which you probably first encountered in high school. This basic format is valid for most essays you will write in college, even much longer ones. For now, however, Mariah focuses on writing the three body paragraphs from her outline. Chapter 9 "Writing Essays: From Start to Finish" covers writing introductions and conclusions, and you will read Mariah's introduction and conclusion in Chapter 9 "Writing Essays: From Start to Finish" .
The Role of Topic Sentences
Topic sentences make the structure of a text and the writer's basic arguments easy to locate and comprehend. In college writing, using a topic sentence in each paragraph of the essay is the standard rule. However, the topic sentence does not always have to be the first sentence in your paragraph even if it the first item in your formal outline.
When you begin to draft your paragraphs, you should follow your outline fairly closely. After all, you spent valuable time developing those ideas. However, as you begin to express your ideas in complete sentences, it might strike you that the topic sentence might work better at the end of the paragraph or in the middle. Try it. Writing a draft, by its nature, is a good time for experimentation.
The topic sentence can be the first, middle, or final sentence in a paragraph. The assignment's audience and purpose will often determine where a topic sentence belongs. When the purpose of the assignment is to persuade, for example, the topic sentence should be the first sentence in a paragraph. In a persuasive essay, the writer's point of view should be clearly expressed at the beginning of each paragraph.
Choosing where to position the topic sentence depends not only on your audience and purpose but also on the essay's arrangement, or order. When you organize information according to order of importance, the topic sentence may be the final sentence in a paragraph. All the supporting sentences build up to the topic sentence. Chronological order may also position the topic sentence as the final sentence because the controlling idea of the paragraph may make the most sense at the end of a sequence.
When you organize information according to spatial order, a topic sentence may appear as the middle sentence in a paragraph. An essay arranged by spatial order often contains paragraphs that begin with descriptions. A reader may first need a visual in his or her mind before understanding the development of the paragraph. When the topic sentence is in the middle, it unites the details that come before it with the ones that come after it.
As you read critically throughout the writing process, keep topic sentences in mind. You may discover topic sentences that are not always located at the beginning of a paragraph. For example, fiction writers customarily use topic ideas, either expressed or implied, to move readers through their texts. In nonfiction writing, such as popular magazines, topic sentences are often used when the author thinks it is appropriate (based on the audience and the purpose, of course). A single topic sentence might even control the development of a number of paragraphs. For more information on topic sentences, please see Chapter 6 "Writing Paragraphs: Separating Ideas and Shaping Content" .
Developing topic sentences and thinking about their placement in a paragraph will prepare you to write the rest of the paragraph.
The paragraph is the main structural component of an essay as well as other forms of writing. Each paragraph of an essay adds another related main idea to support the writer's thesis, or controlling idea. Each related main idea is supported and developed with facts, examples, and other details that explain it. By exploring and refining one main idea at a time, writers build a strong case for their thesis.
Paragraph Length
How long should a paragraph be?
One answer to this important question may be "long enough"—long enough for you to address your points and explain your main idea. To grab attention or to present succinct supporting ideas, a paragraph can be fairly short and consist of two to three sentences. A paragraph in a complex essay about some abstract point in philosophy or archaeology can be three-quarters of a page or more in length. As long as the writer maintains close focus on the topic and does not ramble, a long paragraph is acceptable in college-level writing. In general, try to keep the paragraphs longer than one sentence but shorter than one full page of double-spaced text.
Journalistic style often calls for brief two- or three-sentence paragraphs because of how people read the news, both online and in print. Blogs and other online information sources often adopt this paragraphing style, too. Readers often skim the first paragraphs of a great many articles before settling on the handful of stories they want to read in detail.
You may find that a particular paragraph you write may be longer than one that will hold your audience's interest. In such cases, you should divide the paragraph into two or more shorter paragraphs, adding a topic statement or some kind of transitional word or phrase at the start of the new paragraph. Transition words or phrases show the connection between the two ideas.
In all cases, however, be guided by what you instructor wants and expects to find in your draft. Many instructors will expect you to develop a mature college-level style as you progress through the semester's assignments.
To build your sense of appropriate paragraph length, use the Internet to find examples of the following items. Copy them into a file, identify your sources, and present them to your instructor with your annotations, or notes.
A news article written in short paragraphs. Take notes on, or annotate, your selection with your observations about the effect of combining paragraphs that develop the same topic idea. Explain how effective those paragraphs would be.
A long paragraph from a scholarly work that you identify through an academic search engine. Annotate it with your observations about the author's paragraphing style.
Starting Your First Draft
Now we are finally ready to look over Mariah's shoulder as she begins to write her essay about digital technology and the confusing choices that consumers face. As she does, you should have in front of you your outline, with its thesis statement and topic sentences, and the notes you wrote earlier in this lesson on your purpose and audience. Reviewing these will put both you and Mariah in the proper mind-set to start.
The following is Mariah's thesis statement.

Here are the notes that Mariah wrote to herself to characterize her purpose and audience.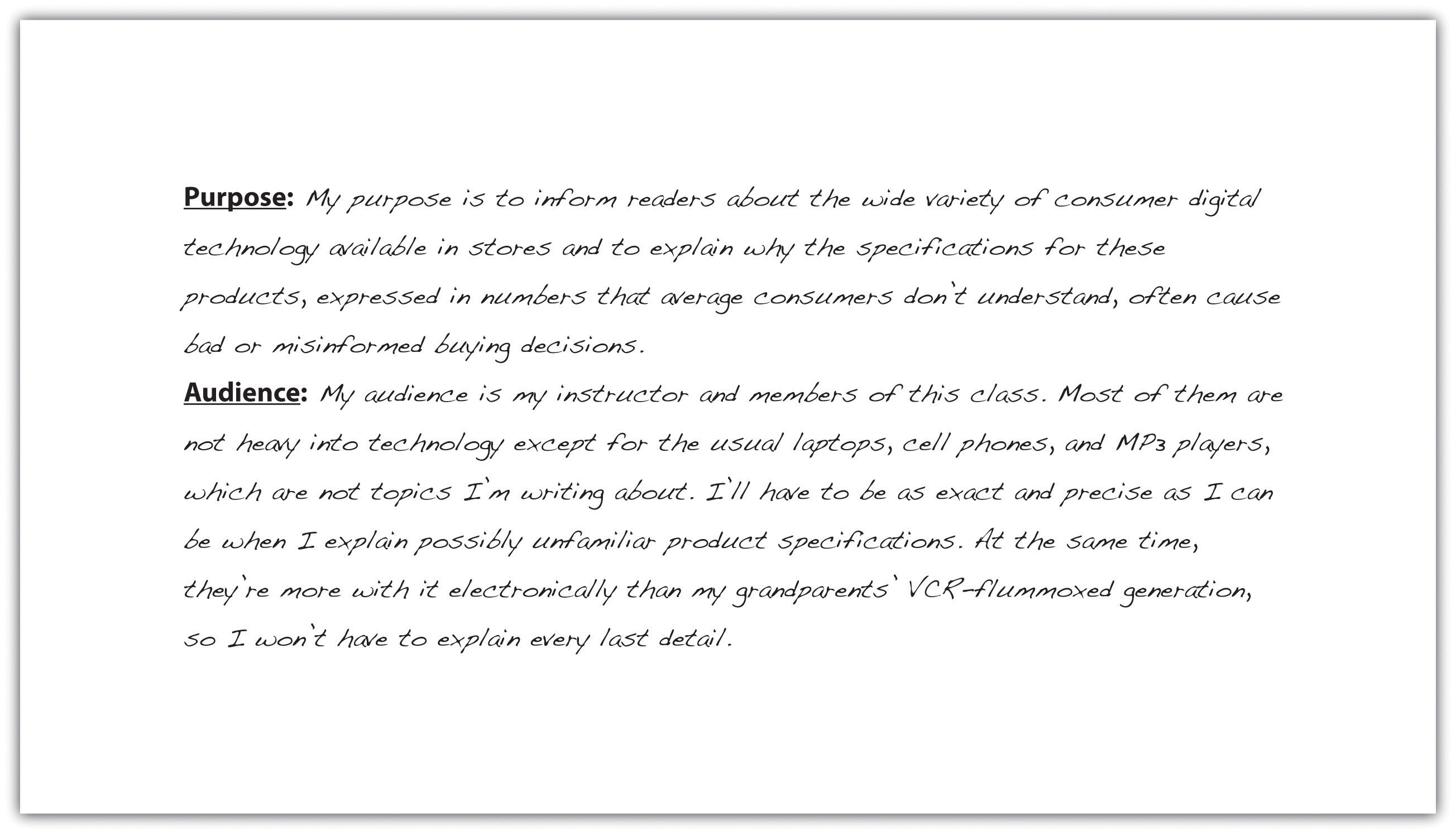 Mariah chose to begin by writing a quick introduction based on her thesis statement. She knew that she would want to improve her introduction significantly when she revised. Right now, she just wanted to give herself a starting point. You will read her introduction again in Section 8.4 "Revising and Editing" when she revises it.
Remember Mariah's other options. She could have started directly with any of the body paragraphs.
You will learn more about writing attention-getting introductions and effective conclusions in Chapter 9 "Writing Essays: From Start to Finish" .
With her thesis statement and her purpose and audience notes in front of her, Mariah then looked at her sentence outline. She chose to use that outline because it includes the topic sentences. The following is the portion of her outline for the first body paragraph. The roman numeral II identifies the topic sentence for the paragraph, capital letters indicate supporting details, and arabic numerals label subpoints.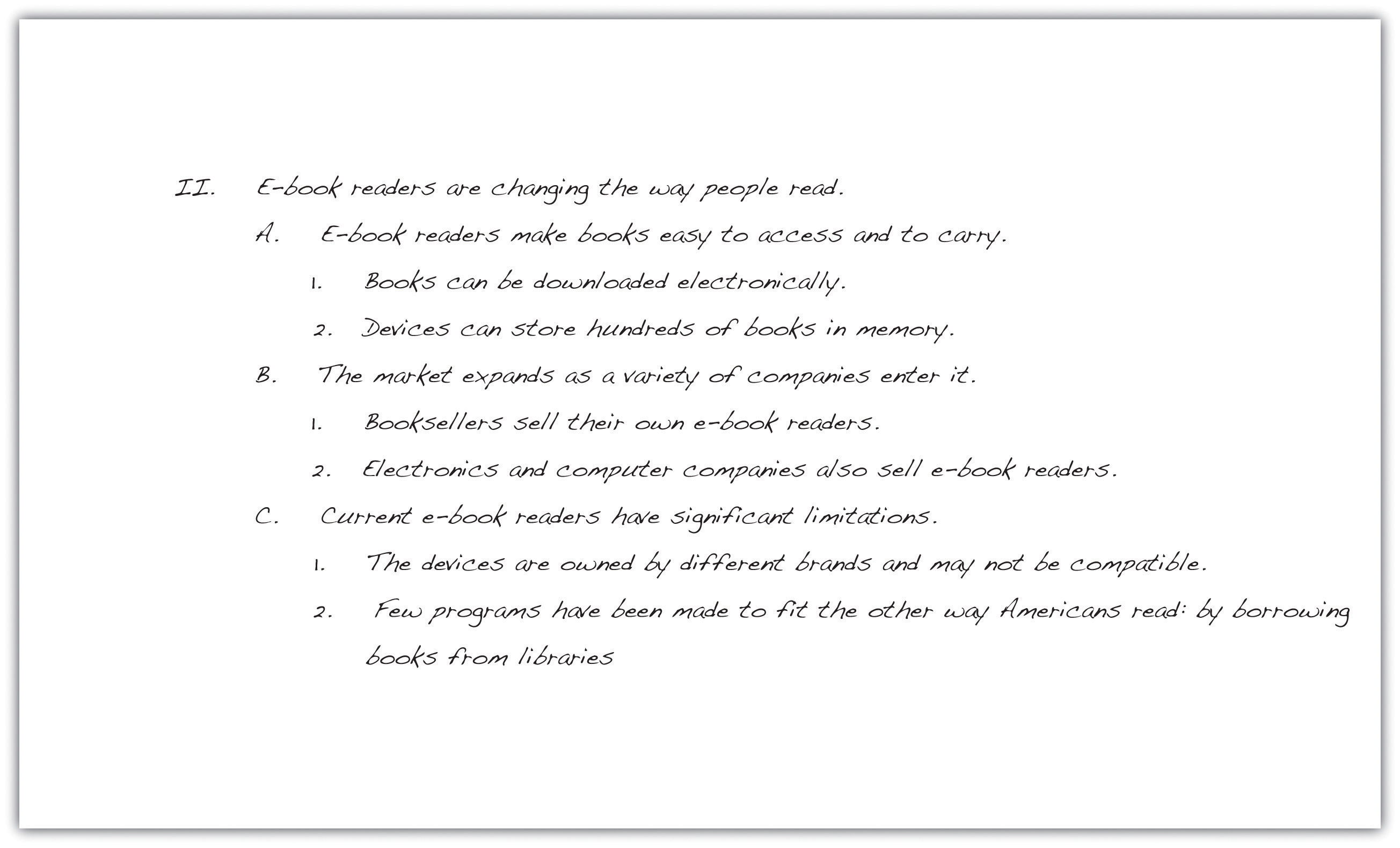 Mariah then began to expand the ideas in her outline into a paragraph. Notice how the outline helped her guarantee that all her sentences in the body of the paragraph develop the topic sentence.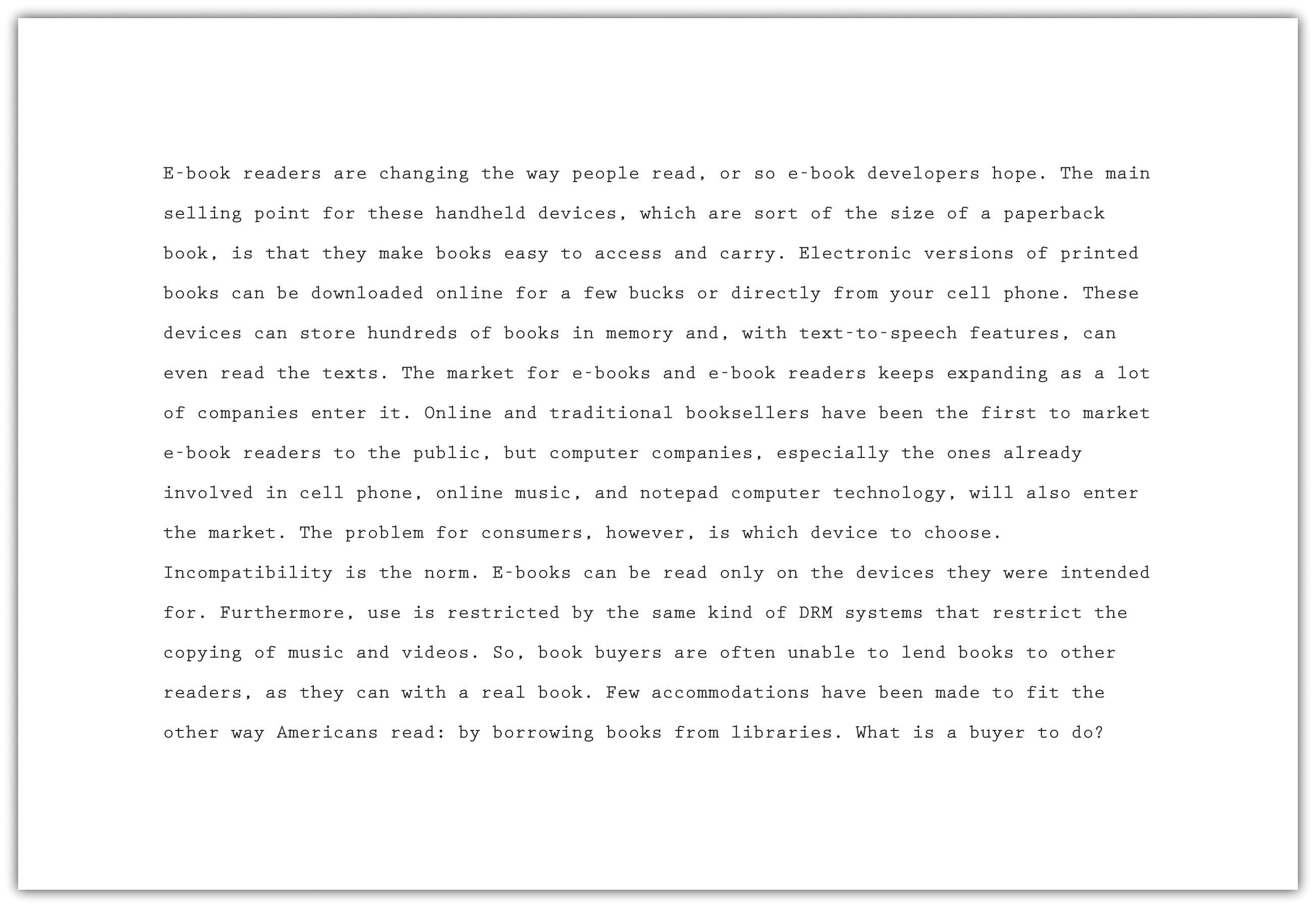 If you write your first draft on the computer, consider creating a new file folder for each course with a set of subfolders inside the course folders for each assignment you are given. Label the folders clearly with the course names, and label each assignment folder and word processing document with a title that you will easily recognize. The assignment name is a good choice for the document. Then use that subfolder to store all the drafts you create. When you start each new draft, do not just write over the last one. Instead, save the draft with a new tag after the title—draft 1, draft 2, and so on—so that you will have a complete history of drafts in case your instructor wishes you to submit them.
In your documents, observe any formatting requirements—for margins, headers, placement of page numbers, and other layout matters—that your instructor requires.
Study how Mariah made the transition from her sentence outline to her first draft. First, copy her outline onto your own sheet of paper. Leave a few spaces between each part of the outline. Then copy sentences from Mariah's paragraph to align each sentence with its corresponding entry in her outline.
Continuing the First Draft
Mariah continued writing her essay, moving to the second and third body paragraphs. She had supporting details but no numbered subpoints in her outline, so she had to consult her prewriting notes for specific information to include.
If you decide to take a break between finishing your first body paragraph and starting the next one, do not start writing immediately when you return to your work. Put yourself back in context and in the mood by rereading what you have already written. This is what Mariah did. If she had stopped writing in the middle of writing the paragraph, she could have jotted down some quick notes to herself about what she would write next.
Preceding each body paragraph that Mariah wrote is the appropriate section of her sentence outline. Notice how she expanded roman numeral III from her outline into a first draft of the second body paragraph. As you read, ask yourself how closely she stayed on purpose and how well she paid attention to the needs of her audience.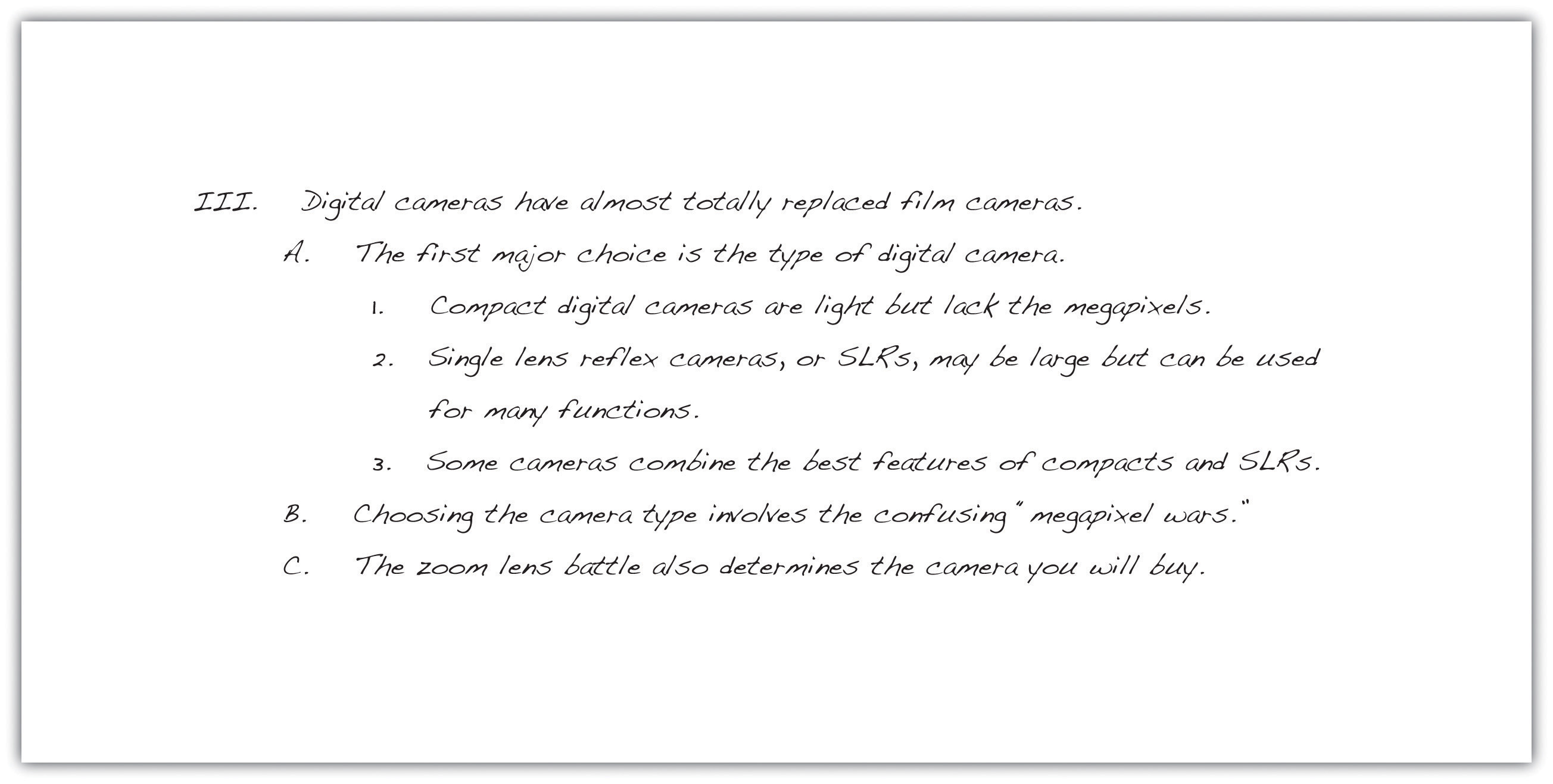 Mariah then began her third and final body paragraph using roman numeral IV from her outline.
Reread body paragraphs two and three of the essay that Mariah is writing. Then answer the questions on your own sheet of paper.
In body paragraph two, Mariah decided to develop her paragraph as a nonfiction narrative. Do you agree with her decision? Explain. How else could she have chosen to develop the paragraph? Why is that better?
Compare the writing styles of paragraphs two and three. What evidence do you have that Mariah was getting tired or running out of steam? What advice would you give her? Why?
Choose one of these two body paragraphs. Write a version of your own that you think better fits Mariah's audience and purpose.
Writing a Title
A writer's best choice for a title is one that alludes to the main point of the entire essay. Like the headline in a newspaper or the big, bold title in a magazine, an essay's title gives the audience a first peek at the content. If readers like the title, they are likely to keep reading.
Following her outline carefully, Mariah crafted each paragraph of her essay. Moving step by step in the writing process, Mariah finished the draft and even included a brief concluding paragraph (you will read her conclusion in Chapter 9 "Writing Essays: From Start to Finish" ). She then decided, as the final touch for her writing session, to add an engaging title.

Writing Your Own First Draft
Now you may begin your own first draft, if you have not already done so. Follow the suggestions and the guidelines presented in this section.
Key Takeaways
Make the writing process work for you. Use any and all of the strategies that help you move forward in the writing process.
Always be aware of your purpose for writing and the needs of your audience. Cater to those needs in every sensible way.
Remember to include all the key structural parts of an essay: a thesis statement that is part of your introductory paragraph, three or more body paragraphs as described in your outline, and a concluding paragraph. Then add an engaging title to draw in readers.
Write paragraphs of an appropriate length for your writing assignment. Paragraphs in college-level writing can be a page long, as long as they cover the main topics in your outline.
Use your topic outline or your sentence outline to guide the development of your paragraphs and the elaboration of your ideas. Each main idea, indicated by a roman numeral in your outline, becomes the topic of a new paragraph. Develop it with the supporting details and the subpoints of those details that you included in your outline.
Generally speaking, write your introduction and conclusion last, after you have fleshed out the body paragraphs.
Writing for Success Copyright © 2015 by University of Minnesota is licensed under a Creative Commons Attribution-NonCommercial-ShareAlike 4.0 International License , except where otherwise noted.
Developing Evidence-Based Arguments from Texts
About this Strategy Guide
This guide provides teachers with strategies for helping students understand the differences between persuasive writing and evidence-based argumentation. Students become familiar with the basic components of an argument and then develop their understanding by analyzing evidence-based arguments about texts. Students then generate evidence-based arguments of texts using a variety of resources. Links to related resources and additional classroom strategies are also provided.
Research Basis
Strategy in practice, related resources.
Hillocks (2010) contends that argument is "at the heart of critical thinking and academic discourse, the kind of writing students need to know for success in college" (p. 25). He points out that "many teachers begin to teach some version of argument with the writing of a thesis statement, [but] in reality, good argument begins with looking at the data that are likely to become the evidence in an argument and that give rise to a thesis statement or major claim" (p. 26).  Students need an understanding of the components of argument and the process through which careful examination of textual evidence becomes the beginnings of a claim about text.
Begin by helping students understand the differences between persuasive writing and evidence-based argumentation: persuasion and argument share the goal of asserting a claim and trying to convince a reader or audience of its validity, but persuasion relies on a broader range of possible support. While argumentation tends to focus on logic supported by verifiable examples and facts, persuasion can use unverifiable personal anecdotes and a more apparent emotional appeal to make its case. Additionally, in persuasion, the claim usually comes first; then the persuader builds a case to convince a particular audience to think or feel the same way. Evidence-based argument builds the case for its claim out of available evidence. Solid understanding of the material at hand, therefore, is necessary in order to argue effectively. This printable resource provides further examples of the differences between persuasive and argumentative writing.
One way to help students see this distinction is to offer a topic and two stances on it: one persuasive and one argumentative. Trying to convince your friend to see a particular movie with you is likely persuasion. Sure, you may use some evidence from the movie to back up your claim, but you may also threaten to get upset with him or her if he or she refuses—or you may offer to buy the popcorn if he or she agrees to go. Making the argument for why a movie is better (or worse) than the book it's based on would be more argumentative, relying on analysis of examples from both works to build a case. Consider using resources from the ReadWriteThink lesson plan Argument, Persuasion, or Propaganda: Analyzing World War II Posters
The claim (that typically answers the question: "What do I think?")
The reasons (that typically answer the question: "Why do I think this?")
The evidence (that typically answers the question: "How do I know this is the case?").
Deepen students' understanding of the components of argument by analyzing evidence-based arguments about texts. Project, for example, this essay on Gertrude in Hamlet and ask students to identify the claim, reasons, and evidence. Ask students to clarify what makes this kind of text an argument as opposed to persuasion. What might a persuasive take on the character of Gertrude sound like? (You may also wish to point out the absence of a counterargument in this example. Challenge students to offer one.)
Point out that even though the claim comes first in the sample essay, the writer of the essay likely did not start there. Rather, he or she arrived at the claim as a result of careful reading of and thinking about the text. Share with students that evidence-based writing about texts always begins with close reading. See Close Reading of Literary Texts strategy guide for additional information.
Guide students through the process of generating an evidence-based argument of a text by using the Designing an Evidence-based Argument Handout. Decide on an area of focus (such as the development of a particular character) and using a short text, jot down details or phrases related to that focus in the first space on the chart. After reading and some time for discussion of the character, have students look at the evidence and notice any patterns. Record these in the second space. Work with the students to narrow the patterns to a manageable list and re-read the text, this time looking for more instances of the pattern that you may have missed before you were looking for it. Add these references to the list.
Use the evidence and patterns to formulate a claim in the last box. Point out to students that most texts can support multiple (sometimes even competing) claims, so they are not looking for the "one right thing" to say about the text, but they should strive to say something that has plenty of evidence to support it, but is not immediately self-evident. Claims can also be more or less complex, such as an outright claim (The character is X trait) as opposed to a complex claim (Although the character is X trait, he is also Y trait). For examples of development of a claim (a thesis is a type of claim), see the Developing a Thesis Handout for additional guidance on this point.
Modeling Academic Writing Through Scholarly Article Presentations
And I Quote
Have students use the Evidence-Based Argument Checklist to revise and strengthen their writing.
More Ideas to Try
This Strategy Guide focuses on making claims about text, with a focus on literary interpretation. The basic tenets of the guide, however, can apply to argumentation in multiple disciplines—e.g., a response to a Document-Based Question in social science, a lab report in science.
For every argumentative claim that students develop for a text, have them try writing a persuasive claim about the text to continue building an understanding of their difference.
After students have drafted an evidence-based argument, ask them to choose an alternative claim or a counterclaim to be sure their original claim is argumentative.
Have students use the Evidence-Based Argument checklist to offer feedback to one another.
Lesson Plans
Professional Library
Student Interactives
Strategy Guides
Students prepare an already published scholarly article for presentation, with an emphasis on identification of the author's thesis and argument structure.
While drafting a literary analysis essay (or another type of argument) of their own, students work in pairs to investigate advice for writing conclusions and to analyze conclusions of sample essays. They then draft two conclusions for their essay, select one, and reflect on what they have learned through the process.
The Essay Map is an interactive graphic organizer that enables students to organize and outline their ideas for an informational, definitional, or descriptive essay.
Explore Resources by Grade
three rivers performing arts institute
Essay Writing
Reasons of using paper samples
Persuasive paper examples
Essay example on sex education
Compare/contrast essay writing
Walmart - sample paper
Free papers on poverty
Comparative paper templates
Chinese Dragon - sample essay
How to complete it quickly
Future City - sample essay
Structuring a reflective paper
Philosophy paper sample
Role model - essay example
Writing literary essays
Completing a paper on nuclear fusion
Definition essay writing
North Korea paper template
Traditional Khmer Wedding
Art history visual analysis paper
Searching for a competent writer
Rhetorical analysis essay on a dream
How to get a personal narrative paper sample
Essay introduction in jurisprudence
Cause and effect analysis paper
World history compare & contrast essay
Argumentative essay about abortion
Persuasive paper on animal rights
5-paragraph essay writing secrets
Composing an essay about bullying
Topic Ideas
Personal essay topic ideas
Cause and effect essay ideas
Questions for an analytical paper
Writing about education
On war against terrorism
Discussing Fahrenheit 451
Writing on the death penalty
Expository topics on technology
Psychology topics to explore
Ideas for history papers
Persuasive writing prompts
Problem solution essay topics
Argumentative essay topic ideas
Baseball persuasive paper topics
Undergraduate persuasive paper topics
Expository essay topic ideas
Taj Mahal descriptive paper topics
Topic ideas for an argumentative paper
Picking up topics about Macbeth
Creating a title on The Yellow Wallpaper
Inspiring ideas on Brave new world
Range of prompts on the US food Industry
20 essay questions on abortion
Novel comparison essay topics
Literature paper topics on the Zoo story
17 prompts on Death of a Salesman
Essay topics about recent events
Expository essay ideas on traveling
Choosing topics about Romeo & Juliet
Free Examples
Short Essays
Online Help
A List of Inspiring Argumentative Essay Topics about Technology 
If you want to write a brilliant argumentative essay, you should choose a topic idea for your paper properly. It should be interesting, relevant, and frequently discussed. Moreover, it should be controversial enough. Read a lot about the topic of your choice, come up with your own position on the issue, and look for enough evidence to support your point of view. However, you can also get a helper online and ask will you do my homework for me ?They will be glad to offer you assistance. Here is a list of great topics for your argumentative essay about technology. Let them inspire your imagination and creativity, and demonstrate your argumentative writing skills in the best light.
It should be forbidden to use cell phones while driving a car.
Texting helps young people do many tasks simultaneously and effectively.
Cell phones make people depend on each other.
Cell phones, email, and chats will never replace face-to-face communication.
Modern technologies make us helpless if any major crises occur.
Creating new families via social media: more and more young people are no longer capable of building new relationships in real life.
Parents should set limits to how long their children should be on the Internet.
Nanotechnology is a highly prospective trend in medical science.
What new policies protecting privacy should be incorporated by social media developers?
Relations between teachers and students on social networking sites: why is it inappropriate to make friends with teachers on the Web?
Technology in education: why should textbooks be replaced by online resources and modern technological innovations?
Cell phones cause (or do not cause) brain cancer.
Wearing microchips with personal data is the best way to protect identity.
Parents should be able to correct undesirable genetics of their unborn children.
Living longer with help of technological innovation: isn't it better to improve quality of life rather than quantity?
Violent video games teach children and teenagers to behave violently.
Reading on a screen does more harm to our eyes than reading a conventional book.
Listening to audiobooks involves less imagination than reading books.
The next real breakthrough in technology is…
Texting is to blame for poor spelling high rate of grammar mistakes by schoolchildren.
Video games are prospective methods of teaching children in schools.
Traditional books will disappear sooner or later.
Nanotechnology holds great potential for developing new methods of storing information.
The Internet will become obsolete.
3D printers are not used efficiently nowadays.
Writing Guides
Finding a sample of a comare & contrast paper
How not to get overcharged
Writing a paper on global warming
Hiring a writing company for cheap
Argumentative topics about health
Features of a reputable writing service
Composing a paper on smoking ban
Writing on happiness and income
Definition essay about family values
Obtaining a custom paper
Choosing your writing agency
Interpretive paper examples
Writing an informative paper on stress
How to select a writer
Explanatory essay writing tutorial
Paper sample on gun control
Renewable energy essay example
The World and the Child: sample essay
Academic paper on identity belonging
Opinion essay about The New York Times
Looking for a competent academic writer online
Selecting a good writing agency
Essay about success and hard work
Problem solution essay: language
Free writing assistance
Simple tactics to get a narrative essay sample
Papa's Parrot: paper example
How to find good samples
Technology topics to explore
In search of a good writing company
Sample paper on Dorothy Day
Crafting a synthesis essay about boxing
Copyright (c) 2012 - 2023 ThreeRiversPerformingArtsInstitute.org. All rights reserved.
Top 7 Tips to Writing a Research Based Argumentative Essay About Technology
Technology is a ubiquitous presence in our lives, with its impact ranging from the way we communicate, work, entertain ourselves, and learn. In writing an argumentative essay about technology, it is essential to ensure that your ideas and arguments are supported by credible research. This article provides seven tips for writing a research-based argumentative essay about technology.
Writing a Research Based Argumentative Essay About Technology
In writing a research-based argumentative essay about technology, it is vital to provide an introduction that captures the reader's attention. Begin with a brief explanation of the essay's purpose and the importance of writing a well-researched argumentative essay. Take the lead from online essay writing services professionals, for instance. They always gather exhaustive information on the topic before even outlining it. Of course, the task is never an easy feat, but you can handle it with a bit of guidance and determination. Highlight the relevance of technology to contemporary society and the significance of researching the impact of technology.
Choose a Topic Related to Technology
To write a compelling research-based argumentative essay, you must select a relevant topic that resonates with your readers. Start by brainstorming and identifying technology -related topics that interest you, such as social media, AI, cybersecurity, digital marketing, e-commerce, among others. Conduct preliminary research to ensure that your topic has sufficient information and that it aligns with your argument.
Conduct Thorough Research
Conducting thorough research is crucial in writing a research-based argumentative essay about technology. This step involves gathering information from reliable sources such as academic journals, government publications, industry reports, and reputable websites. It is essential to evaluate the credibility of sources to ensure that the information used in your essay is accurate and trustworthy. You can find high-quality examples of essays on this and other topics on do my essay and get inspired to write your own work.
Develop a Clear Thesis Statement
A clear thesis statement is critical in an argumentative essay because it defines your stance on the topic and guides your research. It also serves as a roadmap for your essay and helps your readers understand your arguments. When developing a thesis statement for your research-based argumentative essay about technology, ensure that it is clear, concise, and arguable.
Organize the Essay Effectively
Organizing the essay is a critical step in writing a research-based argumentative essay about technology. The organization of your essay helps your readers follow your arguments logically. There are several ways to organize your essay, such as the classical argument structure, Toulmin model, and Rogerian argument structure. Choose a structure that aligns with your argument and helps you present your ideas effectively.
Use Evidence to Support Arguments
In writing a research-based argumentative essay about technology, evidence is crucial in supporting your arguments. Use different types of evidence such as statistical data, case studies, expert opinions, and anecdotes to support your claims. Ensure that the evidence you use is relevant, credible, and up-to-date.
Anticipate and Address Counterarguments
In an essay, it is crucial to anticipate and address counterarguments. Anticipating counterarguments shows that you have considered alternative perspectives and are willing to engage with them. Addressing counterarguments strengthens your arguments and demonstrates your ability to defend your stance. It is essential to understand the opposing views to anticipate and address counterarguments effectively.
The conclusion of a research-based argumentative essay about technology is crucial in summarizing your arguments and emphasizing your thesis statement. Provide a concise summary of your arguments, restate your thesis statement, and offer final thoughts on the topic. In conclusion, apply the tips provided in this article to improve your essay writing and encourage further research on the impact of technology.
Final Thoughts
In conclusion, writing a research-based argumentative essay about technology can be daunting, but with the tips provided in this article, you can write a compelling essay. Choose a relevant topic, conduct thorough research, develop a clear thesis statement, organize your essay effectively, use evidence to support your arguments, anticipate and address counterarguments, and offer a concise conclusion. Remember to write with clarity and coherence, and use appropriate citation styles to acknowledge your sources. By following these
What is your reaction?
Kava is a game changing technology for crypto investors, top discord lookup tools to find discord users in 2023, you may also like.
Cybersecurity and Compliance in Banking CRM Software: Best Practices
Why Is My Hulu Not Working? This Is the Best Way to Fix It!
5 Conversion Rate Optimization Strategies for 2024
Comments are closed.
More in: Technology
How to Change AirDrop Name? (iPhone, Mac, and iPad)
Why Is Your VPN Not Working, and How to Fix It 
How to Mirror iPhone to TV: Everything You Need to Know
Why Cant I Log Into Instagram? (9 Ways to fix it in 2023)
How to download Instagram profile picture (full size)
How to Know if Someone Blocked You on Instagram? (12 Signs)
Fix Instagram Not Sending SMS Code 2023 (To email and Phone number)
How to see who viewed your TikTok? (2023 Update)
Sponsored Posts
Problems & Errors
Content Marketing
Crypto guide
Price prediction
Trade guide
Eran money as writer
sponsored post
Social media
Latest Posts
Tinder read receipts: know when someone reads your message on tinder, 3 ways to make a tiktok slideshow, what do interior designers do [become an interior designer in 2023].

30 Technology Argumentative Essay Topics in 2022
Photo by Alex Knight on Unsplash
Technological advancements are all around us. From touch screen to fingerprint to facial recognition, that's right; it's even on our phones. So naturally, there is so much to talk about when it comes to technology, especially for your school essay assignment. Whether you are doing the hard work all by yourself or using an online essay service such as CustomWritings.com to help out, still picking your topic can be the most daunting part. Let us give you a hand!
Some tips on choosing a technology essay topic
Write about what you love.
To choose a topic idea to base your argumentative essay on, begin by observing the surrounding technology. From the smallest everyday activity to the revolutionary innovations that impress you. Always look for the technologies that interest you the most, and you would like to further explore and learn more about them.
Don't go too big
You will want to pick something with some popularity but hidden facts that you can unravel. Consider some niche aspect of a wide-range topic so you can talk about the topic as a whole but not get lost in its broadness. Picking a niche aspect means you'll get some juicy details while addressing known concepts.
Do your research
An extra helpful tip is to have some ideas on hand and do quick research on your top three or so. You will need to check if your preferred topic is actually a viable option with some kind of argument and counter-argument. If not, you have other options to choose from. Don't be afraid to change your topic in the early stages since your choice determines the success of your argumentative essay.
But if you have found it hard to come up with some topic ideas, we have a list for you. Check it out!
Examples of technology argumentative essay topics
How has technology changed the way we communicate?
The internet and I: an exploration of the internet in my life
What would life be like today without Wi-Fi?
How do we introduce the internet to children?
Impressive new automotive technologies that we absolutely need
Health technologies that saved lives
New technologies NASA is using to conquer space
Genetic engineering technologies that can change the world
The pros and cons of tech gadgets (name a gadget you would like to discuss)
The aftermath of the internet: are we closer or further apart?
Are humans smarter than computers?
Does technology defy nature or nurture it?
Is technology making us dumber?
The effects of technology on individualism
The relationship between mental health and the internet
Technology and war: what can we expect?
History of the earliest technological inventions
Do we need to regulate technological advancements?
The impact of the internet on Gen Z
The sad truth behind cyberbullying
Tiktok is taking over the world
The best video games of all time
Should programming be taught in school?
How does technology improve the workforce?
Is technology making our work easier?
Are computers taking over our jobs?
What is Nanotechnology and how can it impact our lives?
Cloning and its moral, legal, and technological aspects
What will life be like with technological advancements in 2050?
The consequences of the internet with regards to capitalism
Tips to help you write an A worthy essay
Use reliable sources.
A big part of writing an argumentative essay is stating an argument and its counterpart. That means you have to support both sides with evidence which can be quotes, research papers, or book extracts. The trick is to always use reliable resources when looking for evidence to back up your essay.
Wikipedia can actually be a great source of information but it should never be your final citation. Dig deeper into the Wikipedia pages for references and cite the academic sources. This will add so much more professionalism and trust to your essay.
Create an outline
Don't go rushing off the deep end. Take some time to arrange your thoughts by making up a table of contents for your essay. This outline will help you find the structure of your essay and follow a logical narrative sequence. The more organized your ideas are, the more likely your essay will complete itself.
Attract the reader with a powerful intro
A strong introduction to your topic is the only way the reader won't just skim through it and actually read it intently. The more you engage the reader right off the bat, the more they'll be motivated to eat up your writing.
Technology is one heck of a topic anyway, so it shouldn't take too much to spark interest in your reader. Raising some jaw-dropping questions and including some historical facts can be effective tools for your introduction.
Remember the argumentative side to your essay
Don't let your research and organization go to waste by forgetting that the type of essay you are writing is argumentative. That means it should include an argument and its opposite. That also means that you should have an opinion or side with one of the two aspects.
Split up the arguments and their counterparts into paragraphs so the reader can make up their mind about each point separately. Pick your battle from the beginning of the essay and try to support it with evidence. Never forget to mention other opinions and why they are important.
Review before submitting
Reviewing and editing your essay before submitting is crucial to ensure that you have used the best language you could use without any typos or grammatical errors. These mistakes can be deadly to your essay since the reader may not understand your point or, even worse, misinterpret what you are trying to say. So be diligent with your editing so nothing slips, and you get that 'A' you deserve.
Stay Updated with us: thetecheducation.com
You Might Also Like
Decoding jump servers: enhancing network security and accessibility, how to redact a pdf without adobe, how to access region restricted content from abroad, how mobile apps are transforming the way we consume books, best ai tool from mercer | mettl to conduct english proficiency tests for the team.
Leave a Reply Cancel reply
Your email address will not be published. Required fields are marked *
Save my name, email, and website in this browser for the next time I comment.
Sign in to your account
Username or Email Address
Remember Me