A Beginner's Guide to IELTS
Common Grammar Mistakes [for IELTS Writing Candidates]
Writing Correction Service
Free IELTS Resources
Practice Speaking Test
Select Page
IELTS Discussion Essays [Discuss Both Views/Sides]
Posted by David S. Wills | Jun 14, 2021 | IELTS Tips , Writing | 0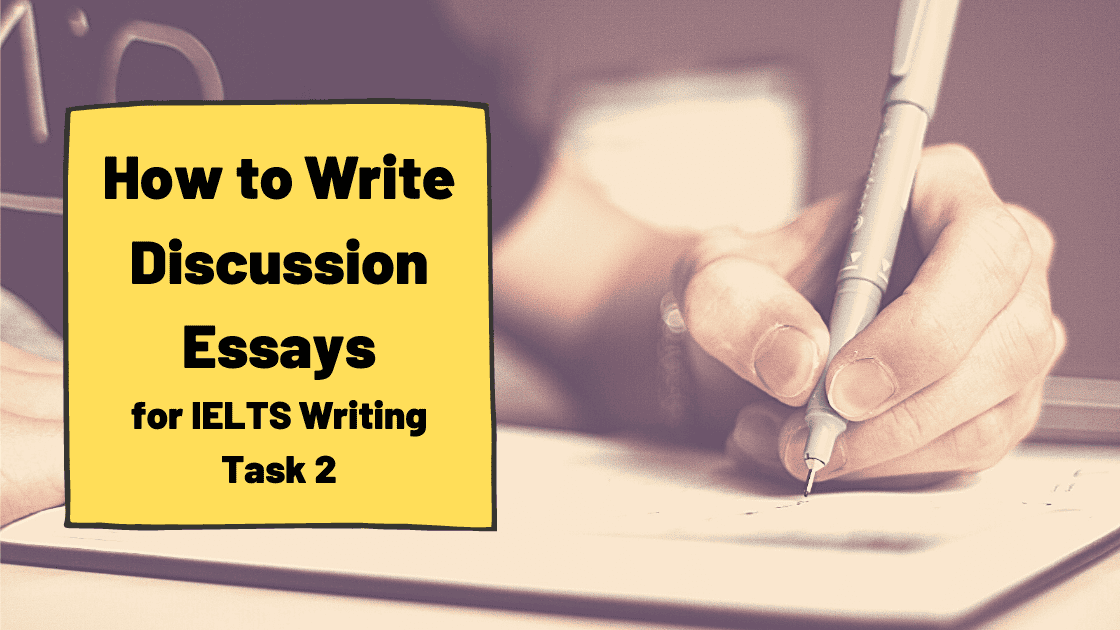 In this lesson, I'm going to explain what an IELTS discussion essay is and how you can write a good one. I will talk about structure and content, as well as looking briefly at discussion essay thesis statements, which many people find tricky. I've also written a sample essay, which you can find at the bottom of this page.
What is a Discussion Essay?
As the name suggests, a discussion essay is an essay that discusses things! More specifically, it is a type of IELTS writing task 2 essay that requires you to look at two different points of view . You can easily recognise these essays by the following phrase:
Discuss both views and give your opinion.
Sometimes it is phrased a little differently. It might say:
Discuss both sides and give your opinion
Discuss both points view and give your opinion
The important thing is that these all mean the same. When you see any of these, you know that you need to write a discussion essay. Importantly, this instruction tells you that you need to do two things:
Discuss both views (there will have been 2 views mentioned in the previous sentence(s))
Give your opinion (i.e. state which view you agree with)
If you failed to do either of these things, you would not have satisfied the basic criteria for Task Achievement .
Example Discussion Essay Questions
Here is a list of 5 discussion essay questions either from the IELTS exam, reportedly from the IELTS exam, or from reputable publications that have copied the IELTS question style. (Not that you absolutely should avoid fake IELTS questions when practising.)
Some people say that parents should encourage their children to take part in organised group activities in their free time. Others say that is important for children to learn how to occupy themselves on their own. Discuss both views and give your own opinion.
Some people prefer to spend their lives doing the same things and avoiding change. Others, however, think that change is always a good thing. Discuss both views and give your opinion.
Some people feel that manufacturers and supermarkets have the responsibility to reduce the amount of packaging of goods. Others argue that customers should avoid buying goods with a lot of packaging. Discuss both views and give your opinion.
Some people believe that higher education should be funded by the government. Others, however, argue that it is the responsibility of individuals to fund their higher education. Discuss both views and give your opinion.
Some people believe that it is important for children to attend extra classes outside school, while others believe that they should be allowed to play after school. Discuss both views and give your own opinion.
You can see in these questions that there is a similar pattern. In each case, the question phrase ("Discuss both views and give your own opinion") is the same and in the previous sentence or sentences, there are two opposing views. This, then, makes "discuss both views" questions a sort of opinion essay .
How to Answer IELTS Discussion Questions
First of all, it is important when answering any IELTS task 2 question that you read the question carefully so that you understand it, then provide an answer that directly responds to the question, following its instructions carefully.
As discussed above, you are required to do two things: 1) Discuss both views, and 2) Give your own opinion. You absolutely must do both of those. It doesn't really matter what your opinion is or whether you give equal weighting to both sides of the argument. Instead, you must cover both sides and also give some sort of opinion. (It is important, though, according to the marking rubric , that you are consistent in your opinion.)
Your answer of course should be structured carefully so as to present your ideas in a thoroughly logical way that is easy for your reader to interpret. I almost always use a four-paragraph structure in my essays, but some people prefer to use five paragraphs in this sort of essay. The difference would look like this:
You might be wondering why I have given my opinion in the body of the five-paragraph essay but not in the four-paragraph essay. Well, actually I would give my opinion in the body of both. However, my opinion would be more subtly woven into the text of the four-paragraph essay. I personally find this to be a better method, but it is equally possible that you could write an amazing five-paragraph essay. That issue is discussed further in this video:
Discussion Essay Thesis Statement
In academic writing, a thesis statement (sometimes called an essay outline ) is the part of the essay where you insert your opinion. It typically comes at the end of the introduction and guides the reader by explaining your opinion on the issues that have been introduced.
But do you really need to provide one in such a short essay? Well, a 2018 study into successful IELTS essays concluded that thesis statements were "obligatory" – i.e. you absolutely do need one. In fact, that study found that thesis statements appeared in 100% of successful IELTS discussion essays! Therefore, we can conclude they are very important.
Because a discussion essay will tell you to "Discuss both views and give your opinion," you must introduce the two views and then give your opinion in the introduction. Here is an example:
Introductory paragraph:
In some parts of the world, children are forced to go to cram schools and other facilities of extracurricular learning, but many people believe that this is unfair and that they should be allowed to enjoy their free time instead. This essay will look at both perspectives and then conclude that it is indeed unfair.
My first sentence clearly introduces two different ideas:
Children should do extra classes
Children should not do extra classes
Note how I have successfully used synonyms to avoid repeating anything from the question. I have also framed the issue in a new way so that I am not just paraphrasing. (You can learn why paraphrasing is not always helpful here .)
My second sentence is the thesis statement. In this sentence, I outline what the essay will do ("look at both perspectives") and then give my opinion ("it is unfair"). This is a simple but effective thesis statement.
Thesis Statement Advice
Your IELTS discussion essay thesis statement should do two things:
Tell the reader what the essay will do
Present your opinion
Because this is a formal essay, it is best not to be too personal. Instead of saying "I will…" or "I think…" it is better to say "This essay will…" Here are some simple templates that you can follow most of the time:
This essay will look at both sides and then argue that…
This essay will discuss both views but ultimately side with…
Just make sure to avoid being overly vague. You are required to give your opinion consistently throughout the essay, so don't say "This essay will look at both sides and then give my opinion ." It is not really the best approach because the examiner wants to see that you can be consistent in presenting an opinion. That is clearly stated in the marking rubric. For band 7, it says:
presents a clear position throughout the response
It could be concluded, then, that your opinion is not clear from the start and so you have not done enough to warrant a band 7 for Task Achievement.
Body Paragraphs
As I mentioned above, there are really two main approaches you could take to the body paragraphs:
Discuss one view per paragraph and incorporate your opinion into each.
Discuss one view per paragraph and then have another for your opinion.
I suppose there is also a third option:
Compare and contrast the two viewpoints in each paragraph.
This last one may be a little harder to do successfully without jeopardising your score for Task Achievement or Coherence and Cohesion , but advanced candidates may find it useful.
Remember that there is no single perfect formula for an IELTS essay. That's not how languages work and that's not how IELTS works. Different people could come up with different ways to present a successful essay. The most common essay structures are mere guidelines for particularly useful methods of approaching an essay.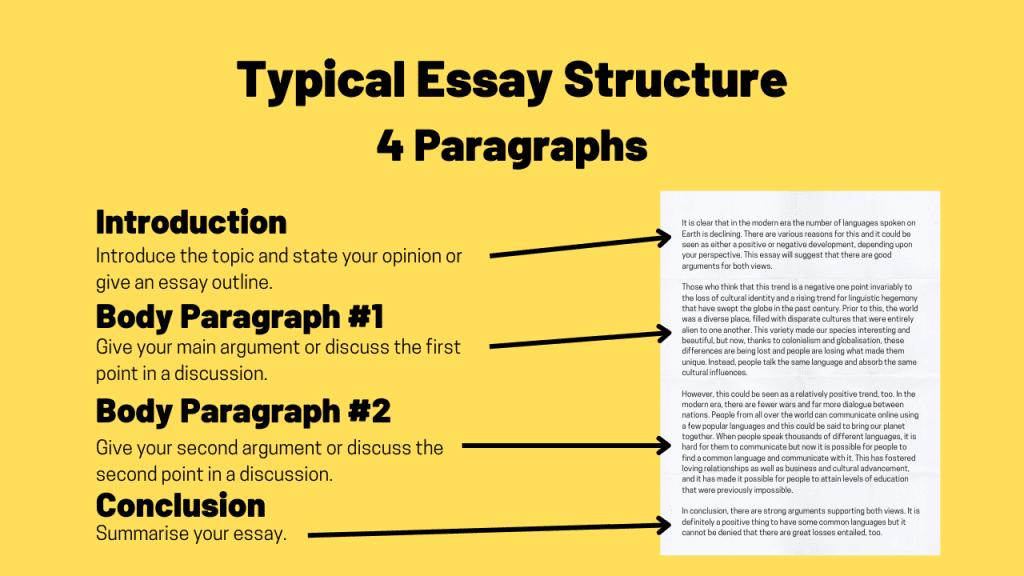 Does a Discussion Essay Have to be Balanced?
Because the question says "Discuss both views," it is quite logical to think that you must provide some degree of balance, but you certainly don't need to give equal weighting to both sides. Remember that you are also going to give your opinion, so if you come down strongly on one side of the issue, it might be odd to give equal attention to both.
If you do feel very strongly about one side, you might want to present your discussion of the other side as quite negative. However, IELTS is a thinking exam as well as an English exam and an intelligent person can always look at both sides of an issue and explain – at the very least – why someone might believe a thing that is different to his own view. This seems quite important, but there is nothing explicitly mentioned in the marking rubric.
I would suggest that if you think a two-sided issue is basically one-sided (i.e. you strongly disagree with the other view), you should still write one or two sentences about why people believe that and then devote the rest of your essay to disputing their view.
Another approach is to write BP1 as a very short paragraph that explains why people might think one thing, but then have BP2 as a very long paragraph that debunks the opposing view and then explains why the other is correct.
(You can read more about IELTS essays and balance here .)
Sample Answer
Here is my full sample answer to the above question about whether or not children should be made to do extracurricular activities:
In some parts of the world, children are forced to go to cram schools and other facilities of extracurricular learning, but many people believe that this is unfair and that they should be allowed to enjoy their free time instead. This essay will look at both perspectives and then conclude that it is indeed unfair. In countries like South Korea, most children are made to go to an array of cram schools outside of regular school hours. Their parents do this in order to give their child a better future because it helps the child to learn more and thus gives them the academic advantages needed to apply to the best universities or jobs in future. These schools often provide children with an advantage over their peers because they improve their foreign language or math skills more quickly, and thus the children who do not attend these schools might have comparatively poor grades. However, whilst this attitude may result in better academic performance, it is certainly not good for the mental health of these children. It is no coincidence that places like South Korea have the highest rates of suicide among their young populations. The fact is that children are not equipped to spend fourteen or sixteen hours per day in classrooms, memorising facts and figures. In a sense, it is a form of child abuse. Children should be allowed to go home and spend time with friends and family to build social skills. They should be allowed to occupy themselves in order to become more creative and learn how to understand their own mind instead of being trained to repeat what they are told. In conclusion, it is understandable that some parents want their children to go to extra classes, but this is damaging to children and they should be given the freedom to play and socialise outside of regular school hours.
In BP1, I have looked at the topic of cram schools (ie the side of the argument in favour of extra lessons). I explored why parents might want their kids to do this and show the supposed benefits. Note that I never embraced any of these benefits. I was careful to use language that distanced these ideas from my own opinion, which was the opposite, so I said "Their parents do this in order to…"
In BP2, I looked at the opposite side. I was careful to make sure that my first sentence linked to the previous paragraph, highlighting that the benefits are quite minor compared to the drawbacks. All of my sentences here justify my position, which is that it is cruel to force these extra lessons on children.
My conclusion ties all of this together. The first clause references BP1 and the second summarises the main argument in BP2.
You can find two more sample essays here:
A discussion essay about sports facilities
A discussion essay about sports abilities
About The Author
David S. Wills
David S. Wills is the author of Scientologist! William S. Burroughs and the 'Weird Cult' and the founder/editor of Beatdom literary journal. He lives and works in rural Cambodia and loves to travel. He has worked as an IELTS tutor since 2010, has completed both TEFL and CELTA courses, and has a certificate from Cambridge for Teaching Writing. David has worked in many different countries, and for several years designed a writing course for the University of Worcester. In 2018, he wrote the popular IELTS handbook, Grammar for IELTS Writing and he has since written two other books about IELTS. His other IELTS website is called IELTS Teaching.
Related Posts
10 Amazing Tricks You Should Know When Learning another Language
December 28, 2017
[Listening] Summary Completion Practice
December 18, 2017
Government Spending Essays – IELTS Writing
February 21, 2022
5 ways to improve your pronunciation for IELTS at home
May 14, 2018
Leave a reply Cancel reply
Your email address will not be published. Required fields are marked *
This site uses Akismet to reduce spam. Learn how your comment data is processed .
Download my IELTS Books
Recent Posts
Understanding the Possessive Form [English Grammar]
Past Simple vs Present Perfect
But vs However
A Complete Guide to Modal Verbs
How to Improve Your Spelling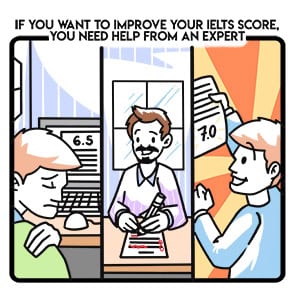 Recent Comments
David S. Wills on Find Out Your IELTS Writing Score
Nooshin on Find Out Your IELTS Writing Score
David S. Wills on Writing Correction Service
Nguyen on Writing Correction Service
Emily on Interpersonal Skills Essay [IELTS Writing Task 2]
Lesson Plans
Model Essays
TED Video Lessons
Weekly Roundup
When you choose to publish with PLOS, your research makes an impact. Make your work accessible to all, without restrictions, and accelerate scientific discovery with options like preprints and published peer review that make your work more Open.
PLOS Biology
PLOS Climate
PLOS Computational Biology
PLOS Digital Health
PLOS Genetics
PLOS Global Public Health
PLOS Medicine
PLOS Neglected Tropical Diseases
PLOS Pathogens
PLOS Sustainability and Transformation
PLOS Collections
How to Write Discussions and Conclusions
The discussion section contains the results and outcomes of a study. An effective discussion informs readers what can be learned from your experiment and provides context for the results.
What makes an effective discussion?
When you're ready to write your discussion, you've already introduced the purpose of your study and provided an in-depth description of the methodology. The discussion informs readers about the larger implications of your study based on the results. Highlighting these implications while not overstating the findings can be challenging, especially when you're submitting to a journal that selects articles based on novelty or potential impact. Regardless of what journal you are submitting to, the discussion section always serves the same purpose: concluding what your study results actually mean.
A successful discussion section puts your findings in context. It should include:
the results of your research,
a discussion of related research, and
a comparison between your results and initial hypothesis.
Tip: Not all journals share the same naming conventions.
You can apply the advice in this article to the conclusion, results or discussion sections of your manuscript.
Our Early Career Researcher community tells us that the conclusion is often considered the most difficult aspect of a manuscript to write. To help, this guide provides questions to ask yourself, a basic structure to model your discussion off of and examples from published manuscripts.
Questions to ask yourself:
Was my hypothesis correct?
If my hypothesis is partially correct or entirely different, what can be learned from the results?
How do the conclusions reshape or add onto the existing knowledge in the field? What does previous research say about the topic?
Why are the results important or relevant to your audience? Do they add further evidence to a scientific consensus or disprove prior studies?
How can future research build on these observations? What are the key experiments that must be done?
What is the "take-home" message you want your reader to leave with?
How to structure a discussion
Trying to fit a complete discussion into a single paragraph can add unnecessary stress to the writing process. If possible, you'll want to give yourself two or three paragraphs to give the reader a comprehensive understanding of your study as a whole. Here's one way to structure an effective discussion:
Writing Tips
While the above sections can help you brainstorm and structure your discussion, there are many common mistakes that writers revert to when having difficulties with their paper. Writing a discussion can be a delicate balance between summarizing your results, providing proper context for your research and avoiding introducing new information. Remember that your paper should be both confident and honest about the results!
Read the journal's guidelines on the discussion and conclusion sections. If possible, learn about the guidelines before writing the discussion to ensure you're writing to meet their expectations.
Begin with a clear statement of the principal findings. This will reinforce the main take-away for the reader and set up the rest of the discussion.
Explain why the outcomes of your study are important to the reader. Discuss the implications of your findings realistically based on previous literature, highlighting both the strengths and limitations of the research.
State whether the results prove or disprove your hypothesis. If your hypothesis was disproved, what might be the reasons?
Introduce new or expanded ways to think about the research question. Indicate what next steps can be taken to further pursue any unresolved questions.
If dealing with a contemporary or ongoing problem, such as climate change, discuss possible consequences if the problem is avoided.
Be concise. Adding unnecessary detail can distract from the main findings.
Don't
Rewrite your abstract. Statements with "we investigated" or "we studied" generally do not belong in the discussion.
Include new arguments or evidence not previously discussed. Necessary information and evidence should be introduced in the main body of the paper.
Apologize. Even if your research contains significant limitations, don't undermine your authority by including statements that doubt your methodology or execution.
Shy away from speaking on limitations or negative results. Including limitations and negative results will give readers a complete understanding of the presented research. Potential limitations include sources of potential bias, threats to internal or external validity, barriers to implementing an intervention and other issues inherent to the study design.
Overstate the importance of your findings. Making grand statements about how a study will fully resolve large questions can lead readers to doubt the success of the research.
Snippets of Effective Discussions:
Consumer-based actions to reduce plastic pollution in rivers: A multi-criteria decision analysis approach
Identifying reliable indicators of fitness in polar bears
How to Write a Great Title
How to Write an Abstract
How to Write Your Methods
How to Report Statistics
How to Edit Your Work
There is no excerpt because this is a protected post.
There's a lot to consider when deciding where to submit your work. Learn how to choose a journal that will help your study reach its audience, while reflecting your values as a researcher…
EXPLORE Tech Help Pro About Us Random Article Quizzes Request a New Article Community Dashboard This Or That Game Popular Categories Arts and Entertainment Artwork Books Movies Computers and Electronics Computers Phone Skills Technology Hacks Health Men's Health Mental Health Women's Health Relationships Dating Love Relationship Issues Hobbies and Crafts Crafts Drawing Games Education & Communication Communication Skills Personal Development Studying Personal Care and Style Fashion Hair Care Personal Hygiene Youth Personal Care School Stuff Dating All Categories Arts and Entertainment Finance and Business Home and Garden Relationship Quizzes Cars & Other Vehicles Food and Entertaining Personal Care and Style Sports and Fitness Computers and Electronics Health Pets and Animals Travel Education & Communication Hobbies and Crafts Philosophy and Religion Work World Family Life Holidays and Traditions Relationships Youth
EDIT Edit this Article
PRO Courses Guides New Tech Help Pro Expert Videos About wikiHow Pro Upgrade Sign In
Browse Articles
Learn Something New
Quizzes New
This Or That Game New
Train Your Brain
Explore More
Support wikiHow
About wikiHow
Log in / Sign up
Education and Communications
College University and Postgraduate
Academic Writing
How to Write a Discussion Essay
Last Updated: June 27, 2023 References
This article was co-authored by Jake Adams . Jake Adams is an academic tutor and the owner of Simplifi EDU, a Santa Monica, California based online tutoring business offering learning resources and online tutors for academic subjects K-College, SAT & ACT prep, and college admissions applications. With over 14 years of professional tutoring experience, Jake is dedicated to providing his clients the very best online tutoring experience and access to a network of excellent undergraduate and graduate-level tutors from top colleges all over the nation. Jake holds a BS in International Business and Marketing from Pepperdine University. There are 14 references cited in this article, which can be found at the bottom of the page. This article has been viewed 429,883 times.
Discussion Essay Outline and Example
Planning Your Essay
For instance, maybe the question is, "Immigration has been a heated topic on the national level for many years. With issues like the DREAM Act and President Trump's stances on policy, it's likely to remain a central issue. Using authoritative resources to back up your argument, take a stance on immigration policy, establishing whether you think it should be more or less strict and why."
You can establish that the main topic is immigration policy from the sentence, "Take a stance on immigration policy."
If you're having trouble understanding the question, don't be afraid to talk to the professor. They can help you better understand what they're asking for.
If your essay will be based off a discussion had in class, ask your instructor if you can use class notes as a primary source.
Look for respected news sources, as well as websites with ".edu" and ".gov" extensions.
You may need to look up information on the DREAM Act or President Trump's policies to help you understand the question, for example. For this part, you don't need to take extensive notes, as you're just trying to get a feel for the subject.
If you were given a text to base your essay on, make sure that text has enough evidence to support your chosen position.
Use Roman numerals on your page to mark your main ideas. Write a main point by each Roman numeral. You should only cover 3 to 4 main points in a relatively short essay, such as one that's 3 to 5 pages.
Your main sources should be books or ebooks, journal articles from academic journals, and credible websites. You can also use high quality news articles if they're applicable to your topic.
For a book, you should include the author's name, the editor's name (if applicable), the title of the book, the publication year, the publication city, the edition, and the title of the book chapter in an anthology by multiple authors.
For a journal, include the author's name, the journal title, the article title, the digital object identifier (DOI), the ISSN, the publication date, the volume (if applicable), the issue (if applicable), and the page numbers for the journal article.
If you're searching in a database, you can often ask the database to save this information for you, but you should include identifiers on your notes.
For example, if one of your main points is "Immigration increases diversity," some of your points underneath might be "Brings in new cuisines," and "Brings in new art."
Find examples from your research, and add notes to each point to fill them in.
Writing the Introduction
For an example or anecdote, start by telling a short story about something relevant to your topic. For instance, you might write the following for an essay on immigration, "When I was 4-years-old, my parents told me we were going on a long trip. After a bus ride, we spent nights walking, my dad carrying me most of the way. One day, we crossed a river. That day marked our first day in our new country."
For example, you might write, "Immigration is a highly-debated issue. It is controversial because some people fear how it affects the resources of the country the people are immigrating to, while others believe the improved quality of life for immigrants is what's most important."
For instance, your thesis statement might be, "Immigration is good for the country because it increases diversity, infuses the country with new talent, and broadens the population's perspective, and it should be encouraged with a few basic safeguards in place."
Composing the Body of Your Essay
For instance, if you're writing a short research paper, one paragraph might be your main point "Immigration increases diversity," where you cover all your bullet points in that paragraph.
If you're digging deeper, you might create a section about diversity, and then use a paragraph to cover "brings in new cuisines," another to cover "brings in new art," and so on.
Try not to set up a "straw man" argument, where you don't give the other side a fair chance. You should be able to support your position without purposefully creating a weak position on the other side.
For instance, maybe you want to transition between a section about increasing diversity to one about bringing in new talent. You might write a sentence like, "Increasing diversity in our country doesn't just bring in new cuisines and art, it also brings in hard workers that have fresh perspectives on old problems in the workforce."
You can paraphrase other ideas or use direct quotes, but only use a direct quote if the author said something in a unique way. Otherwise, put it in your own words.
You may want to begin body paragraphs with a quote from a relevant source. Then, explain or provide commentary on the quote and show how it supports your position.
You can also use statistics to back up your research. For instance, if one of your arguments is that immigration doesn't increase crime, use statistics to back that up.
Concluding Your Essay
For instance, you might write, "A truly great country is one that celebrates differences and welcomes new ideas and perspectives. While immigration has some negative effects on a country, overall, allowing people from other countries to come in helps to spark new ideas and make the country a better and more interesting place to live. Rather than being a drain on society, immigrants are motivated to work hard and our citizens can only benefit from listening to their perspectives."
Once you have the flow down, read it again to check for grammatical mistakes and typos. It can help to read it aloud, as it slows you down and forces you to read every word.
Video . By using this service, some information may be shared with YouTube.
Expert Q&A
Remember you can't research forever. Often, the research stage absorbs a student so fully that the upcoming submission date seems unimportant. Make sure to leave yourself at least a few days to write your essay. Thanks Helpful 0 Not Helpful 0
You Might Also Like
↑ Jake Adams. Academic Tutor & Test Prep Specialist. Expert Interview. 20 May 2020.
↑ https://student.unsw.edu.au/answering-assignment-questions
↑ https://student.unsw.edu.au/essay-and-assignment-planning
↑ https://opentextbc.ca/writingforsuccess/chapter/chapter-11-developing-a-convincing-argument/
↑ https://student.unsw.edu.au/organising-your-ideas
↑ https://writingcenter.unc.edu/tips-and-tools/introductions/
↑ https://www.umgc.edu/current-students/learning-resources/writing-center/writing-resources/parts-of-an-essay/essay-introductions
↑ https://wts.indiana.edu/writing-guides/how-to-write-a-thesis-statement.html
↑ https://www.student.unsw.edu.au/writing-your-essay
↑ https://owl.purdue.edu/owl/general_writing/academic_writing/establishing_arguments/organizing_your_argument.html
↑ https://owl.purdue.edu/owl/general_writing/academic_writing/establishing_arguments/research_and_evidence.html
↑ https://writingcenter.unc.edu/tips-and-tools/conclusions/
↑ https://libguides.usc.edu/writingguide/conclusion
↑ https://writingcenter.unc.edu/tips-and-tools/editing-and-proofreading/
About This Article
To write a discussion essay, start by taking a side on the issue you're writing about, like "Immigration is good for the country." Then, outline the main points that made you decide to take that position and do research to find evidence that backs them up. Look for credible sources that can help you make your argument, and don't forget to cite them. Then, when you're writing your essay, devote 1 paragraph to each main point and include your evidence. For help writing the introduction and conclusion to your essay, scroll down! Did this summary help you? Yes No
Reader Success Stories
Ellie Foster
Sep 28, 2021
Did this article help you?
Apr 27, 2016
Featured Articles
Trending Articles
Watch Articles
Terms of Use
Privacy Policy
Do Not Sell or Share My Info
Not Selling Info
Don't miss out! Sign up for
wikiHow's newsletter
Sample discussion essay
Discuss the best way for a supermarket or a store to become successful and to expand its business, and make a large profit. You may refer to examples of a supermarket or a store known to you.
by Miao Wang (Vanessa)
Copied with permission of the author
Everyone needs to buy things in order to live, and everyone likes to get things as conveniently and cheaply as possible. For this reason, there are many supermarkets or stores appearing. However, getting into the supermarket business can be difficult, so I have written some ideas to make a supermarket become successful and make a large profit. [ Comment 1 ]
The first aspect to be discussed is that of good service. Firstly, the correct attitude in attending to customers is very important. Attendants should always smile to customers, no matter whether the customer is right or wrong. When customers ask where they can find things, attendants should not only show the way, but also they should go and get things for the customers. Secondly, a supermarket needs to provide good after-sales service. For example, when customers buy big and heavy items, they cannot carry them by themselves; the supermarket should thus help them take the items to the right places free of charge. If the place is too far away, the supermarket could ask the customer to contribute some money. [ Comment 2 ]
A further aspect to be considered is the need for good products. In my opinion, when a supermarket is stocked with goods, it should check the sell-by date of goods, and make sure all of them are fresh and have good quality. What is more, a successful supermarket has many different kinds of goods, and its prices are balanced. For instance, TESCO, which is a successful supermarket in Britain, has balanced prices. In the supermarket, items have different prices on one price tag: one referring to TESCO, the others from other supermarkets. When customers buy items, they can thus compare prices, in order to choose the best ones to buy. Moreover, a supermarket should update goods quickly in order to make sure they are fresh. [ Comment 3 ]
While a supermarket needs to do things for customers, it also needs to expand its business and make a large profit. In my opinion, first of all, the store should learn about the customers that it wants to provide goods to. The supermarket should check whether customers look for low prices or a certain type of good. Secondly, a supermarket should be well situated, and have pleasant surroundings. For example, a supermarket can be built in a place with a park nearby, and with many trees. This kind of location could make customers feel comfortable. Moreover, it should have a car park which is big enough, and the car parking should be free. When customers get into the supermarket there should be soft music, and all goods should be divided into different kinds to put in order. Customers can pick up things that they want very easily. A supermarket may also use good IT systems. For instance, customers might find things on the internet and know where they are, then pick them up quickly. Thirdly, a successful supermarket should know other supermarkets well. It can send its own employees to research the others' information, such as price, types of advertisement, discounts and sales ploys. Fourthly, a supermarket can have its own brand products and diversify in order to expand its business. For example, TESCO is not only a supermarket, but has its own mobile. Furthermore, it can have its own club to attract customers to join in. [ Comment 4 ]
In a nutshell, a successful supermarket is difficult to manage. It needs good service, good products, and good ideas to expand its business and make a large profit. [ Comment 5 ]
[ Comment 1 ]In this paragraph, the writer has indicated the importance of the topic and has given a statement, using the first person pronoun, of what she will be doing in the essay.
[ Comment 2 ]This is the first main paragraph. Here the student focuses on the aspect of customer service. Notice the use of the topic sentence: "The first aspect to be discussed is that of good service". This provides a key to the content of the paragraph.
[ Comment 3 ]This second main paragraph concerns the need for supermarkets to have good quality products. Notice again that here, the student groups all the ideas into a single paragraph, and that she writes a topic sentence at the start of the paragraph: "A further aspect to be considered is the need for good products." The writer is not afraid to show her own personality: "In my opinion….", etc.
[ Comment 4 ] This paragraph now moves on to consider how a supermarket can make a profit. Several ideas are given. Notice how sequencers are used: "firstly…", "secondly…", thirdly...", etc.
[ Comment 5 ] This paragraph provides a brief conclusion to the writing. Notice the idiomatic use of the expression "In a nutshell". The conclusion only needs to be brief – there is no need to restate everything that has been said before.
26158766f7f76c0d163cbc4d15ae3f59
Questions about Expos?
Writing Support for Instructors
Introductions
The introduction to an academic essay will generally present an analytical question or problem and then offer an answer to that question (the thesis).
Your introduction is also your opportunity to explain to your readers what your essay is about and why they should be interested in reading it. You don't have to "hook" your readers with a dramatic promise (every other discussion of the topic you're writing about is completely wrong!) or an exciting fact (the moon can reach 127 degrees Celsius!). Instead, you should use your introduction to explain to your readers why your essay is going to be interesting to read. To do this, you'll need to frame the question or problem that you're writing about and explain why this question or problem is important. If you make a convincing case for why your question or problem is worth solving, your readers will be interested in reading on.
While some of the conventions for writing an introduction vary by discipline, a strong introduction for any paper will contain some common elements. You can see these common elements in the sample introductions on this page . In general, your introductions should contain the following elements:
Orienting Information When you're writing an essay, it's helpful to think about what your reader needs to know in order to follow your argument. Your introduction should include enough information so that readers can understand the context for your thesis. For example, if you are analyzing someone else's argument, you will need to identify that argument and possibly summarize its key points. If you are joining a scholarly conversation about education reform, you will need to provide context for this conversation before explaining what your essay adds to the discussion. But you don't necessarily have to summarize your sources in detail in your introduction; that information may fit in better later in your essay. When you're deciding how much context or background information to provide, it can be helpful to think about that information in relation to your thesis. You don't have to tell readers everything they will need to know to understand your entire essay right away. You just need to give them enough information to be able to understand and appreciate your thesis. For some assignments, you'll be able to assume that your audience has also read the sources you are analyzing. But even in those cases, you should still offer enough information for readers to know which parts of a source you are talking about. When you're writing a paper based on your own research, you will need to provide more context about the sources you're going to discuss. If you're not sure how much you can assume your audience knows, you should consult your instructor.
An explanation of what's at stake in your essay, or why anyone would need to read an essay that argues this thesis You will know why your essay is worth writing if you are trying to answer a question that doesn't have an obvious answer; to propose a solution to a problem without one obvious solution; or to point out something that others may not have noticed that changes the way we consider a phenomenon, source, or idea. In all of these cases, you will be trying to understand something that you think is valuable to understand. But it's not enough that you know why your essay is worth reading; you also need to explain to your readers why they should care about reading an essay that argues your thesis.
Your thesis This is what you're arguing in your essay.  
Tips for writing introductions  
If you are writing in a new discipline, you should always make sure to ask about conventions and expectations for introductions, just as you would for any other aspect of the essay. For example, while it may be acceptable to write a two-paragraph (or longer) introduction for your papers in some courses, instructors in other disciplines, such as those in some Government courses, may expect a shorter introduction that includes a preview of the argument that will follow .  
In some disciplines (Government, Economics, and others), it's common to offer an overview in the introduction of what points you will make in your essay. In other disciplines, you will not be expected to provide this overview in your introduction.  
Avoid writing a very general opening sentence. While it may be true that "Since the dawn of time, people have been telling love stories," it won't help you explain what's interesting about your topic.  
Avoid writing a "funnel" introduction in which you begin with a very broad statement about a topic and move to a narrow statement about that topic. Broad generalizations about a topic will not add to your readers' understanding of your specific essay topic.  
Avoid beginning with a dictionary definition of a term or concept you will be writing about. If the concept is complicated or unfamiliar to your readers, you will need to define it in detail later in your essay. If it's not complicated, you can assume your readers already know the definition.  
Avoid offering too much detail in your introduction that a reader could better understand later in the paper.
Tips for Reading an Assignment Prompt
Asking Analytical Questions
What Do Introductions Across the Disciplines Have in Common?
Anatomy of a Body Paragraph
Transitions
Tips for Organizing Your Essay
Counterargument
Conclusions
Strategies for Essay Writing: Downloadable PDFs
Brief Guides to Writing in the Disciplines
Quick Links
Schedule an Appointment
English Grammar and Language Tutor
Harvard Guide to Using Sources
Departmental Writing Fellows
Writing Advice: The Harvard Writing Tutor Blog
TOEFL iBT ® Test
The premier test of academic English communication
Learn more by selecting any step in your TOEFL iBT ® journey.
TOEFL iBT Test Writing Section
The TOEFL iBT test Writing section measures your ability to write in English in an academic setting, and to present your ideas in a clear, well-organized way.
There are two writing tasks.
Integrated writing task (20 minutes) — read a short passage and listen to a short lecture, then write in response to what you read and listened to.
Writing for an Academic Discussion task (10 minutes) — state and support an opinion in an online classroom discussion.
You'll type your responses on a computer keyboard.
Test time: It should take about 29 minutes to complete the Writing section.
Scoring: Writing tasks are scored based on the Writing Scoring Guides (Rubrics) (PDF) by a combination of AI scoring and certified human raters. Raw scores are converted to a scaled section score of 0–30.
Practice Your Writing Skills
Prepare for the new Writing for an Academic Discussion task with 28 free practice questions, complete with unofficial, automated AI-scoring to gauge your performance.
Writing videos
Watch these videos to learn about the questions in the Writing section, plus helpful tips.
Question 1: Integrated Writing
View Transcript
Question 2: Writing for an Academic Discussion
Do you need to be an expert on the topics.
The writing tasks measure your English proficiency, so you don't need deep knowledge on a specific topic to get a high score. Score raters recognize that each essay is a first draft, and you can receive a high score with an essay that contains some errors.
TOEFL iBT Paper Edition
The information on this page doesn't apply to the TOEFL iBT Paper Edition. Get information about the TOEFL iBT Paper Edition, including content, structure and timing.
Project Types We Cover
Admissions Essay
PowerPoint Presentation
Research Paper
Book Reviews
Personal Statement
Ph.D Dissertation
Proofreading
Academic Fields & Subjects
Programming
Computer Science
Other projects we help with
Our Experts
Plagiarism Checker
Writing Tips
Write Discussion Paper
How to Write an Effective Discussion Paper
By: Angelina Grin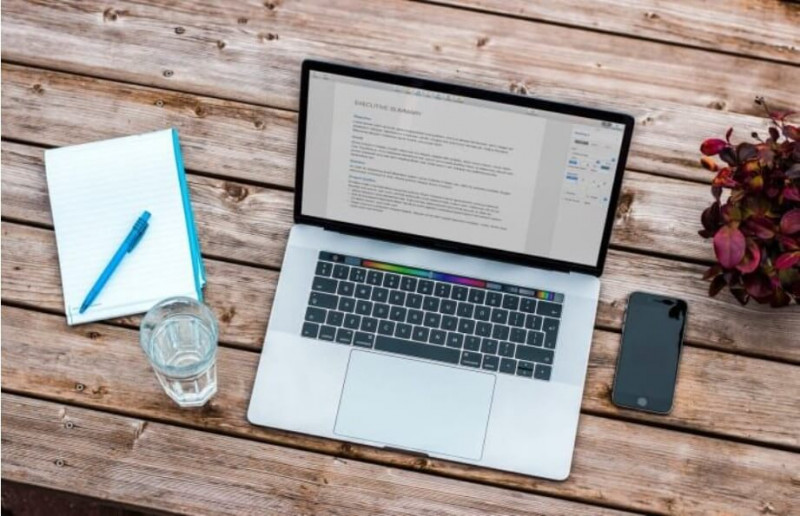 No one really likes to argue, maybe that's why so many people feel down when they have to write a discussion essay, also known as an argumentative essay. It's basically just a polite way to argue in a form of words: you get the debatable topic to reflect on, you take a side in this discussion, and then you have to convincingly prove your point throughout your essay. How to do so? Let's go step by step!
Decide What's the Idea
Good discussion essay topic examples, the aristotelian or classical approach to argumentation, rogerian method of argumentation, toulmin argument model, step 3. how to write the body of your essay, step 4. how to write the conclusion, bonus step. how to finalize your research paper, the ultimate guide to discussion essay writing.
To write a discussion paper is a pretty familiar assignment both for school and university students. Yet not so many students really know how to meet their professors' standards and organize the writing process. Use this manual to make it to the A+ in four easy steps.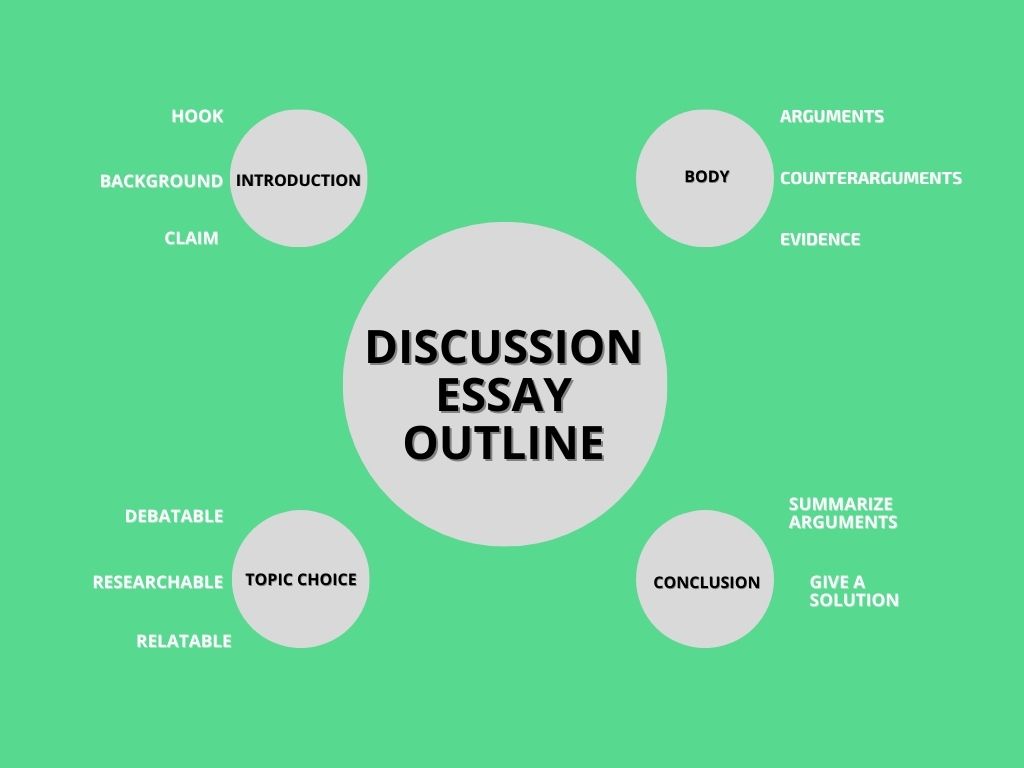 Step 1. How to Get the Discussion Essay Plan
You probably know that your writing should start with a decent essay plan. The thing is the structure of your essay usually depends on your topic, so you can't get any pre-written ready-to-use essay outline. However, the most common argumentative essay outline format is:
Introduction
Arguments and Evidence
Counterarguments
Also, there are several steps that can ease your pain and help you come up with the perfect plan for your academic paper.
The first thing you need to do is to pick a topic. If it's already assigned by your teacher, just skip this paragraph. But if you need to determine the topic yourself, make sure it matches the criteria.
It's current and relatable. The issue is still present and commonly known, it triggers lots of people to feel something and seek the solution.
It's debatable and arguable. The topic makes different opinions to appear, and they all have some arguments in their favor.
It's researchable. There can be facts and evidence able to prove your point. Or maybe even the effectiveness of different approaches and opinions can be calculated.
It's controversial. The topic can really start a discussion and make different people reflect on it.
Coronavirus is beneficial for nature.
Everyone should study at least two languages at school.
Communism and capitalism have a lot in common.
Why are the US citizens rapidly becoming more obese?
There should be censorship online.
Do religious movements cause war?
Choose the Model of Argument
It may be surprising for some students, but argumentative essays come in many forms, as any writings do. Usually, there are three basic structures or types of argument used in modern writings: the Toulmin argument, the Rogerian argument, and the Classical or Aristotelian argument. The choice depends on the situation and the audience, also when it comes to college essays the type of argument is usually noted in your assignment description.
This kind of structure can be claimed as the standard. You start with the introduction and your thoughts on the importance of the issue, address the opposition and refute it point by point, use one thesis statement as your opinion, then write arguments proving that you're right, and finish with a conclusion.
Sometimes you can understand both sides of the argument and reflect on them all. In that case, this model of argumentation can help. Just introduce opposite opinions first, list their pros and cons, admit that every point of view has its benefits but note the one that sounds best for you, then analyze all the evidence in favor of your position, and give your recommendations.
If you prefer choosing one side and diving deep into it, you're probably up to this model. It sees any argumentation as the combination of six parts: claim, grounds, warrant, backing, qualifier, rebuttal. So, introduce your main argument — it should be a claim of fact, claim of definition, claim of cause, claim of value, or claim of policy. Find supporting facts and evidence (ground), highlight the link between your argument and the evidence (by warrant), then back it up with some additional facts (backing), admit that there are circumstances when your claim is not true and show your acknowledgment of another valid point of view (qualifier), then address the opposite views (rebuttal).
Step 2. How to Write the Introduction
An argumentative essay introduction is supposed to show both the context, helping your audience to get to know the issue, and your perspective. This paragraph should be written persuasively so that it can engage your readers and get you some extra credibility.
Basically, you don't need to have any outstanding writing skills since your introduction should contain three parts: a hook, a background, and a claim.
It can be an interesting question, a short story, a quotation, a description, a strong statement or declaration, a fact or statistic, even a metaphor or simile that can get people interested in the text that follows.
Well, that's background information. Additional data is necessary to understand the argument and get the reader to your statement.
It's your thesis statement, your main points clearly and fully described. You can consider it a one-sentence summary of your whole writing.
The body paragraphs are the discussion section of your essay. It should involve your arguments and counterarguments, as well as evidence in favor or against the points listed.
Here are some tips that can help you craft a good discussion section and avoid common mistakes in your essay.
Limit each paragraph to one idea. If you're working on a short essay, then your main idea will take this one paragraph. But if your research paper should be long make sure each argument is placed separately.
Get your facts straight. Remember that your argument has no value. So think of a decent list of research questions to pinpoint what you're looking for and use it during your further research, analyze previous studies on your topic and make sure you're not missing any important previous research, double-check all the findings of your study, and make sure there are no unanswered questions left. All that is essential to provide evidence that can convince the reader. Paradoxically, admitting the limitations of your study and flaws of your claim may help you build even more effective discussion and make you even more convincing, so think about both the pros and cons of your point of view. And don't forget to not only support your position but also dig into counterarguments.
Check your sources. Make sure you're using the data from reliable and credible high-quality sources. Your main resources should be books or ebooks, articles from academic journals, and independent scientific writings. Sometimes it's acceptable to also use content from media, but it only works for some topics and some respected and well-known websites.
Get inspired but don't just copy. Of course, you can use existing opinions while writing but don't forget to paraphrase the statements. Sometimes you can integrate direct quotes into your writing, but only if they are really unique and perfectly worded.
The conclusion is a results section. It needs to make people agree with your claim by summarizing all your arguments, therefore it should synthesize all the information from your essay and provide it in the form of a laconic paragraph. It's your final stance, so keep it logical, short, consistent, and convincing.
Summarize your arguments. Rewrite the thesis statement in light of all the arguments described above.
Stop with the arguments. Don't introduce any new points of view or evidence here. Just give a quick recap of the body paragraphs and highlight your unexpected results if there are any.
Come up with the solution. End your essay by providing a recommendation, call to action, or anything else that provides a sense of closure. In some cases, you may get back to your introduction hook and reconsider it taking all the arguments and evidence into account.
Compare your work to the previous studies to make sure there are no major findings missing in your study.
Don't forget about proofreading. Check your final writing for common mistakes, plagiarism, and factual inaccuracies.
Read your essay again and maybe even ask your friends or relatives to read it and check if your results and discussion sound fair, on-point, convincing, and consistent.
User ratings:
User ratings is 4.6 stars.
4.6 /5 ( 91 Votes)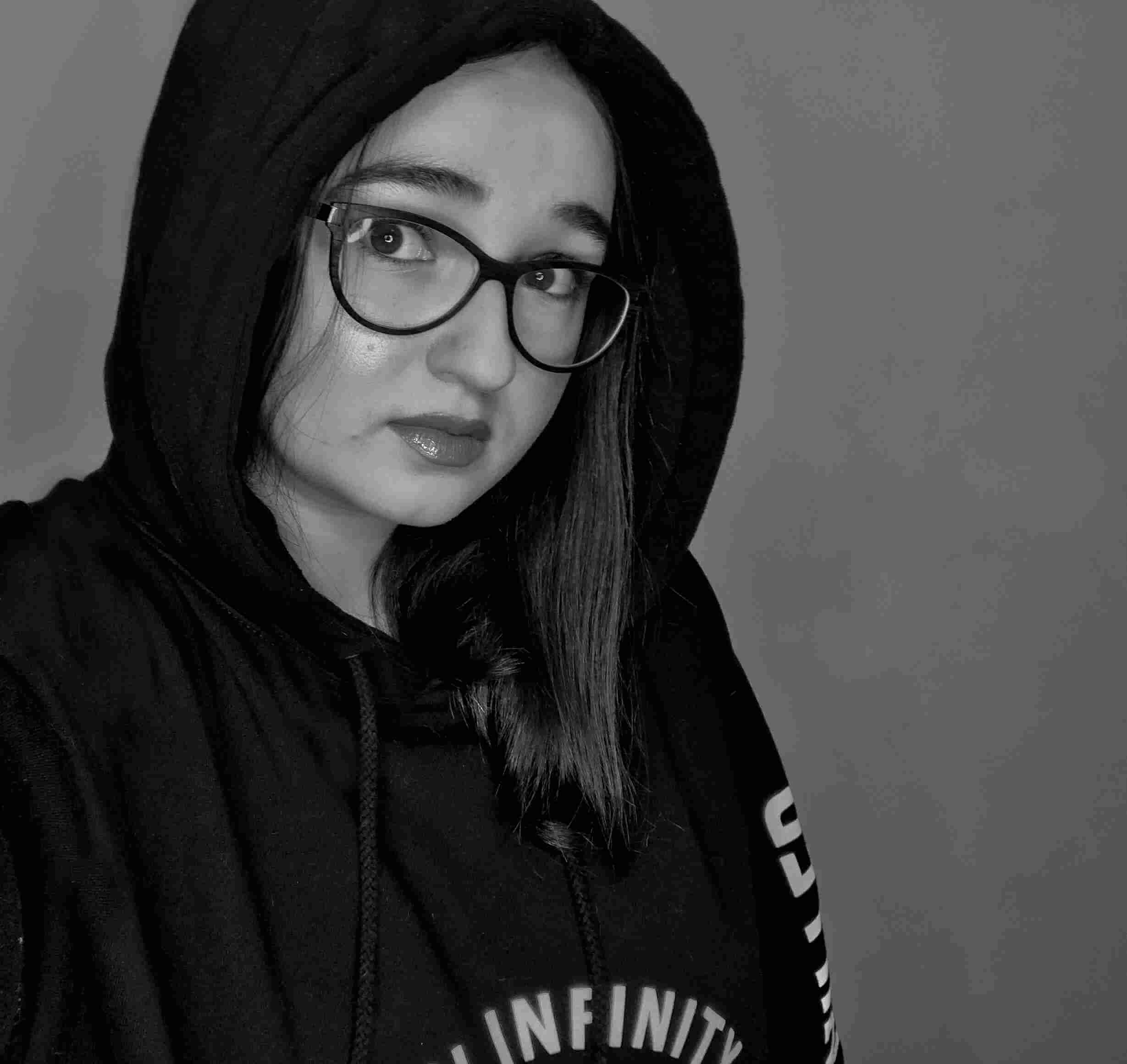 Creative Writer and Blog Editor
Despite my relatively young age, I am a professional writer with more than 14 years of experience. I studied journalism at the university, worked for media and digital agencies, and organized several events for ed-tech companies. Yet for the last 6 years, I've worked mainly in marketing. Here, at Studybay, my objective is to make sure all our texts are clear, informative, and engaging.
Add Your Comment
We are very interested to know your opinion
It always works out when you choose a controversial topic. Nice walkthrough.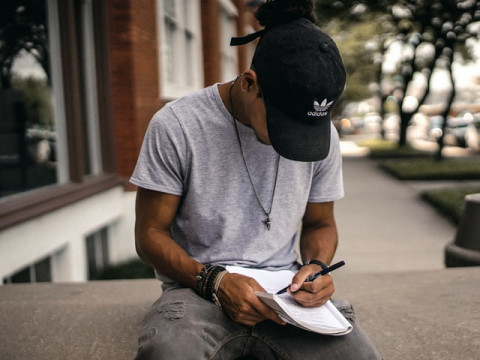 Upgrade your writing skills!
Try our AI essay writer from Studybay today!

IELTS Writing Task 2: Discussion Sample Essay
Today we're going to look at a discussion essay IELTS sample that's considered Band 9. This Band 9 scored essay matched the pattern for the "discussion" type of Writing Task 2 question. Discussion essays are sometimes also called "discuss both sides" essays. In this kind of essay, you will be presented with two statements of opinion that oppose each other. You will then be asked to "discuss both sides" of the debate, and to give your own opinion. For more information on this and other question types, including tips, tricks, and general advice for the discussion essay question type, see Magoosh's full guide to IELTS Writing Task 2 question types .
Discussion Essay IELTS Sample: Band 9
The essay below is a band 9 model IELTS essay, patterned after Magoosh's IELTS Writing Task 2 Template .
IELTS Writing Discussion Essay Practice Question
Some people seek a lot of advice from family and friends when choosing their career. Others feel it is better to choose a career more independently. Discuss both views and give your opinion. Give reasons for your answer and include any relevant examples from your own knowledge or experience.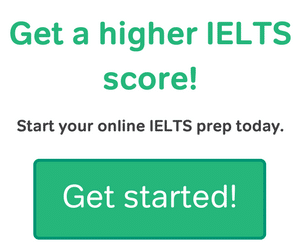 Write at least 250 words.
Discussion Essay IELTS Sample Band 9 Response
Choosing a career can be a challenging process. It can be difficult to say whether this decision should be made alone, or made with input from loved ones. In my opinion, it is best to find one's career independently, with no more than a small amount of advice from family or friends. Below, I will explain why I feel that we must ultimately face career decisions on our own.
Getting career guidance input from loved ones can be confusing rather than useful. Family and friends likely have different careers, and thus give different, conflicting advice. Suppose, for instance, that your father is a teacher, your mother is an accountant, and your best friend is a nurse. They have all made very different career decisions, and only have knowledge on their respective careers. Different people will likely only steer you to their careers, without giving good advice on your own best path.
In contrast, focusing on one's own preferences and skills provides a clearer path to the right career. After all, individuals have the best knowledge of their own abilities and interests. As an example, if someone has gone to university to study biology, they will know more about biology careers than a family member or friend who does not have that same kind of training. Ultimately, your career must be built on your own training and experience, not the training and experience of others.
For the reasons I've outlined above, I really do believe that career decisions are a matter of personal knowledge. Other people, even trusted family and friends, simply cannot understand your career the way you can. To select your field of work wisely, you must face this important decision alone.
Scorer Commentary (Discussion IELTS Essay Sample, Band 9)
The score report below is based on the official IELTS Writing Task 2 rubric . This report also looks very similar to the Magoosh IELTS essay scoring service .
Overall Band Score: 9
What was done well in the essay:
At 283 words, this essay exceeded the 250 word minimum. (This is very important for getting full points!)
Each part of the task was fully addressed. Both sides of the issue were discussed in the first and second body paragraphs. Moreover, reasons and relevant examples were included.
Each paragraph had its own clear topic sentence and supporting details, with explanations of the details, and summarization of the most important ideas.
Transitional language was used to clearly tie in all paragraphs to clear main ideas from the introduction and conclusion.
Vocabulary and grammar were used clearly and fluently. There were no serious errors in grammar or word use; word choice and sentence structure varied and avoided significant repetition.
More Model Essays for IELTS Writing Task 2
Would you like the see model essays for the other common IELTS Writing Task 2 question types as well? Magoosh has you covered! Just click the links below.
Advantage/Disadvantage Essay
Two-Part Question Essay
Causes/Solutions Essay
Agree/Disagree Essay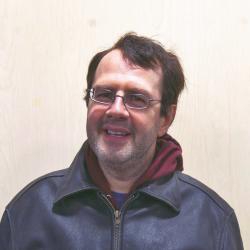 David is a Test Prep Expert for Magoosh TOEFL and IELTS. Additionally, he's helped students with TOEIC, PET, FCE, BULATS, Eiken, SAT, ACT, GRE, and GMAT. David has a BS from the University of Wisconsin-Eau Claire and an MA from the University of Wisconsin-River Falls. His work at Magoosh has been cited in many scholarly articles , his Master's Thesis is featured on the Reading with Pictures website, and he's presented at the WITESOL (link to PDF) and NAFSA conferences. David has taught K-12 ESL in South Korea as well as undergraduate English and MBA-level business English at American universities. He has also trained English teachers in America, Italy, and Peru. Come join David and the Magoosh team on Youtube , Facebook , and Instagram , or connect with him via LinkedIn !
View all posts
More from Magoosh
5 responses to "IELTS Writing Task 2: Discussion Sample Essay"
Contractions must be avoided because they are a sign of informal writing style. Whereas essay's should be written in formal way.
You are correct that contractions shouldn't be used in the formal Task 2 essay. However, note that they can be used at times, such as in IELTS Speaking or in Task 1 if you are asked to write an informal letter.
Happy studying!
Greetings, and thank you for this model essay. I wanted to ask a question relating to the discussion essay's addressing of the task. Since the two views are 1) Some people think it is beneficial to ask for advice from friends/loved ones, and 2) others think that it is better to do so alone, why isn't the 2nd paragraph addressing the benefits but instead talks about how it can be confusing? Isn't a discussion essay's structure supposed to be something like this:
2nd paragraph: Reasons people believe asking for help to decide for a career is good 3rd paragraph: Reasons people believe doing it on your own is good Conclusion: Giving your own opinion
Thank you for your time!
Good question! The short answer is that both approaches work! The directions are simply to "discuss both views," but you don't have to provide support for both sides. You can also discuss the problems or issues with one side, as this essay has done. Does that make sense? I'd suggest reviewing more sample essays to get a better sense of this.
Hope this helps, and best of luck to you!
Leave a Reply Cancel reply
Your email address will not be published. Required fields are marked *
Have a language expert improve your writing
Run a free plagiarism check in 10 minutes, generate accurate citations for free.
Knowledge Base
How to structure an essay: Templates and tips
How to Structure an Essay | Tips & Templates
Published on September 18, 2020 by Jack Caulfield . Revised on July 23, 2023.
The basic structure of an essay always consists of an introduction , a body , and a conclusion . But for many students, the most difficult part of structuring an essay is deciding how to organize information within the body.
Table of contents
The basics of essay structure, chronological structure, compare-and-contrast structure, problems-methods-solutions structure, signposting to clarify your structure, other interesting articles, frequently asked questions about essay structure.
There are two main things to keep in mind when working on your essay structure: making sure to include the right information in each part, and deciding how you'll organize the information within the body.
Parts of an essay
The three parts that make up all essays are described in the table below.
Order of information
You'll also have to consider how to present information within the body. There are a few general principles that can guide you here.
The first is that your argument should move from the simplest claim to the most complex . The body of a good argumentative essay often begins with simple and widely accepted claims, and then moves towards more complex and contentious ones.
For example, you might begin by describing a generally accepted philosophical concept, and then apply it to a new topic. The grounding in the general concept will allow the reader to understand your unique application of it.
The second principle is that background information should appear towards the beginning of your essay . General background is presented in the introduction. If you have additional background to present, this information will usually come at the start of the body.
The third principle is that everything in your essay should be relevant to the thesis . Ask yourself whether each piece of information advances your argument or provides necessary background. And make sure that the text clearly expresses each piece of information's relevance.
The sections below present several organizational templates for essays: the chronological approach, the compare-and-contrast approach, and the problems-methods-solutions approach.
Prevent plagiarism. Run a free check.
The chronological approach (sometimes called the cause-and-effect approach) is probably the simplest way to structure an essay. It just means discussing events in the order in which they occurred, discussing how they are related (i.e. the cause and effect involved) as you go.
A chronological approach can be useful when your essay is about a series of events. Don't rule out other approaches, though—even when the chronological approach is the obvious one, you might be able to bring out more with a different structure.
Explore the tabs below to see a general template and a specific example outline from an essay on the invention of the printing press.
Thesis statement
Discussion of event/period
Consequences
Importance of topic
Strong closing statement
Claim that the printing press marks the end of the Middle Ages
Background on the low levels of literacy before the printing press
Thesis statement: The invention of the printing press increased circulation of information in Europe, paving the way for the Reformation
High levels of illiteracy in medieval Europe
Literacy and thus knowledge and education were mainly the domain of religious and political elites
Consequence: this discouraged political and religious change
Invention of the printing press in 1440 by Johannes Gutenberg
Implications of the new technology for book production
Consequence: Rapid spread of the technology and the printing of the Gutenberg Bible
Trend for translating the Bible into vernacular languages during the years following the printing press's invention
Luther's own translation of the Bible during the Reformation
Consequence: The large-scale effects the Reformation would have on religion and politics
Summarize the history described
Stress the significance of the printing press to the events of this period
Essays with two or more main subjects are often structured around comparing and contrasting . For example, a literary analysis essay might compare two different texts, and an argumentative essay might compare the strengths of different arguments.
There are two main ways of structuring a compare-and-contrast essay: the alternating method, and the block method.
Alternating
In the alternating method, each paragraph compares your subjects in terms of a specific point of comparison. These points of comparison are therefore what defines each paragraph.
The tabs below show a general template for this structure, and a specific example for an essay comparing and contrasting distance learning with traditional classroom learning.
Synthesis of arguments
Topical relevance of distance learning in lockdown
Increasing prevalence of distance learning over the last decade
Thesis statement: While distance learning has certain advantages, it introduces multiple new accessibility issues that must be addressed for it to be as effective as classroom learning
Classroom learning: Ease of identifying difficulties and privately discussing them
Distance learning: Difficulty of noticing and unobtrusively helping
Classroom learning: Difficulties accessing the classroom (disability, distance travelled from home)
Distance learning: Difficulties with online work (lack of tech literacy, unreliable connection, distractions)
Classroom learning: Tends to encourage personal engagement among students and with teacher, more relaxed social environment
Distance learning: Greater ability to reach out to teacher privately
Sum up, emphasize that distance learning introduces more difficulties than it solves
Stress the importance of addressing issues with distance learning as it becomes increasingly common
Distance learning may prove to be the future, but it still has a long way to go
In the block method, each subject is covered all in one go, potentially across multiple paragraphs. For example, you might write two paragraphs about your first subject and then two about your second subject, making comparisons back to the first.
The tabs again show a general template, followed by another essay on distance learning, this time with the body structured in blocks.
Point 1 (compare)
Point 2 (compare)
Point 3 (compare)
Point 4 (compare)
Advantages: Flexibility, accessibility
Disadvantages: Discomfort, challenges for those with poor internet or tech literacy
Advantages: Potential for teacher to discuss issues with a student in a separate private call
Disadvantages: Difficulty of identifying struggling students and aiding them unobtrusively, lack of personal interaction among students
Advantages: More accessible to those with low tech literacy, equality of all sharing one learning environment
Disadvantages: Students must live close enough to attend, commutes may vary, classrooms not always accessible for disabled students
Advantages: Ease of picking up on signs a student is struggling, more personal interaction among students
Disadvantages: May be harder for students to approach teacher privately in person to raise issues
An essay that concerns a specific problem (practical or theoretical) may be structured according to the problems-methods-solutions approach.
This is just what it sounds like: You define the problem, characterize a method or theory that may solve it, and finally analyze the problem, using this method or theory to arrive at a solution. If the problem is theoretical, the solution might be the analysis you present in the essay itself; otherwise, you might just present a proposed solution.
The tabs below show a template for this structure and an example outline for an essay about the problem of fake news.
Introduce the problem
Provide background
Describe your approach to solving it
Define the problem precisely
Describe why it's important
Indicate previous approaches to the problem
Present your new approach, and why it's better
Apply the new method or theory to the problem
Indicate the solution you arrive at by doing so
Assess (potential or actual) effectiveness of solution
Describe the implications
Problem: The growth of "fake news" online
Prevalence of polarized/conspiracy-focused news sources online
Thesis statement: Rather than attempting to stamp out online fake news through social media moderation, an effective approach to combating it must work with educational institutions to improve media literacy
Definition: Deliberate disinformation designed to spread virally online
Popularization of the term, growth of the phenomenon
Previous approaches: Labeling and moderation on social media platforms
Critique: This approach feeds conspiracies; the real solution is to improve media literacy so users can better identify fake news
Greater emphasis should be placed on media literacy education in schools
This allows people to assess news sources independently, rather than just being told which ones to trust
This is a long-term solution but could be highly effective
It would require significant organization and investment, but would equip people to judge news sources more effectively
Rather than trying to contain the spread of fake news, we must teach the next generation not to fall for it
Signposting means guiding the reader through your essay with language that describes or hints at the structure of what follows.  It can help you clarify your structure for yourself as well as helping your reader follow your ideas.
The essay overview
In longer essays whose body is split into multiple named sections, the introduction often ends with an overview of the rest of the essay. This gives a brief description of the main idea or argument of each section.
The overview allows the reader to immediately understand what will be covered in the essay and in what order. Though it describes what  comes later in the text, it is generally written in the present tense . The following example is from a literary analysis essay on Mary Shelley's Frankenstein .
Transitions
Transition words and phrases are used throughout all good essays to link together different ideas. They help guide the reader through your text, and an essay that uses them effectively will be much easier to follow.
Various different relationships can be expressed by transition words, as shown in this example.
Because Hitler failed to respond to the British ultimatum, France and the UK declared war on Germany. Although it was an outcome the Allies had hoped to avoid, they were prepared to back up their ultimatum in order to combat the existential threat posed by the Third Reich.
Transition sentences may be included to transition between different paragraphs or sections of an essay. A good transition sentence moves the reader on to the next topic while indicating how it relates to the previous one.
… Distance learning, then, seems to improve accessibility in some ways while representing a step backwards in others.
However , considering the issue of personal interaction among students presents a different picture.
If you want to know more about AI tools , college essays , or fallacies make sure to check out some of our other articles with explanations and examples or go directly to our tools!
Ad hominem fallacy
Post hoc fallacy
Appeal to authority fallacy
False cause fallacy
Sunk cost fallacy
College essays
Choosing Essay Topic
Write a College Essay
Write a Diversity Essay
College Essay Format & Structure
Comparing and Contrasting in an Essay
 (AI) Tools
Grammar Checker
Paraphrasing Tool
Text Summarizer
AI Detector
Plagiarism Checker
Citation Generator
The structure of an essay is divided into an introduction that presents your topic and thesis statement , a body containing your in-depth analysis and arguments, and a conclusion wrapping up your ideas.
The structure of the body is flexible, but you should always spend some time thinking about how you can organize your essay to best serve your ideas.
An essay isn't just a loose collection of facts and ideas. Instead, it should be centered on an overarching argument (summarized in your thesis statement ) that every part of the essay relates to.
The way you structure your essay is crucial to presenting your argument coherently. A well-structured essay helps your reader follow the logic of your ideas and understand your overall point.
Comparisons in essays are generally structured in one of two ways:
The alternating method, where you compare your subjects side by side according to one specific aspect at a time.
The block method, where you cover each subject separately in its entirety.
It's also possible to combine both methods, for example by writing a full paragraph on each of your topics and then a final paragraph contrasting the two according to a specific metric.
You should try to follow your outline as you write your essay . However, if your ideas change or it becomes clear that your structure could be better, it's okay to depart from your essay outline . Just make sure you know why you're doing so.
Cite this Scribbr article
If you want to cite this source, you can copy and paste the citation or click the "Cite this Scribbr article" button to automatically add the citation to our free Citation Generator.
Caulfield, J. (2023, July 23). How to Structure an Essay | Tips & Templates. Scribbr. Retrieved October 4, 2023, from https://www.scribbr.com/academic-essay/essay-structure/
Is this article helpful?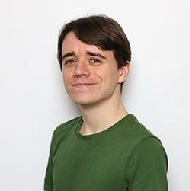 Jack Caulfield
Other students also liked, comparing and contrasting in an essay | tips & examples, how to write the body of an essay | drafting & redrafting, transition sentences | tips & examples for clear writing, what is your plagiarism score.
Essay and dissertation writing skills
Planning your essay
Writing your introduction
Structuring your essay
Writing essays in science subjects
Brief video guides to support essay planning and writing
Writing extended essays and dissertations
Planning your dissertation writing time
Structuring your dissertation
Top tips for writing longer pieces of work
Advice on planning and writing essays and dissertations
University essays differ from school essays in that they are less concerned with what you know and more concerned with how you construct an argument to answer the question. This means that the starting point for writing a strong essay is to first unpick the question and to then use this to plan your essay before you start putting pen to paper (or finger to keyboard).
A really good starting point for you are these short, downloadable Tips for Successful Essay Writing and Answering the Question resources. Both resources will help you to plan your essay, as well as giving you guidance on how to distinguish between different sorts of essay questions.
You may find it helpful to watch this seven-minute video on six tips for essay writing which outlines how to interpret essay questions, as well as giving advice on planning and structuring your writing:
Different disciplines will have different expectations for essay structure and you should always refer to your Faculty or Department student handbook or course Canvas site for more specific guidance.
However, broadly speaking, all essays share the following features:
Essays need an introduction to establish and focus the parameters of the discussion that will follow. You may find it helpful to divide the introduction into areas to demonstrate your breadth and engagement with the essay question. You might define specific terms in the introduction to show your engagement with the essay question; for example, 'This is a large topic which has been variously discussed by many scientists and commentators. The principle tension is between the views of X and Y who define the main issues as…' Breadth might be demonstrated by showing the range of viewpoints from which the essay question could be considered; for example, 'A variety of factors including economic, social and political, influence A and B. This essay will focus on the social and economic aspects, with particular emphasis on…..'
Watch this two-minute video to learn more about how to plan and structure an introduction:
The main body of the essay should elaborate on the issues raised in the introduction and develop an argument(s) that answers the question. It should consist of a number of self-contained paragraphs each of which makes a specific point and provides some form of evidence to support the argument being made. Remember that a clear argument requires that each paragraph explicitly relates back to the essay question or the developing argument.
Conclusion: An essay should end with a conclusion that reiterates the argument in light of the evidence you have provided; you shouldn't use the conclusion to introduce new information.
References: You need to include references to the materials you've used to write your essay. These might be in the form of footnotes, in-text citations, or a bibliography at the end. Different systems exist for citing references and different disciplines will use various approaches to citation. Ask your tutor which method(s) you should be using for your essay and also consult your Department or Faculty webpages for specific guidance in your discipline.
Essay writing in science subjects
If you are writing an essay for a science subject you may need to consider additional areas, such as how to present data or diagrams. This five-minute video gives you some advice on how to approach your reading list, planning which information to include in your answer and how to write for your scientific audience – the video is available here:
A PDF providing further guidance on writing science essays for tutorials is available to download.
Short videos to support your essay writing skills
There are many other resources at Oxford that can help support your essay writing skills and if you are short on time, the Oxford Study Skills Centre has produced a number of short (2-minute) videos covering different aspects of essay writing, including:
Approaching different types of essay questions
Structuring your essay
Writing an introduction
Making use of evidence in your essay writing
Writing your conclusion
Extended essays and dissertations
Longer pieces of writing like extended essays and dissertations may seem like quite a challenge from your regular essay writing. The important point is to start with a plan and to focus on what the question is asking. A PDF providing further guidance on planning Humanities and Social Science dissertations is available to download.
Planning your time effectively
Try not to leave the writing until close to your deadline, instead start as soon as you have some ideas to put down onto paper. Your early drafts may never end up in the final work, but the work of committing your ideas to paper helps to formulate not only your ideas, but the method of structuring your writing to read well and conclude firmly.
Although many students and tutors will say that the introduction is often written last, it is a good idea to begin to think about what will go into it early on. For example, the first draft of your introduction should set out your argument, the information you have, and your methods, and it should give a structure to the chapters and sections you will write. Your introduction will probably change as time goes on but it will stand as a guide to your entire extended essay or dissertation and it will help you to keep focused.
The structure of extended essays or dissertations will vary depending on the question and discipline, but may include some or all of the following:
The background information to - and context for - your research. This often takes the form of a literature review.
Explanation of the focus of your work.
Explanation of the value of this work to scholarship on the topic.
List of the aims and objectives of the work and also the issues which will not be covered because they are outside its scope.
The main body of your extended essay or dissertation will probably include your methodology, the results of research, and your argument(s) based on your findings.
The conclusion is to summarise the value your research has added to the topic, and any further lines of research you would undertake given more time or resources.
Tips on writing longer pieces of work
Approaching each chapter of a dissertation as a shorter essay can make the task of writing a dissertation seem less overwhelming. Each chapter will have an introduction, a main body where the argument is developed and substantiated with evidence, and a conclusion to tie things together. Unlike in a regular essay, chapter conclusions may also introduce the chapter that will follow, indicating how the chapters are connected to one another and how the argument will develop through your dissertation.
For further guidance, watch this two-minute video on writing longer pieces of work .
Systems & Services
Access Student Self Service
Student Self Service
Self Service guide
Registration guide
Libraries search
OXCORT - see TMS
GSS - see Student Self Service
The Careers Service
Oxford University Sport
Online store
Gardens, Libraries and Museums
Researchers Skills Toolkit
LinkedIn Learning (formerly Lynda.com)
Access Guide
Lecture Lists
Exam Papers (OXAM)
Oxford Talks
Latest student news
CAN'T FIND WHAT YOU'RE LOOKING FOR?
Try our extensive database of FAQs or submit your own question...
Ask a question
Have your assignments done by seasoned writers. 24/7
Contact us:
+1 (213) 221-0069
[email protected]

How to Write a Discussion Essay for University: How to Start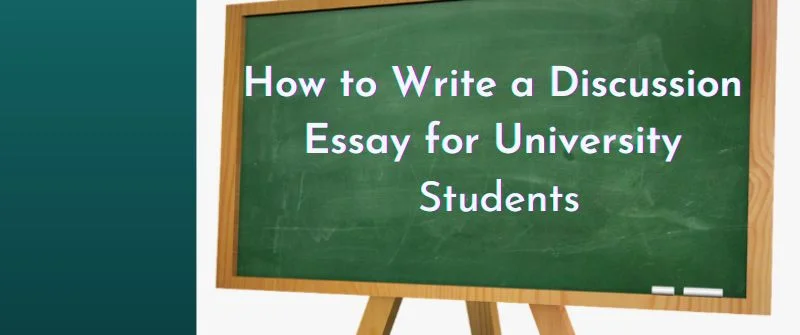 How to Write a Discussion Essay
Have you been asked to write a discussion essay and you do not know how to go about it? Discussion essays require you to debate two opposing sides where you eventually show the side you prefer.
This article will look into steps that you need to follow when writing discussion essays and all the tips to complete one successfully

What is a Discussion Essay?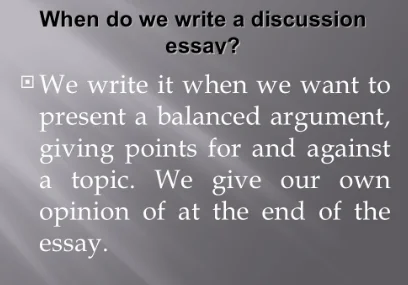 A discussion essay presents issues surrounding topics that are debatable and open to criticism or arguments. The essay must include detailed accounts of both sides of the debate and strong points to support arguments and counterarguments.
The opinions on both sides of the topic should be fully exhausted. An example of a good discussion essay title is; The arguments for and against the death penalty.
How to Write a Discussion Essay?
Writing discussion essays is not hard. It takes time to perfect essay writing and a few average first trials should not discourage you. However, there are several steps that if followed can help elevate you easily to an expert discussion essay writer. These include:
Step 1: Choose a Topic
When you have not been given a specific topic to write about, always ensure that you choose a topic carefully. Pick a topic that will be easier to research and write about.
A topic with readily available research is important because you will have to write about two argument phases in detail.
When you choose a side where the research available is one sided ,then your discussion essay will be unbalanced and may result in poor grading or rating
Step 2: Do Your Research
You will need to thoroughly research the topic you are writing about because facts must be separated from opinions. Only facts about a topic will make credible arguments for and against it.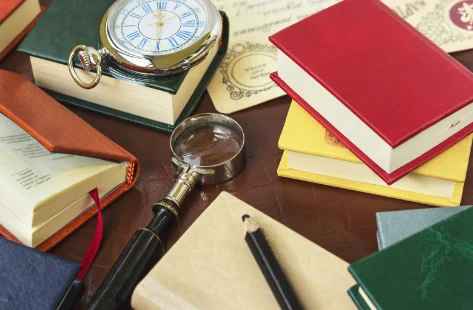 Always research for enough factual points about a topic that will balance your arguments. Also, ensure that during research you formulate a thesis statement, opinions, and a conclusion that will serve as the parting shot of your essay.
Step 3: Create an Outline
After research, create a rough draft of how you want your essay to flow. Here include introduction points, thesis statement, supporting arguments, opposing arguments, and a rough conclusion paragraph.
This draft will help you write the essay without instant stops that are caused by running out of content halfway through.
Also, through outlines the ideas you present in the essay will look organized because you have already planned how they will flow. There is no recommended way of formulating this draft as long as you make sure that you do all the above tasks.
Step 4: Write the Introduction
To introduce a discussion essay, all issues relating to the topic and important background information must be involved. The introduction should effectively set the pace of your essay preparing the reader for the arguments that you will present.
The thesis statement that reveals to the reader what the essay will be all about should conclude the introduction. The statement should summarize both sides presented in the essay.
It also sets the scene for your essay. Therefore, it should be a specific and strong closing statement to your introduction paragraph.
Step 5: Write the Discussion in the Body Part of the Essay
Each issue in the body paragraphs should be presented impartially. There should be no cases of mix-up. This implies that arguments for should be presented separately from arguments against.
Paragraphs that present the facts should be equal to give the impression that they are balanced. Also, each paragraph should start with a topic sentence that introduces an argument that is then supported by the body sentences.
The last sentence in the paragraph can serve as a transition to the next. When presenting your arguments, start with the strongest to ensure that the reader can keep up with the flow of your essay.
Always ensure a smooth transition to arguments against if you started in arguments for and vice versa. Sources and quotes should be balanced for both arguments.
For example, if you use four scholarly sources and 3 quotes for arguments against, the same should be replicated in supporting arguments.
Step 6: Write the Conclusion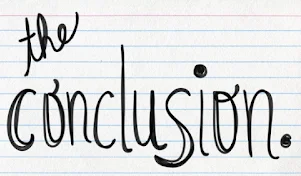 To conclude a discussion essay, summarize the overall information that has been presented in your essay. There is no requirement that you favor one side of the argument in your essay but if you do, make sure that you present your own opinion that is not similar to the body paragraphs to avoid repetition.
Write the conclusion in a way that the reader will know that the essay is coming to an end and notice your point of view.
Step 7: Proofread
After writing the essay, always ensure that you go through it to correct any mistakes that you may have committed. Most of them include grammar mistakes and incorrect pronunciations that can make your work lose clarity.
After proofreading, always ensure that you have not copied anything directly from a source that can lead to your work being flagged as plagiarized. Once this is done your work is ready for submission.
How to Start a Discussion Essay?
Just like other essays, discussion essays start with an introduction. Here you must introduce both sides of the argument and include a thesis statement to help the reader comprehend what the essay will be all about.
To start a discussion essay you will have to take a position on a topic and start agreeing with it. Also, investigate your stance and present the opposing side before continuing to the introduction and thesis statement.
Tips When Writing a Discussion Essay
The following tips can be helpful when writing a discussion essay:
Tip 1: Be clear
All paragraphs in your essay should be written in clear language that is easily understandable by the reader. After writing paragraphs always make sure that you proofread to correct any mistakes that may distort their meaning.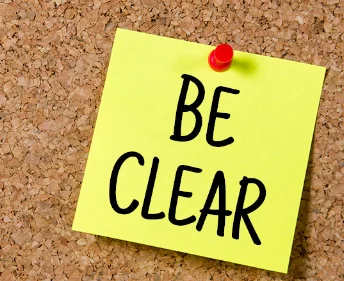 Tip 2: Take a good stand
Always choose a stance that you are comfortable with. This way you will be able to provide a view in your own words that present your stance on the topic.
A controversial stand will always be harder to write and prove with evidence.
Tip 3: Consider Opposing Views
A discussion essay is not complete if the opposing views are not fully presented. They are the ones that prove there is a relevant discussion about a particular topic that has two opposing views that can be supported and opposed.
Tip 4: Break down Opposing Sides with no Inclination
Do not lean on one side of the arguments when presenting them. Always ensure that both arguments are presented fairly.
Balance the points for each argument to avoid giving the impression that you favor a particular side. The side you take should be revealed in the introduction or conclusion of the essay and not in the body paragraphs.
When proofreading your essay always make sure that there is a fair approach between the two arguments.
Tip 5: Use a reliable tone
Remember that discussion essays are for academic use. Therefore, always ensure that the tone you use is formal. Use specialized terms that are common in the field of the essay topic.
It is up to the reader to establish what they mean.
Always ensure that you do not exaggerate anything you write because arguments presented must always sound real.
Tip 6: Be detailed
Always avoid shallow arguments. All arguments you present in your discussion must be detailed. Your aim is to show both sides of a topic and shallow arguments will not help achieve that.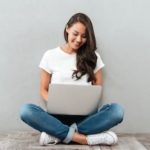 Jessica Kasen is experienced in academic writing and academic assistance. She is well versed in academia and has a master's degree in education. Kasen consults with us in helping students improve their grades. She also oversights the quality of work done by our writers.
Related posts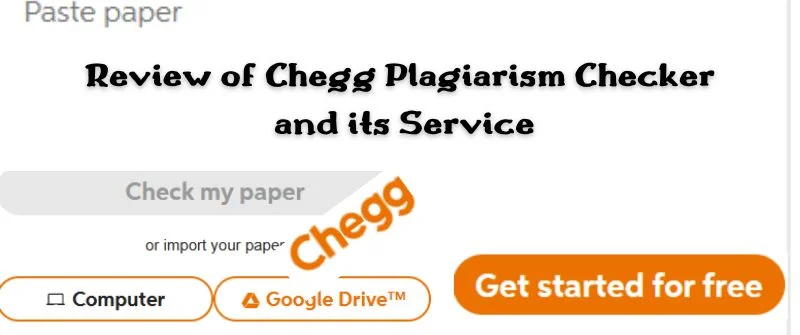 Chegg Plagiarism Checker
Chegg Plagiarism: Review of Chegg Plagiarism Checker and its Service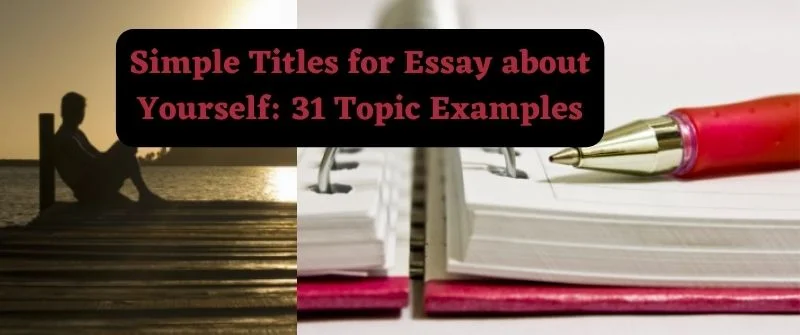 Titles for Essay about Yourself
Good Titles for Essays about yourself: 31 Personal Essay Topics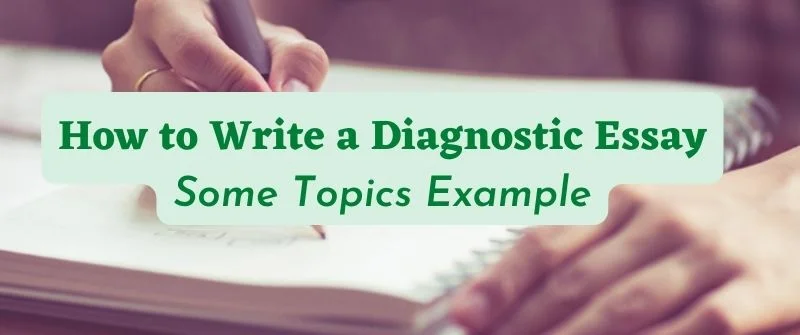 How to Write a Diagnostic Essay
How to Write a Diagnostic Essay: Meaning and Topics Example
How To Write a Discussion Essay
The term "discussion" literally means to converse or debate about a particular topic. So, when you are asked to write a discussion essay the requirement is to examine both sides of a problem, theoretical stance or phenomenon and indicate which side you favour.
One of the key rules to follow for a strong discussion is to be balanced at all times. It is this balance which separates discussion essays from persuasion or critical essays, which usually commence from one standpoint which the author wishes to confirm.
In a discussion essay, the aim is to present facts and opinions, clearly separated. This means that whilst you will be including previous viewpoints with paraphrasing, summarising it is important to be clear about whether you are presenting an opinion or a certifiable fact as part of discussion.
Commonly discussion essays will either be phrased by giving a statement, followed by the word "Discuss". For example, "Capital punishment is essential for law and order. Discuss". Alternative approaches to a discussion essay title include "Examine the arguments for and against online learning", or "Identify and examine the advantages and disadvantages of a free trade agreement".
All of these titles require a discussion essay. So, once you have identified the key themes and viewpoints in the area, you are ready to start producing your perfect discussion essay, provided you follow our guidelines and example structure.
Remember that your discussion essay should demonstrate competent and coherent deliberations, founded on knowledge and evidence. A valid discussion will consider all viewpoints to achieve the necessary balance.
Discussion essays should present the key issues that currently exist in a topic area, identifying those which are open to debate and presenting both sides.
There should be demonstration of understanding of all aspects of the topic, and the issues that exist based on quality research and well-presented evidence.
So now you understand what needs to be included, and what the question is asking, you need to ensure your structure is strong and well-presented.
Introduction
What makes a good introduction? Your introduction should give the reader an overview of what will be covered, but in such a way that they are motivated to read more. In other words, you need to draw or "hook" the reader in with your opening statement.
So, what should you include in a discussion essay introduction? The introduction should be the place to introduce any generic terms that need explaining or acronyms that may be used in the essay to further understand on the part of the reader.
How do I end my introduction? Your introduction should conclude with a thesis statement. This term refers to a short (one or two sentences) statement that summarises the main points or perspectives that the essay is making. For example, "cardio-vascular exercise is effective in depression as it releases necessary hormones for well-being". This is a strong statement which can be backed up in the body of the work with evidence and viewpoints.
Main Body of the work
The main body of the work should be separated into paragraphs, with each paragraph making a separate point. Often the approach in a discussion essay is to present all the evidence, as multiple paragraphs for why the thesis statement is correct. In each paragraph, one point should be made, and then backed up with evidence.
Important point: The evidence given should be from valid, credible sources, preferably peer reviewed articles, and fully referenced. It is vital to ensure that the views expressed are not opinions, but verifiable evidence so as to give your work additional credibility.
Subsequent paragraphs should focus on individual points, whether they are arguing for or against the thesis statement. To ensure a logical flow, you should raise the main or key points and arguments first, and then move onto sub-arguments, ensuring that all the paragraphs are well linked to deliver a cohesive, easy to read essay.
In a discussion essay there are two parts to the conclusion. The first is a summary of the main ideas, to remind the reader of the evidence you have presented, and the key points made. It is often advisable here to indicate which viewpoints you, as the writer, consider have delivered the strongest evidence in support of your thesis statement.
How do I conclude my discussion essay?  The final part requires you to state your own opinion, based on the evidence presented, showing that you are able to draw a final conclusion in relation to your thesis statement based on your assessment  and debate (internally) of the issues surrounding the topic. In this way you are able to demonstrate how you have made a considered deliberation of the arguments in your discussion.
To help you in the construction of your discussion essay, we have put together a list of key words and phrases that can be used to ensure you deliver a first class piece of work.
Key Discussion Essay Vocabulary
When presenting evidence:
It is suggested that…
Evidence available indicates that….
It has been indicated that…
Aspects of the work suggest that…
The evidence presented supports the view that…
The evidence presented however overlooks…
Closer examination suggests….
For summarising, the following phrases are useful:
The most important
First of all
When introducing an opinion
There is no doubt that…
A key argument in favour is that…
I believe that…
You may also like
USC Libraries
Research Guides
Organizing Your Social Sciences Research Paper
Academic Writing Style
Purpose of Guide
Design Flaws to Avoid
Independent and Dependent Variables
Glossary of Research Terms
Reading Research Effectively
Narrowing a Topic Idea
Broadening a Topic Idea
Extending the Timeliness of a Topic Idea
Choosing a Title
Making an Outline
Paragraph Development
Research Process Video Series
Executive Summary
The C.A.R.S. Model
Background Information
The Research Problem/Question
Theoretical Framework
Citation Tracking
Content Alert Services
Evaluating Sources
Primary Sources
Secondary Sources
Tiertiary Sources
Scholarly vs. Popular Publications
Qualitative Methods
Quantitative Methods
Insiderness
Using Non-Textual Elements
Limitations of the Study
Common Grammar Mistakes
Writing Concisely
Avoiding Plagiarism
Footnotes or Endnotes?
Further Readings
Generative AI and Writing
USC Libraries Tutorials
Bibliography
Academic writing refers to a style of expression that researchers use to define the intellectual boundaries of their disciplines and specific areas of expertise. Characteristics of academic writing include a formal tone, use of the third-person rather than first-person perspective (usually), a clear focus on the research problem under investigation, and precise word choice. Like specialist languages adopted in other professions, such as, law or medicine, academic writing is designed to convey agreed meaning about complex ideas or concepts within a community of scholarly experts and practitioners.
Academic Writing. Writing Center. Colorado Technical College; Hartley, James. Academic Writing and Publishing: A Practical Guide . New York: Routledge, 2008; Ezza, El-Sadig Y. and Touria Drid. T eaching Academic Writing as a Discipline-Specific Skill in Higher Education . Hershey, PA: IGI Global, 2020.
Importance of Good Academic Writing
The accepted form of academic writing in the social sciences can vary considerable depending on the methodological framework and the intended audience. However, most college-level research papers require careful attention to the following stylistic elements:
I. The Big Picture Unlike creative or journalistic writing, the overall structure of academic writing is formal and logical. It must be cohesive and possess a logically organized flow of ideas; this means that the various parts are connected to form a unified whole. There should be narrative links between sentences and paragraphs so that the reader is able to follow your argument. The introduction should include a description of how the rest of the paper is organized and all sources are properly cited throughout the paper.
II. Tone The overall tone refers to the attitude conveyed in a piece of writing. Throughout your paper, it is important that you present the arguments of others fairly and with an appropriate narrative tone. When presenting a position or argument that you disagree with, describe this argument accurately and without loaded or biased language. In academic writing, the author is expected to investigate the research problem from an authoritative point of view. You should, therefore, state the strengths of your arguments confidently, using language that is neutral, not confrontational or dismissive.
III. Diction Diction refers to the choice of words you use. Awareness of the words you use is important because words that have almost the same denotation [dictionary definition] can have very different connotations [implied meanings]. This is particularly true in academic writing because words and terminology can evolve a nuanced meaning that describes a particular idea, concept, or phenomenon derived from the epistemological culture of that discipline [e.g., the concept of rational choice in political science]. Therefore, use concrete words [not general] that convey a specific meaning. If this cannot be done without confusing the reader, then you need to explain what you mean within the context of how that word or phrase is used within a discipline.
IV. Language The investigation of research problems in the social sciences is often complex and multi- dimensional . Therefore, it is important that you use unambiguous language. Well-structured paragraphs and clear topic sentences enable a reader to follow your line of thinking without difficulty. Your language should be concise, formal, and express precisely what you want it to mean. Do not use vague expressions that are not specific or precise enough for the reader to derive exact meaning ["they," "we," "people," "the organization," etc.], abbreviations like 'i.e.' ["in other words"], 'e.g.' ["for example"], or 'a.k.a.' ["also known as"], and the use of unspecific determinate words ["super," "very," "incredible," "huge," etc.].
V. Punctuation Scholars rely on precise words and language to establish the narrative tone of their work and, therefore, punctuation marks are used very deliberately. For example, exclamation points are rarely used to express a heightened tone because it can come across as unsophisticated or over-excited. Dashes should be limited to the insertion of an explanatory comment in a sentence, while hyphens should be limited to connecting prefixes to words [e.g., multi-disciplinary] or when forming compound phrases [e.g., commander-in-chief]. Finally, understand that semi-colons represent a pause that is longer than a comma, but shorter than a period in a sentence. In general, there are four grammatical uses of semi-colons: when a second clause expands or explains the first clause; to describe a sequence of actions or different aspects of the same topic; placed before clauses which begin with "nevertheless", "therefore", "even so," and "for instance"; and, to mark off a series of phrases or clauses which contain commas. If you are not confident about when to use semi-colons [and most of the time, they are not required for proper punctuation], rewrite using shorter sentences or revise the paragraph.
VI. Academic Conventions Citing sources in the body of your paper and providing a list of references as either footnotes or endnotes is a key feature of academic writing. It is essential to always acknowledge the source of any ideas, research findings, data, paraphrased, or quoted text that you have used in your paper as a defense against allegations of plagiarism. Even more important, the scholarly convention of citing sources allow readers to identify the resources you used in writing your paper so they can independently verify and assess the quality of findings and conclusions based on your review of the literature. Examples of other academic conventions to follow include the appropriate use of headings and subheadings, properly spelling out acronyms when first used in the text, avoiding slang or colloquial language, avoiding emotive language or unsupported declarative statements, avoiding contractions [e.g., isn't], and using first person and second person pronouns only when necessary.
VII. Evidence-Based Reasoning Assignments often ask you to express your own point of view about the research problem. However, what is valued in academic writing is that statements are based on evidence-based reasoning. This refers to possessing a clear understanding of the pertinent body of knowledge and academic debates that exist within, and often external to, your discipline concerning the topic. You need to support your arguments with evidence from scholarly [i.e., academic or peer-reviewed] sources. It should be an objective stance presented as a logical argument; the quality of the evidence you cite will determine the strength of your argument. The objective is to convince the reader of the validity of your thoughts through a well-documented, coherent, and logically structured piece of writing. This is particularly important when proposing solutions to problems or delineating recommended courses of action.
VIII. Thesis-Driven Academic writing is "thesis-driven," meaning that the starting point is a particular perspective, idea, or position applied to the chosen topic of investigation, such as, establishing, proving, or disproving solutions to the questions applied to investigating the research problem. Note that a problem statement without the research questions does not qualify as academic writing because simply identifying the research problem does not establish for the reader how you will contribute to solving the problem, what aspects you believe are most critical, or suggest a method for gathering information or data to better understand the problem.
IX. Complexity and Higher-Order Thinking Academic writing addresses complex issues that require higher-order thinking skills applied to understanding the research problem [e.g., critical, reflective, logical, and creative thinking as opposed to, for example, descriptive or prescriptive thinking]. Higher-order thinking skills include cognitive processes that are used to comprehend, solve problems, and express concepts or that describe abstract ideas that cannot be easily acted out, pointed to, or shown with images. Think of your writing this way: One of the most important attributes of a good teacher is the ability to explain complexity in a way that is understandable and relatable to the topic being presented during class. This is also one of the main functions of academic writing--examining and explaining the significance of complex ideas as clearly as possible. As a writer, you must adopt the role of a good teacher by summarizing complex information into a well-organized synthesis of ideas, concepts, and recommendations that contribute to a better understanding of the research problem.
Academic Writing. Writing Center. Colorado Technical College; Hartley, James. Academic Writing and Publishing: A Practical Guide . New York: Routledge, 2008; Murray, Rowena and Sarah Moore. The Handbook of Academic Writing: A Fresh Approach . New York: Open University Press, 2006; Johnson, Roy. Improve Your Writing Skills . Manchester, UK: Clifton Press, 1995; Nygaard, Lynn P. Writing for Scholars: A Practical Guide to Making Sense and Being Heard . Second edition. Los Angeles, CA: Sage Publications, 2015; Silvia, Paul J. How to Write a Lot: A Practical Guide to Productive Academic Writing . Washington, DC: American Psychological Association, 2007; Style, Diction, Tone, and Voice. Writing Center, Wheaton College; Sword, Helen. Stylish Academic Writing . Cambridge, MA: Harvard University Press, 2012.
Strategies for...
Understanding Academic Writing and Its Jargon
The very definition of research jargon is language specific to a particular community of practitioner-researchers . Therefore, in modern university life, jargon represents the specific language and meaning assigned to words and phrases specific to a discipline or area of study. For example, the idea of being rational may hold the same general meaning in both political science and psychology, but its application to understanding and explaining phenomena within the research domain of a each discipline may have subtle differences based upon how scholars in that discipline apply the concept to the theories and practice of their work.
Given this, it is important that specialist terminology [i.e., jargon] must be used accurately and applied under the appropriate conditions . Subject-specific dictionaries are the best places to confirm the meaning of terms within the context of a specific discipline. These can be found by either searching in the USC Libraries catalog by entering the disciplinary and the word dictionary [e.g., sociology and dictionary] or using a database such as Credo Reference [a curated collection of subject encyclopedias, dictionaries, handbooks, guides from highly regarded publishers] . It is appropriate for you to use specialist language within your field of study, but you should avoid using such language when writing for non-academic or general audiences.
Problems with Opaque Writing
A common criticism of scholars is that they can utilize needlessly complex syntax or overly expansive vocabulary that is impenetrable or not well-defined. When writing, avoid problems associated with opaque writing by keeping in mind the following:
1. Excessive use of specialized terminology . Yes, it is appropriate for you to use specialist language and a formal style of expression in academic writing, but it does not mean using "big words" just for the sake of doing so. Overuse of complex or obscure words or writing complicated sentence constructions gives readers the impression that your paper is more about style than substance; it leads the reader to question if you really know what you are talking about. Focus on creating clear, concise, and elegant prose that minimizes reliance on specialized terminology.
2. Inappropriate use of specialized terminology . Because you are dealing with concepts, research, and data within your discipline, you need to use the technical language appropriate to that area of study. However, nothing will undermine the validity of your study quicker than the inappropriate application of a term or concept. Avoid using terms whose meaning you are unsure of--do not just guess or assume! Consult the meaning of terms in specialized, discipline-specific dictionaries by searching the USC Libraries catalog or the Credo Reference database [see above].
Additional Problems to Avoid
In addition to understanding the use of specialized language, there are other aspects of academic writing in the social sciences that you should be aware of. These problems include:
Personal nouns . Excessive use of personal nouns [e.g., I, me, you, us] may lead the reader to believe the study was overly subjective. These words can be interpreted as being used only to avoid presenting empirical evidence about the research problem. Limit the use of personal nouns to descriptions of things you actually did [e.g., "I interviewed ten teachers about classroom management techniques..."]. Note that personal nouns are generally found in the discussion section of a paper because this is where you as the author/researcher interpret and describe your work.
Directives . Avoid directives that demand the reader to "do this" or "do that." Directives should be framed as evidence-based recommendations or goals leading to specific outcomes. Note that an exception to this can be found in various forms of action research that involve evidence-based advocacy for social justice or transformative change. Within this area of the social sciences, authors may offer directives for action in a declarative tone of urgency.
Informal, conversational tone using slang and idioms . Academic writing relies on excellent grammar and precise word structure. Your narrative should not include regional dialects or slang terms because they can be open to interpretation. Your writing should be direct and concise using standard English.
Wordiness. Focus on being concise, straightforward, and developing a narrative that does not have confusing language . By doing so, you help eliminate the possibility of the reader misinterpreting the design and purpose of your study.
Vague expressions (e.g., "they," "we," "people," "the company," "that area," etc.). Being concise in your writing also includes avoiding vague references to persons, places, or things. While proofreading your paper, be sure to look for and edit any vague or imprecise statements that lack context or specificity.
Numbered lists and bulleted items . The use of bulleted items or lists should be used only if the narrative dictates a need for clarity. For example, it is fine to state, "The four main problems with hedge funds are:" and then list them as 1, 2, 3, 4. However, in academic writing, this must then be followed by detailed explanation and analysis of each item. Given this, the question you should ask yourself while proofreading is: why begin with a list in the first place rather than just starting with systematic analysis of each item arranged in separate paragraphs? Also, be careful using numbers because they can imply a ranked order of priority or importance. If none exists, use bullets and avoid checkmarks or other symbols.
Descriptive writing . Describing a research problem is an important means of contextualizing a study. In fact, some description or background information may be needed because you can not assume the reader knows the key aspects of the topic. However, the content of your paper should focus on methodology, the analysis and interpretation of findings, and their implications as they apply to the research problem rather than background information and descriptions of tangential issues.
Personal experience. Drawing upon personal experience [e.g., traveling abroad; caring for someone with Alzheimer's disease] can be an effective way of introducing the research problem or engaging your readers in understanding its significance. Use personal experience only as an example, though, because academic writing relies on evidence-based research. To do otherwise is simply story-telling.
NOTE: Rules concerning excellent grammar and precise word structure do not apply when quoting someone. A quote should be inserted in the text of your paper exactly as it was stated. If the quote is especially vague or hard to understand, consider paraphrasing it or using a different quote to convey the same meaning. Consider inserting the term "sic" in brackets after the quoted text to indicate that the quotation has been transcribed exactly as found in the original source, but the source had grammar, spelling, or other errors. The adverb sic informs the reader that the errors are not yours.
Academic Writing. The Writing Lab and The OWL. Purdue University; Academic Writing Style. First-Year Seminar Handbook. Mercer University; Bem, Daryl J. Writing the Empirical Journal Article. Cornell University; College Writing. The Writing Center. University of North Carolina; Murray, Rowena and Sarah Moore. The Handbook of Academic Writing: A Fresh Approach . New York: Open University Press, 2006; Johnson, Eileen S. "Action Research." In Oxford Research Encyclopedia of Education . Edited by George W. Noblit and Joseph R. Neikirk. (New York: Oxford University Press, 2020); Oppenheimer, Daniel M. "Consequences of Erudite Vernacular Utilized Irrespective of Necessity: Problems with Using Long Words Needlessly." Applied Cognitive Psychology 20 (2006): 139-156; Ezza, El-Sadig Y. and Touria Drid. T eaching Academic Writing as a Discipline-Specific Skill in Higher Education . Hershey, PA: IGI Global, 2020; Pernawan, Ari. Common Flaws in Students' Research Proposals. English Education Department. Yogyakarta State University; Style. College Writing. The Writing Center. University of North Carolina; Invention: Five Qualities of Good Writing. The Reading/Writing Center. Hunter College; Sword, Helen. Stylish Academic Writing . Cambridge, MA: Harvard University Press, 2012; What Is an Academic Paper? Institute for Writing Rhetoric. Dartmouth College.
Structure and Writing Style
I. Improving Academic Writing
To improve your academic writing skills, you should focus your efforts on three key areas: 1. Clear Writing . The act of thinking about precedes the process of writing about. Good writers spend sufficient time distilling information and reviewing major points from the literature they have reviewed before creating their work. Writing detailed outlines can help you clearly organize your thoughts. Effective academic writing begins with solid planning, so manage your time carefully. 2. Excellent Grammar . Needless to say, English grammar can be difficult and complex; even the best scholars take many years before they have a command of the major points of good grammar. Take the time to learn the major and minor points of good grammar. Spend time practicing writing and seek detailed feedback from professors. Take advantage of the Writing Center on campus if you need help. Proper punctuation and good proofreading skills can significantly improve academic writing [see sub-tab for proofreading you paper ].
Refer to these three basic resources to help your grammar and writing skills:
A good writing reference book, such as, Strunk and White's book, The Elements of Style or the St. Martin's Handbook ;
A college-level dictionary, such as, Merriam-Webster's Collegiate Dictionary ;
The latest edition of Roget's Thesaurus in Dictionary Form .
3. Consistent Stylistic Approach . Whether your professor expresses a preference to use MLA, APA or the Chicago Manual of Style or not, choose one style manual and stick to it. Each of these style manuals provide rules on how to write out numbers, references, citations, footnotes, and lists. Consistent adherence to a style of writing helps with the narrative flow of your paper and improves its readability. Note that some disciplines require a particular style [e.g., education uses APA] so as you write more papers within your major, your familiarity with it will improve.
II. Evaluating Quality of Writing
A useful approach for evaluating the quality of your academic writing is to consider the following issues from the perspective of the reader. While proofreading your final draft, critically assess the following elements in your writing.
It is shaped around one clear research problem, and it explains what that problem is from the outset.
Your paper tells the reader why the problem is important and why people should know about it.
You have accurately and thoroughly informed the reader what has already been published about this problem or others related to it and noted important gaps in the research.
You have provided evidence to support your argument that the reader finds convincing.
The paper includes a description of how and why particular evidence was collected and analyzed, and why specific theoretical arguments or concepts were used.
The paper is made up of paragraphs, each containing only one controlling idea.
You indicate how each section of the paper addresses the research problem.
You have considered counter-arguments or counter-examples where they are relevant.
Arguments, evidence, and their significance have been presented in the conclusion.
Limitations of your research have been explained as evidence of the potential need for further study.
The narrative flows in a clear, accurate, and well-organized way.
Boscoloa, Pietro, Barbara Arféb, and Mara Quarisaa. "Improving the Quality of Students' Academic Writing: An Intervention Study." Studies in Higher Education 32 (August 2007): 419-438; Academic Writing. The Writing Lab and The OWL. Purdue University; Academic Writing Style. First-Year Seminar Handbook. Mercer University; Bem, Daryl J. Writing the Empirical Journal Article. Cornell University; Candlin, Christopher. Academic Writing Step-By-Step: A Research-based Approach . Bristol, CT: Equinox Publishing Ltd., 2016; College Writing. The Writing Center. University of North Carolina; Style . College Writing. The Writing Center. University of North Carolina; Invention: Five Qualities of Good Writing. The Reading/Writing Center. Hunter College; Sword, Helen. Stylish Academic Writing . Cambridge, MA: Harvard University Press, 2012; What Is an Academic Paper? Institute for Writing Rhetoric. Dartmouth College.
Writing Tip
Considering the Passive Voice in Academic Writing
In the English language, we are able to construct sentences in the following way: 1. "The policies of Congress caused the economic crisis." 2. "The economic crisis was caused by the policies of Congress."
The decision about which sentence to use is governed by whether you want to focus on "Congress" and what they did, or on "the economic crisis" and what caused it. This choice in focus is achieved with the use of either the active or the passive voice. When you want your readers to focus on the "doer" of an action, you can make the "doer"' the subject of the sentence and use the active form of the verb. When you want readers to focus on the person, place, or thing affected by the action, or the action itself, you can make the effect or the action the subject of the sentence by using the passive form of the verb.
Often in academic writing, scholars don't want to focus on who is doing an action, but on who is receiving or experiencing the consequences of that action. The passive voice is useful in academic writing because it allows writers to highlight the most important participants or events within sentences by placing them at the beginning of the sentence.
Use the passive voice when:
You want to focus on the person, place, or thing affected by the action, or the action itself;
It is not important who or what did the action;
You want to be impersonal or more formal.
Form the passive voice by:
Turning the object of the active sentence into the subject of the passive sentence.
Changing the verb to a passive form by adding the appropriate form of the verb "to be" and the past participle of the main verb.
NOTE: Consult with your professor about using the passive voice before submitting your research paper. Some strongly discourage its use!
Active and Passive Voice. The Writing Lab and The OWL. Purdue University; Diefenbach, Paul. Future of Digital Media Syllabus. Drexel University; Passive Voice. The Writing Center. University of North Carolina.
<< Previous: 2. Preparing to Write
Next: Choosing a Title >>
Last Updated: Oct 4, 2023 1:16 PM
URL: https://libguides.usc.edu/writingguide

How to write an Argumentative Essay
ARGUMENTATIVE ESSAYS
In this article, we will explore the process of constructing a high-quality argumentative essay. The ability to craft a coherent argument and to express those arguments with others in a discussion are essential skills to encourage in our students. This skill helps our students engage with the world, process their thoughts, and discover their opinions.
In this article, we will use the terms 'discussion' and 'argument' interchangeably. But, it is worth noting that the real purpose of a discussion is to explore a variety of arguments to arrive at the truth, where possible.
Teaching our students the basics of argument and discussion is not about tooling them up to 'win'. The discussion processes are as much about the student discovering what they think as they are about persuading others to agree. As students mature and get more practised in their discussions, they will discover that often discussion is a necessary precursor to having an opinion on a given topic, no matter how basic or advanced that topic may be.
For students, the discussion often bridges the gap between speaking and listening learning areas and reading and writing. It is for this reason that we will look at some oral discussion activities before examining how to approach the writing of discussion pieces in the classroom. These oral activities can serve as excellent pre-writing exercises for the students to prepare their thoughts and ideas before writing. They also work well as standalone oral activities that allow students to practice their persuasive speaking skills and all that entails.
A COMPLETE TEACHING UNIT ON PERSUASIVE WRITING SKILLS
Teach your students to produce writing that PERSUADES and INFLUENCES thinking with this HUGE writing guide bundle covering: ⭐ Persuasive Texts / Essays ⭐ Expository Essays⭐ Argumentative Essays⭐ Discussions.
A complete 140 PAGE unit of work on persuasive texts for teachers and students. No preparation is required.
what is an argumentative essay
An argumentative essay, also known as a discussion, presents both sides of the argument on a specific topic so the audience can form their own opinion.
STRUCTURE OF AN ARGUMENTATIVE ESSAY
CLARITY Choose a clear, firm and debatable topic, and stress its importance. There should be no confusion about what or what you are writing about or why.
PROVIDE CONTEXT A bit of background information is often needed early in the essay to understand the argument. Bring your audience up to speed on the topic.
ORDER Use sequential paragraphs or statements. Keep things in order by creating paragraphs that lead us from opinion A to opinion B through well-crafted segways and transitions.
RESEARCH Nothing will sink your essay faster than a poorly researched paper full of questionable "facts" and ill-informed opinions . Get your evidence straight.
LOGICAL & RATIONAL You are not a "shock jock" or a biased blogger. You are presenting both sides of an argument to let your readers make a decision.
FEATURES OF AN ARGUMENTATIVE ESSAY
IMPERSONAL VOICE Keep your own opinions out and let your audience form their own.
TENSE Discussions are usually written in present tense.
LOGICAL CONNECTIVES Use terms such as therefore and however to connect concepts and points of contention.
RESPECTED SOURCES Valued information comes from respected sources. Ensure you use reputable evidence.
DIFFERENCES BETWEEN AN ARGUMENTIVE ESSAY AND A PERSUASIVE ESSAY?
These styles of writing are often confused, and whilst they do share common elements, they are two separate genres with different purposes. If you are looking for a complete guide to writing a persuasive essay, please view ours here.
A PERSUASIVE ESSAY presents EMOTION, and the author's purpose is to try and CONVINCE YOU to think as they do. It is about the sales pitch more so than an emphasis on the specifications and details of the subject area.
An ARGUMENTATIVE ESSAY presents EVIDENCE and LOGIC at its core. Whilst you are still trying to influence your readers' thinking on a given topic, you shouldn't pull on your reader's heartstrings nearly as much as presenting a mountain of facts, data and specifics that cannot be ignored.
POINTS TO CONSIDER BEFORE WRITING YOUR ESSAY
Pick your poison wisely: choosing discussion topics.
The beauty of incorporating discussion and argument into the classroom is that you can quickly build your lessons around the student's interests. From the youngest students in elementary to those wizened old owls in high school, a quick class brainstorm will reveal a wealth of juicy topics for them to get their mental teeth into. In this day and age of political correctness, however, be sensitive to the selection of a topic for discussion appropriate to the demographics of your class. While controversial topics can lead to the most lively of discussions, it is best to avoid subjects too close to the bone that may cause deep rifts in the class dynamic. If in doubt, rather than take suggestions from the class, have some exciting topics pre-prepared for the students to choose from or to vote on.
You can find numerous topics on the web, but here are some to get you started…
All zoos should be shut down, and the animals should be returned to the wild. – Discuss
Mobile phones should be embraced as learning tools in the classroom. – Discuss
Parents have different expectations for their sons and daughters. – Discuss
Do we give children too many trophies? – Discuss
Is it ethical to eat meat? – Discuss
School canteens promote poor diets. – Discuss
Can money buy happiness? – Discuss
Is animal testing justified? – Discuss
Are we too dependent on computers? Discuss
Do violent video games and films create social problems? – Discuss
GET YOUR FACTS STRAIGHT: DO YOUR RESEARCH
The challenge in writing a good discussion or argumentative essay is to be open-minded, even if you know which side you want to support.
Factual research and evidence are your number one tool. It gives you credibility by sourcing knowledge from experts but more importantly, it gives your own opinions and ideas greater weight as you have demonstrated a broad and accurate understanding of the topic you are writing about.
be sure to spend some time researching your topic before writing about it, and make sure you reference where you have sourced this knowledge.
Most students will head straight for the internet to find their evidence, so ensure you understand how to use it correctly. This poster demonstrates how to get the most out of the three major search platforms on the web. You can download the free poster version of it here.
An Argumentative Essay Outline
The aim of a well-written discussion text is to present information and opinions that express more than one viewpoint. This will often take the form of a newspaper report or a leaflet. Regardless of the genre of the writing undertaken, however, some common factors apply to most discussion texts. Most often, they are written in the present tense and are commonly structured in the following way:
INTRODUCTION
No better place to begin than at the start. The title should typically be a general statement or even a question that draws attention to a specific issue. For example, Should cell phones be banned in schools?
The introduction section itself should usually be relatively brief and open with a brief statement on the issue and provide some background to the issue to be discussed. It will outline the arguments to be reviewed ahead, but the introduction itself does not usually contain any of the student's opinions or views on the topic in question. There are, however, several things to consider when writing the introduction.
As with any genre of writing, it is essential to grab the reader's attention from the outset, and discussion texts are no different. Fortunately, there are several tried and tested methods of achieving this. Here are a few that may be suitable openers for your students' discussion writing:
● open with a quotation relevant to the topic being addressed. A well-chosen quotation can grab the attention of even the most distracted of readers and compel them to read more!
● a surprising fact is another excellent way to grab the reader's attention and illuminate the topic to be discussed. Not only is it engaging, but informative too!
● a joke. Everyone loves a laugh, and a joke can provide an excellent in to the student's writing. But, encourage your students to be careful here; the suitability of a humorous opening will largely depend on the topic being discussed. As jokes may not always be appropriate to the material, they must be used wisely.
THE ARGUMENTS
In writing a balanced argument, students must consider the positives and negatives of the issue. The body of the text should be focused on presenting the pros and cons, the for and against arguments, relating to the central issue. This is why oral starter activities can be so valuable as prewriting exercises.
After the student has laid out the topic in their introduction by providing the necessary background information, it is time for the student to consider laying out the case for the argument.
Using time connectives is an excellent way for students to organize their information. Adverbs of time, such as firstly, secondly, next, then etc. and phrases such as, in addition to, therefore etc., can help students structure their information chronologically and coherently.
Depending on the length of the text, it is typically recommended that each paragraph consists of a single point. It is important to remind students that in the presentation of a balanced argument, they should not express their own bias or even their own point of view , instead, they are laying out both sides of the argument for the reader and should give equal weight to each point of view. When exploring each point, whether for or against, the PEE method can be a helpful way to aid students in structuring their paragraphs and give the direction of their argument:
Be sure to check out our own complete guide to writing perfect paragraphs here .
P = Point (Student makes their point at the beginning of the paragraph)
E = Evidence (Student provides evidence that underpins this point)
E =Explain (Student explores point further and ties back to the central issue)
When the student has considered each of their points for the argument, for example, three separate paragraphs each making three points for the argument, it is now time to consider and do the same for the argument against . The purpose here is to set up an opposition to the previously made points, to offer the other side of the story.
Encourage students here to use words and phrases that set up this contrast, for example, however , contrastingly , on the other hand , etc. Displaying these words and phrases in a word bank can also be a great way to help weaker students to organize their writing.
In the conclusion, the student reviews the information, summarises the arguments made and weighs up the issue in light of the available evidence. At this point, students can offer their own opinion in favor or against the issue at hand, but only if it is appropriate to the genre of the discussion text.
Students often find it difficult to know how to end their writing. One excellent way to finish their discussion is to end it with a question, a challenge to the readers to form their own opinion on the issue in light of the evidence that has been presented.
TIPS FOR WRITING A GREAT ARGUMENTATIVE ESSAY
Make sure you clearly explain the topic to the audience before you get into taking sides.
When you have selected a topic, ensure that you research both sides of the argument thoroughly before writing.
In your conclusion, make it clear which side of the argument you side on, even make a recommendation but allow the reader to keep an open mind.
Keep everything in order.
List all the items that will be required to complete the task.
Use paragraphs effectively. Each new argument should start with a new paragraph.
Keep your arguments short, sharp and to the point.
Use the correct language and terms.
ORAL ACTIVITIES TO GET IN THE 'DISCUSSION' ZONE
ORAL ACTIVITY 1: PROS AND CONS
This great warm-up exercise allows students to explore a topic, weigh up the different possible opinions, and even offers a chance for the student to discover what they think about a topic. This exercise can also serve as a fantastic prep exercise for a piece of extended writing and involves minimal prep.
Pros and Cons involve students making a list of a given topic's pro and con arguments. This is often best done in small groups where the students can brainstorm together and bounce ideas off one another. The process of comparing the for and against of an issue gives them an awareness of the range of opinions on the matter, helping them on their way to forming their own opinion.
The list created during this activity can also provide a helpful outline that can work as a springboard for later writing. It is a great way to organize ideas coherently that can seamlessly feed into the writing process described later below.
BY LISTING POINTS AND COUNTERPOINTS TOGETHER, STUDENTS GET INTO THE PRACTICE OF DEVELOPING A NUANCED AND CONSIDERED ARGUMENT RATHER THAN PRODUCING MERE PROPAGANDA. THIS HELPS THEM INTERNALIZE THE IMPORTANCE OF GIVING FULL CONSIDERATION TO A RANGE OF DIFFERING OPINIONS ABOUT THE SAME TOPIC.
ORAL ACTIVITY 2: THINK – PAIR – SHARE
This activity requires almost zero prep, other than giving the class a topic to get their teeth into!
First, have the students think silently about the topic for a minute or two. They may scratch down doodles or brief notes of their ideas on a piece of paper to use in the discussion portion of this exercise, but this is not a writing activity!
Then, partner them up with another student. At this stage, you may consider differentiation; you may wish to match students with other students of equal ability or with a stronger one as support. Either way, students discuss the topic with their partners for a predetermined number of minutes. The length of time will be dictated by the students' ages and abilities. Experiment to find the most suitable length of time for your class.
After the time is up, students can share their opinions with the class. You can also scribe the ideas generated by each group onto a master list displayed on the whiteboard as part of a pre-writing exercise. This can also be an excellent exercise to begin the preparation for a formal debate, as it affords the students opportunities to think on their feet, engage with differing opinions, and to work on public speaking skills such as body language.
ORAL ACTIVITY 3. SPEED-DATING FUN
This is a pacy, fun activity to get a lively conversation going in a manner that apes the popular speed dating format – but with a more virtuous intent! You can organize the desks in rows facing each other or in concentric circles in the middle of the classroom.
Choose one row or circle to be mobile. Give students a list of topics to discuss and start the clock. After three minutes or so, signal the time is up and instruct students to move to the following table. At the next station, they can either discuss the same topic or move on to the next topic on their list.
Of course, you may shorten or lengthen the allotted time based on the student's abilities or the complexities of the topics. However, as this exercise works best in fun and fast-paced, and the aim is for each student to have the opportunity to speak with every other student, it is often best to keep the topics fairly straightforward. Questions like Is it better to live in the town than the country? or Do dogs make better pets than cats? work well here.
THE IMPORTANCE OF DISCUSSION IN THE CLASSROOM
The discrete teaching of discussion and argument in the classroom is essential. It offers students invaluable opportunities to test their opinions and ideas with their peers in a safe environment. Students learn that disagreement is inevitable and not fatal! They learn, too, that it is okay to revise an opinion in the light of compelling evidence they had not previously considered.
Discussion is a proving ground for ideas. Ideas tested in the arena of classroom discussion will likely be expressed much more coherently in written form. Often, students are not fully aware of exactly how they think on an issue until they have had a chance to try out their embryonic ideas with each other in a public discussion. It also helps students avoid the dangers of the echo chamber of their minds where frequently their ideas existed without challenge.
Encouraging our students to engage in respectful and productive disagreement is perhaps one of the most important skills we can help them develop.
AUTHENTIC ASSESSMENT OPPORTUNITIES
Discussion activities offer tremendous opportunities for some informal assessment that helps with planning to best meet the needs of your students in future lessons. The fact that they are not teacher-led gives the teacher a chance to take a backseat and give full attention to the students' conversations. This allows you to spot areas of difficulty and gaps in learning – all valuable information that will be priceless for effective future lesson planning.
Teaching Resources
Use our resources and tools to improve your student's writing skills through proven teaching strategies.
The first task in writing an excellent argumentative essay is finding a suitable topic with solid and valid opinions for both sides of the argument. You will find some engaging writing prompts below.
structure of argumentative essay
sample argumentative essay
Below are a collection of student writing samples of discussions. Click on the image to enlarge and explore them in greater detail. Please take a moment to read them in detail, and the teacher and student guide highlight some of the critical elements of discussions to consider before writing.
Please understand these student writing samples are not intended to be perfect examples for each age or grade level but a piece of writing for students and teachers to explore together to critically analyze to improve student writing skills and deepen their understanding of writing a discussion.
We would recommend reading the example either a year above or below, as well as the grade you are currently working with to gain a broader appreciation of this text type.
ARGUMENTATIVE ESSAY WRITING CHECKLIST & RUBRIC BUNDLE
VIDEO TUTORIALS ON WRITING AN ARGUMENTATIVE ESSAY / DISCUSSION
OTHER GREAT ARTICLES RELATED TO WRITING AN ARGUMENTATIVE ESSAY
Essay Writing: A complete guide for students and teachers
How to Write Perfect Persuasive Essays in 5 Simple Steps
Top 25 Essay Topics for 2023
How to Write a Winning Debate Speech
5 Top Persuasive Writing Lesson Plans for Students and Teachers
The content for this page has been written by Shane Mac Donnchaidh.  A former principal of an international school and English university lecturer with 15 years of teaching and administration experience. Shane's latest Book, The Complete Guide to Nonfiction Writing , can be found here.  Editing and support for this article have been provided by the literacyideas team.
Explore our Premium Teaching Unit on PERSUASIVE TEXTS

I nfographics
Show AWL words
Subscribe to newsletter
What is academic writing?
Academic Style
What is the writing process?
Understanding the title
Brainstorming
Researching
First draft
Proofreading
Report writing
Compare & contrast
Cause & effect
Problem-solution
Classification
Essay structure
Introduction
Literature review
Book review
Research proposal
Thesis/dissertation
What is cohesion?
Cohesion vs coherence
Transition signals
What are references?
In-text citations
Reference sections
Reporting verbs
Band descriptors
Show AWL words on this page.
Levels 1-5:     grey  Levels 6-10:   orange 
Show sorted lists of these words.
Any words you don't know? Look them up in the website's built-in dictionary .
Choose a dictionary .  Wordnet  OPTED  both
Academic Writing Seven features of academic writing
Academic writing is arguably the most important skill in academic contexts, since writing is the main method of academic communication. It is also the most difficult skill for most students to master. This page considers what academic writing is , looking in detail at the main features of academic writing , as well as suggesting ways to develop academic writing . There is a checklist at the end for you to check your understanding.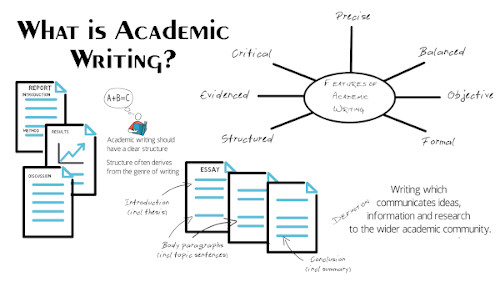 For another look at the same content, check out YouTube or Youku , or the infographic . There is a worksheet (with answers and teacher's notes) for this video.
Academic writing is writing which communicates ideas, information and research to the wider academic community. It can be divided into two types: student academic writing, which is used as a form of assessment at university, as well as at schools as preparation for university study; and expert academic writing, which is writing that is intended for publication in an academic journal or book. Both types of academic writing (student and expert) are expected to adhere to the same standards, which can be difficult for students to master. The characteristics of academic writing which together distinguish it from other forms of writing are that it is:
structured ;
evidenced ;
objective ;
Features of academic writing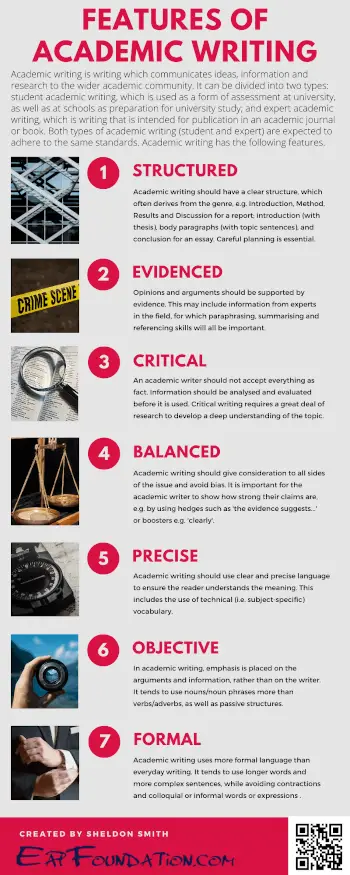 Check out the features of academic writing infographic »
Academic writing should have a clear structure. The structure will often derive from the genre of writing . For example, a report will have an introduction (including the aim or aims), a method section, a discussion section and so on, while an essay will have an introduction (including a thesis statement ), clear body paragraphs with topic sentences , and a conclusion. The writing should be coherent , with logical progression throughout, and cohesive , with the different parts of the writing clearly connected. Careful planning before writing is essential to ensure that the final product will be well structured, with a clear focus and logical progression of ideas.
Opinions and arguments in academic writing should be supported by evidence. Often the writing will be based on information from experts in the field, and as such, it will be important to reference the information appropriately, for example via the use of in-text citations and a reference section .
Academic writing does more than just describe. As an academic writer, you should not simply accept everything you read as fact. You need to analyse and evaluate the information you are writing about, in other words make judgements about it, before you decide whether and how to integrate it into your own writing. This is known as critical writing . Critical writing requires a great deal of research in order for the writer to develop a deep enough understanding of the topic to be truly critical about it.
Academic writing should be balanced. This means giving consideration to all sides of the issue and avoiding bias. As noted above, all research, evidence and arguments can be challenged, and it is important for the academic writer to show their stance on a particular topic, in other words how strong their claims are. This can be done using hedges , for example phases such as the evidence suggests... or this could be caused by... , or boosters , that is, phrases such as clearly or the research indicates .
Academic writing should use clear and precise language to ensure the reader understands the meaning. This includes the use of technical (i.e. subject-specific) vocabulary , which should be used when it conveys the meaning more precisely than a similar non-technical term. Sometimes such technical vocabulary may need defining , though only if the term is not commonly used by others in the same discipline and will therefore not be readily understood by the reader.
Academic writing is objective. In other words, the emphasis is placed on the arguments and information, rather than on the writer. As a result, academic writing tends to use nouns and noun phrases more than verbs and adverbs. It also tends to use more passive structures , rather than active voice, for example The water was heated rather than I heated the water .
Finally, academic writing is more formal than everyday writing. It tends to use longer words and more complex sentences , while avoiding contractions and colloquial or informal words or expressions that might be common in spoken English. There are words and collocations which are used in academic writing more frequently than in non-academic writing, and researchers have developed lists of these words and phrases to help students of academic English, such as the Academic Word List , the Academic Vocabulary List , and the Academic Collocation List .
Developing your academic writing
Given the relatively specialist nature of academic writing, it can seem daunting when you first begin. You can develop your academic writing by paying attention to feedback from tutors or peers and seeking specific areas to improve. Another way to develop your academic writing is to read more. By reading academic journals or texts, you can develop a better understanding of the features that make academic writing different from other forms of writing.
Alexander, O., Argent, S. and Spencer, J. (2008) EAP Essentials: A teacher's guide to principles and practice . Reading: Garnet Publishing Ltd.
Cardiff Metropolitan University (n.d.) Academic Writing: Principles and Practice . Available at: https://study.cardiffmet.ac.uk/AcSkills/Documents/Guides/AS_Guide_Academic_Writing.pdf (Access date: 4/2/21).
Gillett, A. (n.d.) Features of academic writing . Available at: http://www.uefap.com/writing/feature/featfram.htm (Access date: 4/2/21).
Staffordshire University (2020) Academic writing . https://libguides.staffs.ac.uk/ld.php?content_id=33103104 (Access date: 4/2/21).
Staffordshire University (2021) Academic writing . https://libguides.staffs.ac.uk/academic_writing/explained (Access date: 4/2/21).
University of Leeds (2021) Academic writing . https://library.leeds.ac.uk/info/14011/writing/106/academic_writing (Access date: 4/2/21).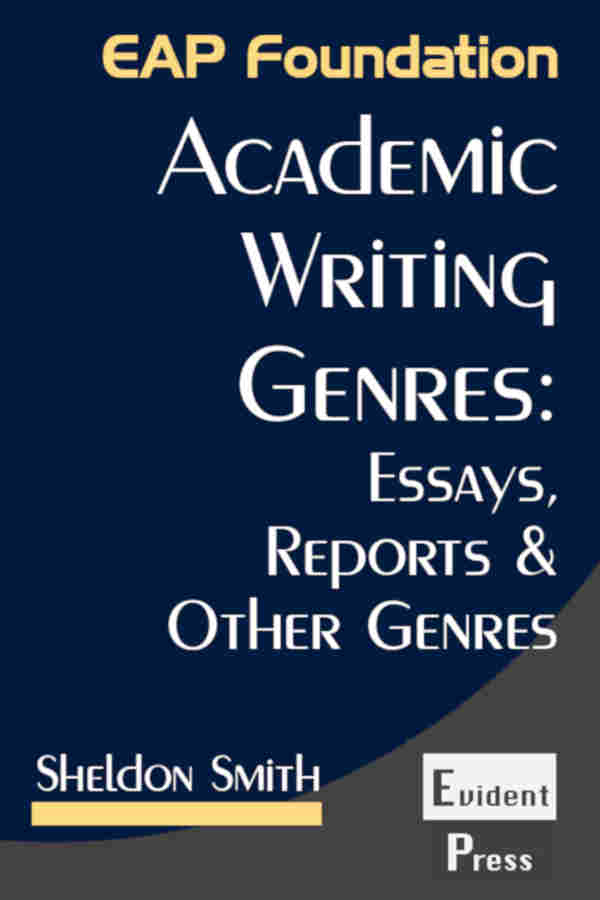 GET FREE EBOOK
Like the website? Try the books. Enter your email to receive a free sample from Academic Writing Genres .
Below is a checklist for this page. Use it to check your understanding.
Next section
Find out more about the academic style in the next section.

Author: Sheldon Smith    ‖    Last modified: 24 July 2022.
Sheldon Smith is the founder and editor of EAPFoundation.com. He has been teaching English for Academic Purposes since 2004. Find out more about him in the about section and connect with him on Twitter , Facebook and LinkedIn .
Compare & contrast essays examine the similarities of two or more objects, and the differences.
Cause & effect essays consider the reasons (or causes) for something, then discuss the results (or effects).
Discussion essays require you to examine both sides of a situation and to conclude by saying which side you favour.
Problem-solution essays are a sub-type of SPSE essays (Situation, Problem, Solution, Evaluation).
Transition signals are useful in achieving good cohesion and coherence in your writing.
Reporting verbs are used to link your in-text citations to the information cited.
Awesome Guide on How to Write a Discussion Post - Tips and Samples
Understanding the Purpose of a Discussion Post in Your Course
The usual mornings of modern-day homo sapiens start with a greeting from social media asking you a daring question - 'What's on your mind?'. Sharing your thoughts and ideas with others is undeniable proof of your existence, and it has been so for millennials too.
Since human beings acknowledged the benefits of existing in communities, discussions have been the cornerstone of societal development. With the invention of the internet, a large portion has transferred into the digital world. Academia was fast to catch up with the wind of change, and now your coursework writing includes crafting a discussion post.
Discussion posts are a common assignment to facilitate student engagement, critical thinking, and collaboration with the course community. They often require students to engage with the course material or other students' perspectives by reflecting on course readings, responding to questions, or contributing to ongoing debates. Such discussions aim to encourage students to apply their knowledge, develop critical thinking skills, and participate in meaningful conversations with their peers. 
There is no such thing as an ultimate discussion post template, as everyone has strict individual guidelines for word limit, format, and tone. The posts are often graded and contribute to a student's overall course grade. 
In this article, we will go into a detailed explanation of how to respond to a discussion post, how to write it in the first place, and additionally offer you some helpful examples. 
Creating a Successful Discussion Post 
Every academic assignment seems like a terrifying challenge when you are a beginner. Especially the one that involves group discussion. People will comment on your comprehension of the topic, your ability to convey complex ideas into simple sentences, and your post's tone, length, and grammar. 
Keep your head up. Acquire the precision and determination of a dissertation writer . This introduction discussion post article will be a tell-all. At the end of it, you will be able to write a strong discussion post.
Read the Instructions Thoroughly 
Nothing in the academic world comes without its instruction. Discussion posts are no exception to the rule. They come with a load of criteria, and each course is different. To write an effective discussion post, you need to avoid technical errors. 
Before anything else, ensure you understand what you are asked to do. Your instructors usually outline their expectations for discussion forums and discussion board posts in the syllabus. Note any specific requirements or guidelines to ensure your post meets their expectations. 
Common requirements that you might encounter include word limit, format, tone, responses to other classmates, and engagement with course material. Pay attention to references: your professor might require citing an essay APA style, or it could be MLA or Chicago.  
By following the requirements, you can ensure that your discussion posts are high-quality, engaging, and in line with the expectations of your class. 
Ask Questions Without Hesitation 
The requirements for the forum discussion posts can be general. It's important to carefully review each post's instructions and ask your teacher if you have any additional questions. 
You can clarify vague points by posing questions before you start writing. Additional inquiries will give you a better awareness of the discussion prompt. This way, you will be able to write a high-quality, engaging post that meets your instructor's expectations. More clarity and better understanding will help you avoid mistakes affecting your grade. 
Before we dive into the discussion post reply examples, understand that asking questions is a critical step in writing. Don't be afraid to ask questions if you are unsure about something. You can always email your instructor for more details about the discussion board assignments.
Actually Speak Up 
The discussion posts can be more than just another classroom assignment. They are a great opportunity to strike up meaningful conversations and advance your knowledge on specific topics. Sharing ideas and having a constructive debate is an excellent way to sneak into other people's perspectives and find opinions you never considered before. 
A discussion post is where you speak up. When conveying complex ideas, it's important to clearly state your views, provide examples to support your statement, and encourage further debate. Use comprehensive sentences to combine all points and dig deep to find connections beyond the surface. Make sure to remain respectful of others' opinions and keep an open mind to different perspectives.  
Maintain Relevance
When writing academic discussion posts, it is important to maintain relevance to the debated topic. Make sure your post does not respond to a different question or does not inquire into a completely different subject. 
Because your actual post will be read, assessed, and commented on by a group of people studying the same topic, they will notice if your points and examples are outdated. Do thorough research and provide only up-to-date, relevant evidence to back up your opinion. Avoid posting anything off-topic. 
In addition to the textual evidence, include your professional or personal experience. This will enrich your discussion post and show your understanding of the subject matter. 
Don't Put It Off 
Putting any work off is a bad idea, and any one of us who has left it till the last second can agree. Be mindful of your time, and post your discussion thread well before the due date. 
Delaying work can prevent you from taking advantage of opportunities that may arise. This may lead to increased stress and decreased confidence, which can affect your productivity and grade. 
Discussion post is meant to show your comprehension and interest in the topic. Make sure you have enough time to do the required reading and extensive research to make a strong argument. Use the remaining time to check the grammar and your writing style. 
Check and Edit Your Posting    
If you check out our discussion post template, you will notice that it's not written in a single go. Professional writers will check and edit their pieces several times before hitting the submit button, and you need to adopt the same attitude. 
Checking and editing your writing can help ensure that your perspective is clearly and effectively communicated. This can help prevent misunderstandings and ensure your message is received as intended. 
Reviewing your discussion question and writing can help you professionally present yourself. Poor grammar, spelling, and punctuation can detract from the credibility of your point and make you appear less competent. Instead of submitting something that resembles a rough draft, use text editor tools to polish your writing. 
When you take the time to check and edit your writing, you are more likely to receive positive engagement from other members of the discussion forums. A well-written post is more likely to be understood and appreciated, leading to active class participation. This means more meaningful and productive discussions. 
Give Your Peers Insightful Input 
After you finish writing a strong discussion post that shows your unique perspective and personal experiences, make sure that it leaves a wide space for dialog and follow-up questions. 
Online forums are a great place for people to discuss their ideas and explore topics from a fresh perspective. Give your peers insightful input. Engage them in meaningful conversation and create a classroom environment. Challenge them to think outside the box. Challenge your own beliefs. Write discussion posts and comments that encourage diversity of thoughts. Post your response and if you must disagree, use respectful words and attitude. 
By encouraging critical thinking, creativity, and collaboration, you will impress your instructor and receive high grades and gain a deeper awareness of the subject in question. 
If Applicable, Include the Citations 
The last one of our valuable tips might be the most important. Remember, even though discussion postings are happening on the online forum within the online classroom, they are still class assignments. You must keep a certain academic standard which will be provided in your class syllabus. Correct grammar is not enough; you might be required to write Chicago, MLA, or APA format discussion post. 
By including citations, you can provide evidence to support your claims. This can help increase the credibility of your argument and make it more persuasive. This will also help you avoid plagiarism. 
When you cite the original source in your discussion post, it demonstrates that you have conducted thorough research and taken the time to fact-check the information. This creates a reliable space for further conversation. Chicago, MLA, or APA discussion post requires you to link and reference other sources, which expands the dialog outside your post.
And if all the above sounds exhausting to you, don't worry. Our paper writing services could take all the stress away from you!
Ready to Take Your Writing to the Next Level?
Our professional writers can help you create something truly unique and special
Writing Responses to Forum Posts
The discussion forum is meant for dialogues, where each post builds on the previous comment. Responding to a post allows you to expand the conversation and collective comprehension of a topic. Next, you will find discussion post-reply examples. 
While writing a compelling first comment is essential, it is also crucial to master the craft of responding to a strong discussion post. Take your time to read and understand the context of the argument presented in the post. Consider your perspective and how your answer can add more value to the debate. 
Write a response that is clear, well-reasoned, and relevant. Avoid lengthy posts and inflammatory language. Instead, communicate effectively and engage in a respectful classroom discussion. If you are referencing information from other sources, cite the original material. 
Take your time to review and edit your responses before posting them. Make sure there are no grammatical errors and that your response is well-structured and easy to understand. 
You can now skip to the introduction discussion post example. 
Discussion Post Example #1 
To make things easier, we offer you introduction discussion post examples. They will help you grasp the pattern better and craft a post that will impress your instructor and classmates. Use our discussion post examples to score the highest grade. 
Here is a short version of a discussion post that you might come across on an academic discussion forum: 
'In recent years, technology has profoundly impacted the field of education. Technology has transformed how we teach and learn, from online classes to educational software. Technology has made education more accessible and convenient for students all over the map. However, there are potential downsides to this revolution. Increased screen time can harm students' mental and physical health….' 
Here is an example of how you can agree with such a post: 
'I completely agree with the points you make in your post. Technology has indeed transformed the field of education, for better or worse. The accessibility of online learning platforms gave a wide range of students the opportunity for a better life and allowed them to get an education at their own pace.
I must agree that this revolution also came with its challenges. In addition to what you mentioned about screen time, educational software affects students' ability to think critically and solve problems independently. I think it is important to balance utilizing technology to enhance education and being mindful of its potential drawbacks.' 
Discussion Post Example #2 
Say your classmate made a strong point in their discussion post for your online class, but you disagree with their point and decide to explain your stance. Do you have a hard time coming up with a comprehensive answer? Don't worry! Let's master the art of how to respond to a discussion post. 
Here is a short example of a good discussion board post:
'In the past couple of years, sustainability has become a progressively important issue in the business world. Companies are taking steps to reduce their impact on the environment. Companies can lower their operating costs and increase efficiency by reducing waste and emissions. They can also improve their reputation and increase customer loyalty...' 
Here is a possible response that disagrees with the post: 
'I respectfully disagree with the given statement. While sustainability is an important issue, I don't believe it should be the top priority for companies. There is not enough evidence provided in your post that could prove that reducing waste lowers operating costs. First and foremost, businesses exist to generate profit and create value for their shareholders. Due to their nature, some industries might not be able to prioritize sustainability in the same way as others.
However, I believe that businesses should take steps to minimize their environmental impact and make sustainable choices where possible….' 
How to Post on Blackboard Discussion Board
Do you have to turn in your critical analysis essay tomorrow? No worries! We've got you. Buy essay online now as we must focus on figuring out how to post on a blackboard discussion board.
It's time for some additional tips. Now we have to get technical. If you are assigned to write a discussion post for your online courses or want to respond to one, you've come to the right place. 
The discussion board forums are divided into threads structured around an individual topic. Faculties create forums, and students are responsible for creating the threads. 
Here is a general outline on how to post on blackboard discussion board:
Go to your course Home Page
Select the Discussions button and open Forum
Click Create Thread
Enter the title for your thread
In the Entry Message text box, write your argument. Don't forget to follow our discussion post template
Find a button that says Post, Submit, or Publish
Responding to posts is an integral part of forums. Here is how you can respond to a thread:
Open the thread
Find the one you are required to respond
Click the reply button
Enter your text. You can attach files if such is required by clicking the Attachment function
Click Post, Submit, or Publish
Professional Academic Assistance
Our discussion post template and tips will greatly help your academic career. But if you don't have enough time on your hands, you don't need to stress yourself out. If you thought to yourself, 'I wish someone could write my essays for me ,' we can make your dreams come true.
Our professional writers will provide essays tailored to your specific needs, and an A+ in every subject will be on your way. To make sure that our writing services are exceptional, check out our pestle analysis example.
Are You Looking For Help With Your Writing?
Our experts will provide top-notch assistance with any writing project.
Related Articles
Advertisement
Supported by
Student Opinion
Should Students Let ChatGPT Help Them Write Their College Essays?
If so, how? Tell us what you are thinking, and what practical and ethical questions these new A.I. tools raise for you.
Natasha Singer
Hey, ChatGPT, can you help me write my college admissions essays?
Absolutely! Please provide me with the essay prompts and any relevant information about yourself, your experiences, and your goals.
By Katherine Schulten
Teachers: We also have a lesson plan that accompanies this Student Opinion forum.
Are you working on a college application essay? Have you sought help from an adult? How about from an A.I. chatbot like ChatGPT or Bard? Were either useful? If so, how?
The New York Times recently published two articles about the questions these new tools are raising for the college process. One explores how A.I. chatbots are upending essay-writing. The other details what happened when a reporter fed application questions from Harvard, Yale, Princeton and Dartmouth to different bots.
Here's how the first article, " Ban or Embrace? Colleges Wrestle With A.I.-Generated Admissions Essays ," explains what's going on:
The personal essay has long been a staple of the application process at elite colleges, not to mention a bane for generations of high school students. Admissions officers have often employed applicants' essays as a lens into their unique character, pluck, potential and ability to handle adversity. As a result, some former students say they felt tremendous pressure to develop, or at least concoct, a singular personal writing voice. But new A.I. tools threaten to recast the college application essay as a kind of generic cake mix, which high school students may simply lard or spice up to reflect their own tastes, interests and experiences — casting doubt on the legitimacy of applicants' writing samples as authentic, individualized admissions yardsticks.
The piece continues:
Some teachers said they were troubled by the idea of students using A.I. tools to produce college essay themes and texts for deeper reasons: Outsourcing writing to bots could hinder students from developing important critical thinking and storytelling skills. "Part of the process of the college essay is finding your writing voice through all of that drafting and revising," said Susan Barber, an Advanced Placement English literature teacher at Midtown High School, a public school in Atlanta. "And I think that's something that ChatGPT would be robbing them of." In August, Ms. Barber assigned her 12th-grade students to write college essays. This week, she held class discussions about ChatGPT, cautioning students that using A.I. chatbots to generate ideas or writing could make their college essays sound too generic. She advised them to focus more on their personal views and voices. Other educators said they hoped the A.I. tools might have a democratizing effect. Wealthier high school students, these experts noted, often have access to resources — alumni parents, family friends, paid writing coaches — to help them brainstorm, draft and edit their college admissions essays. ChatGPT could play a similar role for students who lack such resources, they said, especially those at large high schools where overworked college counselors have little time for individualized essay coaching.
The second article, " We Used A.I. to Write Essays for Harvard, Yale and Princeton. Here's How It Went ," includes this example:
Dartmouth requires applicants to explain why they want to attend the college. I primed the A.I. chatbots by asking them to write in the voice of a high school senior who was hoping to double major at Dartmouth in computer science and biology. HuggingChat churned out text with trite words and phrases — "passion," "meaningful impact," "rigorous academic programs" — that seemed to me like the kind of stilted formal language a high school student might imagine a college admissions reviewer would want to read.
I asked Bard to minimize the clichés and add more specific details about Dartmouth's computing department. But it still produced some of the same standard college application language — "renowned," "impact" — as HuggingChat. Bard also wrote that I was hoping to study with Leslie Kaelbling, whom the chatbot described as an A.I. researcher at Dartmouth. That could have caused problems if I were a high school senior and had submitted the essay Bard had fabricated as part of my Dartmouth application. Professor Kaelbling , you see, teaches at M.I.T. My takeaway: high school seniors hoping to stand out may need to do wholesale rewrites of the texts they prompt A.I. chatbots to generate. Or they could just write their own — chatbot-free — admissions essays from scratch.
Students, read both articles, and then tell us:
Do you think you would use a chatbot to help you write your personal essay for college? If so, how? For example, would you ask it to suggest topics? Help structure your writing? Generate a rough draft? Edit?
If you have already used A.I. to write or edit a personal essay, what did you think of the result? Was the experience useful to you? To what extent did you, like the Times reporter, find the output generic and clichéd? Did the bot make any errors? How, if at all, did you use the results?
Some, like the teacher quoted in the first article, worry that letting A.I. help with your essays robs you of the chance to develop your personal voice. Do you agree? Why or why not?
Do you think there is value in drafting and revising writing without help? What has that process been like for you in the past? What have you learned from it?
Some people believe that these tools will help students who don't have easy access to college counselors or writing coaches. Do you agree? Do these chatbots make the application process more fair for students with fewer resources?
Do any of the colleges you are applying to have a policy on the use of these tools? If so, what do you think of those guidelines?
What do you think is, or should be, the purpose of a college essay? Can it really show colleges who you are? If so, is it ethical to let a bot — or even another human — help?
Now, return to the questions we started with: Should students let ChatGPT help them write their college essays? If so, how? Did your answers change as you read the related articles or looked at other students' responses? Are you left with any questions — whether practical or ethical — about the role of this new technology?
Students 13 and older in the United States and Britain, and 16 and older elsewhere, are invited to comment. All comments are moderated by the Learning Network staff, but please keep in mind that once your comment is accepted, it will be made public and may appear in print.
Find more Student Opinion questions here. Teachers, check out this guide to learn how you can incorporate these prompts into your classroom.
Katherine Schulten has been a Learning Network editor since 2006. Before that, she spent 19 years in New York City public schools as an English teacher, school-newspaper adviser and literacy coach. More about Katherine Schulten