Essay Rubric: Basic Guidelines and Sample Template
6 July 2023
last updated
Lectures and tutors provide specific requirements for students to meet when writing essays. Basically, an essay rubric helps tutors to analyze the quality of articles written by students. In this case, useful rubrics make the analysis process simple for lecturers as they focus on specific concepts related to the writing process. Also, an essay rubric list and organize all of the criteria into one convenient paper. In other instances, students use an essay rubric to enhance their writing skills by examining various requirements. Then, different types of essay rubrics vary from one educational level to another. For example, Master's and Ph.D. essay rubrics focus on examining complex thesis statements and other writing mechanics. However, high school essay rubrics examine basic writing concepts. In turn, a sample template of a high school rubric in this article can help students to evaluate their papers before submitting them to their teachers.
General Aspects of an Essay Rubric
An essay rubric refers to the way how teachers assess student's composition writing skills and abilities. Basically, an essay rubric provides specific criteria to grade assignments. In this case, teachers use essay rubrics to save time when evaluating and grading various papers. Hence, learners must use an essay rubric effectively to achieve desired goals and grades.
General Assessment Table for an Essay Rubric
1. organization.
Excellent/8 points: The essay contains stiff topic sentences and a controlled organization.
Very Good/6 points: The essay contains a logical and appropriate organization. The writer uses clear topic sentences.
Average/4 points: The essay contains a logical and appropriate organization. The writer uses clear topic sentences.
Needs Improvement/2 points: The essay has an inconsistent organization.
Unacceptable/0 points: The essay shows the absence of a planned organization.
Grade: ___ .
Excellent/8 points: The essay shows the absence of a planned organization.
Very Good/6 points: The paper contains precise and varied sentence structures and word choices.
Average/4 points: The paper follows a limited but mostly correct sentence structure. There are different sentence structures and word choices.
Needs Improvement/2 points: The paper contains several awkward and unclear sentences. There are some problems with word choices.
Unacceptable/0 points: The writer does not contain apparent control over sentence structures and word choice.
Excellent/8 points: The content appears sophisticated and contains well-developed ideas.
Very Good/6 points: The essay content appears illustrative and balanced.
Average/4 points: The essay contains unbalanced content that requires more analysis.
Needs Improvement/2 points: The essay contains a lot of research information without analysis or commentary.
Unacceptable/0 points: The essay lacks relevant content and does not fit the thesis statement . Essay rubric rules are not followed.
Excellent/8 points: The essay contains a clearly stated and focused thesis statement.
Very Good/6 points: The written piece comprises a clearly stated argument. However, the focus would have been sharper.
Average/4 points: The thesis phrasing sounds simple and lacks complexity. The writer does not word the thesis correctly.
Needs Improvement/2 points: The thesis statement requires a clear objective and does not fit the theme in the content of the essay.
Unacceptable/0 points: The thesis is not evident in the introduction.
Excellent/8 points: The essay is clear and focused. The work holds the reader's attention. Besides, the relevant details and quotes enrich the thesis statement.
Very Good/6 points: The essay is mostly focused and contains a few useful details and quotes.
Average/4 points: The writer begins the work by defining the topic. However, the development of ideas appears general.
Needs Improvement/2 points: The author fails to define the topic well, or the writer focuses on several issues.
Unacceptable/0 points: The essay lacks a clear sense of a purpose or thesis statement. Readers have to make suggestions based on sketchy or missing ideas to understand the intended meaning. Essay rubric requirements are missed.
6. Sentence Fluency
Excellent/8 points: The essay has a natural flow, rhythm, and cadence. The sentences are well built and have a wide-ranging and robust structure that enhances reading.
Very Good/6 points: The ideas mostly flow and motivate a compelling reading.
Average/4 points: The text hums along with a balanced beat but tends to be more businesslike than musical. Besides, the flow of ideas tends to become more mechanical than fluid.
Needs Improvement/2 points: The essay appears irregular and hard to read.
Unacceptable/0 points: Readers have to go through the essay several times to give this paper a fair interpretive reading.
7. Conventions
Excellent/8 points: The student demonstrates proper use of standard writing conventions, like spelling, punctuation, capitalization, grammar, usage, and paragraphing. The student uses protocols in a way that improves the readability of the essay.
Very Good/6 points: The student demonstrates proper writing conventions and uses them correctly. One can read the essay with ease, and errors are rare. Few touch-ups can make the composition ready for publishing.
Average/4 points: The writer shows reasonable control over a short range of standard writing rules. The writer handles all the conventions and enhances readability. The errors in the essay tend to distract and impair legibility.
Needs Improvement/2 points: The writer makes an effort to use various conventions, including spelling, punctuation, capitalization, grammar usage, and paragraphing. The essay contains multiple errors.
Unacceptable/0 points: The author makes repetitive errors in spelling, punctuation, capitalization, grammar, usage, and paragraphing. Some mistakes distract readers and make it hard to understand the concepts. Essay rubric rules are not covered.
8. Presentation
Excellent/8 points: The form and presentation of the text enhance the readability of the essay and the flow of ideas.
Very Good/6 points: The format has few mistakes and is easy to read.
Average/4 points: The writer's message is understandable in this format.
Needs Improvement/2 points: The writer's message is only comprehensible infrequently, and the paper appears disorganized.
Unacceptable/0 points: Readers receive a distorted message due to difficulties connecting to the presentation of the text.
Final Grade: ___ .
Grading Scheme for an Essay Rubric:
A+ = 60+ points
A = 55-59 points
A- = 50-54 points
B+ = 45-49 points
B = 40-44 points
B- = 35-39 points
C+ = 30-34 points
C = 25-29 points
C- = 20-24 points
D = 10-19 points
F = less than 9 points
Basic Differences in Education Levels and Essay Rubrics
The quality of essays changes at different education levels. For instance, college students must write miscellaneous papers when compared to high school learners. In this case, an essay rubric will change for these different education levels. For example, university and college essays should have a debatable thesis statement with varying points of view. However, high school essays should have simple phrases as thesis statements. Then, other requirements in an essay rubric will be more straightforward for high school students. For master's and Ph.D. essays, the criteria presented in an essay rubric should focus on examining the paper's complexity. In turn, compositions for these two categories should have thesis statements that demonstrate a detailed analysis of defined topics that advance knowledge in a specific area of study.
Summing Up on an Essay Rubric
Essay rubrics help teachers, instructors, professors, and tutors to analyze the quality of essays written by students. Basically, an essay rubric makes the analysis process simple for lecturers. Essay rubrics list and organize all of the criteria into one convenient paper. In other instances, students use the essay rubrics to improve their writing skills. However, they vary from one educational level to the other. Master's and Ph.D. essay rubrics focus on examining complex thesis statements and other writing mechanics. However, high school essay rubrics examine basic writing concepts. The following are some of the tips that one must consider when preparing a rubric.
contain all writing mechanics that relates to essay writing;
cover different requirements and their relevant grades;
follow clear and understandable statements.
Useful Articles
How to cite a newspaper article in apa 7 with examples, how to write a "who am i" essay: free tips with examples, how to cite a podcast in mla 8 with examples and illustrations, how to write an ethics paper or essay with tips and examples, how to cite a podcast in apa 7 with schemes and examples, 1000 presentation topics & ideas in 2023, how to cite a website with no author in apa 7: tips and examples, how to write a thesis acknowledgement with tips and examples, argumentative, exploratory, or rhetorical analysis essays on "death penalty", how to write an essay on why do you want to be a nurse.
Extended Essay Guide: Criteria, Format, Sample EEs
EE Workshops
Criteria, Format, Sample EEs
Annotated Bibliographies
DP Research Process
Databases & Academic Journals
Evaluate Sources
Academic Integrity
MLA Citation Format
CSE Citation Format (Science & Math)
Video Tutorials
The Assessment Crtiteria in Detail!
Criterion A: Focus and method
Criterion B: Knowledge and understanding
Criterion C: Critical Thinking
Criterion D: Presentation
Criterion E: Engagement
EE_How to maximize marks for different subjects?
Criterion C: Critical thinking
Notes from the IB
RE: Research Question and Title of Extended Essay
Please note the statement below from the EE curriculum manager regarding the need to have both a title and a RQ for all subjects. Previous versions of the EE Guide indicated that the title and the RQ should be the same for History, Business Management and Mathematics. This is no longer the case. All essays, regardless of the subject, need to have both a RQ and a title.
Hi Kathy,
To answer your question, I am going to quote directly from a response John Royce provided, on this forum, in October in response to a very similar question: (it was a question about using Spanish sources - hence the mention of Spanish)
It is certainly permissible to use sources which are not in the language of the essay, but translation into the target language is required , one cannot assume that the reader understands the original language.
It is usual to quote the original as well as presenting the translation. [Do not put quotation marks around your translation, just around the original]
Umberto Eco argues ("in Mouse or rat?") that direct translation may lose meaning, paraphrase or use of different idioms may be required to get the ideas across. Paul Bellos ("Is that a fish in your ear?") makes a similar argument - direct translation may confound meaning... Direct translation may not be ideal - meaning and understanding are preferred - so, not to worry that your student with her good Spanish cannot present a direct translation.
What must be made clear is that the translations are those of the student; these are her understandings. Readers can make of that what they will - and if unsure, are presented with the original - they can seek another translation. A note in the acknowledgements and/or in the introduction to the effect that all translations are those of the writer is ... essential.
In response to the question about the Bibliography/Works cited, my preference would be to list the source in its original Thai version, but perhaps with the English in brackets, to help the examiner.
Your bibliography will have the entries in Thai characters first in the document. Any in-text citation to Thai sources will be in (Thai characters [English translation]).
Citation in Thai [English translation]
Works Cited Example:
วงษ์ปัญญา, ธนกร [Wongpunya, Thanakorn]. "โรงงานยาสูบรวยแค่ไหน และเอาเงินไปทำอะไรบ้าง." [How rich is the Thailand Tobacco Monopoly and where does the money go?] (candidate translation). The Standard, The Standard, 30 Aug. 2018, thestandard.co/thailand-tobacco-monopoly/.
Format of the Extended Essay
Required Formatting
The extended essay should be written in a clear, correct and formal academic style, appropriate to the subject from which the topic is drawn. Given that the extended essay is a formally written research paper, it should strive to maintain a professional, academic look.
To help achieve this, the following formatting is required:
12-point, readable font (Calibri or Times New Roman);
double spacing throughout entire Essay;
page numbering - top right corner;
no candidate or school name or supervisor name on the title page or page headers.
Submitting the extended essay in the required format will help set the tone of the essay and will aid readability for on-screen assessment by examiners.
Required S tructure
The structure of the essay is very important. It helps students to organize the argument, making the best use of the evidence collected.
There are six required elements of the final work to be submitted. More details about each element are given in the "Presentation" section. Please note that the order in which these elements are presented here is not necessarily the order in which they should be written.
Six required elements of the extended essay:
Contents page
Introduction
Body of the essay
References and bibliography -- if MLA "Works Cited" if CSE "References"
1. Required Title Page
The title page should include only the following information:
the title of the essay
the research question
the subject the essay is registered in (if it is a language essay also state which category it falls into; if a world studies essay also state the theme and the two subjects utilized)
The upper limit is 4,000 words for all extended essays.
2. Required Contents Page
A contents page must be provided at the beginning of the extended essay and all pages should be numbered. Please note that an index page is not required and if included will be treated as if it is not present.
3. Required Introduction
The introduction should tell the reader what to expect in the essay. The introduction should make clear to the reader the focus of the essay, the scope of the research, in particular an indication of the sources to be used, and an insight into the line of argument to be taken.
While students should have a sense of the direction and key focus of their essay, it is sometimes advisable to finalize the introduction once the body of the essay is complete.
4. Required Body of the Essay (research, analysis, discussion, and evaluation)
The main task is writing the body of the essay, which should be presented in the form of a reasoned argument. The form of this varies with the subject of the essay but as the argument develops it should be clear to the reader what relevant evidence has been discovered, where/how it has been discovered and how it supports the argument. In some subjects, for example, the sciences, sub-headings within the main body of the essay will help the reader to understand the argument (and will also help the student to keep on track). In structuring their extended essay, students must take into consideration the expected conventions of the subject in which their extended essay is registered.
Once the main body of the essay is complete, it is possible to finalize the introduction (which tells the reader what to expect) and the conclusion (which says what has been achieved, including notes of any limitations and any questions that have not been resolved).
Any information that is important to the argument must not be included in appendices or footnotes/endnotes. The examiner will not read notes or appendices, so an essay that is not complete in itself will be compromised across the assessment criteria.
5. Required Conclusion
The conclusion says what has been achieved, including notes of any limitations and any questions that have not been resolved. While students might draw conclusions throughout the essay based on their findings, it is important that there is a final, summative conclusion at the end. This conclusion(s) must relate to the research question posed.
6. Required References & Bibliography
Students should use their chosen style of academic referencing as soon as they start writing. That way they are less likely to forget to include a citation. It is also easier than trying to add references at a later stage. For more information on this, refer to the guidelines in the IB document Effective citing and referencing.
Writing the essay takes time but if students have used their Researcher's reflection space and reflection sessions in a meaningful way they should be well prepared to develop their arguments.
Extended Essay - Examples & Exemplars
Essays from May 2018 with IB marks and commentaries
Assessed Student Work & Commentary IB-provided. "Student sample extended essays, corresponding marks and comments from senior examiners are available for the following Diploma Programme disciplines. Please note that in light of not having authentic RPPFs to accompany these essays, they are marked against criteria A – D only, for a total of 28 possible marks. Following the first assessment session in 2018, exemplars will be refreshed with authentic sample material." more... less... Biology English Economics History Studies in language and literature Language acquisition Mathematics Psychology Visual arts World studies extended essay (WSEE)
Excellenet Extended Essays Concordian GoogleDoc
EngA1_Othello EE Othello 2018 From inThinking.net Click the link to see the score and evaluation.
Fifty (50) More Excellent Extended Essays DVD by International Baccalaureate Call Number: HS DVD 808.4 ISBN: 9781906345600 Publication Date: 2011 1 DVD-ROM (1:33 min.)
Past CIS Extended Essays
Available in the library behind the desk are file folders of past Extended Essays by Concordian students and IB EE Exemplars. Feel free to browse the papers which must be kept in the library.
<< Previous: EE Workshops
Next: Annotated Bibliographies >>
Last Updated: Sep 27, 2023 8:29 AM
URL: https://concordian-thailand.libguides.com/ee
7 Steps for How to Write an Evaluation Essay (Example & Template)
In this ultimate guide, I will explain to you exactly how to write an evaluation essay.
1. What is an Evaluation Essay?
An evaluation essay should provide a critical analysis of something.
You're literally 'evaluating' the thing you're looking up.
Here's a couple of quick definitions of what we mean by 'evaluate':
Merriam-Webster defines evaluation as: "to determine the significance, worth, or condition of usually by careful appraisal and study"
Collins Dictionary says: "If you evaluate something or someone, you consider them in order to make a judgment about them, for example about how good or bad they are."
Here's some synonyms for 'evaluate':
So, we could say that an evaluation essay should carefully examine the 'thing' and provide an overall judgement of it.
Here's some common things you may be asked to write an evaluation essay on:
This is by no means an exhaustive list. Really, you can evaluate just about anything!
Get a Pdf of this article for class
Enjoy subscriber-only access to this article's pdf
2. How to write an Evaluation Essay
There are two secrets to writing a strong evaluation essay. The first is to aim for objective analysis before forming an opinion. The second is to use an evaluation criteria.
Aim to Appear Objective before giving an Evaluation Argument
Your evaluation will eventually need an argument.
The evaluation argument will show your reader what you have decided is the final value of the 'thing' you're evaluating.
But in order to convince your reader that your evaluative argument is sound, you need to do some leg work.
The aim will be to show that you have provided a balanced and fair assessment before coming to your conclusion.
In order to appear balanced you should:
Discuss both the pros and cons of the thing
Discuss both the strengths and weaknesses of the thing
Look at the thing from multiple different perspectives
Be both positive and critical. Don't make it look like you're biased towards one perspective.
In other words, give every perspective a fair hearing.
You don't want to sound like a propagandist. You want to be seen as a fair and balanced adjudicator.
Use an Evaluation Criteria
One way to appear balanced is to use an evaluation criteria.
An evaluation criteria helps to show that you have assessed the 'thing' based on an objective measure.
Here's some examples of evaluation criteria:
Strength under pressure
Longevity (ability to survive for a long time)
Ease of use
Ability to get the job done
Friendliness
Punctuality
Ability to predict my needs
Calmness under pressure
Attentiveness
A Bed and Breakfast
Breakfast options
Taste of food
Comfort of bed
Local attractions
Service from owner
Cleanliness
We can use evaluation criteria to frame out ability to conduct the analysis fairly.
This is especially true for if you have to evaluate multiple different 'things'. For example, if you're evaluating three novels, you want to be able to show that you applied the same 'test' on all three books!
This will show that you gave each 'thing' a fair chance and looked at the same elements for each.
3. How to come up with an Evaluation Argument
After you have:
Looked at both good and bad elements of the 'thing', and
Used an evaluation criteria
You'll then need to develop an evaluative argument. This argument shows your own overall perspective on the 'thing'.
Remember, you will need to show your final evaluative argument is backed by objective analysis. You need to do it in order!
Analyze first. Evaluate second.
Here's an example.
Let's say you're evaluating the quality of a meal.
You might say:
A strength of the meal was its presentation. It was well presented and looked enticing to eat.
A weakness of the meal was that it was overcooked. This decreased its flavor.
The meal was given a low rating on 'cost' because it was more expensive than the other comparative meals on the menu.
The meal was given a high rating on 'creativity'. It was a meal that involved a thoughtful and inventive mix of ingredients.
Now that you've looked at some pros and cons and measured the meal based on a few criteria points (like cost and creativity), you'll be able to come up with a final argument:
Overall, the meal was good enough for a middle-tier restaurant but would not be considered a high-class meal. There is a lot of room for improvement if the chef wants to win any local cooking awards.
Evaluative terms that you might want to use for this final evaluation argument might include:
All things considered
With all key points in mind
4. Evaluation Essay Outline (with Examples)
Okay, so now you know what to do, let's have a go at creating an outline for your evaluation essay!
Here's what I recommend:
4.1 How to Write your Introduction
In the introduction, feel free to use my 5-Step INTRO method . It'll be an introduction just like any other essay introduction .
And yes, feel free to explain what the final evaluation will be.
So, here it is laid out nice and simple.
Write one sentence for each point to make a 5-sentence introduction:
Interest: Make a statement about the 'thing' you're evaluating that you think will be of interest to the reader. Make it a catchy, engaging point that draws the reader in!
Notify: Notify the reader of any background info on the thing you're evaluating. This is your chance to show your depth of knowledge. What is a historical fact about the 'thing'?
Translate: Re-state the essay question. For an evaluative essay, you can re-state it something like: "This essay evaluates the book/ product/ article/ etc. by looking at its strengths and weaknesses and compares it against a marking criteria".
Report: Say what your final evaluation will be. For example you can say "While there are some weaknesses in this book, overall this evaluative essay will show that it helps progress knowledge about Dinosaurs."
Outline: Simply give a clear overview of what will be discussed. For example, you can say: "Firstly, the essay will evaluate the product based on an objective criteria. This criteria will include its value for money, fit for purpose and ease of use. Next, the essay will show the main strengths and weaknesses of the product. Lastly, the essay will provide a final evaluative statement about the product's overall value and worth."
If you want more depth on how to use the INTRO method, you'll need to go and check out our blog post on writing quality introductions.
4.2 Example Introduction
This example introduction is for the essay question: Write an Evaluation Essay on Facebook's Impact on Society.
"Facebook is the third most visited website in the world. It was founded in 2004 by Mark Zuckerberg in his college dorm. This essay evaluates the impact of Facebook on society and makes an objective judgement on its value. The essay will argue that Facebook has changed the world both for the better and worse. Firstly, it will give an overview of what Facebook is and its history. Then, it will examine Facebook on the criteria of: impact on social interactions, impact on the media landscape, and impact on politics."
You'll notice that each sentence in this introduction follows my 5-Step INTRO formula to create a clear, coherent 5-Step introduction.
4.3 How to Write your Body Paragraphs
The first body paragraph should give an overview of the 'thing' being evaluated.
Then, you should evaluate the pros and cons of the 'thing' being evaluated based upon the criteria you have developed for evaluating it.
Let's take a look below.
4.4 First Body Paragraph: Overview of your Subject
This first paragraph should provide objective overview of your subject's properties and history. You should not be doing any evaluating just yet.
The goal for this first paragraph is to ensure your reader knows what it is you're evaluating. Secondarily, it should show your marker that you have developed some good knowledge about it.
If you need to use more than one paragraph to give an overview of the subject, that's fine.
Similarly, if your essay word length needs to be quite long, feel free to spend several paragraphs exploring the subject's background and objective details to show off your depth of knowledge for the marker.
4.5 First Body Paragraph Example
Sticking with the essay question: Write an Evaluation Essay on Facebook's Impact on Society , this might be your paragraph:
"Facebook has been one of the most successful websites of all time. It is the website that dominated the 'Web 2.0' revolution, which was characterized by user two-way interaction with the web. Facebook allowed users to create their own personal profiles and invite their friends to follow along. Since 2004, Facebook has attracted more than one billion people to create profiles in order to share their opinions and keep in touch with their friends."
Notice here that I haven't yet made any evaluations of Facebook's merits?
This first paragraph (or, if need be, several of them) should be all about showing the reader exactly what your subject is – no more, no less.
4.6 Evaluation Paragraphs: Second, Third, Forth and Fifth Body Paragraphs
Once you're confident your reader will know what the subject that you're evaluating is, you'll need to move on to the actual evaluation.
For this step, you'll need to dig up that evaluation criteria we talked about in Point 2.
For example, let's say you're evaluating a President of the United States.
Your evaluation criteria might be:
Impact on world history
Ability to pass legislation
Popularity with voters
Morals and ethics
Ability to change lives for the better
Really, you could make up any evaluation criteria you want!
Once you've made up the evaluation criteria, you've got your evaluation paragraph ideas!
Simply turn each point in your evaluation criteria into a full paragraph.
How do you do this?
Well, start with a topic sentence.
For the criteria point 'Impact on world history' you can say something like: "Barack Obama's impact on world history is mixed."
This topic sentence will show that you'll evaluate both pros and cons of Obama's impact on world history in the paragraph.
Then, follow it up with explanations.
"While Obama campaigned to withdraw troops from Iraq and Afghanistan, he was unable to completely achieve this objective. This is an obvious negative for his impact on the world. However, as the first black man to lead the most powerful nation on earth, he will forever be remembered as a living milestone for civil rights and progress."
Keep going, turning each evaluation criteria into a full paragraph.
4.7 Evaluation Paragraph Example
Let's go back to our essay question: Write an Evaluation Essay on Facebook's Impact on Society .
I've decided to use the evaluation criteria below:
impact on social interactions;
impact on the media landscape;
impact on politics
Naturally, I'm going to write one paragraph for each point.
If you're expected to write a longer piece, you could write two paragraphs on each point (one for pros and one for cons).
Here's what my first evaluation paragraph might look like:
"Facebook has had a profound impact on social interactions. It has helped people to stay in touch with one another from long distances and after they have left school and college. This is obviously a great positive. However, it can also be seen as having a negative impact. For example, people may be less likely to interact face-to-face because they are 'hanging out' online instead. This can have negative impact on genuine one-to-one relationships."
You might notice that this paragraph has a topic sentence, explanations and examples. It follows my perfect paragraph formula which you're more than welcome to check out!
4.8 How to write your Conclusion
To conclude, you'll need to come up with one final evaluative argument.
This evaluation argument provides an overall assessment. You can start with "Overall, Facebook has been…" and continue by saying that (all things considered) he was a good or bad president!
Remember, you can only come up with an overall evaluation after you've looked at the subject's pros and cons based upon your evaluation criteria.
In the example below, I'm going to use my 5 C's conclusion paragraph method . This will make sure my conclusion covers all the things a good conclusion should cover!
Like the INTRO method, the 5 C's conclusion method should have one sentence for each point to create a 5 sentence conclusion paragraph.
The 5 C's conclusion method is:
Close the loop: Return to a statement you made in the introduction.
Conclude: Show what your final position is.
Clarify: Clarify how your final position is relevant to the Essay Question.
Concern: Explain who should be concerned by your findings.
Consequences: End by noting in one final, engaging sentence why this topic is of such importance. The 'concern' and 'consequences' sentences can be combined
4.9 Concluding Argument Example Paragraph
Here's a possible concluding argument for our essay question: Write an Evaluation Essay on Facebook's Impact on Society .
"The introduction of this essay highlighted that Facebook has had a profound impact on society. This evaluation essay has shown that this impact has been both positive and negative. Thus, it is too soon to say whether Facebook has been an overall positive or negative for society. However, people should pay close attention to this issue because it is possible that Facebook is contributing to the undermining of truth in media and positive interpersonal relationships."
Note here that I've followed the 5 C's conclusion method for my concluding evaluative argument paragraph.
5. Evaluation Essay Example Template
Below is a template you can use for your evaluation essay , based upon the advice I gave in Section 4:
6. 23+ Good Evaluation Essay Topics
Okay now that you know how to write an evaluation essay, let's look at a few examples.
For each example I'm going to give you an evaluation essay title idea, plus a list of criteria you might want to use in your evaluation essay.
6.1 Evaluation of Impact
Evaluate the impact of global warming on the great barrier reef. Recommended evaluation criteria: Level of bleaching; Impact on tourism; Economic impact; Impact on lifestyles; Impact on sealife
Evaluate the impact of the Global Financial Crisis on poverty. Recommended evaluation criteria: Impact on jobs; Impact on childhood poverty; Impact on mental health rates; Impact on economic growth; Impact on the wealthy; Global impact
Evaluate the impact of having children on your lifestyle. Recommended evaluation criteria: Impact on spare time; Impact on finances; Impact on happiness; Impact on sense of wellbeing
Evaluate the impact of the internet on the world. Recommended evaluation criteria: Impact on connectedness; Impact on dating; Impact on business integration; Impact on globalization; Impact on media
Evaluate the impact of public transportation on cities. Recommended evaluation criteria: Impact on cost of living; Impact on congestion; Impact on quality of life; Impact on health; Impact on economy
Evaluate the impact of universal healthcare on quality of life. Recommended evaluation criteria: Impact on reducing disease rates; Impact on the poorest in society; Impact on life expectancy; Impact on happiness
Evaluate the impact of getting a college degree on a person's life. Recommended evaluation criteria: Impact on debt levels; Impact on career prospects; Impact on life perspectives; Impact on relationships
6.2 Evaluation of a Scholarly Text or Theory
Evaluate a Textbook. Recommended evaluation criteria: clarity of explanations; relevance to a course; value for money; practical advice; depth and detail; breadth of information
Evaluate a Lecture Series, Podcast or Guest Lecture. Recommended evaluation criteria: clarity of speaker; engagement of attendees; appropriateness of content; value for monet
Evaluate a journal article. Recommended evaluation criteria: length; clarity; quality of methodology; quality of literature review ; relevance of findings for real life
Evaluate a Famous Scientists. Recommended evaluation criteria: contribution to scientific knowledge; impact on health and prosperity of humankind; controversies and disagreements with other scientists.
Evaluate a Theory. Recommended evaluation criteria: contribution to knowledge; reliability or accuracy; impact on the lives of ordinary people; controversies and contradictions with other theories.
6.3 Evaluation of Art and Literature
Evaluate a Novel. Recommended evaluation criteria: plot complexity; moral or social value of the message; character development; relevance to modern life
Evaluate a Play. Recommended evaluation criteria: plot complexity; quality of acting; moral or social value of the message; character development; relevance to modern life
Evaluate a Film. Recommended evaluation criteria: plot complexity; quality of acting; moral or social value of the message; character development; relevance to modern life
Evaluate an Artwork. Recommended evaluation criteria: impact on art theory; moral or social message; complexity or quality of composition
6.4 Evaluation of a Product or Service
Evaluate a Hotel or Bed and Breakfast. Recommended evaluation criteria: quality of service; flexibility of check-in and check-out times; cleanliness; location; value for money; wi-fi strength; noise levels at night; quality of meals; value for money
Evaluate a Restaurant. Recommended evaluation criteria: quality of service; menu choices; cleanliness; atmosphere; taste; value for money.
Evaluate a Car. Recommended evaluation criteria: fuel efficiency; value for money; build quality; likelihood to break down; comfort.
Evaluate a House. Recommended evaluation criteria: value for money; build quality; roominess; location; access to public transport; quality of neighbourhood
Evaluate a Doctor. Recommended evaluation criteria: Quality of service; knowledge; quality of equipment; reputation; value for money.
Evaluate a Course. Recommended evaluation criteria: value for money; practical advice; quality of teaching; quality of resources provided.
7. Concluding Advice
Evaluation essays are common in high school, college and university.
The trick for getting good marks in an evaluation essay is to show you have looked at both the pros and cons before making a final evaluation analysis statement.
You don't want to look biased.
That's why it's a good idea to use an objective evaluation criteria, and to be generous in looking at both positives and negatives of your subject.
Read Also: 39 Better Ways to Write 'In Conclusion' in an Essay
I recommend you use the evaluation template provided in this post to write your evaluation essay. However, if your teacher has given you a template, of course use theirs instead! You always want to follow your teacher's advice because they're the person who will be marking your work.
Good luck with your evaluation essay!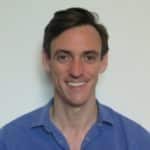 Chris Drew (PhD)
Dr. Chris Drew is the founder of the Helpful Professor. He holds a PhD in education and has published over 20 articles in scholarly journals. He is the former editor of the Journal of Learning Development in Higher Education. [Image Descriptor: Photo of Chris]
Chris Drew (PhD) https://helpfulprofessor.com/author/admin/ 16 Qualitative Methods Examples
Chris Drew (PhD) https://helpfulprofessor.com/author/admin/ 23 Qualitative Observation Examples
Chris Drew (PhD) https://helpfulprofessor.com/author/admin/ Referent Power: Definition & 15 Key Traits (French & Raven)
Chris Drew (PhD) https://helpfulprofessor.com/author/admin/ 15 Referent Power Examples
Leave a Comment Cancel Reply
Your email address will not be published. Required fields are marked *
Sample Essay Rubric for Elementary Teachers
Grading Students for Assessment
Lesson Plans
Becoming A Teacher
Assessments & Tests
Elementary Education
Special Education
Homeschooling
M.S., Education, Buffalo State College
B.S., Education, Buffalo State College
An essay rubric is a way teachers assess students' essay writing by using specific criteria to grade assignments. Essay rubrics save teachers time because all of the criteria are listed and organized into one convenient paper. If used effectively, rubrics can help improve students' writing .
How to Use an Essay Rubric
The best way to use an essay rubric is to give the rubric to the students before they begin their writing assignment. Review each criterion with the students and give them specific examples of what you want so they will know what is expected of them.
Next, assign students to write the essay, reminding them of the criteria and your expectations for the assignment.
Once students complete the essay have them first score their own essay using the rubric, and then switch with a partner. (This peer-editing process is a quick and reliable way to see how well the student did on their assignment. It's also good practice to learn criticism and become a more efficient writer.)
Once peer-editing is complete, have students hand in their essay's. Now it is your turn to evaluate the assignment according to the criteria on the rubric. Make sure to offer students examples if they did not meet the criteria listed.
Informal Essay Rubric
Formal essay rubric.
How to Create a Rubric in 6 Steps
Writing Rubrics
What Is a Rubric?
Holistic Grading (Composition)
How to Make a Rubric for Differentiation
A Simple Guide to Grading Elementary Students
How to Write a Philosophy of Education for Elementary Teachers
Tips to Cut Writing Assignment Grading Time
Assignment Biography: Student Criteria and Rubric for Writing
Rubrics - Quick Guide for all Content Areas
How to Teach the Compare and Contrast Essay
How to Calculate a Percentage and Letter Grade
Stage a Debate in Class
Rubric Template Samples for Teachers
Group Project Grading Tip: Students Determine Fair Grade
Fantasy Christmas Shopping Lesson Plan
By clicking "Accept All Cookies", you agree to the storing of cookies on your device to enhance site navigation, analyze site usage, and assist in our marketing efforts.
Wesely co-PI on million grant helping to create National Resource Center for Translation and Global Literacy
College of Education Professor Pamela Wesely is part of a team of colleagues across campus who produced a successful proposal for the U.S. Department of Education, resulting in a million grant – one of the largest humanities grants at Iowa.
We use cookies on our site to analyze traffic, enhance your experience, and provide you with tailored content.
Personalized Approach, National Recognition
Education is, first of all, prestige. Historically, smart, educated people in society are treated with greater respect than ignoramuses who have not learned a single day. Education is the possession of.

Criteria of a Perfect Essay
Writing is easier said than done and writing a perfect essay requires keenness to details as well as the application of certain criteria. Writing is a process, and it takes time, patience, and endless practice to grow and develop this skill to perfection. Unfortunately, for a newbie and a majority of writing amateurs, writing is easy and anyone with a good command of English can write. They could not be more wrong. Having a great command of the queen's language will not guarantee or qualify you as a great writer much less a writer. Writing requires more than just language and a repository of great vocabulary, and you have to grow and develop your skills before you can call yourself a writer. You should not expect to simply become and evolve into a great writer overnight. Perfect essay writing requires a resolve and a commitment to certain criteria which makes up the essence of this article. If you are in immediate need of assistance and deadlines to meet, you can also explore option to buy essays online which can be your lifeline in such difficult situations. 
How to Write a Perfect Essay
Ensure you have a thesis and thesis statement . When writing a perfect essay, you must have a thesis. This gives your essay purpose and with it you can develop and build your stance. A thesis helps you to identify the topic of your essay and it is followed by other sentences. The thesis statement makes it simple for your readers to understand your perspective or viewpoint.
Have a well-structured essay . Perfect essay writing necessitates organization. Each body paragraph of your essay should begin with a topic sentence which conveys the main point of a single body paragraph. The topic sentence ought to have an argument which supports or builds on the thesis statement so as to motivate your readers' interest in your article. You may require some help and ideas to better structure your work and consider taking help of professional services.
Provide evidence for your arguments . For you to learn how to write a perfect college essay, you should have resolute support for your claims. Your argument is well presented when you state it and explain the specifics which led you to this conclusion. This effectively sets up your organization.
Subject perception . Your essay can be well-organized but without acuity it does not bare much evidence based on your arguments. In order to learn how to write a perfect essay, the perspicacity of your subject ought to relate directly to the organization and the evidence you provide for your arguments. With this, you dig deeply with your claims and offer a perceptive subject.
Resolve yourself to being lucid . Perfect essay writing requires clear and concrete words and sentences. Its vitality is that the meaning of your article will reach your readers thus your essay will be highly graded. Ensure that you do not introduce your paragraphs with the commonly used examples in class.
Purpose to use a formal voice throughout your essay . For you to comprehend how to write a perfect essay, you should use the formal speech. This is crucial since it makes you sound more substantial and in command. Avoid using the informal language and retrenchments such as can't, won't, isn't etc.
Be resourceful in how you come up with your ideas . Perfect essay writing necessitates a distinctive presentation of ideas. This drives your readers to want to know more of what your essay entails. Present your opinions in an original format so as to make your article to appear more alluring.
Purpose to maintain relevance throughout your essay . When writing a perfect essay, ensure that you do not veer off topic. Your readers can easily lose interest and give up on continuing to read your article. Ensure that the subsequent paragraphs link or mimic the main argument or the thesis statement.
Using correct spelling and punctuation enables you to improve on how to write a perfect college essay. To ensure this, make an effort of always proofreading through your paper and omit the errors you come across.
Writing needs to have a goal and a purpose because, without one, an article may not appeal to the readers. Readers need to look forward to the next paragraph. From the criteria above, some simple and seemingly irrelevant factors like punctuation and the choice of voice must also be taken seriously. 
In conclusion, writing perfect essays takes time and you need to have a plan in place. The ideas to be included in an article should be well-researched and have enough substance to develop or build the thesis statement. The points provided above are not necessarily all you need to write a perfect essay, but they can help you comprehend what a perfect essay entails and warrants. Simply adhere to the above criteria and maintain a keen eye to details and you might surprise yourself.
About The Author

University of Pennsylvania
School of Arts and Sciences
Penn Calendar
Search form

Evaluation Criteria for Formal Essays
Katherine milligan.
Please note that these four categories are interdependent. For example, if your evidence is weak, this will almost certainly affect the quality of your argument and organization. Likewise, if you have difficulty with syntax, it is to be expected that your transitions will suffer. In revision, therefore, take a holistic approach to improving your essay, rather than focussing exclusively on one aspect.
An excellent paper:
Argument: The paper knows what it wants to say and why it wants to say it. It goes beyond pointing out comparisons to using them to change the reader?s vision. Organization: Every paragraph supports the main argument in a coherent way, and clear transitions point out why each new paragraph follows the previous one. Evidence: Concrete examples from texts support general points about how those texts work. The paper provides the source and significance of each piece of evidence. Mechanics: The paper uses correct spelling and punctuation. In short, it generally exhibits a good command of academic prose.
A mediocre paper:
Argument: The paper replaces an argument with a topic, giving a series of related observations without suggesting a logic for their presentation or a reason for presenting them. Organization: The observations of the paper are listed rather than organized. Often, this is a symptom of a problem in argument, as the framing of the paper has not provided a path for evidence to follow. Evidence: The paper offers very little concrete evidence, instead relying on plot summary or generalities to talk about a text. If concrete evidence is present, its origin or significance is not clear. Mechanics: The paper contains frequent errors in syntax, agreement, pronoun reference, and/or punctuation.
An appallingly bad paper:
Argument: The paper lacks even a consistent topic, providing a series of largely unrelated observations. Organization: The observations are listed rather than organized, and some of them do not appear to belong in the paper at all. Both paper and paragraphs lack coherence. Evidence: The paper offers no concrete evidence from the texts or misuses a little evidence. Mechanics: The paper contains constant and glaring errors in syntax, agreement, reference, spelling, and/or punctuation.
We use cookies to enhance our website for you. Proceed if you agree to this policy or learn more about it.
Essay Database >
Essay Examples >
Essays Topics >
Essay on Target
Free Success Criteria Essay Example
Type of paper: Essay
Topic: Target , Shot , Hit , Nuclear Weapon , Missile , Success , Accuracy , Field
Words: 1500
Published: 03/30/2023
ORDER PAPER LIKE THIS
Homework 1 – Lesson 16
Test Objective Test Scenarios/Set-up In the lab test, the SRAW will be fired 30 separate times, with variables set at constants. Each test will be evaluated on a yes/no scale for missile launch, missile arm and target hit. In field test, with SRAW being fired 30 separate times. There will be variables within the criteria of target range, target course, and target speed. Each test will be evaluated on a yes/no scale for missile launch, missile arm and target hit.
A successful test will be defined as a positive missile launch and target hit being at a distance of 16 meters. An event failure will be defined as no missile launch or the target not being hit. A successful test series will be defined as successive positive missile launches with targets being hit.
Test Article Configuration
Two tests will be conducted a lab and a field. The lab test will be 30 events (trials) of firing 30 missiles. All targets will be set at a 16-meter distance, standstill, at a target compass of 45. For the field test, the test article will be one marine and the SRAW in a "live" scene, with variables to match this ideal, such as movement. Only one marine will be used in order to reduce the variable of shooting capabilities between personnel. The targets will be moving between speeds of 0 and 30 kilometers per hour, with the degree of the target compass heading between 45 and 280. These will be paired randomly, as well as randomly selected, in order to reduce the likelihood of bias within the test and its results. For tests, built-in test, built-in test equipment and automated test equipment will be used and evaluated prior to these tests. These three components will allow for data to be collected during the development process, enable efficient and economical production to access and measure the acceptance parameters, and to test for fault isolation of circuits.
Test Article and Target Requirements
30 targets and 30 bullets will be needed for the testing, and one marine with prior tested shooting capabilities. All targets will be set at 16 meters, as this is the minimum safe distance for an SRAW. This is needed for both the lab and field test. For the lab test, the target compass will be at 45 for all trials. For the field test, the directionality of the targets will vary, with the angle of the radius of the shooter to the target, varying between 45 and 280. Angles will be randomly selected, in order to reduce biases within the test. These angles will also be randomly paired with speed variations of the target, moving between 0 and 30 kilometers. For cost efficiency, in this first test a smaller sample will be taken, thus a lower confidence level. If proven successful, arguments can be made for increased spending.
Confidence Levels
A cumulative binomial distribution will be used to base the test data off of a nomograph. Using this will set the requirement of a minimum 80% confidence level with a 90% performance level. Thus, there will be 30 trials (30 missiles fired) and only one failure can be assumed to meet these requirements. The advantages of this are that the result of each firing is independent from other events within the test, producing the probability of success for each event to be constant. For test reliability, test-retest will be used. With the same shooter performing in every trial, other tests will not be needed such as inter-rater reliability. This is an advance, because the reliability will be testing the SRAW's accuracy within the variables listed, leaving out other, unnecessary variables, such as multiple shooters. However, the one shooter should have the reliability in his skills accounted for. Thus, beforehand, his reliability should be tested beforehand in test-retest. This will be used for both the lab and field test.
Test Limitations
The testing of the shooter's capability needs to be measured and accounted for. Ideally, a larger sample size would be used (more trials), however for this initial trial test will be sufficient in measuring the capability of the SRAW and indicate if and where corrections were needed. Another test limitation would be unpredictable environmental conditions, which can vary between trials, such as wind speed. This cannot be altered or controlled due to test being live, but should be noted. Another test limitation to this is the distance of 16 meters, as this is our primary concern. These tests will allow for the consideration of SRAW to be used at the minimum safe engagement range, but does not measure the SRAW's minimum range of 17 meters. As this minimal requirement needs to be assured first, the variable of distance must be held at a constant. The limitation in this is that further testing would be needed to ensure the SRAW minimum range of 17 meters, to ensure additional safety measures.
Homework 2 – Lesson 18
A1. The three most important conclusions are within the three missed hits, out of ten, in the SRAW test. The first is seen in shot 4, where there was no missile launch, arm or hit due to hangfire, leading to corrections needed for prevention in the field. This is a serious cause for concern, as it can result in serious injury. Considering this, it needs to be investigated as to why this occurred. The second is seen in shot 7, where the target range is 612 (2nd farthest), with a missile arm but no hit. The reason this causes suspicion is due to shot 3, where the target range is further (637) and the target speed is at 10, compared to 0 in the previous, without missile arm but hit. This discrepancy leads to further evaluation to be needed. The third is in shot 9, which resulted in a solider injury. There needs to be preventative measures taken in order to reduce the likelihood of the situation reoccurring. A2.
The top three reasons for placing the SRAW into deficiency status would be,
issue of hangfire in shot 4, discrepancy between accuracy of SRAW between shot 7 and shot 3, and occurrence of solider injury in shot 9. The incidents named within 1 and 3 above, show severity within the SRAW testing that prevented its success. The discrepancy described above raises concern for the mission-essential capability of SRAW, as it the results do not prove a satisfactory level of reliability. These two criteria (severity and capability) are reasons to put the SRAW into IOT&E, so these issues can be resolved. A3. Instead of a deficiency status, an anomaly could have been reported. Using this would ensure further correction without placing the negative connotation of deficiency onto the SRAW test. B1. The conclusions I would draw from would be within shots 3, 5 and 7. For shot 3, hangfire occurred thus producing a failed hit, reducing the accuracy and raising concern. However, it is important to note that commonly this can occur when the round is a "dud", meaning no malfunctioning in the gun was present. Further, the result from shot 5 was a hit, although high winds were present at the target was at 587, the 3rd farthest distance. This would indicate accuracy of the SRAW within unpredictable and realistic conditions, such as high wind. Lastly, shot 7 did not produce a hit at 612 feet, with a 183 target course at 0 kilometers per hour. However, shot 3 indicates a farther distance of 637, with a 210-target course at 10 kilometers per hour, resulting in a hit. The success in shot 3 should particularly highlight the success and accuracy of the SRAW. B2. Yes, I agree that there had been too many failures already. The overall accuracy with the test was 70%, leading me to conclude that there needs to be corrections to the SRAW to improve accuracy then tested/evaluated again. Further, the soldier injury during shot 9 leads to the conclusion that after evaluation in what occurred, correction to SRAW may be needed for prevention of reoccurring events. B3. The data indicates an issue with the SRAW. Severe dangers were demonstrated within the 10 tests, specifically in shots 4 and 9. Hangfire can result in serious injury, thus its occurrence needs to be taken seriously and looked over to ensure the SRAW is not malfunctioned and that there would not be a high likelihood of this reoccurring. Similarly, the soldier injury in shot 9 produces similar concerns. This event has affected the accomplishment of the SRAW's capability, with no workaround solution to be known at the time. Lastly, there are discrepancies seen for the SRAW's accuracy. Shots 3 and 5 were successful under arguably more difficult conditions and succeeded, yet shot 7 was not successful, causing concerns for the mission-essential capability for SRAW and its reliability.

Cite this page
Share with friends using:
Removal Request

Finished papers: 1719
This paper is created by writer with
ID 251326339
If you want your paper to be:
Well-researched, fact-checked, and accurate
Original, fresh, based on current data
Eloquently written and immaculately formatted
275 words = 1 page double-spaced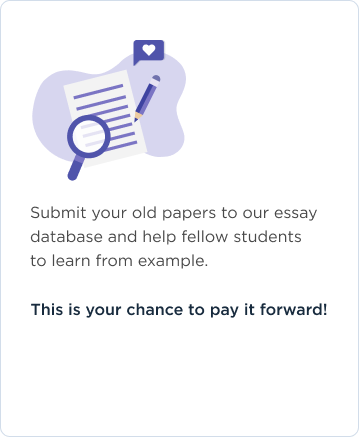 Get your papers done by pros!
Other Pages
Example of the pros and cons of nuclear energy as an alternative energy source report, google jolts my memory essay, admission to the masters of social work program admission essay examples, ten critical steps for risk managers in doing business in brazil research paper sample, genocide book review sample, good article on is globalization sustainable, dewsbury essays, truelove essays, gender socialization essays, exploring essays, elderly patient college essays, pro choice college essays.
Password recovery email has been sent to [email protected]
Use your new password to log in
You are not register!
By clicking Register, you agree to our Terms of Service and that you have read our Privacy Policy .
Now you can download documents directly to your device!
Check your email! An email with your password has already been sent to you! Now you can download documents directly to your device.
or Use the QR code to Save this Paper to Your Phone
The sample is NOT original!
Short on a deadline?
Don't waste time. Get help with 11% off using code - GETWOWED
No, thanks! I'm fine with missing my deadline
Useful Links
Request a call back
Write For Us
Andre Cardoso
Advertising
Applications
Assessments
Certificates
Announcement
Invitations
Newsletters
Questionnaires
Food & Beverages
Recruitment
Marketing Examples
Transportation
9+ Evaluation Essay Examples in PDF
Self-evaluation essay sample.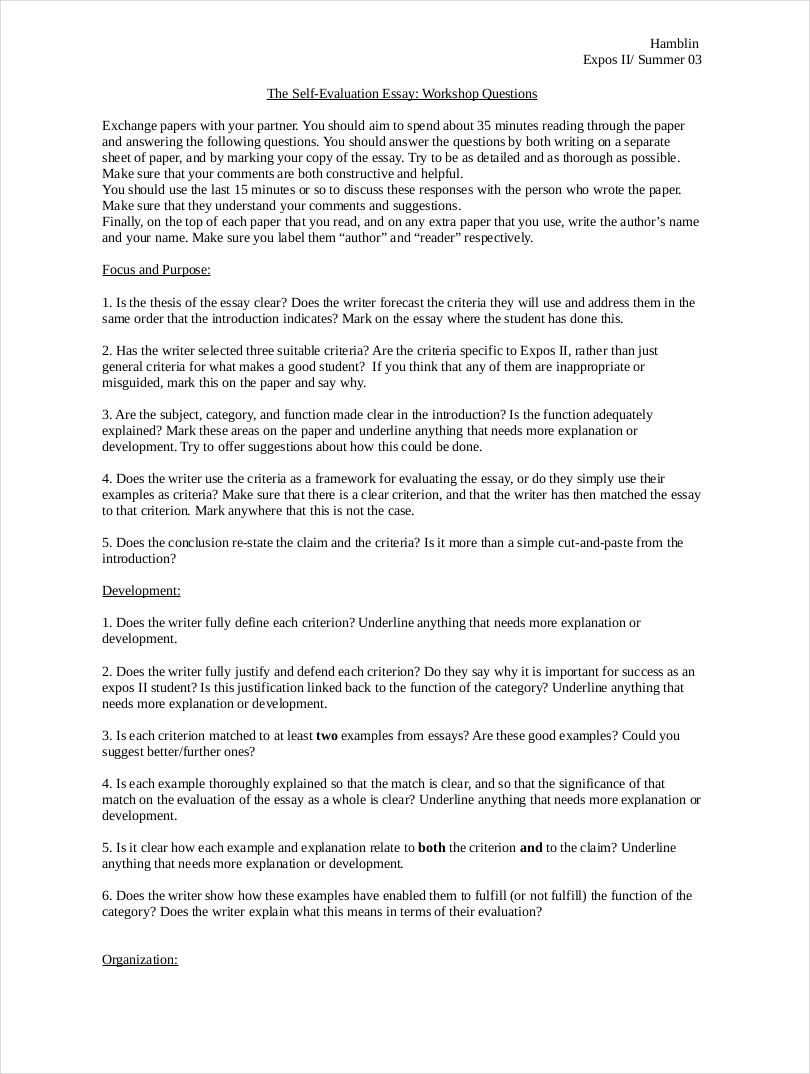 Student Self-Evaluation Essay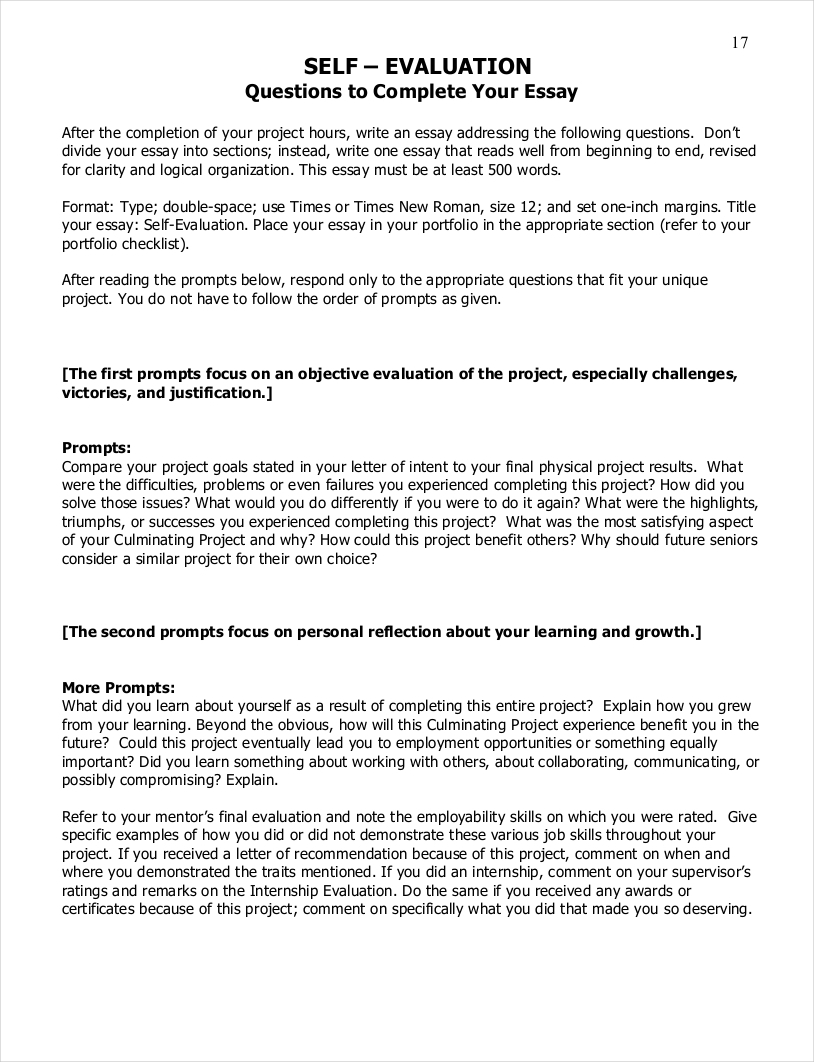 Things to Remember When Writing an Evaluation Essay
When writing an evaluation essay, a writer must always be backed up by evidences so that he or she can support the evaluation being made. If you are writing an evaluation essay, you should always be objective with the content that you are presenting. Your opinion matters but you should make sure that it is based on reality. Evaluation essays work best if the readers can identify the sources that you have used to come up with the assessment that they are currently reading. If you will ensure that there is enough evidences to support you, then your evaluation essay can be more credible and relevant.
Be specific with the kind of evaluation essay that you are creating. An evaluation essay can only be effective if you are aware of the purpose on why you are writing the document. Being able to present details, comments, and information that is directly related to the kind of evaluation essay that you are writing can help you create a highly-usable output. There are different kinds of evaluation essays and you should be aware that each of them have differences depending on the purpose of their creation. Come up with a highly-usable and effective evaluation essay by directly providing the needs of your readers.
Always be clear when presenting your evaluation. Since the main purpose of an evaluation essay is to relay your viewpoint about a specific subject, you have to make sure that you will be precise and concise when delivering the message that you want your readers to be knowledgeable of. You have to explain how you were able to create the evaluation which includes the specification of the factors that you have considered within the entirety of the evaluation and writing process.
Humanities Project Evaluation Essay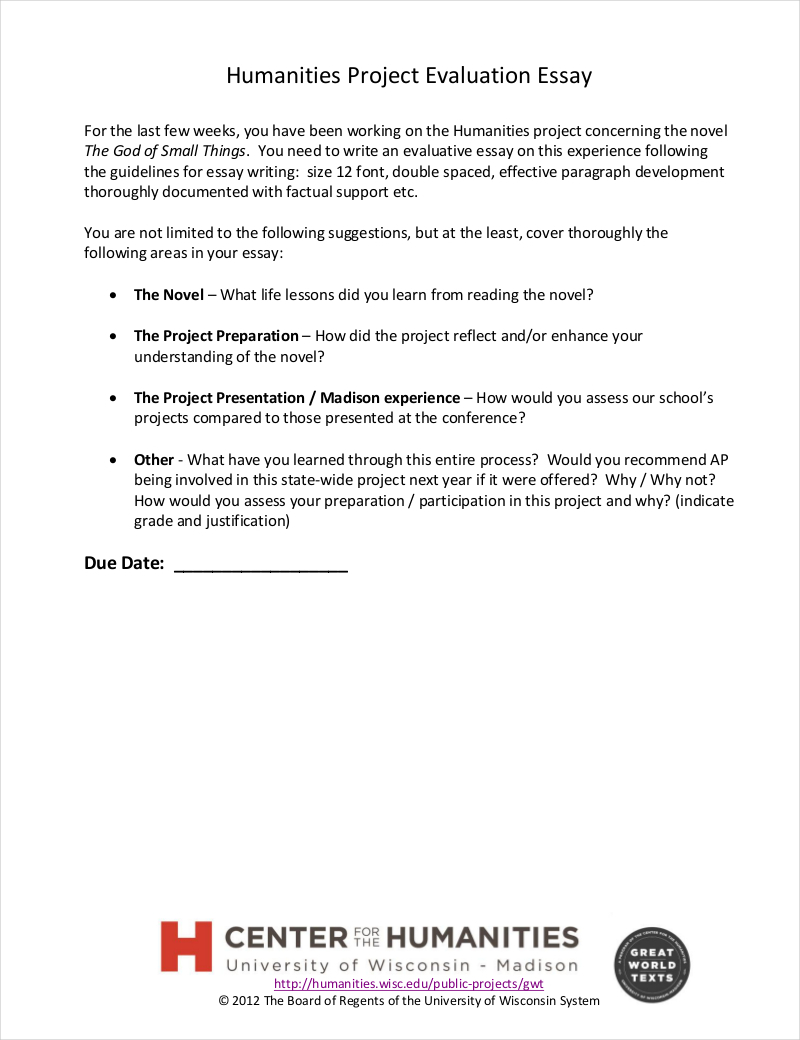 Printable Self-Evaluation Essay Example
Purposes of an Evaluation Essay
To create a book report or a review of a book's content and how it has affected the reader
To identify critical points of a written work may it be a poem, another essay or a research paper
To create a literature or literary review to fully identify the content of a literary piece
To give critique about an initial analysis or a full process
To support the processes of employment regularization or employee promotion
To assess and analyze the results of a reading activity
To add value to a recommendation letter
To analyze a research topic that can fully affect the entire research activity
To evaluate the work performance of either a student or an employee
To identify the strengths and weaknesses of an individual through a self-evaluation
Thesis Paper Evaluation Essay Example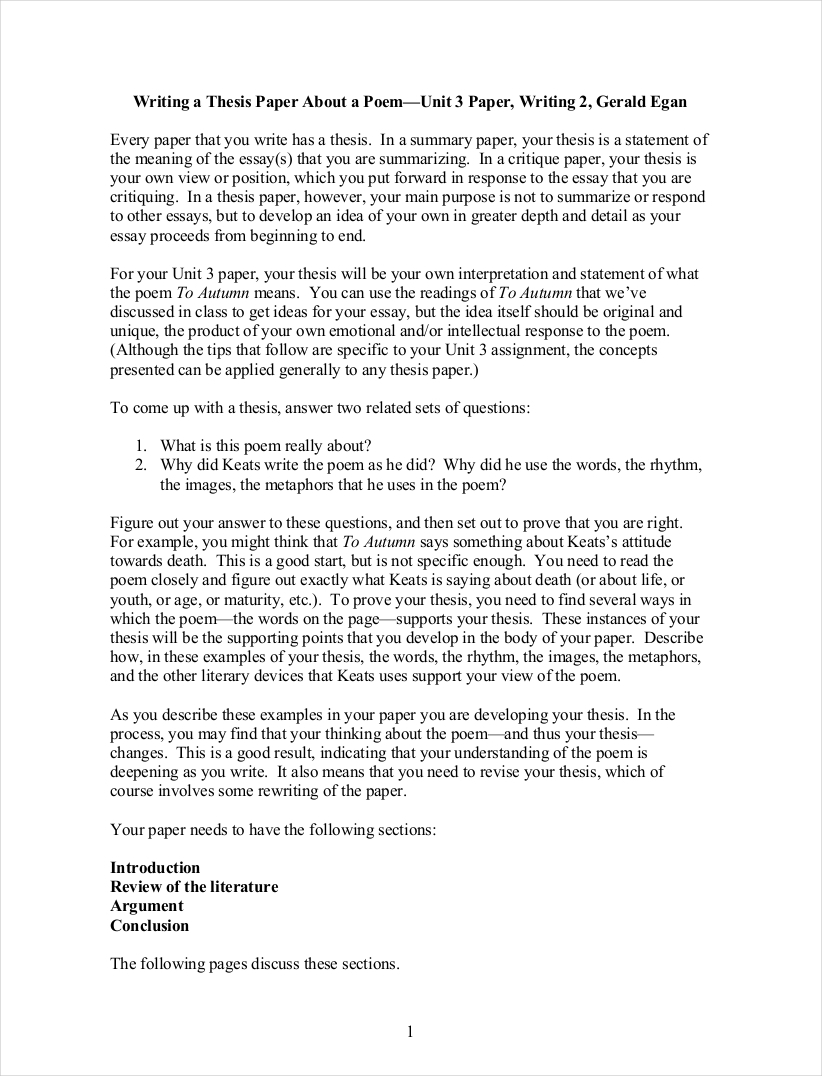 Evaluation Essay Sample in PDF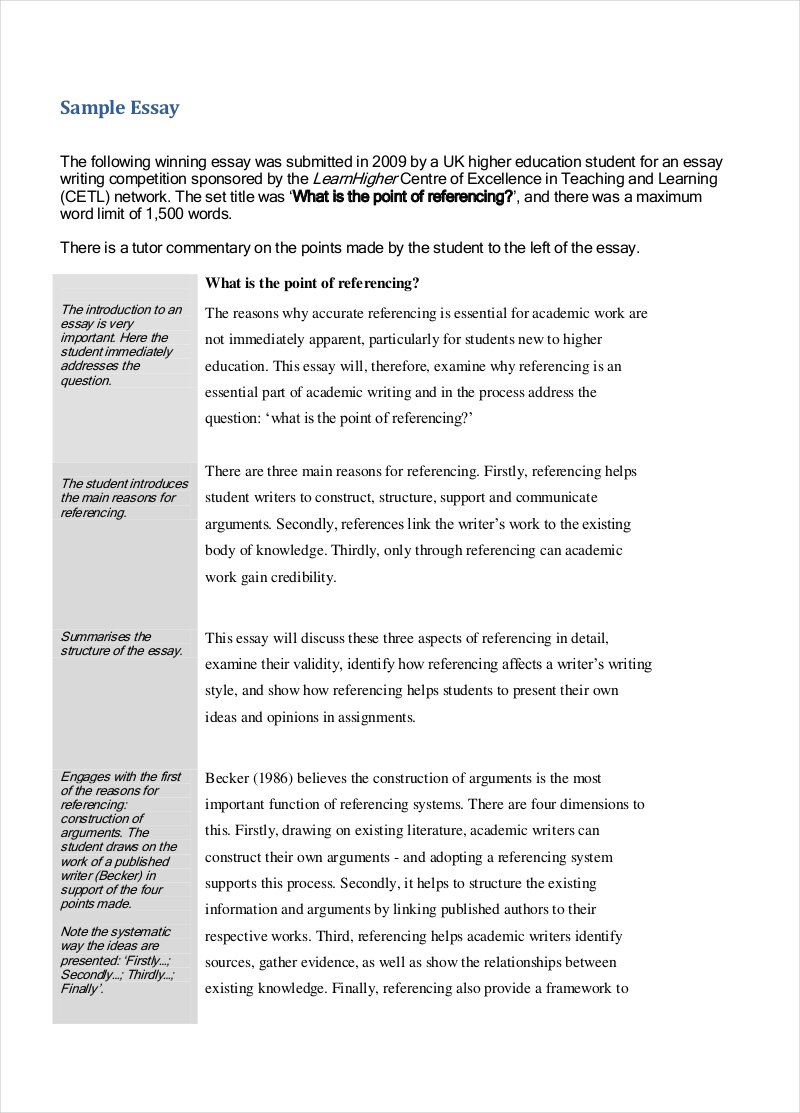 Qualitative Evaluation Essay Example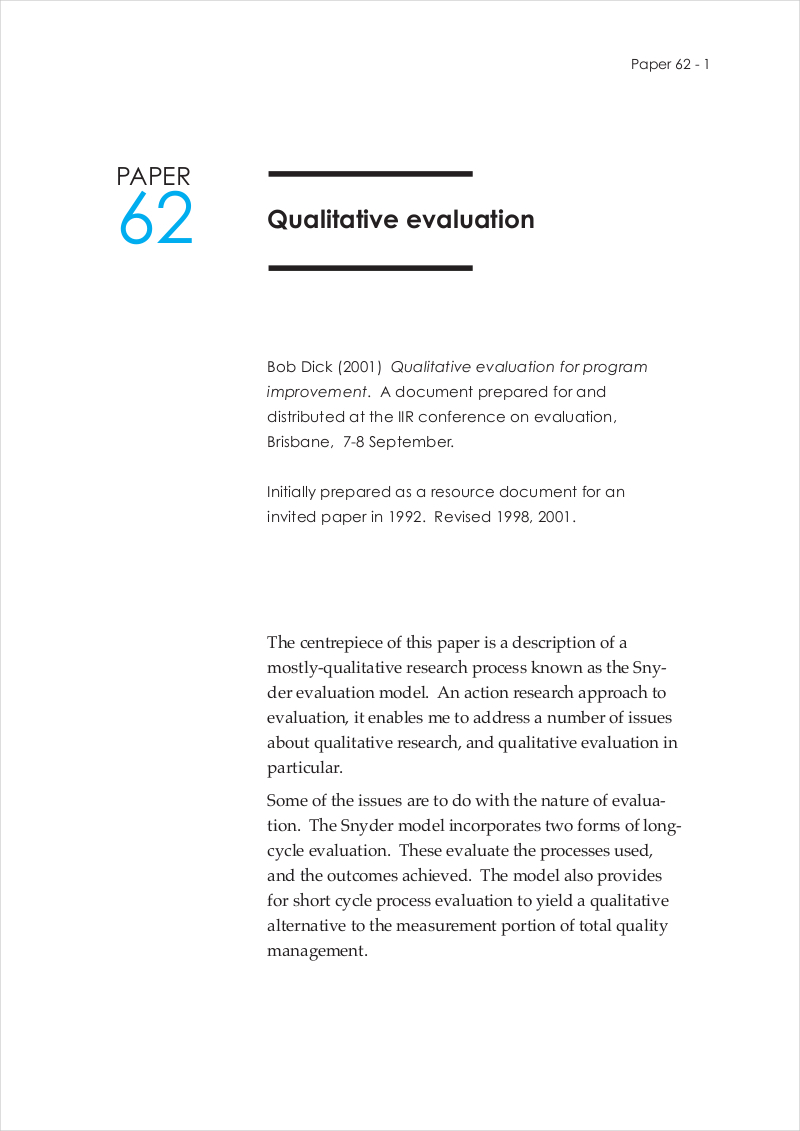 Steps in Writing an Evaluation Essay
Be aware of your topic. The first thing that you need to do when writing an evaluation essay is to be knowledgeable about the topic that you will write about. As much as possible, research about the subject of discussion so you can easily identify the characteristics that you can evaluate and the criteria that you will use for evaluation.
Make sure to have a set of criteria that can help you determine your evaluation. Once you are already aware of your topic, you can already set criteria that will serve as the basis for your evaluation. If you will properly identify the criteria that will best fit your needs for the specific evaluation, then you can make your evaluation essay stronger and more effective.
Refer to samples and templates of evaluation essays. It will be helpful if you will look at different kinds of evaluation essay samples and templates. These documents can help you be more familiar with what an evaluation essay is and how the details present in this kind of essay should be arranged and presented.
Create an evaluation essay draft. It will depend on you if you will use a template as your guide when writing an evaluation essay. You can also just browse through samples and start your evaluation essay from scratch. One thing that we highly suggest you should do is to make a draft or an outline of the discussion that you would like to have. This can help you ensure that all the necessary information will be placed in your final evaluation essay.
Start writing the content of your evaluation essay. Through the help of the draft that you have created, write a thesis in the first paragraph of your essay. This is the part where you can discuss the topic that you will use for evaluation and the statement on whether you think positively or negatively of the subject. The way that you create a thesis statement will be based on the nature of operations or functions where the essay will be used.
Incorporate evidences in your discussion so you can support your claims and/or opinions. After your thesis statement and discussion of important details, your next paragraphs should contain your opinions as well as the evidence that you have used as references. You can end your evaluation essay by having a firm statement of your conclusion.
Printable Self-Evaluation Essay Sample
Self-Assessment Essay Example
Simple Self-Evaluation Essay Example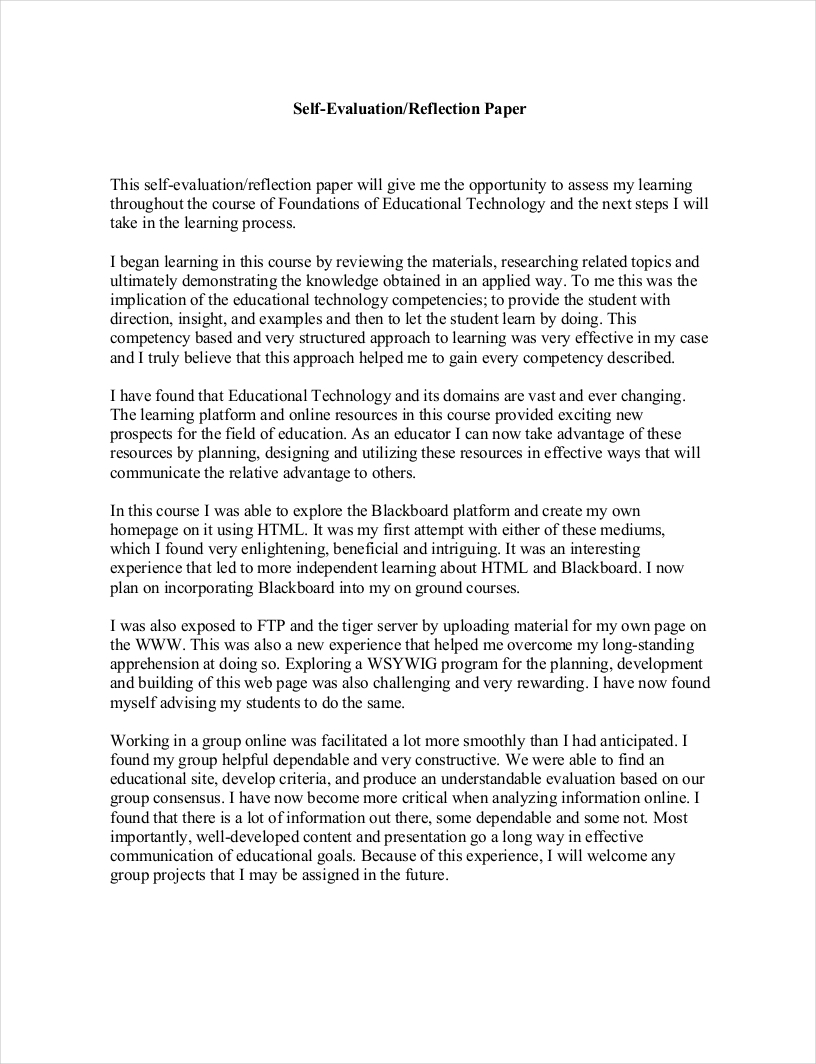 Evaluation Essay as an Important Written Document
More design, 21+ essay writing examples, evaluation examples, samples, how to write an evaluation report, 8+ wedding plan examples, samples, 37+ examples of free reports, 8+ feedback questionnaire examples, samples, 8+ training questionnaire examples, samples, 9+ statement analysis examples, samples, 34+ outline examples in word.

Related Articles
id; ?>)" rel="noopener" role="button" tabindex aria-label="postclick">10+ Essay Writing Examples, Samples
id; ?>)" rel="noopener" role="button" tabindex aria-label="postclick">6+ Expository Essay Examples, Samples
Teaching Writing in First-Year Seminars
As you anticipate teaching a first-year seminar—or any other course in which writing plays a significant role—how do you approach teaching writing? Do you remember your experience as a student writer, sweating over assignments, staying up all night wondering what your instructors wanted, and never quite determining "the point"? Perhaps you are fortunate enough to remember positive writing experiences, and you might even look forward to teaching writing in your own classes, but you wonder how to teach something that is apparently an inherent talent. If you've had an opportunity to assign writing in previous courses, you might be frustrated with the work you've received and you may have resigned yourself to more of the same.
This guide is designed to help you and your students enjoy the benefits of writing instruction and to feel more positive about the writing students produce. The guide promotes a definition of academic writing that involves both instructor and students in a process that begins with formulation of course goals and preparation of related assignments and continues far beyond the last day of class. Sections within this guide address the following frequently asked questions:
How do I integrate writing into my course?
How do I write an effective assignment?
How will I evaluate students' completed writing?
How do I assign research?
What is peer review and how do I use it?
How do I respond to student writing?
Citation Information
How Do I Integrate Writing Into My Course?
Frustration with academic writing often stems from our understanding of what writing involves. Students tend to view academic writing as a grueling but necessary task performed for a grade and disconnected from the rest of their lives. As instructors we might lament the quality of student writing while approaching our own writing with the same distaste our students experience. This is generally because we share, at least to some degree, our students' definition of academic writing.
In contrast to a view of academic writing as an isolated task performed to satisfy the arbitrary demands of a single authority, this site promotes writing as an interactive and ongoing activity that engages a writer and an audience for a clear and significant purpose that helps determine the writer's focus. Purpose, audience, and focus are key elements of the rhetorical context for any piece of writing.
The following sections offer a discussion of rhetorical context as a foundation for making students' writing matter, connecting writing to course content, and reconciling academic and "real world" writing.
Rhetorical Context
Rhetorical context refers to the circumstances surrounding any writing situation and includes purpose , audience , and focus .
Think of a particularly troublesome writing assignment you've faced. You might have had trouble even knowing how to begin. Similarly, you may have heard students complain that they "don't know what to write." Such struggles frequently arise because the writer has not identified the assignment's rhetorical context. One of our jobs as instructors is to provide students with information that will help them identify an assignment's rhetorical context.
The following sections will give you a better understanding of rhetorical context and help you to incorporate that understanding into your writing instruction.
Purpose refers to why a piece of writing is being written. Paradoxically, if your students' sole purpose in completing a writing assignment is to receive a high grade by impressing you as an instructor, you will probably be disappointed in the work they turn in. More earnest students might accept the vague notion that engaging in writing will "be helpful later on," but general academic growth as a purpose does little to provide direction for a particular assignment. Students who write to gain a better grasp of class content, to further explore issues raised in class, to respond to class readings, or to add their voices to a debate surrounding a specific subject will find the writing process more satisfying and will likely produce writing that reflects their engagement. As instructors, we can structure classroom discussions and assignments to encourage such purposes for writing. It's important that we ask ourselves the purpose for any writing assignment and articulate that purpose to our students, both in class and in the assignment description.
Audience , the for whom of any piece of writing, is closely connected to purpose. Consciously or unconsciously, writers use their knowledge of audience in determining purpose. Much academic writing is tailored to an audience of one—the instructor. Do you remember justifying a low grade on a paper by claiming you "didn't know what the instructor was looking for?" The reality is that the instructor is an important member of the audience for student writing. But when we can expand the audience to include classmates, other members of the academic community, Internet readers, and other real or imagined members of the community at large, we add significance to our students' writing—a purpose that extends beyond the exchange of a paper for a grade. Investing our students with a meaningful purpose for an interested audience will help them, in turn, to establish focus .
Focus refers to what is being written about. It involves choosing and maintaining an appropriate topic and degree of detail for a particular purpose and audience. Lack of focus is a common complaint of instructors regarding student writing. If you have assigned writing in the past, you have probably encountered papers that stray from one idea to another without focusing on a single issue or claim. To help students establish focus, consider using an illustration from photography: In focusing a camera, the idea is to obtain a picture of something in particular, with sharp details and perhaps a little background or context. You might encourage students to imagine representing their writing in a photograph—or summarizing it in a single sentence. Remind them that since problems with focus often originate during the planning stage, they might begin the writing process by outlining or taking notes.
A caveat here is that many students entering college are quite familiar with the five-paragraph essay and will interpret focus as an introduction, three body paragraphs, and a conclusion. Emphasize to students that focus should be informed by purpose and audience and is not achieved through a formula. Remember that our purpose as instructors is to foster better writers, not to produce better papers or students who are proficient at reproducing only certain kinds of texts.
Even as students begin to consider purpose and audience, there's no guarantee they'll immediately achieve focused writing. In fact, they may initially lose focus as they depart from familiar blueprints. The suggestions in Making Rhetorical Context Work for You will help you help students through this process.
Making Rhetorical Context Work for You
See below for advice, activities, and writing samples designed to help you and your students understand and effectively navigate rhetorical context.
Introducing Students to Rhetorical Context
The following activities are designed to help students better understand purpose, audience, and focus and to prepare them to address rhetorical context in their writing.
Introduction to Rhetorical Context
Identifying Purpose and Audience
Evaluating Focus
Identifying Your Rhetorical Context As an Assignment Writer
As instructors, we engage in the writing process each time we prepare an assignment sheet for our students. The more effectively we communicate a writing assignment's rhetorical context to our students, the more satisfied we and our students will be with the writing process and the texts produced. This begins with our understanding of the rhetorical context for the assignment sheets we prepare.
A more detailed discussion of assignment writing appears under How Do I Write an Effective Assignment? . In this section, we briefly consider purpose, audience, and focus for assignment writing.
Purpose in Assignment Writing
Perhaps the most important question we can ask ourselves as assignment writers is Why am I administering this assignment? We often overlook the fact that identifying our goals before preparing an assignment sheet will help us to create an assignment that is suited to those goals. Experienced composition instructors recommend starting with a list of goals—a detailed purpose statement—and working backward to design an assignment. For example, if my goal is to enhance students' understanding of a particular reading, I will specify that reading in my assignment sheet. I will probably discourage the use of outside sources and will indicate that students are to focus on the reading's content rather than the quality of writing and on summarizing rather than responding to ideas. It's important not only to determine an assignment's purpose as an instructor, but to communicate the purpose to students in the assignment sheet and in classroom discussion.
Audience in Assignment Writing
Since our students are the audience for any assignment sheet we create, it's important that we consider everything we know about them as we write the assignment. What is their collective exposure to the skills and ideas they will be practicing and exploring in this assignment? What information do they need in order to complete the assignment? What are their concerns as a class? What are their backgrounds and how might those backgrounds affect their understanding of and response to the assignment? Factors such as age, race, gender, religious belief, and economic background can have a significant impact on students' response to an assignment. Putting ourselves in the position of our students will help us to frame assignments more effectively.
Focus in Assignment Writing
Even if we've communicated an assignment's purpose to our students, they'll most likely assess the focus of our assignment sheets in determining what and how to write. If, for example, I explain that an assignment's purpose is to engage students in a debate about a subject but focus on citation formats in my assignment sheet, I am likely to receive more research papers than argument essays. Similarly, if I focus on format issues such as margins, font size, and word count, my students will probably focus as much attention on these issues as they do on the content of their writing. As with any kind of writing, the focus of an assignment sheet should reflect the purpose of the assignment.
Establishing Rhetorical Context Within Assignments
Having discussed rhetorical context in class, you may want to organize assignment sheets in terms of purpose, audience, and focus. This will reinforce rhetorical concepts discussed in class and will assist students in moving from those abstract concepts to concrete application. Students will be more likely to shape their writing according to purpose, audience, and focus than to start with a form (like the five-paragraph essay) and fill it with a set number of words or pages.
The following sample assignment demonstrates how an assignment sheet can be arranged in terms of purpose, audience, and focus.
Sample Assignment: Establishing Rhetorical Context
Making Students' Writing Matter
Students are busy people. Many are trying to balance a full course load, extracurricular activities, an on- or off-campus job, and relationships with family and friends. Competing responsibilities require them to prioritize, and students are not likely to invest much time or energy in something for which they see little long-term significance. Our challenge as instructors is to make students' writing matter. When the rhetorical context of a writing assignment extends beyond the exchange of a paper for a grade, students see that their writing matters beyond an individual assignment or class. Consider the following suggestions for making students' writing matter:
Beginning with Course Objectives
Just as the best place to start designing an individual writing assignment is by identifying assignment goals, the best place to start making course writing matter is by identifying course objectives. Why does your course matter? Make writing matter for the same reasons. For example, if I am teaching a course called Science and Society, my objectives might be to encourage students to analyze what the media reports about science, rather than receiving all coverage at face value. I might want students to recognize science as something we have created and to which we have assigned meaning, rather than accepting science as a universal and unchanging truth. In my course, then, I am encouraging students to think critically, analyze arguments, and challenge their own assumptions. These same skills contribute to and are fostered by the writing process. By communicating course objectives to students and tying writing to course goals, we can help students see how writing supports lasting academic and intellectual growth.
Designing Rhetorical Contexts That Reflect the Real World
Tying writing to course goals will only motivate students if they accept the value of the course. Generally, this means seeing a connection between the course and the "real world." A well-designed writing assignment is one of the most effective tools instructors can use to connect course goals to the world at large. The rhetorical context of a writing assignment can demonstrate practical applications of course content and of skills developed through course activities, including writing. Our challenge is to design rhetorical contexts for writing assignments that reflect the outside world. Here are some examples of rhetorical contexts that connect various academic disciplines to the world at large:
For an engineering course, have students write a proposal, a user's manual, or an advertisement for a new product, targeting an audience of general users or a funding committee with only a basic understanding of design principles.
For a political science course, have students write a paper analyzing a political campaign for a particular group of voters—say, college-aged voters who will read this report in a nationally syndicated column published in campus newspapers.
For a philosophy course, have students write an opinion paper that will be read in a court case regarding an issue stemming from philosophical differences—privacy rights or intellectual property, for example.
For a physical science course, have students write an article explaining an area of current research to readers of a general interest magazine such as Newsweek or Life .
For a literature course, have students write a report to academic and public librarians explaining the worldview and cultural aspects informing a particular book and suggesting displays and programs that might help librarians promote and lead discussions about the book.
For a visual arts course, have students write a visitor's guide to a museum display of works by a particular artist, from a certain period, or representing a particular culture or movement.
Assigning Writing That Will Reach a Wide Audience
In addition to creating "real world" rhetorical contexts for writing assignments that will in reality be read by a classroom audience, we can give students' writing even greater immediate significance by submitting it to outside audiences. Depending on the nature of your course and assignment and on practical factors such as time and geography, you might assign specific audiences or allow students to select their own. Students might work individually or in groups to write letters to an editor or official, grant proposals for use by local organizations, articles for campus or community newspapers, reference guides for the Web, or public service announcements for television or radio broadcast. Cooperation with outside audiences will require advanced preparation on our part as instructors, but the benefit in advancing course and writing goals will generally far outweigh our investment.
Connecting Writing to Course Content
To make students' writing matter, an instructor must connect it to the content of a course and communicate to students why the course matters. Most instructors, particularly those with little experience teaching writing, have given more thought to why their courses matter than to connecting writing to course objectives. The distinctions we tend to draw between academic disciplines might make it difficult to see any connection between teaching writing and teaching a specific subject, and requirements to assign writing might be intimidating or frustrating. While it might be tempting to avoid teaching writing, remember that well-designed writing assignments are among the most effective means of advancing course goals and connecting those goals to the world at large. The following questions are provided, therefore, to offer guidance in connecting writing to course content.
Where Do I Encounter Writing as a Practitioner in My Field?
The writing we encounter relating to our fields can provide rhetorical context for writing assignments, particularly if we think beyond academic journals and other academic publications to sources students might encounter in everyday life. For example, consider writing that relates to your field in the news media, in advertising, on the Internet, and in brochures and pamphlets. Integrating these sources into the rhetorical context of writing assignments (having students write a letter to an editor, say, or a user's guide of some sort) not only shows students how writing matters outside the classroom, but it demonstrates how course content and overall course goals relate to students' everyday life.
Who in My Field Needs Writing?
In almost any field, there is a need for writing that is not easily funded by existing sources. For example, if I'm teaching a human development course I might know of a family services agency that needs someone to write a grant proposal or an informational booklet for clients. If I teach an environmental science course, I might know of an activist group that needs support in a letter-writing campaign. If an issue related to my course has been misrepresented in the media, I might see a need for editorial letters offering a more accurate representation. If I have noted the lack of a general reference site related to my subject on the Internet, I might recognize the need for a comprehensive Web site. Any of these real needs can translate into a real audience for student writing, while enhancing students' respect for the significance of course content.
Caveats in Assigning Writing for Real Audiences
Assigning writing for real audiences is extremely effective in making writing and overall course content matter to students. However, several caveats should be considered before administering such an assignment:
Be sure to do your background work before introducing the assignment to students. Contact outside agencies, if applicable, look into editorial guidelines, establish Internet space for a classroom Web site, etc.
Give students opportunities to write in support of their own point of view. For example, if assigning an editorial, allow students to express their own viewpoints relating to the subject under consideration. If assigning a grant proposal or letter for a letter writing campaign, allow students to choose from a list of previously contacted agencies representing a variety of perspectives.
If you can't guarantee publication of students' writing, don't imply otherwise. Give students relevant information for checking the status of their submissions while reminding them to respect agencies' time and personnel constraints and discouraging them from damaging the agencies' relationship with the class.
What Am I Asking Students to Read?
The reading you assign in class might provide a model for the writing you ask students to complete. Additionally, it will give students a better understanding of the complexities and implications of course content and can itself provide the focus for a writing assignment—writing about reading. Probably the most common type of academic writing assignment, writing about reading can enhance students' understanding of course concepts, can promote critical reading skills, and can prepare students for assignments that will require them to select their own topics. When assigning writing about reading, however, be careful to communicate the purpose of the assignment. Are they to summarize the reading? Respond to its content by agreeing or disagreeing? Compare the author's perspective to other perspectives discussed in the course? Also, don't neglect to communicate the rhetorical context of even such a traditional assignment. Consider asking students to summarize the reading for a future group of students or a campus publication. If they are responding to a reading, have them write a letter to the author or to another reviewer who has commented on the reading. For further advice on assigning writing about reading, see the teaching guide about helping students summarize and respond to texts .
Challenging the Dichotomy Between Academic and Real World Writing
Much of this guide addresses connections between academic and "real world" writing. Students, like many of the rest of us, will often subscribe to a dichotomy between academia and the rest of the world that includes sharp distinctions between academic and real world writing. In addition to the suggestions offered in previous sections of this unit, the following ideas will help you challenge these distinctions.
Examining the Dichotomy
College undergraduates might not be consciously aware that a dichotomy exists between academia and the rest of the world. When asked to examine their assumptions about academia, they might be surprised to discover such a dichotomy in their thinking. Awareness of assumptions allows us to examine them, questioning their source and validity. Join students in asking where our distinctions come from and whether it's necessary or beneficial to conceive of academic and "real world" endeavors as separate. These questions might lead to conclusions that dispel invalid and unproductive distinctions.
Assigning Multiple Writing Forms
Many of the writing assignment ideas referred to in this guide offer students opportunities to write in multiple forms. While research papers and writing about reading remain among the most common forms assigned in college courses, forms such as Web writing, public service announcements, letters, brochures, and editorials can bridge the perceived gap between our course and real life, between academic and real world writing. Because these forms tend to involve rhetorical contexts that extend beyond the classroom, they invite students to consider that our courses are real life and academic writing is real world writing.
Integrating Journal Writing
Like other forms that provide alternatives to traditional academic papers, journal entries can help students see how their writing matters, connect writing to course content, and resist distinctions between academia and the rest of the world. The difference between journal writing and other forms is that students are more inclined to see themselves as a significant audience for journal writing, while the audience will generally not include persons outside the classroom. Without the expectation that journal entries will be polished and turned in for a grade, students are freer to reflect on course topics, departing from one train of thought to another as they develop a fuller understanding of issues and concepts. Often described as "personal" writing, journal writing invites students to make personal connections with course content and demonstrates how course content, writing, and personal concerns overlap.
If you choose to incorporate journal writing into your course, be sure to identify in advance how you will use this form. When will you as an instructor read entries and how will you keep students accountable for participating? Will other students read any or all of the entries? Will journal writing take place during class, as a take-home assignment, or a combination of both? How restrictive will you be in assigning journal topics? For additional advice on integrating journal writing, see the University of Hawaii at Manoa's Teaching with Journals guide. (This link will take you to another site.)
Introducing Opportunities for Ungraded Writing
Journal writing frees students to make personal connections to course content in part because it is ungraded. Consider introducing additional opportunities for ungraded writing to foster student reflection and to reconcile course writing and content with the world beyond the classroom. Here are some ideas:
Collect preliminary drafts of assignments. Provide comments and points for completion, but don't grade the drafts. (For more detailed discussion on the importance of assigning drafts, see the following section on effective assignments.)
Have students post to a discussion board or participate in chat sessions. Because they are likely familiar with these forms of writing, they will be less concerned with "getting it right" and more able to focus on course concepts. In practice, they will be crossing the perceived barrier between academic and other kinds of writing.
Assign short in-class writing assignments, such as reading summaries, group discussion notes, observations, or questions for future classroom visitors. Students might complete these assignments in their classroom journals or turn them in separately.
How Do I Write an Effective Assignment?
Students' successful completion of a writing assignment begins with an assignment for the instructor: the creation of a detailed assignment description. It is not enough to announce in class that students should write "a paper about one aspect of the Roman Empire" or to list in the syllabus: "Turn in research paper on Renaissance artist of your choice." Students' response to such vague instructions will be varied at best. At worst, students and instructor will be frustrated over the time spent writing and reading scores of pages that contribute little to course goals.
An effective assignment description contains as much detail as is necessary to communicate to students the assignment's purpose and the steps students must take to achieve that purpose and to receive a favorable evaluation. The following sections detail the assignment writing process and direct instructors to additional assistance and resources.
Assignment Writing Process: Working Backward from Goals
To create an assignment that is likely to produce strong student writing, composition instructors recommend starting with the ideal response to the assignment and working backward from those model papers. Although the process may seem awkward at first, students will welcome the specificity of the resulting assignment description and instructors will welcome the papers students produce in response. The following questions will help facilitate the process of working backward from goals:
What do I want my students' papers to look like?
Before designing a writing assignment, it is essential to articulate goals for the assignment as clearly and concretely as possible. For example, will the assignment help students learn course material or writing conventions in the discipline—or both?
Assignment goals will guide every choice regarding assignment design. A preliminary list of goals allows us to address such questions as:
What writing products (e.g., research papers, reading summaries, reports) will meet assignment goals and will suit my teaching style and preferences? Will formal or informal writing better meet these goals?
What specific skills will contribute to the final product and how can I foster those skills through classroom instruction and the assignment itself?
How can I sequence activities (e.g., reading, researching, writing) to build toward a final product that demonstrates progress toward particular goals?
You will notice that these questions suggest a broader understanding of writing assignments than we usually consider. A writing assignment can be understood as a series of stages that enhance larger course goals while moving students toward a final product that demonstrates progress toward some of those goals. This understanding is further explored in the following section on positioning an assignment within the class.
Where will this assignment fit among other parts of the class?
There are two major benefits to understanding a writing assignment as a series of stages that enhance larger course goals while moving students toward a final product that demonstrates progress toward some of those goals: 1) Greater appreciation of the relationship between course and assignment goals and 2) Closer attention to specific assignment details and their combined role in advancing goals.
The following steps will guide you in positioning assignments within your class.
Reviewing assignment goals articulated in the previous step, note how assignment goals contribute to overall course goals. If the connection is unclear, assignment goals may need to be revised.
Having identified the final product (e.g., research paper, reading summary, report) that best supports assignment goals, consider how the assignment might be broken into stages. For example, observation notes, reading outlines, proposals, and preliminary drafts might all represent stages on the way toward the final product.
Supplement the assignment with resources and activities that will contribute to students' progress toward assignment goals. For example, provide format models and samples of strong, average, and weak papers. Schedule peer review sessions, when students can exchange drafts and assist one another in the writing process.
Recognizing that writing is a process rather than a product, allow opportunities for revision. These opportunities are best scheduled before a final draft is due. However, thoughtfully assigned revision of graded papers supports an understanding of writing as a process and might ease students' frustration over sincere but unsuccessful attempts to master that process.
Consult the course syllabus to schedule due dates of all notes, outlines, proposals, and drafts, as well as the final product. Make sure due dates are preceded by necessary skills instruction and classroom discussions.
How can I translate goals into an effective assignment?
A key step in translating goals into an effective assignment is to communicate goals to students. The assignment description should include a statement of assignment goals and should indicate how those goals relate to overall course goals. In addition to instructions for assignment stages (notes, drafts, etc.) and clear statements of due dates, the description should explain how all stages work together to support assignment and course goals.
Having articulated goals to students, you can further develop an effective assignment by identifying a rhetorical context for students' writing. Imagine a real setting and a real audience for writing that achieves assignment goals. For example, if my goal is to deepen students' understanding of a controversial issue and to foster analytical and persuasive writing skills, I might ask students to write a hypothetical editorial column for a national magazine. If available, I might even provide a real audience for student writing—perhaps readers of a local or campus newspaper that publishes editorials.
To read more about rhetorical context for writing assignments, see the Rhetorical Context section of this guide.
What choices in style and format will contribute to the purpose of the assignment?
As instructors we are familiar with conventions of academic writing and writing in our fields. It's easy to assume that students will observe the conventions we take for granted, but such assumptions generally leave students floundering with style and format concerns that compromise their attention to larger assignment goals. The following questions will help you create an assignment description that details every element of the writing task.
What background reading, interviews, experience, or other preparation will expose students to style and format conventions, as well as preparing them to meet larger goals?
What do students need to know about citing outside sources? When they understand the purpose and importance of citation, what citation format are they to use?
What documents should accompany students' final written product? For example, should they turn in notes, outlines, drafts, or peer review comments (whether or not they've been submitted previously)?
How can I best support assignment and course goals through specifications about word and page count, margins, and font size? Does my assignment description clearly communicate these specifications (or my flexibility regarding these format decisions)?
Though it's important to inform students of style and format requirements, we want to avoid emphasizing the cosmetic over the substantive. Working backwards from assignment and course goals will naturally shift our focus from cosmetic concerns. The assignments we design should maintain a global focus by highlighting the process that will advance overall goals and downplaying style and format requirements. If the specifications we've indicated don't advance assignment or course goals, we might consider revising our specifications.
How Will I Evaluate Students' Completed Writing?
The section of this guide devoted to responding to student writing addresses this question in greater detail. For the purposes of this section, remember that our evaluations should assess students' progress toward the goals we've established for the assignment. In addition to communicating goals, our assignment description should tell students how their work will be evaluated and how this particular assignment will contribute to their overall course evaluation.
Support from the Writing Center
In addition to hosting workshops and online tutorials, writing centers typically offer services tailored to individual instructors' needs:
Consultation on writing assignment design
Consultation on curriculum design
Visits to individual classrooms to present workshops suited to class needs
Instructor Resources
The checklists and models that folllow are offered as additional guidance in designing effective writing assignments.
Assignment Writing Checklists
Select from the following list to view assignment writing checklists designed by CSU composition faculty and other writing professionals.
CSU Writing Center Checklist #1
CSU Writing Center Checklist #2
University of Wisconsin Writing Center Common Errors Checklist (This link will take you to another site.)
MIT Writing Center Style Checklist (This link will take you to another site.)
Sample Assignments
The following list provides access to sample assignments from a variety of disciplines.
Agricultural Economics
Landscape Architecture
Comparative Animal Nutrition
Human Development
How Do I Assign Research?
College-level instructors of all disciplines often choose—and, in the case of many first-year seminars, might be required—to assign research papers. Students and instructors alike are tempted to regard the research paper as a species entirely different from other writing assignments. While the research paper introduces additional skills such as library navigation and source documentation, designing a research assignment still requires instructors to work backwards from goals and to establish a rhetorical context that addresses goals and connects the assignment to the class as a whole.
That being said, an awareness of the particular challenges students might encounter in conducting and communicating research will help us address those challenges and enhance students' research writing experience.
The following sections contain suggestions on guiding students through the research writing process.
Framing the Assignment
In addition to establishing rhetorical context and positioning the assignment within the course as a whole, consider the following suggestions for framing a research assignment.
Outlining Objectives
Creating any assignment requires us as instructors to outline our objectives. In a research assignment, it is important that we communicate to students our research objectives, as well as objectives for more general writing and academic skills. For example, would we like students to learn to frame a research question? Would we like them to acquire library research skills, using online databases and other Internet sources? When research objectives are communicated among other assignment goals, students are less likely to approach research as the summarizing of collected information.
Establishing Research Questions
Most students entering college will understand research as collecting information on a topic and reporting their findings to an instructor. We can encourage students to engage in their research by prompting them to think in terms of a research question. Rather than starting with a topic and then conducting a search for any relevant information, ask students to start with a question that will guide the entire research process. For example, rather than researching the topic of inclusive education, a student might start with the question: Does inclusive education best serve students with disabilities? Even a research assignment that is primarily informative in purpose can start with a research question. Rather than starting with the topic of Elizabethan drama, for example, a student might ask: How was Elizabethan drama shaped by culture?
Helping Students Focus Their Research
Because the vastness of available information often intimidates students, it is particularly challenging for college writers to narrow their focus for research assignments. The research questions suggested in the assignments, for example, are a step away from the topical approach, but they are too broad for most college writing assignments.
How do we move students from Does inclusive education best serve students with disabilities? and How was Elizabethan drama shaped by culture? to, say, Does inclusive education in high school prepare developmentally disabled students for future vocational pursuits? and How did Elizabethan religious thought shape the tragedies of William Shakespeare? First, a clear communication of the assignment's rhetorical context will help students define a focus. In addition, we can emphasize the importance of such factors as accessibility of research sources, time allowed for research, and suitability of available sources to rhetorical context. Consideration of these factors will steer students away from preliminary research questions that are too narrow as well as those that are too broad.
As instructors, we can help students focus their research by not limiting their choices more than is necessary. For example, if we've limited the kinds of sources students can use, we should be certain that there are plenty of allowable sources available that are appropriate to the rhetorical context. If the rhetorical context asks students to engage in a current debate, we are unfair to require that students use only books as their research sources. With instruction on assessing source reliability, students can find information in an online database or on the World Wide Web that is more appropriate to some rhetorical contexts than what they can find in books.
Introducing Library Research
The following sections discuss suggestions on introducing your students to library research.
Bringing Students to the Library
The size of an academic library can inhibit students from even entering the building. Students are far more likely to access the library on their own if they have first visited and learned to navigate it as part of a class. As instructors, we can facilitate student library use by conducting tours and planning class sessions—research days, for example—that take place in the library.
Many libraries offer tours and orientation sessions tailored specifically to individual courses.
Recognizing the Library As More Than Just Books
Though the physical space of most libraries might still consist primarily of books and other print sources, these sources represent an ever decreasing portion of the information available to library users. In addition to physical book and periodical collections, academic libraries offer users access to the following sources of information that are essential to many research projects.
Electronic Databases
Thanks to electronic sources, researchers can quickly locate and evaluate articles relevant to their areas of inquiry and can often download the full text of articles not contained in their library's physical periodicals collection. CSU Libraries subscribes to a wide variety of databases indexing academic journals from multiple disciplines. These electronic collections provide timely access to current information that cannot be matched by physical collections.
Electronic Books
Through netLibrary, users of member academic libraries can check out electronic versions of books not contained in their institutions' physical collections. CSU Libraries participates in the netLibrary program, providing users electronic access to thousands of scholarly, reference, and professional books from major commercial publishers and university presses.
Interlibrary Loan
An early introduction to interlibrary loan programs will allow students to take advantage of these programs in the preliminary stages of research, when they can experience the greatest benefit. Students who wait until a few days before a draft is due to gather information, however, will seldom benefit from interlibrary loan.
Assigning Web Research
Awareness of the lack of controls and resulting unreliability of much of what is published on the World Wide Web might incline us toward prohibiting Web research altogether. However, some types of information are more readily found on the Web than anywhere else. Rather than precluding Web research, we can set parameters that will promote the use of reliable sources. For example, we might require that all Web sites consulted be connected to a reliable print source (such as Time or Newsweek ), organization (like the Alzheimer's Association or PETA), government agency (such as the USDA or National Park Service), or institution (a school or medical research facility, for example). We might assign students to submit a source list for our approval before paper drafts are due, allowing us to review the appropriateness of sources and to redirect students if necessary.
In addition to the above suggestions, we can provide instruction to build students' Web research skills. The following links contain suggestions for providing Web instruction.
Conducting a Web Tutorial
If possible, arrange to a conduct a class session in a computer lab or bring a laptop and projector into class. Before class, prepare a list of links to good, average, and poor Web sources. Ask students to evaluate pre-selected Web sites in class, focusing on their appropriateness as research sources. When students have completed their evaluations individually or in groups, lead a discussion highlighting various indicators of a Web source's reliability, such as: connection to a reputable print source or affiliation, the site's citation of other sources, links to other reliable sites, and endorsements by professional organizations or Web monitoring groups.
As an alternative to designing your own tutorial, consider scheduling a Web evaluation session through your library.
Administering Source Evaluation Assignments
To provide additional practice in evaluating Web sources, prepare a list of sources and design an assignment requiring students to evaluate them. The assignment might ask students to rank the sources, evaluate them in terms of certain criteria, or answer true or false, fill-in-the-blank, or short-answer questions regarding the sources' reliability. Whether or not the assignment receives a grade, provide feedback regarding each students' responses. Those responses might be used to facilitate further classroom discussion on evaluating sources.
Introducing Documentation
Before we ask students to observe the conventions of any documentation style, it is important that they understand why documentation is necessary and how to determine what to document. Without this background, many students will approach documentation either as a pointless activity designed to increase grading opportunities or as an entirely new language indecipherable to unpublished writers. With sufficient background, on the other hand, students will more readily grasp the mechanics of source documentation. View the following for suggestions on increasing your students' fluency in documentation.
Teaching Students Why to Document
Perhaps the best way to familiarize students with the importance of documentation is to call their attention to the use of documentation in course readings. As they read, ask students to note reasons the author might have had for documenting his or her sources. Possible reasons might be to give proper credit, to create a context for his or her ideas, to demonstrate the quality and quantity of his or her research, to build credibility with readers, to distinguish his or her original ideas from the ideas of others, and to avoid plagiarism. Allow students to complete their own lists and then ask them to share their observations as a class. Supplement the class list with suggestions from above or with ideas from your own list.
Teaching Students What to Document
Just as reading the writing of others can help students appreciate the importance of documentation, engaging in such reading also familiarizes students with general documentation protocol. In addition to noting authors' reasons for documenting, ask students to list the kinds of information documented—information such as quotations, paraphrased or summarized ideas, debatable or little known facts, statistics and other quantifiable data, unique phrasing or terminology, and others' opinions or assertions. Again, lead a classroom conversation on students' findings.
Point out to students that the reasons for documenting and decisions regarding what to document are closely related. As students better appreciate this relationship through exposure to and practice with documentation, they will more easily avoid common mistakes such as dropping quotes into their papers without context. They will also move more readily toward mastery of a particular documentation style.
Teaching Students How to Document
Once students have a general understanding of the need for documentation, the criteria used in determining what to document, and the way the relationship between these two factors guides the incorporation of documentation into their writing, they are ready to practice their understanding through the use of a particular documentation style. See below for suggestions on teaching specific documentation styles.
Documentation Styles
Just as our overall course goals guide our designing of assignments and other course materials, our goals for students as they relate to documentation will guide our decisions regarding particular documentation styles. If all or most of our students have chosen similar majors, one of our goals might be to acquaint them with the documentation style most commonly used in their discipline. In that case, we might require all students to use MLA, APA, Chicago, or another specific style. This approach has the additional benefit of allowing us to evaluate a style with which we are familiar and to utilize one set of standards in evaluating students' use of documentation.
If, on the other hand, our students represent a variety of academic backgrounds and potential majors, our goal might be to provide further practice with a documentation style to which they've already been introduced and/or to equip them for their individual academic and professional writing goals. In this case, students will benefit from our willingness to allow them to choose the documentation style with which they are most comfortable and that they are most likely to encounter in future writing situations.
Whatever our decision regarding documentation style, it's important that we make our students aware of the various styles available and of the importance of audience in selecting a style. Encourage them to ascertain the style required by whatever situation they're writing for and show them how to find guidelines for each style. The writing guides referred to later in this guide are a good place to start.
In-Text Documentation
In general, documentation consists of two parts: in-text documentation and end documentation.
In-text documentation alerts readers to the referencing of borrowed information. Common methods of in-text documentation are parenthetical references, footnotes, and endnotes. Students should know which method is appropriate to their chosen documentation style.
Classroom assignments can help students practice the use of in-text documentation. Giving students a paragraph or two of text and a list of research gathered from various sources, ask them to incorporate documentation into the prepared text. This same assignment can help students practice end documentation (discussed in the next section) by completing a works cited or references page corresponding to the sources they've documented in the text.
End Documentation
End documentation usually appears in the form of a works cited, literature cited, or references list page. Again, students will need to know which method is required for the documentation style they've selected. We should also help students to see the correspondence between in-text and end documentation. An assignment like the one described in the previous section will help students see this connection and practice the conventions of their style.
Students are likely to be particularly concerned about documenting Internet sources, information retrieved from online databases, and other alternatives to traditional print sources. As instructors, we should be sure to include these kinds of sources in practice activities and to familiarize ourselves with corresponding documentation conventions. A print or online guide (such as those listed in the next section) can help us and our students properly document alternative sources.
Documentation Guides
The following documentation guides are available online to help us and our students apply and evaluate documentation conventions:
WAC Clearinghouse Guides to Documentation Styles
CSU Libraries' Style Manuals' Index (This link will take you to another CSU site.)
APA's Guide to Citing Sources (This link will take you to another site.)
Duke University Libraries' Guides to Citing Sources (This link will take you to another site.)
Discouraging Plagiarism
Discussion of documentation creates an opportunity for us as instructors to discourage plagiarism in our students' work. Students often plagiarize because they are unaware that what they are doing qualifies as academic dishonesty, and our introduction to documentation—emphasizing why and what to document—can increase their appreciation of intellectual integrity.
Plagiarism might also occur when students are intimidated by an assignment. The suggestions contained throughout this guide will help you to create an environment in which students feel confident in their ability to respond to a writing situation. In addition, the following ideas will further discourage plagiarism:
Acquaint students with a comprehensive definition of plagiarism. Students have often received the idea that plagiarizing means quoting verbatim without giving credit. A broader understanding acknowledges that extensive paraphrasing or claiming someone else's ideas can also qualify as plagiarism.
Teach students about rhetorical context to discourage them from lifting someone else's ideas or even turning in an entirely plagiarized paper. Students are less likely to resort to these measures if they realize that someone else's writing is less suited to the current assignment than to the rhetorical context in which it originally appeared.
More importantly, teach students about rhetorical context to equip them to address a writing assignment that might otherwise seem daunting. We want students to view writing assignments not as traps, but as part of a process in which they are equipped to engage.
Require documentation of the research process and assess students' progress. This creates opportunities to head off intentional and unintentional instances of plagiarism before they occur.
Refer students to any of the online guides listed below for further discussion of plagiarism and how to avoid it:
All links listed on this page will take you to other sites.
Purdue University's Guide to Avoiding Plagiarism: https://owl.english.purdue.edu/owl/resource/589/01/
Hamilton College's Guide to Avoiding Plagiarism: https://www.hamilton.edu/academics/centers/writing/style/avoiding-plagiarism
University of Minnesota at St. Cloud's "The Puzzling Paraphrase": http://web.stcloudstate.edu/scogdill/339/paraphra.html
Duke University's Guide to Citing Sources and Avoiding Plagiarism: https://library.duke.edu/research/citing
Northwestern University's Guide to Avoiding Plagiarism: http://www.northwestern.edu/provost/docs/Academic%20Integrity%20Guide%202017.pdf
For additional advice to instructors, visit Penn State University's guide to detecting plagiarism .
What is Peer Review and How Do I Use It?
One way for instructors to move beyond assigning writing to teaching writing is to allow students to read and discuss each other's writing in peer-review workshops. As you create writing assignments, plan for peer review. As suggested in the discussion on assignment writing , preparing peer review guides along with the assignment sheet itself will allow both to work together to promote the same goals.
Peer Review Why
Peer-review workshops serve many useful functions for student writers, most notably:
They provide writers with real readers who must make sense of the writing.
They help writers improve their reading/critical analysis skills.
They, most obviously, help writers improve their writing skills and final products.
Peer Review How
Use the strategies and sample worksheets provided through the following links to help your students get the most out of peer review.
Specifying Peer-Review Tasks
Open review sessions, in which students imagine themselves as members of the target audience and give "reader response" reactions, are not recommended. It's most effective to have students review particular features of a paper. As instructors, we need to make sure those tasks are clear and precise. Although tasks can be listed on an overhead or board, students often prefer a worksheet that notes specific objectives. If students can compose their commentary on a word processor, they are likely to write more extensive comments. Take advantage of computer supports whenever possible.
The following sample handouts can help specify peer-review tasks.
Peer-Review Worksheet
Backwards Outline
Posted Guidelines
Sequencing Peer-Review Tasks
When asked to examine particular features of a paper, students often feel most comfortable moving through a sequence from simply identifying a feature to evaluating it to suggesting revisions. Especially if you give students multiple peer-review opportunities, consider using progressive workshop sheets, building on tasks required in previous workshop sheets. Label the level of each task clearly so that students know if they are to identify features or suggest revisions.
The following items appear in sequence on a peer-review worksheet distributed to a freshman composition class . Notice how the instructions move students from identifying a thesis to evaluating it to suggesting revisions:
Mark and label the writer's thesis in the draft. In the space below, "unpack" the thesis.
Is the thesis clearly debatable? Suggest one way the thesis might be narrowed or focused, if necessary.
Modeling How to Use Workshop Criteria
Although most students will have had experience with peer review in writing classes in high school and freshman composition, students can still benefit from understanding each teacher's expectations of the peer-review session. One of the most effective techniques is to provide a sample student paper (either as a handout or on overhead transparencies) and to elicit class comments on each point on your workshop sheet. Instructors can then elaborate on points students bring up or clarify the writing skills the points on the workshop sheet are designed to help students review.
Modeling Effective Commenting
The least helpful comment to receive from a peer reviewer is "It looks OK to me." We want students to find strengths or positive features in a draft, but we need to encourage them to be as specific as possible, about both strengths and weaknesses.
Other points of which you should remind students as you model giving effective commentary in peer review:
Always point out strengths as well as elements that need more work.
Try to attend to larger issues first (audience, purpose, organization, detail, etc.). Talk about sentences, word choices, and punctuation only later in the peer-review process.
Be specific. Point to particular places in the paper where revision will be helpful.
I got confused here.
I saw your point clearly here.
I was convinced by your example or analogy or argument.
If you disagree with the comments of another peer reviewer, say so. Not all readers react the same ways, and divergent points of view can help writers see options for revising.
Make comments in a spirit of helpfulness. Take comments in a spirit of helpfulness.
Modeling How to Handle Divergent Advice
Remind students that they are responsible for the final drafts they submit to you, but that they should carefully weigh each comment they receive from a peer reviewer. Comments that suggest radically different revisions of the same part of a paper generally help writers see various ways to revise but may confuse students about what to do. Students need not choose one of the suggested revisions, but they should note that multiple suggestions pointed at the same part of a paper typically highlight a place where some revision is necessary.
Thinking About Logistics
The logistics of peer review are generally simple, but they do require some forethought. If you want students to read papers in a round-robin exercise or to exchange papers with one other student, you don't need to require any photocopying. But if you want each student to read three other papers, make sure you remind students to bring three copies of their papers to class on the day of the exchange.
You can let students pick their own peer-review partners or group members, but you might also consider assigning peer reviewers based on your knowledge of students' writing and editing skills.
If you hold in-class peer-review sessions, circulate during the session to make sure students are on track and to intervene as necessary. Also, save a few minutes at the end of the session to discuss common problems facing the class as a whole.
The instructions below are part of a worksheet distributed during a freshman composition peer-review workshop. Note how the instructions on this sample worksheet address logistics:
Providing Adequate Time
The longer the paper or the more complex the criteria, the longer students will take to complete a thorough peer review. If you assign shorter papers, you can easily devote a part of a class to peer review or ask students to complete the peer review outside of class. But if you assign long, complex papers, consider breaking the peer review into several short sections. For instance, students might complete one peer reading looking just for problems with focus, another for weaknesses in organization and development, and still another on assignment-specific elements such as use of data or graphics. Finally, students might have an additional peer-review session devoted exclusively to mechanics.
Also, think about the big picture of your syllabus. Students need enough time to complete the peer review and revise before the paper is due, so work backwards from your intended due date to schedule the peer workshops.
Visit the following links to view how peer-review instructions might vary according to the time you have allowed for the peer-review process:
Workshop Checklist
Arguing Essay Worksheet 1
Arguing Essay Worksheet 2
Arguing Essay Worksheet3
Building in Incentives for Helpful Comments
If students don't see the value of peer review, they are unlikely to spend much time reviewing others' papers or to take peer advice seriously. The most effective way to encourage students to take peer review seriously, both as the reviewer and as the writer, is to include effective peer review as part of the overall grade for the paper. As an instructor, skimming peer review comments will take just a few minutes (even for multiple reviews of complex papers), and you'll quickly see which students provided the most helpful commentary. Alternatively, you can ask students to rank their peer reviewers and base the peer review part of grade on peer ratings.
If you're uncomfortable weighing the quality of peer reviewing in the paper grade, consider dividing the course grade to include a separate class participation or peer-reviewing grade.
Handout for Effective Peer Review
Consider distributing or adapting the following handout to share with students to encourage effective peer-review strategies:
All writers, even professional writers, need others to read and comment on their writing. As writers, we're often too close to our work to spot problems a helpful reader can point out. In order to benefit from the insight of such a reader, follow these strategies:
Come to the workshop with your best possible draft.
Alert your reader to any concerns you have before they begin to read.
Ask questions and take notes as you're discussing your writing.
Try not to get defensive. Be grateful for your reader's time and attention.
At the same time, don't feel obligated to take all of your reader's advice. Remember that readers' opinions may differ and that you're ultimately responsible for your paper.
Remember that your role as a writer is only part of your workshop contribution. The above strategies are most effective when your paper is reviewed by a helpful reader. You have an opportunity to be that kind of reader for others by observing the following guidelines as you review their writing:
Ask the writer what you can be looking for as you read their essay.
Read the writer's essay carefully.
Respond as a reader, pointing out where things don't make sense, read smoothly, etc.
Be positive. Point out strengths as well as weaknesses, and be sensitive in how you phrase your criticism ("Could you clarify this section?" rather than "Your organization is a mess.")
Be honest. Don't say something works when it doesn't. You're not helping the writer if you avoid mentioning a problem.
Be specific. Rather than simply saying a paragraph is "confusing," for example, try to point to a specific phrase that confuses you and, if possible, explain why that phrase is problematic.
Focus on one or two major areas for revision.
How Do I Respond to Student Writing?
The prospect of responding to student writing might overwhelm us as instructors because we feel obligated to correct every conceivable error in every paper. This approach overwhelms our students as well and often denies us an opportunity to continue teaching writing through the evaluation process. The following sections will help you make the most of the time you spend commenting on student writing, benefiting you by increasing your efficiency and benefiting your students by directing them toward areas in which they can experience the greatest growth as writers.
Emphasizing the Drafting Process
Students and instructors alike tend to view a piece of writing as the final version, particularly if it will receive a grade. When commenting on an early draft it might be natural to emphasize changes that will produce more effective future drafts. But even when evaluating a so-called final draft, we can direct our comments toward future writing situations. Explain how the writing strategies that would have improved a particular paper will apply to other assignments and non-academic projects. It might also be beneficial to allow students to revise one or more papers for a potentially higher grade. While we don't want to stress the grade over the process, the prospect of a higher grade might be an incentive to engage in revision when students might otherwise abandon a piece of writing as soon as it's been evaluated.
Becoming a Coach
Many students are intimidated by having their writing evaluated because they've so often encountered evaluators who assume the role of a judge. Students will be encouraged to take risks in their writing, such as breaking free from the five-paragraph model and trying new approaches, if they come to trust their writing instructor as a coach. A coach recognizes that there are more and less effective ways to accomplish a task, but instead of simply docking a student who chooses a less effective approach, a coach will guide that student toward a better alternative.
At the other end of the spectrum is the writing instructor who functions like an indulgent parent. While a parent might applaud from the stands, providing encouragement without direction, a good coach challenges students to improve on their strengths and to grow beyond their weaknesses.
Focusing Instructor Comments
With the previously discussed perspectives in mind, see below for practical suggestions on using comments as teaching opportunities.
Using Two Types of Comments
In general, there are two main comment types that we can use in combination to direct our students toward more effective writing. The links below provide discussion of each comment type.
Marginal Comments
As the label implies, marginal comments are those that are written in the margins and between the lines throughout the paper. Their primary purpose is to point out specific examples of effective and ineffective writing decisions emphasized in general by our overall evaluation. For this reason, it's a good idea to insert marginal comments after we've composed the end comments described in the following sections. Rather than marking up a paper on the first read, we can better formulate focused comments by reading it at least once with our pens laid aside.
Marginal comments might also mark errors in grammar, spelling, and punctuation. When this becomes their primary use, however, students will be confused about where to direct their energy toward growth as writers. For further discussion of addressing mechanical issues, see the section on avoiding the editor role .
End Comments
End comments are written in paragraph form and are used to direct students toward effective writing by highlighting one or two major areas on which they should focus their attention in future writing situations. The following components are suggested for end comments that will both encourage and direct students:
Descriptive Statement
A descriptive statement is a non-evaluative observation that reinforces students' awareness of what they've done in a particular piece of writing. Young writers seldom look back over a piece of writing with a clear sense of what they've produced. Opening with a descriptive statement like "You've written a detailed summary of Steele's essay" reacquaints students with the writing they've accomplished and prepares them for an evaluation of that writing.
Positive Statement
Our evaluation of students' writing is best received when we call attention to strengths as well as weaknesses. A simple way to incorporate both praise and criticism is through the sandwich approach, in which criticism—the meat of our evaluation—is served between two positive statements.
The opening positive statement is a comment on the paper's greatest strength. Even the most floundering paper will exhibit at least one strong point on which we can comment. For example, we might open by noting that the writer demonstrates a clear understanding of course content, is passionate about his or her subject, or has a good sense of audience. We might applaud an area of improvement from previous writing. We, like our students, are so accustomed to targeting weaknesses in academic work that we tend to overlook the strengths. Helping students identify their strengths not only builds their confidence as writers, but it gives them valuable information for continued growth. Knowing their strengths motivates students to apply those strengths to other writing assignments and often suggests an approach for addressing weaknesses.
Suggestions for Improvement
The bulk of our end comments, the constructive criticism portion helps students identify areas in which they can improve their writing. Remember that while we're assessing a particular piece of writing, our main goal is to create better writers. Our suggestions should contribute to students' improvement as writers and not primarily focus on ways to improve a particular piece of writing.
Criticism should direct writers toward one or two areas on which to work. Generally, we'll want to accomplish this in one or two paragraphs, depending on the length of the paper. A concise discussion gives students a sharper sense of areas for concern.
Closing Comment
In closing, offer students a comment on the strengths demonstrated in this particular piece of writing that will prepare them for future writing situations. For example, "Your ability to articulate a claim will serve you well as you continue to work on developing an argument in future writing situations." This allows you to continue encouraging growth in areas identified in previous comment sections while building students' confidence in their readiness to work toward such growth.
Avoiding the Editor Role
One way to send the message that we're more concerned with improving papers than writers is to become editors as we evaluate our students' work. Many of us remember receiving graded assignments that were completely covered in red ink. These marks were as often corrections as they were constructive comments, and they might have left us with little sense of how to grow as writers. We do want our students to have a command of mechanics, but we need to ask if this is should be the primary concern for each writer. A student who struggles to focus on a main topic, wandering from one idea to another without any apparent logic, should be encouraged to address broader issues before attending to word and sentence level concerns.
So how do we deal with mechanics? First, keep in mind that they're more appropriately addressed in the later drafts of a paper. If a student ends up omitting an entire paragraph in the restructuring of a paper, we've wasted much of the energy we spent editing that paragraph. Furthermore, mechanical errors generally decrease as students grasp the larger issues of academic writing. Finally, when we do comment on mechanics, it should be with the same goal that informs any other comment: to build stronger writers. Rather than simply correcting errors, we can look for the underlying problem these errors demonstrate. For example, if a student repeatedly shifts between past and present tense, we might indicate in the margin that there is inconsistency in tense throughout the paper. Emphasizing that such errors compromise a writer's effectiveness with almost any audience, we can assign reading from a grammar text (or provide photocopied pages) and require that the student correct the problem before receiving a grade. This will allow us to focus on larger issues in comments corresponding to the final grade.
Focusing on Goals
Our students are best served in the long run when we move from global to local in our evaluation of their writing. This means that the majority of our commenting time and energy is best spent addressing not mechanics, but larger goals for students' growth as writers. To identify the major writing skills to emphasize in our comments, it helps to read each paper at least twice. After the first read, we are less distracted by isolated errors and can better identify both a student's intent and the issues that are most significantly compromising that intent.
Consider some of the most common global issues student writers need to address. While this list is by no means comprehensive, the examples included illustrate an appropriate scope for our comments:
The ability to make a claim and to maintain focus on that claim
The ability to develop a claim logically and thoroughly
The use of evidence to support disputable statements
The ability to communicate a distinction between their own ideas and the summary of others' ideas
Recognizing Stages in the Writing Process
Our expectations and resulting comments should be informed by the stage of writing we're evaluating. If we're reading an early draft, we probably won't expect polished prose and generally won't comment at all on mechanical issues. Instead, our comments will emphasize one or two goals that will contribute to the student's growth as a writer while enhancing this paper in particular. In contrast, our comments on a final draft will use observations of the current work to direct the student toward future writing tasks. We will also have higher expectations regarding format and other conventions than we have of an early draft. We can address these in terms of how successfully the writer has assessed and addressed audience expectations, a concern that is present in any writing situation.
Acknowledging Revisions
Effective writing is a process of revision, yet as writers many of us are reluctant to engage in the revision process. In order to encourage students to revise their writing, it's important first of all to collect preliminary as well as final drafts of major assignments. Beyond simply collecting drafts, however, we should acknowledge the improvement we see from one draft to the next. After commenting on a particular area in a draft, we should always follow up on that area in later versions of the assignment. It's also appropriate to note areas not previously addressed in which the paper has improved since an earlier draft. This requires that we keep notes as we comment on drafts and/or ask students to turn in early drafts and attached comments along with the final version of their papers. The encouragement we can offer students more than makes up for the organization this demands on our part. Acknowledging revisions highlights improvement, reminding both students and instructors that even if problems still exist, the evidence of growth indicates a success.
Starting and Staying Positive
In the role of coach, not judge, we have tremendous potential to encourage students to invest themselves in the writing process in our classes and beyond. Students' investment depends largely upon our approach. If we are condemning, students will have little desire to pursue growth as writers. If, on the other hand, we are positive—emphasizing what can be improved rather than where students have failed in completed drafts—our students will more likely be motivated toward the attainable goals we've helped them identify. Remember that most students have at some point been labeled as either good or bad writers, and they likely have accepted that label as a lifetime sentence. Our encouragement can help students understand writing as a process in which they are equipped to engage. No matter how skilled they are when they enter our classrooms, we can help them identify and build skills that will support their growth as writers.
Determining Grades
Even when we manage to focus our marginal and end comments on overall goals promoting students' growth as writers, our students' most immediate concern will often be their grades. We might become hung up on this letter or number as well, as we attempt to translate our carefully constructed comments into a grade.
It will help us to start with an idea of what an A paper, a B paper, a C paper, and so on will look like. We might create our own evaluation sheets or rubrics, or use one of those available in the sample materials section. However, we should observe a caveat in using these resources: Evaluation sheets and rubrics are not meant to replace marginal and end comments, and they are not foolproof. They should be general enough to accommodate all the variations we might encounter in students' writing.
However we choose to determine grades, it's important to communicate with students how their writing will be evaluated. Whether or not we are using a criteria sheet, students should know the general criteria upon which we will base our evaluations. On the other hand, it might be best to avoid distributing detailed rubrics as these can involve students in a numbers game when we want them to concentrate on writing. If we choose to use a rubric, we might decide to keep the numbers to ourselves and simply to inform students of the major writing skills we intend to evaluate.
The skills we evaluate should correspond to the goals communicated in the original assignment description. If the goal of an assignment is to practice writing a convincing argument, our evaluation will assess students' claims, their development of those claims, and the quality of the evidence they've used as support. Likewise, classroom instruction surrounding the assignment will emphasize these skills and provide additional opportunities to practice them.
Note: Letter grades are generally preferable to number grades in evaluating writing assignments, as it is difficult and often inappropriate to quantify writing skills. Because an A, a B, a C, and so on will represent a range of proficiency levels, we will have greater incentive as instructors to articulate in our comments our specific concerns for each writer.
Working With the Writing Center
Writing center staff tutors and faculty are often available not only to assist your students with their individual writing concerns, but also to work one-on-one with instructors to help them integrate writing instruction into their classrooms. Their services often include assistance in focusing evaluative comments. While writing center staff typically offer general strategies such as those presented in this tutorial and in seminars and workshops, we recognize that general remarks might not prepare instructors for every question they will encounter as they comment on student papers. Particularly when applying these general concepts to early batches of papers, it can be helpful for instructors to work with someone as they walk through the process.
Sample Materials
The following materials are provided to illustrate the evaluation processes described in this guide. Instructors who choose to use criteria sheets or rubrics are strongly encouraged to develop versions tailored to their own course content and goals.
Sample Marginal Comments
The following marginal comments might be written on a student's paper after composition of the end comments listed in the next section:
Student's Observation: "Assignments in the well-funded school were more challenging than assignments in the poorly funded school I attended my final two years in elementary school." Instructor's Marginal Comment: "Here is a spot where a concrete example would strengthen your overall claim." (Corresponding section in student's paper is underlined or circled.)
Student's Observation: "To further illustrate the accuracy of Anyon's observations, consider two actual instructors currently teaching in public schools. We'll call them Instructor A and Instructor B." Instructor's Marginal Comment: "Here, it might be better to identify these instructors as your parents, as you did in earlier drafts. This is appropriate given your audience and would further distinguish your summary from your agreement with the author, supported by personal observations."
Student Observation: "For example, Instructor A reported that teachers at the well-funded school were given days off to attend professional development seminars. Instructor B was the only instructor from the poorly funded school to attend any outside seminar, and he had to use one of his two yearly personal days to do so." Instructor's Marginal Comment: "Here is a good example of successfully using concrete evidence."
Sample End Comments
The following sample end comments correspond to the marginal comments listed in the previous section:
You've done an excellent job combining all of what we've discussed in Unit 1 into a strong ARE. Your revisions, in particular, demonstrate your awareness of academic writing conventions and ability to apply them to your own writing. The final draft of your ARE is well-structured and clearly connected to Anyon's text. Focusing your essay on Anyon's progression from observations to ideas, you state clear responses to those ideas and support your responses with relevant evidence.
In regard to that evidence, keep one suggestion in mind as you continue to write for academic contexts. Wherever possible, provide specific details and examples, leaving your reader with an image that supports your claims. This specificity would strengthen your second paragraph in particular. Your background as a student in two different schools is clearly relevant and gives you authority to comment on class-based differences in teaching styles. Rather than general statements about these differences, however, consider how a specific illustration or two would lend stronger support to your claim. You might, for example, recall a specific assignment in one school compared to a same-subject assignment in the other school.
You provide more concrete evidence in your third and fourth paragraphs by identifying experienced educators as sources. Your parents' comments work well in supporting your response to Anyon's essay. Considering your writing situation (your fellow student audience) you might want to identify them as your parents, as you did in your first draft. Doing so would help you more clearly define your unique position regarding the subject of Anyon's essay. You might explain to your audience that as a student of public schools and the son of two parents involved in public school education, you have strong reasons to agree with Anyon's ideas and implications.
Again, your efforts in revision and throughout this unit have culminated in a superb ARE. Consider the suggestions above as you approach future writing assignments, and keep up the good work.
Sample Criteria Sheet
Sample rubric: evaluation of written report.
Note: This guide is based in part on instructional resources developed by Kate Kiefer and other members of the faculty at Colorado State University
Welcome to the new NASA Science website. We're working to continuously improve your web experience. If you don't find what you are looking for, give feedback .
Have a language expert improve your writing
Run a free plagiarism check in 10 minutes, generate accurate citations for free.
Knowledge Base
Example of a great essay | Explanations, tips & tricks
Example of a Great Essay | Explanations, Tips & Tricks
Published on February 9, 2015 by Shane Bryson . Revised on July 23, 2023 by Shona McCombes.
This example guides you through the structure of an essay. It shows how to build an effective introduction , focused paragraphs , clear transitions between ideas, and a strong conclusion .
Each paragraph addresses a single central point, introduced by a topic sentence , and each point is directly related to the thesis statement .
As you read, hover over the highlighted parts to learn what they do and why they work.
Table of contents
Other interesting articles, frequently asked questions about writing an essay, an appeal to the senses: the development of the braille system in nineteenth-century france.
The invention of Braille was a major turning point in the history of disability. The writing system of raised dots used by visually impaired people was developed by Louis Braille in nineteenth-century France. In a society that did not value disabled people in general, blindness was particularly stigmatized, and lack of access to reading and writing was a significant barrier to social participation. The idea of tactile reading was not entirely new, but existing methods based on sighted systems were difficult to learn and use. As the first writing system designed for blind people's needs, Braille was a groundbreaking new accessibility tool. It not only provided practical benefits, but also helped change the cultural status of blindness. This essay begins by discussing the situation of blind people in nineteenth-century Europe. It then describes the invention of Braille and the gradual process of its acceptance within blind education. Subsequently, it explores the wide-ranging effects of this invention on blind people's social and cultural lives.
Lack of access to reading and writing put blind people at a serious disadvantage in nineteenth-century society. Text was one of the primary methods through which people engaged with culture, communicated with others, and accessed information; without a well-developed reading system that did not rely on sight, blind people were excluded from social participation (Weygand, 2009). While disabled people in general suffered from discrimination, blindness was widely viewed as the worst disability, and it was commonly believed that blind people were incapable of pursuing a profession or improving themselves through culture (Weygand, 2009). This demonstrates the importance of reading and writing to social status at the time: without access to text, it was considered impossible to fully participate in society. Blind people were excluded from the sighted world, but also entirely dependent on sighted people for information and education.
In France, debates about how to deal with disability led to the adoption of different strategies over time. While people with temporary difficulties were able to access public welfare, the most common response to people with long-term disabilities, such as hearing or vision loss, was to group them together in institutions (Tombs, 1996). At first, a joint institute for the blind and deaf was created, and although the partnership was motivated more by financial considerations than by the well-being of the residents, the institute aimed to help people develop skills valuable to society (Weygand, 2009). Eventually blind institutions were separated from deaf institutions, and the focus shifted towards education of the blind, as was the case for the Royal Institute for Blind Youth, which Louis Braille attended (Jimenez et al, 2009). The growing acknowledgement of the uniqueness of different disabilities led to more targeted education strategies, fostering an environment in which the benefits of a specifically blind education could be more widely recognized.
Several different systems of tactile reading can be seen as forerunners to the method Louis Braille developed, but these systems were all developed based on the sighted system. The Royal Institute for Blind Youth in Paris taught the students to read embossed roman letters, a method created by the school's founder, Valentin Hauy (Jimenez et al., 2009). Reading this way proved to be a rather arduous task, as the letters were difficult to distinguish by touch. The embossed letter method was based on the reading system of sighted people, with minimal adaptation for those with vision loss. As a result, this method did not gain significant success among blind students.
Louis Braille was bound to be influenced by his school's founder, but the most influential pre-Braille tactile reading system was Charles Barbier's night writing. A soldier in Napoleon's army, Barbier developed a system in 1819 that used 12 dots with a five line musical staff (Kersten, 1997). His intention was to develop a system that would allow the military to communicate at night without the need for light (Herron, 2009). The code developed by Barbier was phonetic (Jimenez et al., 2009); in other words, the code was designed for sighted people and was based on the sounds of words, not on an actual alphabet. Barbier discovered that variants of raised dots within a square were the easiest method of reading by touch (Jimenez et al., 2009). This system proved effective for the transmission of short messages between military personnel, but the symbols were too large for the fingertip, greatly reducing the speed at which a message could be read (Herron, 2009). For this reason, it was unsuitable for daily use and was not widely adopted in the blind community.
Nevertheless, Barbier's military dot system was more efficient than Hauy's embossed letters, and it provided the framework within which Louis Braille developed his method. Barbier's system, with its dashes and dots, could form over 4000 combinations (Jimenez et al., 2009). Compared to the 26 letters of the Latin alphabet, this was an absurdly high number. Braille kept the raised dot form, but developed a more manageable system that would reflect the sighted alphabet. He replaced Barbier's dashes and dots with just six dots in a rectangular configuration (Jimenez et al., 2009). The result was that the blind population in France had a tactile reading system using dots (like Barbier's) that was based on the structure of the sighted alphabet (like Hauy's); crucially, this system was the first developed specifically for the purposes of the blind.
While the Braille system gained immediate popularity with the blind students at the Institute in Paris, it had to gain acceptance among the sighted before its adoption throughout France. This support was necessary because sighted teachers and leaders had ultimate control over the propagation of Braille resources. Many of the teachers at the Royal Institute for Blind Youth resisted learning Braille's system because they found the tactile method of reading difficult to learn (Bullock & Galst, 2009). This resistance was symptomatic of the prevalent attitude that the blind population had to adapt to the sighted world rather than develop their own tools and methods. Over time, however, with the increasing impetus to make social contribution possible for all, teachers began to appreciate the usefulness of Braille's system (Bullock & Galst, 2009), realizing that access to reading could help improve the productivity and integration of people with vision loss. It took approximately 30 years, but the French government eventually approved the Braille system, and it was established throughout the country (Bullock & Galst, 2009).
Although Blind people remained marginalized throughout the nineteenth century, the Braille system granted them growing opportunities for social participation. Most obviously, Braille allowed people with vision loss to read the same alphabet used by sighted people (Bullock & Galst, 2009), allowing them to participate in certain cultural experiences previously unavailable to them. Written works, such as books and poetry, had previously been inaccessible to the blind population without the aid of a reader, limiting their autonomy. As books began to be distributed in Braille, this barrier was reduced, enabling people with vision loss to access information autonomously. The closing of the gap between the abilities of blind and the sighted contributed to a gradual shift in blind people's status, lessening the cultural perception of the blind as essentially different and facilitating greater social integration.
The Braille system also had important cultural effects beyond the sphere of written culture. Its invention later led to the development of a music notation system for the blind, although Louis Braille did not develop this system himself (Jimenez, et al., 2009). This development helped remove a cultural obstacle that had been introduced by the popularization of written musical notation in the early 1500s. While music had previously been an arena in which the blind could participate on equal footing, the transition from memory-based performance to notation-based performance meant that blind musicians were no longer able to compete with sighted musicians (Kersten, 1997). As a result, a tactile musical notation system became necessary for professional equality between blind and sighted musicians (Kersten, 1997).
Braille paved the way for dramatic cultural changes in the way blind people were treated and the opportunities available to them. Louis Braille's innovation was to reimagine existing reading systems from a blind perspective, and the success of this invention required sighted teachers to adapt to their students' reality instead of the other way around. In this sense, Braille helped drive broader social changes in the status of blindness. New accessibility tools provide practical advantages to those who need them, but they can also change the perspectives and attitudes of those who do not.
Bullock, J. D., & Galst, J. M. (2009). The Story of Louis Braille. Archives of Ophthalmology , 127(11), 1532. https://​doi.org/10.1001/​archophthalmol.2009.286.
Herron, M. (2009, May 6). Blind visionary. Retrieved from https://​eandt.theiet.org/​content/​articles/2009/05/​blind-visionary/.
Jiménez, J., Olea, J., Torres, J., Alonso, I., Harder, D., & Fischer, K. (2009). Biography of Louis Braille and Invention of the Braille Alphabet. Survey of Ophthalmology , 54(1), 142–149. https://​doi.org/10.1016/​j.survophthal.2008.10.006.
Kersten, F.G. (1997). The history and development of Braille music methodology. The Bulletin of Historical Research in Music Education , 18(2). Retrieved from https://​www.jstor.org/​stable/40214926.
Mellor, C.M. (2006). Louis Braille: A touch of genius . Boston: National Braille Press.
Tombs, R. (1996). France: 1814-1914 . London: Pearson Education Ltd.
Weygand, Z. (2009). The blind in French society from the Middle Ages to the century of Louis Braille . Stanford: Stanford University Press.
If you want to know more about AI tools , college essays , or fallacies make sure to check out some of our other articles with explanations and examples or go directly to our tools!
Ad hominem fallacy
Post hoc fallacy
Appeal to authority fallacy
False cause fallacy
Sunk cost fallacy
College essays
Choosing Essay Topic
Write a College Essay
Write a Diversity Essay
College Essay Format & Structure
Comparing and Contrasting in an Essay
 (AI) Tools
Grammar Checker
Paraphrasing Tool
Text Summarizer
AI Detector
Plagiarism Checker
Citation Generator
Here's why students love Scribbr's proofreading services
Discover proofreading & editing
An essay is a focused piece of writing that explains, argues, describes, or narrates.
In high school, you may have to write many different types of essays to develop your writing skills.
Academic essays at college level are usually argumentative : you develop a clear thesis about your topic and make a case for your position using evidence, analysis and interpretation.
The structure of an essay is divided into an introduction that presents your topic and thesis statement , a body containing your in-depth analysis and arguments, and a conclusion wrapping up your ideas.
The structure of the body is flexible, but you should always spend some time thinking about how you can organize your essay to best serve your ideas.
Your essay introduction should include three main things, in this order:
An opening hook to catch the reader's attention.
Relevant background information that the reader needs to know.
A thesis statement that presents your main point or argument.
The length of each part depends on the length and complexity of your essay .
A thesis statement is a sentence that sums up the central point of your paper or essay . Everything else you write should relate to this key idea.
A topic sentence is a sentence that expresses the main point of a paragraph . Everything else in the paragraph should relate to the topic sentence.
At college level, you must properly cite your sources in all essays , research papers , and other academic texts (except exams and in-class exercises).
Add a citation whenever you quote , paraphrase , or summarize information or ideas from a source. You should also give full source details in a bibliography or reference list at the end of your text.
The exact format of your citations depends on which citation style you are instructed to use. The most common styles are APA , MLA , and Chicago .
Cite this Scribbr article
If you want to cite this source, you can copy and paste the citation or click the "Cite this Scribbr article" button to automatically add the citation to our free Citation Generator.
Bryson, S. (2023, July 23). Example of a Great Essay | Explanations, Tips & Tricks. Scribbr. Retrieved October 4, 2023, from https://www.scribbr.com/academic-essay/example-essay-structure/
Is this article helpful?
Shane Bryson
Shane finished his master's degree in English literature in 2013 and has been working as a writing tutor and editor since 2009. He began proofreading and editing essays with Scribbr in early summer, 2014.
Other students also liked
How to write an essay introduction | 4 steps & examples, academic paragraph structure | step-by-step guide & examples, how to write topic sentences | 4 steps, examples & purpose, what is your plagiarism score.