Essay On Allama Iqbal...
Published by admin on 28th September 2022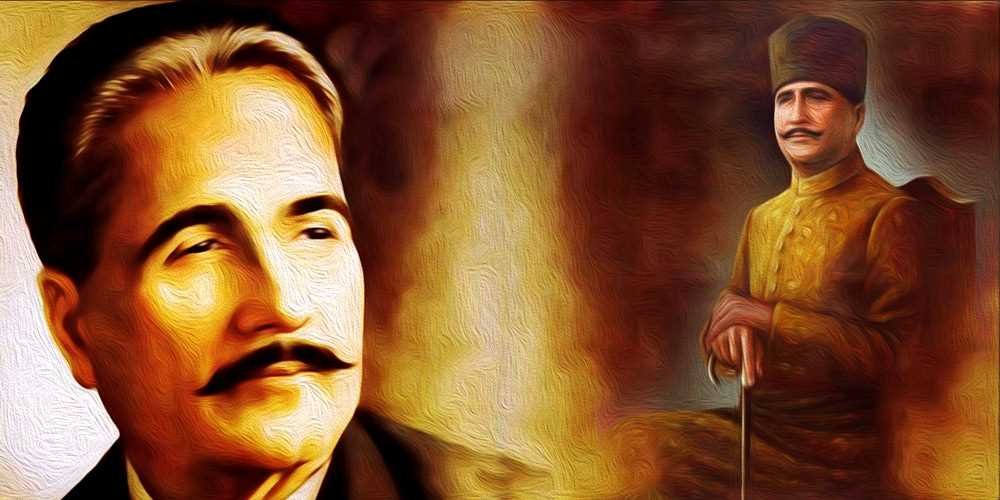 Essay On Allama Iqbal
Muhammad Iqbal, born on the 9th of November, 1877, the man behind the ideology of Pakistan and the great poet was born in Sialkot. After having command over traditional languages including, Persian, Arabic, and Urdu, he attained his M.A. degree in Philosophy from the Scottish Mission School. He continued his education of Doctorate in The development of Metaphysics from Germany. He also possessed the degree of Barat Law. Moreover, getting influenced by the teachings of Sir Thomas Arnold one of his philosophy teacher at Government College Lahore, he went to Europe for his further qualifications. He achieved the degree of Bachelor of Arts in 1906, given the name of barrister at Lincoln's Inn in the same year.
Throughout his career, he followed different professions at different times. He worked as a professor of philosophy, practiced law, took part in politics and joined the round table conference. Eventually, he became the preeminent national poet and favored the Idea of Pakistan. The interesting is he not only wrote in Urdu but also in the Persian Language. His poetry depicts that he was the poet of the east, who believe in Wahdatul Wujood. Also, he brought forward the philosophy of Khudi, called for self-realization.
From many strong steps of Sir Iqbal few which are the most prominent are, raising the voice for Muslims of India when the British were controlling them, his emphasis on education and overcoming the social problems were also brought into the light. His ideology behind the separate homeland for Indian Muslims in 1930 and his amazing poetry enabled many Muslims to brainstorm over the religion of Islam and opened their eyes.
Few of his most renowned books are; Shikwa, jawab-e-shikwa, Armaghan-e-Hijaz, Bal-e-Jibrael and others gave him a lot of success. Especially, Shikwa created hype as many Muslims were concerned that how he can complain to Almighty. But after Jawab e Shikwa, everybody was not only impressed but also loved his poetry style. Sir Allama Iqbal also wrote many books.
In the year of 1928, the reputation of Sir Allama Iqbal was solidly established and he delivered lectures at Hyderabad, Madras, and Aligarh. The cherry on the top was, this lecture was published as a book named" the reconstruction of Religious Thought in Islam". In 1932 Iqbal came to England as a Muslim delegate to the Third Round Table Conference. When Quaid e Azam Muhammad Ali Jinnah was in England, Mr. Iqbal Persuaded him to come and asked for his personal views on problems and the Indian state of affairs. His letter was powerful with irreplaceable words and power of thoughts.
Sir Allama Iqbal died on the 21st of April, 1938, but his remarkable work and stand for Muslims will remain alive throughout our lives. He is buried next to the Badshahi Mosque in Lahore. His beautiful poetry still keeps on inspiring people and young. There are many people who love to write about him and many placed where you search an essay on Sir Muhammad Allama Iqbal. Especially on the essay writing service in Pakistan , these leaders really need to be saluted for what they have done to Muslim nations. Pakistani Muslims are living peacefully in their own homeland where there is no inference of any other non-muslim party. Whereas, Muslims in India are suffering a lot as still hatred cannot be removed from hearts.
Essay on Allama Iqbal 300 words & 500 Words for Students
Allama Muhammad Iqbal was a renowned poet, philosopher, and politician who played a major role in the development of the Muslim identity in South Asia. He is considered one of the most influential thinkers of the 20th century, and his work continues to inspire people around the world.
If you are a student who is assigned to write an essay on Allama Iqbal, there are a few things you need to do to prepare. First, you need to do your research and learn as much as you can about his life and work. You can find information about Allama Iqbal in books, articles, and Top Study World of course.
Essay on Allama Iqbal – 300 Words
Allama Iqbal was born on November 9, 1877, in Sialkot, in Punjab, British India. He received early education in Islamic studies from his father and a nearby mosque. In 1895, after his family moved to Lahore, he enrolled at the Government College University (Lahore) and subsequently obtained a Bachelor of Arts degree.
He is widely regarded as one of the most influential Muslim philosophers and poets of the 20th century. Famously referred to as the "Poet of the East", Iqbal is acclaimed as having inspired the Pakistan Movement, which led to Pakistan's creation.
His works include more than thirty books of poetry, including Rumuz-e-Bekhudi, Payam-i-Mashriq, and Bang-e-Dara, elegies such as Barrasi Kashmir, philosophical works such as The economics of the Indian (Hindustani) situation, and politics such as The Secrets of the Self. He also wrote short stories and four acts of poetic drama.
October 11, 1930, is a historic day in the history of Muslim India. On this day, Allama Muhammad Iqbal first came out with his immortal Iqbal Lahore address at the Allahabad session of the Muslim League. The wording of the address was concise and straight to the point. And its purpose was to convince and convert many Indian Muslims to agree to become part of an independent state that would be free from British domination and Hindu Sovereignty.
Iqbal died on Friday night, April 21, 1938. He had just turned 60 and was about to be nominated for the Nobel Prize. His was a turning point for Muslims of the subcontinent because, after his martyrdom, the situation changed. A new period started in the history of the Muslim political freedom struggle.
Essay on Allama Iqbal – 500 Words
Allama Iqbal is one of the most influential Muslim thinkers of the 20th century, and his poetry had a profound impact on Pakistan's freedom movement. He was born in Sialkot on November 9, 1877, to a Kashmiri family that migrated from Afghanistan during British rule. He was the seventh child in his family. His name was Allama (scholar). He grew up in a religious family and was very intelligent as a child. Allama Iqbal's education began at home, under the supervision of his father.
He is held in high regard in Pakistan and in India and among the Muslims of South Asia. His poetry has received international acclaim, while some have criticized him for being a political poet. The Sufi philosophy influenced his poetry.
Also Read: Essay on Corruption
He is often credited as being the "spiritual father" of Pakistan. He has been called one of the most important figures in Urdu literature, with both his poetic work and philosophical writings influencing generations of people across the globe. In 1908, Iqbal graduated as valedictorian from Punjab University Law College (now known as Quaid-e-Azam University). Upon graduation, Allama became an assistant professor at Government College Lahore, where he taught English literature and history.
He called for the independence of Pakistan and inspired the formation of the All-India Muslim League, which later led to Pakistan's creation. A prolific poet, Iqbal wrote in Urdu, Persian, Arabic, and English. He has been dubbed as the "Poet of the East", and the "Faiz of the West".
A lesser-known fact about the Father of Modern Urdu Poetry is that he was also a politician. Allama Iqbal, the man who wrote Pakistan's national anthem, was a member of the Indian National Congress and served as Minister of Education in British India for five years. He later joined Muslim League and became one of its most prominent leaders.
He is also considered one of the most important Urdu literature figures, with literary work in both the Urdu and Persian languages. Iqbal is best known for his poetic works, including Asrar-e-Khudi, Bang-i-Dara, Bal-i-Jibril, Zarb-i Kalim, and a part of the Armughan-e-Hijaz.
Also Read: Essay on Hobby
Undoubtedly, he is one of the most revered and influential poets in South Asia. He is known for his poetic expression, which has been difficult to translate into English. His poetry was considered "revolutionary" because he called for a Muslim society that would be progressive and forward-thinking.
Allama Iqbal's concept of Pakistan was a central theme in his life. He believed that the British government had no right to rule over India and that a separate country should be formed for Indian Muslims.
Sir Allama Iqbal died on April 21, 1938, in Lahore, Pakistan. He was buried in the vicinity of the Badshahi Mosque. More than 20 million people attended his funeral procession. His popularity was like a flood in the hearts of people. Iqbal was an ardent Indian Muslim and expressed the need for a Muslim homeland in South Asia, known as Pakistan.
He is an SEO wizard and founder of Top Study World & Nafran , has been featured more times than a celebrity on Ahrefs , Semrush , Dawn News , Propakistani and dozens more. His superpower? Helping students ace their exams!
Similar Posts
Essay on kashmir issue (200 & 500 words), essay on my favorite book (200 & 500 words), essay on mobile phone (200 & 500 words), essay on fatima jinnah.
Essay Industrialization And Its Impact On Environment
Essay on Abdul Sattar Edhi (National Hero) 500 words
Essay on Allama Iqbal Class 3, 4, 5, 6, 7, 8 in English, Urdu
Essay on allama iqbal | my favourite personality / hero.
Allama Iqbal was our great National hero. He is the poet of East. He was born in Sialkoat on November 9, 1877. He received his early education in Sialkoat. He passed intermediate examination from Murrey College Sialkoat. Then he went to Lahore for higher studies.
After that, he went to England and Germany. He got Ph.D. in Philosophy. He wrote many poems in praise of the Muslim culture. He reminded the Muslims of their glorious past. The names of some of his books are Bang-e-Dara, Bal-e-Jibril, Payam-e-Mashriq and Asrar-e-Khudi. He gave the idea of Pakistan. He requested Quaid-e-Azam to accept the leadership of the Muslims. He was, indeed, a great leader. He died on April 21, 1938. He was buried near the Badshahi Mosque in Lahore.
Read also: My Favourite Personality Allama Iqbal Essay
Allama Iqbal Essay with Urdu Translation
Read More: Allama Iqbal Essay For Class 9 & 10
23 thoughts on "Essay on Allama Iqbal Class 3, 4, 5, 6, 7, 8 in English, Urdu"
It's very simple to find out any matter on web as compared to textbooks, as I found this piece of writing at this web site.
Hi Dear, are you genuinely visiting this website on a regular basis, if so after that you will without doubt obtain fastidious knowledge.
Hello there, just became alert to your blog through Google, and found that it's really informative. I'm gonna watch out for brussels. I'll be grateful if you continue this in future. Lots of people will be benefited from your writing. Cheers!
This is a Good article written in simple words.. But its too short to be called an Essay.Please add some more
Yes it is so amazing
Hello everyone, it's my first pay a quick visit at this web site, and article is truly fruitful in support of me, keep up posting these articles.
Too short, but it is informative, keep up the good work!
Good I use it for my school project
Allah tala allama Iqbal ki maqfirat atta farmay
Well done!!
Hey, what a essay wrote by this site. love you man ??????and all of you ??✌✌✌✌╰(*°▽°*)╯༼ つ ◕_◕ ༽つ
Very Nice!Keep up the good work!?
This is Very simple and ideal essay for students like me we all are thankfull to you. "GOD BLESS YOU"!
It is also good for English speech I like this essay
Very nice ?
tooooooooooooo much shortttttttttttttttttt
It's simple and easy to learn. I really appreciate the person who wrote this keep on going.???
bro thanks 5 class i was so nervous about my Urdu test but now i am not tanks bro
Leave a Comment Cancel reply
Save my name, email, and website in this browser for the next time I comment.
100 Words Essay On Allama Iqbal In English
Muhammad Iqbal is Allama Iqbal's full name.  Sir Muhammad Iqbal was born on November 9, 1877, in Punjab, India, and died on April 21, 1938. He lived for 61 years. He suffered for a long time due to throat disease and thereafter passed away. He had an arranged marriage and had two daughters.
He is a Muslim poet and philosopher. He gave the idea of Pakistan and became the national poet of Pakistan. He is also known as the political thinker of Pakistan. He had no interest in fame and wealth and was down to earth. He is highly regarded for his Persian works.
His famous poems are "Shikwa" and "Jawab-e-Shikwa", "A Cow and a Goat", "A longing, "A mother's dream", and so on. He was a very talented man and loved so dearly, especially for his poetic works and his Islamic way of life.
Allama Muhammad Iqbal
Dr. Allama Muhammad Iqbal is the national poet of Pakistan. He was born on 9th November, 1877. This blog is about the life and poetry of Allama Iqbal. This Blog has the poerty of Iqbal in Urdu, Roman Urdu and English translation.
Baal e Jibreel
Zarb e Kaleem
Armaghan e Hijaz
Baang e Dra
Wednesday, 26 March 2014
Essay on allama iqbal / life of allama iqbal, 36 comments:.
Hi ѕupеrb blοg! Does running a blog such as this take a lot of work? I've no understanding of computer programming however I was hoping to start my own blog soon. Anyways, should you have any suggestions or techniques for new blog owners please share. I know this is off topic but I just had to ask. Many thanks! Here is my webpage ; buy google plus one
this essay is very good
this essay is very awesome
great essay
Bro your essay is great but you have not described about their poetry books
nice but too lenthy for writing :)
best ....(y)
verrrrrrrryyyyyy goooood and niceee essay
very nice essay because we know that our national poet
i m looking Essay On Allama Iqbal and you can write great very useful for me...
This essay is owsome :)
awsm essay.......
Nice essay :)
nice essay but shrt rh gy
the essay should be short
This essay iz tooooo short nd hv no any quotations
this esSay iz ToO shOrt :( ;-(
hmm, as I blogger I can surely say that it takes a lot of hard work and patience and it doesn't matter that much that if you don't have any understanding of computer programming, anyone can be a blogger as long as you want :)
this essay is very short and have no related quotations
Right we should also become like him
that's good info...but it would excellent if the dictionary would also be given. overall good effort
Too much dates:-(
yup its a inspiring blog !!!!!!!!!
gud job.. :) hope for the upcoming ones..
Very good write-up. I definitely appreciate this site. Keep writing!
Good essay and choose easy words
good keep it up
Good job . keep at up
Post a Comment
Popular posts.