How to Write an Informative Essay: Everything You Need to Know
Did you know that informative essays are not limited to academic settings? While they are commonly assigned in schools and universities, informative essays also have practical applications in various professional fields. Industries such as journalism, marketing, and public relations often utilize this type of writing to communicate complex ideas, educate the public, and promote products or services. This demonstrates the versatile nature of informative essays and their ability to convey valuable information beyond the classroom setting.
So, if you are looking to write an informative essay, congratulations! You have chosen a genre that is not only interesting but also quite challenging. To ensure the success of your essay, according to our essay writer , you must invest time and effort into thoughtful planning, thorough research, and effective organization. It's key to maintain a balanced tone, provide clear and concise information, and incorporate your own analysis to make your essay stand out.
Short Description
Throughout this comprehensive guide, we will explore the definition and purpose of informative essays, highlighting the reasons why you should embrace the art of crafting one. Furthermore, we will provide valuable insights on how to commence and organize your own informative essay format effectively. Without further ado, let us embark on this enriching journey!
What is an Informative Essay: Unraveling the Essence
Informative writing aims to educate readers about a specific topic by presenting accurate and objective information. Whether used in academic settings or published in magazines and online platforms, informative essay examples cover a wide range of subjects and require thorough research and credible sources. This type of essay follows a structured format and considers the intended audience to ensure clarity and engagement. Here are some important facts from our admission essay writing service you should know about this kind of paper:
They are designed to educate or inform readers about a particular topic.
The emphasis is on presenting accurate, objective facts and information.
They can cover various subjects, from science and technology to literature, history, and culture.
They are commonly used in academic settings but can also be found in magazines, newspapers, and online publications.
The essays rely on verifiable facts and require extensive research and credible sources.
Personal opinions and biases should be avoided to maintain credibility.
The essay structure includes an introduction with background information and a clear thesis statement, a body presenting main points and supporting evidence, and a conclusion summarizing the information.
The language and tone should be appropriate for the target audience.
The level of detail should be adjusted based on the audience's knowledge of the topic.
Reasons to Write an Informative Essay
Writing an informative essay, whether in an IEEE format or any other style, offers an opportunity to share expertise, educate others, and shed light on lesser-known topics. Whether driven by passion, a desire to showcase expertise or a quest for spreading awareness, there are compelling reasons to embark on this writing journey:
Share knowledge : Understanding how to write an informative essay allows you to impart knowledge about a specific field or subject. As an expert in psychology, for instance, you could enlighten readers about theories of personality or the impact of stress on mental health. By sharing your expertise, you contribute to increased understanding and awareness of significant issues.
Demonstrate expertise : If you are a professional in a particular field like medicine or law, writing this kind of paper provides a platform to showcase your expertise. By articulating your knowledge and skills, you can establish credibility not only within your field but also among the general public.
Unveil the unknown : It can be an effective means to present information that is not widely known or understood. For instance, you might delve into a lesser-known historical event or a scientific discovery that has yet to receive widespread attention. By unveiling such knowledge to your readers, you contribute to raising awareness and fostering understanding of significant topics.
How to Start an Informative Essay: Effective Strategies
Are you feeling overwhelmed by the thought of how to write an informative essay? Don't worry; you're not alone! Many students struggle with getting started on their writing assignments. You can either order essay or, with a few helpful tips, you can tackle this task with confidence and ease.
Choose an engaging topic : Select a topic that genuinely interests you, as it will make the writing process more enjoyable and engaging. Additionally, choose a topic you have some knowledge about to write with authority and credibility.
Conduct thorough research : Invest time in researching your chosen topic to gather the necessary information for a compelling and essay. Use reputable sources and take detailed notes to ensure accuracy.
Determine the purpose of your essay : Clarify the purpose of your essay. Are you explaining a complex concept, analyzing a problem, or comparing and contrasting ideas? Knowing the purpose will help you stay focused and organized throughout the writing process.
Create an outline : Use an outline to organize your thoughts and information. Include an introduction, body paragraphs, and a conclusion. This structure of an informative essay will provide a clear framework for your paper and make the writing process smoother.
Informative Essay Outline
Many students overlook the importance of creating an outline, yet it serves as a valuable tool for directing research and organizing the structure and flow of an essay. By investing a little more time in crafting an outline, you can significantly reduce the time spent on the actual writing process. To assist you, here is a sample informational essay format from our term paper writing services that can serve as a helpful guide:
I. Introduction
A. Hook or attention-grabbing statement
B. Background information on the topic
C. Informative essay thesis statement that states the main focus of the essay
II. Body Paragraphs
A. Main Idea 1
1. Supporting evidence or facts related to Main Idea 1
2. Explanation or analysis of the supporting evidence
3. Transition sentence to the next paragraph
B. Main Idea 2
1. Supporting evidence or facts related to Main Idea 2
C. Main Idea 3
1. Supporting evidence or facts related to Main Idea 3
III. Conclusion
A. Restate the thesis statement
B. Summarize the main points discussed in the body paragraphs
C. Closing thoughts or final remarks to leave a lasting impression
IV. Optional: Additional Sections
A. Counter Arguments and refutations (if necessary)
B. Further research or recommendations for further reading
C. Personal reflections or real-life examples (if applicable)
Informative Essay Structure
Now that you have an outline and know how to start an essay , it's important to understand how to structure your essay with further elaboration:
Introduction : When it comes to writing an informative essay, the first step is to choose a topic that is interesting and relevant to your audience. You should also do some research to gather information and facts that will support your thesis statement. Once you have a clear understanding of your topic, you can start writing your introduction. Your informative essay introduction should provide some background information about your topic and end with a thesis statement that summarizes the main points of your essay.
Body Paragraphs : Each body paragraph should focus on a main point and provide evidence to support it. Use examples, statistics, and quotes to strengthen your argument. For example, if you are writing an essay about the benefits of exercise, your first body paragraph could focus on the physical benefits of exercise, such as weight loss, increased muscle mass, and improved cardiovascular health. You could provide evidence from scientific studies or expert opinions to support your argument.
Conclusion : Summarize the main points of your essay and provide a concluding thought. Avoid introducing new information in your conclusion. For example, if you are writing about the benefits of exercise, your conclusion should summarize the physical, mental, and social benefits of exercise and encourage your reader to start an exercise routine for a healthier and happier life.
Informative Essay Topics
When writing an informative essay, topic selection is a task more challenging than it may initially appear. Since the objective of such an essay is to provide information about a subject, almost any topic can serve as a suitable choice. However, it is crucial to avoid hastily diving into the first topic that comes to mind. Instead, dedicate time to brainstorming multiple options and conducting preliminary research on each of them. To narrow down a good topic, consider the following guidelines:
Avoid excessive breadth : Ensure that the topic is not too broad to allow for a comprehensive explanation within the essay.
Steer clear of excessive specificity : Similarly, avoid selecting a topic that lacks substantial information, as it may hinder your ability to present a well-supported essay.
Appeal to the audience : Choose a topic that is interesting and relevant to your target audience, as this will captivate their attention and enhance the overall quality of your essay.
Personal interest : Opt for a topic that personally intrigues you. When you find the subject matter fascinating, it becomes easier to engage in the research and writing process.
Significance of the topic : Ensure that your chosen topic addresses something important, as this will contribute to the overall value and relevance of your essay.
Take sufficient time to generate a strong topic. If you encounter difficulties, consider reviewing some examples to understand the type of information you need to find. Additionally, you can refer to a list of topics for inspiration.
10 History Topics
Recounting a Cherished Era: Reflections on a Favorite Period in History.
Unveiling the Origins of the English Language: Tracing its Linguistic Development.
Unraveling Your Family Tree: An In-depth Analysis of Ancestral Lineage.
Echoes of the Ancient Egyptians: Exploring the Auditory Landscape of a Bygone Civilization.
Timekeeping Techniques of Ancient Civilizations: Examining Methods and Instruments.
Shifting Perspectives: Three Formerly Acceptable Norms Now Regarded as Iniquitous.
Tracing the Fascinating History of a European Royal Family.
Pre-European Africa: A Glimpse into the Continent's Precolonial Era.
The Significance of the Silk Trade Route: Examining its Historical, Economic, and Cultural Impacts.
Connecting the Dots: How the Last Mass Extinction Event Paved the Way for Mammalian Dominance.
10 Business Topics
Examining the Detrimental Environmental Effects of Global Supply Chains: Three Key Reasons.
Unlocking Social Media Marketing Success: Effective Strategies for Maximum Impact.
Navigating Entrepreneurship: Identifying the Major Challenges of Starting a Small Business.
The Ripple Effect: Exploring the Influence of Government Policy Changes on Business Decision-Making.
Expanding Horizons: A Guide to Introducing a Product to a New Market.
The Rising Value of Data and Information: Exploring their Transformation into Commodities.
Unveiling the Long-Term Implications of Cryptocurrency: Examining its Lasting Impact.
The Advantages of Bartering: Assessing the Benefits of the Ancient Trading System.
Diverse Regulations: Understanding the Variances in Child Labor Laws Among Countries.
Spotting Business Opportunities: Key Strategies for Identifying and Capitalizing on Potential Ventures.
10 Social Topics
Addressing the Social Stigma of Mental Disorders: Steps Towards Promoting Understanding and Acceptance.
Unveiling the Evolution of Media Censorship: A Historical Perspective.
The Impact of Geographic Location on Life Opportunities: Exploring the Connection.
The Significance of Jane Goodall: Contributions to Conservation and Primatology.
The Phenomenon of Snap Judgments: Understanding the Quickness to Judge Others.
Gaining Insights into Humanity through Animal Observation: Lessons from Non-Human Behavior.
Unraveling the Effects of the Pandemic on the World's Wealthiest Individuals.
Making an Impact: Effective Approaches to Donating for Charitable Causes.
Combating Bullying in Schools: Promoting Effective Strategies and Interventions.
The Influence of Social Media on Loneliness: Examining the Connection and Implications.
10 Political Topics
The French Revolution: Paving the Way for Contemporary Democracy.
Exploring the Factors Behind the Increased Political Polarization Worldwide.
Understanding China's Rapid Expansion: Key Drivers and Implications.
Weighing the Pros and Cons of Different Political Systems.
Bridging the Divide: Initiating Conversations with Individuals from Differing Perspectives.
Navigating the Path to the Presidency: Steps Towards Becoming the Leader of the United States.
Assessing the Ramifications of Another World War on Global Dynamics.
Contrasting Liberalism and Conservatism: Key Differentiating Factors.
The Ripple Effect: How Elections in a Neighboring Country Impact Your Nation.
Portrait of a Political Luminary: Examining the Life and Contributions of an Influential Leader.
10 Education Topics
Exploring the Advantages and Disadvantages of Standardized Testing.
Enhancing Memory: Strategies to Improve Cognitive Recall.
Unveiling the Advantages of Mentor Programs for Personal and Professional Development.
The Transformative Power of Higher Education: How Universities Enhance Lives.
Empowering Student Choice: The Importance of Allowing Students to Select Their Subjects.
Contrasting Educational Systems: A Comparative Analysis of Schooling Approaches Worldwide.
Conquering the Toughest Tests: A Look at the Most Challenging Examinations Globally.
Bridging the Gap: The Role of Education in Reducing Social Inequality.
Crafting an Academic Essay: Guidelines and Tips for Effective Writing.
The Vital Role of Restful Sleep in Exam Preparation and Performance.
Ready to Ignite Minds with Your Informative Essay?
Our qualified writers are here to craft a masterpiece tailored to your needs worthy of an A+
Informative Essay Examples
Essay examples are invaluable resources that demonstrate the skill of translating theoretical concepts into practical applications with effectiveness and engagement. By examining the below well-crafted essays, you gain insights into how to write an informative essay with proper structure, organization, and presentation techniques!
Meanwhile, you can also explore essay writing apps that enable you to work on your upcoming assignments anytime and anywhere, providing convenience and flexibility to enhance your writing process.
EssayPro is the best custom essay writing service on the web, as we always hire qualified paper writers to create high-level content for very fair prices.
Final Remarks
Congratulations! You are now equipped with the knowledge to craft an outstanding paper. This comprehensive guide has provided essential insights, including understanding the essence of informative essay writing, selecting an engaging topic, constructing a well-structured outline, and step-by-step instructions for composing each paragraph. Additionally, valuable tips and general advice have been shared to enhance your writing journey. By following the guidance provided, you are bound to embark on a fulfilling, informative writing experience, allowing you to share compelling information about a subject close to your heart.
Want to Unleash the Brilliance of Your Ideas?
Claim your expertly crafted informative essay today and command attention with your brilliant insights!
Related Articles
EXPLORE Tech Help Pro About Us Random Article Quizzes Request a New Article Community Dashboard This Or That Game Popular Categories Arts and Entertainment Artwork Books Movies Computers and Electronics Computers Phone Skills Technology Hacks Health Men's Health Mental Health Women's Health Relationships Dating Love Relationship Issues Hobbies and Crafts Crafts Drawing Games Education & Communication Communication Skills Personal Development Studying Personal Care and Style Fashion Hair Care Personal Hygiene Youth Personal Care School Stuff Dating All Categories Arts and Entertainment Finance and Business Home and Garden Relationship Quizzes Cars & Other Vehicles Food and Entertaining Personal Care and Style Sports and Fitness Computers and Electronics Health Pets and Animals Travel Education & Communication Hobbies and Crafts Philosophy and Religion Work World Family Life Holidays and Traditions Relationships Youth
EDIT Edit this Article
PRO Courses Guides New Tech Help Pro Expert Videos About wikiHow Pro Upgrade Sign In
Browse Articles
Learn Something New
Quizzes New
This Or That Game New
Train Your Brain
Explore More
Support wikiHow
About wikiHow
Log in / Sign up
Education and Communications
College University and Postgraduate
Academic Writing
How to Write an Informative Essay
Last Updated: February 14, 2023 References
This article was co-authored by Megan Morgan, PhD . Megan Morgan is a Graduate Program Academic Advisor in the School of Public & International Affairs at the University of Georgia. She earned her PhD in English from the University of Georgia in 2015. There are 12 references cited in this article, which can be found at the bottom of the page. This article has been viewed 238,859 times.
An informative essay educates the reader about a topic. You'll need to know a good deal about your subject and convey information in a clear, organized fashion. If it seems overwhelming at first, remember to take it step by step. Working methodically can help you write a successful paper, and you may even enjoy the process!
Selecting and Researching Your Topic
Be sure you know how your teacher wants you to cite your sources so you can keep track of what you research. Some schools provide reference software like EndNote or RefWorks, which can make collecting and keeping track of research sources easier.
Be aware of any formatting requirements. The essay prompt will often tell you things such as whether the essay needs to be handwritten or typed, and what font type and size to use. If it doesn't stipulate, the safe choice is a standard, readable 12-pt font such as Times New Roman or Arial. Avoid using "cute" or "quirky" fonts in an academic paper unless given specific permission to do so.
Know the due date! Get started early so that you have plenty of time to complete the essay.
The topic should not be too broad or too narrow. See Write an Essay for more information. There should be enough information about the topic to write about, but not so much that you can't present clear, concise information. For example, writing on "the history of animal shelters" is probably much too broad, while "the history of Sunny Days Animal Shelter in X County" is probably too narrow. A happy medium might be "the history of breed-specific animal shelters in America."
The topic should be appropriate and interesting to your audience. Think in advance about who might be reading your essay. Obviously, if this is for school, your teacher is your primary audience, but you should always have a target audience in mind. What will they want to know? What do they probably not know already that your essay will provide?
Ideally, the topic should be one that interests you. This will make the writing process that much easier, and you can pass your enthusiasm on to your reader.
For best results, try to find online sources from reputable organizations, government agencies, and universities. Google Scholar can be a good place to start.
For your informative essay, you will need an introduction, at least three main points, and a conclusion. You may want to make these sections and write notes down under the section where you expect it to go.
Make an ideas map. Put your topic in a circle at the center of a piece of paper, then write down the most important pieces of information or ideas related to it in circles surrounding the topic. Make lines connecting each idea to the topic. Next, add details around each idea, circling them and making lines to show connections. There may be lines connecting ideas to each other, as well, or between supporting details.
Make a list. If you prefer the linear format of a list, write down your topic at the top and then below it any ideas you have. Under the ideas, add extra details that support them. Don't worry about putting them in specific order - that comes next.
Free write. Free writing can help you generate ideas, even if it usually doesn't provide polished prose you'll use in your final draft. Set a short time limit, such as 15 minutes, and then write whatever comes to mind about your topic. Don't stop to edit or change spelling, and keep writing even if you aren't sure you have anything to say. The important thing is to write for all 15 minutes.
Making an Outline
Don't worry about getting your thesis just right at this point - that comes later. If you don't feel ready to write the thesis out, jot down some notes in the introductory part of your outline. At the very least, you need some idea of what you want to say in your essay.
While it may seem odd to summarize your essay before you've begun, writing your thesis at the beginning of your outline will help you organize your ideas and select the most important details that you want to present.
The number of details you use depends on the paper length: if you're writing a five-paragraph essay, then you have three paragraphs for the body, so you'll need three main ideas.
Make sure you choose the most important details, and that they are all distinct from one another.
Details used to support your thesis are also called "evidence."
Make sure you have enough supporting details for each paragraph. If you don't have enough to say about the paragraph's main topic, consider changing the topic or combining it with another paragraph. Alternatively, you can research a bit more to find additional supporting details for the paragraph.
Writing Your Essay
Do not worry about spelling errors or mistakes. Remember that this is just a rough draft, not your final copy. Just focus on writing it down, and later you can fix mistakes.
Write your rough draft by hand or type it - whichever is easier for you.
For example, a topic/transition sentence might look like this: "While some factories allow union labor, others, such as those in X, argue that unionizing harms the workplace." This sentence gives a clear direction for the paragraph (some factories argue against unionizing) and links it to the paragraph before it (which was probably about pro-union factories).
Remember: each paragraph needs unity (a single central idea), clear relation to the thesis , coherence (logical relationship of ideas within the paragraph), and development (ideas are clearly explained and supported). [11] X Trustworthy Source University of North Carolina Writing Center UNC's on-campus and online instructional service that provides assistance to students, faculty, and others during the writing process Go to source
Make sure you're clear about what the idea of each paragraph is. To keep yourself on track, refer to your outline as you write.
Have you told the reader everything you need to about your topic?
Do you have a clear thesis statement, expressed in two to three sentences?
Do all your paragraphs relate to the thesis?
Does each paragraph have one main idea, supported by accurate, objective details?
Does your conclusion summarize your thoughts on the topic without adding new information or opinions?
How does the paper flow? Are there clear, logical transitions between paragraphs?
Have you used clear, concise prose and avoided flowery language?
Did the reader learn something new from the essay? Is it presented in an interesting way?
Have you cited sources as instructed by your teacher?
As you write your final draft, keep track of coherence in particular. Rough drafts often have all of their ideas jumbled up without a clear, logical progression. A key difference between a rough draft and a final draft is that the final draft should offer its information in a smooth, clear, easy-to-read fashion that builds on previous points as it goes along. Keeping an eye out to make sure you've followed the C-E-E- formula will help you.
Also keep an eye out for word echoes, or words that show up many times within the space of a few sentences or paragraphs. If you use the word discusses multiple times in the same paragraph, it will make your writing seem clunky and unpolished.
Sometimes our eyes "fix" mistakes for us as we read, so it's hard to catch mistakes reading silently. Reading aloud helps you find mistakes your eye might not.
Community Q&A
Video . By using this service, some information may be shared with YouTube.
You Might Also Like
↑ http://writingcenter.unc.edu/handouts/understanding-assignments/
↑ https://library.carleton.ca/guides/help/choosing-essay-topic
↑ https://owl.purdue.edu/owl/subject_specific_writing/writing_in_literature/writing_in_literature_detailed_discussion/conducting_research.html
↑ https://advice.writing.utoronto.ca/researching/notes-from-research/
↑ https://libguides.rio.edu/c.php?g=620382&p=4320145
↑ http://writingcenter.unc.edu/handouts/brainstorming/
↑ https://examples.yourdictionary.com/20-compelling-hook-examples-for-essays.html
↑ https://examples.yourdictionary.com/examples-of-informative-essays.html
↑ https://wts.indiana.edu/writing-guides/paragraphs-and-topic-sentences.html
↑ http://writingcenter.unc.edu/handouts/paragraphs/
↑ https://writingcenter.unc.edu/tips-and-tools/revising-drafts/
↑ https://writingcenter.unc.edu/tips-and-tools/editing-and-proofreading/
About This Article
To write an informative essay, start with an introduction that presents a thesis statement articulating your argument in 2-3 concise sentences. For the body of the essay, focus on one main idea per paragraph and start each paragraph with a topic sentence that establishes that main idea. Then, follow the topic sentence with cited evidence and explanatory detail. Finish up with a conclusion that summarizes your main points and restates your thesis. Don't forget to proofread carefully before turning in your essay! For helpful tips on researching and using good sources, read on! Did this summary help you? Yes No
Reader Success Stories
Britney Montgomery
Dec 8, 2016
Did this article help you?
David Lewis
Nov 27, 2016
Heather Young
Oct 19, 2016
Colleen Borgese
Feb 27, 2017
Feb 28, 2017
Featured Articles
Trending Articles
Watch Articles
Terms of Use
Privacy Policy
Do Not Sell or Share My Info
Not Selling Info
wikiHow Tech Help Pro:
Develop the tech skills you need for work and life
Have a language expert improve your writing
Run a free plagiarism check in 10 minutes, generate accurate citations for free.
Knowledge Base
Research paper
Writing a Research Paper Introduction | Step-by-Step Guide
Published on September 24, 2022 by Jack Caulfield . Revised on March 27, 2023.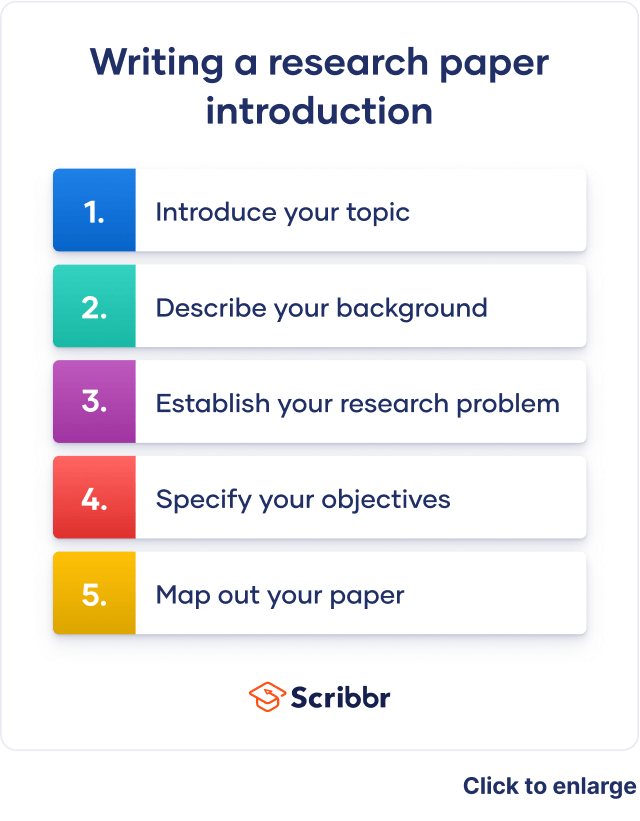 The introduction to a research paper is where you set up your topic and approach for the reader. It has several key goals:
Present your topic and get the reader interested
Provide background or summarize existing research
Position your own approach
Detail your specific research problem and problem statement
Give an overview of the paper's structure
The introduction looks slightly different depending on whether your paper presents the results of original empirical research or constructs an argument by engaging with a variety of sources.
Table of contents
Step 1: introduce your topic, step 2: describe the background, step 3: establish your research problem, step 4: specify your objective(s), step 5: map out your paper, research paper introduction examples, frequently asked questions about the research paper introduction.
The first job of the introduction is to tell the reader what your topic is and why it's interesting or important. This is generally accomplished with a strong opening hook.
The hook is a striking opening sentence that clearly conveys the relevance of your topic. Think of an interesting fact or statistic, a strong statement, a question, or a brief anecdote that will get the reader wondering about your topic.
For example, the following could be an effective hook for an argumentative paper about the environmental impact of cattle farming:
A more empirical paper investigating the relationship of Instagram use with body image issues in adolescent girls might use the following hook:
Don't feel that your hook necessarily has to be deeply impressive or creative. Clarity and relevance are still more important than catchiness. The key thing is to guide the reader into your topic and situate your ideas.
Scribbr Citation Checker New
The AI-powered Citation Checker helps you avoid common mistakes such as:
Missing commas and periods
Incorrect usage of "et al."
Ampersands (&) in narrative citations
Missing reference entries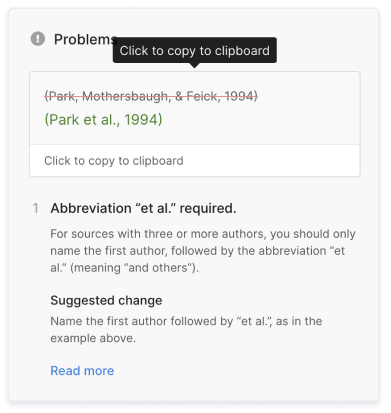 This part of the introduction differs depending on what approach your paper is taking.
In a more argumentative paper, you'll explore some general background here. In a more empirical paper, this is the place to review previous research and establish how yours fits in.
Argumentative paper: Background information
After you've caught your reader's attention, specify a bit more, providing context and narrowing down your topic.
Provide only the most relevant background information. The introduction isn't the place to get too in-depth; if more background is essential to your paper, it can appear in the body .
Empirical paper: Describing previous research
For a paper describing original research, you'll instead provide an overview of the most relevant research that has already been conducted. This is a sort of miniature literature review —a sketch of the current state of research into your topic, boiled down to a few sentences.
This should be informed by genuine engagement with the literature. Your search can be less extensive than in a full literature review, but a clear sense of the relevant research is crucial to inform your own work.
Begin by establishing the kinds of research that have been done, and end with limitations or gaps in the research that you intend to respond to.
The next step is to clarify how your own research fits in and what problem it addresses.
Argumentative paper: Emphasize importance
In an argumentative research paper, you can simply state the problem you intend to discuss, and what is original or important about your argument.
Empirical paper: Relate to the literature
In an empirical research paper, try to lead into the problem on the basis of your discussion of the literature. Think in terms of these questions:
What research gap is your work intended to fill?
What limitations in previous work does it address?
What contribution to knowledge does it make?
You can make the connection between your problem and the existing research using phrases like the following.
Now you'll get into the specifics of what you intend to find out or express in your research paper.
The way you frame your research objectives varies. An argumentative paper presents a thesis statement, while an empirical paper generally poses a research question (sometimes with a hypothesis as to the answer).
Argumentative paper: Thesis statement
The thesis statement expresses the position that the rest of the paper will present evidence and arguments for. It can be presented in one or two sentences, and should state your position clearly and directly, without providing specific arguments for it at this point.
Empirical paper: Research question and hypothesis
The research question is the question you want to answer in an empirical research paper.
Present your research question clearly and directly, with a minimum of discussion at this point. The rest of the paper will be taken up with discussing and investigating this question; here you just need to express it.
A research question can be framed either directly or indirectly.
This study set out to answer the following question: What effects does daily use of Instagram have on the prevalence of body image issues among adolescent girls?
We investigated the effects of daily Instagram use on the prevalence of body image issues among adolescent girls.
If your research involved testing hypotheses , these should be stated along with your research question. They are usually presented in the past tense, since the hypothesis will already have been tested by the time you are writing up your paper.
For example, the following hypothesis might respond to the research question above:
Prevent plagiarism. Run a free check.
The final part of the introduction is often dedicated to a brief overview of the rest of the paper.
In a paper structured using the standard scientific "introduction, methods, results, discussion" format, this isn't always necessary. But if your paper is structured in a less predictable way, it's important to describe the shape of it for the reader.
If included, the overview should be concise, direct, and written in the present tense.
This paper will first discuss several examples of survey-based research into adolescent social media use, then will go on to …
This paper first discusses several examples of survey-based research into adolescent social media use, then goes on to …
Full examples of research paper introductions are shown in the tabs below: one for an argumentative paper, the other for an empirical paper.
Argumentative paper
Empirical paper
Are cows responsible for climate change? A recent study (RIVM, 2019) shows that cattle farmers account for two thirds of agricultural nitrogen emissions in the Netherlands. These emissions result from nitrogen in manure, which can degrade into ammonia and enter the atmosphere. The study's calculations show that agriculture is the main source of nitrogen pollution, accounting for 46% of the country's total emissions. By comparison, road traffic and households are responsible for 6.1% each, the industrial sector for 1%. While efforts are being made to mitigate these emissions, policymakers are reluctant to reckon with the scale of the problem. The approach presented here is a radical one, but commensurate with the issue. This paper argues that the Dutch government must stimulate and subsidize livestock farmers, especially cattle farmers, to transition to sustainable vegetable farming. It first establishes the inadequacy of current mitigation measures, then discusses the various advantages of the results proposed, and finally addresses potential objections to the plan on economic grounds.
The rise of social media has been accompanied by a sharp increase in the prevalence of body image issues among women and girls. This correlation has received significant academic attention: Various empirical studies have been conducted into Facebook usage among adolescent girls (Tiggermann & Slater, 2013; Meier & Gray, 2014). These studies have consistently found that the visual and interactive aspects of the platform have the greatest influence on body image issues. Despite this, highly visual social media (HVSM) such as Instagram have yet to be robustly researched. This paper sets out to address this research gap. We investigated the effects of daily Instagram use on the prevalence of body image issues among adolescent girls. It was hypothesized that daily Instagram use would be associated with an increase in body image concerns and a decrease in self-esteem ratings.
The introduction of a research paper includes several key elements:
A hook to catch the reader's interest
Relevant background on the topic
Details of your research problem
and your problem statement
A thesis statement or research question
Sometimes an overview of the paper
Don't feel that you have to write the introduction first. The introduction is often one of the last parts of the research paper you'll write, along with the conclusion.
This is because it can be easier to introduce your paper once you've already written the body ; you may not have the clearest idea of your arguments until you've written them, and things can change during the writing process .
The way you present your research problem in your introduction varies depending on the nature of your research paper . A research paper that presents a sustained argument will usually encapsulate this argument in a thesis statement .
A research paper designed to present the results of empirical research tends to present a research question that it seeks to answer. It may also include a hypothesis —a prediction that will be confirmed or disproved by your research.
Cite this Scribbr article
If you want to cite this source, you can copy and paste the citation or click the "Cite this Scribbr article" button to automatically add the citation to our free Citation Generator.
Caulfield, J. (2023, March 27). Writing a Research Paper Introduction | Step-by-Step Guide. Scribbr. Retrieved September 26, 2023, from https://www.scribbr.com/research-paper/research-paper-introduction/
Is this article helpful?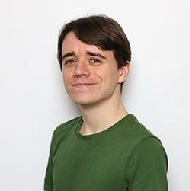 Jack Caulfield
Other students also liked, writing strong research questions | criteria & examples, writing a research paper conclusion | step-by-step guide, research paper format | apa, mla, & chicago templates, what is your plagiarism score.