2023-2024 London Business School Essay Tips and Example Essays
Jun 15, 2023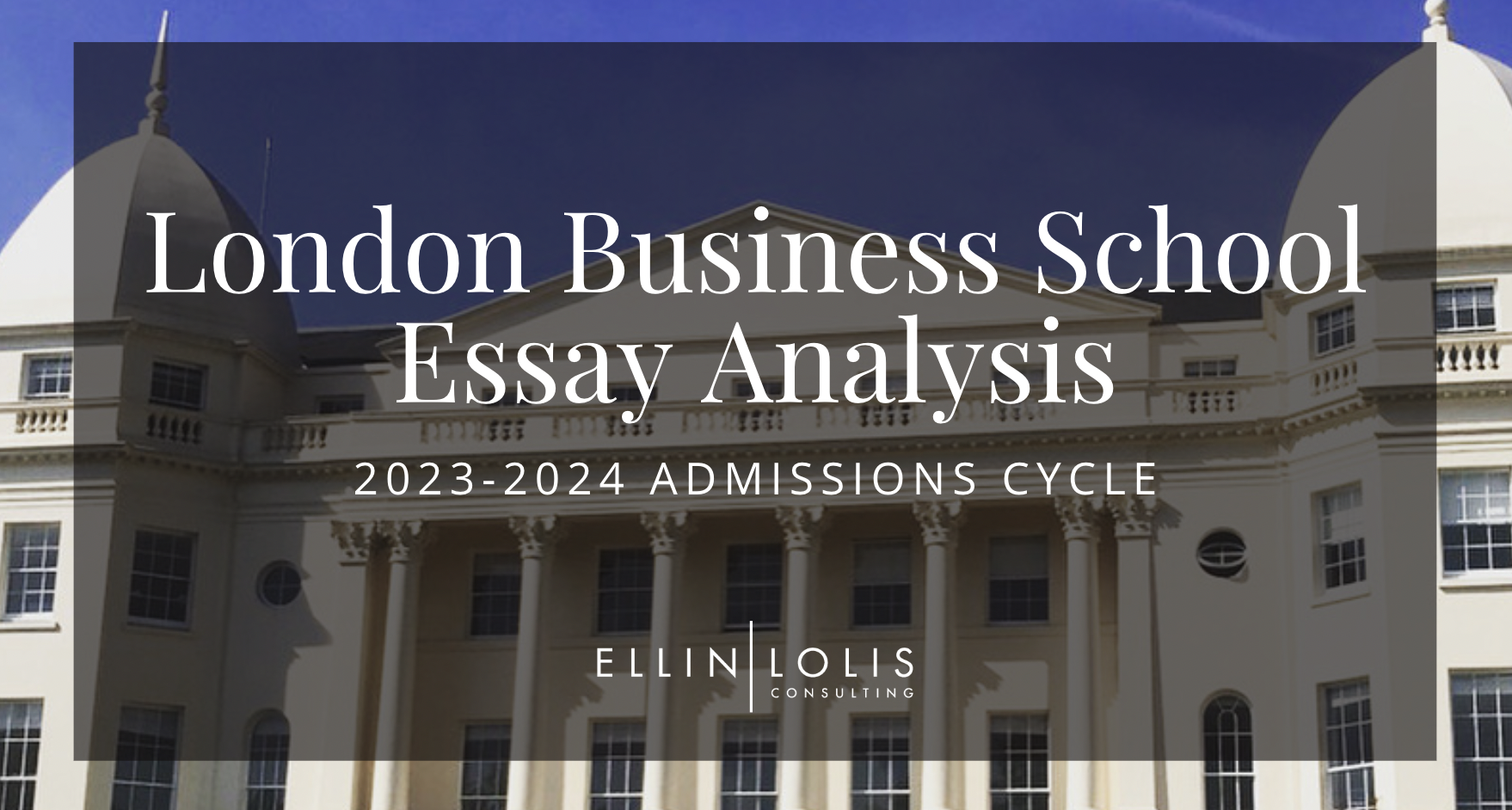 Who is LBS looking for?
How should I answer the LBS essay questions?
Make Your Story Shine
LBS Application Deadlines
UPDATE : This article was originally posted on November 28, 2018. It has been updated with new information and tips below. 
Located in one of the world's most important business centers, London Business School offers a truly unique MBA experience. With the option to complete the course in just 15 months and a class made up of 60+ nationalities, London Business School is at the top of the list for many globally-minded professionals. 
As the #2 ranked business school in Europe, demand for LBS has only increased year after year, meaning that getting a spot at this elite business school is more challenging than ever. 
That's why we've prepared this guide to help you use your LBS admissions essays to stand out. we've rounded up not only our best tips but have also included example LBS MBA essays to ensure you give your London Business School application your best shot.
1. Who is LBS looking for?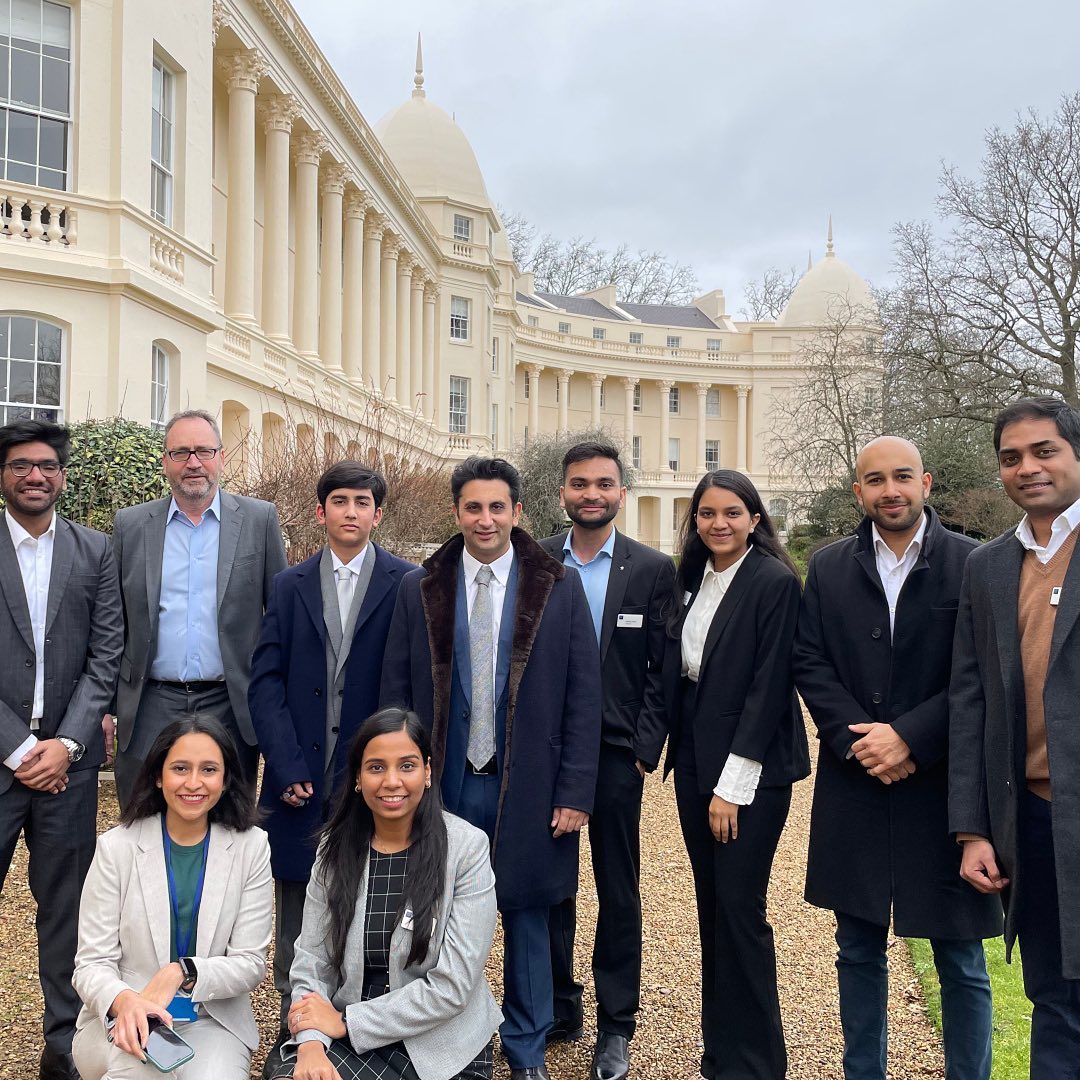 (Photo courtesy of @londonbschool on Instagram)
"We nurture our students to challenge the status quo, to question the norm and to develop the skills to become the world's best business leaders. Over the years we have adopted a truly global outlook tackling challenges faced by international businesses and their leaders." London Business School Admissions
Every year, London Business School searches the globe for outstanding professionals to join its annual class of around 500 students. With a strong emphasis on diversity and a global mindset (74 nationalities are represented in the Class of 2024 ), there is no "typical" LBS student, yet the average admitted student does tend to have 5 years of work experience and a 708 GMAT score . 
Beyond the impressive statistics, though, LBS offers its students the chance to prepare themselves to lead in an increasingly globalized world.  
So, if this sounds like a community in which you'd be right at home, you'll have to think of the ways in which you align with the main characteristics of LBS's students. This means forming your business school brand and then focusing on the aspects of that brand that align with changing the status quo, collaborative leadership, and a value for internationalism and diversity. 
2. How should I answer the LBS essay questions?
2.1. essay 1 tips.
What are your post-MBA goals and how will your prior experience and the London Business School programme contribute towards these? (500 words)
This question has been part of the LBS application for many years and is a traditional goals essay, a common type of essay required of applicants at many elite business schools. 
In this essay, you have a big task. In around 500 words , you need to discuss:
Context for your goals
Your specific-post MBA goals
Why you believe an MBA is necessary to reach these goals
How an LBS MBA will help you reach these goals
Each of these elements must be included and must build off of each other. 
First of all, many candidates think they do not need to specifically state their goals, or that it's better to leave "their options open." If you are applying to elite business schools, however, you must have and present absolutely clarity about your goals. 
TOP TIP : If you're having trouble figuring out what your post-MBA goals are, we've prepared this post to help you decipher this essential part of the application process! 
However, goals without context can be a little confusing to decipher or understand (or they can just seem a bit lackluster). For this reason, we suggest starting your essay with context . 
For example, a client last year initially started his essay by saying: 
"I want to become a Business Development Director at a Brazilian company."
While interesting, it's better to give a little bit of context to help these goals come to life. Check out the final version of the same essay's introduction:
"In the 1970s, the phrase "think global, act local" came into use, suggesting that to have global impact, one must be active locally. With this mindset, I focused my career on Brazilian multinational companies to start creating global change at home. While at Company 1, I led a diverse global team, which showed me that clear communication is essential. I later accepted a finance position at a real estate company where I learned how new technologies can impact traditional local industries and that leaders must adapt to these trends to maintain competitiveness. Most recently, I joined Company 2 to participate in its daring globalization plan. At Company 2, I have learned how challenging it is to formulate effective global strategies to thrive in diverse markets. I have also developed management skills since becoming Financial Coordinator, learning how important establishing a culture of collaboration is to providing stability for organizations.
I now seek to take the next step to becoming a "global" leader by becoming Business Development Director at a Brazilian company pursuing globalization, giving me the experience to assume my long-term goal of CEO of one such company."
Second, you should clearly demonstrate why you need an MBA . 
An MBA is not a catch-all degree that serves a purpose for all career paths. As such, you need to demonstrate that the goals you have set for yourself require the additional training an MBA can provide. 
Be thoughtful about this particular section. If you don't need to improve in any meaningful way, you might be presenting the argument the admissions committee needs for why you can't actually benefit from an MBA. 
Furthermore, if you show fluffy or unsupported reasons you need to hone your skills, you'll also likely see your application tossed aside in favor of an applicant who was able to clearly demonstrate how they plan to leverage their time at business school. 
Third, add how LBS can specifically help you grow in the areas you've identified. Mentioning that you want to go to LBS because of its ranking will not cut it here. 
Instead, show that you understand the flexibility of LBS' curriculum and have done significant, thoughtful research into how the opportunities both inside and outside of the classroom can help you grow. If you have space, it's also highly recommended that you mention how you can contribute to the community. 
End with a winning conclusion statement that reinforces your personal brand and ties the whole essay together. 
Need more guidance?
Our MBA Resource Center has dozens of past successful London Business School essays that worked to get our clients admitted and a detailed brainstorm to help you plan out a winning LBS essay. Our library also includes guides for all top global MBA programs, detailed essay brainstorms, interview tips and mocks, CV templates, and recommendation letter guides. Click to join! 

2.2. Optional Essay Tips
Is there any other information you believe the Admissions Committee should know about you and your application to London Business School? (Optional) (500 words)
This optional essay is unlike other schools, in that it is open enough to speak about more than just "issues" in your application. If you do have a low GMAT score, poor academic record, or other pressing weakness, please use this space to address the issue(s). 
However, if you would like, you can also use this space to discuss a personal challenge you have overcome or some unique factor in your profile you were not able to address in the essays. 
Do not use the essay to discuss "Why LBS." You have ample space to address this in other parts of your application.
2.3. Short Answer Tips
Inside the application form, LBS has also "hidden" many small essays. The topics and guidelines are below. 
Tell us about your responsibilities. Describe your day-to-day role, details of any clients you work with/for, the level/title of the person you report to, the size of budget for which you are directly responsible and the number of people in your team. (400 words max)
This should be a straightforward answer. Remember to highlight any leadership and/or global contact you have had in your current role.
If you are currently not working, or if you plan to leave your current employer more than three months before the programme starts, please explain your activities between leaving your last role and the start of the programme (max 300 words)
This answer, of course, depends on if there will be a gap between your employment and entry into the LBS program. Here, it will be best to highlight actions or steps you will take to enhance your potential candidacy during this gap. This can be in the form of courses, trainings, or extraprofessional activities towards your self-development. The activities you highlight should strengthen your skills and align with your post-MBA goals, where possible, to show your pre-MBA proactivity.
Is your employer willing to support you? In what way – time, tuition, or both?
If not, please write something like "My company does not currently have a sponsorship policy." If you will be sponsored , please outline the arrangements your company offers.
Do you feel that your academic performance so far gives an accurate indication of your potential for success on the programme? If so, why? If not, why not?
If you have a low GMAT or GPA , you should use this to address why your performance was low and show "proof" that you will be able to do well at LBS.
Please outline your experience of working or studying in an English-speaking environment. Do you plan to take further English language tuition before the programme starts?
This should be a direct answer. Highlight all your previous contact working or studying in English.
You do not need to pursue additional study before the program, though, if you have a low TOEFL score, you may want to consider taking one such course and advising LBS of your plans here.
Please tell us your most significant international experiences to date: (100 words max)
LBS has asked you for your most significant experience, meaning we should limit ourselves to just one . 
If possible, choose one STAR-format example you have not highlighted elsewhere in your application. Show what you did and why it was meaningful for you. If you feel you have insignificant material for a single example, you can include two.
Tell us about your main interests and activities in your free time (300 words max)
This can be your INSEAD Motivational Essay 3 (if you are applying to INSEAD), or can
be an essay OR bullet list about your activities. Make sure to show what you were involved in, what title(s) you held, where the activity took place, and why it was/is important for you.
We encourage applicants to take into consideration the impact of study on family and friends. Who have you discussed your plans with and what was the response? (300 words max)
Here, speak from the heart. 
Discuss who you have spoken about the MBA with and try to show a positive view of their responses. They want to see that you have a strong community you are connected to and rely on.
If you know any London Business School Alumni or Students, please give their names, graduating class and tell us how you know them. (300 words max)
Add as many people as you know!  Also add how they have shaped your view of LBS, if relevant. 
Looking for London Business School MBA essay examples? Check out our real sample essays that got our clients admitted here .

3. We Make Your Story Shine
One of the most common mistakes we see in MBA essays is that candidates fail to tell compelling stories . This is important because if your stories are not compelling, they will not be persuasive. At the same time, they must be backed by strong examples that establish a track record of success and prove to the admissions committees why you belong at their school. 
Striking this balance between content and creativity can be tough, however, as succeeding means not only choosing the right stories but ensuring they are told in an optimal manner. 
This is why our iterative developmental feedback process here at Ellin Lolis Consulting helps you mold your message through the application of our storytelling expertise until it reflects exactly what makes your profile stand out and show fit with your target program. 
Not only can you take advantage of our iterative feedback process through multiple edits – you can also benefit from it after a single review! If your budget is tight, our editors will be happy to help polish your text as much as possible and leave "bonus comments" so you can keep working on it on your own!

No matter how long we work with you, we will always ensure your essays shine . Sign up to work with our team of storytelling experts and get accepted.
4. LBS Application Deadlines
Here are the deadlines for the 2023-2024 season. You can start your online application by clicking here .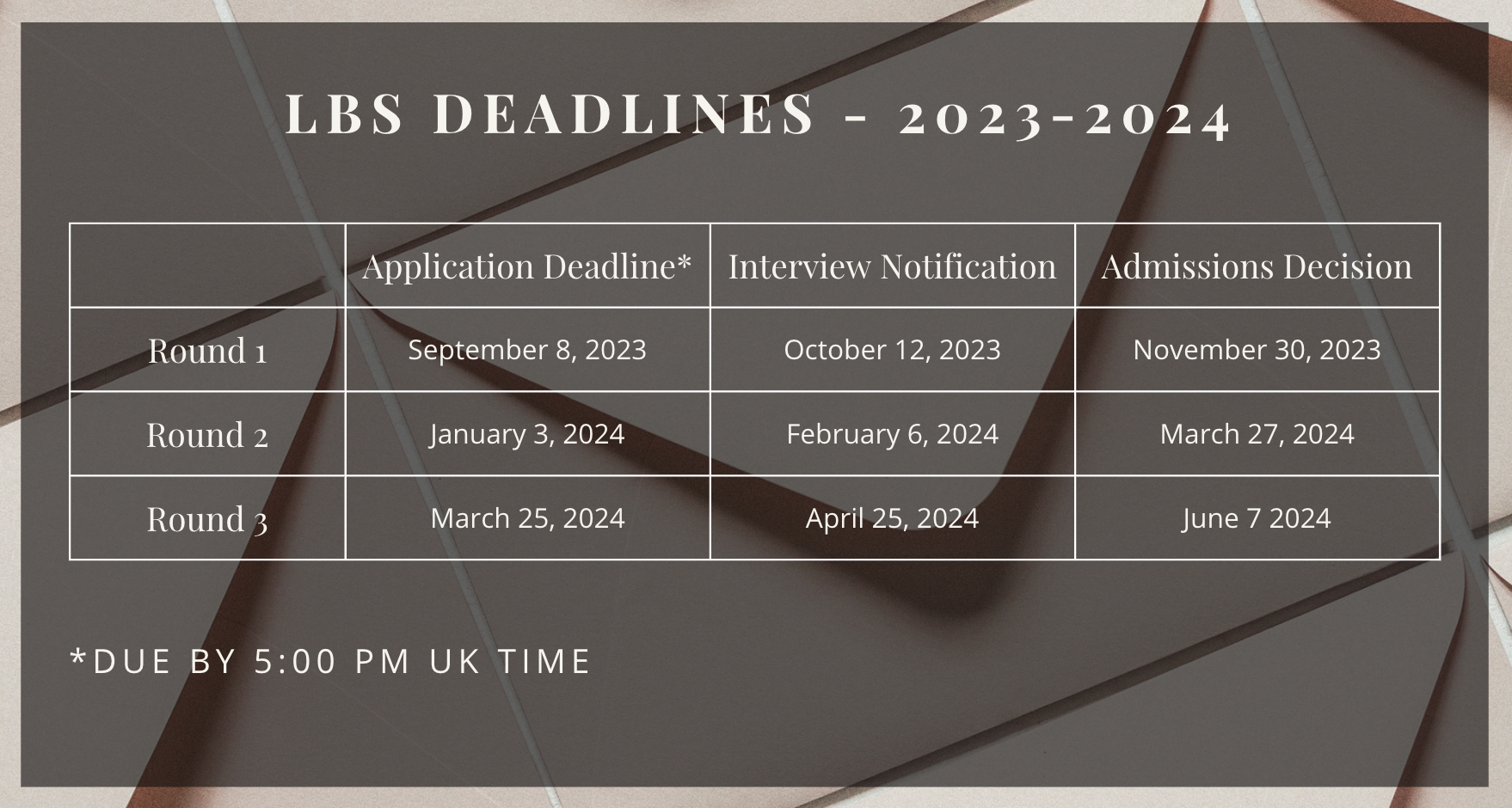 Ellin Lolis MBA Resource Center
Application Resources To Help You Get Accepted

98.9% Success Rate
With our expertise and 98.9% success rate in placing our consulting clients in at least one of their target schools, we can add more value to your application than you ever thought possible.
Recent Articles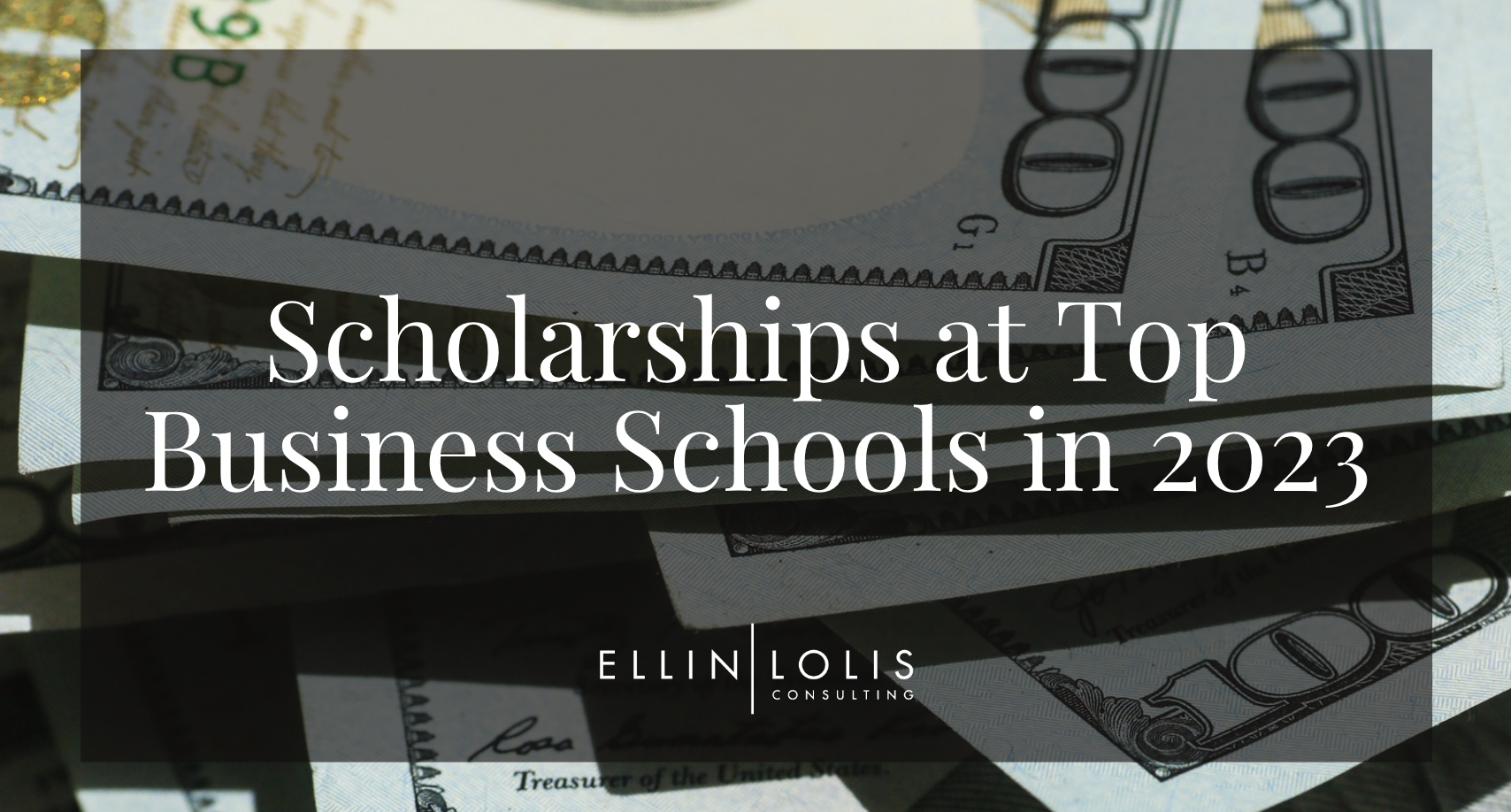 Scholarships at Top Business Schools in 2023
Sep 25, 2023
One of the biggest concerns that MBA candidates have throughout the admissions process is how to afford their degrees. As a student, not only do you have to worry about tuition – which, these days, can set you back more than $100,000...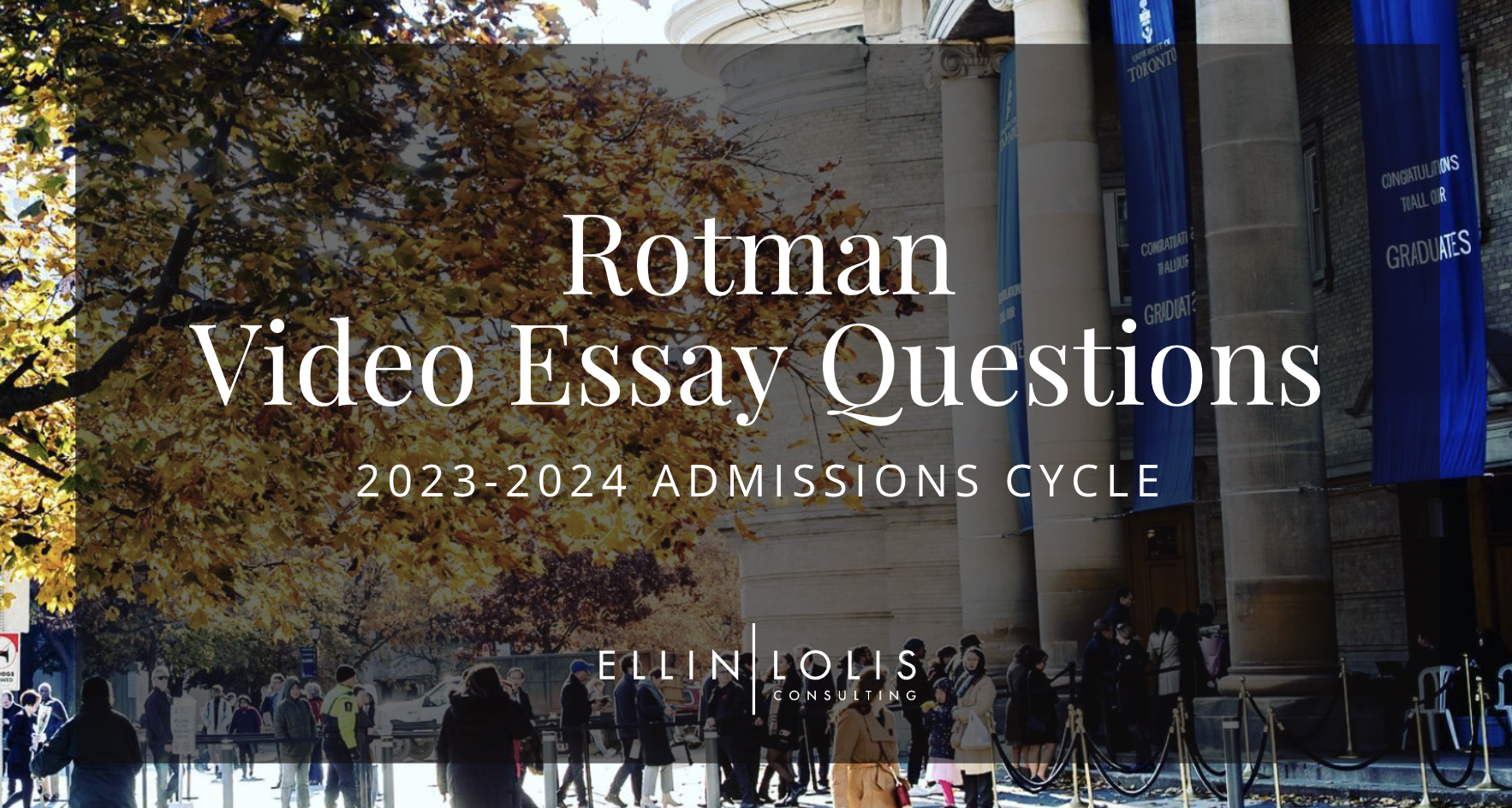 The Rotman MBA Video Essay Questions – And How to Successfully Answer Them
Sep 21, 2023
Why does Rotman require a video essay? How does the Rotman video essay work? Which types of questions are asked? The difference between a good and great Rotman MBA video essay Get expert help...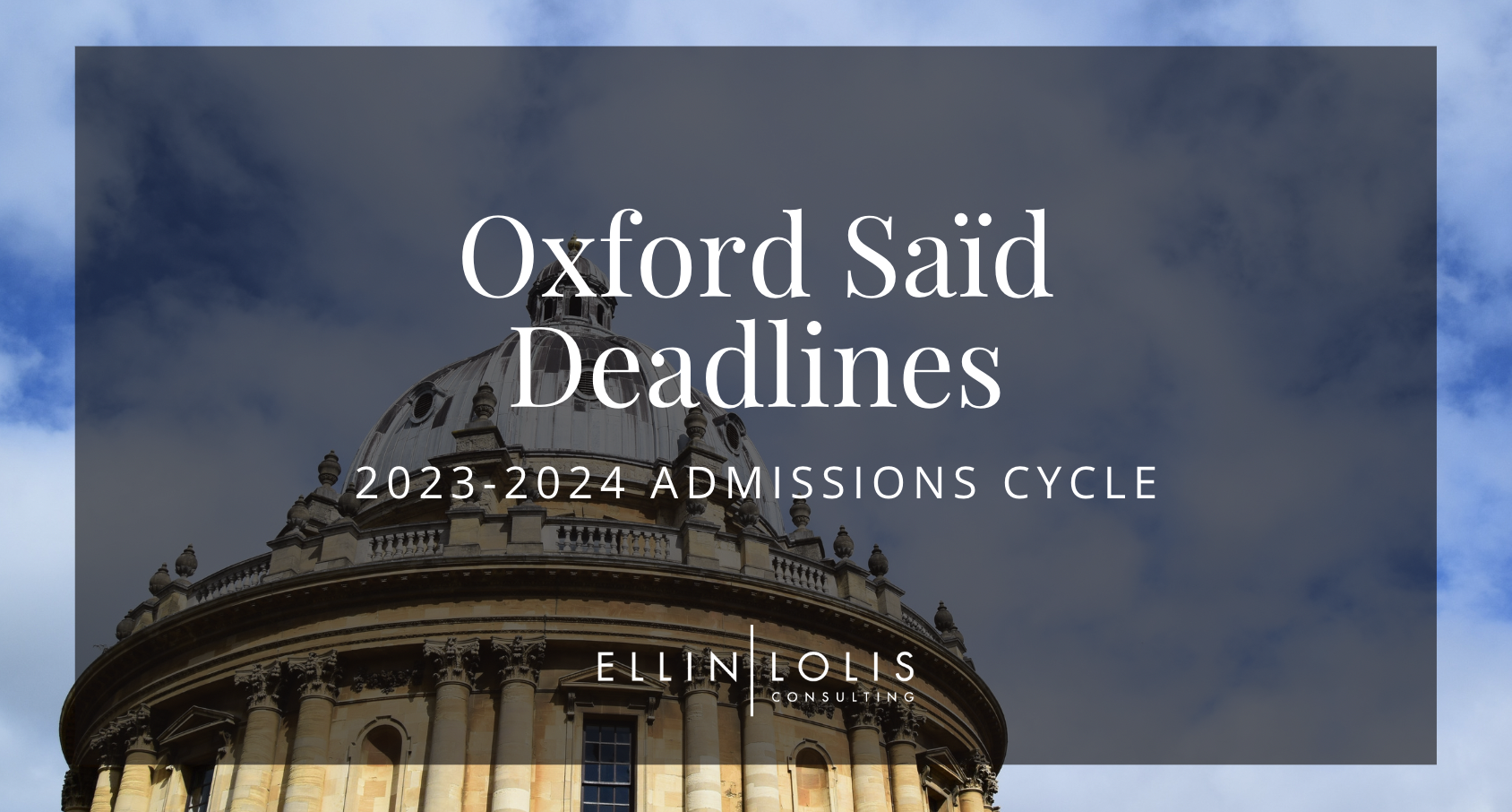 Oxford Saïd MBA Deadlines for 2023-2024
If you're preparing for the Oxford Saïd MBA (check out our essay tips and sample essays here!), ensuring you finish everything on time is essential. Here are the deadlines for the Class of 2026.  Round 1 Application Deadline: September 27, 2023 Interview...
Ready to start your MBA Success?
How to Get into London Business School: LBS Essay Tips and Examples
June 6, 2023
Denise Potter
LBS 2023–2024 Essay Tips
Question 1: What are your post-MBA goals and how will your prior experience and the London Business School programme contribute towards these? (500 words)
As we have noted, LBS's required essay covers several basic elements of a traditional personal statement. You will need to show that you have a long-term vision for yourself and your career and that you have a clear plan for how to get there via the LBS MBA program. The basic assumptions, of course, are that business school is the next logical step in your progress and that you need to pursue your degree at LBS in particular because the school provides specific experiences, knowledge, skills, exposure, and/or other elements that are necessary for you to attain your aspirations and thrive in your chosen career. Ideally, you have already researched the program thoroughly to discover these important resources and areas of fit, but if not, do not skip this important step and/or refer only to basic offerings most business schools have. Your essay must be LBS specific. Demonstrating your authentic interest in the program by giving concrete examples and drawing clear connections between what the school offers, what you need, and who you are is key to crafting a compelling essay response here.
Because 500 words is not a lot, avoid going into excessive detail about your past, though you will need to offer enough information to provide context and support for your stated goals. Given this essay's significant overlap with a standard personal statement, we encourage you to download your free copy of the mbaMission Personal Statement Guide . In this complimentary guide, we present a much more detailed discussion of how to approach and craft this kind of essay, along with multiple illustrative examples.
Question 2 (Optional): Is there any other information you believe the Admissions Committee should know about you and your application to London Business School? (500 words)
Applicants typically use the optional essay to explain confusing or problematic elements of their candidacy—a poor grade or GPA, a low GMAT or GRE score, a gap in work experience, etc.—and LBS's can certainly be used this way. If you feel you need to clarify an aspect of your profile, first check the other parts of the school's application, which already includes several opportunities to address certain issues (such as academic performance and disciplinary instances). If you can discuss your concern elsewhere instead, do so, and avoid using this essay to simply repeat any information provided via that avenue. If you have a problem to address that is not mentioned in the LBS application, we suggest downloading a copy of the mbaMission Optional Essays Guide , which is also available for free, and in which we offer detailed advice on deciding whether to take advantage of the optional essay and, if so, how to do so to effectively mitigate any concerning elements of your application.
If you do not feel that your candidacy includes any elements that need further clarification, however, you might use this essay to instead offer a more rounded, positive representation of yourself—but be thoughtful about this opportunity. Do not just copy and paste an existing essay you wrote for a different school here and hope for the best. Take a step back and carefully consider what the admissions committee already knows about you from the other parts of your application, including, of course, your required essay. Then, do your utmost to develop and convey a narrative that is truly crucial to understanding your character. Because this question is so open-ended, your options are somewhat limitless. You will need to honestly check your instincts and ask yourself whether you are simply tacking something extra onto your application with this essay or whether you are offering something that is truly additive and would be helpful for the school to know to fully and fairly evaluate you. Be mindful and respectful of the admissions committee's time, and remember that each additional file you submit requires more resources on behalf of the admissions office, so whatever you write must be truly worthwhile and clearly reveal that you made good use of this opportunity to provide further insight into your candidacy.
Business schools outside the United States are increasingly popular among MBA hopefuls, and we at mbaMission are proud to offer our latest publications:  International Program Guides . In these snapshots, we discuss core curricula, elective courses, locations, school facilities, rankings, and other jey program features. Click here to download your free   copy of the  London Business School Program Guide .
The Next Step: Mastering Your LBS Interview
Many MBA candidates find admissions interviews stressful and intimidating, but mastering this important element of the application process is definitely possible—the key is informed preparation. And, on your way to this high level of preparation, we offer our  free Interview Guides  to spur you along! Download your free copy of the  London Business School Interview Guide  today.
To learn more about the essays for other top business schools, visit our  MBA Essay Tips and Examples Resources Page .
2023-2024 Business School Essays International Business Schools London Business School MBA Essay Tips
Tags: business school essay European business schools international program guides international programs London Business School MBA application essays optional essay
Upcoming Events
Sep 28, 2023 Decoding the HBS Interview (Online)
Oct 10, 2023 How to Get Ready for Round 2 MBA Deadlines (Online)
Oct 16, 2023 MBA Interview Workshop (Online)
Upcoming Deadlines
Sep 27, 2023 MIT Sloan (Round 1)
Sep 27, 2023 Oxford Saïd (Round 1)
Sep 28, 2023 Duke Fuqua (Round 1)
Oct 1, 2023 Penn State Smeal (Round 1)
Oct 2, 2023 Carnegie Mellon Tepper (Round 1)
Oct 2, 2023 Georgetown McDonough (Round 1)
Oct 3, 2023 Cambridge Judge (Round 2)
Oct 3, 2023 UW Foster (Round 1)
Oct 3, 2023 Vanderbilt Owen (Round 1)
Oct 4, 2023 Emory Goizueta (Round 1)
Oct 4, 2023 Virginia Darden (Round 1)
Oct 5, 2023 Esade (Round 1)
Oct 5, 2023 UNC Kenan-Flagler (Round 1)
Oct 10, 2023 Texas McCombs (Round 1)
Oct 13, 2023 HEC Paris (Round 3)
Oct 15, 2023 IMD (Round 4)
Oct 15, 2023 Ohio Fisher (ED)
Oct 15, 2023 USC Marshall (Round 1)
Click here to see the complete deadlines
2023–2024 MBA Essay Tips
Anderson School of Management
Cambridge Judge Business School
Chicago Booth School of Business
Columbia Business School
Cox School of Business
Darden School of Business
Esade Business School
Fisher College of Business
Foster School of Business
Fuqua School of Business
Goizueta Business School
Haas School of Business
Harvard Business School
HKUST Business School
IE Business School
IESE Business School
International Institute for Management Development
Ivey Business School
Johnson Graduate School of Management
Kellogg School of Management
Kenan-Flagler Business School
London Business School
Marshall School of Business
McCombs School of Business
McDonough School of Business
Mendoza College of Business
MIT Sloan School of Management
Questrom School of Business
Ross School of Business
Rotman School of Management
Saïd Business School
Stanford Graduate School of Business
Stern School of Business
Tepper School of Business
The Consortium for Graduate Study in Management
The Wharton School
Tuck School of Business
Villanova School of Business
Yale School of Management
Vanderbilt University Owen Graduate School of Management Essay Analysis, 2023–2024
Click here for the 2022–2023 MBA Essay Tips
MBA Program Updates
Berkeley-Haas
Boston University (Questrom)
Carnegie Mellon University (Tepper)
Columbia University (Columbia Business School)
Consortium for Graduate Study in Management
Cornell University (Johnson)
Dartmouth College (Tuck)
Duke University (Fuqua)
Emory University (Goizueta)
George Washington University (GWSB)
Georgetown University (McDonough)
Harvard University (Harvard Business School)
Indian School of Business
Indiana University (Kelley)
Massachusetts Institute of Technology (Sloan)
New York University (Stern)
Northwestern University (Kellogg)
Notre Dame (Mendoza)
Ohio State University (Fisher College)
Oxford University (Saïd Business School)
Penn State Smeal College of Business
Southern Methodist University (Cox School of Business)
Stanford University (Stanford Graduate School of Business)
University of California Los Angeles (Anderson)
University of Cambridge (Judge)
University of Chicago (Booth)
University of London (London Business School)
University of Michigan (Ross)
University of North Carolina (Kenan-Flagler)
University of Pennsylvania (Wharton)
University of Southern California (Marshall)
University of Texas at Austin (McCombs)
University of Virginia (Darden)
Vanderbilt University (Owen)
Yale University (School of Management)
London Business School Essay Tips: 2022-2023
London Business School has officially confirmed its essay questions for the 2022-2023 application cycle. If you are seeking an MBA program with a global community and access to a major city, London Business School may be a great option for you.
With acclaimed professors and visiting speakers from around the world, and students representing 67 nationalities in the  class of 2023 , London Business School is truly a global hub. Information on the class of 2023 also notes that 38% of students identify as female, and students come from a variety of industry backgrounds.
If you have decided that the London Business School full-time MBA program is a good fit for you, check out Personal MBA Coach's tips below for tackling the LBS MBA essay questions.
Once again, the London Business School application will ask applicants to answer one required essay question. This year, the school is minimizing changes and keeping the question the same as the previous application cycle.
London Business School gives candidates the opportunity to answer an optional essay question as well, which also remains the same this year.
London Business School's MBA Essays for 2022-2023:
LBS MBA Essay 1:  What are your post-MBA goals and how will your prior experience and the London Business School programme contribute towards these?  (500 words maximum)
LBS MBA Essay 2 (Optional):  Is there any other information you believe the Admissions Committee should know about you and your application to London Business School?  (500 words maximum)
Please see below for Personal MBA Coach's tips on how to answer London Business School's MBA essay questions.
Personal MBA Coach's London Business School Essay Tips:
LBS Essay 1:  What are your post-MBA goals and how will your prior experience and the London Business School programme contribute towards these?  (500 words maximum)
This is a standard goals essay. Personal MBA Coach recommends beginning your essay by providing some background context about yourself and detailing your career accomplishments to date. This does not mean that applicants should detail their entire careers or repeat what is on their resume. However, LBS is looking to understand how your past career has prepared you to achieve your goals. Therefore, you should include some discussion of your career in terms of how it relates to your aspirations.
After sharing this background information, go on to discuss your MBA goals. If you are having trouble articulating your goals, take a look at Personal MBA Coach's six key pieces of essay advice . This section should be a good portion of your essay and should include a specific short-term and long-term goal.
Finally, the remainder of your essay should specifically discuss how attending London Business School will help you accomplish these goals. Be sure to research everything that London Business School's MBA program has to offer and detail what you plan to take part in on campus. Is there a class you want to take? A club you hope to join? Mention these here and clearly explain how they relate to your MBA goals. Keep in mind that LBS is an international program, and a strong essay will explain why this is important to you.
LBS Essay 2 (Optional):  Is there any other information you believe the Admissions Committee should know about you and your application to London Business School?  (500 words maximum)
While Personal MBA Coach normally does not advise most candidates to complete optional essays, you  should  consider answering this essay. This is the chance to tell London Business School a bit more about who you are and what makes you unique.
Possible topics to cover here include extracurricular leadership roles or other work that is not presented in the rest of your application. This could be a personal story, triumph, or a side project you were involved in.
Want to learn more about the London Business School full-time MBA program? Visit Personal MBA Coach's LBS school page for more information on what sets the program apart.
About Personal MBA Coach
You also may like these other blog articles:
Find out why we are consistently ranked #1. Sign up for a 30-minute consultation today!
We have over 200 5 Star Reviews. Find out WHY!
schedule consultation
Partner Sites
Inspiring and informing your business school journey
London business school mba essay—tips & advice.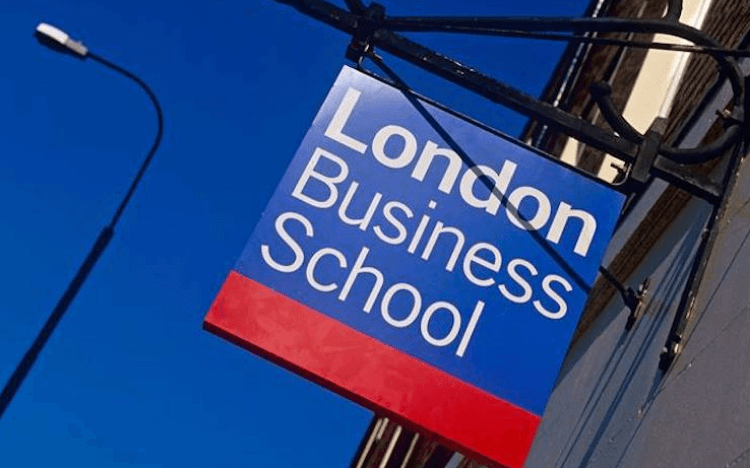 ©LBS Facebook—Our expert tells you how to ace the tricky MBA admissions essay
Here's how to answer the latest MBA essay questions at LBS
By Cara Skikne
Thu Sep 12 2019
To get accepted, you'll need to complete an MBA admissions essay first. Here are the London Business School essays for 2019-2020 and how to answer them:
1. What are your post-MBA goals and how will your prior experience and the London Business School program contribute towards these? (500 words)
2. Is there any other information you believe the Admissions Committee should know about you and your application to London Business School? (Optional) (500 words)
The first London Business School application essay cuts straight to the chase. Why are you pursuing an MBA? Why at LBS? And what is the thread that runs through your current career, the LBS MBA and your post MBA goals?
The essay asks you to address these directly.
Most application essays want you to touch on these issues, but many other schools' essay prompts ask you to do so in a more roundabout way.
Here are five tips:
1. There is not enough time to go over your CV in this essay
Rather focus on pulling out the pertinent points – the moments that helped you focus on your career goals, or your leadership moments. Make sure you stress the connections between your past and your future plans.
2. Make sure your post-MBA plans are well-researched and realistic
Particularly if you plan to change industries, role or location. LBS has a stellar employment record so insubstantial plans will be a huge red flag for the admissions committee.
3. Make sure to show why LBS specifically will help you achieve your goals
General platitudes like 'I want to grow my network' could be applied to any MBA application essay. It's not a compelling enough reason to justify your seat in the LBS classroom. LBS prizes independent thinking, global mindsets, and challenging the status quo. Make sure you can explain how LBS is the right fit for you.
4. Make sure you speak to Alumni to get a sense of the LBS values
You can find testimonials and student ambassador contact details on the LBS website. Student ambassadors are searchable by program nationality, and industry so this is a great resource.
5. Your career goals and strategy should shape your journey through LBS
LBS boasts 'the world's most flexible MBA' and offers you the chance to customize your program. You'll want to elaborate on the specifics of how you are getting from A (your current career) to B (your post-MBA career) via the springboard of LBS.
©LBS Facebook
Optional essays are a great way to address any gaps or shortcomings in your application. Doing so shows a sense of self awareness and can provide the LBS admissions committee with context.
The optional essay, however, should not come across as a set of excuses. It should demonstrate self-awareness and that you have taken steps to address any weak points in your application.
At LBS the average GMAT score for the Class of MBA2020 was 707, with a class range of 600 to 800. 600 is the minimum score LBS will accept. If your score falls in the lower ranges you may have to address this, by demonstrating your academic abilities, or quantitative skills elsewhere. You may also have to speak directly with the admissions team about retaking the test.
If any part of your application seems weak relative to the LBS class profile, you can consider providing support to show why your situation is exceptional. If your work experience seems flimsy in comparison to other applicants, you can strengthen your your case by demonstrating the quality of your experience and/or your unique perspectives.
You may find for example that your undergrad marks were low, but this can be mitigated by the fact that you were launching your own business, or still near the top of your class in a difficult course.
The optional essay also particularly important for international applicants who may need to give some context to their application. Don't assume that the admissions team knows about the company you work for, or the particular context of your country.
LBS recommends you spend a 'significant amount of time' on these essays, a 'vital part of your application'. So start brainstorming, and good luck!
Wednesday 17th February 2021, 10.36 (UTC)
Thank you, I've recently been searching for informagion approximately this topic for ages and yours is the greatest I have found out till now. But, what in regards to the bottom line? Are you positive about the supply? https://prochoiceargumentativeessay.wordpress.com/custom-essay essay paper essay paper https://good-essay-ti9155.hpage.com/buy-term-papers-online-buy-term-paper-online.html
Friday 20th November 2020, 23.49 (UTC)
Good material Withh thanks. Best Essay writing essay writer https://termpaperwriterservice.com
Next MBA Degree Reads :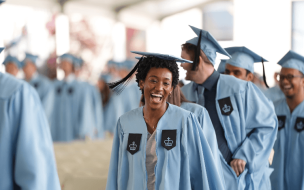 What Work Experience Do You Need For An MBA?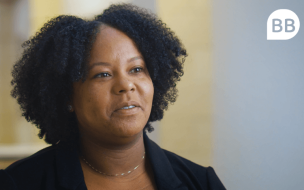 VIDEO | How We Landed Top MBA Careers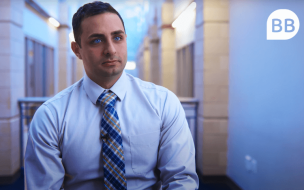 VIDEO | Quick-Fire Questions With MBA Students

Homepage > MBA Admissions > Business Schools > London Business School MBA Essays | Analysis and Tips | 2019-2020
London Business School MBA Essays | Analysis and Tips | 2019-2020
Posted by Nayeem Noor | Oct 25, 2019 | Business Schools , MBA Admissions , MBA Application Process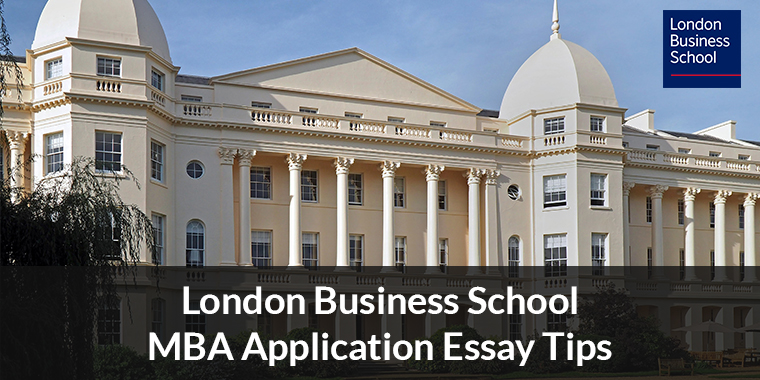 Every year, LBS enrolls exceptional professionals with a strong emphasis on diversity and a global mindset. Apart from its excellent employment statistics, London business School provides its students the chance to prepare themselves to lead businesses in a progressively globalized world. And with the reintroduction of the UK's two-year post-study work visa makes London Business School an attractive destination for pursuing an MBA.
In this article, we will share tips and guidelines to approach London Business School 2019-20 MBA application essays. Here is the outline of the article:
The London Business School MBA 2019-20 application deadlines
The London Business School MBA essay questions
Do's and don'ts while writing the LBS application essays
Analysis of lbs essay questions, 2019 – 2020 lbs mba application deadlines.
The following are the deadlines for the London Business School MBA program's 2020 intake.
Note: All applications are due by 17.00 (UK time)
LBS MBA Essay Questions 2019-2020
The LBS MBA application essay questions have remained unchanged from last year. Applicants for the 2019-20 intake are required to write one compulsory essay of 500 words. There is also an optional application essay of 500 words.
The application essay questions for London Business School MBA incoming class of 2020 are: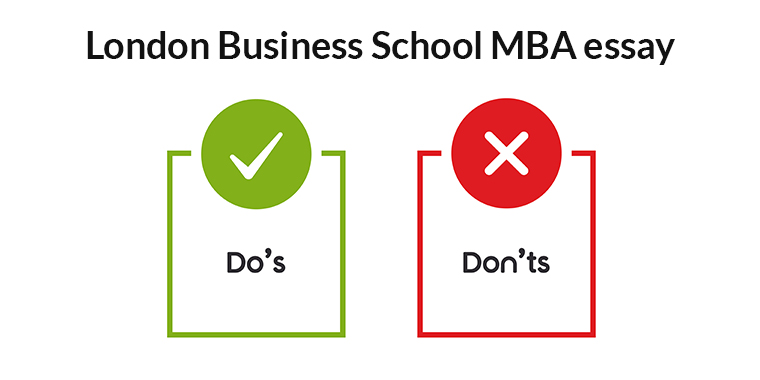 Don't repeat what is already there in your resume. Essays provide an opportunity for the applicants to explain the admissions committee what is not there in the resume.
Thoroughly check for the spelling and grammar of your essay before submitting it.
Don't explain what is not asked by the admission committee, read the question, and understand what the admissions committee wants from the question.
Share examples from your professional or personal life for the admissions committee to know more about you.
London Business School says, "We nurture our students to challenge the status quo, to question the norm, and to develop the skills to become the world's best business leaders. Over the years, we have adopted a truly global outlook tackling challenges faced by international businesses and their leaders."  Understanding what admissions committee is looking for is crucial while articulating your essays.
Applicant's research about London Business School will help them to answer these questions. A campus visit to LBS or interaction with a London Business School Student Ambassado r will be helpful in approaching the essay questions. Once you have a good understanding of what the school offers and how you will contribute to the LBS community, you will be better equipped to approach the essay questions.
Now let us analyze each application essay question and look at some tips for approaching them.
London Business School Essay 1: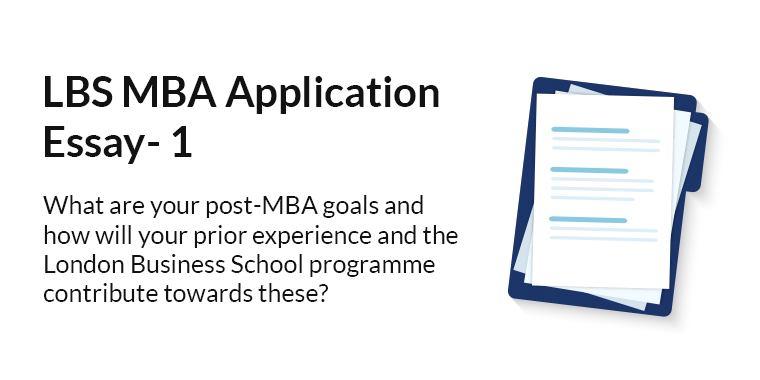 What are your post-MBA goals and how will your prior experience and the London Business School program contribute towards these? (500 words)
Let us break down the question to understand what the admissions committee is looking for:
Applicant's career goal after MBA program
How LBS helps the applicants to fulfill their MBA goals
Why London Business School?
Talk about your Post-MBA goals
This is a fairly standard goals essay . Considering the details that need to be included in this response, highlighting one or two key accomplishments from your professional career is suitable. As essay-1 is the only required essay for the LBS application, it is crucial to include some achievements. You can possibly mention them when you discuss how your work to date has prepared you for your target post-MBA role.
Focus on transferable skills
Compelling essays will provide all the requested information upfront. Naming the job you wish to hold immediately after an MBA, and how it fits into your long term post-MBA goals. Applicants should aim to demonstrate a high degree of thoughtfulness in discussing how their prior experience has provided skills and knowledge that will transfer to their desired role. And detail out specific elements of the LBS MBA program that will ease this transition.
While structuring your 500-word response, we recommend you start the essay with a story, event, or life experience that has shaped your career so far. Make the opening statement engaging enough to hook the admissions committee. You can make your starting statement engaging in several ways: a question, a quote, an anecdote, or statistics. Be specific in explaining your career progression and how your responsibilities increased over time. Spend 100-150 words in this 'past' section.
Now explain how your experience has molded your future goals and what are your plans for the future.  This part of the essay must describe both your short-term and long-term career goals. The short-term goal is the post-MBA job that you want to achieve, while the long-term goal characterizes where you want to be in a time frame of 10 to 30 years.
Be Specific about your short Term Goals
A great goal carries a clear description of the future function and/or industry, which will give the ad com a sense of your future role. At the same time, an ambiguous goal leaves the admissions committee muddled about what you want to chase after your MBA from LBS. Start with the short-term goals and then discuss your long-term goals. Make sure you make a logical linking between your short-term and long-term goals. You must spend 100-200 words to substantiate your short term and long-term goals.
Mention How LBS serve as a stepping stone for your careers and professional goals
You should aim to dedicate at least 200 words of Essay 1 to the ways a London Business School MBA would distinctively prepare you for future success. Rather than narrating in generalities about the program, deep-diving into flexible curriculum and clubs of your interest will allow getting as much mileage for your application as possible. Go beyond the program's website and take the time to learn about the program by attending admission events and connecting with current students and alumni to collect their insights about the LBS MBA program.
London Business School – Essay 2 (Optional Essay)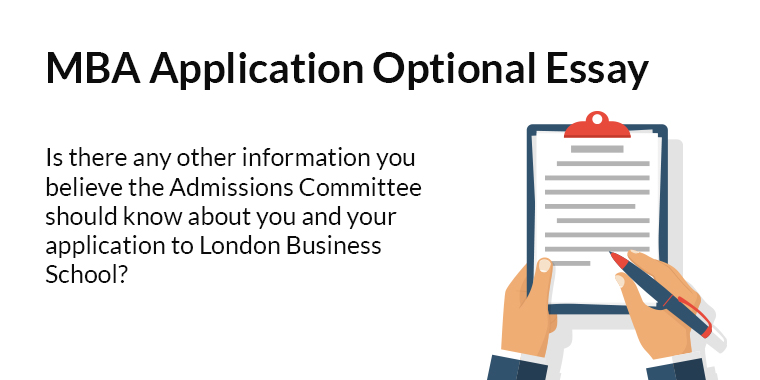 Is there any other information you believe the Admissions Committee should know about you and your application to London Business School? (500 words)
The optional essay provides an excellent opportunity for you to discuss the information that they couldn't explain in any other part of the application, like in the compulsory essay, the résumé, or the application form.
You can utilize this opportunity to address the areas of your concern in the application. Even if you do not have any weakness in your profile, good reasons to write the optional essay include:
A low GMAT score or weak GPA
Explain gaps in your work experience
Any relevant personal situations that have greatly influenced your application
Explaining your choice of recommenders
How you have improved as a candidate since the last application.
Above all, always remember to keep your essay word limit to 500 words.
Here are a few other articles that you may find useful:
London Business School – Class Profile & Employment Reports
£15 Million BK Birla Scholarship for 10 Indian and International Students
What is a good GMAT score for London Business School
MBA essay: 5 types of essays explained with examples
Importance of MBA Essays in Business School applications
About The Author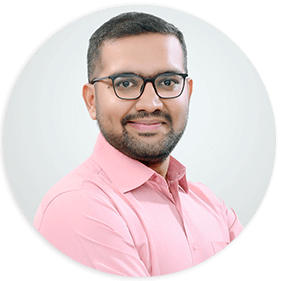 Nayeem Noor
Don't limit yourself, don't miss these.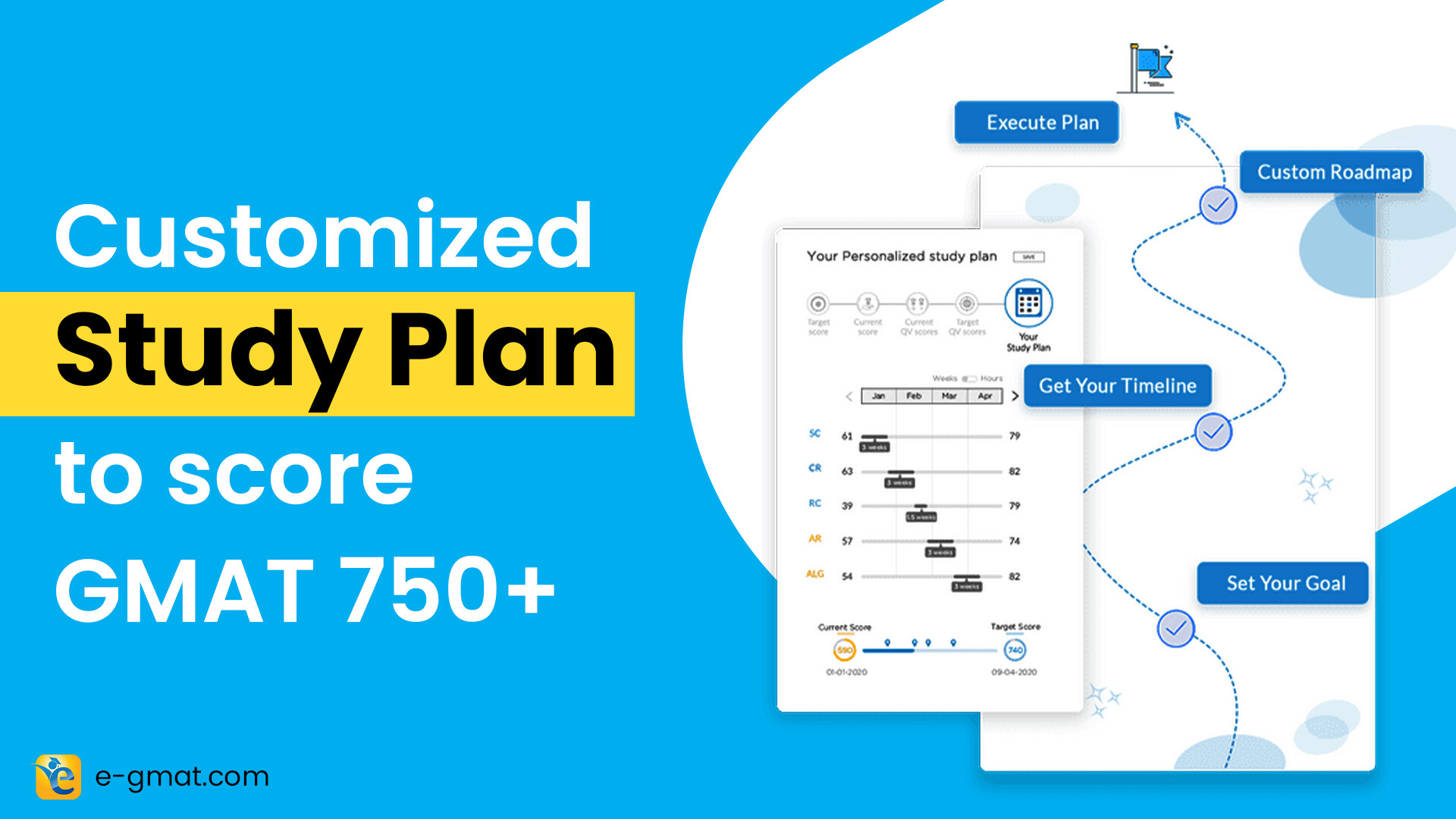 Helpful posts Curated just for you!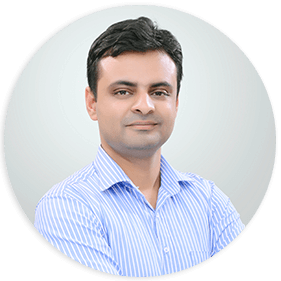 You might also like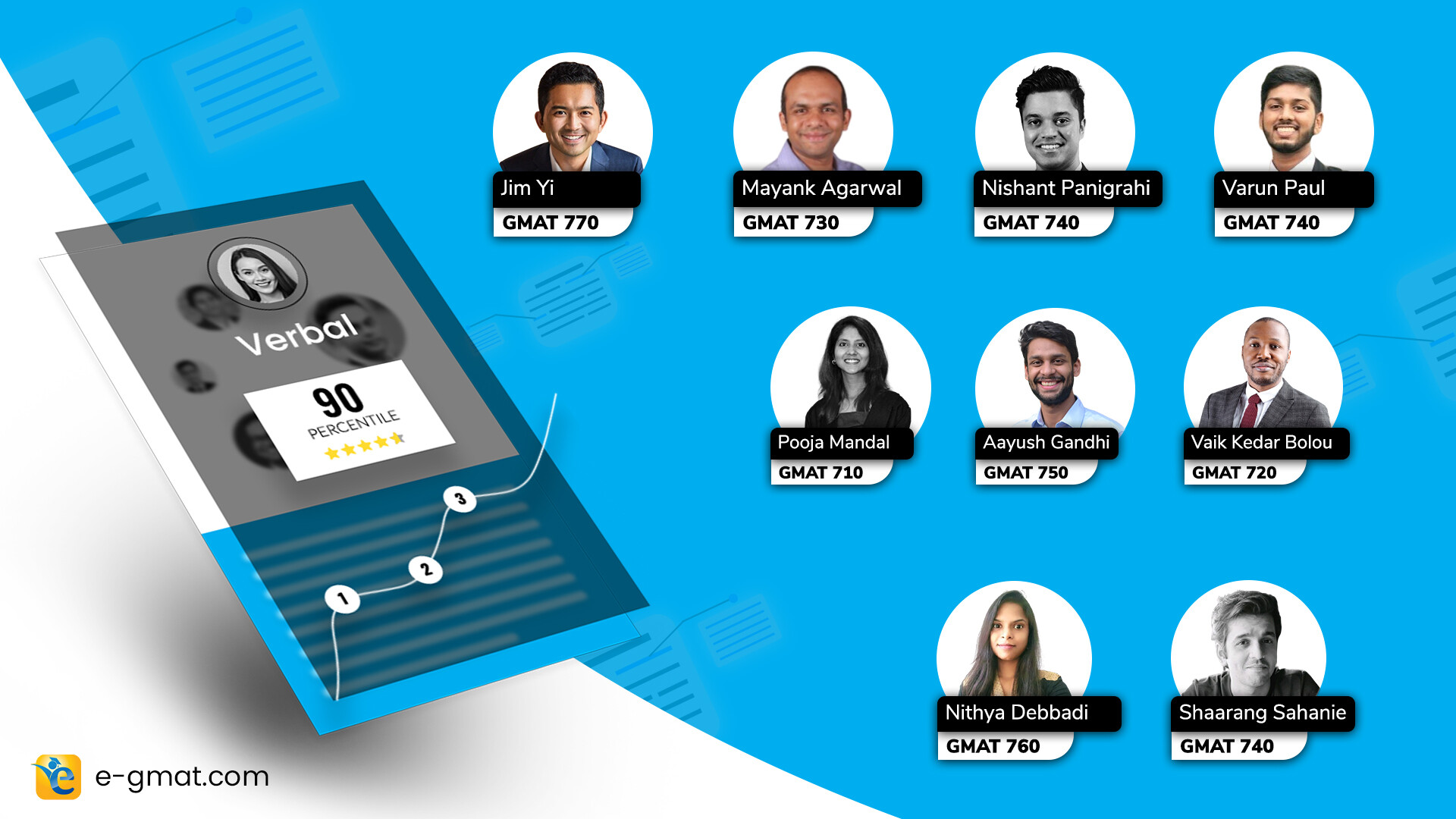 Browse Related Topics

Achieve 740+ on the GMAT in 30 days! Sign up for our free trial and get

400+ Practice questions with detailed solutions
10+ hours of AI-driven video lessons
Adaptive mock test with ESR+ analysis
Begin your GMAT Prep today!
Which program are you applying to?
Accepted Admissions Blog
Everything you need to know to get Accepted
August 30, 2022
London Business School Master's in Management (MiM) Essay Questions, Tips and Deadlines [2022 – 2023], Class Profile
Everything you need to know about the LBS MiM Program
Overview of the LBS MiM program
Application essay tips
Admissions requirements.
Class profile
Who gets accepted
Acceptance rate
Life at lbs, overview of the program.
The Master's in Management (MiM) is London Business School's longest running Early Careers (EC) programme. The first to be introduced to the EC portfolio in 2009, it has been developed in partnership with LBS' world-renowned faculty and the recruiters who budding business practitioners aim to work for. It focuses on an applied learning approach, combining theory and practice so that students "learn how different business activities function and areas work together to deliver value". This is all underpinned by the ethos that learning in a diverse environment (diversity extending to nationality, academic background, professional experience, interests) creates that all-important global perspective.
The MiM offers a flexible programme with exit points at 12-16 months. While some students will choose to complete the degree in three terms, those wishing to go on an International Exchange or take additional electives can opt to continue with a fourth term (additional fee required). Regardless of exit point, all students are required to take 15 modules across terms 1 and 2 along with online pre-programme courses.
Alongside the core curriculum, students are required to select 3 electives from a selection of 80 elective options across the subject areas Accounting, Economics, Finance, Management Science & Operations, Marketing, Organisational Behaviour, and Strategy & Entrepreneurship. Electives are held across programmes and give students a unique opportunity to work alongside MBAs , EMBAs , and other degree programme students. The cross-generational learning element is carried across to other aspects of the programme, such as with the mentorship scheme whereby MiMs can be mentored by MBA and MiF students and alumni.
In addition to the core curriculum and electives that develop hard academic skills, MiMs also focus time on developing the "soft skills that will enable you to build relationships, influence outcomes, and negotiate terms with self-awareness and confidence". Through the Skills Programme, students work on understanding and honing the skills that employers expect, including interpersonal skills as well as numerical and digital literacy.
Experiential learning is a key aspect of the MiM experience and the programme allows students "to explore the real world of international business through hands-on experience". During terms 2 and 3, MiMs participate in LondonLAB, an 8-10 week business project that tasks students to work in teams to solve challenges for a range of businesses from start-ups to multinationals across a variety of sectors. Past clients have included the BBC, Unicef, Salesforce, and Depop.
And for one week across terms 1, 2 or 3, students have the chance to participate in one of the programme's Global Experience courses. Along with other Early Career, MBA, and Leadership programme peers, students work with faculty, corporations, micro-entrepreneurs, and alumni to "interact meaningfully with members of the local business ecosystem and gain an in-depth view of a country's business culture". Course themes and destinations are subject to change depending on travel restrictions due to Covid-19 but past experiences have included: sustainability developments in Dubai; examining Austin's role as a breakthrough technologies hub; and examining what is unique about the venture capital and business ecosystem of San Francisco and Silicon Valley. What is all of this academic theory and experiential learning leading to? For 96% of the MiM2021 class (within three months of graduation), their degree led to a job. Specifically, pre-experience and graduate scheme roles across consulting (45%), financial services (27%), technology (18%), and diversified industries (10%). LBS' Career Centre and its sector specialists and career coaches provide students with opportunities to engage with employers and "develop the skills and confidence to effectively communicate [their] value to employers". How do they do this? Through a combination of activities such as: the Career Skills Programme; Personal Development Programme; Business Treks; and company engagements, including the Early Careers Recruitment Evening. While there is focus on helping MiMs to plan and navigate their recruitment journey, care is given to helping students develop the skills needed to network with LBS alumni and future employers, understand how to approach problem-solving and technical challenges at interviews, and how to find roles that match their skills, interests and aspirations.
LBS MiM essay #1
After several years with its mainstay 'how will the programme support your academic and professional goals' question, the MiM switched gears slightly last year and introduced a new essay 1 (and reduced word count):
What learning outcomes are you aiming to achieve as part of your Masters in Management programme? What challenge(s) might you encounter? ( 500 words )
While a different approach to the previous essay prompt, this question still tasks applicants to reflect on what they want to get out of the programme. In thinking of learning outcomes, this can be viewed as academic outcomes or professional outcomes, though this should all be underpinned by how the programme's resources will support those outcomes.
In addressing academic learning outcomes, it would be wise to touch on the knowledge gaps you're expecting the MiM to fill. Perhaps you come from a business/management background, but your undergraduate degree didn't offer particular courses you need to achieve your career aims or took a more theoretical approach. Or you come from the sciences or the arts and need general management tuition to help launch your business. You may also need to understand certain concepts for your post-MFA career, or you might be interested in learning more about a subject area that you only touched on briefly during your undergrad. Here you want to discuss a few of the academic components that will support your learning and fill the outlined gaps. But steer clear of providing a list; this is where you want to show research and that you have a solid understanding of how the academic resources will fulfil your individual learning needs. So you need to discuss not just the 'what', but also the 'why'. Also, avoid incorporating LBS resources here. This question is specifically about the MiM.
Learning outcomes can also extend to the professional. A large piece of the MiM curriculum revolves around skills development. Think about whether you need to hone any interpersonal skills to confidently present presentations to clients or to attend networking events with recruiters. Perhaps you need to scrub up on your modelling skills to achieve your consulting aims. This would be a good place to touch on how the Skills Programme and Career Centre will support those professional learning outcomes. A brief reminder of your career aims here is fine but keep it concise as these aims are already discussed in the application form.
The second half of the question – 'what challenges might you encounter' – was previously asked in the application form, so it's not entirely new. But its presence as a standalone essay question indicates the adcom's interest in understanding your level of self-awareness . This question really requires some introspection. While you may want to touch on the challenges that may arise with achieving the aforementioned learning aims, such as adapting to a new type of study environment or teaching method, it's fine to also mention any personal challenges. After all, you're a person. Perhaps you'll need to employ time management and organisational tools to cope with the hectic schedule and pace, or you'll need to switch gears in how you approach study in a grad school environment. A brief word on your ability to overcome these challenges to succeed in achieving your learning aims would make for a nice close to this essay.
LBS MiM essay #2
If essay 1 is about what you have to gain, essay 2 is about what you have to give back and remains with a focus on the wider school community:
During your time as a Master's in Management student, how will you contribute to the School community? ( 400 words )
The idea of being communal is an essential value at LBS (more on that below). This question gives you a chance to showcase your achievements and how your past successes will allow you to impact the LBS community.
In thinking about how you can add value and contribute , start by reflecting on your experience – academic (undergraduate studies), professional (internships), and personal (extracurricular engagements). Think about where you've achieved success and how you can apply learnings or skills from those experiences to contribute. Presenting 3-4 ideas is advisable, but you may find you want to dedicate more word space to 1 or 2 ideas. And make sure these ideas are concrete; writing your international experience will support the learning experience of your peers doesn't say anything. This is your chance to set yourself apart and show that you've not only done your research and understand what the community has to offer, but that you've put thought into how you can enhance the community around you.
To be eligible for the MiM, applicants must have less than two years of postgraduate work experience (only postgraduate work experience is considered towards the two-year limit; internships taken during your studies don't count).
MiMs come from a variety of undergraduate study backgrounds and while there's no degree requirement, applicants must have achieved or expect to achieve a bachelor's degree result equivalent to a UK 2:1 minimum / GPA 3.3 or above. Along with a strong undergraduate degree, GMAT or GRE is required and must be taken prior to applying. While there is no minimum score, it is recommended applicants apply with a 600+.
As with other degree programmes, the MiM now requires only one reference, which must be submitted via the school's online reference system. It is recommended applicants select a previous or current employer, though an academic referee will suffice so long as they can speak to the applicant's character and abilities.
Along with reference, GMAT/GRE score, and undergraduate degree, applicants are required to submit a one page CV/resume , proof of English, and pay an application fee. Along with all of this comes a number of short answer questions in the application form. As these questions sit in the application form there's sometimes thought that they're not as important as the long form essays. Not true! The short answers, which ask questions around your interests, programme/school research, international experience, and career aims are key as they give the adcom an insight into who you are outside of your stats, what motivates you, and what you want to achieve. So do spend time crafting answers to these questions.
The programme runs a staged admissions process. Applicants can apply at any one of the four stages, though early application is advised as competition becomes more intense in the final months.
Deadlines for the August 2023 (MiM 2024) intake are:
Source: LBS MiM website
LBS MiM class of 2022 profile
Students: 282
Nationalities : 51
Women: 56%
International students: 95%
Alumni: 48,000+
MiM 2022 undergraduate study discipline
Business Management: 29%
Economics: 17%
Finance/Accounting: 17%
Engineering: 11%
Social Science: 9%
Maths/Science: 6%
Humanities: 5%
MiM 2022 nationalities by region
Europe (excl. UK): 35%
South East/East Asia: 34%
South Asia: 17%
United Kingdom: 6%
North America: 5%
Africa/Middle East: 2%
Central/South America: 1%
Who gets accepted to the LBS MiM program
The MiM is aimed at driven early career business practitioners who have graduated within the last two years, and with a maximum of two years of postgraduate work experience. While work experience isn't required – some students will join immediately following their undergraduate degree – most students will have completed some type of professional work experience, whether an internship or full-time role. Work experience is as varied as undergraduate study discipline and students may have worked in MNCs, start-ups, or family businesses. Brand doesn't necessarily mean everything; the adcom wants to understand why you've made the academic and professional choices that you have (connect the dots for them!), skills developed, and learning outcomes, all of which will support your learning experience, and that of your cohort, once on the programme.
While students will be educated on the types of industries and roles they may target post-programme, and where their skillset can be best utilised, all students are expected to be ready to build a foundation for a career in business. What does this mean? That they'll have thought about their career aims and be able to demonstrate an understanding of their intended path through the application process. The adcom wants to see ambitious individuals who want to make an impact in the world around them. And they want to see individuals who have already achieved success and impacted those around them, be it at school or at work, and seek students who can demonstrate "a track record of excellence, achievement, and leadership potential".
While data for Freedom of Information (FOI) requests may be found online, LBS, like many of its European counterparts, does not commonly supply information on acceptance or retention rates. But being LBS, it's safe to assume that competition is fierce. MiMs are just as talented and driven as their more senior counterparts across other degree programmes and there are a lot of big fish looking to make a splash in a relatively small pond.
That said, the MiM admissions process should be considered a selection process. They're keen to understand applicant journeys and that all important (and rather intangible) fit . This is done primarily through the interview process. While an interview does not guarantee an offer, it's a sign that the adcom sees something interesting in you that it wants to further explore.
Community is one of the most important aspects of life at LBS – for students, alumni, faculty, and staff alike. This can be seen early from the application stage, where most degree programmes have at least one question in the application about the community and about how an applicant will add value to it.
To be sure, the school doesn't require, or indeed even expect every student to take a leadership position in a club or lead a trek. But it wants individuals on-campus who are communal in nature; those who participate, who enjoy peer-to-peer learning and teaching, who thrive in collaborative environments .
More than 80 student clubs run more than 1,000 events every year, including social, professional, and cultural clubs. Students play a key role in developing and running student-led events such as the Women in Business Conference, EUROUT and China Business Forum. Whether participating as an organiser or spectator, these events give students the chance to network with one another as well as industry or subject-area experts and engage in discussion and debate about the most important issues facing business.
And community members jump at the chance to socialise outside of the classroom and professional interest clubs or business treks. Whether the annual Tattoo, which celebrates the school's diversity through food, dance and entertainment, or the fortnightly Sundowners, where students, alumni, faculty, and staff can meet and network, LBSers never miss a chance to celebrate being part of the community.
Get professional guidance with your LBS MiM application! Check out Accepted's MiM Application Packages , which include advising, editing, interview coaching, and a resume edit for the LBS MiM application.
Jamie Wright has more than eight years of recruitment and admissions experience at London Business School (LBS) and is the former admissions director for Early Career Programmes at LBS. Originally from the United States, Jamie is now based in London. Want Jamie to help you get accepted?  Click here to get in touch with Jamie Wright .
Related Resources:
5 Fatal Flaws to Avoid in Your Application Essays , a free guide
Early Career Management and European MBA Programs with Jamie Wright , a podcast episode
Exploring London Business School's Master's in Analytics and Management , a podcast episode
About Us Press Room Contact Us Podcast Accepted Blog Privacy Policy Website Terms of Use Disclaimer Client Terms of Service
Accepted 1171 S. Robertson Blvd. #140 Los Angeles CA 90035 +1 (310) 815-9553 © 2022 Accepted
London Business School Essays for 2022-2023: Tips & Strategy
August 01, 2022 | by Emma Bond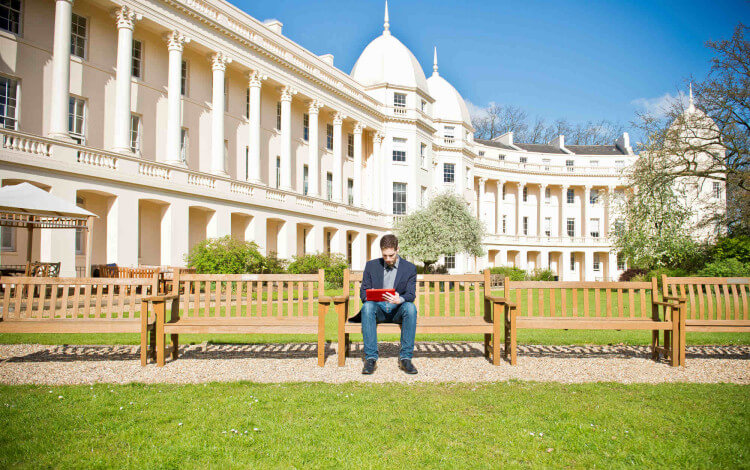 The application for  London Business School is now open, with a round one deadline of September 9, 2022. Meanwhile, the MBA essays for LBS remain the same. 
As former Senior Manager of MBA Admissions at LBS, I believe that very best versions of Essay One will give the Admissions Committee insight into what has motivated your post-MBA career goals and how the LBS program will help you achieve them.
Last year, I sat down for a virtual  conversation with LBS Admissions Director David Simpson . When I asked about the qualities he's looking for in an MBA candidate, Simpson said:
"Above all for me is the idea of an inquiring mind – someone who's fascinated by other views gathered from around the world, somebody who is open for personal growth… In addition: ambition, collaborative nature, curious / questioning, global outlook and desire, reflective and self-aware – with some humility. These are factors that everybody needs in business and in society."
With this in mind – and always remembering the global outlook central to life and learning at LBS – your essays are the place to convey a high level of self-awareness and ambition, while conveying your uniqueness to the Admissions Committee.
HOW TO TACKLE THE LBS ESSAYS
ESSAY 1. What are your post-MBA plans and how will your prior experience and the London Business School programme contribute towards these? (500 words)
LBS has retained this question for a long time now and answered well, it should tell the Admissions Committee exactly what they need to know. The question pulls no punches — it doesn't make you read between the lines – but its seeming simplicity is actually what makes it so tricky. At a minimum, you need first to make a compelling case for needing an MBA to achieve your professional goals and then to demonstrate how London Business School is uniquely positioned to help get you there. The very best answers go a little deeper, giving the Admissions Committee context into what has motivated your post-MBA career goals and showing an advanced level of self-awareness.
Like all schools, LBS wants to see you've done your homework, so you'll need to showcase a more in-depth knowledge of the program and community than you can glean from a quick review of their website. This is your opportunity to highlight your school research and show your LBS love. Think about how specific classes, professors, clubs or other on and off campus initiatives will factor into your success, and importantly, how they are relevant to your career goals.
ESSAY 2. (Optional) Is there any other information you believe the Admissions Committee should know about you and your application to London Business School? (500 words)
In many business school applications, the optional essay needs to be used to explain a less than stellar undergraduate performance or low GMAT. However, London Business School asks you about your prior academic performance specifically in their application form. If you have another weakness you're concerned about — perhaps you were let go from a job or took an extended career break — you should use this section to explain.
Otherwise, use this section to further make the case for your candidacy by highlighting another aspect of your profile that makes you a great fit for LBS. Perhaps you have another passion, not directly related to your career goals. This is your chance to tell the committee what you've done with that passion, and what you'll do to share it with the community, showcasing your leadership, team skills and/or international outlook along the way.
Our clients always come up with some great examples for this essay. Some of the most memorable include a candidate who had overcome learning disabilities and wanted to help connect learning disabled students at LBS with the resources to help them succeed in the program; an amateur photographer who had organized exhibitions who wanted to revive the LBS photography club; and an LGBTQ+ rights advocate who had been a senior organizer of his city's Pride parade and wanted to take a leadership role within the OiB club on campus.
View our MBA Admissions Essay Masterclass featuring London Business School, INSEAD & HEC Paris, above. Previous sessions from our MBA Admissions Essay Masterclass series are available on  Fortuna's YouTube channel .
Let's Get You In.
Fortuna Admissions is a dream team of former MBA Admissions Directors and Officers from 18 of the top 20 business schools, including LBS. With our unparalleled collective expertise, we are able to coach you to develop a clear vision of your goals for business school and beyond. We work closely with you throughout the application process and provide expert guidance at every stage to maximize your chances of admission to a top school.
Our free consultations are consistently rated as the best in the industry. To learn more about Fortuna and assess your chances of admission to Wharton and other top programs, request a  free consultation .
Want More Advice?
For more insights and advice on LBS, view our related articles and videos:
How to Get Into London Business School
Why London Business School Should Be On Your Shortlist
London Business School MBA Interview: Everything You Need to Know
A Conversation with LBS Admissions Director David Simpson  (video strategy session)
INSEAD & London Business School: Insider Admissions Advice (7-min video blog)
MBA Admissions Trend: One Letter of Recommendation
Updated August 1, 2022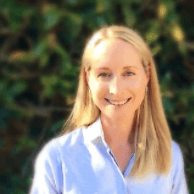 Fortuna's Emma Bond is an expert MBA admissions coach and former LBS Senior Manager of MBA Admissions. For a candid assessment of your chances of admission success at a top MBA program, sign up for  a free consultation.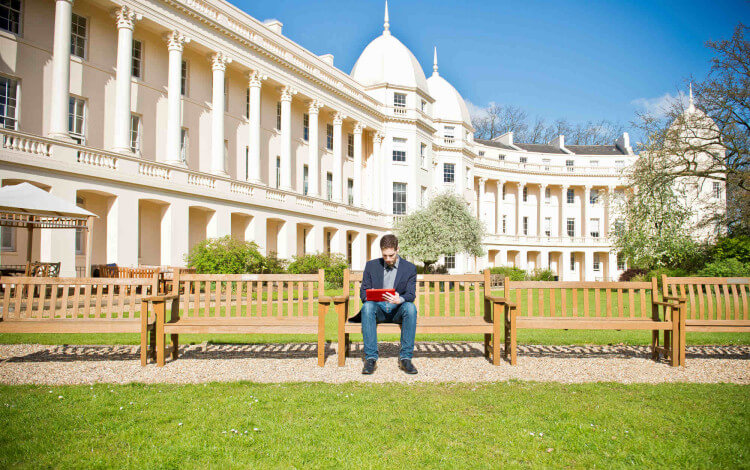 You May Also Be Interested In:
Unleash your uniqueness: how to tackle the rotman mba application's "spike factor" question, what to expect from the new gmat and gre, mastering kellogg's new video questions, sign up for a free consultation.
First Name:

Sign up for our free bi-weekly e-newsletter and stay on top of the latest news.
First Name *
Last Name *
Look up our reviews and see what our clients have to say! We have thousands of returning clients that use our writing services every chance they get. We value your reputation, anonymity, and trust in us.
Bennie Hawra
Customer Reviews
John N. Williams
Transparency through our essay writing service
Transparency is unique to our company and for my writing essay services. You will get to know everything about 'my order' that you have placed. If you want to check the continuity of the order and how the overall essay is being made, you can simply ask for 'my draft' done so far through your 'my account' section. To make changes in your work, you can simply pass on your revision to the writers via the online customer support chat. After getting 'my' initial draft in hand, you can go for unlimited revisions for free, in case you are not satisfied with any content of the draft. We will be constantly there by your side and will provide you with every kind of assistance with our best essay writing service.
10 question spreadsheets are priced at just .39! Along with your finished paper, our essay writers provide detailed calculations or reasoning behind the answers so that you can attempt the task yourself in the future.
Affiliate program
Refer our service to your friend and receive 10% from every order
Why is the best essay writing service?
On the Internet, you can find a lot of services that offer customers to write huge articles in the shortest possible time at a low price. It's up to you to agree or not, but we recommend that you do not rush to make a choice. Many of these sites will take your money and disappear without getting the job done. Some low-skilled writers will still send you an essay file, but the text will not meet the required parameters.
is the best essay writing service because we provide guarantees at all stages of cooperation. Our polite managers will answer all your questions and help you determine the details. We will sign a contract with you so that you can be sure of our good faith.
The team employs only professionals with higher education. They will write you a high-quality essay that will pass all anti-plagiarism checks, since we do not steal other people's thoughts and ideas, but create new ones.
You can always contact us and make corrections, and we will be happy to help you.
Who are your essay writers?
Finished Papers
Leave a Reply Cancel reply
Your email address will not be published. Required fields are marked *
Save my name, email, and website in this browser for the next time I comment.
Free essays categories
Why choose us.
All our papers are written from scratch. To ensure high quality of writing, the pages number is limited for short deadlines. If you want to order more pages, please choose longer Deadline (Urgency).
Earl M. Kinkade
receive 15% off
Susan Devlin
Copyright © 2022. All Right Reserved -
Orders of are accepted for higher levels only (University, Master's, PHD). Please pay attention that your current order level was automatically changed from High School/College to University.
Customer Reviews
Finished Papers
Get Professional Writing Services Today!
Get a free quote from our professional essay writing service and an idea of how much the paper will cost before it even begins. If the price is satisfactory, accept the bid and watch your concerns slowly fade away! Our team will make sure that staying up until 4 am becomes a thing of the past. The essay service is known for providing some of the best writing, editing, and proofreading available online. What are you waiting for? Join our global educational community today!
EssayService strives to deliver high-quality work that satisfies each and every customer, yet at times miscommunications happen and the work needs revisions. Therefore to assure full customer satisfaction we have a 30-day free revisions policy.
Gustavo Almeida Correia
Emery Evans
Finished Papers
Getting an essay writing help in less than 60 seconds
Megan Sharp
Customer Reviews
Terms of Use
Privacy Policy
These kinds of 'my essay writing' require a strong stance to be taken upon and establish arguments that would be in favor of the position taken. Also, these arguments must be backed up and our writers know exactly how such writing can be efficiently pulled off.
Write my essay for me frequently asked questions
Customer Reviews
We can improve your MBA profile and boost your candidacy. Gain insight into the review process and eliminate weaknesses from your MBA application.
Note: You must have javascript enabled to submit the form.
Tuesday Tips: London Business School Essays, Tips for 2023-2024
London Business School values independence and original thought. Other values on display through these London Business School essays are an international approach to business and culture. The London Business School essays for the 2023-2024 admissions cycle include one required and one optional question. Showcasing all of your career accomplishments, extracurriculars, and personal attributes will be a challenge.
Therefore, you will likely need to maximize other parts of the application, like your resume and recommendations. Talk to your recommenders about the experiences in your background you might want to highlight through their letters. Also, use your resume to describe critical moments at work.
Start your research brainstorm by learning all you can about the culture at London Business School. This will help you answer these London Business School essays. Knowing the culture can help you prepare the rest of your application for admission.
One of the best ways to get to know LBS is to visit the campus and interact with a London Business School Student Ambassador . Take advantage of the school's many virtual information sessions . Once you have a good sense of the school and how you will take advantage of the opportunity to attend LBS, you will be better prepared to approach the essay questions.
Curious about your chances of getting into one of the world's top B-schools? Contact us  to talk strategy with a free 15-minute advising session with an SBC Principal Consultant. 
London Business School Essays
Required essay, what are your post-mba goals and how will your prior experience and the london business school programme contribute towards these (500 words).
Self-awareness about your strengths and interests will help you refine what you truly want in your career for this London Business School essay. It could be helpful to talk to colleagues and alumni who have MBAs in your field to identify various career paths. Make sure that your career goals are both realistic and aspirational. Think about the short-term roles post-MBA that may lead to your most ambitious longer-term goals.
Your past experiences have likely informed your post-MBA plans. Touching on those most relevant will help you set the background for your current pursuit of an MBA. Don't make this essay a mere rehash of your resume. Think about explaining the rationale for your decisions throughout the essay. Why did you pursue your past experience, and what has been the impetus behind subsequent career choices? At this point, why are you choosing LBS?
As you speak with current LBS students and attend virtual events, learn as much as you can about the programs, professors, and classes that may help you achieve your goals. Plus, consider what you will learn at LBS and in your time in London. What new skills and courses will lead to the achievement of your career goals? Also, the network you create during your MBA will open doors for you, and preparing for this essay can help you to make the most of the experience.
Optional Essay
Is there any other information you believe the admissions committee should know about you and your application to london business school (500 words).
In describing the LBS vision and continued business impact, the school represents the culture this way: "We challenge how things are done and we teach our students to constantly question and innovate. We believe in providing our students with the most diverse, world-class, and rewarding business education in the world."
This open-ended question is an excellent opportunity to touch on a personal story and add color to your story to demonstrate how you will be part of this culture. This could be the ideal place to describe a unique background, experience, or attribute that did not fit elsewhere in the application.
Diversity can mean many things. For example, it can be where you are from, the culture you identify with, or your approach to life. If diversity of experience or attitude doesn't resonate for you, have you been challenged and innovated? When have you taken a new view or challenged conventional wisdom? A global perspective is invaluable, as well. Think about stories that could illustrate how you have demonstrated any of these qualities that are valued by LBS.
For more insights into elite business schools abroad, listen to B-Schooled Podcast Episode #56 : An Overview of European MBA Programs.
To talk to Stacy Blackman Consulting about how to approach the London Business School essays, don't hesitate to contact us!     We offer multiple services to meet your MBA application needs, from our  All-In Partnership  to hourly help reviewing your MBA resume.   Contact SBC today for a  free 15-minute advising session  to talk strategy with a Principal SBC consultant. Meanwhile, here's a snapshot of the caliber of expertise on  our SBC team . 
SBC's star-studded consultant team is unparalleled. Our clients benefit from current intelligence that we receive from the former MBA Admissions Officers from LBS, Columbia CBS and every elite business program in the US and Europe.  These MBA Admissions Officers have chosen to work exclusively with SBC.
Meet Susan , just one of the many superstars on the SBC team. Susan was the Director of Recruitment and Admissions at London Business School LBS and also the Director of the Executive MBA program at Columbia Business School CBS.
Tap into this inside knowledge for your MBA applications by requesting a consultation .
You May Also Like
4 Factors to Consider About European MBA Programs
Comparing Top EU MBA Programs Vs. Top US Programs
Doing an MBA in London
Face-Off: Oxford vs. Cambridge
Leave a reply cancel reply.
Save my name, email, and website in this browser for the next time I comment.
This site uses Akismet to reduce spam. Learn how your comment data is processed .
Learn About Our All-In Service
Meet the sbc consulting team.
(323) 934-3936 info@StacyBlackman.com
Latest Blog Post
Mba applicants with a family business background.
Embarking on the path to land a spot in an elite business school is an exciting yet demanding endeavor, especially for those whose professional background is in the family business. Successfully positioning your candidacy ... →