We use cookies to enhance our website for you. Proceed if you agree to this policy or learn more about it.
Essay Database >
Essay Examples >
Essays Topics >
Essay on Cinema
Example Of My Favorite Memory Essay
Type of paper: Essay
Topic: Cinema , Medicine , Pets , Nursing , Family , Life , Birthday , Movies
Published: 12/26/2019
ORDER PAPER LIKE THIS
This memory serves more than just being a reminder of a great story to tell my grandchildren one day; the gift of the experience was the forging of friendships that would last a lifetime. In addition, my life's path was made clear to me; I found a passion that had probably changed the trajectory of my life. My birthday is my favorite time of the year as it is the day set aside to celebrate my life and of course all the gifts one receives. One year my birthday was made all the more special. The events leading up to my twelfth birthday may have started out ominously, but that year was cause for a double celebration. I remember the day it happened all so clearly. The sky was crystal blue, the sunlight almost blinding. Daryl and I were returning home from the movie theater. After a sleepless night we stood in the snake long queue outside the movie theater to see Transformer. The movie had lived up to expectation and we were buoyed with excitement long after the last credit rolled. We made our way over to my house talking animatedly about our favorite parts of the movie, amusing the passersby with our antics. There was hardly any activity on the usually busy street. Reminiscing on that day brings on a surreal like quality. I heard the screeching of wheels before I saw the car careering around the corner. Out of the corner of my eye I spotted a blurred shape run across the street. My heart thundered and I felt the sharp sting of fear the split second before the dog and car made contact. The driver did not stop. Daryl and I raced over to where the dog lay bleeding, whimpering faintly; mercifully alive. Daryl looked as if he was about to lose the contents of his stomach on the sidewalk, but I just about kept it together. There was no tag on the dog and no one had come chasing after him. It was the pain in his eyes that had me spring into action so I ran over to the nearest house looking for help. She was standing at the reception counter at the animal hospital helping an elderly couple fill in some forms. Her dark hair was tied back in a ponytail allowing unrestricted view of her smile as she nodded in understanding. She seemed so poised and confident in handling trauma for her youthful age. It was probably this that had me in awe of her. She noticed the dog in my arms before she looked at me. Daryl and I had not said a word; she summed up what had happened from just a glance. I felt him lifted from my arms and then he disappeared into a restricted area. Not knowing what else to do, Daryl and I took a seat on the multi-colored plastic chairs in the waiting room. Skye, we later learned that was her name, returned to assure us that the Flynn (Daryl and I later named him) was in good hands and we were not to worry. We left the hospital with Skye promising to keep us updated. I inadvertently developed a responsibility for him. No one had come to claim him and there were no reports of a lost dog anywhere. I visited the hospital every day, checking up on Flynn. He had at first refused to eat after the surgery. It was after I had begun to sit with him, stroking his fur gently and singing nursery rhymes from my childhood that he was coaxed into eating again. I was careful in remembering to sing under my breath so that Skye would not hear me, but I got a feeling that nothing really escaped her notice. After my visits to Flynn, I'd stay longer at the hospital helping out. I'd visit some of the other patients in the hospital, helping Skye to feed them or just sit with them. While there I felt an immense sense of peace. The trauma of seeing the injured no longer overwhelmed me. Skye and I developed a strong and deep friendship over time. She taught me to believe in the strength that was in me and helped me see my natural affinity to help heal those in pain. It was a gift that was to change my life in remarkable ways. I later learned that it was Skye's father who had taken care of Flynn. He was chief veterinarian at the hospital. He was the male and older version of Skye. Seeing both father and daughter comfort and care for distressed animals with such love inspired me to want to dedicate my life to the same cause. I knew that I wanted to be a voice for the voiceless. The other strong bond of friendship that was forged was that of me and Flynn. As no one had claimed him, he got to come home with me. No other birthday has as yet surpassed my twelfth in the gifts bestowed of friendship and love, and so it remains my unparalleled favorite memory in the annals of my life to be told often.

Cite this page
Share with friends using:
Removal Request

Finished papers: 1491
This paper is created by writer with
ID 280572194
If you want your paper to be:
Well-researched, fact-checked, and accurate
Original, fresh, based on current data
Eloquently written and immaculately formatted
275 words = 1 page double-spaced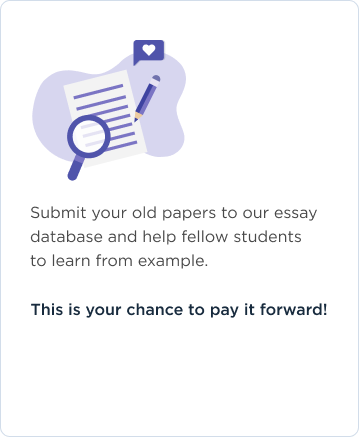 Get your papers done by pros!
Other Pages
Handwriting research proposals, gay marriage essay examples, essay on multiculturalism policies and effects in education, letter of adviceinterpersonal communication essay, essay on india and nepal, consequences that decrease behaviors article review example, infighting essays, coronagraph essays, mormon essays, thorburn essays, public discourse essays, leveling essays.
Password recovery email has been sent to [email protected]
Use your new password to log in
You are not register!
By clicking Register, you agree to our Terms of Service and that you have read our Privacy Policy .
Now you can download documents directly to your device!
Check your email! An email with your password has already been sent to you! Now you can download documents directly to your device.
or Use the QR code to Save this Paper to Your Phone
The sample is NOT original!
Short on a deadline?
Don't waste time. Get help with 11% off using code - GETWOWED
No, thanks! I'm fine with missing my deadline
Childhood Memories Essay for Students and Children
500+ Words Essay on Childhood Memories
Memories are a vital component of our bodies. They shape our personality as all our knowledge and past experiences are stored there. All of us have memories, both good and bad. You have memories from long ago and also from recent times. Furthermore, some memories help us get by tough days and make us cheerful on good days.
Memories are the little things which help in running our lives smoothly. In other words, memories are irreplaceable and they are very dear to us. They help us learn from our mistakes and make us better. In my opinion, one's childhood memories are the dearest to anyone. They help in keeping the child in you alive. Moreover, it also is a reason for our smiles in between adult life.
Importance of Childhood Memories
Childhood memories are very important in our lives. It makes us remember the best times of our lives. They shape our thinking and future. When one has good childhood memories, they grow up to be happy individuals. However, if one has traumatic childhood memories, it affects their adult life gravely.
Thus, we see how childhood memories shape our future. They do not necessarily define us but they surely play a great role. It is not important that someone with traumatic childhood memories may turn out to be not well. People get past their traumatic experiences and grow as human beings. But, these memories play a great role in this process as well.
Most importantly, childhood memories keep the inner child alive. No matter how old we get, there is always a child within each one of us. He/She comes out at different times.
For instance, some may act like a child on seeing swings; the other may get excited like a child when they see ice cream. All this happens so because we have our childhood memories reminding us of the times associated with the things we get excited about. Therefore, childhood memories play a great role in our lives.
Get the huge list of more than 500 Essay Topics and Ideas
My Childhood Memories
Growing up, I had a very loving family. I had three siblings with whom I used to play a lot. I remember very fondly the games we use to play. Especially, in the evenings, we used to go out in the park with our sports equipment. Each day we played different games, for example, football on one day and cricket on the other. These memories of playing in the park are very dear to me.
Furthermore, I remember clearly the aroma of my grandmother's pickles. I used to help her whenever she made pickles. We used to watch her do the magic of combining the oils and spices to make delicious pickles. Even today, I can sometimes smell her pickles whenever I look back at this memory.
Most importantly, I remember this instance very clearly when we went out for a picnic with my family. We paid a visit to the zoo and had an incredible day. My mother packed delectable dishes which we ate in the zoo. My father clicked so many pictures that day. When I look at these pictures, the memory is so clear, it seems like it happened just yesterday. Thus, my childhood memories are very dear to me and make me smile when I feel low.
Q.1 Why is Childhood Memories important?
A.1 Childhood memories shape our personality and future. They remind us of the good times and help us get by on tough days. Moreover, they remind us of past experiences and mistakes which help us improve ourselves.
Q.2 What can be a common childhood memory for all?
A.2 In my opinion, a childhood memory most of us have in common is the first day of school. Most of us remember what we felt like on the first day. In addition, our birthdays are also very common childhood memory that reminds us of gifts and celebrations on that day.
Travelling Essay
Picnic Essay
Our Country Essay
My Parents Essay
Essay on Favourite Personality
Essay on Memorable Day of My Life
Essay on Knowledge is Power
Essay on Gurpurab
Essay on My Favourite Season
Essay on Types of Sports
Which class are you in?
Download the App
Home — Essay Samples — Life — Life Experiences — Memories

Essays on Memories
Memories of happiness and accomplishments in my life, the role of memorable memories in our lives, made-to-order essay as fast as you need it.
Each essay is customized to cater to your unique preferences
+ experts online
Memories: The Only Real Treasure in One's Head
The value of memory in human life, my personal experience: encounter with death, my happiest childhood memories: playing golf with my father, let us write you an essay from scratch.
450+ experts on 30 subjects ready to help
Custom essay delivered in as few as 3 hours
Bad Memories of Old that Should Be Locked Up
My most memorable experiences in life, the importance of memories in our life, my favorite memories with my father, get a personalized essay in under 3 hours.
Expert-written essays crafted with your exact needs in mind
The Creation of Our Memories
Effect of good and bad memories on attitude and emotion, worst thing i have ever done, my trip to miami shores, florida, how a driving accident affected on my life, necessity and importance of memories for growth, the most memorable moments of fifa world cup 2018, making memories count: kids photography, post-memory and layered memories of vietnamese americans, art and memory, a theme of memories in eternal sunshine of the spotless mind, the process of recollection of memories in nabokov's speak, memory, a hometown acceptance at different periods of life, oral literature, the effects of the memories of the civil war and the reconstruction on americans, a long way gone: uncovering the true fiction behind ishmael beah's recount of his life story, the use of own memories in the poems of sylvia plath and ted hughes, discussion if there any worth of possibility to erase bad memories, the possible ways to strengthen lost memories, my emotions from my third first day of school, relevant topics.
Personal Growth and Development
Life Changing Experience
Overcoming Challenges
Overcoming Obstacles
Personal Experience
Why I Want To Be A Nurse
Volunteering
By clicking "Check Writers' Offers", you agree to our terms of service and privacy policy . We'll occasionally send you promo and account related email
No need to pay just yet!
Bibliography
We use cookies to personalyze your web-site experience. By continuing we'll assume you board with our cookie policy .
We can help you get a better grade and deliver your task on time!
Instructions Followed To The Letter
Deadlines Met At Every Stage
Unique And Plagiarism Free