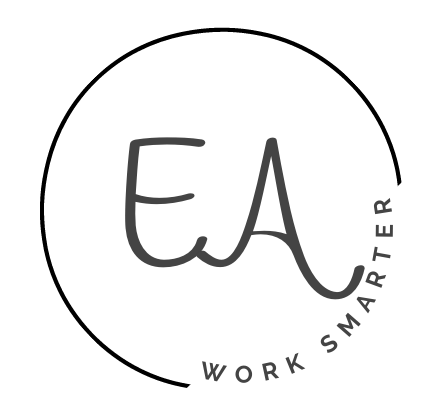 Elementary Assessments
51 Great Persuasive Writing Prompts for Middle School
Persuasive writing stands tall as a powerful tool that equips middle school students with the ability to articulate their thoughts, sway opinions, and present logical arguments.
Persuasive writing prompts for middle school students play a pivotal role in helping students do such tasks.
These prompts ignite critical thinking and help students express their thoughts on various topics.
Within this post, you'll find a variety of middle school persuasive writing prompts that promise to be intellectually stimulating for your student writers.
Persuasive Writing Prompts for Middle School
1. Persuade your friends to join a school club or extracurricular activity.
2. Persuade someone to pick you to be on his/her sports team.
3. Tell why basketball is better than football.
4. Convince a friend to attend a sporting event with you.
5. Tell why middle schoolers should be required to perform community service.
6. Persuade someone that penmanship is important.
7. Persuade your grandparent to get download a new app.
8. Convince the school district to reduce the amount of standardized testing students do.
9. Persuade a friend to visit you over the weekend.
10. Argue why homework should be limited to weekends only.
Related Content: 101 Writing Prompts for Middle School Students
11. Convince your friends to sign up to be in the talent show.
12. Persuade your family to have a "no-screen" day every week.
13. Write a letter persuading your parents to buy you a new pet.
14. Write a persuasive essay on the benefits of outdoor recess over indoor recess.
15. Why is it important for students to have a say in creating the school menu?
16. Convince your parents to buy a gift you always wanted.
17. Persuade your parents to let you stay up past your bedtime on a school night.
18. Persuade the teacher to get a class pet.
19. Convince the teacher to have show-and-tell every week.
20. Persuade the teacher to play an outdoor game with the class.
21. Why should school start later in the morning to give students more sleep?
22. Write a persuasive piece on the benefits of playing a musical instrument.
23. Argue why it's important for everyone to learn basic coding skills.
24. Why should students be allowed to design their own school uniforms?
25. Convince your teacher to incorporate more hands-on experiments in science class.
26. Write an essay on the benefits of having a class pet and persuade your teacher to get one.
27. Argue why it's important for students to learn about personal finance in school.
28. Convince your friends to join you in supporting a local charity or cause.
29. Persuade your family to have a picnic in the local park.
30. Convince your friends to start a recycling program at school.
31. Why should middle school students be allowed to have cell phones in school?
32. Convince your classmates to participate in a weekly community service project.
33. Write a persuasive essay on the benefits of reading for at least 20 minutes every day.
34. Argue why your favorite book should be included in the school curriculum.
35. Cats make better pets than dogs. Do you agree? Why or why not?
36. Argue why video games can have educational benefits.
37. Convince your parents to let you have a part-time job during the summer.
38. Why should physical education classes include a wider variety of sports and activities?
39. Convince your parents to extend your bedtime by one hour.
40. Why should schools have more art and music classes in the curriculum?
41. Convince your parents to let you choose your own extracurricular activity.
42. Why is adopting a pet from an animal shelter a better option than buying one from a store?
43. Persuade the principal to allow birthday parties at school.
44. Write an essay on the benefits of spending more time in nature and less time indoors.
45. Write an essay on why junk food should be banned in school cafeterias.
46. Convince your teacher to organize a field trip to a place of your choice.
47. Why is it important for students to learn a second language?
48. Convince someone to visit your state.
49. Argue why students should have a say in selecting the books for the school library.
50. Convince your classmates to participate in a school-wide talent show.
51. Why should schools have more field trips to educational places outside the classroom?
Related: mentor texts for teaching persuasive writing
Final Thoughts On Middle School Persuasive Writing Prompts
Persuasive writing prompts for middle schoolers play an important role in helping students grow their communication and critical thinking skills.
Through engaging with such prompts, students will be more prepared for future academic and real-world challenges that demand the ability to communicate persuasively.
Skip to primary navigation
Skip to main content
Skip to primary sidebar
Teaching Expertise
Classroom Ideas
Teacher's Life
Deals & Shopping
Privacy Policy
110 Stimulating Debate Topics for Middle Schoolers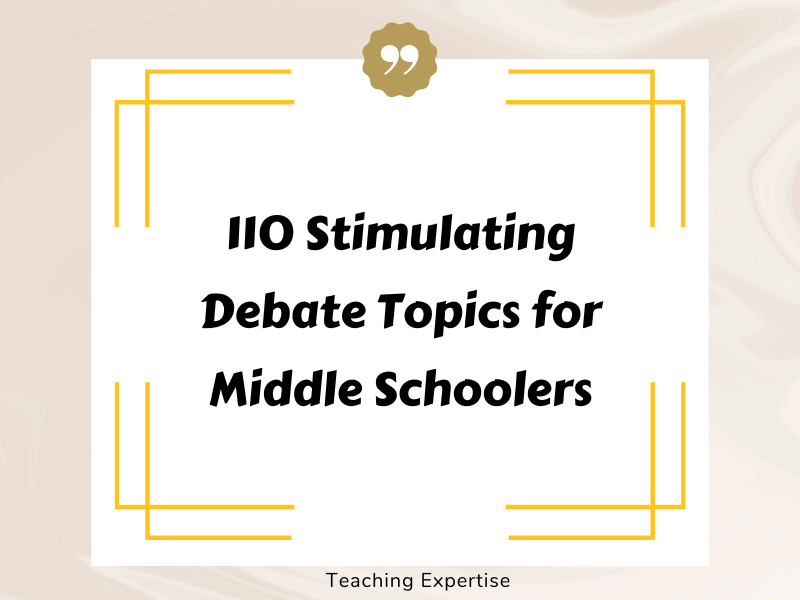 May 1, 2023 // by Lauren Du Plessis
As a middle school student, developing critical thinking skills and learning to communicate effectively are essential components of academic success. One of the best ways to develop these skills is through participation in debates. Debating helps students to build confidence, learn how to structure an argument, and become more persuasive communicators. In this article, we've compiled a list of 110 engaging middle school debate topics, along with tips for preparing for a debate and additional resources to help students improve their skills.
To start off the article, let's dive into an anecdote of a successful middle school debate. For instance, "Have you ever witnessed a middle school debate where students passionately presented their arguments and rebuttals? It's an incredible sight to see. Recently, during a middle school debate tournament, a group of students debated on the topic of school uniforms. They presented compelling arguments for both sides, and their delivery was so impressive that even the judges struggled to pick a winner. Such debating skills are not only useful in school but can also help students in their future academic and professional lives."
How to choose a good debate topic
Choosing a good debate topic can be challenging, but here are some tips to help middle school students find topics that are relevant, interesting, and debatable:
Select a topic that is relevant to current events or issues that students care about.
Choose a topic that has strong arguments on both sides.
Consider the age-appropriateness of the topic for middle school students.
Here is a list of 110 debate topics that are categorized by subject area and themes that are relevant to middle school students, such as social justice, technology, or the environment.
Social Studies
1. Should schools require students to learn a second language?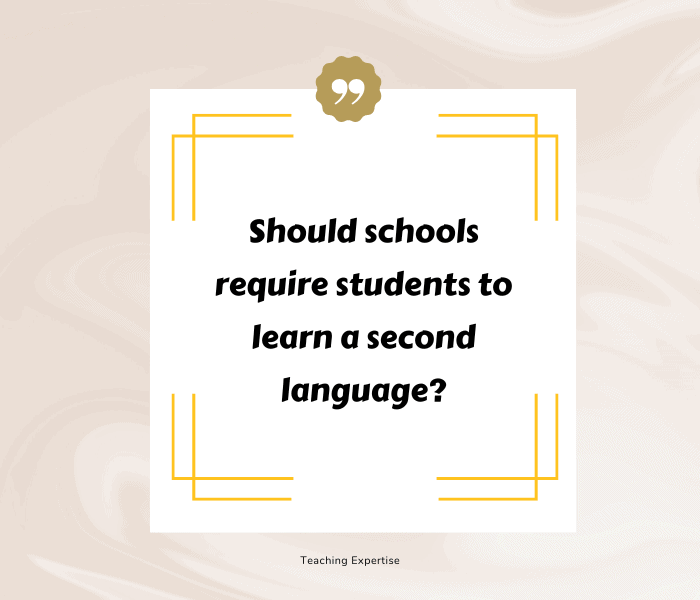 2. Should voting be mandatory?
3. Should the voting age be lowered to 16?
4. Should the U.S. government provide free health care for all citizens?
5. Should the U.S. government provide more financial aid to developing countries?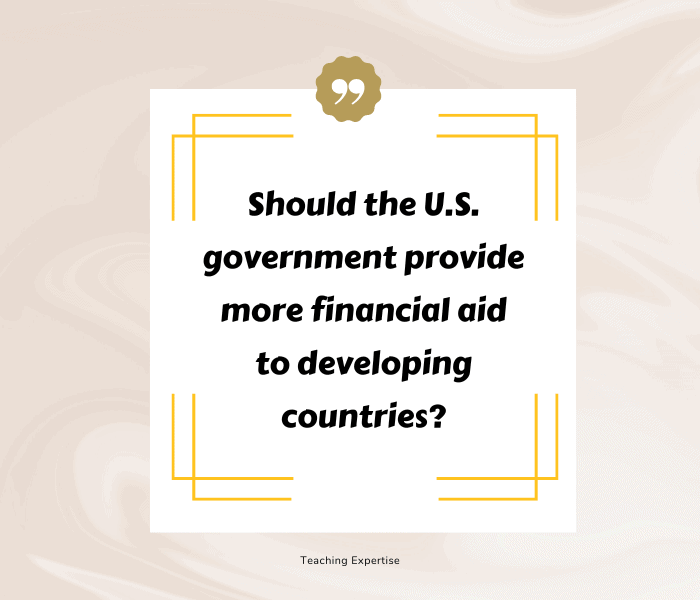 6. Should the U.S. government provide more funding for space exploration?
7. Should the United States have a national service program for all citizens?
8. Should the Electoral College be abolished?
9. Should the U.S. government increase the minimum wage?
10. Should undocumented immigrants be allowed to attend public schools?
11. Should genetically modified organisms (GMOs) be allowed in food?
12. Should zoos be banned?
13. Should animal testing be allowed?
14. Should the use of fossil fuels be banned?
15. Should the use of pesticides be banned?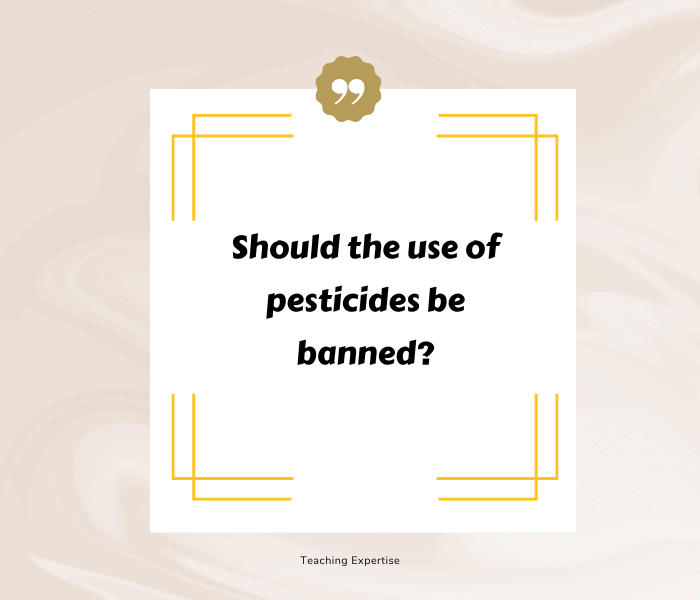 16. Should space exploration be prioritized over ocean exploration?
17. Should scientists be allowed to genetically modify human embryos?
18. Should vaccination be mandatory for all school children?
19. Should humans colonize Mars?
20. Should plastic water bottles be banned?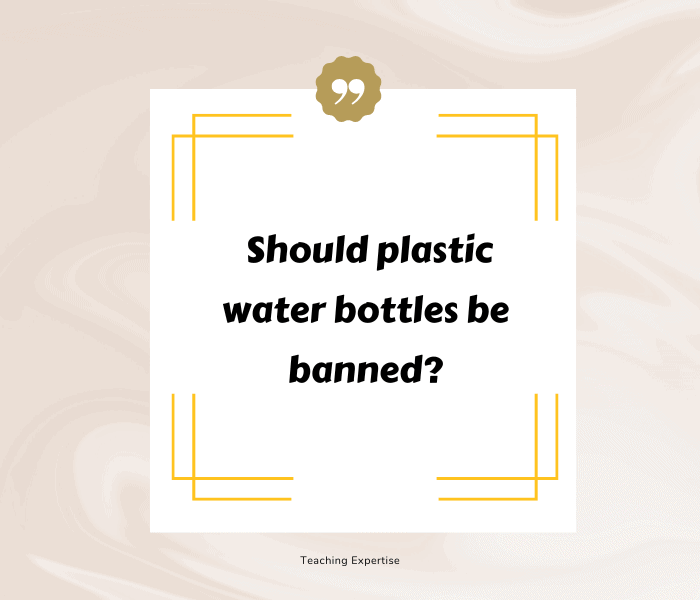 21. Should schools require students to learn computer programming?
22. Should schools eliminate the use of standardized testing?
23. Should schools switch to year-round schedules?
24. Should schools eliminate homework?
25. Should students be allowed to use calculators in math class?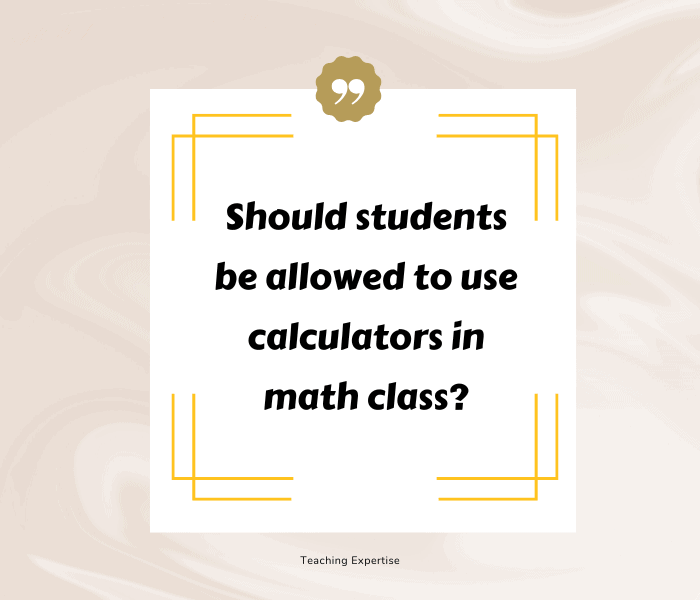 26. Should schools eliminate grades and tests altogether?
27. Should schools switch to a pass/fail grading system?
Language Arts
28. Should schools allow students to use cell phones in class?
29. Should schools switch to e-books instead of traditional textbooks?
30. Should schools eliminate handwriting instruction?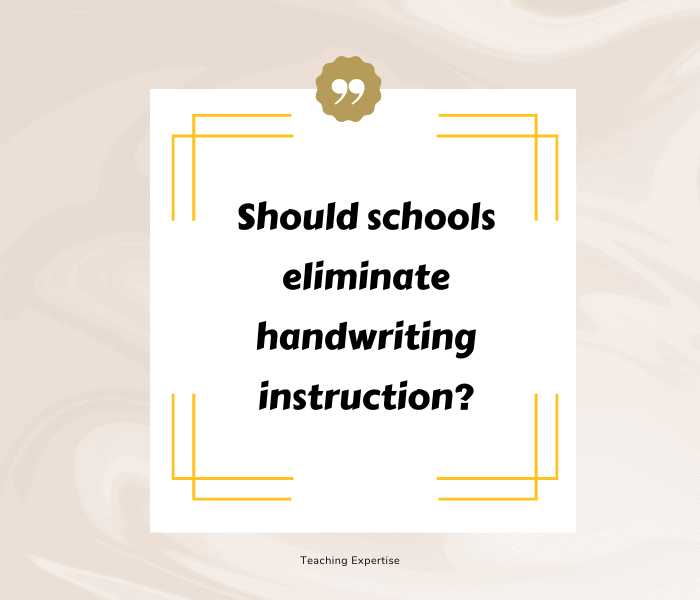 31. Should schools teach cursive handwriting?
32. Should schools teach media literacy and critical thinking skills?
33. Should schools eliminate spelling tests?
34. Should schools require students to read certain books?
35. Should schools teach coding instead of traditional language arts?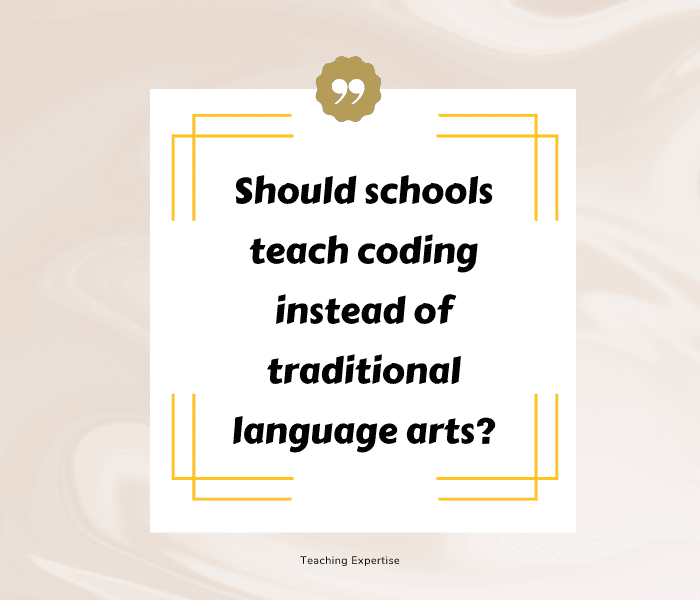 36. Should schools eliminate the use of paper and switch to digital submissions?
37. Should schools ban students from using slang in class?
Social Justice
38. Should the death penalty be abolished?
39. Should there be stricter gun control laws?
40. Should hate speech be protected under the First Amendment?
41. Should hate crimes carry steeper penalties than other crimes?
42. Should affirmative action policies be implemented in college admissions?
43. Should reparations be paid to descendants of slaves?
44. Should police officers be required to wear body cameras at all times?
45. Should marijuana be legalized?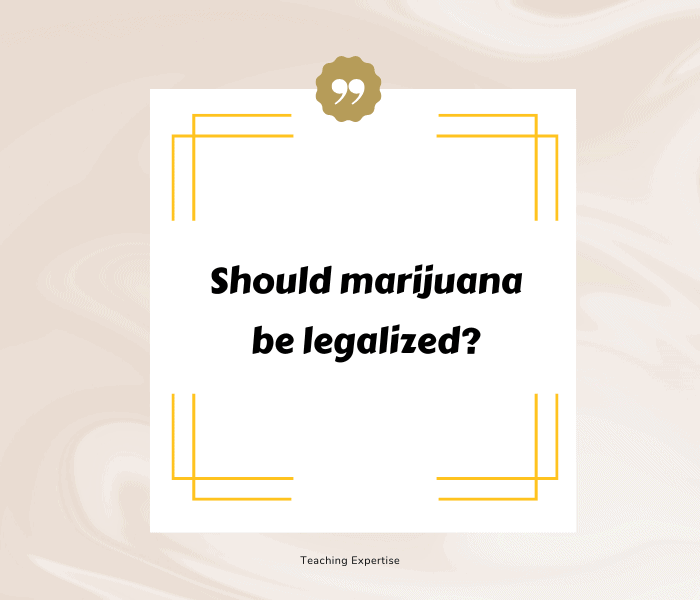 46. Should the drinking age be lowered to 18?
47. Should the government provide a free college education for all citizens?
48. Should prisoners be allowed to vote?
49. Should euthanasia be legalized?
50. Should video games be considered a sport?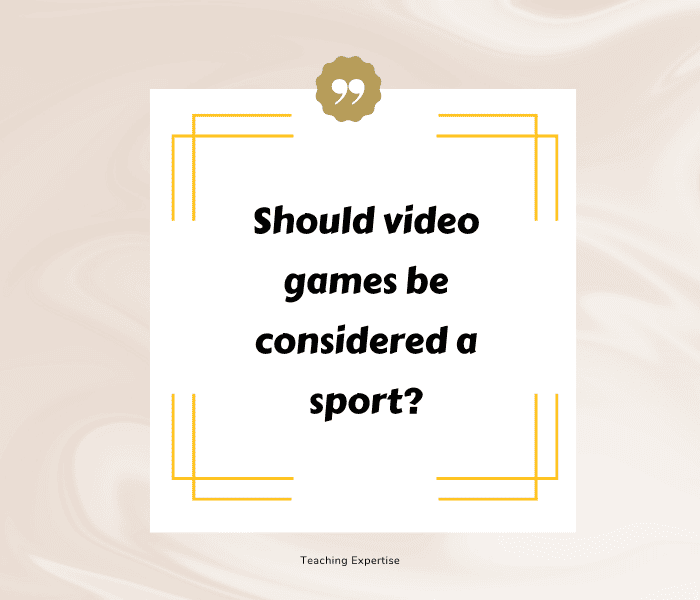 51. Should social media companies be held responsible for misinformation on their platforms?
52. Should children under the age of 13 be allowed to use social media?
53. Should artificial intelligence be used in decision-making processes?
54. Should autonomous vehicles be allowed on the roads?
55. Should companies be allowed to use personal data for targeted advertising?
56. Should encryption be required for all online communication?
57. Should net neutrality be enforced?
Environment
58. Should hunting be banned?
59. Should there be stricter regulations on water pollution?
60. Should there be more public transportation options to reduce car emissions?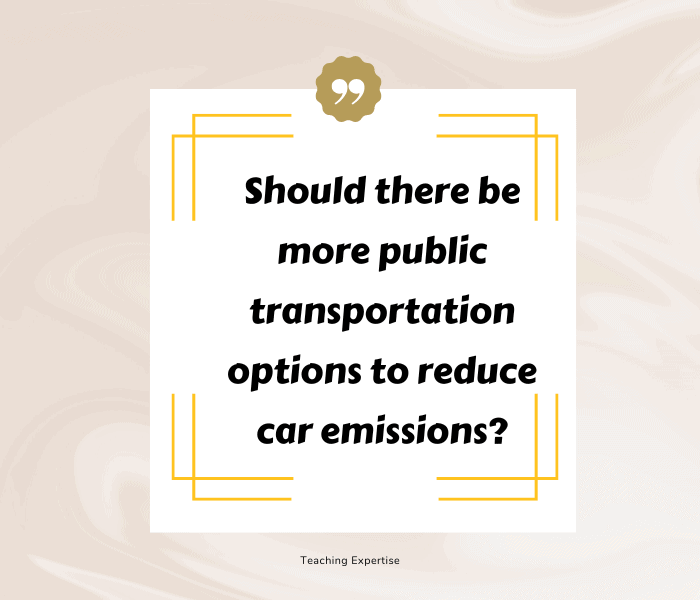 61. Should fracking be banned?
62. Should zoos and aquariums focus more on conservation efforts?
63. Should renewable energy sources be prioritized over fossil fuels?
64. Should the use of single-use plastics be banned?
65. Should the government provide incentives for eco-friendly behaviors?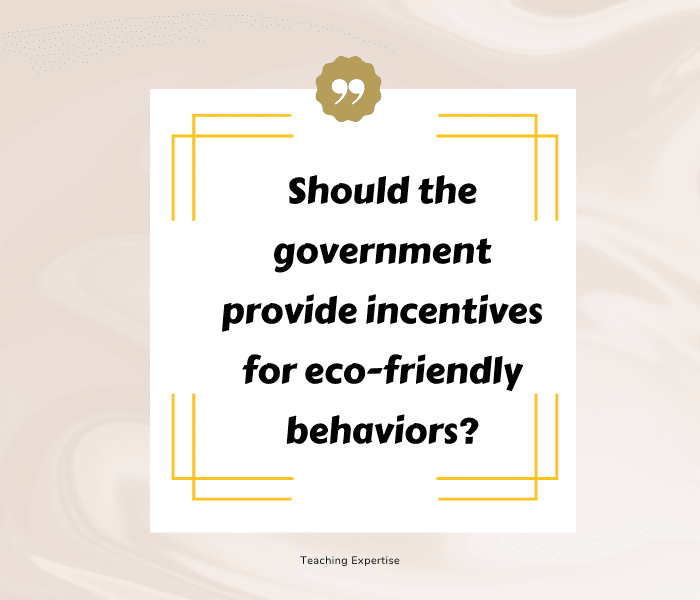 Arts and Culture
66. Should the government fund public art installations?
67. Should the government regulate the content of movies and TV shows?
68. Should book censorship be allowed?
69. Should public monuments honoring controversial historical figures be removed?
70. Should the government fund the production of movies and TV shows?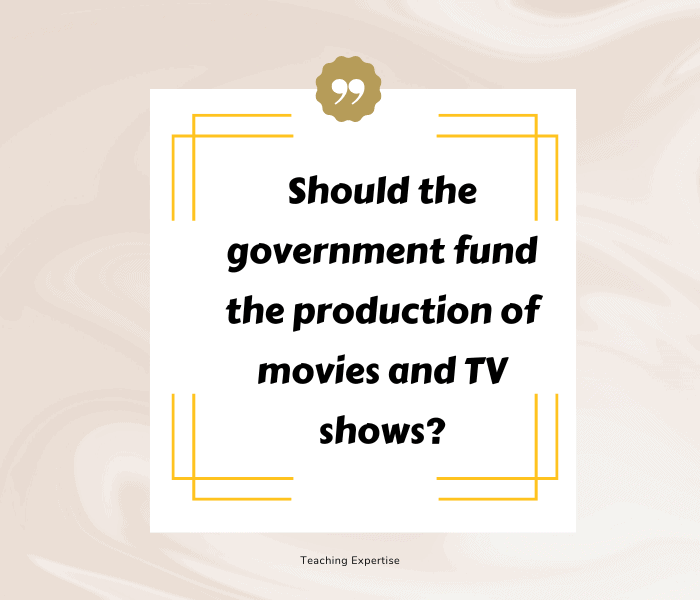 71. Should public funding for the arts be increased?
72. Should music and art classes be required in schools?
73. Should museums be free for all visitors?
74. Should graffiti be considered art?
75. Should high school athletes be drug tested?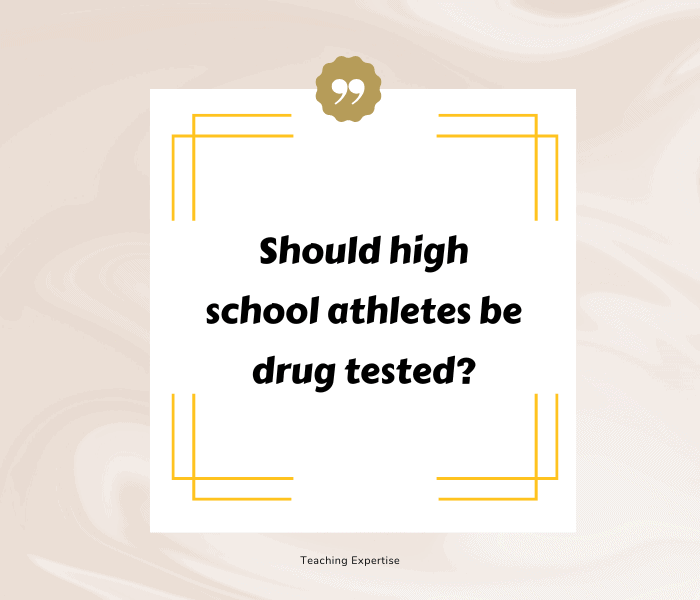 76. Should cheerleading be considered a sport?
77. Should professional athletes be held to higher standards of behavior?
78. Should professional sports teams be allowed to use Native American mascots?
79. Should women be allowed to play on men's sports teams?
80. Should sports teams be required to hire a certain number of minority coaches?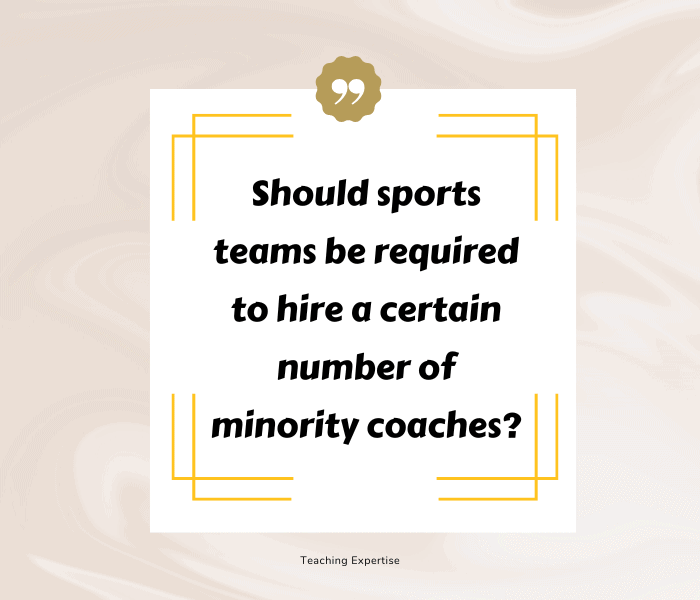 81. Should athletes be allowed to kneel during the national anthem?
82. Should college athletes be paid?
83. Should performance-enhancing drugs be legalized in sports?
84. Should boxing be banned?
Food and Health
85. Should there be a tax on sugary drinks?
86. Should the government regulate the portion sizes of restaurant meals?
87. Should there be a limit on the amount of salt in processed foods?
88. Should junk food advertisements be banned?
89. Should vegetarianism be promoted in schools?
90. Should schools teach more about healthy eating and exercise?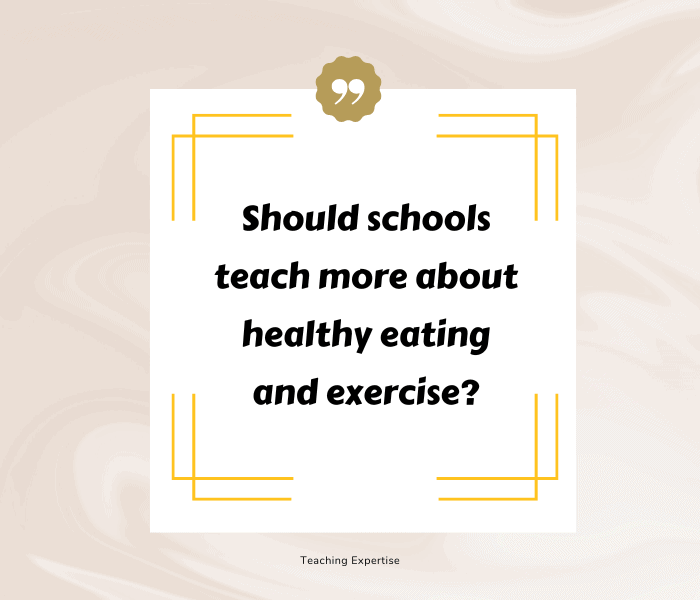 91. Should fast food restaurants be banned from schools?
92. Should school lunches be free for all students?
93. Should schools eliminate soda machines?
94. Should the study of history be mandatory in schools?
95. Should the U.S. government pay reparations to Native American tribes?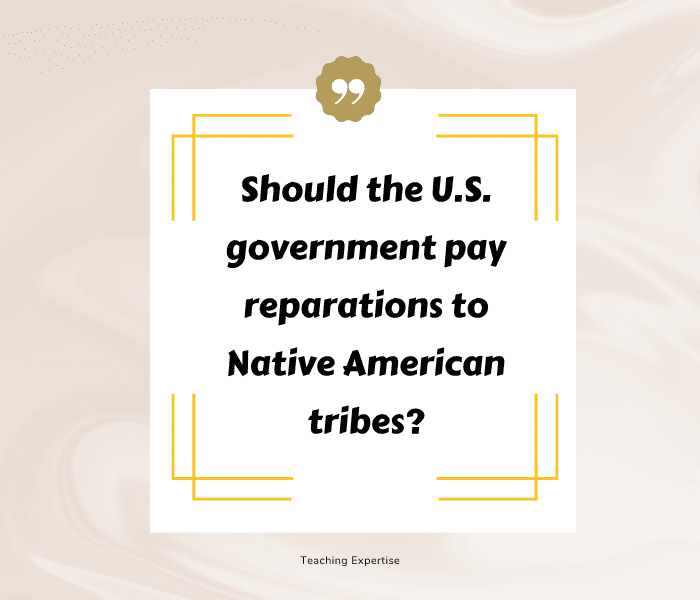 96. Should the U.S. government apologize for the internment of Japanese Americans during WWII?
97. Should the U.S. government provide reparations to descendants of Holocaust survivors?
98. Should the U.S. government apologize for slavery?
99. Should the U.S. government provide reparations to descendants of Chinese railroad workers?
100. Should women be included in the military draft?
101. Should Columbus Day be abolished?
Business and Economics
102. Should the U.S. government increase funding for scientific research?
103. Should the U.S. government increase funding for public education?
104. Should the U.S. government increase taxes on the wealthy?
105. Should companies be required to provide paid parental leave?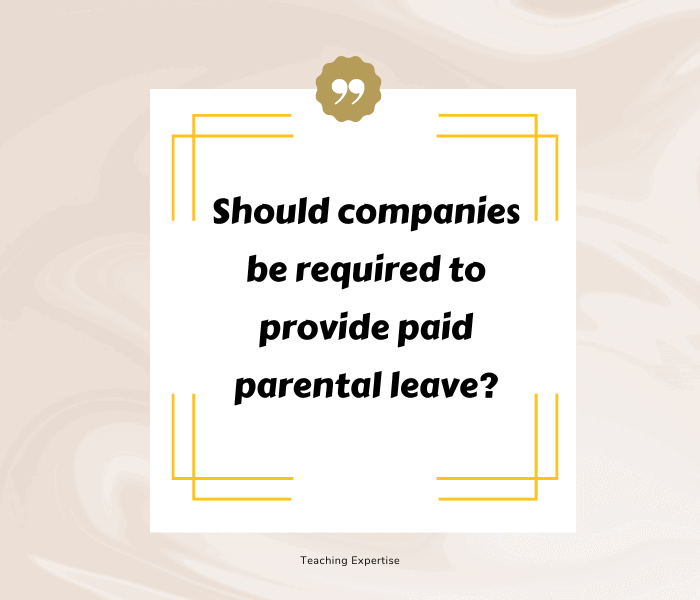 106. Should companies be required to provide a living wage for all employees?
107. Should the government provide financial incentives for small businesses?
108. Should the government bail out struggling industries?
109. Should the U.S. government provide free public transportation?
110. Should the U.S. government provide a universal basic income?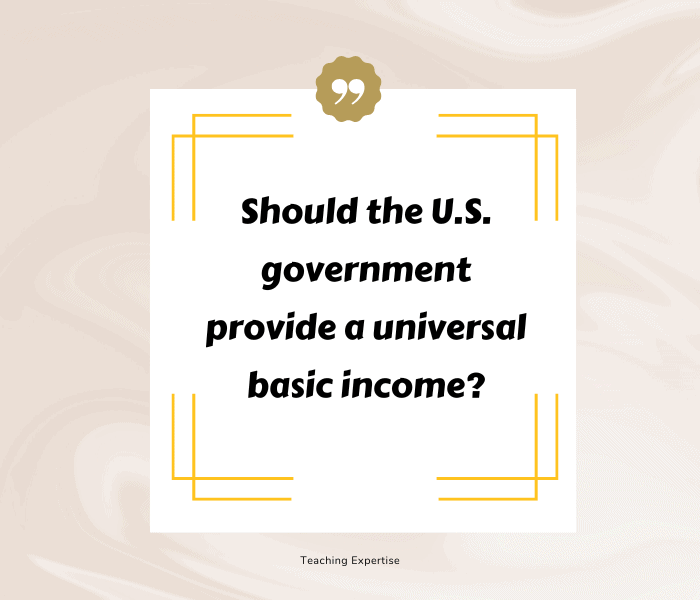 How to prepare for a debate
Preparing for a debate is just as important as choosing the right topic. Here are some tips for researching and preparing arguments, as well as strategies for presenting arguments effectively and persuasively:
Research the topic thoroughly, using a variety of sources.
Identify the strongest arguments for both sides.
Develop a clear thesis statement and supporting arguments.
Anticipate counterarguments and prepare rebuttals.
Use evidence to support arguments.
Practice delivering arguments and rebuttals in a clear and concise manner.
Follow the standard format for a debate, such as opening statements, cross-examination, and closing statements.
Additional resources for middle school debaters
Here are some additional resources that can help students learn more about debate and improve their skills:
National Speech & Debate Association (NSDA): Offers resources for middle and high school debaters, including competitions and training programs.
Debatepedia: Provides resources for researching and debating controversial issues.
ProCon.org: Provides arguments for both sides of controversial issues.
Debate.org: Offers an online debate platform for students to practice and refine their skills.
Grades 6-12
School Leaders
LAST CHANCE! 100 teachers will win a classroom air purifier!
125 Winning Debate Topics for Middle School Students
Teach students to make effective arguments.
When students learn to debate, they gain valuable life skills. Debates teach kids to research their topic, make informed choices, and argue effectively using facts instead of emotion. This list of middle school debate topics encompasses both serious and lighthearted ideas for kids ages 10 to 14. Each topic includes a link to an article from a reliable source that provides pros and/or cons to help kids make their arguments.
School and Education Debate Topics
Technology and entertainment debate topics, life and ethics debate topics, fun and funny debate topics.
Controversial Debate Topics
It's better to be good at academics than to be good at sports.
Homework should be banned.
Schools should require all students to wear uniforms.
We should punish students for using curse words.
Year-round school is better for students.
Schools should require physical education (gym class) through 12th grade.
All students should be required to volunteer in their community.
Junk food should be banned in schools.
All middle school students should learn a foreign language.
Single-gender schools are better for students.
Math is the most important school subject.
Letter grades should be abolished.
Teachers should be replaced by computers.
Students should be graded on their handwriting.
Kids who get better grades in school will be more successful in life.
Sometimes it's OK to cheat on homework or a test.
Students who fail a test should be given the chance to take it again.
Students should be allowed to grade teachers.
Kids should be able to bring their pets to school.
Schools should give middle school students more recess time.
The school day should be shorter.
Schools should eliminate dress codes.
College should be free for everyone who wants to attend.
Schools should be allowed to ban some books from their libraries.
Book smarts are better than street smarts.
All people should have free internet access.
Playing violent video games makes people more likely to be violent in real life.
Reality television depicts real life.
The minimum age to own a smartphone should be 16.
Students should be allowed to use phones in class.
Macs are better than PCs.
Androids are better than iPhones.
Kids under 13 should be allowed to use social media sites like TikTok, Instagram, and Snapchat.
Students should not be allowed to watch TV on school nights.
Social media does more harm than good.
Video games are better than board games.
Reading books is better than watching TV.
All paper documents should be replaced with electronic versions.
Books are always better than the movies that are made from them.
Parents should use their kids' cell phones to track where they are.
Playing video games makes you smarter.
Scientists should try to develop a way for everyone to live forever.
Paper books are better than e-books.
Schools should have surveillance cameras in classrooms and hallways.
Movie ratings (G, PG, PG-13, and R) should be done away with.
Professional athletes and celebrities deserve to make more money than the average person.
People have a responsibility to help one another out.
No one should ever tell a lie.
Girls face more peer pressure than boys.
We should lower the voting age to 12.
Every member of a family should have daily chores.
All museums and zoos should be free to everyone.
All people should be vegetarians.
Democracy is the best form of government.
All Americans should be required to vote.
Cigarette smoking and vaping should be banned entirely.
Parents should be allowed to read their children's private diaries.
Giving is better than receiving.
Receiving a regular allowance is good for kids.
Parents should be punished for their children's mistakes.
Real Christmas trees are better than artificial ones.
We should not keep animals in zoos.
All kids should play on the same sports teams, regardless of gender.
It is better to save some of your allowance than to spend it all.
Kids should be allowed to stay up as late as they want.
Happiness is more important than success.
The driving age should be lowered to 14.
We should completely ban plastic bottles.
Parents should have to take a parenting class before having a child.
If you find money on the ground, it's automatically yours to keep.
It is better to be kind than to be truthful.
All kids should have a playground or park within walking distance of their home.
Kids should be allowed to have credit cards.
It's important to spend money exploring space.
All families should have a pet.
Dogs are better pets than cats.
Summer is better than winter.
Pepperoni is the best pizza topping.
Teachers shouldn't give rewards and prizes in the classroom.
Clowns are more scary than funny.
Every home should have a robot.
There is intelligent life on other planets.
The egg came before the chicken.
Pop music is better than classical music.
Xbox is better than PlayStation.
Peanut butter is better than Nutella.
Football is better than soccer.
Everyone should make their bed every day.
It would be better to be able to fly than to be able to turn invisible.
Harry Potter is better than The Lord of the Rings .
Pluto should still be considered a planet.
Santa Claus' elves should be paid minimum wage.
Hot chocolate is better than a chocolate milkshake.
Fruit counts as dessert.
People should be allowed to go barefoot anywhere if they want to.
Fiction is better than nonfiction.
Everyone should learn to play a musical instrument.
Werewolves are more dangerous than vampires.
Kids shouldn't have to go to school on their birthdays.
Controversial Middle School Debate Topics
These middle school debate topics are pretty contentious and might not be appropriate for all students or every classroom. But if your middle schoolers are ready to take on more serious debates, try these important questions.
We should abolish the death penalty.
Stricter gun control laws help stop mass shootings.
It's necessary to continue building a wall between the United States and Mexico.
Segregation still exist in the United States.
Religion does more harm than good.
We will never achieve world peace.
We shouldn't allow young children to play contact sports like football.
Parents shouldn't be allowed to pierce a baby's ears.
Beauty pageants are sexist.
Kids shouldn't get participation trophies for sports.
It's possible to be an ethical hunter.
Some stereotypes are accurate.
People have a responsibility to step in when they see a crime in action.
War is sometimes necessary.
There are times when we must limit freedom of speech.
Security is more important than freedom.
We should do away with gender-specific public bathrooms.
Anyone over age 12 should be tried as an adult in court.
Electric vehicles are better than gas-powered ones.
Our society has a harmful "diet culture."
All countries should have to give up their nuclear weapons.
We should ban testing on animals.
We should ban the use of fossil fuels.
Human cloning should be legal.
Vaccines should be mandatory.
What are your favorite middle school debate topics? Come share in the We Are Teachers HELPLINE group on Facebook .
Plus, check out 75 funny debate topics for kids of all ages ..
You Might Also Like
75 Funny Debate Topics To Make Students Laugh (and Think!)
Thought-provoking humor. Continue Reading
Copyright © 2023. All rights reserved. 5335 Gate Parkway, Jacksonville, FL 32256
100 Persuasive Essay Topics
M.Ed., Education Administration, University of Georgia
B.A., History, Armstrong State University
Persuasive essays are a bit like argument essays and persuasive speeches , but they tend to be a little kinder and gentler. Argument essays require you to discuss and to attack an alternate view, while persuasive essays are attempts to convince the reader that you have a believable argument. In other words, you are an advocate, not an adversary.
A Persuasive Essay Has 3 Components
Introduction : This is the opening paragraph of your essay. It contains the hook, which is used to grab the reader's attention, and the thesis, or argument, which you'll explain in the next section.
Body : This is the heart of your essay, usually three to five paragraphs in length. Each paragraph examines one theme or issue used to support your thesis.
Conclusion : This is the final paragraph of your essay. In it, you'll sum up the main points of the body and connect them to your thesis. Persuasive essays often use the conclusion as a last appeal to the audience.
Learning how to write a persuasive essay is an essential skill that people use every day in fields from business to law to media and entertainment. English students can begin writing a persuasive essay at any skill level. You're sure to find a sample topic or two from the list of 100 persuasive essays below, sorted by degree of difficulty.
Watch Now: 12 Ideas for Great Persuasive Essay Topics
Kids should get paid for good grades.
Students should have less homework.
Snow days are great for family time.
Penmanship is important.
Short hair is better than long hair.
We should all grow our own vegetables.
We need more holidays.
Aliens probably exist.
Gym class is more important than music class.
Kids should be able to vote.
Kids should get paid for extra activities like sports.
School should take place in the evenings.
Country life is better than city life.
City life is better than country life.
We can change the world.
Skateboard helmets should be mandatory.
We should provide food for the poor.
Children should be paid for doing chores.
We should populate the moon .
Dogs make better pets than cats.
Intermediate
The government should impose household trash limits.
Nuclear weapons are an effective deterrent against foreign attack.
Teens should be required to take parenting classes.
We should teach etiquette in schools.
School uniform laws are unconstitutional.
All students should wear uniforms.
Too much money is a bad thing.
High schools should offer specialized degrees in arts or sciences.
Magazine advertisements send unhealthy signals to young women.
Robocalling should be outlawed.
Age 12 is too young to babysit.
Children should be required to read more.
All students should be given the opportunity to study abroad.
Yearly driving tests should be mandatory past age 65.
Cell phones should never be used while driving.
All schools should implement bullying awareness programs.
Bullies should be kicked out of school.
Parents of bullies should have to pay a fine.
The school year should be longer.
School days should start later.
Teens should be able to choose their bedtime.
There should be a mandatory entrance exam for high school.
Public transit should be privatized.
We should allow pets in school.
The voting age should be lowered to 16.
Beauty contests are bad for body image.
Every American should learn to speak Spanish.
Every immigrant should learn to speak English.
Video games can be educational.
College athletes should be paid for their services.
We need a military draft .
Professional sports should eliminate cheerleaders.
Teens should be able to start driving at 14 instead of 16.
Year-round school is a bad idea.
High school campuses should be guarded by police officers.
The legal drinking age should be lowered to 19.
Kids under 15 shouldn't have Facebook pages.
Standardized testing should be eliminated.
Teachers should be paid more.
There should be one world currency.
Domestic surveillance without a warrant should be legal.
Letter grades should be replaced with a pass or fail.
Every family should have a natural disaster survival plan.
Parents should talk to kids about drugs at a young age.
Racial slurs should be illegal.
Gun ownership should be tightly regulated.
Puerto Rico should be granted statehood.
People should go to jail when they abandon their pets.
Free speech should have limitations.
Members of Congress should be subject to term limits.
Recycling should be mandatory for everyone.
High-speed internet access should be regulated like a public utility.
Yearly driving tests should be mandatory for the first five years after getting a license.
Recreational marijuana should be made legal nationwide.
Legal marijuana should be taxed and regulated like tobacco or alcohol.
Child support dodgers should go to jail.
Students should be allowed to pray in school.
All Americans have a constitutional right to health care.
Internet access should be free for everyone.
Social Security should be privatized.
Pregnant couples should receive parenting lessons.
We shouldn't use products made from animals.
Celebrities should have more privacy rights.
Professional football is too violent and should be banned.
We need better sex education in schools.
School testing is not effective.
The United States should build a border wall with Mexico and with Canada.
Life is better than it was 50 years ago.
Eating meat is unethical.
A vegan diet is the only diet people should follow.
Medical testing on animals should be illegal.
The Electoral College is outdated.
Medical testing on animals is necessary.
Public safety is more important than an individual's right to privacy.
Single-sex colleges provide a better education.
Books should never be banned.
Violent video games can cause people to act violently in real life.
Freedom of religion has limitations.
Nuclear power should be illegal.
Climate change should be the president's primary political concern.
Arizona State University Writing Center staff. " Persuasive Essay Structure ." ASU.edu, June 2012.
Collins, Jen, and Polak, Adam. " Persuasive Essays ." Hamilton.edu.
100 Persuasive Speech Topics for Students
Middle School Debate Topics
50 Argumentative Essay Topics
40 Writing Topics for Argumentative and Persuasive Essays
How to Write a Solid Thesis Statement
Controversial Speech Topics
How to Write a Persuasive Essay
Tips on How to Write an Argumentative Essay
The Ultimate Guide to the 5-Paragraph Essay
30 Writing Topics: Persuasion
Write a Compare and Contrast Essay
Write an Attention-Grabbing Opening Sentence for an Essay
What Is Expository Writing?
How to Write a Great Essay for the TOEFL or TOEIC
Bad Essay Topics for College Admissions
How to Write a Narrative Essay or Speech
By clicking "Accept All Cookies", you agree to the storing of cookies on your device to enhance site navigation, analyze site usage, and assist in our marketing efforts.
persuasiveessayoutline.com
Persuasive essay examples & writing tips.
75 Persuasive Essay Topics for Middle School
At some points in middle school, schoolchildren will be made to write essays to prove points and convince their readers. These essays, called persuasive essays, help the students become decisive and to stand by their choices. They also help build the charisma and morale needed to convince other people of their choices.
An example of such is the persuasive essay rubric middle school students are made or encouraged to write.
Persuasive Essay Prompts Middle School Students Will Find Helpful
Choosing the right persuasive essay topic is as important as writing a good essay. This is because right from the topic you choose, you must be able to convince your readers to pick up your essay and read till the end. This article provides 75 persuasive essay topics for middle school students or persuasive essay ideas for middle school students.
Persuasive Essay Topics for Middle School
Below is a compilation of topics for persuasive essay rubric middle school and other middle school students can choose from:
Teenagers should be allowed to vote
Saving the Earth should be everybody's business
Sign languages should be taught in all schools
Students should be allowed to pick their teachers
Students should be taught valuable manners in schools
The Child Right Act should be included in every school's curriculum
Schools should not impose wearing uniforms on their students
Students should be made to wear uniforms
Adults should pay more attention to their children's overall welfare
Pop culture has a negative effect on young people
Pop culture has a positive effect on young people
Students should be allowed to take personalised classes
Self defence classes should be mandatory for students
Middle school students should be taught how to defend themselves
Schools need to encourage their students to spend more time reading
Adults should take time to monitor their children's progress in schools
Important values should be taught at home
No child should be forced to grow up
Parents must be ready to take responsibility for their children
Parents should learn to make investments for their children's futures
Parents should teach their children good spending habits
Children should be taught to save money
Children under the age of 18 should not be made to work
Parents have to pay special attention to their children to make sure they are not being bullied
Schools need to take stricter measures against students that bully others
No child is too old to learn about avoiding strangers
People should be taught the best way to interact with special needs children
Both bullies and their parents should be made to face punishments
Students should be allowed to bring their pets to schools
Students should be taught relevant subjects in schools
Every child should be taught to speak at least one foreign language
Video games should be regarded as part of school curricular activities
Middle school students should be allowed to have cell phones
Students who bully others should be expelled
Holidays should be spent with loved ones
People should do more to help homeless people
Sharing is an important value to have
Body shaming is a form of bullying
Sex education should be compulsory
Cooking classes should be mandatory for students
Students should be taught ways to ensure their security
Children under the age of 18 should not be allowed to be babysitters
Students should be taught healthy lifestyles both at home and in schools
Parents should take out time to get to know their children better
Good communication skills should be taught in schools
Teenagers should be allowed to make political decisions
The government is hiding the truth about aliens
Children should be given free education
Every child should be allowed to take time off from school
Every school should teach their students proper etiquette
Ever child needs to know their home address and parents' phone numbers
Junior school students should be made to take regular spelling tests
Pop quizzes should be encouraged
Students should be encouraged to form study groups
Schools need to implement proper hygiene practices
Parents should make sure their children practice proper hygiene
Schools need to make students involved in their future
Every child should learn a skill
Every child should know the basic rules of environmental protection
Schools should give students proper counseling
Student's health should be taken seriously
Students should be taught good dietary practices
Sports keep students away from crimes
Schools need to allow indigenous attires
Having too much money can be bad
Rich people need to help poor people
The government needs to do more
Lockers are unnecessary
Every child should have a proper lunch
All teachers should be nice
Every child should have a reading corner
Children should be allowed to pick meals
Every child needs a home
Stability is important in a child's life
Creativity should be encouraged
All these topics are good enough for you to write a convincing essay about, so pick whichever you feel comfortable with.
Leave a Reply Cancel reply
Your email address will not be published. Required fields are marked *