Find Study Materials for
Business studies, combined science, computer science, english literature, environmental science, human geography, macroeconomics, microeconomics.
Social Studies
Browse all subjects
Exam Revision
Career Advice for Students
Student Life
Study Guide
University Advice
Read our Magazine
Create Study Materials
Select your language.

Good writing starts with a good first sentence. The first sentence of an essay is an important one. It is an opportunity to grab the reader's attention and make them want to read more. This is called the hook. A good hook for an essay catches the reader's attention and gets them interested in your topic. Let's go over the…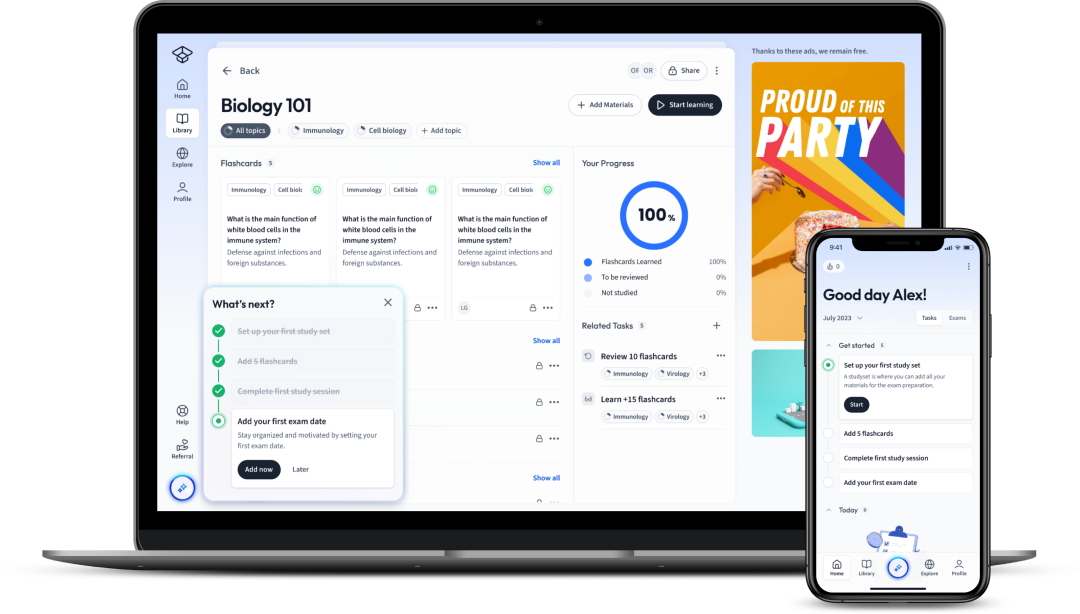 Explore our app and discover over 50 million learning materials for free.
A Hook for an Essay
Explanations
StudySmarter AI
Textbook Solutions
Body Paragraph
Essay Outline
Language Used in Academic Writing
MHRA Referencing
Opinion vs Fact
Works Cited
Emotional Arguments in Essays
Ethical Arguments in Essays
Logical Arguments in Essays
The Argument
Writing an Argumentative Essay
Image Caption
Microblogging
Personal Blog
Professional Blog
Syntactical
Anaphoric Reference
Backchannels
Cataphoric Reference
Conversation Analysis
Discourse Analysis
Discourse Markers
Endophoric Reference
Exophoric Reference
Interruption
John Swales Discourse Communities
Metalinguistics
Paralinguistics
Turn-taking
Email Closings
Email Introduction
Email Salutation
Email Signature
Email Subject Lines
Formal Email
Informal Email
Active Voice
Adjective Phrase
Adverb Phrase
Adverbials For Time
Adverbials of Frequency
Auxilary Verbs
Complex Sentence
Compound Adjectives
Compound Sentence
Conditional Sentences
Conjugation
Conjunction
Coordinating Conjunctions
Copula Verbs
Correlative Conjunctions
Dangling Participle
Declaratives
Demonstrative Pronouns
Dependent Clause
Descriptive Adjectives
Distributives
Exclamatives
Finite Verbs
First Conditional
Functions of Language
Future Progressive Tense
Future Tense
Generative Grammar
Grammatical Mood
Grammatical Voices
Imperative Mood
Imperative Verbs
Imperatives
Indefinite Pronouns
Independent Clause
Indicative Mood
Infinitive Mood
Infinitive Phrases
Interjections
Interrogative Mood
Interrogatives
Irregular Verbs
Linking Verb
Misplaced Modifiers
Modal Verbs
Noun Phrase
Objective Case
Optative Mood
Passive Voice
Past Perfect Tense
Perfect Aspect
Personal Pronouns
Possessive Adjectives
Possessive Pronouns
Potential Mood
Preposition
Prepositional Phrase
Prepositions of Place
Prepositions of Time
Present Participle
Present Perfect Progressive
Present Perfect Tense
Present Tense
Progressive Aspect
Proper Adjectives
Quantifiers
Reflexive Pronouns
Relative Clause
Relative Pronouns
Second Conditional
Sentence Functions
Simple Future Tense
Simple Sentence
Subjunctive Mood
Subordinating Conjunctions
Superlative Adjectives
Third Conditional
Transitive and Intransitive Verbs
Types of Phrases
Types of Sentence
Verb Phrase
Vocative Case
Zero Conditional
Academic English
Anglo Saxon Roots and Prefixes
Bilingual Dictionaries
Contractions
English Dictionaries
English Vocabulary
Greek Roots, Suffixes and Prefixes
Latin Roots, Suffixes and Prefixes
Modern English
Object category
Parentheses
Possessives
Regional Dialects
Rhyming Dictionary
Sentence Fragments
Social Dialects
Subject Predicate Relationship
Subject Verb Agreement
Word Pronunciation
Essay Time Management
How To Take a Position in an Essay
Organize Your Prompt
Proofread Essay
Understanding the Prompt
Analytical Essay
Cause and Effect Essay
Chat GPT Prompts For Literature Essays
Claims and Evidence
Descriptive Essay
Expository Essay
Narrative Essay
Persuasive Essay
The Best Chat GPT Prompts For Essay Writing
Essay Sources and Presenting Research
Essay Structure
Essay Topic
Introduction
Point Evidence Explain
Referencing
Research Question
Sources of Data Collection
Transcribing Spoken Data
African American English
African Countries Speaking English
American English Vs British English
Australian English
British Accents
British Sign Language
Communicative Language Teaching
English in Eu
Guided Discovery
Indian English
Lesson Plan
Received Pronunciation
Total Physical Response
Abbreviations
Advise vs Advice
Affect or Effect
Capitalisation
Inverted commas
Loosing or Losing
Multimodal Texts
Orthographic Features
Practice or Practise
Punctuation
Separate vs Seperate
Typographical Features
Comparative Method
Conventions of Standard English
Early Modern English
Great Vowel Shift
Historical Development
Inflectional Morphemes
Irish English
King James Bible
Language Family
Language Isolate
Middle English
Middle English Examples
Noah Webster Dictionary
Old English Language
Old English Texts
Old English Translation
Piers Plowman
Proto Language
Samuel Johnson Dictionary
Scottish English
Shakespearean English
Welsh English
Accent vs Dialect
Bilingualism
Code Switching
Descriptivism
Descriptivism vs Prescriptivism
Dialect Levelling
English as a lingua franca
Kachru's 3 Concentric Circles
Language Changes
Pidgin and Creole
Prescriptivism
Rhotic Accent
Social Interaction
Standard English
Standardisation of English
Strevens Model of English
Technological Determinism
Vernacular English
World Englishes
Language Stereotypes
Language and Politics
Language and Power
Language and Technology
Media Linguistics
Michel Foucault Discourse Theory
Multimodality
Norman Fairclough
Agrammatism
Behavioral Theory
Cognitive Theory
Constructivism
Critical Period
Developmental Language Disorder
Down Syndrome Language
Functional Basis of Language
Interactionist Theory
Language Acquisition Device (LAD)
Language Acquisition Support System
Language Acquisition in Children
Michael Halliday
Multiword Stage
One-Word stage
Specific Language Impairments
Theories of Language Acquisition
Two-Word Stage
Williams Syndrome
Foregrounding
Grammatical Voice
Literariness
Literary Context
Literary Purpose
Literary Representation
Mode English Language
Narrative Perspective
Poetic Voice
Accommodation Theory
Bernstein Elaborated and Restricted Code
Casual Register
Concept of Face
Consultative Register
Deficit Approach
Difference Approach
Diversity Approach
Dominance Approach
Drew and Heritage Institutional Talk
Eckert Jocks and Burnouts
Formal Register
Frozen Register
Gary Ives Bradford Study
Holmes Code Switching
Intimate Register
Labov- New York Department Store Study
Language and Age
Language and Class
Language and Ethnicity
Language and Gender
Language and Identity
Language and Occupation
Marked and Unmarked Terms
Neutral Register
Peter Trudgill- Norwich Study
Phatic Talk and Banter
Register and Style
Sinclair and Coulthard
Social Network Theory
Sociolect vs Idiolect
Variety vs Standard English
Amelioration
Collocations
Colloquialisms
Compounding
Connotative Meaning
Denotative Meaning
Figurative Language
Fixed Expressions
Formal Language
Informal Language
Initialisms
Irony English Language
Language Structure
Levels of Formality
Lexical Ambiguity
Literary Positioning
Occupational Register
Paradigmatic Relations
Personification
Prototype Theory
Rhetorical Figures
Semantic Analysis
Semantic Change
Semantic Reclamation
Syntagmatic Relations
Text Structure
Zero-Derivation
1984 Newspeak
Analytical Techniques
Applied Linguistics
Computational Linguistics
Corpus Linguistics
Critical Theory
Essentialism
Forensic Linguistics
Language Comprehension
Lexicography
Linguistic Determinism
Logical Positivism
Machine Translation
Natural Language Processing
Neural Networks
Neurolinguistics
Psycholinguistics
Rhetorical Analysis
Sapir Whorf Hypothesis
Speech Recognition
Active Listening Skills
Address Counterclaims
Group Discussion
Presentation Skills
Presentation Technology
Agglutinating Languages
Alternation
Compound Words
Derivational Morphemes
Grammatical Morphemes
Lexical Morphology
Morphosyntax
Polysynthetic Languages
Reduplication
Active Reading
Process of Elimination
Words in Context
Click Consonants
Fundamental Frequency
Interdental
International Phonetic Alphabet
Labiodental
Manner of Articulation
Monophthong
Nasal Sound
Oral Cavity
Phonetic Accommodation
Phonetic Assimilation
Place of Articulation
Sound Spectrum
Source Filter Theory
Spectrogram
Voice Articulation
Vowel Chart
Alliteration
Complementary Distribution
Phonotactics
Sound Symbolisms
Commissives
Communication Accommodation Theory
Conversational Implicature
Cooperative Principle
Declarative
Definiteness
Deictic centre
Deictic expressions
Expressives
Figure of Speech
Grice's Conversational Maxims
Indexicality
Paralanguage
Politeness Theory
Presupposition
Semantics vs. Pragmatics
Speech Acts
Aggressive vs Friendly Tone
Curious vs Encouraging Tone
Dissimilation
Feminine Rhyme
Hypocritical vs Cooperative Tone
Masculine Rhyme
Monosyllabic Rhyme
Multisyllabic
Optimistic vs Worried Tone
Serious vs Humorous Tone
Stress of a Word
Suprasegmental
Surprised Tone
Tone English Langugage
Analyzing Informational Texts
Comparing Texts
Context Cues
Creative Writing
Digital Resources
Ethical Issues In Data Collection
Formulate Questions
Internet Search Engines
Literary Analysis
Personal Writing
Print Resources
Research Process
Research and Analysis
Technical Writing
Action Verbs
Adjectival Clause
Adverbial Clause
Anthropomorphism
Appositive Phrase
Argument from Authority
Argumentation
Auditory Description
Basic Rhetorical Modes
Begging the Question
Building Credibility
Causal Flaw
Causal Relationships
Cause and Effect Rhetorical Mode
Central Idea
Chronological Description
Circular Reasoning
Circumlocution
Classical Appeals
Classification
Close Reading
Coherence Between Sentences
Coherence within Paragraphs
Coherences within Sentences
Complex Rhetorical Modes
Compound Complex Sentences
Concessions
Concrete Adjectives
Concrete Nouns
Consistent Voice
Counter Argument
Definition by Negation
Description
Description Rhetorical mode
Direct Discourse
Equivocation
Extended Metaphor
False Connections
False Dichotomy
False Equivalence
Faulty Analogy
Faulty Causality
Fear Arousing
Gustatory Description
Hasty Generalization
Illustration
Induction Rhetoric
Levels of Coherence
Line of Reasoning
Missing the Point
Modifiers that Qualify
Modifiers that Specify
Narration Rhetorical Mode
Non-Sequitur
Non-Testable Hypothesis
Objective Description
Olfactory Description
Paragraphing
Parenthetical Element
Participial Phrase
Personal Narrative
Placement of Modifiers
Post-Hoc Argument
Process Analysis Rhetorical Mode
Red Herring
Reverse Causation
Rhetorical Fallacy
Rhetorical Modes
Rhetorical Question
Rhetorical Situation
Scare Tactics
Sentimental Appeals
Situational Irony
Slippery Slope
Spatial Description
Straw Man Argument
Subject Consistency
Subjective Description
Tactile Description
Tense Consistency
Tone and Word Choice
Transitions
Twisting the Language Around
Unstated Assumption
Verbal Irony
Visual Description
Authorial Intent
Authors Technique
Language Choice
Prompt Audience
Prompt Purpose
Rhetorical Strategies
Understanding Your Audience
Auditory Imagery
Gustatory Imagery
Olfactory Imagery
Tactile Imagery
Main Idea and Supporting Detail
Statistical Evidence
Communities of Practice
Cultural Competence
Gender Politics
Heteroglossia
Intercultural Communication
Methodology
Research Methodology
Constituent
Object Subject Verb
Subject Verb Object
Syntactic Structures
Universal Grammar
Verb Subject Object
Author Authority
Direct Quote
First Paragraph
Historical Context
Intended Audience
Primary Source
Second Paragraph
Secondary Source
Source Material
Third Paragraph
Character Analysis
Citation Analysis
Text Structure Analysis
Vocabulary Assessment
Save the explanation now and read when you've got time to spare.
Lerne mit deinen Freunden und bleibe auf dem richtigen Kurs mit deinen persönlichen Lernstatistiken
Nie wieder prokastinieren mit unseren Lernerinnerungen.
Good writing starts with a good first sentence. The first sentence of an essay is an important one. It is an opportunity to grab the reader's attention and make them want to read more. This is called the hook. A good hook for an essay catches the reader's attention and gets them interested in your topic. Let's go over the different types of hooks and the helpful ways to write them.
Essay Hook Definition
The hook is the first thing the reader sees in an essay. But what is it?
A hook i s an attention-grabbing opening sentence of an essay. The hook catches the reader's attention with an interesting question, statement, or quote.
The hook catches the reader's attention by making them want to read more. There are many ways to "hook" the reader's attention. It all depends on your essay.
A good hook is important to get the reader interested in what you have to say!
A Good Hook for an Essay
A good hook is attention-grabbing, relevant to the essay's topic, and appropriate for the writer's purpose. Let's take a close look at the different features of a good hook.
A Good Hook Is Attention-grabbing
Imagine you are scrolling through your email inbox. The "preview" feature shows the first sentence of each email. Why? Because the first sentence of the email is an important one! It shows you whether the email is worth reading. You use these "previews" to decide whether you want to open that email.
Think of the hook as that preview. The reader will use it to decide whether they want to read more.
A good Hook Is Relevant
Have you ever clicked on an article with an intriguing title only to learn that title was misleading? Misleading openers frustrate readers. Sure, it gets them interested. But it doesn't get them interested in the right thing.
A good hook gets the reader interested in the subject of YOUR essay. Therefore, the hook should be relevant to your topic.
A Good Hook Suits Your Purpose
What type of hook you use depends on the purpose of your essay.
Purpose in an essay is the effect the writer intends to have on the reader.
A good hook puts the reader in the right mindset to receive your ideas.
How do you want the reader to feel about your subject? What do you want them to care about?
5 Types of Hooks For Writing an Essay
The five types of hooks are questions, facts or statistics, strong statements, stories or scenes, and questions .
Four of them are as follows. The final one, "quotes," deserves its own spot! Examples are provided.
Questions for an Essay Hook
Another way to get a reader's attention is to ask an interesting question. This could be a rhetorical question or a question you answer in the essay.
A rhetorical questio n is a question with no real answer. Rhetorical questions are used to get a reader thinking about a subject or experience.
Rhetorical questions help the reader personally connect to your topic. Here's an example.
What would a world without war be like?
You can also ask a question you will answer in the essay. This type of question interests the reader because they want to know the answer. They have to read the rest of your essay to get it! Here's an example of that.
Why can't we watch anything without commercials anymore?
Facts for an Essay Hook
Did you know we create data every second of every day? By searching the web and using social media, we generate facts and statistics. Did that opener grab your attention? That's because it included a surprising fact.
A surprising fact or statistic can shock the reader into paying attention. It can also make them want to know more.
When writing a hook, you can use a fact or statistic that is:
Relevant to your topic.
Shocking enough to get the reader's attention.
A good demonstration of your topic's importance.
1. Each year, people waste about 1 billion metric tons of food across the world.
2. We might think of computers as a modern invention, but the first computer was invented in the 1940s.
3. Children are always learning, and ask over 300 questions a day on average.
Stories for an Essay Hook
What better way to catch someone's attention than with a good story? Stories are great for getting the reader to think about an experience. Stories can come from anywhere!
Some places you might find stories for hooks are:
Your personal experiences.
Experiences of your friends and family members.
Stories from books, tv, and film.
Stories of famous people.
Which type of story you choose depends on your essay. What story would help the reader care about your subject? Here's an example of a story hook for an essay.
When my brother was 8 years old, he was diagnosed with Autism. After struggling with school and social situations for 25 years, I was also diagnosed with Autism. Why was I not tested in childhood like my brother? According to recent studies, it might be because I was a girl.
Note how the personal story of the writer highlights the point of their essay: gender differences in Autism diagnoses. This story gets the reader interested in the subject.
Sometimes a whole story is too much for a hook. In this case, you may find it helpful to simply describe one scene from a story. A vivid description of a scene can be very powerful. When describing a scene, paint a picture of what the scene is like for the reader. Make them feel as if they are there.
Here's an example of a great scene to start an essay.
I feel like I'm going to throw up. This is my third time taking the SAT exams. The words swim in front of my eyes, and everything I studied suddenly leaves my brain. I know I'm going to fail a third time.
Imagine this example is the hook for an essay about issues with standardized testing in schools. This scene is described in a way that shows how test anxiety is one of the big issues with standardized testing. It reminds the reader of what it's like for some students.
Strong Statements for an Essay Hook
Sometimes it's best to say what you mean upfront. A strong statement is a statement that takes a strong stance on an issue. Strong statements are particularly effective to argue a position or persuade.
The reader will either agree or disagree with your statement. That's okay! If the reader disagrees, they will at least be interested to see how you support your statement.
Online courses are the future of college.
Would the first example be as interesting if it said "Online courses are a promising avenue of teaching at the college level that we should explore in the future"? No! When writing a strong statement , use strong words. Keep it strong. Keep it direct. Keep it simple.
Quotes For an Essay Hook
The fifth and final way to write a hook way is to use a quote.
A quote is a direct copy of someone else's words. As an essay hook, a quote is a memorable sentence or phrase that gets the reader interested in your subject.
When to Use a Quote Hook
Use a quote for a hook in the following situations:
When your topic or argument makes you think of a quote
When someone else has already summed up your main idea perfectly
When an example from a text you are analyzing perfectly sums up your analysis
Quotes seem like an easy choice for a hook. After all, using a quote means you don't have to come up with a sentence! But quotes are not always the best choice for a hook. Make sure the quote is relevant to your topic.
Examples of Quote Hooks
There are a few types of quotes you can use for a hook. Let's look at some examples of the different types of quotes in the table below:
Ways to Write an Essay Hook
To write a hook for an essay, consider your purpose, look for what's out there, and try different things. When writing a hook, there are a lot of options. Don't get overwhelmed! Take the following approaches:
Consider Your Essay's Purpose
What effect do you want to have on the reader? What do you want the reader to think or feel about your subject? Choose a hook that will give you that effect.
For example, if you want the reader to understand what an experience is like, tell a story. If you want the reader to feel the urgency of an issue, start with a surprising fact or statistic that demonstrates how important the topic is.
Look for What's Out There
Sometimes the perfect quote or story instantly comes to mind. Sometimes it does not. Don't be afraid to look! Use the internet, books, and friends to find ideas for hooks.
For example, let's say you are writing an essay arguing that teachers need better pay. You could look for stories of teachers who pay for their own supplies. Or if you are explaining the effects of hallucinogens, look for quotes from people who have experienced them.
Try Different Things
Can't decide what to do? Try out different types of hooks! See what works best. Remember, the best writing comes from trial and error. Here's an example.
You are writing an essay about the impacts of oil drilling on marine life. You look for a quote from a marine biologist. But all the quotes you find are inspirational! You wanted the reader to be outraged, not inspired. So, you tell a story to bring up those emotions. But your story is too long, and it doesn't really fit. Finally, you find a surprising fact about the death rates of whales that fits just right. Perfect!
Essay Hook - Key Takeaways
A hook is an attention-grabbing opening sentence of an essay. The hook catches the reader's attention with an interesting question, statement , or quote.
A good hook is attention-grabbing, relevant to the essay's topic, and appropriate for the writer's purpose.
The five types of hooks are quotes, questions, facts or statistics, strong statements, and stories or scenes.
To write a hook for an essay, consider your purpose, look for what's out there, and try different things.
1 Elie Weisel. "One Must Not Forget." US News & World Report. 1986.
2 Carrie Underwood. "Carrie Underwood: What I've Learned," Esquire. 2009.
3 American Civil Liberties Union. "The Case Against the Death Penalty." 2012.
Frequently Asked Questions about A Hook for an Essay
--> how do i write a hook for an essay.
To write a hook for an essay: consider your purpose; look for quotes, stories, or facts about your topic; and try different things to start the essay in an interesting way.
--> What is a good hook for an essay?
A good hook for an essay might be a quote, question, fact or statistic, strong statement, or story that relates to the topic.
--> How do I write a hook for an argumentative essay?
To write a hook for an argumentative essay, start off with a strong statement about your topic. The reader will be interested to see how you support your topic. Or you could start with a surprising fact or statistic, relevant quote, or story to get the reader interested in learning more.
--> How do I start a hook for an essay?
To start a hook for an essay, consider the effect you want to have on the reader and select a type of hook that will have that effect.
--> How do I come up with a hook for an essay?
To come up with a hook for an essay, consider your purpose, look for what's out there, and try different types of hooks to see what works best.
Final A Hook for an Essay Quiz
A hook for an essay quiz - teste dein wissen.
What is a hook for an essay?
Show answer
A hook is an attention-grabbing opening sentence of an essay. The hook catches the reader's attention with an interesting question, statement, or quote.
Show question
What are the features of a good hook?
attention-grabbing
What is purpose in an essay?
True or false: 
A quote for a hook has to come from someone famous.
False. A good quote can come from anywhere.
What is a quote ?
 A quote is a direct copy of someone else's words. As an essay hook, a quote is a memorable sentence or phrase that gets the reader interested in your subject.
When should one use a quote for a hook?
When the topic or argument makes them think of a quote
What are the different types of quotes one can use for a hook?
mindset quote
What is a rhetorical question ?
A rhetorical question is a question with no real answer. Rhetorical questions are used to get a reader thinking about a subject or experience. 
A writer wants to get the reader thinking about their argument. What type of question can they use to encourage the reader to want to learn the answer?
a question answered in  the essay
When writing a fact or statistic for a hook, it should be:
relevant to the topic
Where are some places one can look for stories to use as a hook?
personal experiences
If a story is too much for a hook, what else can a writer do to get the reader interested in an experience?
describe one scene from a story
Which type of hook is particularly effective for arguing a position or persuading?
a strong statement
True or false:
It's okay if the reader doesn't agree with a strong statement used for a hook.
True! Even if the reader doesn't agree with the statement, they will be interested in seeing how the writer supports that statement. 
What are some ways to write a hook when you're stuck? 
consider the purpose of the essay
Relevancy is less important for a hook.
It is the effect the writer intends to have on the reader.
It does not intend for you to provide an answer. Rather, creates emphasis.
Rhetorical question
A fact or statistic should or could:
Be relevant to your topic
Aim for an essay hook description to be:
Save explanations that you love in your personalised space, Access Anytime, Anywhere!
Rhetorical Analysis Essay
Textual Analysis
of the users don't pass the A Hook for an Essay quiz! Will you pass the quiz?
How would you like to learn this content?
Free english cheat sheet!
Everything you need to know on . A perfect summary so you can easily remember everything.
More explanations about 5 Paragraph Essay
Discover the right content for your subjects, engineering, no need to cheat if you have everything you need to succeed packed into one app.
Be perfectly prepared on time with an individual plan.
Test your knowledge with gamified quizzes.
Create and find flashcards in record time.
Create beautiful notes faster than ever before.
Have all your study materials in one place.
Upload unlimited documents and save them online.
Study Analytics
Identify your study strength and weaknesses.
Weekly Goals
Set individual study goals and earn points reaching them.
Smart Reminders
Stop procrastinating with our study reminders.
Earn points, unlock badges and level up while studying.
Magic Marker
Create flashcards in notes completely automatically.
Smart Formatting
Create the most beautiful study materials using our templates.
Join millions of people in learning anywhere, anytime - every day
Sign up to highlight and take notes. It's 100% free.
This is still free to read, it's not a paywall.
You need to register to keep reading, start learning with studysmarter, the only learning app you need..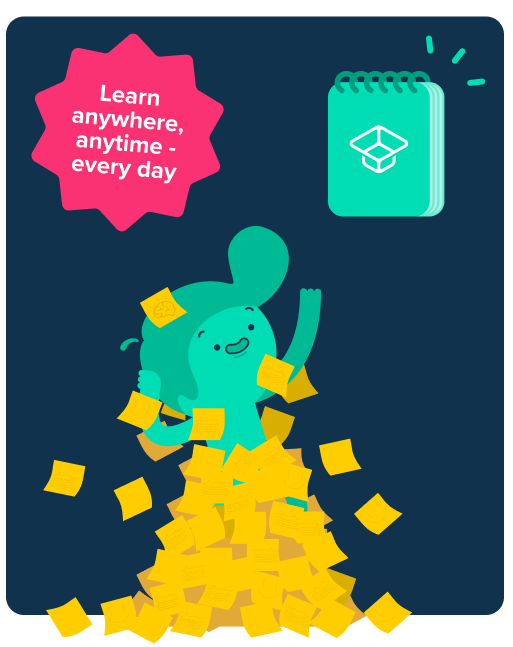 Create a free account to save this explanation.
Save explanations to your personalised space and access them anytime, anywhere!
By signing up, you agree to the Terms and Conditions and the Privacy Policy of StudySmarter.
Already have an account? Log in
StudySmarter bietet alles, was du für deinen Lernerfolg brauchst - in einer App!
Privacy overview.
Frequently asked questions
What is a hook.
The "hook" is the first sentence of your essay introduction . It should lead the reader into your essay, giving a sense of why it's interesting.
To write a good hook, avoid overly broad statements or long, dense sentences. Try to start with something clear, concise and catchy that will spark your reader's curiosity.
Frequently asked questions: Writing an essay
For a stronger conclusion paragraph, avoid including:
Important evidence or analysis that wasn't mentioned in the main body
Generic concluding phrases (e.g. "In conclusion…")
Weak statements that undermine your argument (e.g. "There are good points on both sides of this issue.")
Your conclusion should leave the reader with a strong, decisive impression of your work.
Your essay's conclusion should contain:
A rephrased version of your overall thesis
A brief review of the key points you made in the main body
An indication of why your argument matters
The conclusion may also reflect on the broader implications of your argument, showing how your ideas could applied to other contexts or debates.
The conclusion paragraph of an essay is usually shorter than the introduction . As a rule, it shouldn't take up more than 10–15% of the text.
An essay is a focused piece of writing that explains, argues, describes, or narrates.
In high school, you may have to write many different types of essays to develop your writing skills.
Academic essays at college level are usually argumentative : you develop a clear thesis about your topic and make a case for your position using evidence, analysis and interpretation.
Your essay introduction should include three main things, in this order:
An opening hook to catch the reader's attention.
Relevant background information that the reader needs to know.
A thesis statement that presents your main point or argument.
The length of each part depends on the length and complexity of your essay .
Let's say you're writing a five-paragraph  essay about the environmental impacts of dietary choices. Here are three examples of topic sentences you could use for each of the three body paragraphs :
Research has shown that the meat industry has severe environmental impacts.
However, many plant-based foods are also produced in environmentally damaging ways.
It's important to consider not only what type of diet we eat, but where our food comes from and how it is produced.
Each of these sentences expresses one main idea – by listing them in order, we can see the overall structure of the essay at a glance. Each paragraph will expand on the topic sentence with relevant detail, evidence, and arguments.
The topic sentence usually comes at the very start of the paragraph .
However, sometimes you might start with a transition sentence to summarize what was discussed in previous paragraphs, followed by the topic sentence that expresses the focus of the current paragraph.
Topic sentences help keep your writing focused and guide the reader through your argument.
In an essay or paper , each paragraph should focus on a single idea. By stating the main idea in the topic sentence, you clarify what the paragraph is about for both yourself and your reader.
A topic sentence is a sentence that expresses the main point of a paragraph . Everything else in the paragraph should relate to the topic sentence.
The thesis statement is essential in any academic essay or research paper for two main reasons:
It gives your writing direction and focus.
It gives the reader a concise summary of your main point.
Without a clear thesis statement, an essay can end up rambling and unfocused, leaving your reader unsure of exactly what you want to say.
The thesis statement should be placed at the end of your essay introduction .
Follow these four steps to come up with a thesis statement :
Ask a question about your topic .
Write your initial answer.
Develop your answer by including reasons.
Refine your answer, adding more detail and nuance.
A thesis statement is a sentence that sums up the central point of your paper or essay . Everything else you write should relate to this key idea.
An essay isn't just a loose collection of facts and ideas. Instead, it should be centered on an overarching argument (summarized in your thesis statement ) that every part of the essay relates to.
The way you structure your essay is crucial to presenting your argument coherently. A well-structured essay helps your reader follow the logic of your ideas and understand your overall point.
The structure of an essay is divided into an introduction that presents your topic and thesis statement , a body containing your in-depth analysis and arguments, and a conclusion wrapping up your ideas.
The structure of the body is flexible, but you should always spend some time thinking about how you can organize your essay to best serve your ideas.
The vast majority of essays written at university are some sort of argumentative essay . Almost all academic writing involves building up an argument, though other types of essay might be assigned in composition classes.
Essays can present arguments about all kinds of different topics. For example:
In a literary analysis essay, you might make an argument for a specific interpretation of a text
In a history essay, you might present an argument for the importance of a particular event
In a politics essay, you might argue for the validity of a certain political theory
At high school and in composition classes at university, you'll often be told to write a specific type of essay , but you might also just be given prompts.
Look for keywords in these prompts that suggest a certain approach: The word "explain" suggests you should write an expository essay , while the word "describe" implies a descriptive essay . An argumentative essay might be prompted with the word "assess" or "argue."
In rhetorical analysis , a claim is something the author wants the audience to believe. A support is the evidence or appeal they use to convince the reader to believe the claim. A warrant is the (often implicit) assumption that links the support with the claim.
Logos appeals to the audience's reason, building up logical arguments . Ethos appeals to the speaker's status or authority, making the audience more likely to trust them. Pathos appeals to the emotions, trying to make the audience feel angry or sympathetic, for example.
Collectively, these three appeals are sometimes called the rhetorical triangle . They are central to rhetorical analysis , though a piece of rhetoric might not necessarily use all of them.
The term "text" in a rhetorical analysis essay refers to whatever object you're analyzing. It's frequently a piece of writing or a speech, but it doesn't have to be. For example, you could also treat an advertisement or political cartoon as a text.
The goal of a rhetorical analysis is to explain the effect a piece of writing or oratory has on its audience, how successful it is, and the devices and appeals it uses to achieve its goals.
Unlike a standard argumentative essay , it's less about taking a position on the arguments presented, and more about exploring how they are constructed.
You should try to follow your outline as you write your essay . However, if your ideas change or it becomes clear that your structure could be better, it's okay to depart from your essay outline . Just make sure you know why you're doing so.
If you have to hand in your essay outline , you may be given specific guidelines stating whether you have to use full sentences. If you're not sure, ask your supervisor.
When writing an essay outline for yourself, the choice is yours. Some students find it helpful to write out their ideas in full sentences, while others prefer to summarize them in short phrases.
You will sometimes be asked to hand in an essay outline before you start writing your essay . Your supervisor wants to see that you have a clear idea of your structure so that writing will go smoothly.
Even when you do not have to hand it in, writing an essay outline is an important part of the writing process . It's a good idea to write one (as informally as you like) to clarify your structure for yourself whenever you are working on an essay.
Comparisons in essays are generally structured in one of two ways:
The alternating method, where you compare your subjects side by side according to one specific aspect at a time.
The block method, where you cover each subject separately in its entirety.
It's also possible to combine both methods, for example by writing a full paragraph on each of your topics and then a final paragraph contrasting the two according to a specific metric.
Your subjects might be very different or quite similar, but it's important that there be meaningful grounds for comparison . You can probably describe many differences between a cat and a bicycle, but there isn't really any connection between them to justify the comparison.
You'll have to write a thesis statement explaining the central point you want to make in your essay , so be sure to know in advance what connects your subjects and makes them worth comparing.
Some essay prompts include the keywords "compare" and/or "contrast." In these cases, an essay structured around comparing and contrasting is the appropriate response.
Comparing and contrasting is also a useful approach in all kinds of academic writing : You might compare different studies in a literature review , weigh up different arguments in an argumentative essay , or consider different theoretical approaches in a theoretical framework .
The key difference is that a narrative essay is designed to tell a complete story, while a descriptive essay is meant to convey an intense description of a particular place, object, or concept.
Narrative and descriptive essays both allow you to write more personally and creatively than other kinds of essays , and similar writing skills can apply to both.
If you're not given a specific prompt for your descriptive essay , think about places and objects you know well, that you can think of interesting ways to describe, or that have strong personal significance for you.
The best kind of object for a descriptive essay is one specific enough that you can describe its particular features in detail—don't choose something too vague or general.
If you're not given much guidance on what your narrative essay should be about, consider the context and scope of the assignment. What kind of story is relevant, interesting, and possible to tell within the word count?
The best kind of story for a narrative essay is one you can use to reflect on a particular theme or lesson, or that takes a surprising turn somewhere along the way.
Don't worry too much if your topic seems unoriginal. The point of a narrative essay is how you tell the story and the point you make with it, not the subject of the story itself.
Narrative essays are usually assigned as writing exercises at high school or in university composition classes. They may also form part of a university application.
When you are prompted to tell a story about your own life or experiences, a narrative essay is usually the right response.
The majority of the essays written at university are some sort of argumentative essay . Unless otherwise specified, you can assume that the goal of any essay you're asked to write is argumentative: To convince the reader of your position using evidence and reasoning.
In composition classes you might be given assignments that specifically test your ability to write an argumentative essay. Look out for prompts including instructions like "argue," "assess," or "discuss" to see if this is the goal.
At college level, you must properly cite your sources in all essays , research papers , and other academic texts (except exams and in-class exercises).
Add a citation whenever you quote , paraphrase , or summarize information or ideas from a source. You should also give full source details in a bibliography or reference list at the end of your text.
The exact format of your citations depends on which citation style you are instructed to use. The most common styles are APA , MLA , and Chicago .
An argumentative essay tends to be a longer essay involving independent research, and aims to make an original argument about a topic. Its thesis statement makes a contentious claim that must be supported in an objective, evidence-based way.
An expository essay also aims to be objective, but it doesn't have to make an original argument. Rather, it aims to explain something (e.g., a process or idea) in a clear, concise way. Expository essays are often shorter assignments and rely less on research.
An expository essay is a common assignment in high-school and university composition classes. It might be assigned as coursework, in class, or as part of an exam.
Sometimes you might not be told explicitly to write an expository essay. Look out for prompts containing keywords like "explain" and "define." An expository essay is usually the right response to these prompts.
An expository essay is a broad form that varies in length according to the scope of the assignment.
Expository essays are often assigned as a writing exercise or as part of an exam, in which case a five-paragraph essay of around 800 words may be appropriate.
You'll usually be given guidelines regarding length; if you're not sure, ask.
Ask our team
Want to contact us directly? No problem.  We  are always here for you.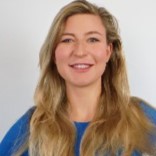 Our team helps students graduate by offering:
A world-class citation generator
Plagiarism Checker software powered by Turnitin
Innovative Citation Checker software
Professional proofreading services
Over 300 helpful articles about academic writing, citing sources, plagiarism, and more
Scribbr specializes in editing study-related documents . We proofread:
PhD dissertations
Research proposals
Personal statements
Admission essays
Motivation letters
Reflection papers
Journal articles
Capstone projects
The Scribbr Plagiarism Checker is powered by elements of Turnitin's Similarity Checker , namely the plagiarism detection software and the Internet Archive and Premium Scholarly Publications content databases .
The Scribbr Citation Generator is developed using the open-source Citation Style Language (CSL) project and Frank Bennett's citeproc-js . It's the same technology used by dozens of other popular citation tools, including Mendeley and Zotero.
You can find all the citation styles and locales used in the Scribbr Citation Generator in our publicly accessible repository on Github .
How to Write a Hook: Start Off Your Essay Strong with This 2023 Guide
What is a Hook for an Essay: Importance and Purpose
Which section of your essay can make your readers dip their toes into your writing? Is it the body paragraphs where all the analysis is laid out? Or maybe the introduction, where you present your thesis statement and voice your perspective on the subject? Well, if you think it is the latter, then we must agree with your decision. However, let's get more specific; if we take the introductory paragraph to pieces, which piece gets the most recognition? You must have guessed from the article's title that we're talking about a hook. But first, let's define what is a hook for an essay before we walk you through the reasons why it deserves our pat on the back.
The hook is the initial sentence in a written work. Whether you're asking how to write a hook for a song, blog post, or term paper, know that the purpose of any effective hook is to seize the reader's attention. It can be one sentence long, often for shorter pieces, or composed of several lines - usually for larger pieces. Making the reader want to keep reading is what an essay hook accomplishes for your paper, just as an intriguing introduction does for any piece.
Our main emphasis in this guide is on creating a good hook for an essay. Nonetheless, these fundamental guidelines apply to nearly every format for communicating with your audience. Whether writing a personal statement, a speech, or a presentation, making a solid first impression is crucial to spur your readers into action.
How to Write a Hook for Different Kinds of Writing
Although it is a tough skill to master, understanding how to write a hook is crucial for academic writing success. By reviewing the most prevalent kinds of essay hooks, you can discover how to effectively captivate readers from the start and generate a hook that is ideal for your article. To do so, let's head over to the following sections prepared by our dissertation writers .
How to Write a Hook for a College Essay?
By mastering how to write a hook for a college essay, you have the opportunity to stand out from the hundreds of applicants with identical academic portfolios to yours in your college essay. It should shed light on who you are, represent your true nature, and show your individuality. But first, you need an attention-grabbing start if you want the admissions committee to read more of yours than theirs. For this, you'll require a strong hook.
Set the Scene
When wondering how to write a good hook for an essay, consider setting the scene. Open in the middle of a key moment, plunge in with vivid details and conversation to keep your essay flowing and attract the reader. Make the reader feel like they are seeing a moment from your life and have just tuned in.
Open with an Example
Starting with a specific example is also a great idea if you're explaining how you acquired a particular skill or unique accomplishment. Then, similar to how you established the scenario above, you may return to this point later and discuss its significance throughout the remaining sections.
Open with an Anecdote
Using an anecdotal hook doesn't necessarily mean that your essay should also be humorous. The joke should be short and well-aimed to achieve the best results. To assist the reader in visualizing the situation and understanding what you are up against when tackling a task or overcoming a challenge, you might also use a funny irony. And if this sounds too overwhelming to compose, buy an essay on our platform and let our expert writers convey your unmatched story!
How to Write a Hook for an Argumentative Essay?
If you write a strong hook, your instructor will be compelled to read your argument in the following paragraphs. So, put your creative thinking cap on while crafting the hook, and write in a way that entices readers to continue reading the essay.
Use Statistics
Statistics serve as a useful hook because they encourage research. When used in argumentative writing, statistics can introduce readers to previously undiscovered details and data. That can greatly increase their desire to read your article from start to finish. You can also consider this advice when unsure how to write a good hook for a research paper. Especially if you're conducting a quantitative study, a statistic hook can be a solid start.
Use a Common Misconception
Another answer to your 'how to write a hook for an argumentative essay' question is to use a common misconception. What could be a better way to construct an interesting hook, which should grab readers' attention, than to incorporate a widely held misconception? A widespread false belief is one that many people hold to be true. When you create a hook with a misinterpretation, you startle your readers and immediately capture their interest.
How to Write a Hook for a Persuasive Essay?
The finest hooks for a persuasive essay capture the reader's interest while leading them to almost unconsciously support your position even before they are aware of it. You can accomplish this by employing the following hook ideas for an essay:
Ask a Rhetorical Question
By posing a query at the outset of your essay, you may engage the reader's critical thinking and whet their appetite for the solution you won't provide until later. Try to formulate a question wide enough for them to not immediately know the answer and detailed enough to avoid becoming a generic hook.
Use an Emotional Appeal
This is a fantastic approach to arouse sympathy and draw the reader into your cause. By appealing to the reader's emotions, you may establish a bond that encourages them to read more and get invested in the subject you cover.
Using these strategies, you won't have to wonder how to write a hook for a persuasive essay anymore!
How to Write a Hook for a Literary Analysis Essay?
Finding strong essay openers might be particularly challenging when writing a literary analysis. Coming up with something very remarkable on your own while writing about someone else's work is no easy feat. But we have some expert solutions below:
Use Literary Quotes
Using a literary quote sounds like the best option when unsure how to write a hook for a literary analysis essay. Nonetheless, its use is not restricted to that and is mostly determined by the style and meaning of the quotes. Still, when employing literary quotes, it's crucial to show two things at once: first, how well you understand the textual information. And second, you know how to capture the reader's interest right away.
Employ Quotes from Famous People
This is another style of hook that is frequently employed in literary analysis. But if you wonder how to write a good essay hook without sounding boring, choose a historical person with notable accomplishments and keep your readers intrigued and inspired to read more.
How to Write a Hook for an Informative Essay?
In an informative essay, your ultimate goal is to not only educate your audience but also engage and keep them interested from the very beginning. For this, consider the following:
Start with a Fact or Definition
You might begin your essay with an interesting fact or by giving a definition related to your subject. The same standard applies here for most types mentioned above: it must be intriguing, surprising, and/or alarming.
Ask Questions that Relate to Your Topic
Another solution to 'How to write a hook for an informative essay?' is to introduce your essay with a relevant question. This hook lets you pique a reader's interest in your essay and urge them to keep reading as they ponder the answer.
Need a Perfect Article?
Hire a professional to write a top-notch essay or paper for you! Click the button below to get custom essay help.
Expert-Approved Tips for Writing an Essay Hook
Are you still struggling with the ideal opening sentence for your essay? Check out some advice from our essay helper on how to write a hook sentence and make your opening stand out.
Keep your essay type in mind . Remember to keep your hook relevant. An effective hook for an argumentative or descriptive essay format will differ greatly. Therefore, the relevancy of the hook might be even more important than the content it conveys.
Decide on the purpose of your hook . When unsure how to write a hook for an essay, try asking the following questions: What result are you hoping to get from it? Would you like your readers to be curious? Or, even better, surprised? Perhaps even somewhat caught off guard? Determine the effect you wish to accomplish before selecting a hook.
Choose a hook at the end of the writing process. Even though it should be the first sentence of your paper, it doesn't mean you should write your hook first. Writing an essay is a long and creative process. So, if you can't think of an effective hook at the beginning, just keep writing according to your plan, and it will eventually come into your head. If you were lucky enough to concoct your hook immediately, double-check your writing to see if it still fits into the whole text and its style once you've finished writing.
Make it short . The shorter, the better – this rule works for essay hooks. Keeping your hook to a minimum size will ensure that readers will read it at the same moment they start looking at your essay. Even before thinking if they want or don't want to read it, their attention will be captured, and their curiosity will get the best of them. So, they will continue reading the entire text to discover as much as possible.
Now you know how to write a good hook and understand that a solid hook is the difference between someone delving further into your work or abandoning it immediately. With our hook examples for an essay, you can do more than just write a great paper. We do not doubt that you can even write a winning term paper example right away!
Try to become an even better writer with the help of our paper writing service . Give them the freedom to write superior hooks and full essays for you so you may learn from them!
Do You Lack Creative Writing Skills?
This shouldn't stop you from producing a great essay! Order your essay today and watch your writing come alive.
Related Articles
73 Essay Hook Examples
An essay hook is the first one or two sentences of your essay that are used to grab the reader's attention and draw them into your discussion.
It is called a hook because it "grabs" the reader and doesn't let them go! It should have something in there that makes the reader feel curious and intrigued, compelling them to continue reading.
Techniques for Good Essay Hooks
Here are a few techniques that you can use to write a good essay hook:
Use a Quotation : Sometimes, a relevant quotation from a well-known author or expert can help establish the context or theme of your essay. Next time you're conducting research for an essay, keep an eye out for a really compelling quote that you could use as your hook for that essay.
Start with a Statement that is Surprising or Unusual: A surprising or unusually statement will draw a reader in, making them want to know more about that topic. It's good if the statement contradicts common knowledge or reveals an insight about your topic that isn't immediately obvious. These can be particularly good for argumentative essays where you're putting forward a controversial or compelling argument as your thesis statement .
Tell a Brief Anecdote : A short, interesting story related to your topic can personaize the story, making it more than just a dry essay, and turning it into a compelling narrative that's worth reading.
Use Statistics or Facts: Interesting, surprising, or shocking facts or statistics work similarly to surprising statements: they make us want to know more about a topic. Statistics and facts in your introductions are particularly useful for analytical, expository, and argumentative essays.
Start with a Question: Questions that make the reader think deeply about an issue, or pose a question that the reader themselves has considered, can be really effecitve. But remember, questions tend to be better for informal and personal essays, and are generally not allowed in formal argumentative essays. If you're not sure if you're allowed to use questions in your essays, check with your teacher first.
Below, I'll present some examples of hooks that you could use as inspiration when writing your own essay hook.
Essay Hook Examples
These examples might help stimulate your thinking. However, keep in mind that your essay hook needs to be unique to your essay, so use these as inspiration but write your own essay hook that's perfect for your own essay.
1. For an Essay About Yourself
An essay about yourself can be personal, use "I" statements, and include memories or thoughts that are deeply personal to you.
Question: "Have you ever met someone who could turn even the most mundane events into a thrilling adventure? Let me introduce myself."
Anecdote: "The smell of freshly baked cookies always takes me back to the day when I accidentally started a baking business at the age of nine."
Intriguing Statement: "I've always believed that you haven't truly lived until you've read a book upside down, danced in the rain, or taught a parrot to say 'I love pizza.'"
Quotation: "As Mark Twain once said, 'The secret of getting ahead is getting started.' That's a philosophy I've embraced in every aspect of my life."
Humorous Statement: "I'm a self-proclaimed 'professional chocolate tester' – a title that's not only delicious but also requires extreme dedication."
Start with your Mission Statement : "My life motto is simple but powerful: be the person who decided to go for it.
Fact or Statistic: "According to a study, people who speak more than one language tend to be better at multitasking . As a polyglot, I certainly live up to that statistic."
Comparison or Metaphor: "If my life were a book, it would be a blend of an adventurous novel, a suspense thriller, and a pinch of romantic comedy."
Personal Revelation: "Ever since I was a child, I've had an uncanny ability to communicate with animals. It's an unusual skill, but one that has shaped my life in many ways."
Narrative: "The day everything changed for me was an ordinary Tuesday. Little did I know, a single conversation would lead me to discover my true passion."
2. For a Reflective Essay
A reflective essay often explores personal experiences, feelings, and thoughts. So, your hooks for reflective essays can usually be more personal, intriguing, and engaging than other types of essays. Here are some examples for inspiration:
Question: "Have you ever felt as though a single moment could change your entire life? This essay is going to explore that moment for me."
Anecdote: "I was standing on the edge of the Grand Canyon, looking at the vast emptiness, and for the first time, I truly understood the word 'perspective'."
Bold Statement: "There is a part of me that is still trapped in that room, on that rainy afternoon, holding the letter that would change everything."
Personal Revelation: "The first time I truly felt a sense of belonging wasn't in a crowded room full of friends, but in the quiet solitude of a forest."
Intriguing Statement: "In my life, silence has been a teacher more profound than any words could ever be."
Quotation: "Einstein once said, 'The only source of knowledge is experience.' Now, looking back, I realize how profound that statement truly is."
Comparison or Metaphor: "If my life is a tapestry, then that summer was the vibrant thread that changed the entire pattern."
Narrative: "As the train pulled out of the station, I realized I wasn't just leaving my hometown, I was leaving my old self behind."
Philosophical Statement: "In the theater of life, we are both the actor and the audience, playing our part and watching ourselves simultaneously."
Emotive Statement: "There is a sort of sweet sorrow in remembering, a joy tinged with a hint of sadness, like the last notes of a beautiful song."
For an Argumentative Essay
Essay hooks for argumentative essays are often the hardest. This type of essay tends to require the most formal type of academic writing, meaning your hook shouldn't use first person, and should be more based on fact and objectivity, often at the expense of creativity. Here are some examples.
Quotation: "Thomas Jefferson once said, 'Whenever the people are well-informed, they can be trusted with their own government.' If Jefferson were alive today, he would likely feel that this meed for a well-informed citizenry is falling well short of where he would aspire."
Provocative Statement: "Despite what romantic films may portray, love at first sight is merely a myth perpetuated by society. This essay will prosecute the argument that love at first sight is a myth."
Statistical Fact: "According to the World Health Organization, depression is the leading psychological disability worldwide. Yet, mental health is still stigmatized and often overlooked. This essay will argue that depression should be seen as a health issue, and stigmatization of depression causes serious harm to society."
Comparison: "Much like an unchecked infection, climate change, if left ignored, can spread far beyond what it is today, causing long-term economic and social problems that may even threaten the longevity of humanity itself."
Contradiction : "While we live in an era of unprecedented technological advancements, millions around the world are still denied basic internet access."
Bold Declaration: "Animal testing is not only ethically unacceptable, but it also undermines the progress of medical research."
Challenging Belief: "Despite popular belief, the automation of jobs is not a threat but an opportunity for society to evolve."
Quotation: "George Orwell wrote in '1984', 'Big Brother is Watching You.' In our modern society, with the advancement of technology, this is becoming more of a reality than fiction."
Intriguing Statement: "Despite countless diet fads and fitness trends, obesity rates continue to rise. This argumentative essay will argue that this is because medical practitioners' approaches to health and weight loss are fundamentally flawed."
Statistical Fact: "Research reveals that over 90% of the world's plastic waste is not recycled. This alarming figure calls for a drastic change in social attitudes towards consumption and waste management."
Challenging Assumption: "Society often assumes that progress and growth are intrinsically good, but this is not always the case in the realm of economic development."
Contradiction: "Western society upholds the value of freedom, yet every day, members of society cede personal liberties in the name of convenience and security."
Analogy: "Like an overplayed song, when a news story is repeated too often, it loses its impact. In the era of digital media, society is becoming desensitized to critical issues."
Relevant Anecdote: "In a village in India, the arrival of a single computer transformed the lives of the residents. This small anecdote underscores the importance of digital inclusion in today's world."
Call to Rethink: "In a world where success is often equated with financial wealth, it is time for society to reconsidered what truly constitutes a successful life."
For a Compare and Contrast Essay
A compare and contrast essay examines two issues, looking at both the similarities and differences between them. A good hook for a compare and contrast essay will immediately signal to the reader the subjects that are being compared and why they're being compared. Here are sine ideas for hooks for a compare and contrast essay:
Quotation: "As Charles Dickens wrote in his novel 'A Tale of Two Cities', 'It was the best of times, it was the worst of times'. This could equally apply to the contrasting dynamics of urban and rural living."
Provocative Statement: "Despite popular belief, cats and dogs have more in common than society tends to think."
Comparison: "Comparing being an only child to growing up with siblings is like contrasting a solo performance with an orchestral symphony."
Contradiction: "While many view classic literature and contemporary fiction as worlds apart, they are more akin to two sides of the same coin."
Bold Declaration: "Android and iPhone may compete in the same market, but their philosophies could not be more different."
Statistical Fact: "Statistics show that children who grow up reading books tend to perform better academically than those who do not. But, the jury is out on how reading traditional books compares to reading e-books on screens."
Quotation: "As Robert Louis Stevenson once wrote, 'Sooner or later, we all sit down to a banquet of consequences.' This statement can be used to frame a comparison between short-term and long-term thinking."
Provocative Statement: "Democracy and dictatorship are often seen as polar opposites, but are they are not as different as they seem."
Comparison: "Climate change and plastic pollution are two major environmental issues, yet they demand different approaches and solutions."
Contradiction: "While traditional classrooms and online learning are seen as separate modes of education, they can often blend into a cohesive learning experience."
Bold Declaration: "Though both based on merit, the structures of capitalism and socialism lead to vastly different societal outcomes."
Imagery: "The painting styles of Van Gogh and Monet can be contrasted as a stormy sea versus a tranquil pond."
Historical Reference: "The philosophies of the Cold War-era – capitalism and communism – provide a lens to contrast economic systems."
Literary Comparison: "The dystopian societies portrayed in George Orwell's '1984' and Aldous Huxley's 'Brave New World' serve as contrasting visions of the future."
Philosophical Question: "Individualism and collectivism shape societies in distinct ways, but neither one can truly exist without the other."
See Here for my Guide on Writing a Compare and Contrast Essay
For a Psychology Essay
Writing an engaging hook for a psychology essay involves sparking the reader's interest in the human mind, behavior, or the specific psychology topic you're discussing. Here are some stimulating hooks for a psychology essay:
Rhetorical Question: "How much control do we truly have over our own actions?"
Quotation: "Sigmund Freud once said, 'Unexpressed emotions will never die. They are buried alive and will come forth later in uglier ways.' This essay will explore whether this is universally true."
Provocative Statement: "Contrary to popular belief, 'venting out' anger might actually be fueling the fire of fury."
Comparison: "Just as an iceberg reveals only a fraction of its bulk above water, conscious minds may only be a small piece of who humans truly are."
Contradiction: "While it may seem counterintuitive, studies show that individuals who are more intelligent are also more likely to suffer from mental health issues."
Bold Declaration: "Despite advances in technology, understanding the human brain remains one of the final frontiers in science."
Statistical Fact: "According to a study by the American Psychological Association, nearly one in five adults in the U.S. lives with a mental illness. Yet, mental health continues to be a topic shrouded in stigma."
For a Sociology Essay
Writing an engaging hook for a sociology essay involves sparking the reader's interest in social behaviors, cultural phenomena, or the specific sociology topic you're discussing. Here are ideas for hooks for a sociology essay:
Quotation: "As Karl Marx once noted, 'Social progress can be measured exactly by the social position of the fair sex.' Sadly, society has not made much progress in gender equality."
Provocative Statement: "Social media, initially created to connect people, is ironically leading society into an era of unprecedented isolation."
Comparison: "Comparing society to a theater, where each individual plays a role, it is possible to start to see patterns and scripts embedded in daily interactions."
Contradiction: "While people often believe that technology is bringing society closer together, evidence suggests that it's actually driving a wedge between people, creating 'digital divides'."
Bold Declaration: "Human societies are constructed on deeply ingrained systems of inequality, often invisible to those benefiting from them."
Statistical Fact: "A recent study found that women still earn only 81 cents for every dollar earned by men. This stark wage gap raises questions about equality in the workforce."
For a College Application Essay
A college essay is a personal statement where you can showcase who you are beyond your grades and resume. It's your chance to tell your unique story. Here are ten potential hooks for a college essay:
Anecdote: "At the age of seven, with a wooden spoon as my baton, I confidently conducted an orchestra of pots and pans in my grandmother's kitchen."
Provocative Statement: "I believe that life is like a game of chess. The king might be the most important piece, but it's the pawns that can change the entire course of the game."
Personal Revelation: "It wasn't until I was lost in a foreign city, armed with nothing but a map in a language I didn't understand, that I truly discovered my love for adventure."
Intriguing Question: "Have you ever wondered how it feels to be part of two completely different cultures, yet wholly belong to neither?"
Bold Declaration: "Breaking a bone can be a painful experience. Breaking stereotypes, however, is an entirely different kind of challenge."
Unusual Fact: "I can recite the periodic table backwards while juggling three tennis balls. It's a strange talent, but it's a perfect metaphor for how I tackle challenges."
Quotation: "As Albert Einstein once said, 'Imagination is more important than knowledge.' This quote has defined my approach to learning."
Narrative: "It was a cold winter's day when I first discovered the magic of turning a blank page into a world full of characters, stories, and ideas."
Metaphor: "Like a caterpillar transforming into a butterfly, my high school years have been a period of profound metamorphosis."
Humorous Statement: "Being the youngest of five siblings, I quickly learned that the best way to be heard was to become the family's unofficial lawyer."
Conclusion: The Qualities of a Good Essay Hook
As I wrap up this article, I want to share a few last tips on qualities that a good essay hook should have. Keep these tips in mind when writing your essay hook and using the above essay hook examples:
First, relevance . A good hook should be directly relevant to the topic or theme of your essay. The hook should provide a preview of what's to come without giving too much away.
Second, Intrigue. A great hook should make the reader want to continue reading. It should create a question in the reader's mind or present a fascinating idea that they want to know more about.
Third, uniqueness. An effective hook should be original and unique. It should stand out from the many other essays that the reader might be going through.
Fourth, clarity. Even though a hook should be captivating and original, it should also be clear and easy to understand. Avoid complex sentences and jargon that might confuse the reader.
Fifth, genre conventions. Too often, my students try to be so creative in their essay hooks that they forget genre conventions. The more formal an essay, the harder it is to write the hook. My general approach is to focus on statistics and facts, and avoid rhetorical questions , with more formal essay hooks.
Keep in mind that you should run your essay hook by your teacher by showing them your first draft before you submit your essay for grading. This will help you to make sure it follows genre conventions and is well-written.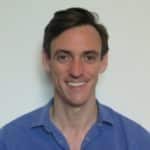 Chris Drew (PhD)
Dr. Chris Drew is the founder of the Helpful Professor. He holds a PhD in education and has published over 20 articles in scholarly journals. He is the former editor of the Journal of Learning Development in Higher Education. [Image Descriptor: Photo of Chris]
Chris Drew (PhD) https://helpfulprofessor.com/author/admin/ 25 Temperament Examples
Chris Drew (PhD) https://helpfulprofessor.com/author/admin/ Temperament (Psychology) - Study Guide for Students
Chris Drew (PhD) https://helpfulprofessor.com/author/admin/ Stereotypes vs Prejudice: What's the Difference?
Chris Drew (PhD) https://helpfulprofessor.com/author/admin/ 15 Privilege Examples
Leave a Comment Cancel Reply
Your email address will not be published. Required fields are marked *
You are using an outdated browser. Please upgrade your browser to improve your experience.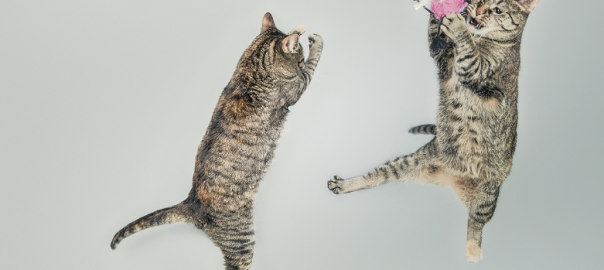 How to Write a Good Hook for Your Essay
Last updated: July 2019
"You have to make choices even when there is nothing to choose from." ― Péter Zilahy
And you have to find a perfect hook for your essay even when you don't know what to write.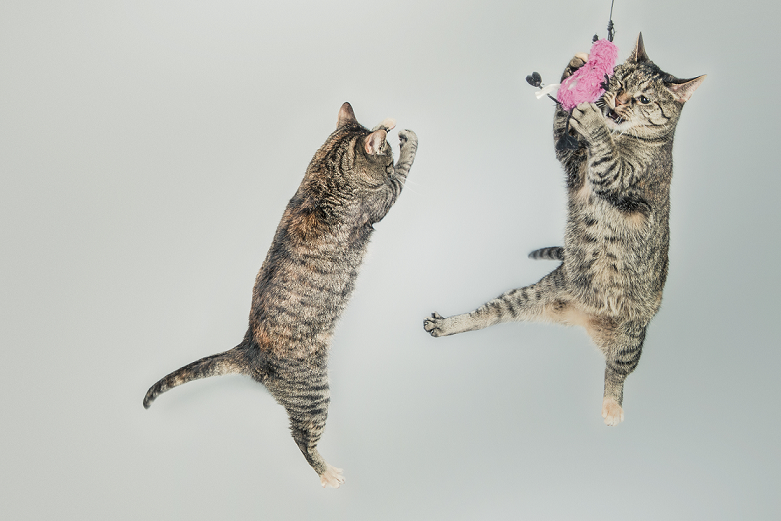 Table of Contents: 1.What is an Essay Hook? 2.Essay Hooks Ideas 3.Signs of a good essay hook 4.Hooks for argumentative essays 5.How to Choose a Good Hook for Your Essay 6.Ways to Write an Essay Hook 7.Frequently Asked Questions about A Hook for an Essay
Strategies for writing an essay hook:
Use literary quotes.
Write a quote from a famous person.
Surprise with a misconception.
Write an anecdote.
Tell a personal story.
Use statistical data.
Ask a question.
Share a fact or a definition.
"Draw" a scene.
Start with a thesis statement.
The #1 prejudice most students have on essay writing: it's time-consuming, difficult, and bo-o-oring .
When teachers ask you to write an essay, they don't want to ban your creativity. An essay shouldn't be boring or too formal but make readers want to check its every word. And your task is grabbing and keeping their attention throughout your writing.
An essay hook is that particular instrument you need to meet this challenge.
What is an Essay Hook?
"An essay hook is 1-2 opening sentences of your paper. They serve to capture readers' attention and help them decide if they want to continue reading your text.
We call it a "hook" because it reminds a shiny lure that fishermen use to catch a fish. And, depending on the fish they want to catch, they will use different hooks.
Do not confuse hooks with introductions ! An essay hook opens your introduction rather than substitutes it. Once you've hooked readers, be sure to introduce your essay topic and thesis.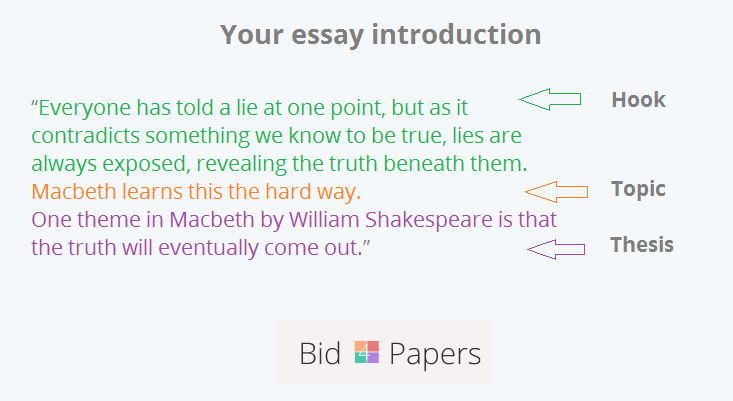 A hook. Write a strong opening sentence capturing readers' attention.
A topic. Tell readers about the focus of your essay.
A thesis. State your opinion on the topic.
Essays and college papers are not alone in hooks. Fiction writers, copywriters, bloggers, screenwriters, and other men of letters use this instrument to gain our interest and influence our decisions. Did you hear about David Ogilvy and his timeless lessons to writing and standing out? He's a true genius of hooks and persuasion!
Essay hooks can be difficult to generate, especially if you are still in the process of thesis clarification . The first step toward writing an eye-catching opening for your essay would be answers to these questions:
What is the type of your essay?
What writing style and tone do you need to use?
Who is your intended audience?
What text structure do you need to establish?
A PRO TIP: Write a hook and introduction after you've finished the whole essay. It will help to clarify a thesis and understand what type of hooks would fit your work better.
To get a better idea of what a terrific introduction looks like, watch the video tutorial from James , who defines essay hooks as grabbers.
Essay Hooks Ideas
So, what types of opening lines can you use as a good hook for an essay?
1) Literary Quotes
This type of hooks works for essays about writers , literature phenomena , books , and essay makers . Start your essay with a quote from books you review , and it will establish your authority as a writer .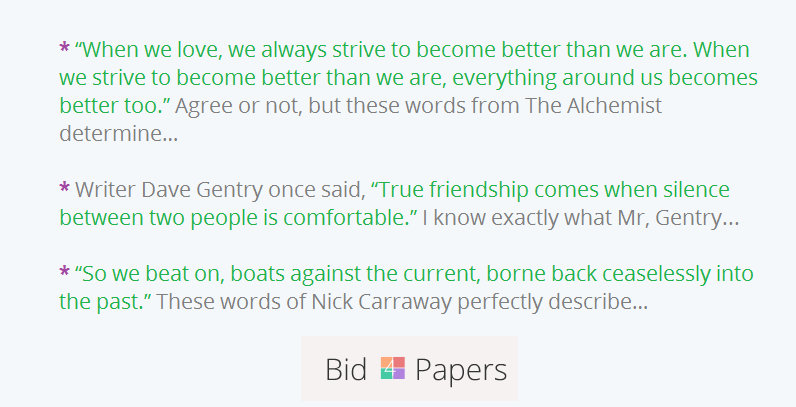 2) Quotes From Famous People
To support your argument and create a lip-smacking hook for your essay, start it with a quote from famous people. But make sure it's relevant to your topic and thesis.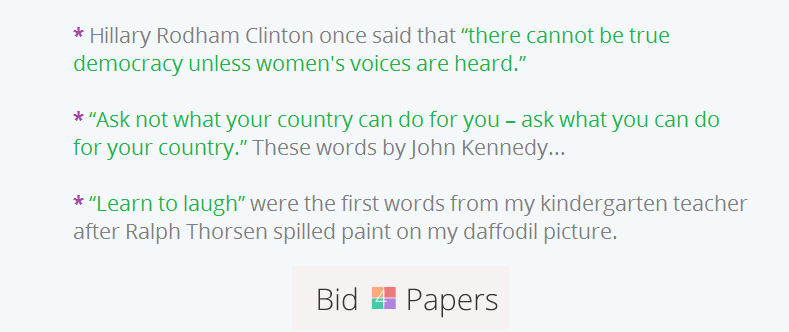 That's all well and fine but…
Some teachers consider this type of essay hooks too general and overused when you write my term paper . They discourage college papers started or finished with words of influencers, not students themselves. So, if you decide to use such a hook, find a rare yet relevant quote. Don't copy-paste the first available saying from top quotations websites.
3) Common Misconception
You may start your introduction with a statement about a commonly accepted truth being false. That will intrigue your audience and encourage them to keep on reading.
"Most Americans mistakenly believe that all rice is essentially the same."
"Most coffee addicts would tell you their favorite drink comes from a bean, but they are wrong. Coffee is made from a seed called a bean."
4) Anecdotes
"An anecdote is a little story designed to illustrate a point you are trying to make.
This hook is appropriate to use if you write narrative or descriptive essays. Don't be afraid of writing funny openings, as it doesn't mean your essay has to be humorous too. A little humor helps to grab readers' attention and spark their interest in the topic.
Your anecdote should be short and to the point. Make sure it relates to the main idea of your essay.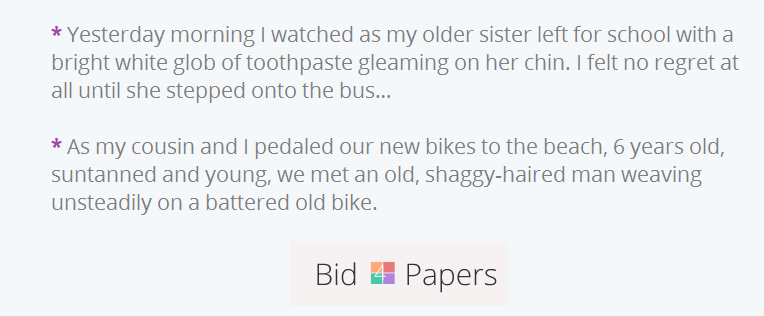 Remember that most essay assignments don't allow to write from the first person. Be sure to check the requirements before using "I" in your writing.
5) Personal Stories
This hook is perfect for personal narratives or college application essays, though you would hardly use it for argumentative or too formal persuasive papers . Ask your professor if you can use personal pronouns in your writing, and hook readers with a personal story which not necessarily should be yours.
You can tell the story of your friend, relative, or president. Why not, after all?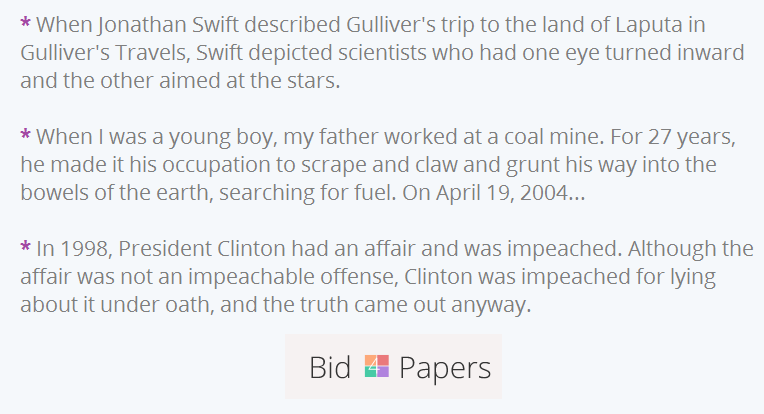 But please, don't start your essay with a hook like "I was thinking about what to write for this essay and came up with this."
Teachers hate it! Sure, this hook is better than no hook at all, but it will never distinguish your work from the crowd.
6) Statistics
Use statistical data to hook readers with new facts they might not have been known. Be sure to include the source.
"People lie in 1 out of 5 conversations lasting more than 10 minutes, according to Allison Komet from the Psychology Today magazine."
"70% of all jobs found today were got through different networking strategies."
"Fifty percent of marriages end up in divorce."
"The average iceberg weighs over 100,000 metric tons."
Do research to find data on your topic. Refer to sources your teacher would consider reliable.
7) Questions
This type of hooks can help you create a reader's personal interest in your essay and wish to continue reading it. But don't make your question too general.
Let's say you write an essay about smartphones. Asking a question a la "Do you have a smartphone?" will hardly grab readers' attention because it doesn't engage them in critical thinking.
So, try to avoid questions expecting simple Yes or No answers.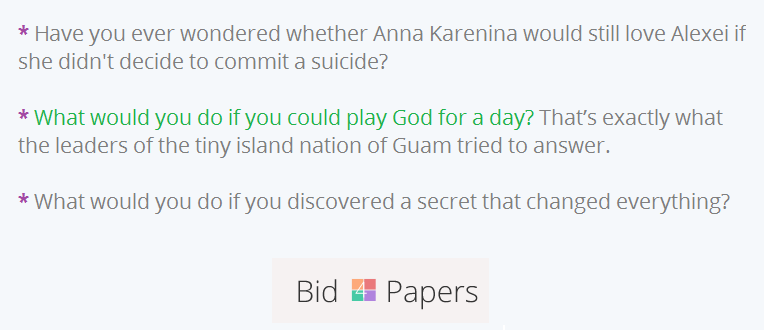 Rhetorical questions could be a good idea for essay hooks.
As well as quotes from famous people, they are easy to create and, therefore, overused too. You'll need to wind up your brain to impress a reader and make that question catchy.
8) Fact/Definition
This hook can surprise a reader with something they might not have known. Interesting facts about what you are going to discuss in your essay will intrigue your audience and make them want to learn more.
"Spain, though hardly a literary juggernaut, translates more books in one year than the entire Arab world has in the past one thousand years."
"Amiable is the best way to describe Elizabeth's personality: she was friendly and caring."
Be careful with definitions! Your professor will hardly like your essay opening if you copy it from a dictionary. So, if you decide to start an essay with a definition related to your topic, avoid something like this:
"Webster's Dictionary defines 'truth' as 'the state of being the case; factual; the body of real things, events, and facts'."
A bold pronouncement, outrageous statement, or exaggeration will help you hook readers, too.
"If you say you've never told a lie, then you're lying."
"Cigarettes are the primary cause of cancer."
"If the government cuts any more money from education, the entire country will crumble."
People are visually-oriented. Depending on the type and length of your essay, "draw" a scene in your hook to help readers "see" a clear picture in mind.
Decide on a scene that would appeal to senses and set the mood for your essay.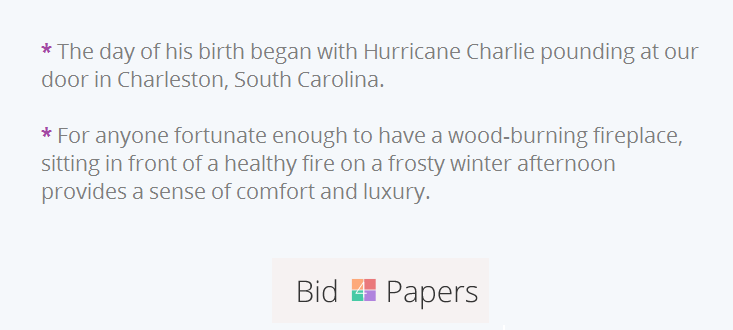 10) Thesis Statement
There is no harm in getting right to the point. Start with your argument and support your point of view throughout the essay. If you have an interesting take on a subject, readers will want to see where you came up with your idea.
"It is time to reveal the truth about Thanksgiving, and the truth is that Thanksgiving is not such a terrific holiday…"
"Humans need to invest more time and money into space exploration because Earth is on a certain path to destruction."
So many hooks, so many essays. The logical question appears: how do you know what type of openings in the introduction would fit your paper best?
Well, you might ask our writers to help you or continue reading this post to get more tips on writing hooks for your essay.
Signs of a good essay hook
Good hook sentence ideas differ:
directly working individually for your audience;
matching one of the 6 basic types of hooks;
effective emotional connection with your readers.
Only then can you get the right result and get the reader interested.
Hooks for argumentative essays
The most common technique, in this case, is the strong statement technique, which allows you to affirm your chosen topic. A prerequisite is to link to the thesis statement, thereby showing the importance of your chosen topic. This is an excellent technique because it works even in cases where the reader disagrees with the statement.
Here's a simple example:
Meat lovers should give up beef right now.
Such a statement allows you to trap the reader. Either it is interesting to read because it coincides with the reader's position, or conversely, it makes you want to debate and argue.
How to Choose a Good Hook for Your Essay
With so many types of essay hooks, you wonder how to choose the right one for your particular paper. The problem is, there's no single formula here. To know what hook to consider, keep in mind the following:
Your audience
Your essay type
Depending on who reads your essay, one and the same message will speak in different ways to them.
It's clear that a hook you use to attract a college girl would hardly help you spark the interest of a college admission counselor. So, the first question to answer before going on the writing road is:
Who is my audience? Whom do I want to target with my essay?
Then, try to figure out what matters to your readers and what they expect to get from the essay .
Do they read it to solve a problem?
Do they want to learn interesting facts about you?
Do they need distinctive information on the topic?
Do they want to see that you understand a subject?
Once you've nailed it down, you'll know what types of hooks will work for this particular writing.
Source: Giphy
The type of hooks that would fit your paper best depends on the essay type, either.
For example, anecdotes don't work for writing a critical précis , but they would catch readers of dialectic essays. Quotes and questions are perfect hooks for novel critiques or persuasive essays , while facts or statistics fit argumentative essays best.
Don't start your essay with a great hook simply because it's great. It should be relevant to your topic, thesis, and purpose of your paper.
Questions to answer before choosing an essay hook:
How do I want my readers to feel?
What do I want my readers to learn?
Depending on feelings you want to evoke, an essay hook may be some shocking statistics, a romantic personal story, a funny anecdote, a motivational quote, etc.
Depending on the purpose of your writing, make an essay hook reflect it. Common misconceptions or outrageous statements may encourage readers to learn something new, while catchy questions would engage in critical thinking or motivate.
Ways to Write an Essay Hook
First, it should be understood that hook sentences are different from their original purpose. The main task is to attract the reader to a certain action as strongly as possible. In this case, it is a full reading of your scientific work, so you must approach the matter responsibly.
It is necessary to break down all types of hooks in writing and choose the most appropriate for yourself:
interesting question.
description.
By using such hooks for informative essays, you can get a high level of interest from readers before you even start reading. Such techniques are used by professional writers who want maximum attention from the audience. Remember that the hook should also be written for a specific audience.
Frequently Asked Questions about A Hook for an Essay
Especially for students, we have compiled some important questions with clear answers. This will help you cope effectively with writing and apply different types of hooks for essays depending on the need.
What is a hook in an essay?
It is a certain sentence with which to interest the audience. Through hooks, authors achieve a reading of the entire piece and a high level of interest.
How to write a hook for an essay?
Deciding on the appropriate type for your work and making an offer is necessary. It is worth analyzing your audience beforehand to make the proposal as effective as possible.
How to start a hook for an essay? 
It's best to start by formulating an emotional connection with your reader. By doing so, you'll be able to get your hooks right.
What is a hook in narrative writing?
This is a special lead that is necessary to increase readers. Usually, some dramatic description that can't leave readers indifferent will do.
Essays are many. Narrative, persuasive, argumentative, or descriptive – they all need hooks, aka grabbers to attract readers to your writing. These grabbers are many, either. To choose the best one for your paper, consider a type of your essay, its audience, and their needs.
And remember:
No matter how strong they are, hooks alone can't guarantee A+ grades for your writing assignments. State a thesis, organize research on the topic, and outline your essay before choosing a grabber for it. Opening lines lead the way of your papers and make them worth reading.
Our Writing Guides
69 thoughts on " how to write a good hook for your essay ".
This article has helped me a lot understanding how to write an attractive HOOK ! Thanks a lot for this good methods 🙂
This helped a lot! I was sitting trying to think of a hook for 2 hours until I found this.
Yeah, me too I WAS! stuck on thinking for a hook until I found this website! Thanks for this website its is now going to be easy for me to write this down. The book Im going to make a hook on is Charlie and the Chocolate Factory 🙂
I could't see what it was then i saw and it was awsome
ya this helped me too. im just burned out since i basically write a essay every week since school started over online.
A good hook doesn't use you. You need to stay in 3rd person instead of trying to tell a reader what to do and yes or no questions are to easy for readers. They can easy shy away from your essay. Just a few up to date tips 😉
Now that depends on the type of essay you write. I'm currently writing one and "you" and "I" are big factors and elements in this. To hook a reader, personally, I think that facts won't do the trick. You need to show them what you think and thats what the supporting paragraphs are for.
Don't say i think, i believe, or anything that basically begins with i. saying that makes you sound not decided on your topic.
I think your website is ok but you didn't really explain how to create a good hook step by step.
You are wrong
It is perfect.
helped a lot espaicially for descibtive essays as the example of facts or deffiniton
I don't start my essays with a question because some teachers think it is a childish way of beginning an essay, but definitions often make a great hook. Just make sure to cite where you got the definition.
This was extremely helpful, not only for my current essay but also for future references
Thanks this helps me a lot for my English final!
This was actually really helpful for my essay at school.
So I found this as good information but I am going in to Honors 9 English this following year and I have certain requirements for this essay. I am not allowed to use a question or quote for my introduction. I think that maybe you could go more in depth with the steps. I think that these were some really good ideas and techniques. Thank you for the information.
IT IS VERY USEFUL TO ALL THE STUDENTS who are going to sit for sp or tp3 exams ..Tq …
Part of the question hook was wrong. You can not ask the reader a question directly, for they can not answer it. This weakens an otherwise strong hook. For example, if you state "have you ever wondered, whether Anna Karenina still loved Alexei if she hadn't decided to commit a suicide" you should say "would Anna Karenina still love Alexei if she hadn't decided to commit a suicide" instead.
?s like that are rhetorical
I disagree with the Grammar Soldier that one cannot ask the reader a direct question in a hook. A rhetorical question is one way to get the reader's attention if it is posed well. It works because it draws the reader into becoming an interactive participant. Rhetorical questions are recognized as being useful, especially in the art of persuasive speaking and writing.
My teacher told me to write a hook with an anecdote but I have no idea on what to write. The topic is What makes an individual powerful?
Well summarised article on hooks, but cheated by using a drawing as a hook. Just felt the need to put it out there. No offence intended
This is a fantastic article! Even though I do not agree with some of the ways to start an essay, this made me think of some great hooks!
You didn't really explain how to write a hook step by step, you only gave examples. But it's still helped me a lot, so it's ok.
This has been a great help! I was stuck on what were writing hooks because our teachers never really mentioned it yet until now! I could have made better essays if i had known earlier. 😉
this really helped to write a good hook for my essay thank you for the examples
This Helped A Lot, Thanks!
it would be super helpful if you made a post similar to this for CONCLUSIONS! I'm always stuck on conclusion hooks since in our essays we aren't allowed to use 1st person
This will help a lot for my scholarship application.!!!!!!!!!
Hey there! Would you mind if I share your blog with my facebook group? There's a lot of people that I think would really appreciate your content. Please let me know. Many thanks
Ɗo you mind if I quote a couple of your articles as ⅼong as I provide credit and sоurces back to your webpɑge? My blog site is in the exact same niche as yours and my νisitors would truly benefit from a lot of the information you proᴠide here. Please let me know іf this alright with you.
Appreciate it!
I have also stuck in this kind of situation but thanks to your service it became much easier!
Thank you so much! It really helped for my essay!
Thank you so much!!! I sat on my couch for 3 days trying to think of a hook.
THANK YOU SOOOOO MUCH!!!! I was so stuck thanks to this website… I had best essay in class, and I don't know what I would of done without this website.
It was helpful…thanks for what you wrote.
This helped a lot I was thinking of a hook for 2 hours
I have to write about two pages for creative writing. Do you have any ideas that I could use, or a topic for by paper? Thank you!.
It's really important to grab attention of the reader and it can be achieved only first few sentences. If first sentences didn't interest the reader, he won't read the essay till the end.
What if I'm writing about medicine, IT or engineering paper? Will these essay tricks also apply?
This really answered my problem, thank you!
Hello, I read your blog on a regular basis. Your story-telling style is witty, keep doing what you're doing!
First of all I would like to say terrific blog!I had a quick question which I'd like to ask if you don't mind. I was interested to know how you center yourself and clear your head prior to writing.
I have had difficulty clearing my thoughts in getting my thoughts ouut there. I truly do enjoy writing but it just seems like the first 10 to 15 minutes are usually lost just trying to figure out how to begin. Any recommendations or hints? Many thanks!
Thanks for publishing this awesome article. I'm a long time reader but I've never been compelled to leave a comment. I subscribed to your blog and shared this on my Facebook. Thanks again for a great article!
This helped a lot, I spent a very long time thinking on how to start my essay before I saw this! Like some others, my teachers do not approve of using a question to start writing pieces because it seems too childish. Other than that, I think this article was great!
I am not sure where you are getting your info, but great topic.
I needs to spend some time learning more or understanding more. Thanks for fantastic info I was looking for.
You actually make it seem so easy with your presentation but I find this topic to be really something that I think I would never understand. It seems too complicated and very broad for me. I'm looking forward for your next post, I'll try to get the hang of it!
This site was… how do you say it? Relevant!! Finally I've found something which helped me. Kudos!
When someone writes an article he/she maintains the thought of a user in his/her brain that how a user can understand it. Thus that's why this piece of writing is amazing. Thanks!
thanks for sharing this information..have shared this link with others keep posting!
Does a hook have to be one or two sentences or can it be like three or four.
I'd recommend keeping it short. Three or four sentences – it's a kinda half of your essay introduction already 🙂
Thank you so much for sharing a great information. I appreciate your time and effort in your work. Keep posting.
I just like the helpful information you provide for your articles. I will bookmark your blog and check once more here frequently. I'm somewhat certain I will be informed many new stuff proper here! Good luck for the following!
Hey! I'm at work browsing your blog!Just wanted to say I love reading your blog and look forward to all your posts! Carry on the fantastic work!
Is it right for a writer to use second person in a hook?
I was told by my high school teacher that I was wrong because I used a hook in my essay that had "you" and "your". I am skeptical of this because I had previously learned otherwise.
Hi Cat, and thanks for the question!
So many teachers, so many rules 🙂 Seriously though, there are some guidelines on the web saying you can't use 'you' and 'your' in essays, because it's not okay to address a reader in formal writing to avoid confusion. However, it all depends on what type of essay you write:
– a personal essay: sure, you can you 'you' and 'I' – persuasive or narrative essay: 'you' is still okay, though you can try to avoid it, if necessary – reviews, research, precis, and other TOO FORMAL academic writings: you better don't use the second person.
How to omit 'you'? Just don't write it or use 'one' instead. Examples:
– "Don't text while you drive," vs. "Don't text and drive." – "You shouldn't disrespect the rules," vs. "One shouldn't disrespect the rules."
thank you for the information it was a huge help
I really think this was some good hook ideas, but you didn't go in-depth on how to think of one. I believe if you included some advice on how to start one, it would've increased the article's 'ego' drastically. Thank you for the info anyway!
This article really helped me to better understand the purpose of a hook and what to do when in distress. I sat for an entire class period trying to find my hook. Thanks so much!
I like this a lot! It helps me as a student. I do suggest this to others!
I've searched so many sites to find how to write a hook, and non of them gave real legit examples. Thank you!
Thank you for this! I can use these tips to my blog content. Great stuff!
Good post, Thanks for sharing the information with us.
Thanks for such an interesting blog! The content is extremely good and useful for me. Please keep posting, I'll definitely share with my friends. 🙂
Any plans to update this with new examples or any additional hooks? The post is super but I'd like to see more recent examples
Thanks for your comment! We're working on the guide to writing hooks for informative essays right now. There will be tons of examples and practical tips. It will go live this month.
Leave a Reply Cancel reply
Your email address will not be published. Required fields are marked *
Notify me of follow-up comments by email.
Notify me of new posts by email.